Elementor Builder Integration for Amelia Booking Plugin
One of the most popular page builder Elemenitor has its blocks that user can drag and drop to the page of the website. This integration is built to make it easier for Amelia users who works with Elementor to build pages of their website. In a few clicks, users can add Amelia booking form to the page via Elementor blocks.
Adding Amelia Blocks with Elementor
To use the integration you need to have Elementor page builder installed and enabled, of course, you need to have Amelia plugin installed and enabled as well.
You can insert any of the Amelia Booking forms or Employee and Customer Panel into your pages or posts using the Elementor builder interface. Please, make sure you have set all you need inside Amelia plugin in order for your booking forms to function properly.
When you open Elementor Page Builder editor on your website where you have Amelia plugin installed and set up, you will be able to search for Amelia or to scroll until you get to the Amelia blocks inside Elementor interface as shown on the image below.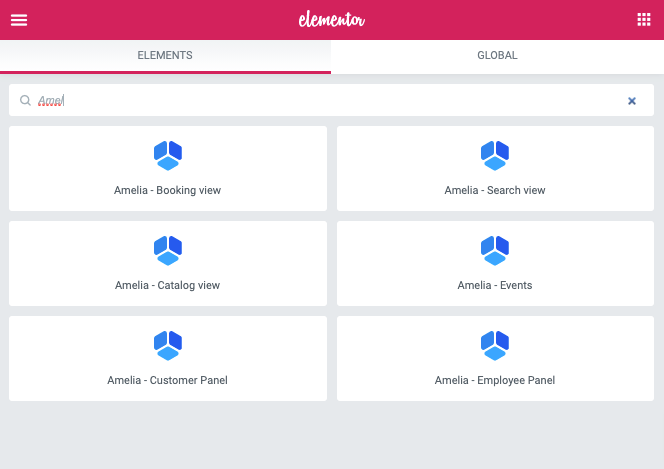 Customize Blocks
When you choose the desired block, drag-and-drop it to the page and you should enable the toggle "Preselect Booking Parameters for booking forms" and more options will be shown. There you can enable or disable options you want to show on the page of your website. The example of Amelia – Booking view is shown on the image below.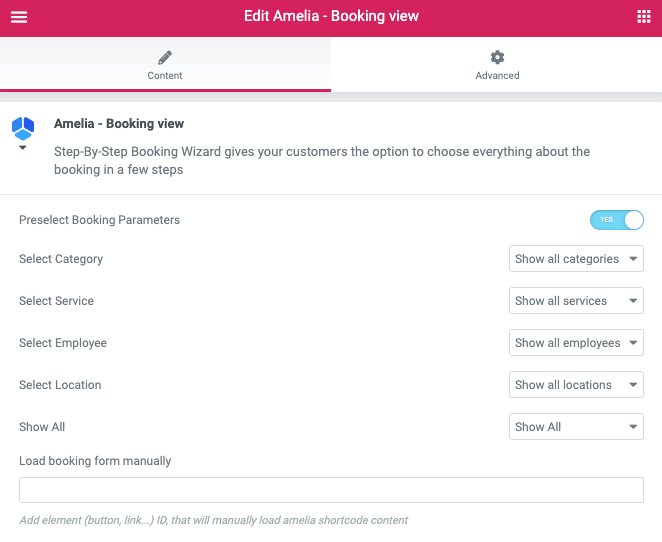 After you are finished do not forget to click PUBLISH to publish your page.