Amelia: The Best WordPress Booking Plugin to Use on Your Site
Amelia is the best booking plugin that you could install on your website. It works 24/7 to make sure your customers can book appointments or events and pay online even while you sleep.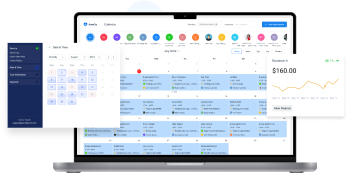 Watch Video
Discover More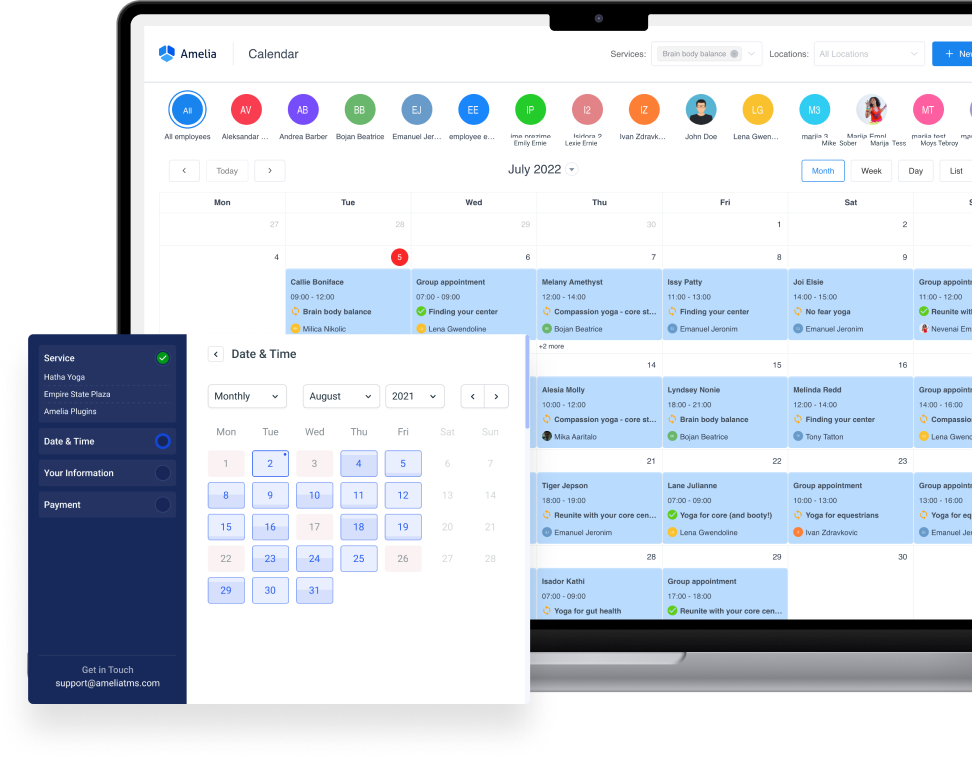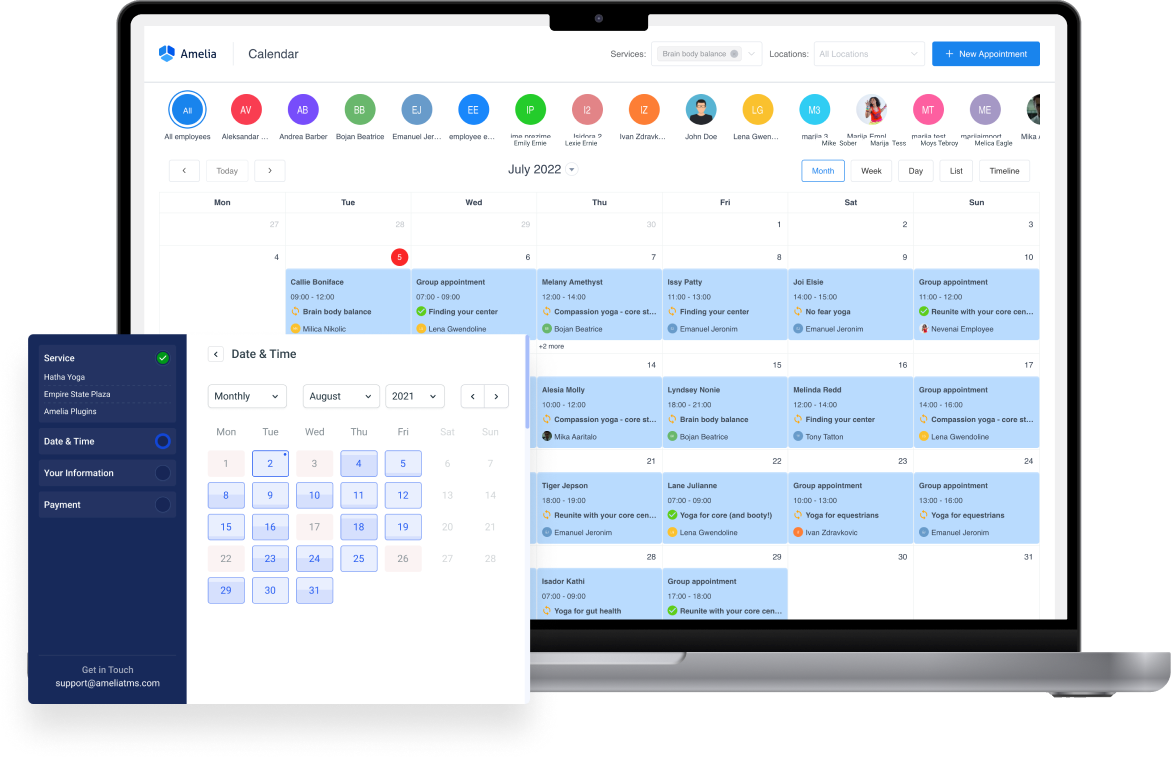 Featured on
Our powerful WordPress booking plugin is perfect for
Law consultants
Schedule meetings, list multiple services, collect payments, manage staff.
Gym & sports
Allow clients to choose, book and pay for their group or individual training with ease.
Private clinics
Appointment scheduling, medical services catalog, payments, and other tools.
Spa salons
Launch a comprehensive online receptionist desk for your Spa or Massage salon.
Repair centers
List the repair services you provide, servicemen and their availability.
Beauty salons
Allow customers to choose a stylist, browse procedures and book visits in advance.
Intuitive & Easy-To-Use WordPress Booking Plugin
Give your business a professional and trustworthy feel.
We have created Amelia using the latest technology stack, modern design, and user experience techniques.
The booking system allows you to provide an enterprise-level smooth booking experience for your customers, without investing in branding or making big changes to your work process.
Focus on your work, and forget about having to pay assistants.
Amelia will fully automate the interaction with potential customers, help them pick the right service and employee, take care of the payments.
Moreover, with our appointment plugin you get real-time SMS reminders both for the customer and employee for booked, canceled or rescheduled appointments.
With our appointment booking system, you can focus on your work instead of handling appointment bookings manually.
No training is needed to install and use.
Amelia is one of the easiest booking plugins to use. Installing and configuring Amelia will take you a few clicks. We continuously focus on maximum simplicity and convenience for Amelia's end users.
Most actions, both on front-end and back-end are intuitive and do not require more than 2-3 clicks. And in case you will need help, Amelia has detailed documentation on plugin functionalities - and of course, we're always here to offer support.
All-In-One Solution for Your Business
Insightful Admin Dashboard
The Amelia WordPress booking plugin provides business owners and managers with a dashboard that summarizes all the business-critical KPIs. Neat and insightful, various widgets, charts, and tables allow checking the performance at a glance.
Business owners want to take advantage of the entire booking system by tracking the performance of the whole business and individual employees. Being on top of your business and staff's performance is a key to a successful business.
Read more about the admin dashboard
Step-by-step booking wizard
You can opt for a classic step-by-step appointment booking form with modern design focused on smooth UX in a single-page-app style. The most popular booking form is also highly converting and inviting, reducing churn and making the appointment booking experience a breeze.
Customers can quickly pick services, employees, location, date and time, payment details, and change any settings without leaving the booking page. The entire appointment booking process includes several intuitive and easy-to-navigate steps.
Read more about the booking form
Event List and Booking Calendar View
Our WordPress appointment booking plugin can also handle events using the event booking forms. The event booking view lets you list events, create tags and colors, add images and descriptions to each event.
While it is easy for you to manage an event through our booking plugin, it is even easier for your users to book an event thanks to our carefully designed, UX-oriented event booking form.
After installing Amelia on your WordPress site, your users will be able to create online reservations with just a few clicks.
Read more about Amelia calendar
Customizable design
Amelia has one of the most minimalistic & modern user interfaces among booking plugins. You can quickly adjust to match your theme and business branding. Even more, you can customize booking forms to look as if they're an integral part of your WordPress site.
On the backend of the customization page, a WYSIWYG editor will help you adjust colors, information, and fonts to make beautiful appointment booking forms and events calendar forms that fit your booking page.
Read more about customization
Automated Notifications
Amelia WordPress appointment and event booking plugin helps you keep your customers updated and reduce no-shows to a great extent. With Amelia, you can send SMS, Email, and WhatsApp notifications and reminders, and you can choose whether you want to send them to customers, employees, or both of them. Besides sending reminders for upcoming events and appointments, you can send notifications about the status of each appointment.
Amelia's automated notifications also help you engage with your customers and increase loyalty because it allows you to send follow-ups a few days after the appointment or congratulate birthdays to your customers with birthday greeting notifications.
Our booking system offers you the default SMS, Email, and WhatsApp notifications list, but it also allows you to create custom notifications for which you choose when you want them to be sent to your customers and employees.
Read more about notifications
Amelia Demos
Pick a demo site that looks closest to your industry. You can browse them as users would browse your WordPress site. Check out the appointment booking form where you can schedule appointments and see the Amelia experience through your users' eyes.
We have more than 50000 happy customers
For customer support

The Amelia booking calendar plugin is by far the cleanest for both the front end booking forms and back end you can get from all WordPress plugins. It's intuitive and efficient. So far I have been able to adapt and customise the plugin to suit a business workflow other than it's actual intention which is a plus in my books. I think the biggest standout is the professional support team. The team behind the plugin have been very helpful.

levonau

For Constant Progression

I installed the Amelia booking system and events calendar just over a year ago when they were still quite new. Over the year the plugin has been improved tremendously. The support team have been extremely helpful when I've had difficulty and also when I've found anything not quite working right, they've worked with me to improve the features. I originally only purchased a one year license but I just upgraded to the lifetime pro because I feel confident that this powerful plugin will only continue to improve based on the last years great service and upgrades.

conscioustouch

For design quality

Very beautiful booking plugin!
Very good & fast support!
I can't wait for the new features of the plugin! I hope they will come soon!

artsnbe

For customer support

The customer support team is simply amazing, no scheduling/billing plugin is exactly what a client needs but this one is top notch and I'm very happy I purchased it. It has great flexibility, customizable booking forms, looks better than anything else out there, easily integrates to PayPal, Google Calendar, etc.

kwamekwamata

For design quality

I've been hunting for the best WordPress plugins and events calendar over the years as a WordPress websites developer and finally stopped after finding out about Amelia. I love how intuitive it is. It has such a clean, modern & intuitive backend and frontend.

Mauricio V.

For Functionalities

Very happy to have found this plugin. This is the plugin you are looking for, look no further. As I have already purchased their lifetime plan. With future features down their roadmap , I look forward to their development. Also 5 starts to support too!

tomatocat

For design quality

It's very well built, with solid features that tackle all the issues I could remember about appointment bookings and event management.

Jorge V.

For design quality

I like the beautiful, user-friendly interface that is customizable so it has the same colors as the rest of my business website. I love the Google calendar sync, Zoom meetings and Mailchimp integration. Those are musts in my line of work, and they save me a lot of time.

Bonita Kay S.

For design quality

The integrations with Zoom, WooCommerce, and Google calendar are really useful. The interface's both front and backend are beautiful. I love the fact that customers can schedule their own appointments when buying packages and pay online through popular payment gateways. This appointment plugin really does have everything that you need.

Sauge K.

For design quality

I have searched and tested more than 14 different WordPress calendar plugins before deciding on Amelia plugin for WordPress. Amelia is the best WordPress plugin. I didn't find in any other appointment booking system what Amelia does.

Rodrigo A.
Thousands of businesses choose us
The Amelia WordPress Booking Plugin powers thousands of businesses and received recognition from leading industry websites:
Some of the Most Popular Features