You probably already know that Amelia is the top booking specialist, working 24/7 to make it possible for your customers to book appointments and pay online at any given moment.
And even though it is quite new, it has already been noticed by leading industry websites.
Amelia has always been perfect for the business owners who want to give their business a professional and trustworthy feel. And with the newest releases, Amelia gets even better! Let's take a look at the new useful features:
2-way Google Calendar Integration

With the new 2-way Google Calendar integration, the employees will see all newly added appointments as events in their Google Calendar.
In addition to that, the customers now won't be able to book a certain appointment if an employer already has an event scheduled at the same time.
WooCommerce Integration

With the new WooCommerce integration, Amelia now takes advantage of all the best WooCommerce payment-related features.
Not only does this widely extend payment options, but it also allows automated generation of invoices, taxation options, and more. Managing online payments has never been easier!
Add Custom Fields to the Booking Forms

Adding custom fields to the booking forms is now possible with the newest Amelia releases.
This feature will help you collect additional information from your customers through fields such as checkboxes, text areas, and similar added to the booking forms. In addition to that, the values entered in these fields can also be used in email notifications.
Employees can Manage their owns Schedules

While with the previous Amelia versions only managers and admins were able to manage schedules and appointments, the newest Amelia releases allow each employee to manage their own schedule.
Check out the new general settings, admin appointment settings, and schedule management for employees. Not only will this new feature save you a lot of time with organizing employees' schedules but it will also minimize the scheduling mix-ups and errors.
New Auto-Update Feature
You will not have to search for the newest Amelia updates manually ever again. With the new auto-update feature, your booking specialist will always be up to date and you will benefit from all the newest features as soon as they become available.
Other features
If you still haven't started to know Amelia well, here are some other cool features that this booking plugin has:
As you can see, Amelia cares about the users and constantly works towards improving the features and offering the best possible user experience.
With every new release, the list of useful features is expanded to meet as many customers' needs and requirements as possible.
Give the newest Amelia release a try and let us know what you think.
Once upon a time, portfolio websites were reserved for acclaimed artists and big names in the creative industry only. However, soon enough, millions of people realized that a portfolio website comes with a number of amazing benefits that all creative professionals should take advantage of.
Not only are portfolio websites a great way of making the best possible first impression, but they also help you put your work "out there", build your brand, and attract new clients while keeping your best work well-organized and displayed for everybody to see.
However, if you want to get the most out of your portfolio site, first you need to think about your portfolio design. You need to look at your portfolio through your potential clients' eyes and make it as appealing as possible.
We know that Amelia (our WordPress booking plugin) users are designers who care about their portfolios, so we are going to take a look at the best portfolio websites and help you choose the best design to inspire you for your own creative portfolio.
The Best Portfolio Websites (quickly jump to each section)
Graphic Design Portfolio Examples
If you want to build your own graphic design portfolio, you are free to make it as creative as you feel necessary without going over the top.
After all, graphic design portfolio websites are supposed to be unique and creative to help you show off your style right from the start. You are very welcome to experiment, just don't forget to take a step back and look at the website from the visitor's perspective. If the site turns out to be too confusing, take it down a notch and make it easier to look at, understand, and navigate.
If you find yourself lost in a sea of your own ideas, it might be a smart thing to do to check some other graphic design portfolio websites out there to see some good portfolio examples created by your peers. Not only could it give you some fresh design portfolio ideas, but you could also learn from their mistakes if you notice any.
The second solution could be to take some existing WordPress theme and customize it, this might feel like cheating, but you will save some time and still have a nice looking site, it is important to know how to do the customizations, so take a look at this article to help you out.

Lotta Nieminen Studio is a graphic design, art direction, and illustration studio creating holistic visual solutions for clients across disciplines.

Another design portfolio comes from Matt Pamer. Matt Pamer is an art director, designer, and illustrator with over 15 years of experience.

Jane has a really neat design portfolio. She is an illustrator based in Atlanta, Georgia. Right now she is doing fun things at MailChimp and taking on the occasional side project.

Danny Jones is a 3D Designer in SF, specializing in 3D interaction + visual design. His design portfolio is simple and easy to navigate.

Kimi Lewis Studio is a full-service branding outfit in Los Angeles that creates powerful storytelling through distinct visual language. Their online portfolio is really nice to navigate.

Amber Xu is a motion graphics designer and illustrator based in NYC. Her online portfolio makes sure to tell you that from the hero section.

Ales is a freelance designer and web developer, who works with a variety of clients and on many diverse projects.

Rafael Kfouri is a graphic designer currently working with the people from Crane.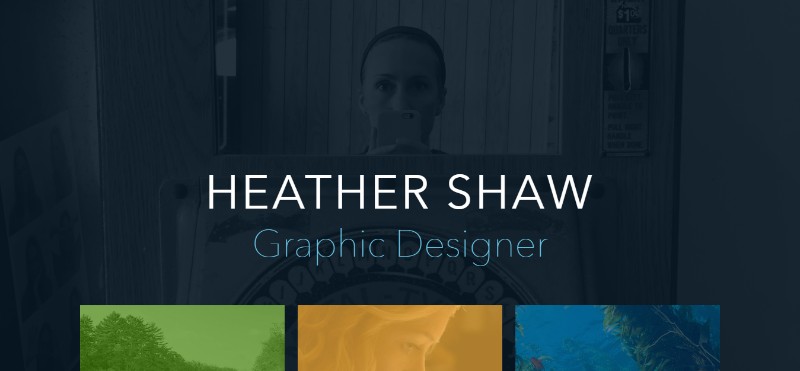 A beautiful design portfolio is the one of Heather Shaw. As an independent designer, Heather Shaw can take on projects of all kinds, which allows her to tap into all of the experience I've accrued through the years.

Stefanie Brückler is an Austrian designer, living and working in New York City. Formerly at High Tide, she is now a Senior Designer at NR2154.

Peter Komierowski is a visual designer working in Vancouver, British Columbia. He specializes in illustration, branding & identity design, and interface design. He believes that design is a process and that through research and exploration, the right solution will present itself. You can check out his work on his online portfolio.

Tobias van Schneider is a German multi-disciplinary maker of useful, curious, and beautiful things. You might have seen his name pop here and there.

Based out of Toronto, Canada, Grant Burke an experienced graphic designer who uses strategy and objective thinking to ensure that your project goals are not only met, but exceeded.

If you are a fan of minimalist design and you are looking for minimalistic graphic designer portfolio websites, this one is a gem. Alessandro Scarpellini is a brand designer and art director from Italy.

Nicolas Paries is a French art director & interactive designer working in the industry since 2008.

She is a multidisciplinary designer & illustrator, as well as the founding partner at Self Aware. She is focused on bringing brands to life in print & online and loves telling stories through colorful illustrations and immersive interactive experiences. Currently residing in Philly, Jennifer is saving up for a cute lil' Yorkie.

This website combines resume and video games. It won many design awards such as The FWA, Awwwards, CSS Design Awards, and CSS Winner. It made quite some buzz when it was launched and it surely got him a few potential clients.

Steve Wolf Designs is an Austin-based graphic design studio. Their goal is to create a meaningful and timeless design for their clients and their audience. They believe that great work comes from building great relationships. They work one on one with their clients and collaborate with them every step of the way.

Josh is a multidisciplinary product, web & brand designer with over 10 years of experience working with small businesses, award-winning agencies, and internally for high-profile national brands.

Nathan Riley is a designer chap residing in the beautiful city of Bristol. He's been designing for about 10 years, working on all sorts of projects; from interactive websites to branding and packaging design. His website stands out among other graphic designer portfolio websites thanks to its lux feeling.

A Product Designer with a passion for translating complex problems into engaging impactful experiences. Currently a Product Design Intern at Universe. Previously designed at Work & Co and Hypercare.

Mike is a UK based designer, specializing in Branding, Graphic/Web Design, Illustration & Photography. He has a worldwide client roster and his work is often featured in design-related publications. Mike is also a regular speaker at design/tech conferences.

Founded in 2006, Buffalo is a small web design & development agency based in Brighton, UK. Over the last few years, we've made a reputation for building websites that look great and are easy-to-use.

Creative Mints is a boutique human-centered design agency from Prague specializing in branding, UI, and illustration.

In the world of cocktails, you've got to have the perfect mix. Their team is like a great Negroni, with just the right balance of hard work, fresh perspective, and seasoned industry knowledge to create products that entice your senses.

Their success is not only due to the quality of their work; it's down to attitude, their approach and the way they treat their clients.

Fuzzco is a point-of-view. Curiosity, playfulness and a can-do attitude combined with a dedication to making things better. They make things they want to use.

A team of 100+ experienced developers and designers, ready to help you build your web and mobile applications.

An award-winning graphic designer and art director from Austria.
Web Design Portfolio Examples
How to design a portfolio?
If you want your web design portfolio to stand out from the competition, you need to make it a memorable one. Getting an employer's attention can be quite a tough task in today's competitive market so you have to constantly work on getting better than the competitors.
When it comes to building a web designer portfolio, you have to understand that portfolio websites themselves are the perfect opportunity for you to put your best work and skills on display.
Take a good look at other people's portfolio website examples and think about how to be different and stand out from them. Don't be afraid to change things and to challenge yourself and your creativity. A personal portfolio is definitely your best friend for attracting new clients, but you have to do it right.

Digital art director born in Seoul, living in Paris, raised by the 80's. 13 years of experience available for you.

ToyFight is an award-winning creative agency specializing in design. They partner with global brands and emerging businesses to create exciting and meaningful experiences, whether digital or non-digital. They have a rather interesting online portfolio.

Studio Schurk is a creative illustration and animation studio, founded by Miriam Knijff and Wendy van Veen.

Rezo Zero is a creative studio that is specialized in brand strategy and digital creation. They will work with you to design your brand identity and make it evolve in a consistent and modern fashion on each and every connected device.

Wokine is a global digital agency and a startup studio, providing innovative, modern, and aesthetic solutions. You might have seen their online portfolio in a lot of website galleries.

This is an independent studio based in Denver, CO. They create animation and interactive experience with brands and agencies all over the world. Their online portfolio is a strange one but you get used to their style quickly. 

Hannah Purmort is a Digital Designer and Art Director.

Werkstatt is an interactive design studio that conceives and produces innovative and tailored digital experiences. They work in a crafting spirit; starting from the idea to the production of a well-designed piece, with one obsession: the quality of the execution.

A London based designer and writer. He is also a global auto & mobility director at USTWO.

Lounge Lizard brand tenders always serve up something distinct. They mix a potent combination of digital marketing strategy with a generous splash of creative juices and blend in technology-focused, customized solutions as a chaser.

They are a creative studio focusing on culture, luxury, editorial & art.

They help clients solve business problems by fusing creativity, innovation, strategy, and craft.

Sean is a web designer/developer based in Toronto, Canada. He has a passion for web design and love to create for web and mobile devices.

Patrick David is a front-end developer and web designer based in Italy.

He is a Toronto based French Designer currently working at JAM3. He has worked with Audi, Google, Montblanc, Adidas. New experiences and challenges are his thing.

They are a creative and strategic branding agency for digital and print.

Daniele Buffa is a Digital Designer based in sunny London. Currently freelancing, previously working at Google. He also won some Awards.

Unlabel began with a love for fashion, design, and authentic online experiences for fashion lovers. Originally inspired by the diverse fashion scenes of NYC and Los Angeles, Unlabel grew into a multi-disciplinary studio. They believe in introducing a sense of style in everything that they do.

At Verbal+Visual, they craft considered e-commerce experiences for thoughtful brands.

They work with start-ups, scale-ups and entrepreneurs, to define their brand and create experiences that last.

Together is a talented team of designers, marketers, and developers working exclusively with ambitious tech companies.

Mirko Zeppieri is a Photo Retoucher and Digital Designer, born and raised in Rome, currently based in Amsterdam, the Netherlands. He attended the Instituto Europeo di Design (IED) in Rome, where I earned my Bachelor's Degree in Photography and Retouching.

Mobile & web development studio that builds products that deliver results.

Naum is a multi-disciplinary design and development studio based in Slovakia. They solve complex challenges with simple solutions.

Sparks is a brand and design agency that simplifies well. They get to the heart of your business, uncover what makes it distinct and bring illuminating clarity.

This is a Cape Town based digital design studio. They focus on delivering digital products that work beautifully.

They are a design studio in Edinburgh building websites and brands for modern companies who share their values.

This agency with a unique name believes creativity is the key to their customers' attention. That's why they always try to stretch the limits of what brands think they are capable of.

DiploStudio is a digital and graphic design agency.

Erudito is a design studio that creates beautiful digital products, brands, and experiences for amazing companies and disruptive startups.
Web Developer Portfolios
Being a new developer on the market and getting off to the right start can be quite challenging. Maybe you aren't quite sure what your personal style that makes you special exactly is, maybe you don't have a lot of experience, and maybe your marketing skills are the best set of skills you have.
Luckily, portfolio websites can help you with that a lot. Not only will they help you organize your work and take a closer look at it to determine what work of yours you're the proudest off, but they will also give you a great chance to present yourself as a developer in the exact way you want to be seen by the clients.
Take a look at these online portfolio examples, determine which websites you like and which you dislike, and let them inspire you. Keep in mind that you have to stand out from the competition and let your work speak for you.

Founded in 2014, TMS was built and grown around developing their own web applications that are now used by tens of thousands of businesses and people around the world.
Today they offer application development services to companies that need to scale up their development capabilities while keeping quality, improving productivity, and optimizing costs.

They deliver every solution with the goal of forming long-term, trusting relationships.

He is an award-winning Full Stack Web Developer and UI/UX Javascript specialist. Check out his blog articles, Vue and React packages at the code laboratory. Feel free to take a look at his latest projects on the web portfolio page.

Ian Lunn has a lovely blue website with a simple-to-navigate portfolio section.

Pierre Nel is a freelance developer & designer. He's always been drawn to the overlap between design and development. His skills are broad: from ux to design, front-end to back-end development.

He is a software developer from Dublin, Ireland. He can help you build your next product. He designs, builds, operates & sometimes rescues full-stack web applications.

He is a Designer / Front End Developer living in Tempe, AZ.

Daniel Fisher's passion is creating, and he finds happiness in being a better version of himself every day.

Freelance Web Designer & Developer based in Galway, Ireland. Highly experienced in designing & developing custom WordPress websites.

Jack Jeznach is a front-end developer, working with WordPress and Angular JS.

Matt Farley is a designer, front-end Developer & mentor. He designs and codes beautifully simple things, and he loves what he does.

He is a product designer based in sunny Sydney, Australia. He enjoys turning complex problems into simple, beautiful, and intuitive designs.His online portfolio design was so shared in online communities that we couldn't have done this article without including it.

He is a Front-End Developer for EyeCue Lab in Portland, OR. He has a serious passion for UI effects, animations, and creating intuitive, dynamic user experiences.

He is a Product Owner at Hostelworld, a relentless builder of side-projects and he also enjoys making animated loading icons.

Josue is a seasoned software expert who has developed products for enterprise clients such as Yale University, Jimmy John's, and Hewlett-Packard (HP), as well as many venture-backed businesses.
He specializes in building applications specific to the business needs of his clients. He has done work in software development, mobile app creation, front-end/back-end web, database/server management, graphic design, and video game development.

Yevgeniy (Jim) Brikman loves programming, writing, speaking, traveling, and lifting heavy things. He is the co-founder of Gruntwork, a company that provides DevOps as a Service.

He is a full-stack web developer with over twelve years of experience. He has maintained, developed, and launched multiple projects from scratch, carrying the development of its' back-end and front-end codebases.

Mission-driven full stack developer with a passion for thoughtful UI design, collaboration, and teaching.

His career began in Louisiana designing Flash and 3D animation, and he's arrived as an all-around UX designer working in Texas & California.

Pavel is a Czech Republic-based web designer & front‑end developer focused on crafting clean  & user‑friendly experiences.

A product designer with over nine years of experience. Currently shaping the digital visual experience at InVision.

He is a web designer and front-end developer from Hampshire, UK. He builds bespoke websites to help his clients push their businesses further online.

Based out of Halifax, NS. Specializing in custom WordPress theme development.

Kathryn McClintock is a design-oriented front-end developer. She strives to build immersive and beautiful web applications through carefully crafted code and user-centric design.

Devin Walker is the creator of several highly rated and award-winning WordPress plugins. His work is actively being used by hundreds of thousands of websites and has been featured in Product Hunt, WP Tavern, Torque, and several other widely regarded online publications.

Marek Kaleta is a web designer, skilled in UI/UX and digital design. He also has experience in prototyping, animation, and branding.

Dries Van Broeck is a freelance motion designer based in Ghent, Belgium.

He works with startups and top companies to design inclusive, effective, and impactful digital products.

This portfolio website is a glimpse at the way he designs and prototypes in code. Design something familiar, program it to do something unexpected, make sure people feel something.

They design and develop persuasive websites and mobile apps.

Born and raised in Hawaii (and now living in San Francisco), he is a firm believer that you cannot succeed without aloha.
Photography Portfolio Websites
Similar to graphic design portfolios, with the photography portfolio websites, you want to make sure to put your best work upfront. Since photography is about leaving a strong visual impact on people, you want to make a strong impression on potential clients right away.
A photography portfolio website could become a form of delicate art and you want to make sure you present your work in the right way. For example, think about the colors you use and make sure they don't clash with your photos and choose the best approach to make your work stand out.
There are many different ways to build portfolio websites for photographers so it mostly boils down to your personal style and to the atmosphere you want your photographs to create. Allow your work to be the center of attention on the site rather than putting too much work into other design details of your artist portfolio website.

He would love for his work to be seen as a celebration of human endeavor, whether concentrating on an individual's personal sporting pursuits, or the artistry and craft involved in a highly-skilled, labor-intensive industry.

She does photo productions. This means she does photography as well as photo production services for national and international clients, including art direction, casting, booking of make-up/hair & styling, location scouting, and retouching services.

Creative director and fashion photographer based in Milan, Paolo Boccardi was born on August 19, 1976. In 2003, he moved to Milano, Italy, in order to work as art director and to study commercial photography.  In 2006 he began his career as a professional fashion and editorial photographer. He is also developing his career as a creative director in Leo Burnett Milan, responsible for producing award-winning, innovative creative work.

Fredrik Clement focuses on sports, people, outdoor and reportage photography. For the last ten years, he has traveled extensively, shooting stills and films for editorial and advertising clients worldwide.

Brent Stirton is a South African Photographer with an extensive history in the documentary world. Brent's work has been published by National Geographic Magazine, GEO, Le Figaro, Le Monde, Vanity Fair, Newsweek, Time, The New York Times Magazine, The UK Sunday Times Magazine, and many other respected international titles.

Growing up in the Colorado Rockies, his love of nature long preceded his love of photography. Being part of a family that appreciated and explored the outdoors helped him learn to appreciate and enjoy the landscape. Today he spends as much time as he can in nature hiking, backpacking, and snowboarding.

Eric is a photographer and director focused on creating tangible, intentional imagery over a wide range of project mediums.

Born in Staffordshire, England. Lara Jade first picked up a camera at the early age of fourteen – influenced by self-portraiture and conceptual photography.

Corey Arnold is a photographer and commercial fisherman by trade. He has worked seasonally as a commercial fisherman in Alaska since 1995, including seven years of crabbing in the Bering Sea aboard the f/v Rollo.

Andrew Gransden is a qualified professional photographer covering the northeast of Scotland from Aberdeen to Inverness and from the sea to Strathspey and the mountains.

Dave is a photographer and filmmaker living in Los Angeles. He got his start shooting album covers for 50 Cent, Chris Brown, Soulja Boy, etc. This led to shooting national ad campaigns over the past decade. Recent clients include Fiat/Chrysler, Ford, Buick, Chevy, Toyota, Shaun White, Target.

Gavin Gough is a freelance, editorial photographer, documenting stories that reflect the human condition. Gavin has an interesting online portfolio that you should check out.

Photographer Ryan Michael Kelly is currently based in New York City. He is literally addicted to making photos…for which there is no known cure, except to make more.

Ryan Edy originates from the North East of England via Zimbabwe.  He's always had a keen interest in capturing his vision of the world around him, from constantly sketching stuff as a young child to embarking on his first forays with his Father's camera.

He has not swashbuckled with pirates, nor has he swam the English Channel. He has not even been to Antarctica. But he has traveled to many faraway places, created a lot of still and moving pictures for himself and others. And he's made it his life's goal to be as creative as possible towards everything he endeavors.

Jonathan Glynn-Smith's photography has spearheaded advertising campaigns, books, and exhibitions for some of the worlds leading blue-chip clients. His evocative and timeless images have inspired magazine editors, luxury brands, and his viewers for nearly two decades.

A photographer born in the Czech Republic. Since the first step on the continent in Rio de Janeiro many years ago, Latin America has become a major inspiration for his photography work. From then on, he has been working and living in various Latin American countries.

Named the "Most Influential Photographer on the Internet" by Huffington Post, Forbes, and Yahoo in 2014, Jeremy Cowart is an award-winning photographer, artist, and entrepreneur whose mission in life is to "explore the intersection of creativity and empathy."

Lisa Bettany is a Canadian tech entrepreneur and one of the most influential photographers on the web.  She is the co-founder of the top-ranked photography iPhone app, Camera+ which has sold over 14 million copies. Her vibrant, eye-catching landscape and travel photos have been viewed millions of times in magazines, online publications & TV broadcasts.

To Denis Reggie, seeing the world through a camera is as natural as breathing. His camera is an extension of his mind's eye, and he has an uncanny ability to be in the right place at the right time to capture the defining moments at weddings. Many of his photographs epitomize the joy of the human spirit.

Christian Oth Studio is a full-service photography studio committed to telling your love story through editorial-style photos of the highest caliber. They strive to foster a strong connection with their clients and gain a true understanding of their vision and goals. Headquartered in the Flatiron District of New York City, they serve both local and international weddings worldwide. Their online portfolio is very stylish and tells you right from the start that it's unlikely you can afford them.

Levon Biss is a British photographer born in London. Throughout his career, Levon's work has covered a wide range of photographic genres, including portraiture, documentary, and sport. His work has been exhibited around the world his prints are housed in numerous museum and private collections.

He was born in the UK and raised in the African desert by bushmen. His parents were from the UK, but he did grow up shaking Kalahari sand out of his shoes. Rich McCoy builds and leads creative teams, makes things with paint, rags, and bone, and thinks a little too much.

Timothy Hogan is an award-winning still-life photographer based in Los Angeles, California.

Throughout much of his adult life, he's been traveling, seeking adventure and ways to learn from and interact with cultures that are very different from my own. Photography became a great excuse to look deeper and to make his experiences more intense.

Joon Brandt is a film director and still photographer based in Oslo, Norway.

She wasn't one of those people who was given a camera at age five and fell in love with photography. She was a travel journalist, working her dream job with Lonely Planet at age 23 when the magic of Marrakech begged her to take its photo.
Creative Portfolio Designs
One thing you will notice immediately about these online portfolio examples is that majority of them follows the same old pattern. It is a template with the centered hero image with a call to action plus a few columns (usually 3) below it.
Yes, we admit that this design obviously works but it has been seen so many times that if you want to really create something unique, you need to choose a more creative layout. You are not going to knock anybody's socks off with something they have seen countless times before. It is time to get creative!
When you search for the best creative websites online, you are not going to see 2 websites that look almost completely the same. Instead, you will see some unique ideas that will make you think, "How did they come up with that? This is great" And that is precisely what you want your potential clients to think when they first see your portfolio page.
Creating a unique online portfolio ALWAYS pays off if you don't go completely over the top and make them impossible to understand.

The Evolution 7 generates the catalyst for great leaps in branding development and the shape of future branding definition.

Founder of OldSkullz Skateboard, Max spent 10 years filming kids and skateboarders, traveling on the road, making reports and clips, cutting and editing videos. He has developed a unique eye to capture the beauty, the dynamic, and the intensity of the moment, transforming casual stories into immersive, touching, and organic productions.

Established in 2007, thisislove is a Lisbon based multidisciplinary design studio focused on communication design and digital projects. They are passionate about design and code and it is their goal to build innovative products and immersive experiences.

Ben has over 18 years of hands-on work experience in design. He practices user-centered design principles basing design decisions on user needs and business goals. He has worked on projects for a variety of global brands including American Airlines, BMW, AMD, Nestle, and M&S. National brands he has worked with include T-Mobile, Tourism Ireland, and Condor Ferries.

They're an independent digital agency with a team of designers & creative developers who relish in crafting engaging digital experiences.

At Codeq, they provide web applications that meet the needs of customers. They are able to offer a wide range of services thanks to the fact that people in Codeq create a multidisciplinary team.

The MOSCOT optical roots were first planted in America by Great Great Grandfather and family patriarch, Hyman Moscot, who arrived from Eastern Europe via Ellis Island in 1899. Hyman began selling ready-made eyeglasses from a pushcart on Orchard Street on Manhattan's famed Lower East Side.

They work with partners large and small from across the globe – angel investors, VCs, start-ups, and global brands. Developing collaborative projects across time zones.

They are a design & technology studio. They design and build all types of objects.

They build the best brands and websites, including portfolio websites, in the world, according to their website.

Stilt was founded in Miami in 2012 as a digital agency. While they still provide traditional and digital marketing, their design and brand strategy services have evolved to challenge the traditional rift between advertising and design, digital and traditional, art and commerce, creativity and business.

Canopy Films is a production house based in Boston. With a background in documentary filmmaking, they know that the story always comes first. Their story and aesthetic-driven approach produce works with a focus on characters, collaboration, and creative exploration. They're always on the lookout for stories to tell.

HA is an Interactive brand studio. They focus on strategically and creatively driven innovative digital solutions.

They are a branding and packaging innovation agency, dedicated to creating brands worth remembering. Just ask Tanqueray & Tonic, Stoneleigh, Modus Operandi Brewing C, and many others.

Design & Build Co. is a creative agency with a dynamic approach to creating powerful digital retail experiences and e-commerce solutions for the luxury, fashion, and beauty industries. They are a unique team of commercially minded designers and developers with experience in delivering intelligently crafted digital solutions and strategies.

A full-service digital branding agency in San Diego & Paris.

Prokhorov Design – the experienced design team based between Moscow and Los Angeles. They love helping IT companies and startups from around the world to achieve their business goals by the design solutions.

They create and simplify brands, e-commerce, and digital products.

They design and build beautiful digital products that make a difference.

They are a handsome creative agency for the nimble and bold. They created a new experience for a vibrant coworking giant.

From Bruce Lee to Marilyn Monroe, from The Lord of the Rings to James Bond, they are proud to offer, for sale or exhibition, a selection of articles from their exclusive collection of highly desirable movie costumes, props, and fine photographic art.

karlssonwilker is a full-service design studio based in New York. They work with design-conscious clients on progressive solutions by providing them with a variety of services including the development of brand identities, signage and wayfinding, environmental design, packaging, animations, infographic design, and website design, as well as strategy and concept direction.

IconInc offers a 7-star luxury student accommodation in Leeds and Liverpool.

With each pie devotedly handmade in Devon using only the finest, freshest ingredients, Tom's Pies stand for honesty, quality, and artisan taste.

Specializing in refined digital web experiences with a focus on animated, responsive, and interactive content.

Onirim is a creative Production company. They represent directors, photographers, and creatives. They produce commercials, brand content, and photos.

Beaubourg is a digital-minded branding consultancy based in Paris. Revealing what makes brands unique and truly remarkable, they strive to define, establish and sustainably expand the presence.

As an award-winning creative with over fifteen years in the industry, he specializes in creating immersive visual stories for a wide variety of brands.

Page\Park is an award-winning architectural practice undertaking work across the UK from our studios in Glasgow and Leeds. They are an Employee Owned Business reflecting our culture of sharing ownership and responsibility across all that they do.

They are a digital creative agency in Sydney combining creativity and digital expertise to find the perfect way to engagingly tell your story. No fluff, no guff, no 404 errors.
Bonus

We would like to present you with
The Catalog
, a carefully curated selection of creative WordPress themes by Qode Interactive. Showcasing the unique art direction approach to contemporary web design, the Catalog investigates the boundary-pushing creative possibilities in theme design.
Ending thoughts on the best portfolio websites
Portfolio websites are an amazing way of putting your work "out there" and building your brand. However, it is not enough just to build an amazing online portfolio – you also need to maintain it regularly.
Don't forget to keep your designer portfolio fresh with new content, follow the latest design trends, and stay flexible about changing things, and don't forget to update it with your current work.
So, whether you are using Canva Pro, Photoshop, Sketch, Illustrator, or Affinity Designer, you still need to create a great portfolio that makes it easy for clients to figure out what you can do.
Keep in mind that the best online portfolio websites are not only those websites that are creative and different from the competitors, but also those that truly represent who you are as a creative professional.
If you enjoyed reading this article on amazing portfolio websites, you should check out this one about simple website design.
We also wrote about a few related subjects like meet the team pages, single-page website designs, corporate website designs, coaching websites, digital agencies, web development companies, creative websites, artists' websites, black websites, and website backgrounds. But also an interesting piece with WordPress table plugins.
If you run a business and you have never heard about payroll software, you have come to the right place.
Free payroll software automates the process of paying wages and saves you a lot of time every month. However, how do you choose the best payroll software and accounting programs? We are here to help with that!
Here are some of the best payroll services for small business:
And before getting to them, you should also check Amelia, a WordPress appointment booking plugin. With its great UX, it's a great addition to any website involving booking appointments.
Top Payroll Software for Small Businesses: Gusto

While there are many useful payroll systems out there, Gusto appears to be the best small business payroll software, and here is why.
First of all, it is very easy to use and it offers a variety of tools and features for maximum convenience. It is also not overly expensive; in fact, the overall cost is lower than with some of the other online accounting systems.
With Gusto, you will never have to manually fill and pay payroll taxes, write checks, update employee info, sit at your desk because Gusto is mobile friendly, etc.
Here are some of Gusto's key features:
Automated payroll filings and tax payments
Unlimited payrolls
Direct deposit
Multiple schedules and pay rates
Online employee setup
Payroll on Autopilot
All tax forms
Payroll reports
And those above mentioned are just some of the best features Gusto provides. In addition to that, all of them are well explained and well organized so you should have no trouble figuring out how this small business payroll works.
It takes a few simple steps and you'll be ready for automated payroll processing:
Try 1 month for free and if you are happy with it, subscribe to Gusto for $45 per month
Set it up quickly and easily
Run payroll fast
Relax and let your new payroll system do the heavy lifting for you
If you are still not sure whether or not Gusto is worth trying out, we recommend taking a look at Gusto's payroll reviews. You will notice that people are quite impressed with some of the free tools for payroll.
Free HR tools with Gusto:
Onboard new hires online
Organize your employee info
Manage time-off requests and approvals
Try it for free before switching your payroll to Gusto

Intuit Payroll is one of the best payroll programs out there and it could help you save both time and money. QuickBooks Payroll is the best payroll service for you if you need some of the more advanced features for the best price.
When talking about the advanced features, we are talking about splitting direct deposits between multiple bank accounts, multiple pay schedules, and similar.
However, the biggest plus to Intuit QuickBooks Payroll is that it integrates perfectly with the world's most popular accounting software – QuickBooks. Inuit payroll services are definitely worth considering if payroll for small businesses is what you need help with.
So let's take a look at some of the most important features:
Know tax calculations are right
A faster direct deposit processing
Easily manage payroll taxes
Save time with integrated data
Give your accountant the whole picture
As for QuickBooks payroll cost, there are several options to choose from with Intuit. First, you will have to decide whether you want to buy payroll only or you want to buy payroll + QuickBooks. We recommend the second option.
Then you will be offered three different plans (Basic, Enhanced, and Full Service) starting at $24 per month for payroll only and $29 for payroll + QuickBooks. Either way, payroll Intuit is a good choice.
The good news is that you will be able to subscribe to 30-day trial before deciding which plan to choose.

If you are looking for a more affordable option but you would still like one of the better small business payroll services Patriot Payroll Software is not a bad choice. It will cost you around $10 per month and while it covers the most important payroll features, the tax support is missing.
If you want a tax services upgrade, you will have to pay for it. The starting price is $25 per month + $4.35 per month per employee.
So when you calculate all the costs, it will cost you almost the same as Gusto which is probably still the best payroll software for small businesses.
If you check Patriot software reviews, you will notice that one of the biggest downsides is the fact that it does not offer a mobile app.
Top Payroll Software In India: factoHR

factoHR is a leading and award-winning HR and payroll software useful for all types and sizes of businesses to handle all the day-to-day HR tasks seamlessly. Beginning from administrating, calculating, and processing employees' salaries by considering all aspects, including attendance, leave, reimbursement, tax, from one centralized platform.
This unified platform comes with varieties of modules, including recruitment, onboarding, performance, attendance, learning management, and time tracking that every business wishes to use to empower their employees and managers.
Its simple and intuitive interface gives away varieties of features like-
Keeps the payroll process lawfully compliant
Conduct arrear calculations automatically
Generate multiple and detailed reports
Integrate with performance management
Administrates advances and loans given to the employees
Generate payslip in multiple languages
Offers dedicated mobile application and ESS portal

Square Payroll is a payroll software free of charge if you decide to go with the basic version. The flexible pricing will always match the number of your employers so, for example, you will get a free subscription and you will only pay $5 per contractor per month.
Here are the key features:
Worry-free payroll compliance
Import timecards automatically
Online accounts for your team
Fair, flexible pricing

Paycor Perform is one of the cloud-based payroll processing companies and an all-in-one HR software solution.
It offers several different applications:
Payroll & Tax Compliance Software
HR & Benefits Administration Software
Time & Attendance Tracking Software
Recruiting, Hiring & Onboarding Software
HR Reporting & Analytics Software
Learning Management System

Xero is an award-winning payroll software for accountants and for small business owners. It is very easy to use and it offers a number of great features such as:
Flexible pay calendars
Multiple pay rates
Built-in timesheets
Detailed payroll reports
Connects to other business apps
Manages employee leave
It comes in three subscription plans starting at $25 per month.

While we mostly talked about payroll software for small businesses, ADP Workforce Now Software is better suited for managing a mid-size business.
With this software you'll get:
Accurate payroll processing
Tracking of hours and schedules
New-hire reporting
Access to dedicated experts
A smooth implementation process
And when it comes to the tax compliance, you'll get:
Tax filing
Accurate paycheck deductions for federal, state, and local taxes
Online reporting
Regulatory and compliance support in every state

ADP offers different services and products for small business, mid-size business, large business, and multinational business of any size.
RUN Powered by ADP Software is a great payroll and tax solution for any small business. You get a mobile payroll app or your Android or iOS device, log in, activate your account, and you are all set to manage the payroll.

Namely is an all-in-one HR platform with a great and easy to use payroll center. The most important features include:
Automatic Deductions
Simple Tax Filing
Year-End Reporting
Time Integration
ACA Reporting
Employee Access
Summary
A payroll is a necessary part of every company and it can be really time-consuming if you want to manage it right. Luckily, with the help of the right payroll software such as Gusto, QuickBooks Desktop Payroll, PayCycle, IntuitPayroll, and others, managing payroll is easier than ever.
If you enjoyed reading this article about choosing a payroll software, you should also read these:
The world has changed, technology has advanced, and all of us live in the mobile era – including healthcare professionals. Being a doctor is not an easy task so if you can make it at least a little bit easier on yourself – you should. Luckily, there are great new medical apps for doctors that can help you with that.
But what are the best virtual doctor apps for doctors and physicians? With so many options out there, it is easy to get overwhelmed and not know which ones to choose. Well, we have done the research for you and we are presenting you with top medical apps worth considering.
Aside from these specialized apps, there are a lot of other options like Amelia, a WordPress booking plugin that can help with successfully managing your business.
The best medical apps for doctors to try

We're starting this list of the best medical apps for doctors with Epocrates. This medical practice app is one of the most popular online doctor apps available for iOS and Android devices. It offers a wide variety of useful features which is why it has been downloaded millions of times.
From finding drug information such as effects and side effects through calculating the person's BMI to describing different diagnoses, Epocrates is one of the best web doctor apps.

PEPID is a doctor online type of app designed especially for emergency room physicians and paramedics to help them diagnose the patients as fast as possible.
This app could also be useful to students, interns and residents, nurses, and pharmacists because it is a great source of information and it could help with their medical education.
You can use this medical app for Android and iOS devices after logging in. You will see a library of medical conditions and associated symptoms, drugs used as a part of the treatment of each of those conditions, multi-drug interactions, etc.
It will help you diagnose patients based on their exam findings, symptoms, and lab results. It also offers useful videos featuring examination and clinical procedures, as well as push notifications with the medical news such as drug approvals, new research, black box warnings, etc.

Even the best doctors need to double-check certain medical information from time to time to be able to answer all the medical questions. Luckily, there is an app that can answer all those questions for them.
UpToDate can be used on Android and iOS devices and it will help you gather all the necessary medical information anywhere anytime.

Medscape is one of those apps for physicians that you shouldn't miss. It will help you keep up with medical news, new drug releases, and similar. You can download it to your Android or iOS devices and look for medical info whenever you need it.

MedPage Today will let you choose your specialty and then customize the type of information accordingly. Thanks to this, you will always be up to speed with the newest discoveries, research, and procedures in your field and you will not get overwhelmed by all the unnecessary information.
For example, if you are a psychiatrist, you will receive news articles related to your medical practice instead of articles about, let's say, pulmonology.
Another great thing about this doctor app is the fact that it is completely free of charge. All you'll have to do is register and then you are all set.

DynaMed is a great online clinical information resource for doctors and physicians. You can request a free trial to ensure this app is exactly what you need before choosing the subscription plan that best fits your needs.
The most important features this app provides include:
Graphics & Images
Overviews & Recommendations
Precise Search Results
Specialty Content
Expert Reviewers
Mobile App
Drug Content
The app itself is pretty easy to use and you can access it through your Android or iOS devices. If you are a med student, you will be granted a student discount.

Lexicomp is a medical app with a great database of diseases, particularly infectious diseases, oral diseases, and toxicology. In addition to that, it offers useful information about drugs and their effects.
You can also access calculators and medical dictionaries thanks to this app everywhere at any time. It is available for Android devices, as well as for iPhones and iPads.
However, this app is not free of charge but there are several different subscription plans available to choose from. You will surely find one that best fits your budget and needs.

3D4Medical apps let you inspect the human anatomy with the latest 3D technology. You can see an entire human body, zoom in on the parts you need to see up close, rotate, cut, and adjust the images in any way you need. In addition to that, there are also useful animations available that are great for patient education.
You can get the basic app for free but if you want, you can upgrade it to one of the options with more features. Complete Anatomy 2019 is available on iPad, iPhone, Mac, Windows 10, and Android.

Muscle Trigger Point will help you understand muscle trigger points and the points that cause pain. Once the trigger point is identified, the app will recommend the best course of treatment.
You can download it to your iPhone or Android device for just $2.

Another one of these apps for physicians is Visual DX. This one is all about images. With 90,000 images featuring all kinds of medical conditions, this app will help you understand all kinds of skin diseases and skin types. It is helpful both for diagnosing patients as well as for choosing the best course of treatment.
If you get your Visual DX subscription, you can download the app for free to your Android device or iPhone.

What makes AHRQ ePSS stand out is the fact that it was developed by the U.S. Department of Health & Human Services. It comes in two versions; web application and mobile application.
The web application:
Compatible with major Internet browsers
Latest recommendations information updated by USPSTF
User-friendly interface
Print-friendly format available
The mobile application:
Full functionality of the USPSTF web application
Full mobility offline
Compatible with Android, iOS, and Windows App
Optional email notifications of available updates
User-friendly ePSS data updates
Both apps are free of charge. However, you'll need to subscribe to get access to all the features.

Mediquations Medical Calculator is… Well, a medical calculator. However, a very useful one. It brings over 230 medical calculations and scoring tools to your Android or iOS devices. It is very simple and easy to use and it will cost you $4.99.

Calculating the exact amount of a particular drug the patient needs to receive is more complicated than you think, especially when it comes to intravenous medication drip-rate. Luckily, Drug Infusion – An IV Med Drip Rate Infusion Calculator will do the math for you.
This app could be particularly useful to ICU nurses and anesthesiologists. If you think you could use it too, you can get it for $1.99.

Anesthesiologists have to take a lot of things into the consideration when calculating the right dosage of the drugs they have to give to their patients. With this app, it becomes easier and more accurate.
Anesthesiology i-pocketcards can be used on iPhones and iPads and it will cost you $4.99.
Ending thoughts on these medical apps
Medical apps are useful both for the doctors and the patients. The patients like to have a doctor on-demand or sort of an online doctor visit. The doctors now, on the other hand, can benefit from all the information about health conditions and their treatments available online.
So if you are one of the healthcare professionals that want to be prepared at any time, take a better look at the best medical apps for doctors and make your life easier during med school, residency, or regular work.
If you enjoyed reading this article about medical apps, you should check out this one on dental apps.
We also wrote about a few related subjects like clinic names, dental websites, medical appointment scheduling software, modern clinic website and best medical websites.
Unlike a decade ago, many aspects of our lives have been made easier with the continuous development of software, apps, and technology in general.
We use apps to read books, to communicate with other people, to count our steps during the day, and for who knows what else.
Many businesses turned to the help of various software for booking and payroll, such as Amelia, a WordPress booking plugin, in order to facilitate the process of client onboarding and management.
With the evolution of this branch of technology, it is only logical that dentists have decided to take advantage of them too.
If you need a good dental app but aren't sure which one to choose, we have done the research for you.
You have probably heard about some of the most popular teeth brushing apps such as Disney Magic Timer, Brush Your Teeth Timer, and other kid brushing teeth apps.
However, today we are going to focus on the dental apps designed for dentists.

Good doctors and dentists treat their patients. The best ones educate them too.
dCStory: Patient Education is one of the great dental apps for dentists that helps them explain clinical information to patients in a way that is easy to understand. It provides 3D images, different treatment plans, and educational counseling, so the patients can better understand their course of treatment. The data from this app can be sent to the patients via email or printed out.
DDS GP (Dental Demo Suite General Practice): Patient Education

DDS GP (Dental Demo Suite General Practice): Patient Education is an app available on Android, iOs, and Blackberry devices.
It provides an image gallery where dentists can upload their own images or use stock photos. It also explains a number of common dental problems as well as their treatments. If the patient or the doctor wants to discuss some specifics relating to the dental conditions, they can be marked as a reminder.

Dental Expert is one of the best dental apps related to hygiene. Not only does it explain a range of dental problems and treatments but it also provides useful information about good dental habits.
It explains different dental procedures and answers the most common questions about dental health issues, treatments, and dental care in general.
For example, if a patient needs a root canal treatment, with the help of this app they will know exactly what the problem is and what the solution of their health problem is, the recovery time, the steps of the procedure, etc.
Once the patient better understands what exactly is happening to them and why they need the dentist's help in the first place, it will be easier for them to minimize the fear level and feel more confident about visiting the dentist's practice.

People love to post the details of their everyday life on social media – and SocialDental was designed for that exactly.
It allows you to capture your own dental habits and post it online. If you are a dentist, you can capture your practice, your patients, different treatment processes, the before and the after pictures, etc.
It is a good way to promote your practice as well as to connect with your patients or potential patients on a more personal level and gain their trust.

Lexi-Dental Complete is an extensive library full of information about the dental conditions and their treatments, drugs and their effects, and high definition images to understand all of that better.
You can get a 30-day trial for this teeth app for free before subscribing to one of the plans.

While most of the dental apps are either simple tooth brushing timers or the libraries full of information about various dental conditions and their treatments, Dental Manager's developers have taken a slightly different approach.
Dental Manager focuses on organizing treatment plans for patients which you can then send to your patients Smartphone devices. You can download the picture and plan the appointments ahead, and always keep your patients updated about everything considering their dental health and treatments.

One of the biggest issues with dental health, in general, is the fear of dentists that many people experience. The Mydentist app can help you with that.
This dental app was developed to enhance communication between dentists and their patients. The patients can ask questions or describe the problems they are experiencing to their dentists. The dentists can then respond with useful advice or they can set up an appointment. This is particularly useful in emergency cases.

Romexis is a perfect teeth app if you are looking for an app to view 2D and 3D images from X-ray units. The app offers high-resolution images which you can send to your patients while also explaining the necessary course of treatment. The images can be edited, zoomed in, adjusted, and shared across multiple device zones.

Every doctor has to deal with patient medical history forms – and only a few enjoy this process. However, Canvas Note Taker HD can make it much easier to organize patient history forms and notes.
The notes and forms can be saved on PC synchronized with the mobile phone, they can be edited, updated, and shared with the patient. It makes the administrative part of a doctor's job much easier.

Box is one of the apps that allows you to manage your files, forms, notes, and other documents, and to share them from any mobile phone or computer.
If you are a dentist, this app will help you organize your dental records, patient history forms, and similar. You can then access them via any device that supports the app and you can easily share them with your patients or your staff.

It happens to all doctors and dentists from time to time; sometimes they have to treat patients that don't speak the same language. This can be particularly difficult if the patient doesn't know how to explain to you what the problem is as well as if you aren't able to explain the course of treatment to them.
If you treat Spanish-speaking patients from time to time yet you don't speak Spanish, Mavro: Dental Spanish Guide is the app you need. It will help you communicate with the patients with the help of the images and of the Spanish word database.
Summary
With the help of the right dental apps, our lives can get a lot easier; and that applies to dentists as well. Over the last years, many useful dental apps for dentists have been developed to educate the patients, provide information about different dental conditions and treatments, as well as to make doctor-patient communication easier.
If you enjoyed reading this article about dental apps, you should check out this one on medical apps.
We also wrote about a few related subjects like clinic names, medical appointment scheduling software, modern clinic website and best medical websites.
Big or small, managing a business has never been easy. However, it gets much easier with the right small business management software, like Amelia, our WordPress booking plugin.
Forget about the days of sitting behind a desk with a pen and paper to do your books; those days are long gone. Nowadays, we have so many great small business solutions that it all comes down simply to choosing a business software that best fits your needs.
You might have noticed that there are so many software programs out there that choosing the right one could be a long and exhausting process. Luckily, we have taken a deeper look at small business software for you to automate your business.
Table of contents
So what is the best software? Well, decide for yourself.
Amelia: Get more bookings with the right tool for the job
Staying organized has never been easier.
You can now manage your business and grow your brand with a single, powerful WordPress booking plugin that keeps all of your appointments in line, your clients organized and your business booming.
Amelia is perfect for business owners who need to streamline their booking experience both for their staff and their clients.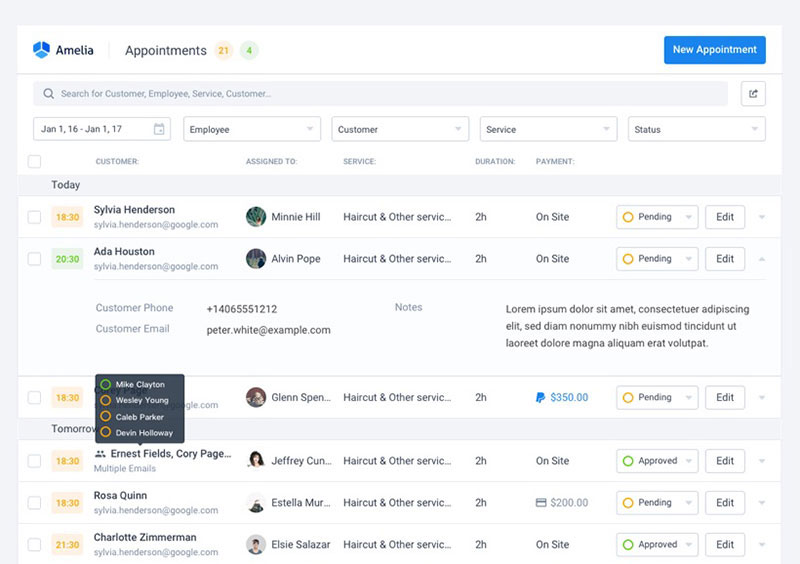 Amelia handles everything for you, even sending automated email or SMS reminders to your clients. No-shows? Not anymore!
The Amelia WordPress booking plugin adapts to different industries for a blissful online booking experience and employee management.
Want to know more? Check out Amelia's awesome features to see what you are missing.
Trade Business or General Service
If you run a trade business or general service, you will find a fair share of business management software designed to fit your needs. There have never been as many business software solutions available as there are today.
Let's take a look at the most popular small business management software and the best computer programs for your company.

Human Resources Management from Deputy is not a small business software free of charge, but at a reasonable price of 1$ per employee per month, it could pay off.
This is one of the business management systems that allow you to schedule employee shifts, manage tasks, make announcements etc. If you want to use some of the more advanced features, for example, payroll integrations or adding timesheets, it will cost you an additional $2 per employee per month.

Accounting from Wave is a top software for keeping your books balanced, crate and scan invoices, get accounting and reports functionality etc.
The features include:
Fast setup with no training required
Unlimited bank and credit card connections
Unlimited income and expense tracking
Bill and invoice reminders
Exportable accounting reports: profit/loss, sales tax, cash flow, comparative, and more
Bulk transaction updates
Customizable sales taxes
Connect to PayPal, Shoeboxed, and Etsy
Instant updates for your invoicing, payroll, and payments data
Unlimited customizable invoicing and receipt scanning

Business Planning from EquityNet is a small business management software that comes with a free crowdfunding platform for better and easier planning, analyzing, and sharing your business plan with the investors.
Anybody who is willing to reach your pitch can do so once you create your plan via EquityNet's plan and analysis software and publish it online. Keep in mind that this is primarily a funding tool rather than a planning tool.

TurboTax Self-Employed is Intuit's bookkeeping software for small business with great reviews and numerous awards.
Some of the key features of this business management system include:
One-on-one help if you feel you are stuck and need a professional advice about how to best use this free business management software
Track expenses in real-time throughout a year so you never miss a thing
Capture receipts in a snap
Track miles automatically for your business trips and similar
Thousands of error checks
Simplify asset depreciation
Employee tax forms
Top-notch security built into everything
Automatic import of your W-2 info
Education tax credits
The great thing about this handy small business financial software is the fact that you can try it out for free before you decide to commit to a subscription plan.
Pics.io

Pics.io is a digital asset management program (DAM) that saves time on the organization of the media library. Metadata and keyword tagging + search can help you find a picture or a photo in mere seconds, optimizing your marketing and sales campaigns.
Pics.io also boasts integrations with many popular platforms such as Shopify. Upload multiple product images at once without relying on CSV sheets and manual error correction.
Starting with $150/mo per 10 users, it is certainly worthwhile to look into if you're working with media assets daily.

Endpoint Protection from Avast is not the best bookkeeping software for small business because its purpose is slightly different from the other software we mentioned here before.
However, this is the best software for small business if you are looking for a unique protection that best fits your devices, employees, and servers.
Endpoint Protection from Avast comes with:
Antivirus
Firewall
CyberCapture
Behavior Shield
Web Shield
Email Shield
Anti-Spam
Smart Scan
Rescue Disc
It also comes with some additional features that depend on the subscription plan you decide to go with. There are three different plans to choose from.

Project Management from Wrike is a cloud-based business application software that you can try out for free before deciding to subscribe.
It's on the list of the best computer software because of the following options and features:
Gain visibility with real-time reports and status for all of your team's projects
Simplify planning by turning strategies into actionable plans
Enable Collaboration by centralizing the communication with stakeholders
Streamline Workflow with the flexibility to track, manage, and support your team's approach to work.
This software for business is highly customizable which will help you to get the most out of it while also saving you some time and money.


Manatal is a modern all-in-one recruitment software tailored for HR teams, recruitment agencies, and headhunters. It leverages the latest technologies at every stage of the recruitment process to allow recruiters to source more and better candidates, speeds up screening, enhance team collaboration, and much more, all designed to hire the best talents.
Primaseller: Inventory management software

Centralized and synchronized inventory for multi-store, multi-channel businesses selling online and offline or offering dropshipping.
Whether it is a webcart like WooCommerce vs Shopify, or marketplaces like Amazon and eBay – your inventory needs to be accurate and it needs to be synchronized.

Video Conferencing from join.me is the best business software for those looking for an easy way to connect with their co-workers, clients, suppliers, prospects etc. It is a great video conferencing solution that you can test for free before subscribing.
You can choose the free small business software version of this useful app where you can invite up to 10 participants, share screens etc.

Applicant Tracking System from Zoho Recruit is basically an advanced way of making the hiring process as easy as possible.
It helps you to:
Rope in the right talent
Parse resumes fast and easy
Communicate with the candidates or clients; set instant messages, answer or make calls, record calls, set reminders etc.
Automate the hiring process
Join hands with other apps such as Google business suite, Zapier, and more

Social Media Listening from HootSuite is a useful software for business that will help you understand the conversations happening around your brand and make smarter business decisions.
It is the best business management software for those who want to better understand how people feel about their brand and to be the first to know when trends take off.
With this small business management software, you can:
See the context with Conversation Maps
Focus on what matters with customized Boards
Save time with smarter, automatic Reports
Social Media Listening from HootSuite offers 6 subscription plans to meet everybody's needs, including the completely free plan.

Email Marketing from MailChimp is one of the top business computer programs for connecting with your clients, promoting your brand, and increasing sales. You can use these emails for all kinds of things such as tell a story, share important news, and sell a product.
If your company sends less than 12,000 emails per month to less than 2,000 subscribers, the MailChimp's Forever Free plan could be a great option for you. If you need to reach more people with more emails, you can subscribe to another plan. Here's an in-depth take on Mailchimp pricing with all available plans and offers.

WORKetc is an all-in-one business management system that has been around since 2009. If you want to find out more about all the useful features it has to offer, you should start the free trial, invite your team, and set it working.

BlueCamroo is a company management software helps you increase your profitability and reduce costs through the seamless integration of an intelligent online CRM and an awesome Project Management System.

Even though Sellsy is focused mostly on sales, there is more to this software business than just that. You can also use it to build and manage a website, track availability and returns of rented items (if renting is what you do) etc. It is one of the greatest small business software solutions if you work in sales.

This online business software might look like a simple CRM, but there is much more to Bitrix than just that. It comes with a bunch of useful features for sales, online meetings, human resources, and invoicing. You can choose from several different plans; the basic one is completely free.

ADIOS is an all-in-one business tool that comes packed with all kinds of features. One that really stands out is the so-called "buy-only-what-you-need" pricing tool.

The name might apply that 1CRM is just another CRM, but this small business management software also comes with the marketing automation which normally isn't present in the all-in-one solutions.

ExxpertApps is one of the most useful business management tools for those who have to handle an international customer base. It covers multiple countries, languages, time zones, currencies, and more.

kpi.com is a financial software for small business that offers all the basic business management tools and solutions one would expect from a small business management software.

YourTradeBase is an all-in-one solution that is extremely easy to use and it is great for almost all types of businesses.

When talking about business management solutions, we have to mention mHelpDesk because it can be very helpful to basically every business owner. The small business software reviews tell us that the users have been very happy with this one.

Jobber is a great business tracking software for service business. One of the features that stand out is the GPS tracking system which makes it possible for you to keep an eye on your employees in the field.
Specific Business Type Solutions
We mentioned the best small business management software for general services and trade business but when it comes to certain types of business, they could benefit from small business computer programs specifically designed for them.
So let's take a look at some solutions if you are running a small business:

If you own an auto shop, take a look at Boss Shop Pro because this could be the business management solution you have been waiting for. It will help you keep track of all kinds of auto parts and details you work with on a daily basis etc. It is also seamlessly integrated with other cool solutions including Edmunds, Epicor, and Carfax.
Residential Builder and Remodeler: Co-construct

Organizing all the details and getting a building project ready requires some pretty good management skills. Luckily, it is not the end of the world anymore if you are not the greatest manager in the world because Co-construct will do all the heavy lifting for you.

Every IT consulting firm that is looking for a good small business management software should check out ConnectWise. This home business software is a great way for you to stay in touch with your clients and help them with all their needs.

HarmonyPSA is one of the best business systems for companies that develop, sell, and maintain hardware and software. It was designed specifically for businesses that offer technology services and products.

CosmoLex is an all-in-one solution for managing a law firm. If you are a lawyer, this could be the best small business management software for you.
Distributors and Manufacturers: OfficeBooks

If you are managing distribution and manufacturing, OfficeBooks is the best financial software for small business that you could stumble upon. It will help you manage inventory, purchase orders, control sales etc.
Ending thoughts on small business management software

Managing a business has by all means never been an easy job. In fact, if you are a business owner, you could probably use all the help you can get – and that is where the small business management software comes in.
Depending on the type of business you are running, there is a whole list of great business software products you could benefit from using. Take a look at the key features of each one of them, subscribe for the free trials, and see which one best fits your needs.
If you enjoyed reading this article on small business management software, you should check out this one on how to apply for a business license.
We also wrote about a few related subjects like how to start a small business, how to start a small business in Texas, small business management software, small business ideas for men, small business ideas for small towns, professional email address and contact management software.
It might seem like all the business opportunities are in big cities but the reality is actually quite different than that. Small business ideas for small towns might be just the thing you are looking for!
Starting a small business comes with many benefits but doing it in a small town has a whole set of perks you didn't even know about. For starters, there are fewer competitors around, local people will probably support you, and it is much easier to find a free business niche.
Even better, you don't need to have that insane startup culture within your company, and you can be a bit relaxed, while still focused on your goal.
Table of contents
Small businesses have been growing in popularity for quite some time and it would be a shame if you didn't turn your business ideas into reality.
The List of Business Ideas for Small Towns
Farmers' Market Vendor
Grocery Store
Diner
Specialty Restaurant
Food Delivery Service
Ice Cream Shop
Roadside Food Stand
Flea Market Seller
Handmade Artisan
Furniture Upcycle
T-shirt Designer
Clothing Alterations
Water Refill Station
Sale of Call Cards and Data Bundles
Vegetable and Fruits Mart
Retailing of Bread
Open a Hospital /Medical Center
Open a Maternity Center
Open a Veterinary Clinic
Elderly Care Business
Open a Consignment Store
Start a Landscaping Business
Offer Lawn Care Services
Pet Store, Grooming, and Boarding
Gas Station
Now let's look at these in detail.
Farmers' Market Vendor
People in small towns often appreciate freshly picked fruits and vegetables that someone has grown in their backyard. If you have a green thumb, starting a farmer's market vendor could be one of the best entrepreneur ideas for you.
Grocery Store
Small towns usually don't have all those big grocery stores you can find in large cities. Starting a small grocery store is one of the best businesses to start in a small town.
Diner
While larger cities are all about getting food as fast as possible in fast food joints such as McDonald's, KFC, and similar, opening a small and cozy diner is a much better way to go in a small town.
Specialty Restaurant

Everybody loves good food so if there isn't a wide variety of restaurants in your small town, opening a specialty restaurant could be one of the most profitable small businesses.
Food Delivery Service
Delivering food directly to people's homes has also been growing in popularity over the last few decades. If there is no food delivery service in your town delivering food could be one of the best small businesses to start.
Ice Cream Shop
There is something particularly charming about a cozy ice cream shop in a small town, isn't it? If your town isn't already filled with all kinds of dessert options, opening a small ice cream shop could be one of the best small business ideas for small towns.
Roadside Food Stand

Do you have a signature homemade cookie? Or your famous lasagne? If there is a dish you are particularly proud of, you could always try and make some money off of it by opening a roadside food stand.
Flea Market Seller
At a flea market, you can sell your own handmade goods or you can resell all kinds of stuff.
Handmade Artisan

If you are into arts & crafts, you could sell your handmade goods on sites like Amazon, Etsy, and similar. The plus is that there is a chance you will find some cool and really unique supplies in a small town.
Furniture Upcycle
You can search for old, vintage furniture, do a bit of restoration and modification to it, and then resell it.
T-shirt Designer
You can easily design cool T-Shirts with platforms such as Redbubble, Printful, and Society6. That also goes for other stuff such as pillows, towels etc.
Clothing Alterations
If you know how to alter and sew clothing, staring a clothing alteration business could be one of your next great business ideas.
Water Refill Station
Opening a water refill station could be an awesome business to start in a small town where people struggle with accessing clean and portable water.
Sale of Call Cards and Data Bundles
Selling Call Cards and data bundles is one of the easy business ideas because it doesn't require any particular skill, yet it could be one of the very profitable businesses as well.
Like most successful businesses, it starts with the research. First, you have to get familiar with the telecommunications companies that are operating in the small town of your choice. The more choices, the better for your business.
Vegetable and Fruits Mart

If you live in a small town where you can easily access fresh produce, opening a vegetable and fruits mart could be one of the greatest entrepreneurship ideas. You don't need a huge startup capital and if you have some basic business skills, you should be able to run this business without breaking a sweat.
People in small towns usually support local farmers, gardeners etc. and they enjoy buying food that was produced in their town rather than imported from somewhere else. Having a vegetable and fruits mart with locally grown produce could be one of the best businesses to start with little money.
Retailing of Bread
You could always open a bakery but if you want to start a good business without investing as much money, you should consider retailing of bread. Your job will be pretty simple; you need to find good bakeries in the area, secure the delivery of bread from them, and simply display them in your shop.
However, what makes this job tricky is the time limit a business like this comes with. You can't order too much bread if you can't sell it as fast as possible because you will be losing money. Bread isn't a long-lasting good so you will have to always plan ahead.
Open a Hospital /Medical Center
Opening a hospital is always on a list of small business ideas for small towns. And while hospitals and medical centers are really needed in small towns, this won't be the easiest business to start. It takes some pretty big investments and a well-prepared and educated staff. However, if there are no other hospitals in the areas, this could be the best small business for you.
Open a Maternity Center
In some smaller communities, women often can't afford standard hospital care for delivering a baby so they opt for a midwife of a maternity center. If, on the other hand, there is no maternity center in the area, starting one would solve many people's problems. And we all know that the best businesses are those that offer a solution to a specific problem.
Opening a maternity center could be one of the best small business ideas for small towns for women, especially if you are a midwife. Of course, you would need to obtain the necessary licenses and permits but that should not be too big an issue.
Open a Veterinary Clinic

If you are a veterinarian, there is no question that opening a veterinary clinic in a small town is one of the best small business ideas for small towns ever. Choose a town with a lot of pet owners and/or livestock owners with no veterinarian in the area. Your business is bound to be successful if you do that.
Elderly Care Business
If you are a medical nurse or a licensed caregiver, maybe you'd like to consider starting and elderly care business. Those types of businesses are very profitable and growing in popularity so it should give you a good shot in starting to earn a steady income.
Find a suitable location, get all the necessary licenses and permits, find adequate employees, and you will have a great small business startup.
Open a Consignment Store
Consignment stores have always been popular in small towns and if there is no store of this type in your area, it could be the best startup business for you. Consignment stores are about selling used stuff of all sorts; from electronics to shoes. However, it could turn out to be the most profitable small business.
Start a Landscaping Business
If you are looking for small business ideas for small towns, starting a landscaping business could be the right thing for you. If you are interested in art, design, planning, management etc., do a bit of research to find out whether or not there is a demand for the business of this sort in your area.
However, don't expect to make a huge profit right away. You have to have the necessary dose of talent and skill to make this a profitable business in the long run. No need to say that you have to deliver an excellent job every time and keep your reputation at the highest level possible.
Offer Lawn Care Services
The thing about small towns that makes it really different from the big cities is the fact that people usually live in houses instead of the big apartment buildings. Almost every house comes with a lawn and where there is lawn there is the need to care for it.
From lawn mowing to raking the leaves, you could offer lawn care services at a reasonable price and with almost no capital investment. All you need are the necessary tools and supplies such as the lawn mower, rake, wheelbarrow, shovel etc.
Keep in mind, however, that there are certain periods during the year when your services won't be necessary. For example, if you live a town where the winters are usually snowy, there won't be much need for lawn care services during those few months. On the other hand, you could offer snow shoveling services instead.
Pet Store, Grooming, and Boarding
People have never cared for their pets as much as they do now. From grooming to dressing them up, the pet owners want their four-legged friends to be in the best shape possible.
If there is no pet store in your area, one of the coolest unique business ideas would be to open one and offer additional services such as grooming and boarding. Ask around to find out where the local people currently get their pet stuff from to be sure that it makes sense to open a shop of this sort.
Gas Station
If you want to start your own business, you have probably not given too much of a thought to opening a gas station. However, try to give it another thought because the gas stations are absolutely essential in every community.
It might not be the most glamorous business ever, but it can be a very profitable one. In fact, it is possibly one of the best small business ideas for small towns. Not only will you earn money by selling gas, but you can also generate substantial revenue by selling all sorts of things, including tobacco and lottery tickets.
Small town business specifics

So what makes starting a small town business different than starting a business in a city? Let's talk more about small business ideas for small towns!
Simplicity is the Key
Due to the huge competition, every business idea in a city has to be an innovative one. People in large cities have seen it all and they want to see more new stuff offered to them.
When it comes to small towns, the situation is the exact opposite. People cherish simplicity and traditional ideas –  and that is where you should start with starting the best business.
Free Business Niches
While the big cities have seen it all, there is a good chance you will discover a number of free business niches in a small town. Your small business ideas should probably cover some of those instead of doing the same thing other people have been doing in the same place for years.
Lower Competition
Forget about fighting for every client. If you provide a good service or product, the clients will come to you.
Better Connections
In a small town, people usually know each other pretty well. Having better connections can really simplify your business organization and help you get things done faster and without too much stress.
A Limited Number of Customers
Unfortunately, increasing the number of customers in a small town can be really hard. For example, if you own a bakery and every single resident of the town visits it every day, there is nothing more you can do to attract more customers because there simply aren't any.
The best business to start will probably be some kind of business you are able to expand or you have to be okay with the fact that there are only so many people living in the small town.
Smaller Salaries
It's in every business owner's interest to pay the smallest salaries possible (as long as they are fair to the employees). The good news for entrepreneurs in small towns is that people usually work for lower wages than in big cities and they will be happy with smaller salaries.
Lower Starting Capital
It will cost you less convert your new business ideas into reality in a small town than in a big city. From cheaper rent and supplies to smaller salaries you have to pay, you will need a significantly lower starting capital in a small town.
Spend Less on Promotion
Marketing and promotion is a huge deal in big cities and it can cost you a small fortune. On the other hand, promoting a new business in a small town is usually quite simple – and cheap. There is no need to invest in large advertising campaigns and similar. Promoting good business ideas shouldn't be a problem.
Good Reputation is everything
In a town where everybody knows each other, maintaining a good reputation is crucial. After all, one of the best marketing methods is word of mouth.
Ending thoughts on small business ideas for small towns

If you want to start a business in a small town, first do some research and think about which small business ideas for small towns actually make sense. Get a better idea about how the things in your community work, which products or services are missing, and whether or not it is possible to start a business that will solve one of the local problems.
Best small business ideas are usually simple, traditional ideas. Don't get too caught up in the big-city way of thinking and instead think about the businesses that could benefit the small community.
One way or the other, you should give it a try and turn your small town business ideas into actual businesses. If you do it smartly, there is a good chance it will pay off. No matter what business you will be into, you will need a well-organized website to manage the operations and promote your services. In order to make sure that your business is running 24/7, delegate all the booking management activities to Amelia, our WordPress booking plugin.
If you enjoyed reading this article on small business ideas for small towns, you should check out this one on small business ideas for men.
We also wrote about a few related subjects like how to start a small business, how to start a small business in Texas, small business management software, how to apply for a business license, small business management software, professional email address and contact management software.
Growing your law firm is a challenging endeavor unless you have experience in marketing a law practice. Marketing for attorneys is not always about getting new clients, but about retaining previous clients. In the end, growing a law practice entails happy and satisfied clients.
You can't focus all your efforts on lead generation, and you can't focus all your efforts on hoping for your old clients to need you again. You must know how to get clients as a lawyer to come to you for their problems, whether they have worked with you before or not.
Here are some tips on marketing your law firm successfully and, hence, growing your law firm:
Make sure you are easy-to-reach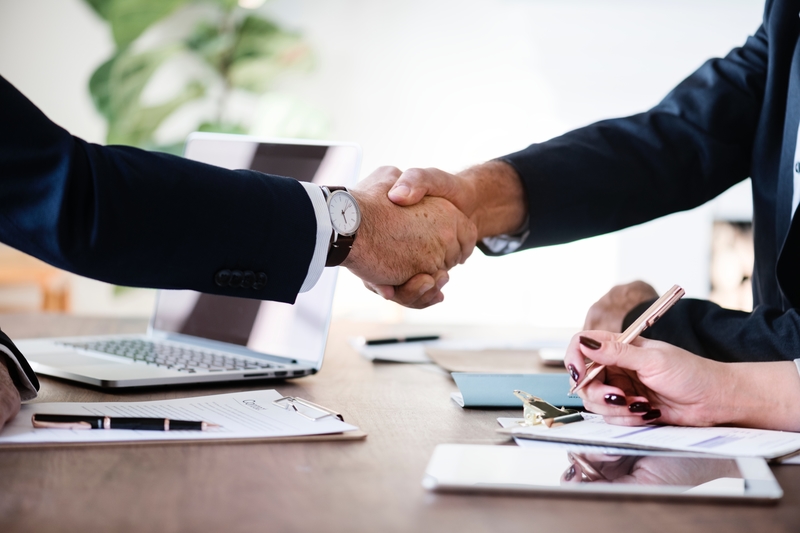 Legal problems don't come knocking on your client's doors upon appointment. People don't know when their status will change to clients of a legal firm, so make sure you are there for them when they need you. Your availability is key to growing your law firm.
Given today's technology, you have no excuse if potential and old clients can't get a hold of you: cell phones, online booking systems, contact forms on your website, e-mail, etc. you should be able to answer your clients in time because legal matters are usually urgent matters.
Consider using professional services, such as Amelia, to assist you in taking on the challenge to keep up with the latest technologies.
Stay in touch with your clients
If you want to learn how to market your law firm, learn how to check in with your clients on a regular basis, either old or new clients. You can't make house calls because you must use your time wisely to handle their legal matters, but you can always drop an e-mail or make a call.
Staying in touch remains one of the most efficient ways to market your law firm and one of the first things you learn when interested in how to market your law practice.
Improve social media strategies
A business without a strong, positive, and consistent social media presence is doomed for failure in today's age of social media. Keep your social media accounts up-to-date; don't create them to be able to say you have them. That's not the purpose of a social media account!
Share and post regularly relevant and original content, not copied content that everyone shares! Make sure your posts get enough likes or shares and adapt your social media strategy accordingly if you lack in that area!
Adopt email marketing
One effective method of lead generation for lawyers and any business remains e-mail marketing. E-mail marketing is one of the most efficient attorney marketing ideas and an exceptional way of growing your law firm reaching a wide audience interested in your services.
Invest in digital advertising
Digital advertising is a new, but increasingly popular attorney lead generator and a great helper in building a law firm, be it a local law firm or a national firm. Investing in ads can prove to be unexpectedly efficient as an investment in growing your law firm.
Make a great first impression

As a lawyer, you probably want to know how to build a law practice, how to generate law firm leads, how to grow a law firm, how to market law firm, how to advertise a law firm, how to get personal injury clients, etc. You are probably wondering how do lawyers get clients?
One of the best ways to secure clients once you've reached them or they've reached you is to make a positive first impression. Make sure you treat your clients accordingly by making a good impression the first time you meet! It sounds simple, but many attorneys fail in that respect!
Play to your strength

Building a law practice takes a lot of effort and, in time, you develop strategies and key strengths that make your legal firm stand out from the crowd. A great strategy when you are focusing on growing your law firm is to start building on your core strengths.
Identify your core strengths, including cost flexibility, tailored customer service, agility, etc., and then play to your strength and it will help your law firm more than you can imagine. Playing to your strength is one of the best law firm building blocks and lawyer lead generation solutions.
Have a business plan
A method of growing your law firm is to have a business plan that will emphasize your vision and the strategy to achieve that vision. A business plan will showcase what you want your law office to do and what you don't want your law office to do.
A business plan will also help you focus on growing legal practice areas that are in line with your mission. You may think that you are too small to write a business plan, but you will be wrong: no business is too small to know its mission and how to accomplish it.
Put marketing and business development costs in the budget
Many lawyers feel that opening a law office is enough and marketing is not something they consider from the beginning as if clients will be lining at their doors a week after they opened their law firm. It's the wrong approach and marketing should be in the budget from the start!
Growing your law firm will not come for free. It is an endeavor that takes a lot of time in addition to money and energy. While you can't put energy and time into your budget, you can put new business development and marketing costs in your budget!
Go with measurable marketing strategies
Chaotic marketing is not good if your focus is growing your law firm. You need measurable marketing strategies that will allow you to identify which strategy pays up and which doesn't.
How will you know which marketing strategies work, and which don't if you can't measure outcomes? A client feedback program will also help you identify better the pros and cons of your business and adjust your marketing and new business development strategy accordingly.
Target existing clients first

New business development is not always about new leads for attorneys; it usually starts with securing new business from existing clients. If you want to grow your law firm, you must target existing clients first and try to get more business from them by staying in touch with them regularly.
Make sure you understand their needs and be ready to meet them with flexible services. Don't expect clients to come to you when they need legal assistance. Make sure they know they can come to you when they need legal assistance. Make sure they know you can help them.
Get a professional website and keep it upgraded
When launching a law firm, many attorneys don't feel like a website is a must. A site is often an aftermath thought, not an initial consideration. In today's age of the internet, lacking in web presence is a significant impairment no matter how small or significant your firm.
Once you understand the importance of having a website to stay in touch with clients, capture new leads, explain your business, and grow your law firm, you have to understand the importance of having an up-to-date website that is user-friendly and SEO-optimized.
A website gives your law firm the legitimacy and trustworthiness it requires to stand out from the crowd. A good site is like an office in the best part of town. Would you rather trust a lawyer in a shady suburb or a lawyer in a safe, nice-looking neighborhood?
Get more clients with the right tool for the job
Staying organized has never been easier.
You can now manage your business and grow your brand with a single, powerful WordPress booking plugin that keeps all of your appointments in line, your clients organized and your business booming.
Amelia is the perfect appointment scheduling plugin for WordPress. It's for business owners who need to streamline their booking experience both for their staff and their clients.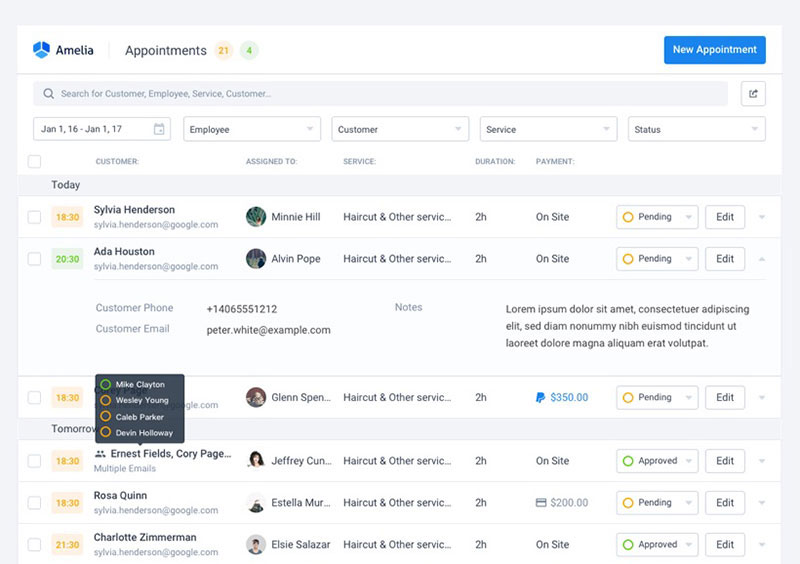 Amelia handles everything for you, even sending automated email or SMS reminders to your clients. No-shows? Not anymore!
The Amelia WordPress booking plugin adapts to different industries for a blissful online booking experience and employee management.
Want to know more? Check out Amelia's awesome features to see what you are missing.
Use the internet to grow your firm

The problem of many independent professionals, lawyers including, is that they fail to realize that their knowledge, skills, and expertise are not enough to build and grow a successful business. A law firm has a business side and a professional side.
Do you neglect the business side? If you are not committed to the business side, you will not be able to employ your knowledge and abilities as a lawyer to serve clients. You need to win as a solicitor, and you need to succeed as a business if you want a successful law firm.
You can't be successful as a solicitor without being successful as a business. There are business consultants that specialize in helping law firms get back in the game and adapt to the internet age because that will help them achieve your goal: growing your law firm.
The internet is your best ally if you know how to use it. The internet can generate business more than you can imagine and you need to use the internet to be visible in the legal firm, to appeal to clients the moment they reach your online venues, and to stand out from the crowd.
Increase your law firm's online visibility
Many big players in the legal field have borrowed the expertise of other industries in an online business generation. You can compete with that if you use professional help because you can't focus on delivering high-end legal services and be an online business generation expert as well.
You need people whose business is generating business online for attorneys, and there is a wide range of experts that you can choose from; you only need to understand the importance of web presence and being visible online. People seek help on the internet, no more than ever!
Are you there to meet their needs? Are your website and other web venues prepared to pop up when they search for the services that you are offering? Do your services stand out as the best in the field? Are you where they can see you? Be visible online and start growing your law firm!
Increase your online platform's potential to generate business
Do not neglect the power of SEO! Some people tend to minimize or even eliminate the potential of Search Engine Optimization for online business generation. Any business with a web presence needs SEO to improve its online platform and grow its law firm.
There are technical aspects of SEO that only an SEO expert can handle. There is the content side of SEO that you can manage with expert advice. The point is to make sure you address your online platform's SEO needs if you want to increase its business-generating potential.
Implement prominent calls to action
Users, buyer's persona, visitors, or however you want to call them, are potential clients, and what you need to know about them is that they stick to the "don't make me think" philosophy. They must find what they need effortlessly, or they will go someplace else with a click.
If you want to start growing your law firm, you must have a high-converting platform online, and you can't have a high-converting online platform without outstanding calls-to-action.
Calls-to-action must be present throughout your online platform, guiding users towards that ultimate action you want them to take. That final action can be achieved by downloading a whitepaper, filling out an inquiry/contact form, picking up the phone, etc.
Don't make them think; make them act! It's a valid statement for any business with an online platform. Make sure your law firm is in the 21st century and understands the role of calls-to-action! Don't expect users to factor in any effort just because they need what you are selling!
Summary
Growing your law firm is a joint effort of every member of your team! Remember that networking, online and offline, remains the most effective marketing strategy. Building strong relationships means building a successful business so get your team to work on that!
Attend conferences, symposiums, and workshops that are specific to the industry, keep a close tap on existing clients and their needs, be accessible online and offline, blog your way to success! Don't forget to factor in the time, money, and effort necessary to grow your business.
In the end, a law firm is a business and requires investment and planning to become successful.
If you enjoyed reading this article and the suggested tips on growing your law firm, you should check out this one about becoming a self-employed attorney.
We also wrote about a few related subjects like how to become a law firm website and law firm names.
Starting a business is a big step. If you are thinking about doing it yourself, you should know how to start a small business.
Small businesses are the most popular type of businesses at the moment and according to the Small Business Administration, they make up 99.7% of all businesses in the United States.
Unfortunately, not all of them are going to be successful. As a matter of fact, only two-thirds of them will survive at least two years. So how to start a small business that is positioned for success?

The early stages can make or break a business so it is important to go through all the right steps when turning your online business ideas into reality.
Table of contents
How to start a small business: the steps you need to take
Without further ado, let's take a look at 10 steps that will answer all the most important questions if you want to know how to start a small business!
Step 1: Start with the Research

Having a great business idea is important, but the idea alone does not guarantee you a successful business. A good validation process will help you balance the idea with the reality and choose the right approach for starting a small business.
It's all about understanding the market because you will only hardly sell something that the market doesn't want or need.
For that reason, it all starts with quality research that will help you identify focus groups and explore the market to determine whether or not your idea has the potential to turn into a successful online business.
You need to ask yourself some questions before you start a business. Here are some of the most important ones:
Is there a need on the market for your product or service?
What are your focus groups? Who are the people in need of your product/service?
Are there other companies on the market with a similar product/service?
What do you know about your competition?
How will your business fit into the market?
Step 2: Create a Business Plan
Once you know how your product/service will fit into the market, you need to create a solid business plan – and follow it all the way through.
There are 2 main types of plans that will be your business guide through the process of starting a successful company.
A traditional business plan is a great option for those who plan to seek financial support from investors or financial institutions. It is usually long and thorough because the investors or bank require as much information as possible before providing the necessary funds.
A simple one-page business plan is all you need if you don't need financial aid from investors or banks. It serves the purpose of giving you some clarity about your goals and the ways of achieving them.
Step 3: Set a Budget
If you want to start your own business, you need to be ready to invest some money. Set a budget and plan your finances to be able to cover both the initial investment and the ongoing expenses.
When calculating the initial costs, don't forget to include things such as licenses and permits, legal fees, inventory and equipment, property leases, branding, insurance, and similar.
The second step is to anticipate how much money you will need to keep your business running before you start turning a profit. Put on paper how much it would cost you to pay for 12 months' worth of rent, salaries, utilities, marketing, supplies, production, etc.
Once you combine those two numbers (the initial investment + the ongoing costs), you will have a better idea about how much it will cost you to start a new business.
If your budget seems too low to cover all those expenses, keep in mind that there are many ways to fund your small business such as:
Another method to start up a business is by bootstrapping, which means using as little capital as possible. You could also raise funds by partially selling your online business.
Whichever way you decide to go, you need to know and understand all your options and plan your finances accordingly.
Step 4: Pick the Right Business Structure
How to start a small business? You can choose from several business structures; a sole proprietorship, a partnership, a limited liability company (LLC) or a corporation.
Choosing the right business entity is important because it will impact everything from your business name to your liability. It will also determine how you file your taxes.
Luckily, if you are not happy with the initial choice, you can change your business structure to one that will better fit your needs.
If you want to be 100% sure you understand all the business structures and the way they impact your business, you should consider consulting an attorney or CPA.
Step 5: Choose Your Business Name

Choosing a good name is an important part of creating an internet business. You should choose your business name carefully and make it a memorable one.
Here are a few business name generators to help you out:
Once you know which name you want to use, you should if it's already in use. If it's not, you should register it with the state or county clerk if you are a sole proprietor. The corporations, limited partnerships, and LLCs will register the name once the formation paperwork is filed.
You should also register your domain name as soon as you have chosen your business name. Once you have selected your business name. If your ideal domain name is taken, there are some cool options you should consider going with instead.
Step 6: Licenses and Permits
If you still don't know exactly how to start a small business, you have to be ready to deal with some paperwork from day 1.
You will need all sorts of small business licenses and permits depending on the type of business you are starting as well as on your location. You should do thorough research to make sure you aren't forgetting anything. Consulting a lawyer is also a good idea.
Step 7: Choose Your Accounting System

How to start a small business? Choosing a good accounting system will help your business run smoothly and save you a lot of time and unnecessary stress.
You can simply hire an accountant and let them do all the heavy lifting for you or you can set up an accounting system yourself. If, however, you decided not to hire a professional, we definitely recommend choosing accounting software.
Step 8: Choose a Business Location
One of the first things you will have to do is set up your business location. You can choose from many options, so make sure you are choosing smartly. After all, your business location needs to be appropriate for the type of business you are starting.
You can have a home office, a shared or private office space, or a retail location. There is also a chance you will have to buy or lease your commercial space.
Step 9: Prepare Your Team
One of the most important things you should think about when planning how to start a small business is hiring employees. It is never too early to start forming and preparing your team for work.
You should be clear on which positions you need to fill and what responsibilities come with each position. If you aren't sure how exactly to do that, you should check out a guide to hiring your first employee created by The Small Business Administration.
If, on the other hand, you are outsourcing work to independent contractors instead of hiring employees, you will need an independent contractor agreement (.docx offered by Berkeley Law) in place before starting your search.
If you need neither the employees nor the contractors because you are a solopreneur, you still need to consider having at least some sort of support. It can be anybody from your family to a business coach but it is always good to have someone when you find yourself in a need of advice or some additional motivation.
Step 10: Marketing and Promotion
Starting a new business is just the first step. From that point on, you will have to think about all the ways to keep your company running.
One of the first things you should do when planning how to start a small business is putting together a unique selling proposition (USP) and creating a marketing plan. Exploring other small business marketing ideas is also a good idea because it will help you create the best marketing strategy for your small business.
How to Start a Small Business: Tips and Tricks You Shouldn't Overlook

It will take some time for you to figure out all the aspects of your business and to learn how to do business right. However, if you make good decisions early on, it will save you a lot of trouble later.
Here are some useful tips to help you with planning how to start a small business:
Don't Be Afraid of Failing
If you want to start a business, you have every right to be cautious. After all, being your own boss and creating a business from scratch comes with all kinds of risks. However, that is not a reason to give up even before you have started.
People are often afraid of failing so they make all kinds of excuses not to take the leap of faith and start their own business. So first things first: Confront your fears and stop will all the excuses.
If you fear the possibility your business might be a fail, you should try to think about it rationally and turn those things into something useful. Think about it as constructive criticism that comes directly from your subconscious mind.
Instead of giving up, address the issues that you think might prevent your business from succeeding, and don't let your own insecurities hold you back.
Listen to Advice
Good advice can come from the most unexpected places so make sure to absorb everything. Be like a sponge, write things down, and develop a detailed plan.
Talk about your business with your family, friends, experts, and listen to what they have to say. Read their body language to determine whether they are being honest or they are just trying to be nice.
And above all, listen to your gut. Your intuition is your friend so address your concerns and talk about them to other people.
Don't forget to seek advice from people with years of experience in the business. Not only will they give you some useful tips and tricks but you can also learn from the mistakes they made when they were in the position you are in now.
Be a Solution
"I want to start my own business but I am not sure it will be successful. What can I do?" – this is one of the most common questions people ask themselves when opening a new business. What you should be asking yourself instead is: "What will my business SOLVE?"
Your business idea is a good idea if it offers a new solution for your potential customers. If it fills a hole in the market and fixes a problem people encounter, you can be sure you will gain a solid customer base.
Just remember the guy who invented the cardboard coffee cup sleeve.

Back in the '90s, Jay Sorensen got tired of hot coffee burning his fingers every time he bought a cup of coffee to go so he designed a simple yet effective solution that got him rich instantly. He designed a humble cardboard sleeve that is today commonly used on coffee cups around the globe.
His idea was good not only because it was smart and innovative but because it was a solution to an everyday problem millions of people faced every day.
So much as Jay Sorenson did back then, you should ask yourself whether or not your idea solves a problem. If it does, you are on the right track.
Keep Things Simple
If you have a good business idea, don't get all caught up in thousands of ways to improve it even more because you will end up with something way too expensive that nobody actually wants.
Overthinking is not your friend so just try to start small and stay focused on the basics. Learn how to test your business idea and cut all the unnecessary features and expenses. Start small and allow things to grow spontaneously.
Count the Expenses
Once you have a good business idea, you need to be sure you have the necessary budget. Count in every business expense necessary to start a new business. The first expenses you need to take into account are basic things such as rent, marketing, supplies, and similar.
Once you have a rough number in mind – quadruple it! You will be faced with unexpected costs of running a business more often than you think. It is better to be safe than sorry so don't let the expenses catch you off guard.
Also, don't forget to take your personal expenses into the account. You will have to pay for your rent, food, healthcare, gas, and other day-to-day things. Set up a list of priorities and divide your money accordingly. For example, paying your mortgage is a priority while taking a weekend trip out of town isn't a must if your budget can't really cover it.
Once you have calculated all of the possible expenses, to create a business budget. There is a chance you will need a small business loan or another source of outside capital before turning a profit and being able to pay for everything yourself.
How to Start a Small Business without Money

You need to be well aware of the fact that some time will have to pass before you start turning a profit. When calculating your costs, imagine that you are starting a business with no money at all.
You need to be able to handle having no incoming money if you want your business to make it in the long haul. After all, more than 50% of the new small business go bankrupt within the first 5 years.
A good way to avoid that happening is to have a solid backup plan. Having a temp job somewhere or sharing an apartment with roommates is a good way to save some money. You need to be ready to give up some of the comforts you are used to having. It will definitely pay off later on.
When planning on how to start a small business, take a good look at your income and your savings. Can you afford to start a business and quit your current job? Will you be able to cover unexpected costs if they occur? You need to be prepared for every possible situation.
Earn Money as You Move Forward
You might already know how to start a small business, but getting it going and earning money will be a long process.
You can't achieve all at once; instead, grow your business in stages. Be prepared to work even during your off-hours during the first couple of hours. As you start earning money, you will be able to work less and employ more people to do the work for you.
Get Familiar with all Legal Requirements
The most boring yet unavoidable part of starting an online business is getting familiar with all the laws and legal requirements. However, if you want to avoid penalties, you will have to do so.
Everything must be done in accordance with your state's laws; from setting up an accounting system to registering your business and employing people. One of the crucial points of planning how to start a small business is getting familiar with the tax liabilities and making sure you are following the rules with every move you make.
Getting professional legal advice from an attorney or an accountant is also a plus, especially in the beginning while you still aren't sure how everything works.
Wisdom and Passion Hand in Hand
Listen to advice, do market research, talk to target customers, ask professionals for advice etc. Remember that knowledge is power and the more you know, the better chance your business will grow.
Let your passion push you forward but use your wisdom to move you in the right direction.
Small business ideas you could try
Ok, so you're lacking ideas for creating a new business. Check out these small business ideas and see what is more appropriate for you.
Arts & crafts business
Creativity consultant
Interior designer
Jewelry
Freelancing your expertise
Hobby business
Sports business
Cart/kiosk
Direct sales
eBay
Gift basket
Swap meet sales
Business support
Consulting
Desktop publishing
Invoicing
Manufacturer's rep
Medical claims
Payments
Security specialist
Seminar production
Transcription service
Child-care
Elder Care
Financial Advisor
Personal concierge
Personal shopper
Remodeling contractor
Tutoring service
Wedding consultant
Cleaning Event planning
Mobile photography
Here's an article with small business ideas for men. Those are not exclusive to male entrepreneurs, though.
The Startup Costs
"I want to start a small business. What are the costs?" – This is a very legit question that every new entrepreneur should ask themselves. One should never underestimate the expenses of owning a business. Let's take a look at some basic costs:
Startup costs: Before your business gets going, there will be a number of startup costs. Those including things such as legal work, marketing materials (brochures and similar), logo design, website design, etc. To cut your costs you can check these free HTML5 templates.
Startup assets: Startup assets include the money with which the company starts operating as well as the inventory, equipment, machinery, office furniture, and similar.
Startup financing: This includes capital investment and loans. However, it doesn't include the money your company earns later on. Startup financing is the money you have before the business starts operating and turning a profit. The rest goes into the Cash Flow table, which will automatically adjust the Balance Sheet.
Assets vs Expenses – It's all about Timing

If you want to understand the difference between startup expenses, assets, and financing and the rest of the costs that will occur down the road, you need to know it is all about the timing.
For example, the expenses that occur during the first year are not actually startup expenses. Instead, they appear in the Profit and Loss statement. Don't count them twice; both in the startup expenses and profit and loss.
The same thing goes for the assets. If you acquire them before the starting date, they are considered startup assets. If, on the other hand, you purchase them later, you should put them in Profit and Loss.
Types of Startup Funding
Investment is the money you put into the new business. It ends up as Paid-in Capital in the Balance Sheet. Basically, what you do is you invest a certain amount of money into starting a business with the risk of losing it but also with the hope to make more money down the road.
Accounts payable are debts that will end up as Accounts Payable in the Balance Sheet. This usually refers to credit card debt. This number becomes the starting balance of your Balance Sheet.
Current borrowing is standard debt, for example, bank loans, money borrowed from a Small Business Administration, or another current borrowing.
Other current liabilities are borrowings from friends, family members, or founders, as well as interest-free loans
Long-term liabilities are long-term debts and long-term loans.
Cash Balance on Start
Cash balance on starting date should cover the estimated amount of money your new business needs when it starts.
When planning how to start a small business, you should calculate your investments and loans minus the expenses and assets. If the cash balance goes below zero, you will have to reduce the expenses or increase your financing.
How to set up a Business: The Money You Need

We have talked about counting expenses and getting a general idea about how much money you actually need to start a business. However, you might still not be quite sure exactly how much it will cost you to create a company. Here are some more things to keep in mind when you are planning how to start a small business:
Capital Expenditures
You can save a lot of money by finding reliable suppliers. Your startup can really benefit from vendors who have worked with companies similar to yours in the past. Find a supplier who is willing to help you by taking the time to get familiar with your business and offering exactly what you need.
Winding resellers can really help you save money on some of the equipment that you can purchase used, for example, furniture, machinery, and similar. Think about the things you need to purchase and then form a list of equipment that can be bought from a reseller as well as the equipment you would prefer to have fresh from the factory.
Operating Expenses
When planning how to start a small business, always be prepared for the worst-case scenario. There is a chance your sales will go much better than expected which would, of course, be a big plus. However, there is also a chance you will earn less money than planned – and you need to have a backup plan in case that happens.
Have a number in mind that will keep your business going during the time you build your brand recognition. Document it all, but every possible expense on paper, and make sure you can cover every single one of them.
Talk to the experienced business owner to get a better idea of all the operating expenses. People usually like to share their experience and offer advice and you can only benefit from that so don't be shy when asking questions.
If you don't know who to talk to, check out SCORE to find a suitable mentor in your field.
Professional Help
As soon as you start your business, you will have to think about which professional service to hire. From janitors to bookkeepers and marketing managers, you can't do it all alone. Of course, in the beginning, you will want to save as much money as possible but as your business grows, you won't be able to do everything on your own.
Professional help is an additional expense to keep in mind and you have to really think about which experts you need to hire and which aren't all that necessary. However, don't get fooled by the momentary costs.
For example, doing all of the bookings for your online business by yourself might save you some money, but will the results be equally as effective as with a professional. For these purposes, you can consider Amelia, the best appointment scheduling plugin for WordPress.
Make sure that saving money on the start won't end up costing you even more in the long haul.
Personal Finances
Your personal finances will affect your business as well. When you are a business owner, you need to think about all the money that goes through your hands. In the beginning, you might decide to forgo paying yourself.
However, you need to know what your monthly personal expenses are. From paying for food and rent to all the little things such as school tuition, you need to have a clear idea about how much money you are spending.
Will you be able to cover all your expenses with your new business or do you think you should keep another job until the business starts turning a profit? – Questions like that need to be answered in time when you are planning how to start a small business.
You might want to set aside as much money as possible just in case. You can never be 100% sure how fast or slowly your business will grow and start earning money
Stay Persistent
Not every business idea is a success and that is a fact that you have to be aware of. However, if it happens that your new small business needs to be shut down, don't lose all hope and give up entirely from investing in your ideas.
On the other hand, if you create a solid financial plan, even in the case that your new company turns out to be a bust, you will be able to recover financially and try a new thing as soon as you have a new idea.
One unsuccessful try isn't a reason to give up entirely. It only means learning from your mistakes and trying even harder the next time.
Ending thoughts on how to start a small business
So, how to start a small business? First of all, you need to be prepared to go with all the ups and downs that owning a business brings. However, if you start right, things will be much easier for you later on.
It is all about good preparation. Gather as much knowledge as possible, do all the necessary research, and calculate all the expenses. Be prepared for the worst-case scenario; gain momentum on the side before you decide to quit your job, save money wherever you can, and always ask for professional advice if you aren't sure what to do next.
Most importantly, be persistent and don't give up at the first sight of problems. It takes a lot of time and dedication to plan how to start a small business, get a new business running, and start turning a profit but it all pays off in the long run.
To assist with growing your business and taking off some of the strain from your shoulders, consider asking for professional help in the field of client management. For instance, Amelia can help you with handling the online booking process.
If you enjoyed reading this article on how to start a small business, you should check out this one on how to start a small business in Texas.
We also wrote about a few related subjects like how to apply for a business license, small business management software, small business ideas for men, medical scheduling software, small business ideas for small towns, professional email address and contact management software.
Small businesses have been popular all over the United States for numerous reasons – and the same applies to Texas. But how to start a small business in Texas? We will try to answer as many of the most important questions as possible in this article.
After all, starting a business is always a bit risky and it is important to have as much information as possible to minimize the risks and have your business succeed.
In addition, some business-assisting services, such as the WordPress booking plugin Amelia, significantly ease the working process and might help to stabilize your growing business.
Internet businesses have been growing in popularity so you might want to check out some cool online business ideas. If, on the other hand, you want a more traditional startup business, you will see that the same rules apply to those businesses as well.
Table of contents
How to start a business in Texas: Steps You Should Follow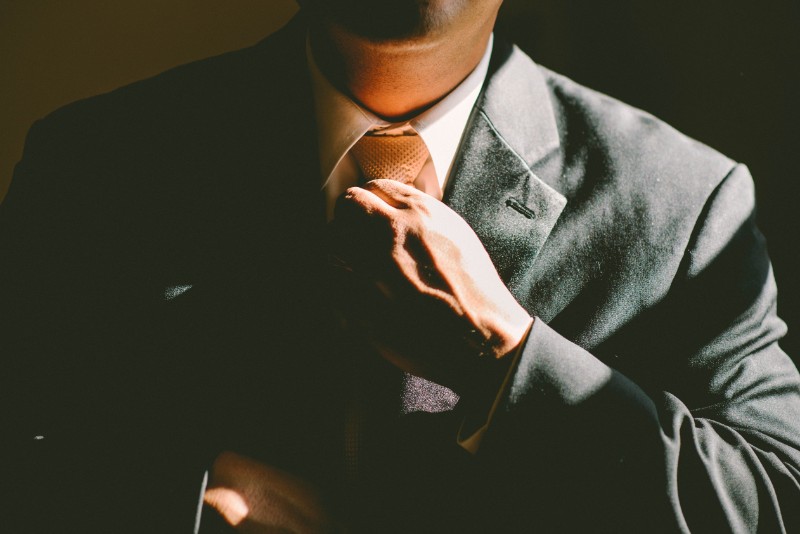 So let's talk about how to start a small business in Texas and break it all down to the most basic steps every new entrepreneur should follow.
Make a Good Business Plan
If you aren't sure how to start a small business in Texas, the first step would be to write your business plan. A good business plan will serve you as a guide for achieving business success and to estimate the costs you will face down the road.
Write down the main goal of your new company, the structure of your business, its financing, and the advantages over the competition in your field. Do your research such as market analysis, the funding possibilities, and similar, and put it all on paper.
Pick a Business Location
When you decide to start your own business, one of the first things you will have to choose is the business location. This is not a decision to be made lightly because it can really impact your business in many different ways.
Do your research and choose a location that will help you stay within your budget while also having access to all the supplies you need as well as to your target customers. Once you pick a location, get familiar with all the laws and taxes that apply there.
Choose a Business Structure
You might already know how to start a company, but do you know which business structure to choose?
There are 2 basic options:
DBA (Doing Business As)
Sometimes an individual or a company want to do business under a different name and that is where the DBA structure comes in handy. DBA, known also as "fictitious business name," "trade name," or "assumed name" basically helps you use a secondary name if you already own a business.
Corporation
Another option for starting a small business is creating a corporation. A corporation is entity separate and distinct from its owners. It is usually owned by the shareholders who in profits and losses.
The 3 characteristics of a corporation:
Legal existence – a company can own, buy, sell, enter into a contract, be sued by other companies as well as sue them.
Limited liability – the company and its owners are limited in their liability to the creditors and other obligors
Continuity of existence – the company can operate beyond the life spans and capacity of its owners; the ownership can be transferred to another person as a gift of shares or through a sale.
Choose Your Business Name
When planning how to start a small business in Texas, you will have to choose the right business name. It sounds pretty simple but this is a decision that will impact your business in many ways.
Here are some useful tips:
The name has to be unique, and easy to understand, pronounce, and remember
Make sure that there is no other company out there with the same name; do your research before deciding on a name
Do a trademark search with the US Patent and Trademark Office (USPTO) to be sure the name doesn't have any conflicts
Be sure your company name choice is available by searching Texas's Department of State: Division of Corporations business name database; search for variations of spelling, misspellings, sound-alikes etc. to be sure your name is unique
How to Establish a Company: the Financial Aspect

Do you want to know how to start a small business in Texas without money? Well, it is not impossible but only with certain types of businesses. In all other cases, you will have to plan your budget ahead and estimate all the costs down the way.
Luckily, there are several different ways to fund a business. You can apply for a bank loan, a microloan, or for credit through personal financing, crowd funding etc. You can also raise money from friends and family.
Obtain your Federal Employer Identification Number (FEIN or "EIN")
In EIN is an identification number that every company has to have. If you aren't sure how to start a business in Texas and get your EIN number, you can learn more by visiting the Texas Department of Taxation and Finance website.
To obtain an EIN you can apply online with the IRS or via IRS Form SS-4.
How to do Business in Texas: Company's Bank Accounts
When running a business, you can't simply use your personal bank accounts. You need to keep the company's finances separate from your own. Get your business credit cards and start to build a company credit profile (corporation or LLC required). As you do that, you will be able to qualify for larger loans later on.
You need to choose a bank, file the paperwork and you will be good to go in no time.
Top Business Banks in Texas:
Get the Necessary Business Licenses and Permits
Different types of business require different licenses and permits so you might want to consult an attorney before you go apply for one. Visit the SBA site for this. They have lots of resources.
Ongoing and/or Annual Requirements
DBA: DBA is valid for 5 years unless you change company name or other basic information
LLC: Unlike most states, Texas does not require LLCs to file annual reports. They must file annual tax franchise reports with the CPA instead
Corporation: The "Statement of Information" or Annual report has to be filed every year. It updates the state on the basic info about your company. Keep in mind that you will pay a $400 late fee if you don't make the May 1 deadline.
Franchise Taxes: When you start a new business in Texas, you will have to file an annual report with the Texas Comptroller of Public Accounts, due May 15 every year. If you don't do it in time, you will face a $50 penalty.
Other things to know about starting a small business in Texas

How to start a small business in Texas? First, you have to know that your corporation will be overseen by the Corporations Section of the Office of the Secretary of State (commonly known simply as the Section).
All your necessary paperwork will be submitted to the Section. Also, if you need additional permits and/or licenses, you need to get in touch with the Texas Department of Licensing and Regulation.
The cost to Incorporate in Texas
The cost to incorporate a business in Texas depends on a number of things. For example, if you want to start a for-profit corporation, you will have to pay a $300 filing fee. If, on the other hand, you want to start a non-profit corporation, the fee will be only $25.
Starting an LLC in Texas
How to start an LLC in Texas? You should provide all the necessary information to incorporate.com and submit the Texas LLC application online to the Texas Office of the Secretary of State.
We will continue to talk about LLC in Texas in more detail below
Texas LLC Forms and Filing
In order to start your LLC in Texas, you will have to file a Form 205 Certificate of Formation for a Limited Liability Company, as well as get a federal tax ID number.
Texas LLC Costs
When you think about how to start a new business, you should also take all the costs and expenses into an account at the very beginning.
To get an LLC certificate in Texas, you will have to pay a fee of $300. It is a one-time fee that everybody submitting the form has to pay. However, there are some extra services that may cost extra.
Different services come with different fees. You should contact incorporate.com to get a better idea about all the costs for the services you might need to get your business running. For example, there is a good chance you will have to pay for specific licenses and permits. Consult an attorney to know exactly which ones you need.
Now let's talk a little bit more about specific licenses and permits. Let's say you have a successful business idea but aren't sure whether or not you need to obtain any licenses.
I Want to Start My Own Business: Do I Need a License?

In some cases, you can start a business with no licenses and permits. However, in most of the cases, you will have to obtain specific licenses that apply to the type of business you are establishing. Let's take a look.
Business Permits and Tax Registration
How to start a new business with the necessary licenses and permits? When it comes to Texas, the good news is that it has a cool business-friendly policy. What that means is that many cities don't require a general business license.
However, it all comes down to the specific city or country where you plan to start new business, as well as to the type of business you had in mind.
To be sure whether or not you need to obtain a business license, you should contact the city clerk or the county office. They will help you with all your questions and give you advice as to how to proceed with the process of establishing a company.
Also, keep in mind that all businesses operating within Texas have to register for different tax-related purposes. You will have to file a Texas Online Tax Registration Application with the Texas Comptroller of Public Accounts.
Registering Regulated Professions and/or Organizations
If you want to start a business in Texas, no matter what type of a company you are establishing, you will have to apply for a Certificate of Authority with the Texas Secretary of State's Office.
You can easily do that with a 24/7 online service called SOSDirect. After the registration, you will be able to legally run your new business in Texas. The rest of the licensing for specific professions etc. will be handled by the Texas Department of Licensing and Regulation (TDLR).
DBA Name Certificates
As we mentioned before, the DBA is for people/companies who want to run a business by a different name. In order to be able to do so, one must obtain the DBA name certificate. However, keep in mind that the new name can't be the same or overly similar to the existing entity's name.
To be sure you have chosen a valid name, contact the Corporations Division of the Texas Secretary of State's Office or search online using SOSDirect. If you find a name you like, you can reserve it with the SOSDirect even 120 days before you actually start the business.
However, your business structure will determine where you should file the certificate in question. If you have a sole proprietorship, it should be filed with the county clerk's office. On the other hand, business organizations regulated through the Secretary of State's Office have to file the certificate at both the county and state levels.
I Want to Start a Small Business in Texas: the Best Locations
Besides knowing how to start a small business in Texas, you should also think about where to do so. Some locations are more business-friendly than the other ones. Let's talk about why and how to start own business at specific areas.
Castle Hills, Texas 

It might be a good idea to start an online business in Castle Hills, Texas. If you already have a good online business idea, choosing the right location is the second logical step. Starting a new business is never entirely easy, but it can be easier in some places than in others.
Castle Hills, for example, had an average population growth of 7.07% from 2010 to 2015. You definitely want a location with the population growth. However, even more important than that is the fact that 34.75% of firms have paid employees and the unemployment rate is at 1.3%.
Roanoke, Texas

If you already know how to start an online business with no money, but you aren't sure where, check out Roanoke, Texas. This place has many types of businesses (954 to be precise, which means 1 business for every 7 residents). Also, the population grew 22.5% from 2010 to 2015 and the businesses have extremely high revenue, with the average revenue for companies being roughly $5,425,719.
Shenandoah, Texas

So how to set up a business in Shenandoah, Texas? Easily. For starters, it sounds like a really good idea taking into the consideration that 40.68% of the firms there have at least 1 paid employee. Also, revenue in the town there is $953,444.
However, there are only 381 firms in the town, one of them being Mediafire which is one of the biggest websites in the world. That must have something to do with the great numbers we see here.
Addison, Texas 

How to start a small business at home in Addison, Texas? Is it a good idea? – Yes, it is. Addison is pretty close to Dallas and it is the home to many businesses. Get ready to hear some pretty impressive numbers now! The average business revenue is $40,072,856 while 40.57% of firms in the town have paid employees.
Westlake, Texas

People in Westlake definitely know how to start a startup or small business and how to take advantage of good internet business opportunities.
If you feel that you might need some professional help to manage your online business, you can always ask Amelia. Amelia can help you to take care of the hassle that is related to managing online booking appointments.
Westlake is a small community, but if you want to start a business, this could be one of the best places to do so. The average business revenue here is $4,678,268 and unemployment is at a very low rate of 1.3%.
Ending thoughts on how to start a small business in Texas
How to start a small business in Texas and why? First of all, Texas is a very business-friendly state with the second largest population in the United States. In fact, some of the largest companies in the United States are based in Texas.
But not only large firms maintain their headquarters here. In fact, there is a huge number of small business in the state and it might be the right place for you to start a business of your own.
So if you already know how to open a company but aren't sure where you should do it, Texas should definitely be on your list.
If you enjoyed reading this article on how to start a small business in Texas, you should check out this one on how to start a small business.
We also wrote about a few related subjects like how to apply for a business license, small business management software, small business ideas for men, small business ideas for small towns, professional email address and contact management software.