Big or small, managing a business has never been easy. However, it gets much easier with the right small business management software, like Amelia, our WordPress booking plugin.
Forget about the days of sitting behind a desk with a pen and paper to do your books; those days are long gone. Nowadays, we have so many great small business solutions that it all comes down simply to choosing a business software that best fits your needs.
You might have noticed that there are so many software programs out there that choosing the right one could be a long and exhausting process. Luckily, we have taken a deeper look at small business software for you to automate your business.
Table of contents
So what is the best software? Well, decide for yourself.
Amelia: Get more bookings with the right tool for the job
Staying organized has never been easier.
You can now manage your business and grow your brand with a single, powerful WordPress booking plugin that keeps all of your appointments in line, your clients organized and your business booming.
Amelia is perfect for business owners who need to streamline their booking experience both for their staff and their clients.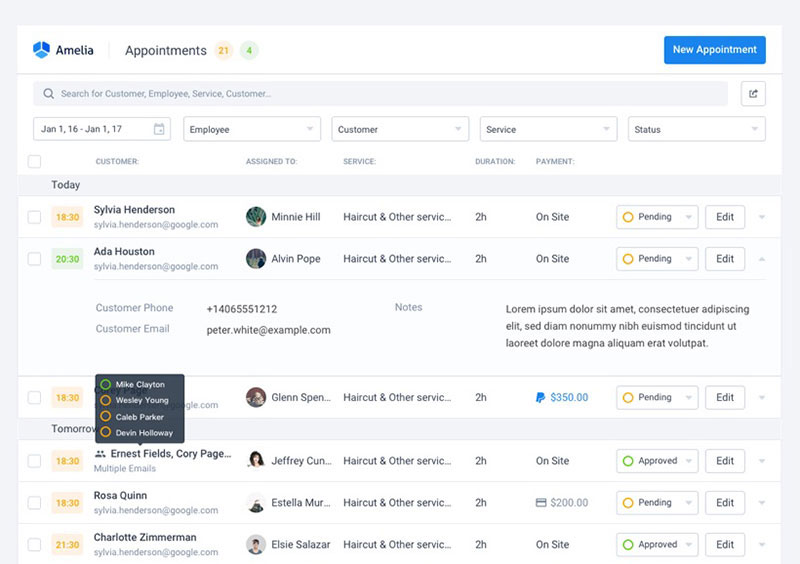 Amelia handles everything for you, even sending automated email or SMS reminders to your clients. No-shows? Not anymore!
The Amelia WordPress booking plugin adapts to different industries for a blissful online booking experience and employee management.
Want to know more? Check out Amelia's awesome features to see what you are missing.
Trade Business or General Service
If you run a trade business or general service, you will find a fair share of business management software designed to fit your needs. There have never been as many business software solutions available as there are today.
Let's take a look at the most popular small business management software and the best computer programs for your company.

Human Resources Management from Deputy is not a small business software free of charge, but at a reasonable price of 1$ per employee per month, it could pay off.
This is one of the business management systems that allow you to schedule employee shifts, manage tasks, make announcements etc. If you want to use some of the more advanced features, for example, payroll integrations or adding timesheets, it will cost you an additional $2 per employee per month.

Accounting from Wave is a top software for keeping your books balanced, crate and scan invoices, get accounting and reports functionality etc.
The features include:
Fast setup with no training required
Unlimited bank and credit card connections
Unlimited income and expense tracking
Bill and invoice reminders
Exportable accounting reports: profit/loss, sales tax, cash flow, comparative, and more
Bulk transaction updates
Customizable sales taxes
Connect to PayPal, Shoeboxed, and Etsy
Instant updates for your invoicing, payroll, and payments data
Unlimited customizable invoicing and receipt scanning

Business Planning from EquityNet is a small business management software that comes with a free crowdfunding platform for better and easier planning, analyzing, and sharing your business plan with the investors.
Anybody who is willing to reach your pitch can do so once you create your plan via EquityNet's plan and analysis software and publish it online. Keep in mind that this is primarily a funding tool rather than a planning tool.

TurboTax Self-Employed is Intuit's bookkeeping software for small business with great reviews and numerous awards.
Some of the key features of this business management system include:
One-on-one help if you feel you are stuck and need a professional advice about how to best use this free business management software
Track expenses in real-time throughout a year so you never miss a thing
Capture receipts in a snap
Track miles automatically for your business trips and similar
Thousands of error checks
Simplify asset depreciation
Employee tax forms
Top-notch security built into everything
Automatic import of your W-2 info
Education tax credits
The great thing about this handy small business financial software is the fact that you can try it out for free before you decide to commit to a subscription plan.
Pics.io

Pics.io is a digital asset management program (DAM) that saves time on the organization of the media library. Metadata and keyword tagging + search can help you find a picture or a photo in mere seconds, optimizing your marketing and sales campaigns.
Pics.io also boasts integrations with many popular platforms such as Shopify. Upload multiple product images at once without relying on CSV sheets and manual error correction.
Starting with $150/mo per 10 users, it is certainly worthwhile to look into if you're working with media assets daily.

Endpoint Protection from Avast is not the best bookkeeping software for small business because its purpose is slightly different from the other software we mentioned here before.
However, this is the best software for small business if you are looking for a unique protection that best fits your devices, employees, and servers.
Endpoint Protection from Avast comes with:
Antivirus
Firewall
CyberCapture
Behavior Shield
Web Shield
Email Shield
Anti-Spam
Smart Scan
Rescue Disc
It also comes with some additional features that depend on the subscription plan you decide to go with. There are three different plans to choose from.

Project Management from Wrike is a cloud-based business application software that you can try out for free before deciding to subscribe.
It's on the list of the best computer software because of the following options and features:
Gain visibility with real-time reports and status for all of your team's projects
Simplify planning by turning strategies into actionable plans
Enable Collaboration by centralizing the communication with stakeholders
Streamline Workflow with the flexibility to track, manage, and support your team's approach to work.
This software for business is highly customizable which will help you to get the most out of it while also saving you some time and money.


Manatal is a modern all-in-one recruitment software tailored for HR teams, recruitment agencies, and headhunters. It leverages the latest technologies at every stage of the recruitment process to allow recruiters to source more and better candidates, speeds up screening, enhance team collaboration, and much more, all designed to hire the best talents.
Primaseller: Inventory management software

Centralized and synchronized inventory for multi-store, multi-channel businesses selling online and offline or offering dropshipping.
Whether it is a webcart like WooCommerce vs Shopify, or marketplaces like Amazon and eBay – your inventory needs to be accurate and it needs to be synchronized.

Video Conferencing from join.me is the best business software for those looking for an easy way to connect with their co-workers, clients, suppliers, prospects etc. It is a great video conferencing solution that you can test for free before subscribing.
You can choose the free small business software version of this useful app where you can invite up to 10 participants, share screens etc.

Applicant Tracking System from Zoho Recruit is basically an advanced way of making the hiring process as easy as possible.
It helps you to:
Rope in the right talent
Parse resumes fast and easy
Communicate with the candidates or clients; set instant messages, answer or make calls, record calls, set reminders etc.
Automate the hiring process
Join hands with other apps such as Google business suite, Zapier, and more

Social Media Listening from HootSuite is a useful software for business that will help you understand the conversations happening around your brand and make smarter business decisions.
It is the best business management software for those who want to better understand how people feel about their brand and to be the first to know when trends take off.
With this small business management software, you can:
See the context with Conversation Maps
Focus on what matters with customized Boards
Save time with smarter, automatic Reports
Social Media Listening from HootSuite offers 6 subscription plans to meet everybody's needs, including the completely free plan.
Financial Cents

Using this accounting practice management software, accounting firms can effectively organize their projects, develop workflows, develop teamwork, keep track of employees' tasks, and supports client management.
Owners of accounting firms will find it simpler to arrange the different moving parts of their accounting operations because this project management software was made specifically for accountants. This will allow their staff to concentrate on providing exceptional client service.

Email Marketing from MailChimp is one of the top business computer programs for connecting with your clients, promoting your brand, and increasing sales. You can use these emails for all kinds of things such as tell a story, share important news, and sell a product.
If your company sends less than 12,000 emails per month to less than 2,000 subscribers, the MailChimp's Forever Free plan could be a great option for you. If you need to reach more people with more emails, you can subscribe to another plan. Here's an in-depth take on Mailchimp pricing with all available plans and offers.

WORKetc is an all-in-one business management system that has been around since 2009. If you want to find out more about all the useful features it has to offer, you should start the free trial, invite your team, and set it working.

BlueCamroo is a company management software helps you increase your profitability and reduce costs through the seamless integration of an intelligent online CRM and an awesome Project Management System.

Even though Sellsy is focused mostly on sales, there is more to this software business than just that. You can also use it to build and manage a website, track availability and returns of rented items (if renting is what you do) etc. It is one of the greatest small business software solutions if you work in sales.

This online business software might look like a simple CRM, but there is much more to Bitrix than just that. It comes with a bunch of useful features for sales, online meetings, human resources, and invoicing. You can choose from several different plans; the basic one is completely free.

ADIOS is an all-in-one business tool that comes packed with all kinds of features. One that really stands out is the so-called "buy-only-what-you-need" pricing tool.

The name might apply that 1CRM is just another CRM, but this small business management software also comes with the marketing automation which normally isn't present in the all-in-one solutions.

ExxpertApps is one of the most useful business management tools for those who have to handle an international customer base. It covers multiple countries, languages, time zones, currencies, and more.

kpi.com is a financial software for small business that offers all the basic business management tools and solutions one would expect from a small business management software.

YourTradeBase is an all-in-one solution that is extremely easy to use and it is great for almost all types of businesses.

When talking about business management solutions, we have to mention mHelpDesk because it can be very helpful to basically every business owner. The small business software reviews tell us that the users have been very happy with this one.

Jobber is a great business tracking software for service business. One of the features that stand out is the GPS tracking system which makes it possible for you to keep an eye on your employees in the field.
Specific Business Type Solutions
We mentioned the best small business management software for general services and trade business but when it comes to certain types of business, they could benefit from small business computer programs specifically designed for them.
So let's take a look at some solutions if you are running a small business:

If you own an auto shop, take a look at Boss Shop Pro because this could be the business management solution you have been waiting for. It will help you keep track of all kinds of auto parts and details you work with on a daily basis etc. It is also seamlessly integrated with other cool solutions including Edmunds, Epicor, and Carfax.
Residential Builder and Remodeler: Co-construct

Organizing all the details and getting a building project ready requires some pretty good management skills. Luckily, it is not the end of the world anymore if you are not the greatest manager in the world because Co-construct will do all the heavy lifting for you.

Every IT consulting firm that is looking for a good small business management software should check out ConnectWise. This home business software is a great way for you to stay in touch with your clients and help them with all their needs.

HarmonyPSA is one of the best business systems for companies that develop, sell, and maintain hardware and software. It was designed specifically for businesses that offer technology services and products.

CosmoLex is an all-in-one solution for managing a law firm. If you are a lawyer, this could be the best small business management software for you.
Distributors and Manufacturers: OfficeBooks

If you are managing distribution and manufacturing, OfficeBooks is the best financial software for small business that you could stumble upon. It will help you manage inventory, purchase orders, control sales etc.
Ending thoughts on small business management software

Managing a business has by all means never been an easy job. In fact, if you are a business owner, you could probably use all the help you can get – and that is where the small business management software comes in.
Depending on the type of business you are running, there is a whole list of great business software products you could benefit from using. Take a look at the key features of each one of them, subscribe for the free trials, and see which one best fits your needs.
If you enjoyed reading this article on small business management software, you should check out this one on how to apply for a business license.
We also wrote about a few related subjects like how to start a small business, how to start a small business in Texas, small business management software, small business ideas for men, small business ideas for small towns, professional email address and contact management software.