Attorneys are typically partners in a law firm or employed in-house or at a law firm. They've grown familiar and comfortable with these employment models, which makes it difficult for them to see other options out there, such as that of becoming a self-employed attorney.
A self-employed attorney is an independent consultant, a freelancer, or a contractor. The self-employment or consultancy option is certainly not new to other sectors, such as accounting, engineering, or Information Technology, but it is a relatively new one in the legal arena.
As a self-employed attorney, you have access to a variety of opportunities to reach higher levels of professional achievement that are inaccessible within the typical employment models. To support you along the way, Amelia, our appointment scheduling plugin for WordPress, can help you to schedule meetings, list the services, collect payments, and manage staff.
Qualifications that Self-employed Attorneys Need

When you want to learn how to become an attorney, you become aware that you need to dedicate years of your life to reach the status of a fully trained, licensed, and skilled lawyer.
The first step on your way to becoming a lawyer is law school, which must be authorized by the SRA, or Solicitors Regulation Authority. An SRA-approved law school enjoys the recognition of the legal industry and equips you to get a position upon the completion of your degree.
The second step is to complete the LPC, or the Legal Practice Course, which allows you to transform the knowledge gained through law school into skills to practice as an attorney.
The third step in becoming an attorney is to carry out a training contract, i.e., to be a trainee at a law firm or another authorized body and acquire the hands-on know-how that will allow you to work in the legal field. The duration of a typical training contract is two years in most cases.
How to Find Work as a Self-employed Attorney

You are now an attorney. Self-employment is great, but how do you find work as a self-employed attorney? You can take one of the two available approaches, which are:
Work for a law firm as a freelancer attorney
An increasing number of companies prefer to hire people on a freelance basis because they get what they pay for without the hassle of a full-time, inefficient employee. Law websites and job boards are packed with such vacancies as many law firms opt for this employment model. These websites allow finding lawyers with different specificities, such as lawyer for naturalization, medical lawyers, and advocates.
Launch your law firm
Setting up a law firm is not the problematic part; making it a successful business is the challenging part. Extensive experience is not enough to become a successful self-employed attorney if people don't know it. Here are some ways to get more business as an independent solicitor:
Build a Professional Website
People go online to find information and so they will go online to look for an attorney online as well, which means that you have to be online and not just anywhere online but at the top of search engine results. An SEO-friendly website can place you at the top of search engine results, where people will see you and contact you.
Get more clients with the right tool for the job
Staying organized has never been easier as a self-employed lawyer.
You can now manage your business and grow your brand with a single, powerful WordPress booking plugin that keeps all of your appointments in line, your clients organized and your business booming.
Amelia is the perfect appointment scheduling plugin for WordPress. It's for business owners who need to streamline their booking experience both for their staff and their clients.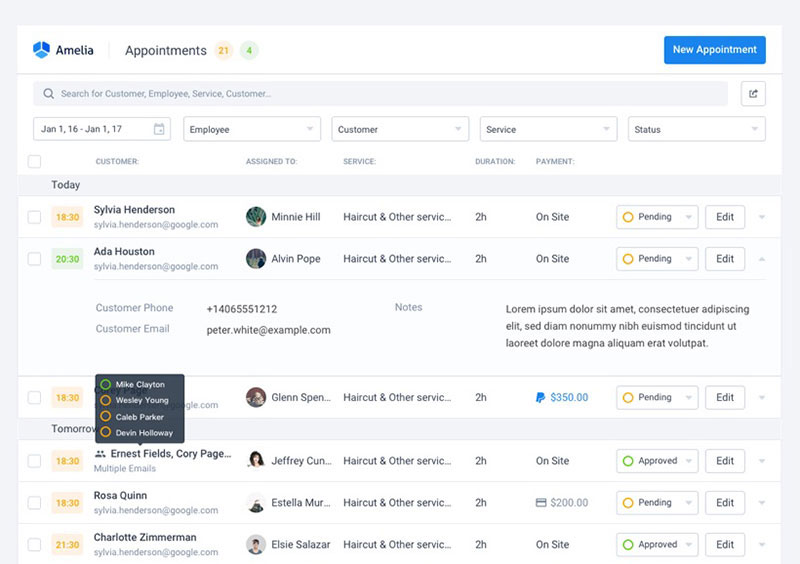 Amelia handles everything for you, even sending automated email or SMS reminders to your clients. No-shows? Not anymore!
The Amelia WordPress booking plugin adapts to different industries for a blissful online booking experience and employee management.
Want to know more? Check out Amelia's awesome features to see what you are missing.
Get Accredited
Accreditation is what confers a self-employed lawyer the element of trust that can persuade potential clients to turn into actual clients.
Register and get accredited to make sure you have this element of trust that people need to hire you.
Join a Network
There are powerful networks built around a specific area of law where people go to seek a self-employed attorney that can help them with a legal issue in that array of the law.
Against a fee, the network passes on leads (business owners that need your help) to the law firms that are its members. Choose a network that has a good reputation and operates in the area of the law in which you specialize.
Keeping on Top of Your Taxes as a Self-employed Attorney

What are your options as a self-employed attorney as far as taxes go? You have two options: go limited or go sole trading. No matter which option appeals to you, your next step is to locate an account, a freelancer like yourself, that that advises you regarding your accountancy and taxes.
You cannot keep on top of your taxes without a good accountant. In the end, a self-employed attorney with a law firm is a business, and a company needs to be profitable to justify its existence. Therefore, you need to make sure you are as tax efficient as possible.
Choose an attorney that provides you with unlimited email and phone support because you will have a lot of questions, especially in the beginning and you don't want all your efforts to be tax-efficient to turn into ashes when you see the immense bill from your accountant.
The Attributes of Self-Employed Attorneys and how They Benefit Employers

As an employer, there are many benefits that you get from working with a self-employed attorney on a freelance basis. Here are some of the traits that distinguish self-employed solicitors from full-time attorneys:
A self-employed solicitor appreciates the value of paying clients
A self-employed lawyer understands why a paying value is valuable to your business. They run a business themselves, and you are a paying client, so they are in your shoes. Paying clients are valuable because they allow you to pay for utilities, rent, memberships, subscriptions, etc.
Within this context, a self-employed attorney will always be more receptive to what a client needs, expects, and requires. They have the right "bedside" approach towards their client, and they know how to benefit from upsell opportunities and new business advancements.
A self-employed lawyer is more adaptable and self-motivated
Lawyers are intelligent and motivated individuals. Intelligence and motivation are two traits that are a touch more pronounced in attorneys than other professional categories. However, the self-employed attorneys have taken these attributes to a higher level due to their status.
They had to learn how to do things well and on their own because their survival as a business depending on their ability. They learned how to adapt to ever-changing trends and are, therefore, more trainable, smarter, and more self-motivated than any full-time attorney.
A self-employed lawyer has made mistakes and learned from them
More and more employers refuse to waste time training people and dealing with their people's mistakes. A self-employed attorney has already made those mistakes and has already learned how to correct those mistakes, whether it was billing, employee management, or client intake.
The point is that self-employed attorneys will not make those major mistakes that employers don't like to deal with but might make some minor errors. However, their experience has taught them how to quickly fix mistakes and reduce the effect of a mistake on the business.
A self-employed attorney has managerial experience and skills
Being self-employed equips people with a full spectrum of management experience and skills. They indeed master the fundamentals of managing their people, be It other contract attorneys, legal assistants, full-time associates, or secretaries.
They have the skills to manage people well and improve their work process, but they also have the skill and knowledge to motivate their people to perform at a superior level and go that extra mile to get the job done because their business depends on getting the job done for you.
A self-employed attorney understands to embrace and appreciate diversity
A self-employed lawyer works to generate a constant stream of business and, in the legal field, that translates into more clients. It's no place for attorneys to be if they aren't able to embrace diversity. It's either embracing diversity or being out of work or practice.
The choice is that simple. Plus, a self-employed attorney cannot afford to mistreat any potential client because of their race, disability, religion, gender, etc. such an act, apart from being completely unjustified and immoral, will shame their business into oblivion.
Ending thoughts on becoming a self-employed lawyer
An increasing number of law practices have become open to letting solicitors work on freelance-basis, i.e., give them control of how much they worked, where they worked, and when they worked. It is a crucial step in the self-employment arena.
Despite these significant changes in the structure of law firms, clients continue to receive the same, or even better, services as they would receive from a traditional firm.
If you enjoyed reading this article about becoming a self-employed attorney, you should check out this one with tips on growing your law firm.
We also wrote about a few related subjects like law firm website and law firm names.