Are you looking for an appealing name for your medical clinic? Look no more – we've prepared a list of more than 400 unique, catchy, and professional clinic name ideas just for you!
In the ever-evolving landscape of healthcare, where competition is fierce and first impressions are crucial, choosing the right name for your clinic can make all the difference. A compelling clinic name is more than just a label; it's your brand's first ambassador to the world.
Whether you're launching a new clinic, rebranding an existing one, or simply seeking a fresh perspective on your clinic's identity, our exploration of catchy clinic name ideas will equip you with the tools and insights needed to create a name that resonates, engages, and stands out in the ever-competitive world of healthcare.
So, let's dive in and browse through the best medical care clinic name ideas that leave a lasting impression and can set you on the path to healthcare success.
The Most Creative Clinic Names to Get You Inspired
Here are some catchy, creative, and memorable clinic, hospital, and medical center name ideas grouped into distinctive categories.
There are rules and regulations that must be followed when creating a business name. Keep those rules in mind and your clinic name will be professional and admirable.
Bear in mind that some names may be registered trademarks. A trademark infringement may result in expensive legal fees and other significant costs. Consult an attorney who specializes in trademarks before selecting a name from this list.
Professional and trustworthy medical center name ideas:
TrustCare Medical Group
Premier Health Center
Excellence Medical Associates
ProHealth Specialists
EliteCare Clinic
HealthCare Wellness Center
Precision Medical Clinic
Elite Dental Specialists
Radiant Skin & Aesthetics
Vitality Cardiology Clinic
OptiVision Eye Care
Harmony Women's Health Center
OrthoCare Orthopedic Clinic
Advanced Pediatrics Associates
Serene Mental Health Clinic
LifeLine Physical Therapy
Dermacare Dermatology Clinic
AllCare Family Medicine
Wellness Path Chiropractic
Gentle Touch Dentistry
Elite Urology Specialists
Rejuvenate Wellness Spa
Harmony Fertility Center
Precision Pain Management
Peak Performance Sports Medicine
Cutting-edge and innovative ideas:
FutureCare Medical Center
TechMed Innovations
Precision Health Hub
QuantumCare Hospital
InnovateWell Clinic
TechWell Medical Hub
GenoCare Innovations
QuantumMed Center
BioFusion Clinic
Nanotech Health Solutions
VirtualVita Hospital
MedTech Advancements
BioRevolution Care
GenomeWise Medical Center
RoboMed Innovators
PrecisionPlus Clinic
BioTech Breakthroughs
NanoHealth Futures
SmartCare Innovations
LifeTech Nexus
Advanced Theragenics
BioCyber Medical Hub
InnovateMed Solutions
Biotech Evolutionary Care
GenomicEdge Hospital
Compassionate and caring names for a health clinic:

TenderCare Clinic
Compass Health Hospital
Empathy Medical Center
GentleHands Healthcare
Heartfelt Healing Clinic
CompassionCare Health Clinic
Caring Touch Wellness Center
Gentle Hearts Family Clinic
Empathy Health Services
TenderCare Medical Center
Loving Hands Healthcare
Heartfelt Healing Clinic
Serenity Health & Wellness
Hopeful Horizons Medical
Comfort Haven Clinic
Compassionate Caregivers Clinic
Gentle Comfort Health Center
Healing Hearts Medical Group
Empathetic Wellness Hub
Warm Embrace Healthcare
Nurturing Health Solutions
Harmony Health Partners
Tranquil Touch Medical Clinic
Kindred Spirit Care Center
Radiant Hearts Health Practice
Wellness and holistic related name ideas for hospitals and medical centers:
Harmony Wellness Center
WholeBody Care Clinic
Radiant Health Retreat
Mindful Medicine Hospital
BalanceLife Medical Center
Holistic Harmony Center
Wellness Oasis Clinic
Vitality LifeCare Clinic
Radiant Health Sanctuary
Whole Being Wellness Hub
Inner Balance Holistic Clinic
Holistic Healing Haven
Harmony of Body & Mind
Holistic Wellness Pathway
Natural Vitality Clinic
Balance Within Health Center
Holistic Harmony Haven
WellSpring Holistic Clinic
ZenLife Wellness Sanctuary
Holistic Health Oasis
Wholeness Wellness Institute
Inner Peace Holistic Center
Holistic Wellness Connection
Vibrant Life Holistic Clinic
Earthly Harmony Wellness
Better Health & Wellness
Wellness Bliss Group
Family Wellness Center
Back Smart Wellness Center
Elite Wellness Collective
Core Health & Wellness Center
Trinity Health and Wellness Medical Group
The Magical Wellness Center
Wellness Corporate Solutions
Location-based names:

Cityscape Medical Center
Hometown Health Hospital
Central Park Clinic
HarborView Medical Center
Summit Heights Health
Seattle Wellness Center
Miami Medical Associates
Austin Health Clinic
Denver Family Care
San Francisco Specialty Clinic
Chicago Community Health
Atlanta Medical Group
Phoenix Healthcare Services
Boston Health and Wellness
Dallas Regional Clinic
New York Primary Care
Los Angeles General Hospital
Houston Wellness Solutions
Philadelphia Family Health Center
Portland Medical Partners
San Diego Healthcare Associates
Nashville Holistic Care
Las Vegas Wellness Institute
Minneapolis Medical Professionals
Raleigh Integrative Health
Inspirational clinic names:
Serenity Springs Clinic
HopeRise Medical Center
InspireHealth Hospital
Phoenix Wellness Center
Renewed Life Medical
InspireWell Clinic
BrightHorizon Health
DreamPath Wellness
RiseAbove Care
Illuminate Health Hub
VisionQuest Clinic
InspireLife Medical
RenewedSpirit Wellness
EmpowerYou Healthcare
Aspire to Thrive Clinic
InfiniteHope Wellness
InspireMinds Health
NewBeginnings Care
BeyondLimits Wellness
FlourishLife Clinic
MotivateWell Healthcare
TriumphHealth Center
InspireChange Wellness
Empowerment Oasis
RadiantFuture Health
Specialized and niche health clinic name ideas:

Women's Wellness Institute
OrthoPro Sports Clinic
PediDental Care Center
NeuroSolutions Hospital
SeniorLife Health Pavilion
OrthoPro Sports Medicine
VitalSight Vision Clinic
Serenity Spine & Pain Center
NeuroNest Neurology Clinic
GastroGuard Digestive Health
HarmonyHeart Cardiology
RenewYou Weight Management
SkinElegance Dermatology
RadiantSmiles Dental Spa
BreatheEasy Pulmonary Care
HarmonyFertility Reproductive Health
InnerZen Acupuncture Center
MindfulMatters Mental Health
PrecisionPed Orthopedic Pediatrics
BalanceLife Chiropractic
EliteENT Ear, Nose & Throat
SleepHaven Sleep Disorders
RenewDental Cosmetic Dentistry
HarmonyHaven Integrative Medicine
SeniorCare Solutions
Community-centric hospital names:
Unity Health Network
Neighborly Health Clinic
CommunityCare Hospital
Family First Medical Center
LocalWell Clinic
Miami Community Hospital
Bay Area Unity Medical Center
Brooklyn Neighborhood Hospital
Seattle Health Alliance Hospital
Austin CareHub Medical Center
Chicago Community Care Hospital
Atlanta Vitality Health Center
Phoenix Community Wellness Hospital
Denver Compassionate Care Medical Center
Dallas Community Health Partners
San Francisco Hometown Healing Hospital
Houston Unity Health Village
Philadelphia Community Compass Clinic
Nashville Hopebridge Hospital
Portland LocalLife Medical Center
San Diego Harmony Community Hospital
Las Vegas Heartfelt Healing Center
Minneapolis Community Connection Hospital
Boston Wellness Junction Medical Center
Detroit Lifeline Community Hospital
Nature-inspired medical center names:
Healing Grove Medical Center
Riverside Wellness Clinic
MountainView Hospital
Sunrise Medical Center
Coastal Health Oasis
TranquilPine Wellness Center
VerdantValley Clinic
RiverStone Health Spa
SereneMeadow Holistic Care
WhisperingWillow Wellness
CoastalBreeze Wellness
SunflowerGrove Medical
MountainView Health Retreat
BlossomHealth Integrative Medicine
CoralReef Holistic Clinic
Wildflower Haven Healthcare
SilverStream Wellness
HarmonyOak Naturopathy
StarryNight Healing Center
CrystalLake Wellness Retreat
MoonlitMeadow Health
RedwoodForest Health Hub
WaterfallWay Wellness
DesertRose Holistic Care
AuroraBorealis Wellness
Short clinic names:

HealthLink Clinic
VitalCare
MedHub
LifeClinic
MediCore
CareWave
MedLink
WellMed
HealU
MedScape
HealthKey
TrueCare
CareOne
CureAll
ProMed
LifeCure
HealX
QuickCare
MedEase
FirstHealth
RediMed
PureCare
ApexClinic
HopeHealth
FastMed
QuikHealth
The TrustyMed
Appointmentless
The MinuteMD
Medcarers
CityMed
FamFirst
Mediversal
Medixo
Multiclinic
NuvaMed
Primaxa
Clinica
TeamMed
VistaVita
BellaViso
Vital Skin Clinic
Lavishette
Ablecare
Personalized and family-friendly names for a clinic:

FamilyCare Haven
Generations Wellness Center
YourHealth Family Clinic
Care4All Medical Group
HarmonyHealth Partners
PersonalTouch Wellness
CaringHands Health Center
FamilyFirst Medical
MyHealth Village
TenderCare Clinic
WellnessFamily Practice
CherishedLife Healthcare
Compassionate Caregivers Clinic
FamilyWell Wellness Hub
FamilyTree Health Associates
PersonalizedHealth Solutions
LittleHearts Pediatrics
HarmonyHouse Clinic
FamilyCircle Wellness
MyWellbeing Clinic
GentleTouch Family Medicine
WholeFamily Health
ForeverCare Wellness Center
CaringSprout Pediatrics
FamilyNurtures Health
The Sunshine Practice
Primary Care Family Practice
Go Medicine Care
Rainbow Family Practice
Go Clinic Family
Rainbow General
Go Support Clinic
My Wellness Physician
Healthcare Sunshine Practice
Wellbeing Family Practice
Cool clinic name ideas:
CoolCare Wellness Center
Zenith Health Solutions
Chillax Medical Clinic
ReviveLife Healthcare
InnovateHealth Hub
FreshStart Wellness
CoolTouch Medical Group
ApexCare Clinic
UrbanWell Health Center
RadiantVibes Clinic
VibrantLife Medical
InspireHealth Innovations
BlueWave Wellness Center
CoolCalm Holistic Care
Elemental Health Solutions
MatrixMed Clinic
StellarCare Wellness
PinnacleHealth Innovators
CoolMinds Mental Health
PulsePoint Health
SilverLining Medical
QuantumCare Clinic
CoolStream Integrative Health
EpicLife Wellness
ChillBreeze Healthcare
Clever healthcare clinic names:
BrainyBody Health Clinic
HeartSmart Wellness Center
QuickFix Medical Care
SmartyPants Pediatrics
WittyCare Medical Group
MindMatter Clinic
CleverCure Wellness
BrainWave Health Hub
ThinkWell Integrative Medicine
HeartBeat Innovations
BodyLogic Clinic
SharpMind Health Solutions
CleverHeal Medical
SmartStart Pediatrics
BrainBoost Wellness Center
BodyWise Healthcare
CleverSpine Chiropractic
ThinkFit Wellness Clinic
HeartSolutions Innovators
BrainyBalance Health
BodyTech Medical Group
CleverCare Wellness
ThinkRight Integrative Health
HeartLogic Wellness Center
WiseWell Healthcare
Clinic name ideas that include the keywords "Care" or "Health":

Emergency Healthcare
Specialty Healthcare
Chiropractic Care
Trust Care Center
Hassle-free Health Care
Medical Health Hub
Allied Health Services
Happy Health Helpers
Healthcare Abundance
Kaiser Permanente Health Care
Be Well Health Care
Queens Care Health Center
Care for Health Clinic
Healthy You Clinic
First Choice Health
Intelligent Health 
Names that include the word "Clinic"
Patients Choice Medical Clinic
Valley Clinic
Miracle Clinic
The Hope Clinic
The Healing Clinic
The Calming Clinic
CareforYou Clinic
Expresscare Medical Clinic
Indigo Integrative Health Clinic
Bethany Medical Clinic
Fitness Recalling Clinic
Nutri-Pathic Clinic
Alovia Skin Clinic
Open Door Clinic
Share and Care Clinic
Bodyfit Clinic
Medical clinic name ideas that include the word "Hospital"

WishyWave Hospital
YouHeal Hospital
My Health Medical Hospital
Saint Francis Memorial Hospital Health Center
MedStar Hospital Center
Heal And Health Hospitals
Handy Health Hospital
Global Health Hospitals
Clinic names that include the word "Therapy"
First Found Therapy
Trusted Therapy
Body Therapy
Royal Therapy
Body Therapy
McClellan Health Therapy
Utmost Wellness Therapy
Renew Therapy
Win Therapy
Location-Based Names
Fraser Highway Medical
Charleston Clinics
Utah Urgent
Care in Cleveland
The Countryside Clinic
Columbia Doctors
Manchester Medical Group
Oxford Medical Clinic
Pacific Clinics
Stanford Hospitals and Clinics
Medical clinics named after the saints
St. Anthony Medical Centers
St. Anthony's Medical Clinic
St. James Health Center
St. Luke Medical Clinic
St. Thomas Medical Service
Other catchy and unique clinic names
The Minute Medical
First Priority Medical
Treatment Solutions
Union Family Health Center
The Vitality Visit
Medical Zone
Healing Helpers Medical Group
Body Regenerate Clinic
BodyFit Medical
Community of Hope
Fuerza Fitness Center (Fuerza is the Spanish Word For Strength)
Health Shots Center
Healthy Highlights Center
Healthy Folks
Accord Medical Group
Silverlining Medical
Artemis Medical
Merry Medic LifeWatchers
Vital Heart Medical
Grace Medical
A Catchy Name Gets Your Clinic Out There but Amelia Keeps It Running Smoothly
With Amelia, staying organized has never been easier.
Grow and manage your clinic with a single, powerful WordPress booking plugin for clinics that keeps all of your medical appointments in line, your patients organized and your employees focused on what matters the most – helping people.
Amelia is perfect for clinics and healthcare centers looking to streamline their appointment scheduling experience both for their staff and their patients.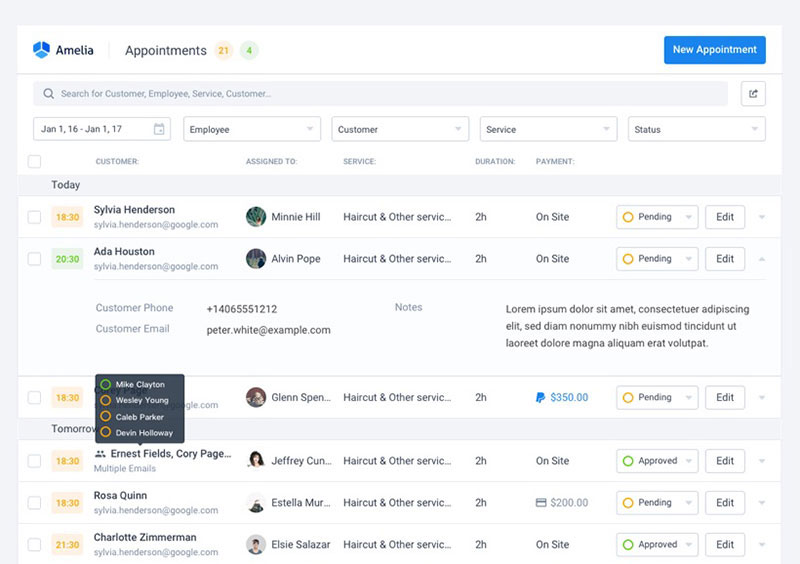 With Amelia, you get:
Efficient appointment scheduling
Automated reminders
Customizable booking forms
Staff management
Payment processing
Reporting and analytics
Accessibility and ease of use
Want to boost operational effectiveness and improve patient satisfaction? Get Amelia and watch your business transform.
How to Name a Medical Clinic: A Step-By-Step Guide
When deciding on a name for your medical clinic, it's essential to create a positive public image through the way you work. Picture the name on your print materials or even your medical company's website. Does it sound right? Is it professional enough? The name of your medical care clinic is always associated with good business. It should convey professionalism while still being memorable. This will help you to attract and sustain a healthy client base and achieve your business goals.
Names of medical clinics are generally related to medicine, health, longevity, and good healthcare. Most medical centers use a similar keyword to form the main part of the name. An additional word or phrase is added to describe the institution's unique offering.
Naming a clinic guide and checklist
1. Define your clinic's identity
Consider your clinic's specialization (e.g., family medicine, dermatology, pediatrics) and the unique qualities or values you want to emphasize. Think about your target patient demographic, such as age group, gender, or specific healthcare needs.
2. Brainstorm keywords and concepts
Make a list of keywords and concepts related to your clinic's focus and values. Include medical terms, wellness-related terms, and words that evoke trust and care.
3. Check legal requirements
Check with local and national healthcare authorities to ensure your chosen name complies with medical licensing and naming regulations.
4. Consider the location
Incorporate the location of your clinic into the name if you want to emphasize your local presence.
5. Check trademarks
Perform a thorough trademark search to ensure that the name you're considering isn't already trademarked by another healthcare provider.
6. Avoid common pitfalls
Avoid using overly complex or hard-to-spell words. What's more, stay away from names that might limit your clinic's scope if you plan to expand your services in the future. Also, ensure the name doesn't contain any negative or controversial connotations.
7. Keep it short and memorable
A shorter name is often easier for patients to remember and type into search engines. That's why you should aim for a name that is catchy and can be easily pronounced.
8. Incorporate your values
If your clinic emphasizes compassion, holistic care, or any other core value, try to incorporate these into the name.
9. Get feedback
Share your list of potential names with friends, family, colleagues, and potential patients to gather feedback and opinions.
10. Check domain availability
Ensure that the domain name for your clinic's website is available for you to use. And don't forget – an online presence is crucial for modern healthcare practices.
11. Consider future growth
Think about how the name will fit if your clinic expands or offers additional services in the future.
12. Verify availability on social media
Check if the name is available on popular social media platforms. Consistency across online platforms is important for branding.
13. Legal and business registration
Once you've selected a name, register it as a legal entity and ensure all necessary business and healthcare licenses are in place.
14. Consult with legal and branding professionals
If you're uncertain about legal or branding aspects, consult with professionals who specialize in healthcare naming and branding.
15. Finalize and announce
Once you've completed all the necessary checks and registrations, finalize the name and announce it to your target audience.
A quick clinic name checklist:
Is the clinic name simple and easy to remember?
Is the name easy to read and say aloud?
Is the name different from competitors?
Does the name indicate your unique offering? It must not be too generic.
Does the name convey a clear description of the business?
Does the name avoid overused words or clichés?
Clinic Names FAQ
1. How do I come up with a name for my clinic?
It can be difficult to choose a name for your clinic, but there are a number of techniques you can employ to do so. You can use internet name generators, market research, or brainstorm with coworkers. Your clinic's name should be catchy, simple to say, and pertinent to the services you offer.
2. Can I use my personal name as the clinic name?
Sure, you may name the clinic using your given name. Yet, it's crucial to take into account whether your name is simple for customers to say and memorable. Also, it's critical to be sure that utilizing your name won't restrict the clinic's expansion, particularly if you intend to grow or sell the business later on.
3. What are some important considerations when choosing a clinic name?
Think about your clinic's services, target market, and brand image while selecting a name. Your clinic's name should be distinctive, memorable, and evocative of the services you offer. Avoid utilizing abbreviations, acronyms, or names that are extremely complex or confusing as these may deter customers from using your services.
4. Should my clinic name reflect the services I offer?
Certainly, it is advantageous for your clinic's name to accurately describe the services you provide. Customers will be able to distinguish your specialty from those of other healthcare providers thanks to this. But, you may still combine your brand image into the name and it is not necessary for your name to be extremely detailed.
5. What are some effective ways to market my clinic using its name?
Increase visibility and brand familiarity by using your clinic's name in promotional materials like brochures, business cards, and internet directories. Also, you can use social media platforms to generate interest in your clinic's brand and offerings. Moreover, partnering with other healthcare professionals or sponsoring community events might help advertise your clinic.
6. Can I change my clinic name after I have already established it?
After opening, you can indeed modify the name of your clinic. Nevertheless, since you'll need to update all of your marketing materials, website, and legal documents, this procedure could be expensive and time-consuming. It's crucial to make sure the new name fits with your brand and objective and that you can properly inform your customers of the change.
7. Should I trademark my clinic name?
Indeed, trademarking your clinic name is necessary to safeguard your brand and stop others from using it. You will have the sole right to use the name for commercial endeavors if it is a registered trademark, and you will also be protected legally from infringement.
8. How do I ensure my clinic name is unique and not already in use by another healthcare provider?
Be sure the name of the clinic isn't already in use by doing a comprehensive online search and checking with the appropriate government agencies. To help you understand the legal ramifications of utilizing a specific name, it is also advisable to speak with a trademark attorney.
9. Can I use a pun or a play on words in my clinic name?
Your clinic's name might become unique and stand out from rivals by incorporating a joke or wordplay. Make sure the name is still respectable and straightforward to pronounce, though. Using language that is insensitive or offensive might harm the reputation of your brand.
10. Should I include the location of my clinic in its name?
If you're targeting a certain geographic area or have many locations, it can be advantageous to include the location of your clinic in the name of the business. But, if you intend to grow or move in the future, it can restrict your development and mislead customers. Instead, think about adopting a name that encompasses your company's image and services.
So, How to Choose the Best Clinic Name for You?
In conclusion, choosing the best clinic name is a critical step in establishing a successful healthcare practice. A well-thought-out name can convey your clinic's identity, values, and professionalism, while also making a positive impression on patients.
By following these steps and considering both practical and branding aspects, you can choose a clinic name that not only resonates with your target audience but also sets a strong foundation for your healthcare practice's success.
If you're stuck and in need of inspiration, just take a look at our extensive list of clinic name ideas – we're sure it'll help get your creative juices flowing.
Remember that your clinic's name will play a crucial role in shaping the perception of your services, so choose wisely and with a focus on long-term growth and patient trust.
If you enjoyed reading this article on clinic name ideas, you should check out these: