Starting a law firm is a massive endeavor to undertake. While it may seem like a minor concern to some, thinking of a suitable law firm name is paramount. The name of your firm will follow you wherever you go. It will be the foundation on which your reputation and credibility stand. Many businesses make the mistake of thinking that the firm name is trivial and they wind up making mistakes. These kinds of mistakes can ruin your business.
A creative law firm name can set you apart from your competition and draw in more potential clients. Law firm names with a bit of humor to them are especially trendy right now. Most people can appreciate a good pun or lawyer joke. Whatever your firm name is will set the tone for the type of clients you attract, depending on what type of law you practice.
Learn below more about this topic in this article created by our team at Amelia, the appointment booking software for law firms.
Five Steps for Creative Law Firm Names
Step 1
The first step is to assess the marketplace. Take a look at what your competitors have named their legal businesses and how well they perform. Alternatively, look at the top firms and analyze the trends that come up in their firm names.
Some examples of top firms include Baker and McKenzie, Skadden, Arps, Slate, Meagher and Flom, Clifford Chance, or Linklaters. You can also access our community of naming experts, who can inspire you with law office names.
Step 2
Define what you want your law firm name to convey. What are the qualities that you want potential clients to know about, at a minimum? This could include the traits of trustworthiness, prestige, and being highly experienced. However, you wouldn't name your law office "The Highly Experienced Law Office".
It can take time to build up experience and reliability. In the meantime, your legal business name should convey important qualities.
Step 3
Once you have a list of at least five to ten law firm names, it's time to do some due diligence. It is crucial to research the names that you are interested in. You will need to make sure that they are not already in use or trademarked. A business or trademark attorney can help you with this. You may want to trademark the name of your choosing.
Step 4

Consider all of the nicknames, short forms, and acronyms that your law firm name might have. Imagine choosing a firm name only to discover that the acronym spells out a bad or embarrassing word. For example, if you are the "Pearson, Oasis, and Ousmane Law Office", people might condense this to the "POO Law Office".
That wouldn't inspire much confidence or reliability in potential clients. It would be best to rearrange the names or go back to the drawing board altogether.
Step 5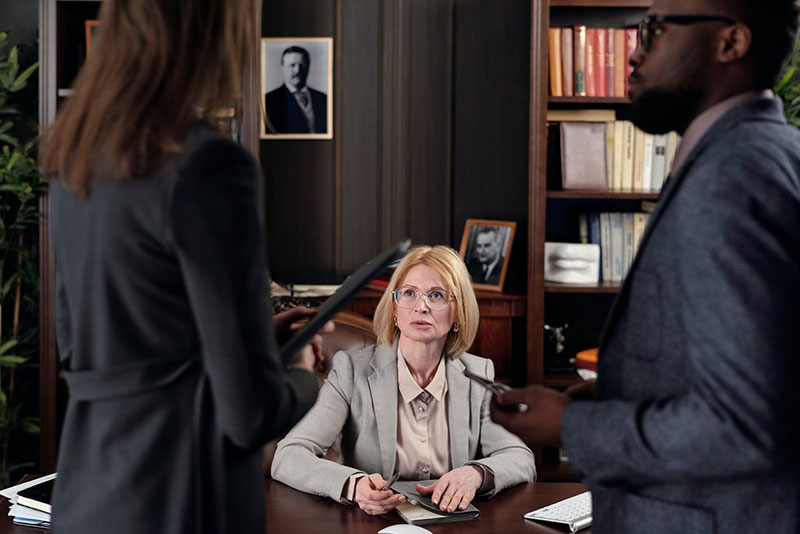 Choosing a final firm name can feel intimidating. That's because it is! It is a big step to settle on something that your business should ideally carry forever. While you finalize your choice, you may want to consider who your ideal client is.
Many law office names are simply the surnames of the people who run the firm. Even family members with the same last name can just repeat the name. For example, a team of two spouses or siblings with the same last name could call their firm "Smith and Smith". As common as this is, it's not always the option that stands out. It can hold more weight as your firm becomes more successful.
Another important factor to consider is a law firm name that is easy to spell. It can really hurt your business if your name is hard to search online. If a client or friend makes a referral but misspells your name, possible clients can be lost.
Law Firm Names to Avoid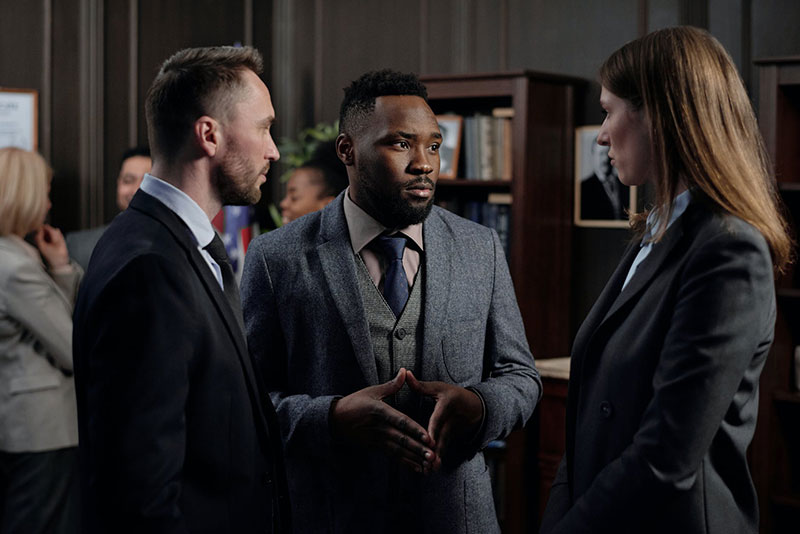 As a legal business, it is important to follow the law. Legal businesses have an obligation to follow the Rule of Professional Conduct 7.5 when choosing a firm name. This essentially dictates that a firm name should not be "false, fraudulent, deceptive, or misleading". For example:
Law firms should not use words such as Group or Associates to imply that there is more than one lawyer when in fact there is not.
Firm names should not include the name of a living or deceased lawyer who was never part of the practice, a person who is not a lawyer, or a public organization.
Legal practices are never allowed to imply that they are affiliated with a government agency such as the FBI or CIA.
Examples of Law Firm Names for Your Business
Inspirational Legal Firm Names
Confident Lawyers Team
Careful Counsel Legal
Commended Counsel
Correct Contracts
Counsel Council
Credible Criminal Defense
Defense Disputed
Consultancy Firm Names
Pro Bono Consultancy
Indicia Consultancy
Saggio Legal Consultancy
Your Legal Consultancy
Business and Tax Law Firm Names
Smith Group Corporate Law
Capital Tax Lawyers
Bravo Corporate Law
Interbusiness Attorneys
Assessment Group
Economics Law Practice
Founding Firm
Non-Traditional Law Firm Names  
Curated Legal Firm
Careful Legal Firm
Daring Defenders
Counts Of Confidence
Defense On Demand
The Virtual Attorney (great for online firms)
The Venerable  Law Group
Shark Bite Legal
White Horse Law Firm
Thy Dynasty
Defense On Demand
Big Man Eyes
Actions that Speaks
Lawspective
Rightive
Common Law Names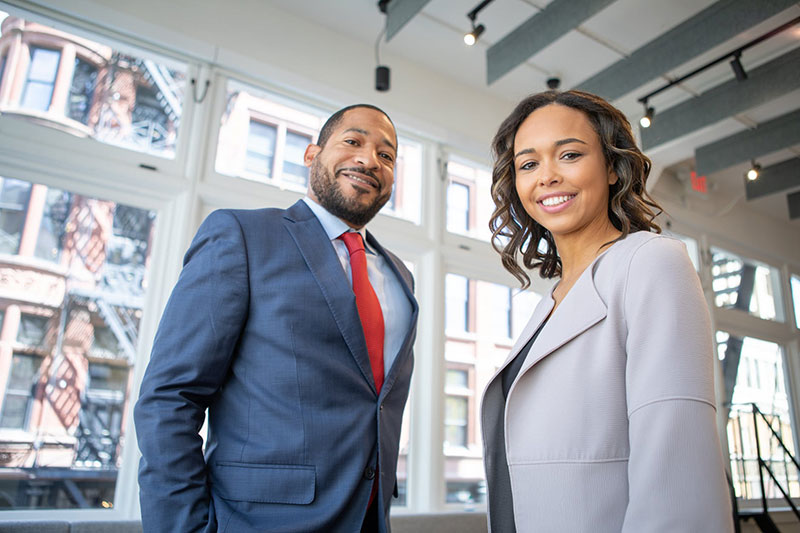 Confident Cases
Common Law
Valiant Law Firm
Nexus Law Firm Office
Law Caddie
Alpha Legal Firm
Attorneys At Work
Justice Law Firm
Active Lawyers
The Angel Law Firm
Law Senate
Law & Practice
Triumphus Legal Co.
De Facto Law
Affaires Legales
Convictus Group
Affidavit Law
Marston & Morgan Law
Justice Law Group
Lex Scripta Law
Legal Capital
Alliance Law Group
Absolute Law
Law Point
First Class Law Firm
Arts of the Law
King's Lawyers
Legally Rooted
The Legato
Affaires Ideas
Actionable Matters
Personal Injury Law
Hilltop Legal Lounge
Wisdom Law
Ardent Law Firm
Careful Cases
Legal Assistants Group
Together We Work
Global & Legal
Reliable Solicitors
Right Representation
Juris Civilis
Family Issues (Divorce & Law)

Family Legal Front Law Firm
Generations Attorneys
Settle the Divorce Law Firm
New Horizons Family Law
Kids Authority Law Firm
Separation in Law
Unity and Beyond
Your Dynasty
New Horizons Family
Funny Law Firm Names  
The Godfather
The Godmother
Stetson Hat Legal Group
White Horse Law
Shark Bite Legal
Ditcher, Quick & Hyde – Divorce Lawyers
Clientake
Law Jackson
Mac Track Legal
Ify Law Firm
Law Tigers
Ending thoughts on these law firm names
The name of your law firm is just one of many critical decisions to make when starting a legal business. It is important to take the time, do the research, and do your due diligence. This will ensure that you are picking a suitable name that is not trademarked or in use by someone else.
Your law firm name should inspire confidence and other chosen qualities that are important to you. Get feedback to see if your firm name achieves the desired impact.
Congratulations on naming your new law firm! Now that you are taking on new clients, an online appointment booking system will save you so much time and money.
Amelia is an ideal solution for your clients to be able to schedule meetings with you at their convenience. By using this service, you can avoid having to pay a staff member to manage your schedule. It is very simple to set up and virtually automates the process of booking meetings.

If you enjoyed reading this article about law firm names, you should read these as well: