A medical clinic is a business and, as an owner or shareholder, you must be able to make it stand out offline as well as online. On the internet, your clinic is perceived as a brand, and the only way to establish a reputation for excellence as a clinic is via a modern clinic website.
A modern clinic website is the digital image of your business since online patients cannot assess your performance as a clinic by the actual knowledge and skills of your doctors. They judge your clinic by what they see on the internet, and that's where medical sites come into play.
As a medical clinic owner or as a shareholder in a health institution, you must put yourself in your patients' shoes and see what they see when they find you online. Does your digital image reflect reality? Do your patients feel encouraged to leave positive reviews?
Do you have a good reputation online? What is the first reaction that your website triggers in a visitor who has landed on your medical website for the first time? What elements of design could be improved or added to help patients find your clinic online quicker?
Amelia, as a client management software, can help you get positive answers for these and other questions. One of its specializations is focused on aiding clinics to set up appointment scheduling, medical services catalog, payments, and other tools for their clients.
The Impact of the Internet on The Medical Industry

Here are some statistics that you should consider that will help you get a clearer picture of the importance of the internet for the medical field, and, indirectly of the significance of having cutting-edge medical websites of you want to make your medical clinic successful:
87.9% of people in the United States had Internet access as of 2017.
70% of the American population access the Internet daily
83% of Americans access the Internet daily in the age group of 35-44 years
75% of American Internet users access the Internet from desktops and laptops
85% of the US population browses the internet daily using smartphones and tablets
The age group of 35 to 44 years of educated populations is most likely to search medical services online because that's when people start feeling apprehensive about their health. They pay attention to issues and conditions that they have tackled on their own earlier.
The 35-44-year age group is health aware group and a financially stable group, which, combined with the fact that 83% of them use the internet daily and 76% of them use mobile devices for online browsing, makes this age group the target market of most medical clinics.
Upon seeing the stats, it becomes evident that the healthcare arena needs to go online to promote medical services, educate patients, and establish a bond with patients. Another obvious conclusion is that medical websites must be mobile-friendly in a mobile world.
Refusing to see the behavioral patterns of patients online, you deny your medical clinic the chance to grow, and you drive patients away to your competitors and allow them to grow their business, advertise their services, and nurture their reputation, not yours.
Five Elements of an Effective Modern Clinic Website

To fully understand what separates the best medical websites from the rest, you must first understand the stages of the digital interaction between a potential client and a website from a business perspective:
Visitors See. In this stage, potential patients, your clients, must discover your clinic, navigate their way to your medical website, and, ultimately, SEE what it offers.
Visitors Like. In this stage, which is very short, potential patients must like your website attracted by your design, its usability, and the "blow-my-mind" effect.
Visitors Buy. In this stage, potential clients must be persuaded to become clients via compelling text and visual content.
When you come to comprehend the multifaceted role of website design for you as a business, you know that you must invest in the quality of medical websites and pay heed to each element of its design to increase your conversion rate and therefore your bottom line.
Here are five elements of that make the best health sites effective. Remember that these five elements make a website effective, irrespective of the field in which you are operating:
Purpose
Every website must be created with a goal in mind, and medical websites make no exception. Do you need patients to get familiarized with your clinic? Do you want them to place inquiries about your services? Do you want them to book an appointment?
Context
Put yourself in your potential patients' shoes and try to visualize the context in which they reach out to your website and, subsequently, your business. Adapt the visual and text content of your homepage to those specific circumstances.
Expectations

Medical websites, just like all websites, must provide a solution to a problem that the visitor is experiencing. What do your visitors expect to find on your website? Identify that problem and give them the solution they expect to find on your modern clinic website.
Comfort
Remember to make your visitors' experience comfortable by making navigation easy. Overly complicated navigation frustrates the visitor and causes discomfort, which they will mentally associate with the medical facility you are offering as well. You don't want that.
Adaptability

You need to adapt your design to today's mobile era. Medical websites should be accessible from any device, irrespective of screen size, so pay attention to implementing responsive design. Follow the lead of the best health websites. Turn small-screen users into patients!
How to Make a Modern Clinic Website

Medical websites must inspire confidence as an online medical resource and not drive patients/visitors away via irritating design or how the information is presented.
People expect medical websites to be health information websites, i.e., provide them with all the information they expect to find on their health issues.
Health is a sensitive matter, and people feel the need to meet the person they are trusting their health with so introduce your doctors and staff accordingly.
When visitors land on health related websites, they are already bothered by a medical issue, so they don't have the time and energy to navigate difficult interfaces.
Remember the statistics at the beginning of the article? Yes, more and more people in your target group use mobile devices to seek medical services. Go mobile as well!
It is crucial that you employ every marketing tool available to promote your resource, including social media networking, which can boost user engagement.
5 Fundamental Questions Your Modern Clinic Website Must Answer
Medical websites must provide visitors with answers to their questions. While visitors, and therefore, potential patients may have a full spectrum of questions, these are five key questions that your modern clinic website shouldn't fail to answer:
Who are you? Introduce yourself to make a lasting first impression!

Yes, your name is John Smith, MD, and you are a general surgeon, but the medical field has numerous general surgeons. Why would a patient choose you? Well, this is your chance to create that emotional bond with your potential patients by providing the right information.
In addition to credentials, certifications, training, etc., you must add something that will make your first impression a lasting one and capture the visitor's attention on an emotional level: why you chose to practice general surgery, your philosophy of care, the wow element.
What do you do? Dedicate a page on your medical website to each specialty!
As a medical professional, your specialties are very clear to you, but you must understand that your potential patient is not medically-trained. Therefore, make sure you provide a comprehensive and descriptive presentation of each of your specialties on a different page.
In addition to proving that you are as reliable as the best medical information websites, devoting a page to each of your sub-specialties is a great SEO approach as it lets search engines match more of the keywords the patients are looking for to your website content.
This makes your website relevant as far as search engines are concerned and that will place you at the top of search engine results, which is where reliable medical websites are found.
Where are you located? Add your Name, Address, Phone, and social media!

Your visitors must be able to determine quickly where they can find you without any confusing information walk across every online venue where your business is listed is recommended. Add links for social media networks with which visitors may be familiar. If your website looks cluttered up, you can also use a QR Code Generator to design a customized QR Code with a landing page that contains all your social media links in one place
Why should potential patients choose you? Deliver valuable content!

You are not the only doctor in the world, so give your visitors a good reason to book an appointment with you by providing them with valuable content. What is valuable content to potential patients? Useful information on the health matters that led them to your site.
Make the content even more valuable by aligning it with your expertise and experience.
How can your visitors contact you? Guide them to where you want them to go!
Reliable medical websites, no matter the type of medical facility, doctors walk in clinics, regular doctor office, or a cheap walk-in clinic, all must provide visitors with a visible way to get in touch with you and make an appointment. Your medical clinic is a business after all!
Remember that providing a phone number is not enough. Include address, maps, email, an online booking system. There are plenty of tools available to make contact quick and easy!
Summary
The conclusion is quite simple: medical websites are not your average websites. They require a specific approach and getting into the mind of potential patients. Developing a medical website is challenging, but it's not impossible especially if you follow our tips!
If you need help with your website, WP Buffs is a 24/7 WordPress website maintenance services for serious website owners & white-label partners. Whether you're looking after 1 site or 1000, they've got your back!
If you enjoyed reading this article about making a modern clinic website, you should also read these:
The first thing that you look up when you want to know how to become a consultant is a clear definition of what the term consultant stands for and what it takes to become one.
The best answer as to what a consultant is states that a consultant is a professional with expertise and knowledge in a specific field serving as an advisor to companies/individuals.
The definition sounds ambiguous, but there isn't much more that you could add. The business of a consultant is to consult. It is as simple as that. There is no recipe for success.
There are plenty of consultant types and consulting firms out there, such as a management consultant, business consultant, IT consulting firms, small business consultant, or an independent consultant for various industries, such as healthcare, building, and more.
Specific attributes distinguish good from bad consultants, primarily an unwavering commitment to excellence and undeterred passion for the field of choice in addition to excellent knowledge of the industry that the consultant chooses to profess in.
Starting a consulting business is no longer an endeavor restricted to a limited number of professions. Every individual with skills in a particular area can be a consultant. You can consult in any industry as long as there is a demand for your skills and expertise in the field.
You would also need some assistance on the side for the purpose of management of some administrative tasks. Amelia can help you to schedule meetings, list the services, collect payments, and manage staff.
If you are good at computers and your knowledge and skills are valuable enough for people/companies to pay for it, go ahead and learn how to start a consulting business as a computer consultant. It is that simple. The same applies to every other field.
Things to Consider Before You Become a Consultant
Before you start the process of learning how to become a consultant, irrespective of the field of choice, you have to make sure you take into account several important factors:
Licensure and Certification

Consider that certain professions require special certifications and/or license that allow you to operate as a consultant in that field. Others don't need any certification, but there may be optional certification available if you want to inspire your clients more trust.
Check if you need a license to be able to work as a consulting firm or a consulting business.
Level of Qualification

You may think you know all about a particular field, but are you genuinely qualified? In some fields, you have your credentials to prove your qualifications, but in other areas, you are your own assessor. Learning how to start a consulting business is easy if you are qualified.
Level of Self Discipline
Whether it's business consulting, strategy consulting, or small business consulting, you need to be a highly organized individual to work as a consultant. Your time management, planning, and organization abilities must be excellent if you want to work as a consultant.
Ability to Network

The ability to establish and expand a network of useful contacts is one of the first things you need to do when you learn how to become a consultant, whether it's business consulting services, IT services, or any other consulting services you want to provide.
The success of the best consulting firms be it management consulting firms, business consulting companies, or IT consulting firms depends on their networking abilities.
Establishing Goals
Make sure you can meet your short-term and long-term goals by being a consultant because you need time and energy to grow into a successful consultant and you must be prepared to devote that time and energy to building a flourishing consulting company.
A Career as a Business Consultant

What is management consulting? What do business consultants do? A career as a business consultant allows you to focus your consulting services on different areas of business. You can provide consulting in every area that an organization may need professional advice.
Key business consulting areas include communications, e-business, human resources, operations, marketing, organizational development, small business, strategic planning, or technology/IT. However, a company may need consulting services in many other areas.
In the US, the business consulting industry produces around 100 billion dollars, states a research study conducted by Harvard Business School. The numbers are no surprise as enterprises need consultants even to reduce costs and increase revenue in a slow economy.
If you want to know how to become a consultant in the business arena, you probably know that business consultants are some of the best-paid professionals, with an average salary of 117,000-dollar salary and an hourly rate of 35-400 dollars for a self-employed consultant.
Business consultants need passion and knowledge to become successful. No degree is required to become a business consultant and circa 28% of existing consultants do not possess any degree whatsoever, so go for it if you have the drive, the passion, and desire.
Tips on How to Become a Successful Consultant
Pinpoint Your Area of Expertise

It is easy enough to pinpoint an area that you are interested in, but interest is not enough. You need to add substantial expertise and extensive experience to build a successful consulting business as an independent consultant in a field that interests you.
Get Certified and Licensed

Once you've identified the niche in which you have the experience and knowledge, move on and find out if you need certification or formal training/education to operate as a consultant in the respective field. A gardener doesn't require certification, but an account does.
Check licensing requirements at a local and state level. Sometimes, professionals may be asked to get a license to operate as a consultant. Make sure you check available guidelines.
Establish Short and Long-Term Goals

You must remember that, no matter how good you are at what you do, you can't build a successful consulting business overnight. It doesn't work like that. Make sure you set achievable, down-to-earth short and long-term goals. Adapt your expectations to reality.
Any business, no matter the industry, needs time and effort to become known, establish itself, and grow. Don't expect to have clients knocking at your door the day you launch your business. Prepare to invest time and energy into building your consulting firm.
Identify Your Target Market
Make sure that there is a market that is ready to pay for what you offer. Choose your niche and establish your target market. Determine whether you want to work for companies or individuals. Sometimes you may be able to consult with both categories of clients.
Research and Understand Your Target Market

It is essential that you understand the needs, requirements, and expectations of your target market. To achieve that understanding you need to research your target market.
You need to establish how you can fulfill the needs, meet the requirements, and exceed the expectations of your target market. Remember that both companies and individuals need consultants for a reason. Understand that reason and identify how you can help them.
Consider Working from Home
When you learn how to become a consultant, you learn that, just like any other business, a consulting business needs to pay attention to costs, especially in the beginning. Therefore, a home office may be an excellent choice to eliminate the costs of renting or purchasing a location.
A home office reduces costs related to utilities and commuting and saves you a lot of time and effort. You can expand later as your business grows and add new associates or offices.
Focus on Building Your Network
Networking is critical if you want to be a successful consultant. You must know people in the field and make sure that people in the field know you. You need a reliable contact base that you can use to source work. Add social networking to professional networking as well.
Networking will help you market your business successfully and advertise it efficiently. Remember that references are just as crucial to the success of your business. Go back to that contact base to establish and expand your contact network.
Fix Your Fees and How You Charge Clients

As a business consultant, you need to pay heed to how much and how you charge clients. Fees can't be high in the beginning because you are yet to establish yourself as an expert.
There are several things to consider when you set your fees: target market, competitors' prices, market conditions, your credentials, and your experience. Use this data to fix fees.
You can charge clients hourly or per project. Typically, a project-based fee will eliminate any misunderstandings and possibly get you more clients. An hourly billing method, on the other hand, is convenient but clients often feel they pay too much for your time.
Market and Advertise Your Business
A consultant doesn't sell a palpable item, such as a house, a car, or shoes. A consultant sells advice, and many clients don't even know they need guidance. Marketing and advertising your consulting business may seem like a challenge with your business objective intangible.
You can opt to market and advertise your consulting business through print media, your website, social media, online ads, cold calls, and more. However, you must first establish a budget that you can effort to spend on your marketing and advertising efforts.
Just like any other business owner, you need to learn how to work within a set budget.
Decide If You Need to Outsource Some Tasks
As you start understanding how to become a consultant, it becomes clear what you can do on your own and what you can't. In the beginning, you will probably be able to handle everything yourself but consider outsourcing specific tasks as your business grows.
Make sure you understand the legal requirements as well as the taxes that you need to pay when you employ people.
Summary
If you are considering a career as a consultant, make sure you learn everything there is to learn on how to become a consultant. It is a respected profession everywhere in the world.
It is also a profession that receives the admiration of many of the independence it provides and the level of expertise that consultants possess.
If you need help with your website, WP Buffs is a 24/7 WordPress website maintenance services for serious website owners & white-label partners. Whether you're looking after 1 site or 1000, they've got your back!
If you enjoyed reading this article on how to become a consultant, you should also check out this article on consulting buzzwords.
We also wrote about a few related subjects like how to get consulting clients fast, technology consulting, consulting proposal template examples, consulting business ideas, how much to charge for consulting, tips for becoming a self-employed business consultant. Maybe you need a consulting contract or tips to overcome the business challenges that a consultant like you is facing.
And if these are something you enjoyed reading, check out our WordPress booking plugin that your clients can use to schedule meetings with you.
Many booking websites struggle to improve their conversion rates. Unlike e-commerce websites, online booking sites don't boast high conversion rates. The main culprit? Their often overly sophisticated conversion funnel lacks optimization on all levels, which drives visitors away.
A conversion funnel is a voyage that users take from the moment they access a sales website until the moment they make a purchase and become clients/customers.
To convert visits into sales, you need to tirelessly work on persuading them across every step of the conversion funnel until they finally complete your call to action, i.e., make a booking. In order to optimize this, you might need an assistance from a professional, like Amelia.
This post discusses key funnel optimization strategies and why funnel page optimization is not a caprice, but an absolute must for a booking website that wish to improve their bottom line.
Booking Conversation Funnel Overview Analytics & Reports

Before you decide which optimization strategy to apply to increase your conversation rate for your booking website, you must conduct a proper assessment and quantification of your funnel conversation rate. Analyze the funnel, break it into stages, and map stages in your analytics.
Here is why mapping your conversion funnel's stages in your analytics is important:
Reports on your conversation funnel for your booking website will reveal which stage of your website funnel causes you to lose users. Also, you can pinpoint the most sizeable and negatively impacting blockages across your booking conversation funnel.
A conversation funnel measurement will highlight where users are dropping out of your onboarding flow and will allow you to measure them up according to device, source, location, and other useful features that help to order website users into categories.
Analytics and reports allow you to employ individual goals when performing your A/B test, instead of sticking to general conversion rates alone.
Search Form Analytics & Reports

A report featuring all stages of the conversion funnel for your website is the first step you need to take towards conversion funnel optimization. Equipped with a detailed report, you can now look deeper into each step of your conversion funnel to get a clear picture of what happens.
The first stage of a booking website's conversation funnel is the search. To identify with what your users are looking for in this stage and generate a bigger picture, you must collect and store what your users are searching for in order to be able to perform a thorough analysis later.
Why Search Form Analytics and Reports?
Search form reports are designed to allow a better understanding of the searches your users perform on your booking website in this step of your conversation funnel;
By comparing product search data against dates and conversation rates, you get a better picture of your pricing colleagues.
Search Results Page Analytics & Reports

The next stage of your conversation funnel for your booking website is when you generate and show up search results after users have filled out the search form. This has proven to be the stage where a majority of users leave your booking website.
Within this context, it becomes clear why search results page reports and analysis are essential.
Why Search Results Page Analytics & Reports?
Search results page reports are designed to allow a better understanding of the way users assess what you are offering.
Search results page reports along with behavior pattern analysis may help to improve the presentation of your primary product offers on your search results page.
Based on search results page reports, you can secure the data and insight required to design improved abandoned cart email campaigns.
Booking Website Homepage

The third stage of a conversation funnel for a booking website is your homepage, where they might have been directed from the search engine results page, online advertisements, or social media networks. The homepage is your chance to create a compelling first impression.
The homepage is the online front door to your business. You need it to have a clean and neat appearance, inspire trust, and display content intuitively for users to go deeper into your site.
Here are several ways you can make sure you deliver a straightforward, insightful homepage:

Upon landing on a booking website's homepage, users need to engage in a new search process to find the product/service that they are looking for. An overly complicated, heavy navigation will deter users and drive them away from your website.
Your homepage should provide tidy, clear navigation where users can quickly select their filters and get their preferred deals. Remember that users are not fond of time-consuming tasks. A clutter-free, easy navigation boosts your chances of converting a visitor/user into a client.

Criteo has recently published a report stating that 27% of digital transactions reported for the booking sector are completed via mobile accounts. Considering the mobile era has only just commenced its rise, this number is expected to escalate.
Within this context, it becomes evident why booking websites need to go mobile to increase conversion funnel rates. The same rules for a clutter-free, clear, and highly intuitive navigation apply to mobile websites.
Another aspect to address is making sure that your mobile site and desktop site work together as an all-in-one piece.  Take advantage of the innate features of mobile platforms, including click-to-call or GPS, and enhance your user's experience as well as your conversion funnel.
Introduce Unique Selling Proposition or USPs

Your homepage is the place where you have to show you best offers, your USPs aka unique selling proposition. These unique advantages will encourage users and persuade them to continue on your website and make an acquisition, i.e., convert into actual clients.

Call-to-action text or CTA copy is exactly what they say they are: their role is to guide users across your conversion funnel by giving them a nudge forward at the right time. To achieve that, you need the perfect text, essential for improved conversation rates.
The rule of successful CTA copy is simple: the text should reflect precisely what users should be expecting upon clicking the call-to-action button. Stay away from irrelevant CTA text because such copy tends to baffle visitors and drive them away instead of convincing them to stay.
Booking Website Search Results Page

A funnel definition and analysis will show you that the search results page is a very important stage of your booking funnel. It is the place where users arrive after they fill out the search form according to their preferences as far as destination, data range, or price range.
The search results page of your booking website is where users make the conversion decision. The need to like one of your search results, whether they refer to hotels, flights, or trips. You can optimize your search results page for your booking website and are several methods to do it:
Enhance Users' Decision-Making Process

The search results page usually puts a lot of hotels/flights in front of the user who is now even more confused with too many unfamiliar options to choose from, and that can be overwhelming. So, help your users pick the best offer from your search results page!
When you define funnel and funnel meaning, you understand that price is the critical criterium in this stage so make your prices visible by displaying them in a way that stands out. Use visual hierarchy to make the best prices prominent to the users.
Also, understand that users respond to offers if the offers are properly introduced to them. For example, a 20% discount will not have the same effect as showing them that they will be saving 2000 dollars if they take a specific deal. Presenting the before and after discount prices is best!
Allow Users the Luxury of Cancellation

Making bookings is not an easy decision because it involves a high Average Order Value and people like to take their time and think things through when their money is at stake. This is where you present them with the option of canceling their booking at a later time.
Moreover, it's not always just about the money. It is about not knowing exactly what the experience will be like: they need to understand where they are going. They need time to think over their choice without any pressure. Knowing that they can cancel their booking helps.
When you allow users to opt out of their booking at a later time, you don't ask them for a high level of commitment. Users like low-level commitments and they feel forced into making hasty decisions by high-level commitments.
Measure Pertinent Data Points

What is a funnel? A conversation funnel entails several stages and you need to understand each one of the stages of the booking process and secure robust data on the booking process. Entry and exit paths across every stage of the conversion funnel need to be reviewed recurrently.
As you master your booking website, you need to pay attention to all pertinent data points within your booking process as some of the steps may be unique to a channel. Information on errors must be gathered diligently and analyzed thoroughly to implement remedial actions.
Pay attention to intra-page activity, which may refer to lightbox info, link activity, or form completion. This data will allow you to understand better conversion barriers and enhancers, i.e., what stood in the way of a sale and what helped make a sale.
Optimize for Device Type at Each Stage

The next step in improving your conversion funnel is to analyze the measures you've performed on relevant data points from a device type perspective. It is the stage where you pinpoint the shortcomings or conversion barriers specific to one device or another. Fix them!
It is time to make sure that you offer an optimized booking website/app for every non-standard device or booking channel, may it be a smartphone, tablet, gaming station, smart TV, or set-top box. Optimize for all possible channels out there to improve your conversation funnel!
Provide the Right Content to Get Quality Traffic

An excellent way to enhance your conversion funnel is to understand what brings good results. To achieve that, you must perform measures on high-performance entry points and content. Identify the best content in each stage and complete A/B testing on a regular basis.
Measure aggregate event data and pathing to get a clear insight of the value your content brings to your booking process on your booking website. Use content that has a demonstrated history of converting a search into booking to customize your content.
Summary
It is not easy to optimize a conversion funnel for a booking website. The best way is to put much time into fully comprehending what users need and want to convert from visitors on your website to clients of your business.
Know your audience, and you will know conversion funnel optimization. Know what they want, what they expect, what they look for, and you will know what to offer and how to offer it. Take them by the hand and guide them through your website until they click the last CTA button.
A spa website must be visually appealing as it is the best and most effective marketing tool for you to draw the attention of new users and subsequently generate new business.
It is the mission of this article to present you with a set of straightforward tips and practices as far as web design is concerned to help you in your efforts of creating a visually pleasing website for your spa or salon business.
Implement a Service Menu to Boost Sales

Many spa websites neglect to include their service menu at all or make it easy to access on their website. Also, they often add their service offerings as a PDF file, which for many customers is just another hassle because they need a reader to get access to the services you are offering.
Keep in mind that we are living in a mobile world, where many people access websites on their mobile devices, be it tablets, smartphones or other mobile solutions.  PDF files don't offer the best visibility on mobile devices, and they involve yet another task for the user to perform.
However, there is always a solution, and, including your service offering as an HTML page into your website is what you need in order to increase the usability and visual appeal of your site.
The service menu must convince users to book appointments, as well as purchase services and products. Including products and services suggested to customers, reviews might help you boost sells and generate additional revenue.
Integrate Customer Reviews

Positive reviews from your previous customers are the best possible marketing tool to help you generate new business. Happy customers are the best promoters in the world no matter the type of your business and customers reviews are always present on visually appealing websites.
Of course, a text often provides a strong visual appeal, which will also contribute to making your website visually appealing. It is your mission to inspire your happy customers into leaving reviews of their experiences and share them with potential customers on your spa website.
Use the many mechanisms or tools that allow you to publish reviews automatically on your website. Attractive websites in the spa arena always feature customer reviews.

As you know, people are attracted to all things special, and your special offerings will draw their full attention to your spa website. Visually appealing websites highlight their specials in their website visual design, i.e., on the homepage as a banner and/or a dedicated page.
Keep your offerings up-to-date, which means you should take down any Christmas special offerings by Valentine's Day. Aesthetically pleasing websites pay attention to keeping their specials page current. Old specials tell your customers that you don't really care about what they see on your website.
People love good deals. There are what we call "evergreen" special offerings, meaning that they can be permanent specials, such as discounts for the military, discounts for a new guest, or discounts for customers referring a friend.
Make Contact Easy for Your Customers

The visitors of your visually appealing website should be able to quickly find your contact including physical address, parking information, a Google Maps link, as well as your phone number, e-mail address, and other types of contact details.
We are living in a world of the GPS, therefore, listing your business on Google Maps will help your customers find your location without actually entering the exact address of your spa.
Feel free to include contact details on the homepage, as well as on every page of your website and make sure did you don't sacrifice visual appeal in the process.
One of the things that make any website efficient is incorporating your contact details cleverly in your website design. Contact information is best to be displayed in the header of your website, which means it will show up at the top of its' every page.
Contact details, of course, include phone number and address but you should not forget about making website buttons for social media. Relevant social media icons placed at the top of every page can do miracles when it comes to making your website visually appealing.
Focus on Making Your Website Mobile Friendly

If you want to know how to make a site look better, capitalize on today's age of mobility fully. While your spa website may be one of the most attractive websites on a laptop or desktop, it may lose its visual appeal on a mobile device.
You have to enable web design that helps your customers view your website and navigate through your site easily and quickly on any mobile device or any device for that matter.
There are user-friendly website designs focused on offering a mobile-friendly experience to users. A responsive website design adapts to every single device that the website is accessed on and displays your website in a visually appealing manner on all devices.

The business world is shifting increasingly towards the virtual marketplace, and people want happy convenient throughout. They don't like performing lots of tasks; they don't even like making a call for an appointment.
They'd rather book their appointment online at a time that is convenient for them, which could very well be after your operating hours. A spa website that is both visually appealing and user-friendly will present visitors with the possibility of online booking.
Make the booking process as swift and as comprehensive as possible for your visitors to be able to quickly identify availability or apply for promotional discounts or membership benefits when making their appointment.
The great benefit of an online booking software is that it allows your front desk to network and intermingle with customers at your physical location in a much more efficient manner, which will bring your excellent business reviews when it comes to customer service.
If you are looking for professionals to help you set up a top-notch spa website with online booking feature, Amelia is a cost-effective way which saves hours of coding time and offers a beautiful appointment scheduling interface.
Make Gift Cards Available on Your Spa Website

Gift cards are outstanding assets, especially when offered in an online store, where people can get them quickly when they are faced with a gift dilemma. Selling gift cards online will help you attract more revenue and the opportunity to retain new clients and generate more business.
If you combine gift cards with appealing promotions, a solid digital marketing strategy, and an exceptional follow-up system, you will be able to bring on even more revenue and more clients.

While it is vital for a visually appealing spa website to present visitors with an overview of their services on the homepage, it is essential that they incorporate a website design that includes a dedicated page to display the details of the spa services that you are providing.
On your services page, make sure to include all the services that you are offering, as well as prices for each separate service or for a package of services, relevant images to each service, and even a PDF that visitors could download for an in-depth study of your offerings.
Make sure to include contact information in a visible manner inside the downloadable PDF.
Include Relevant Photos of Your Business

If you were to look for a visually appealing definition when it comes to website design, you would probably find out that any website that considers itself visually appealing includes high-quality, high definition photos of the outside and inside of the business it represents.
Photos of the outside of your building will provide clients with a visual clue to quickly identify your location upon their arrival. On the other hand, users expect to be presented within. Photos when it comes to websites for spas and salons.
As far as you are concerned, photos are your chances of highlighting the best that you have to offer as a spa business: relaxed ambiance, cozy interior design, cleanliness, well-organized space, attention to details, as well as a client-centric approach in every respect.
Testimonials and Before-and-After Photos

Remember that your mission as a spa is to provide customers with a makeover. Therefore, new clients expect to see before and after photographs on your website. Before-and-after pictures help users identify with experiences of previous customers and their body image concerns.
In addition to displaying before and after photos, you can add on that social proof, as well as examples of work that you perform at your span.  Furthermore, a testimonial of the respective client will reinforce pictures further and add an emotional charge to them.
Include Staff Bios on Your Website

A spa is a business where clients interact directly with staff members before we would like to know or meet the actual people before they arrive at your location. Yes, your office looks great, your building looks great, your prices look appealing, but who runs the show?
Create an individual page to introduce your staff to your potential customers, which will add a personal touch to your visually appealing website. Allow clients to learn more about your conditions your stylist and other members of the staff include their pictures you have a winner.
Create a Modern and Relaxing Web Design

The role of a website for a business is to establish and build a strong brand.  Putting a lot of effort in developing a modern and relaxing spa is not everything you need for a successful business.  You also have to be able to convey that exact ambiance and feel via your website.
New clients have not seen your physical location yet, and therefore it's your website's mission to convince them to make an appointment and enjoy that stress-free and relaxing ambiance you're offering. Your site should feel modern and relaxing just like your actual location.
Make sure that your website always feels current. If customers think they are looking at an old site, they may believe that the services at your actual location are just as outdated and you don't want that for your business.
Use visually appealing colors for website design, colors that catch the eye when you see them enhancing immediate communication with your potential customer at a subconscious level. People determine at a subconscious level whether something is interesting or not, and colors speak the language of the subconscious.
You also need to create a visual hierarchy for your clients to make sense of your website. This is how the human brain works: it organizes information in a way that makes sense. So, make it easy for the brain to process by hierarchizing information visually. Add color to visually hierarchy, and you target the users' conscious and subconscious levels.
Keep Things Simple when It Comes to Layout

Many webmasters make the mistake of believing that a visually appealing design is a design crowded with a ton of information in an overly complicated layout, when, in fact, clients like simplicity; not dull simplicity, just simplicity.
Many times, the visual appeal of a website consists of easiness when it comes to navigation and enhanced visibility on any device. Navigation should not be complicated, but simple and intuitive.  Make sure your "call to action" is performed effortlessly by the customer.
Being unique is important, but clients like to know their way around a website. To achieve that goal, you have to implement a familiar menu design that remains standard in appearance, and therefore familiar. Add a personal touch for uniqueness but keep it familiar as it creates a comfortable ambiance.
Summary
A visually appealing website for a spa business is a website that manages to remain inviting without sacrificing functionality. A visually appealing website is a user-friendly website that renders to the potential client the relaxed stress-free ambiance that one would expect from a spa business.
If you need help with your website, WP Buffs is a 24/7 WordPress website maintenance services for serious website owners & white-label partners. Whether you're looking after 1 site or 1000, they've got your back!
There is no doubt that you need a personal trainer website whether you are just entering the fitness realm, or you are already a seasoned personal trainer seeking to develop a broader customer base. Having a personal training website is no whim, but an imperative in today's internet era.
The fitness marketplace is a highly competitive field that has changed dramatically over the past decade.  The way services were made available 10 years ago is no longer valid. Personal trainers don't use their personality, figure, or knowledge to promote their services directly to customers.
It doesn't work that way today anymore. You must build and grow a professional personal trainer website because consumers, 88% of them according to research, perform searches online to get all the information they need before they make any purchasing decision.
To understand why trainer websites are necessary, you have to ask yourself three fundamental questions:
Are users able to locate me online quickly, and learn about the services I provide?
Do I create a positive first impression via my current online presence?
Is my website compelling enough to have users book an appointment with me?
You should have straight Yes-s throughout.  However, if you have a single no among your answers you've come to the right place. We are providing you with the necessary tips to help you create a compelling, as well as visually appealing personal trainer website.
Step 1: Pick Your Domain Name

If you've already figured out a business name for yourself, then you only have to go and check with a name registrar for availability. If the outcome is not a happy one and your dream domain name is not available, it's time to get creative and find alternate names for your domain.
Here are some rules to stick to when you can look up alternate names for your personal trainer website:
Keep away from shadowy extensions when it comes to your domain name. .com remains the best choice if available, but you can also use an extension designated for the country that you operate your business from, such as .ca for Canada.
Keep away from hyphens. It is always difficult to pass the name of your website along orally when it's got one or more hyphens in it, such as joe-smith-personal-trainer.com.
Refrain from using numbers inside your domain name because it confuses people. E.g.. joesmithpersonaltrainer1.com.
Stick to appropriate abbreviations, such as PT for a personal trainer. Any other abbreviations don't add up for someone who is not familiar with the industry.
Keep away from made up abbreviations or words, such as personaltrainingworx.com. It doesn't sound or look professional and requires extra clarifications as far as spelling is concerned.
Equipped with these straightforward rules, you can perform a thorough search on Google Domains and find the domain name that best suits you.
Step 2: Register Your Domain Name

The next step in creating a personal trainer website is to buy the domain that you've settled on and get exclusive rights to it. The domain service held by Google has an excellent reputation among the industry's professionals.
You can choose to buy the domain for several years and pay for multiple years in advance.  Of course, you can buy the domain and own it for one year at the end of which you get notified to make a new payment and continue to own the domain for another year.
Step 3: Purchase Web Hosting

Now that you've chosen a domain name and you've also bought your domain, you can move on to the next level and purchase web hosting, which you can do directly via your domain registry.
Step 4. Create Your Content

Many owners of personal training websites have chosen to create their content before thinking about a personal trainer website builder, a specific style or a specific type of website design. It is a good strategy and has worked successfully for the best personal training websites.
This strategy allows you to write your story before anything else, outline your website around the services that you offer, and then find the most appropriate design and style to suit your narrative line. Some of the best trainer websites have used this strategy.
When you write your content for your personal trainer website, you have to take into account some essential elements that you need to include, such as:
Certifications and other credentials relevant to the fitness industry;
Descriptions of the services, training programs, or classes you are offering;
Direct testimonials of previous or current clients;
Contact details, including a phone number, email, Google maps, as well as social media;
Pricing policy for the services that you are providing;
A blog presenting insightful information on your field of expertise;
Also, you can also transform the website with a membership site easily if you're using a theme like these recommended by collectiveray.com.
Step 5: Create Your Must-Have Pages for Your Personal Trainer Website

If you look over fitness website ideas or personal trainer websites examples, you will discover they all have in common a particular type of information that users expect to find on a personal training website in general, which tells you that they find that sort of info to be relevant.
Therefore, you need to include information that people expect to find on your personal trainer website and make sure that you cover every segment of your target audience.
Break down your audience into existing customers, potential customers, fitness enthusiasts, and other people who wish to reach out to you. Target your copy to reach each category.
Read on to find a list of pages that you should include in your personal trainer website design:
Homepage

The importance of a well-designed home page can't be stressed enough. Your homepage is the door to your business, as well as your business card telling visitors everything they need to know about you and the services that you are offering at a single glance.
Your homepage should include information about your areas of expertise in the fitness arena, mention any evergreen or occasional special offerings that you use to reward customers, make your location visible, and present them with all necessary contact details.
Using the sidebar menu or a footer menu to present special offers, news, contact details, Google maps, or blog posts is often a good idea that has been used successfully by personal fitness websites because content from those areas appears on every page of your website.
Meet the Team Page

Even if your team is made up of you alone, you still should include a Meet the Team page into your website design.  This page is a must when you actually have a team consisting of various trainers each with their own area of expertise and experience.
A Meet the Team page is the perfect place to introduce to your potential clients each of your trainers with their pictures, names, credentials, accreditations, licenses, areas of expertise, experience as well as short professional and personal bios.
Visitors go to this page and select the trainer they want to book an appointment for a session with a particular trainer. The Meet the Team page is the page where you allow visitors to find out more about you and your team.
Add a personal touch to each biography to create a personality for each trainer. Sometimes, people worry about whether or not the personality of their trainer will be a good match for their own personality.
Feel free to use a Columns Element for the Meet the Team page. It will help you keep things organized and neat.
Services Page

The services page is probably the page where your visitors will go first after your homepage. The Services Page is the page that allows you to present your users the type of services that you are offering, information about what each type of service, session length, and prices.
You can incorporate a Columns Element to keep it organized, a Text element for service name and the accompanying description of that specific services in the left column, as well as a Text Element with the price featured in the right column. Use the same logic for each service.
Photos Page

Nothing will advertise your competence better than before-and-after photos of your satisfied customers. You can either display before-and-after photos as a slideshow or as a mosaic depending on your personal preferences.
You can also add an Instagram Feed. This could increase your Instagram user engagement metrics a bit.
Store Page

You could also include a Store Page in your trainer website design that will permit your fans to support your training services. You can use the inbuilt e-commerce functions from Jimdo to make your products available on the Store Page of your website.
Booking Page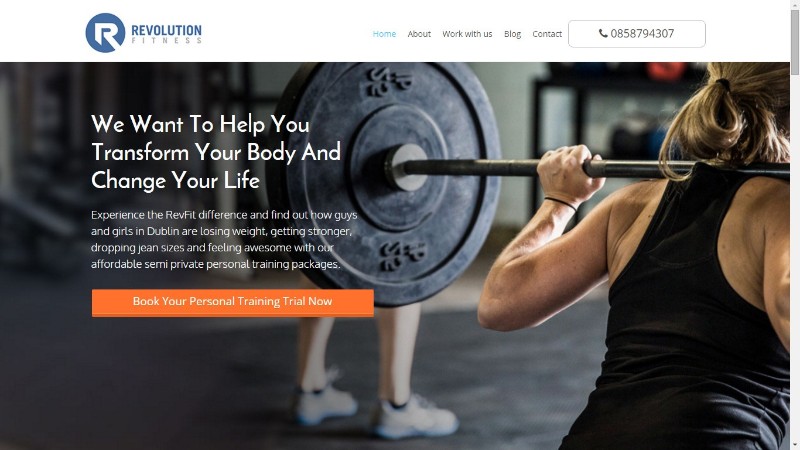 It makes no sense having a personal trainer website without a booking system for potential customers as well as existing customers to book an appointment with you directly on your website.
Make the booking process as simple and straightforward as possible.
Amelia is a cost-effective WordPress solution that will make sure your bookings are managed 24/7 and your clients can make appointments at any time that is convenient for them.
Blog Page
People like to get informed when it comes to everything fitness-related, which is why you must equip your personal trainer website with a Blog Page. Your blog featuring the articles that you write will get you more traffic and therefore increase your conversion rate.
You can also use videos that you've uploaded to Vimeo or YouTube as independent blog posts.  It will gain even more traction for your fitness website. Use the Video Element to display your training sessions.
Contact Page

Visitors landing on your personal training website must be able to get in touch with you, and they should be able to do it quickly and without too much hassle. They may need information about your rates, availability, training services, rescheduling, or any other type of information.
A Form Element Place anywhere on your website will make an excellent contact page. You can create the contact page for every visitor will be able to find any contact detail they may be looking for: email addresses and telephone numbers for each of your trainers and social media links to your company as well as your trainers.
Also, you could consider getting the contact page altogether and using the sidebar/footer area to add your contact information.  This way you will have your contact info displayed on every page of your personal training website
Summary
You need to invest a lot of time and effort into promoting yourself to become a recognized personal trainer. You need to invest in your own marketing whether you are an independent trainer, or you work for a fitness club that doesn't focus on promoting you.
A personal training website backed by solid social media strategies will reward your marketing efforts with a healthy return on investment. Having your own website is not a whim, but an imperative.
In the highly competitive world of coaching, a business coach website is an essential marketing tool that could propel your business to higher levels of success.
This article presents you with a set of best practices and useful tips to start building your online presence if you haven't already, as well as improve your existing coaching website:
Select a Domain Name: Simple and Professional

Picking a domain name for life or business coach website is not an easy task. It is an important decision that you have to consider carefully as your domain name represents the online front door of your business, and it is essential in building your online presence.
Your domain name grants authenticity and professionalism to your life or business coach website. It encourages people to look further into the services that you are providing. It also makes visitors, i.e., potential customers, look you up on the internet.
Your URL address has to be relevant to your business and the services that you are offering. Furthermore, your web address needs to be simple because people like simple things. When it comes to a life or business coach website, it's best to turn your name into a domain name.
However, this may be a challenge when your name has an overly complicated spelling.
The benefit of using a domain name is that you can have a custom email address, e.g., [email protected], which will add a note of professionalism that a standard email address, such as [email protected] or [email protected] cannot deliver.
When you email clients with [email protected], they can quickly make out your web address, your domain name, or your URL address, or however, you want to call it.  Sites such as Namecheap or GoDaddy can help you identify the most relevant options for your needs.
Be Ready to Buy More Than One Domain

When you start a coaching business, it is advisable that you use a life or business coach website with your name as the domain name and that should suffice for starters. However, as your business grows, you should buy other domains that will redirect users to your main website.
Several domains will ensure that you get as many clients as possible to visit your website no matter how they choose to look you up on search engines. It is good to consider buying new domains that provide an alternate spelling of your main website, to make sure.
Keep it Simple in Design

The best business coaching websites and life coaching websites are not packed with a lot of information, but they have a rather simple line that is easy to follow by visitors. A coaching website that is simple is better than doing business without any coaching a website at all.
As you start out as a health, business, or life coach, you have to keep your health, business, or life coaching website as simple as possible:  who you are, what you offer, and how they can get in touch with you.  You don't need much more than that to start up your business.
The amount of time and effort you invest in your business or life coaching website should be proportional to the dimension or size of your business. In the beginning, you could use inexpensive Squarespace-like services instead of an expensive full fleshed-out webpage.
As your business gets more customers and thrives a little more, you can incorporate new features, add further information, and implement new functions for your website to reinforce your brand and establish a reputation for yourself as a life or business coach.
Make your logo visible

One of the best ways to attract attention to a business coach website is to make your logo visible.  Logos, usually placed in the top left corner of the site because that's where the eye travels naturally, work best when accompanied by a relevant tagline.
A clever tagline should be able to tell visitors right away what the site is all about.
If you're not sure about designing a logo, you should consider crowdsourcing it.
Connect with Your Audience

After capturing your readers' attention via a banner, you can add a copy that targets your specific audience. It is vital that you create a connection with your users when they land on your life coaching website or business coaching website.
The language that you use has to speak to your specific audience. It is one thing to write a text for individuals struggling with life issues and is quite another thing to talk to an entrepreneur looking for ways to be a better leader and improve the productivity of his/her team.
Adapt your language in your copy to your target audience. Don't worry if you can't create the perfect text for your audience right away.  The best business coaching websites have not been built in a day. They've been edited in time according to the evolution of the respective business.
Incorporate Your Picture

When they first arrive on a business or life coaching website, people feel the need to associate the coach with a face because putting a face to business makes it more authentic and trustworthy. Leave all shyness aside and show your face on your website.
You can include your picture on your homepage or your about page, but no matter where you choose to have it incorporated in your website, you need to understand the importance of having a professional photo, rather than an amateurish one.
As you write a copy to target a specific audience, you need to use a picture that does the same. For a business coach website, you could use a headshot that looks corporate enough. Perhaps a picture of yourself in a business outfit will be the best choice.
If you're focusing on building a life coaching website in the health coaching niche, perhaps you could include a picture of yourself preparing a healthy meal or exercising at the gym. It could be the best way to promote your business via your own photo.
A picture of you practicing yoga or meditating on a beach may speak volumes to the audience of a life awareness coaching website. The whole point is to have a picture in a setting that is relevant to the niche that you are targeting as a life, health, or business coach.
One thing that you need to stay away from when building a website is third party advertisements such as "this website is powered by freehosting.com."  It's only going to make your users think that you don't value your business enough to buy a proper domain name.
Selling products on your coaching website is not good either. It could send out the message that you're not a good enough coach to make a living out of your profession and that you need to sell products/ supplements to complement your health, business or life coaching practice.
Remember that neither search engines nor visitors appreciate stock photography. Conduct a search by image for life coaching businesses on any search engine. The results will be almost identical: pictures of green fields, Zen zones, the drop-and-ripple effect, yoga poses, etc.
None of these pictures are unique in any way, and they don't make the respective businesses stand out positively. Sometimes, your Instagram can be a much better source of images for your life coaching website than any expensive designer or stock photography venue.
Stay Grounded and Truthful
Create down to earth, realistic copy and don't make promises that sound too good to be true. Stay away from text that sounds like a home shopping network commercial.  Users will not like it, and you will not like it either. Remain truthful, authentic, and unique in your copy.
Don't Sell! Inspire!

The whole point of a coaching website is to inspire people to reach out to you so that you can empower them to attain higher levels of achievement on a personal or business level. Your text should be informational and inspirational rather than promotional.
You should create a copy that establishes a relationship with your users rather than text that sells.  It is crucial that you place yourself in the shoes of your users and try to see the copy that you are creating through their eyes.  If it sounds promotional and not personal, you need to tweak it a little bit because you don't want a promotional feel as a coach.
Include "About Us"

The About page on your website is essential since it is the page that will be responsible for establishing a good rapport with your users. To create an About page that is inspirational and provides all the right information, you need to understand what your potential customers will be looking for in your business coach website.
The About page on your coaching website is your chance to showcase what you can do for the users if they choose to become your customers, your mission and vision are as a business or life coach, what drives you to work in this field and what is your goal is a company/business.
Some people read the About page because they expect to find the elements of authenticity that make your business legitimate in their eyes. Therefore, for this type of client, you can include in your About section your professional background as well as current and past clients.
Other people read the About page because they want to know whether your business can provide a solution to their problem.  Therefore, include in your About page information of the segment of the market that you are targeting as a coach and a brief introduction of your services.
And you have to promote your brand. You should outreach to various bloggers to write about you. This about page will help them create a great description for you as a coach.
Include a Pricing Page

Some of the best business coach websites choose to display their pricing policy. Other sites choose not to reveal their prices because they fear potential customers will leave the website scared off by the values posted.
The fact is that most users prefer the truth they also prefer to know what to expect up front. They appreciate an honest coach rather than a coach that is afraid his/her prices will scare them off.  A coach who displays pricing is a coach confident of the value of his/her services.
If users decide to use one coach or another based strictly on price, then it makes no sense for you to keep costs concealed because those users will leave your website anyway and go to any of your competitors that display prices. You could use pricing information to your benefit.
For example, make it easy for users to access price information on your business or life coaching website and make sure you provide your viewers with everything they need to know to identify the value of your services for their problem.
A short description of what each service includes for the displayed price is essential. Your users should be able to understand what services are covered and what services are not included in the specified amount. They should be able to see additional fees and what they represent.
In case you charge more than your competition, make sure your users understand what the extra amount stands for by providing information on the added benefits.
Just like with all websites, it is important that you go with a website that has a clutter-free, neat appearance and not a website that overwhelms users visually the moment they land on your page. Don't use too many words and keep the design as simple as you can.
If you are unsure how to do that, ask Amelia. They know exactly how to manage any booking process – while your clients will enjoy the pleasant online service, you can sit back and relax.
Summary
When creating a business coach website, it is best that you supply your users with an easy to navigate website where they find information about who you are, what you can do for them, how they can reach you, and how much it would cost.
Amelia is a WordPress booking plugin that makes it easy for your clients to schedule an appointment with their chosen business coach.
The tips that we've presented you with will help you grow your small business while knowing that you are on the right track.
If you need help with your WP website, WP Buffs is a 24/7 WordPress website maintenance services for serious website owners & white-label partners. Whether you're looking after 1 site or 1000, they've got your back!