The concept of a spa as a way to make you a more healthy and relaxed person is far from new. It goes all the way back to ancient times.
The healing power of spring water was discovered by the old Greeks. It was further developed by the Romans. Bathing was a social happening. Public baths provided relaxation and personal hygiene.
Forward to the 21st century. Nowadays spas are as popular as ever. A visit to a spa relieves you from the stress of daily life. A day spa offers personal care treatments.
A spa treatment is a non-medical procedure. It will nonetheless improve your health and well-being. There are resort spas, destination spas, day spas, beauty salons, and more.
But you're not interested in the basics, are you?
You want to know how to start a spa business and be successful with it.
Small-day spas offer facials, massages, manicures, pedicures, waxing, electrolysis, and aromatherapy.
Larger-day spas may offer body wraps, mud baths, or hydrotherapy treatments.
Learn more about this topic in this article created by the team at Amelia (the best WordPress booking system).
Great, but how to open a spa business?
It all starts with figuring out what type of spa you want to open.
A day spa
An amenity spa
A holistic concept
A beauty spa
Amix of east and west
A combination of salon and spa
A green spa
A theme spa
A cross-over spa
A medical spa
A hot tub
A dental spa
A mobile spa
A resort or hotel spa
An Ayurvedic spa
Every type of spa will offer particular treatments. The decoration and ambiance will be in line with the particular type, and each spa aims to give its guests a unique experience.
It's good to know the differences between spas. What is a day spa? It's a form of a beauty salon. Why are some spas branded as luxurious day spas?
Spas can be integrated into a resort. A destination spa is a resort for personal care treatments. Often you will find them at an exotic location. Do you see how well these concepts work together? It's all about self-care at the end of the day, with different offerings aimed toward that goal.
Whatever type of spa you choose, you will take part in the health-improving business. It's very much like opening a wellness center.
Let's delve deeper into what you need to consider when planning your spa business.
Brand
Branding is a marketing practice.It creates a name and identity that is recognizable and unique. Customers will know what to expect. It sets you apart from the competition and it defines what makes you better. Your public-facing profile gives you your reputation. This reputation is an immediate result of your advertising and branding skills.
Recognition and trust will generate new customers. Stand out from the crowd! A clear and original brand will keep customers coming back. You will create an identity that resonates with a particular crowd of people, who will tell their friends your spa is the place to go.
Be unique. You want to be the proud owner of your day. You wish to compete with small spas and the big chains connected to resorts and hotels. Think big; think branding.
Services

When imagining a spa we immediately think "massage". And for a good reason. Massages are relaxing and are beneficial for your well-being.
A good massage:
reduces tension, anxiety, and depression
improves blood circulation
stimulates the lymphatic system
prevents and relieves muscle cramps and spasms.
soothes arthritis, sciatica, muscle spasms.
Spa services include much more than massages only. The International Spa Association explains that a spa offers massage, skincare, or body treatments. A standard day spa offers body treatments and lifestyle services. A medical spa tops that with extra services provided by licensed medical practitioners. Extra medical services include acupuncture and microdermabrasion.
Many day spas offer additional services: haircuts, coloring, styling, and makeup.
Examples of spa treatments:
Aromatherapy
Bathing or soaking
Artificial waterfall
Feetbath
Hot spring: Japanese Onsen and Roman Thermae
Hot tub
Mud bath
Jet hydro massage
Peat pulp bath
Sauna
Steam bath
Vichy shower
Body wraps
Massage
Haircare
Nail care, manicures, and pedicures
Electrolysis
Waxing
Target market

Your target customers are willing to spend good money on wellness and relaxation. So, make sure they get value for their money. Know your target customers and where they're coming from.
Are you looking to attract local residents? Or are you dreaming about a destination spa on a tropical island?
Your target market will not only determine your location and the size of your spa business, but also the services you provide to make your customers happy.
How to open a spa: The business plan
You have a rough idea of what kind of spa business you want to open.
A solid business plan is your roadmap for success.
A spa business plan consists of a set of all the steps you need to take to create a spa business in the first place and to keep it running profitably.
Nowadays there are all sorts of online tools that will guide you through the process of creating a business plan and helping you to optimize it – our personal recommendation is IdeaBuddy.
Location

Location, location, location! This catchphrase is a well-known cliche. It's a matter of "To be or not to be", or more precisely, "Where to be".
Visibility is key. Mid or upscale neighborhoods are ideal because they are easily accessible. And sufficient foot traffic will save on marketing expenses.
It's important that you find a spacious building that can accommodate:
All services, with ample room for the spa equipment
A reception desk
A waiting area
A break room
A storage room
Think of accessibility, parking space, and the surrounding environment too. No one wants to be interrupted from a relaxing spa session by the sound of motorcycles roaring down a busy highway.
Start-Up Costs
How much does it cost to open a spa? You will need at least $100,000 or more to start one from nothing. If you opt to buy an existing one, expect to pay either less or even significantly more.How to start a spa with no money? Get a loan from The Small Business Administration.
These loans for salons and spas will finance:
Spa equipment, for all the treatments you offer
Beauty supplies
Uneven cash flow between seasonal peaks in business
Modeling your salon or spa
New health and beauty services
Staff
Marketing (the marketing strategies and the people needed for them)
Equipment

Front counter or desk
Computer system with scheduling software
Product shelving
Hairstyling stations and tools
Massage tables
Pedicure chairs
Manicure tables
Facial equipment
Linen
Music
Plumbing
Electricity
Employees

The success of your spa business depends on the expertise of your employees.
Their experience and level of service are capital. You need trained employees who can, at the least, answer basic questions about the services or treatments they are providing to clients.
Community college cosmetology instructors can recommend qualified students.
Licenses and permits

As for any business, you will need a business license. Day spas may require additional licenses.
General Business Licenses: Retail seller permit, and Spa business operation license.
Article Of Organization. This document must include a business model. Day spa, medical spa, ayurvedic spa, dental spa, and club spa,… Fill out a business name and address. Include LLC's members, managers, organizers, and directors. Describe the business purpose.
Certificate Of Occupancy
Sales Tax
Federal Income Tax ID
States require particular licenses for spa personnel. Also, make sure your employees have liability insurance.
Liability Insurance Policy
Cosmetology License
Esthetician License
Electrologist License
Massage Therapist License
Manicurist License
And a Spa Management Certificate Or Degree.
Prices
Your location will affect your pricelist. In an upscale area, you may up your prices and offer high-end spa services. Prices in big cities or major suburbs are higher.
Some factors that influence what you can ask:
Is the spa luxurious? Robes and slippers provided? Is there a locker room? A steam sauna? A comfortable lounge? The more luxe, the higher the prices.
Are we talking about a resort or hotel spa? Locals can use them on a day pass but will have to cough up at least $150.
Most 'normal' day spas will start at around $80 -$120.
Some more examples, to give you an idea:
Massage services cost between $65 and $85 per hour. 55% of the service price goes to the service provider
A pedicure costs between $20 to $65
The cost of a facial varies from $50 to over $250
How much is a spa day? Most "normal" day spas start at around $80 -$120
Website and tools
When we list the tools you'll need, the following will easily come to mind:
Skincare tools
Manicure & pedicure tools
Shower room tools
Timers
Mirrors
Microdermabrasion machines
Waxing applicators
Tweezers
Spatulas
Masks
Bowls
Back heat packs
Neck wraps
etc
But how about marketing tools and appointment tools?
They are ever so important. A website is your number one marketing tool! The most popular and best website builder is without a doubt WordPress.
Make sure your WordPress website looks good. A beauty business can't be represented by a badly designed website. If you don't give your website the treatment it deserves, customers may wonder about the treatment you will give them. Learn how to use WordPress before diving into creating your website.
WordPress comes with an easy-to-navigate dashboard, attractive templates, and simple,click-to-edit functionality. There is no requirement to hire a professional designer or Web guru to create and manage your site with WordPress, although of course, you're free to do so.
Get more clients with the right tool for the job
Staying organized has never been easier.
You can now manage your business and grow your brand with a single, powerful WordPress booking plugin that keeps all of your appointments in line, your clients organized and your business booming.
Amelia is perfect for business owners who need to streamline their booking experience both for their staff and their clients.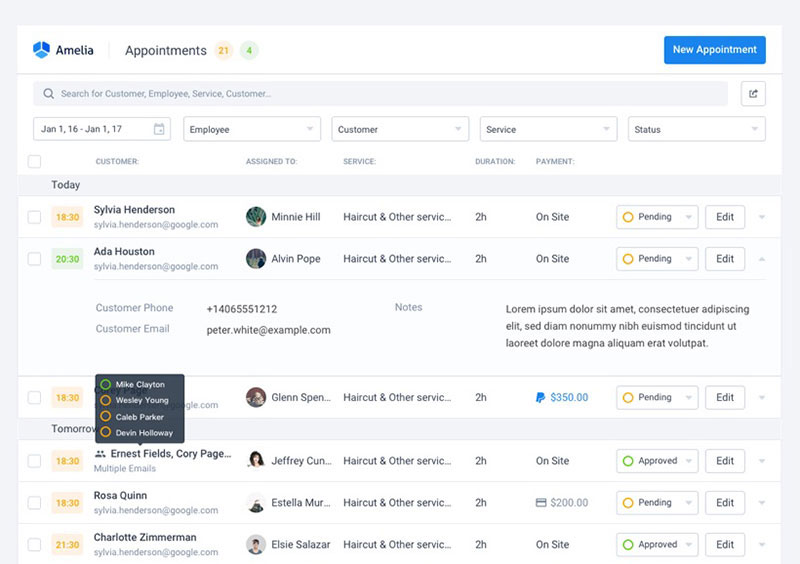 Amelia handles everything for you, even sending automated email or SMS reminders to your clients. No-shows? Not anymore!
The Amelia WordPress booking plugin adapts to different industries for a blissful online booking experience and employee management.
Want to know more? Check out Amelia's awesome features to see what you are missing.
FAQs about how to open a spa
1. What licenses and permits are needed to open a spa?
Depending on your area and the services you intend to offer, you may need to apply for a variety of licenses and permits before you can open a spa. Normally, you'll require a cosmetology or esthetician license, a business license, and a health and safety permit. For services like hair removal, nail care, and massage therapy, you could additionally need additional licences.
2. How much does it cost to start a spa business?
The price to launch a spa might vary greatly depending on the spa's location, size, services offered, and equipment requirements. In general, you should budget at least $50,000 and up to $500,000 to open a spa. To make sure you have a comprehensive idea of the expenditures involved, it's crucial to prepare a detailed business plan and budget.
3. What type of insurance do I need for a spa business?
You'll need a variety of insurances as a spa owner to safeguard your operation, staff, and customers. This could include property insurance, general liability insurance, workers' compensation insurance, and insurance for professional liability. Consider supplementary coverage for things like business interruption insurance and cyber liability.
4. What are the most popular spa services to offer?
Depending on the geography and the target market, several spa services are more popular than others. Nonetheless, some of the most well-liked services are manicures, pedicures, body treatments, hair removal, and massages. Several spas also provide specialty services including aromatherapy, reflexology, and acupuncture.
5. What kind of equipment and supplies are needed to open a spa?
Depending on the services you intend to offer, you'll need a variety of equipment and materials to start a spa. These could contain things like nail stations, hot towel cabinets, massage tables, facial chairs, and waxing equipment. Also, you'll need to buy things like skincare, haircare, and nail supplies.
6. How do I choose a location for my spa business?
The success of your spa business depends on where you decide to set up shop. Think about things like parking, visibility, foot traffic, and accessibility. Choose a location that has plenty of parking, is close to both public transportation and large traffic areas. To take advantage of common amenities, you might also want to think about renting a space in a mall or commercial building.
7. How do I create a spa menu of services and prices?
Begin by investigating your competitors and current market trends before developing a spa menu. Establish rates that are both lucrative and competitive for the services you wish to offer. To entice new customers and promote recurring business, think about presenting packages and incentives. Make sure to draw attention to your key selling point and include thorough descriptions of each service.
8. What are some effective marketing strategies for a new spa business?
Developing a website, setting up social media accounts, running specials and promotions, collaborating with other companies, and holding events are all examples of efficient marketing techniques for a new spa business. To create a thorough marketing plan and track your results, think about employing a marketing expert.
9. How do I hire and train staff for my spa business?
Choose employees for your spa business that have experience, are dependable, and prioritize the needs of the clientele. Make sure your personnel receives thorough training to ensure they are educated about your services and goods and have the tools necessary to offer outstanding customer care. To keep your personnel informed of the most recent trends and practices, think about providing continual training and professional development.
10. What kind of legal agreements do I need to have in place for my spa business?
You'll need to put in place a number of legal agreements to safeguard your spa business and customers. A customer intake document, liability releases, and employee employment contracts may all be part of this. To make sure your legal agreements are complete and current, think about seeking legal advice. Additionally, you might need to abide by laws like the ADA for accessibility standards and the HIPAA for safeguarding client information. To make sure your legal agreements are current and applicable to your business activities, it's crucial to regularly evaluate and update them.
Ending thoughts on how to open a spa
All items on your spa checklist are ticked off:
Location
Start-Up Costs
Equipment
Employees
Licenses and permits
Prices
Website and tools
After your grand opening, your first customers become regulars and they tell their friends about you.
You even held an opening party. You handed out discounts for appointments scheduled at the party. You promoted the values of your business. And had local and regional influencers on your guest list. A simple tweet or Instagram post may bring in many new customers.
And best of all? You made it easy for customers to book their appointments with the Amelia booking plugin. Online, at any time.
That's professionalism for you! You sat down to figure out what type of spa you wanted and how to open a spa. You are now a successful entrepreneur. You went through every step of your crafted business plan. All your efforts resulted in a busy calendar.
Can you see it in your mind? It's as easy as that!
If you enjoyed reading this article on how to open a spa, you should check out this one on how to open a hair salon.
We also wrote about a few related subjects like hair salon websites, hair salon names, how to upsell salon services, beauty salon names, salon bookers, salon promotion ideas, salon booking apps, salon pricing, salon management, spa websites, spa advertisements, spa scheduling software, spa WordPress themes, and salon booking system examples.