When you are in the world of consulting, you may encounter times when you have to have some form of agreement when starting a collaboration with a client. A consulting contract is one way to do this and asks both parties to describe what their expectations are, and may also describe what instances may occur should any issues arise.
A consulting contract is a deal between the consultant and the business looking to utilize their services. It explains what the consultant is going to do for the business. Most of the time, this type of consulting agreement option also shows the time limit within which the consultant agrees to provide the services to the business. As this is a binding, legal contract, it is important that both parties examine the contract closely and understand it before signing.
Another thing that consultants must do is provide legal support, especially if the client is not going to pay them. On top of that, clients also need contracts in order to get some assurance that they will get the agreed services. Learn below more about this topic in this article created by our team at Amelia.
Why You Need a Consulting Contract
A consulting contract is important because it is legally binding. If you want to enter an agreement, you have to meet the legal requirements. One of the main reasons why you need a contract as a consultant is:
Project Details Need to be Defined

When you are creating a consulting agreement, you should take time to discuss all the details that are needed. Include a description of the work that needs to be completed, think about a timeline that you think is manageable, and put the details into writing so they will help you prevent any kind of missed deadlines.
Protect Intellectual Property
Another key aspect of a consulting contract is intellectual property, especially for those that create or develop copyrightable works or other licensable technologies that are needed in consulting agreements.
Define the Business Relationship

A consultant that is going into business always needs to be sure to define the relationship between the parties. This can be done with a consulting contract that is being offered in order to understand all the expectations of the collaboration.
Upsell Your Services
A consulting contract is not only a legal document, it is also a marketing tool because it helps you better understand how your client reacts to certain options that you make available by using it.
Establish the Relationship

If you work on a freelance basis, you will need to come up with a consulting services agreement to show that you work as an independent contractor.
Components that Every Consulting Agreement Needs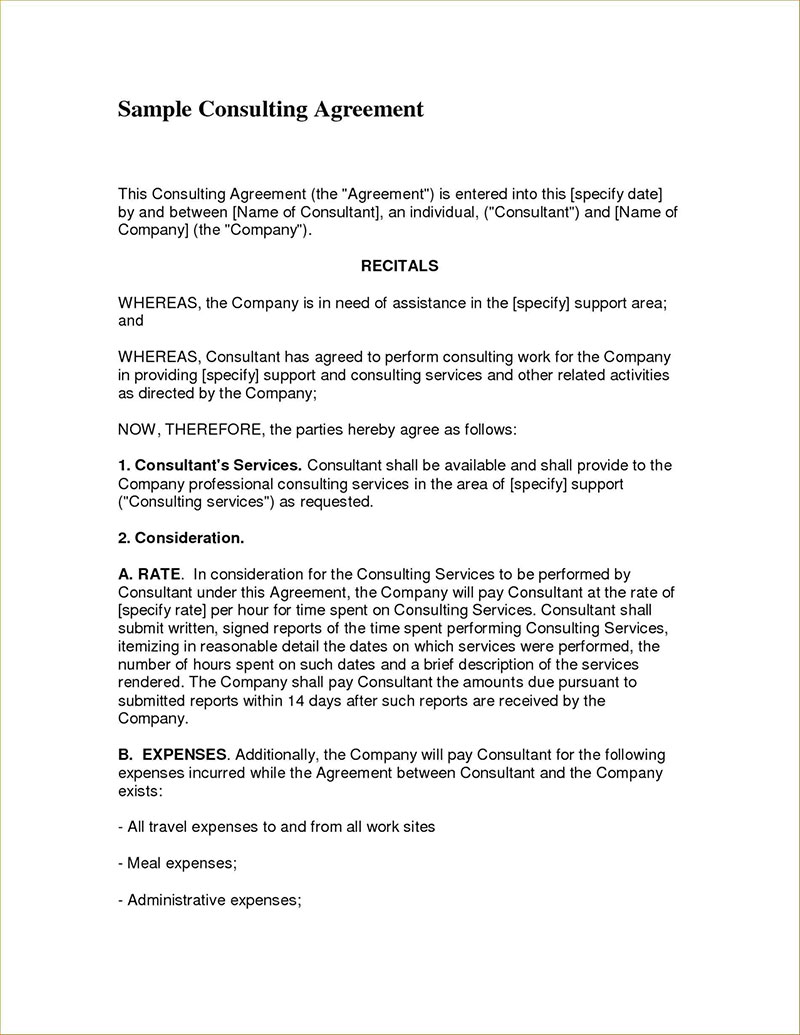 If this is the first time you are running a consulting business, you should check these components because they can help you make a strategy for challenges that you have not yet thought of.
In case you have already spent some years working in the world of consulting, then you have probably already had to deal with some of the problems that can appear when working with clients, and can usually be done by using a consulting contract.
Take note of the following:
Get all the details of the party involved, including names and titles, and be sure that they are written correctly.
Make a list with goals that you are trying to achieve and set a deadline or end goal for the job where you can say it is complete.
Make a detailed description of the project and show each aspect and tasks that you need to perform in order to finish the project.
Record all the things that you will be needed to do in order to complete the project and you can do this by having a list of checkpoints that you can refer to like your work. You can also ask your client to sign each phase of the project to make sure you keep them satisfied as you progress.
Specify the payment method because this step can ensure that everyone involved in the contract is aware of how the payment is going to be made.
Make a timeline and specify when you start and when you want to end the project by indicating different dates to go for.
Make a statement that shows who owns the intellectual property, such as copyrights, etc.
Include any other information that might be relevant, these details can be related to laws or other aspects that are important for the project.
Add in your consulting contract the page numbers, even if this sounds simple the idea behind it is to keep your client organized and making sure he checks all the aspects of the contract is important.
Some good questions that you should ask yourself when creating your own consulting contract are:
What do I do if the client needs more work in the middle of the project?
What do I do if a client wants to stop the collaboration?
How do I distinguish one-time services vs ongoing services in the consulting contract?
Consulting Contract Templates to Use

If you need a simple consulting contract that can help you legitimize your services, you can try this template done in Word. It can help you with all the specific details that you have in mind and you can also use it to bring your own style and touch to it without starting from nothing.

If you are a consultant, or are in need of one to help you out with advice on how to run the restaurant you have, then this template can help you protect your business and make things more efficient.
Free Consulting Agreement Template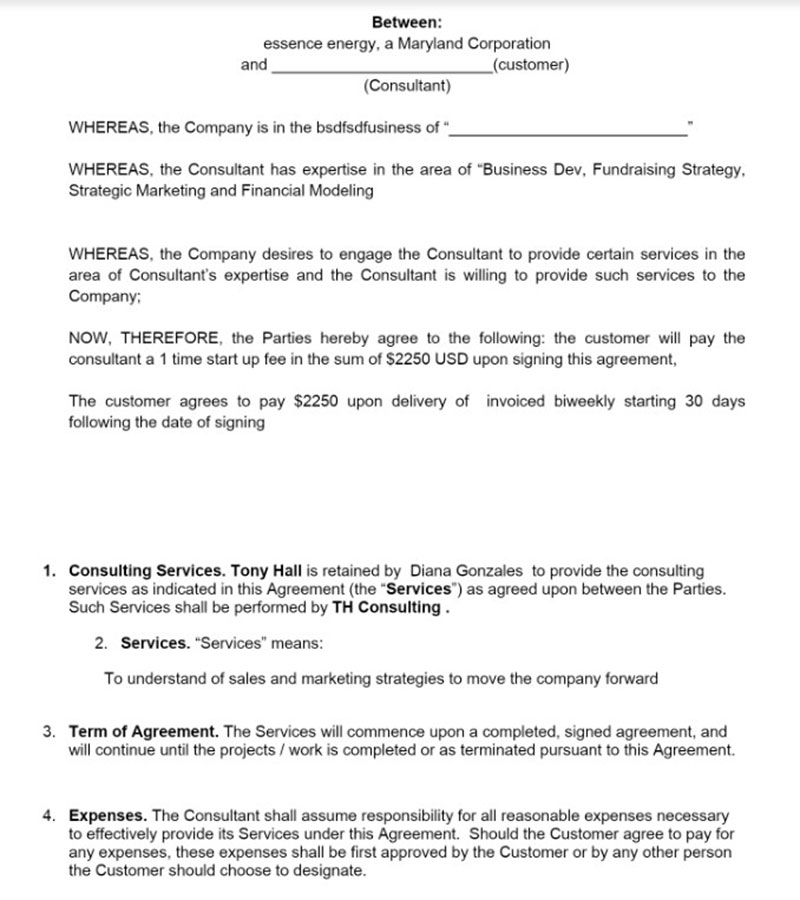 This is a great consulting contract that you can take advantage of and use for different terms that you want to specify on the legal side.

Go for this consulting agreement template because it is easy to edit and you can use it with a lot of clients that you might come across in your work.

If you offer consulting services for several companies, sometimes you may need to move quickly because the projects are limited. With this consulting contract, a company can pay you in advance for the services you provide, and you also make clear all the legal details that you want to get done.
Standard Engineering Consulting Agreement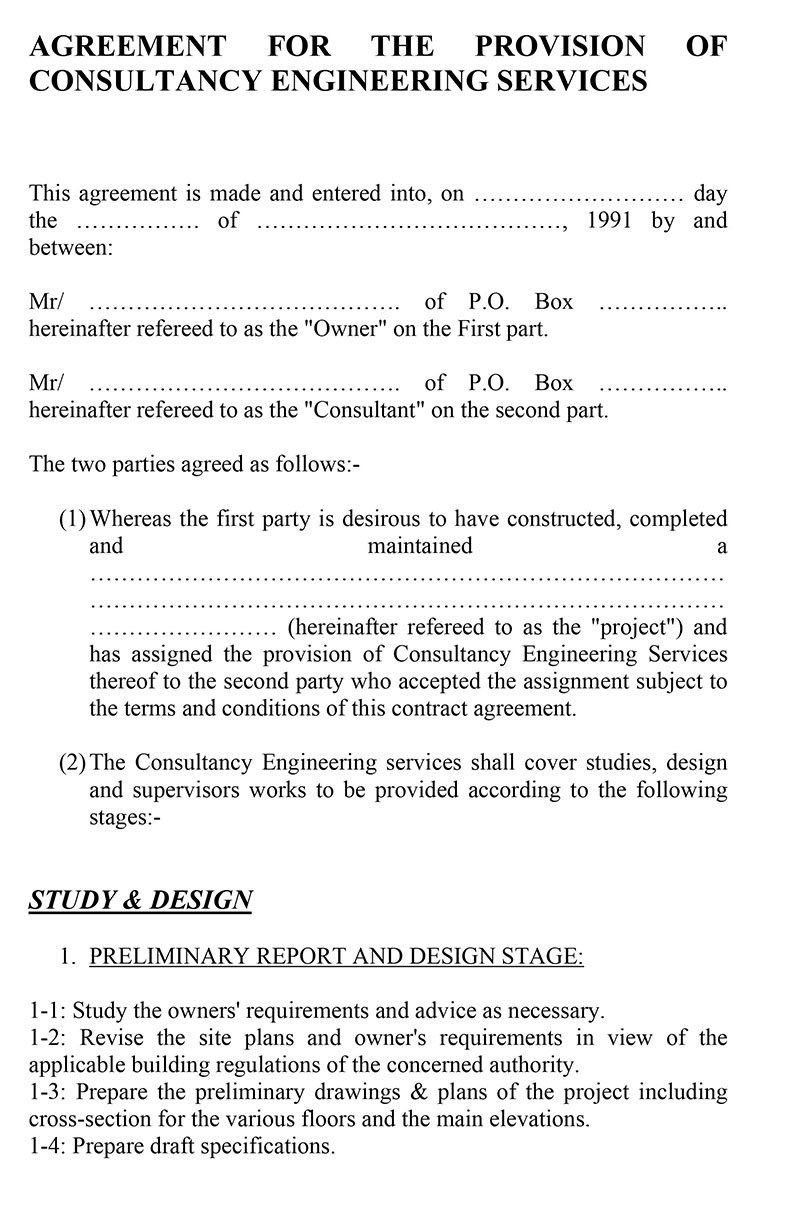 As an engineering consultant, you will be able to utilize this great consulting contract with your future clients. It helps you cover all the designs and production stages so you can create a custom agreement for your clients without leaving aside any important terms.
Consulting Agreement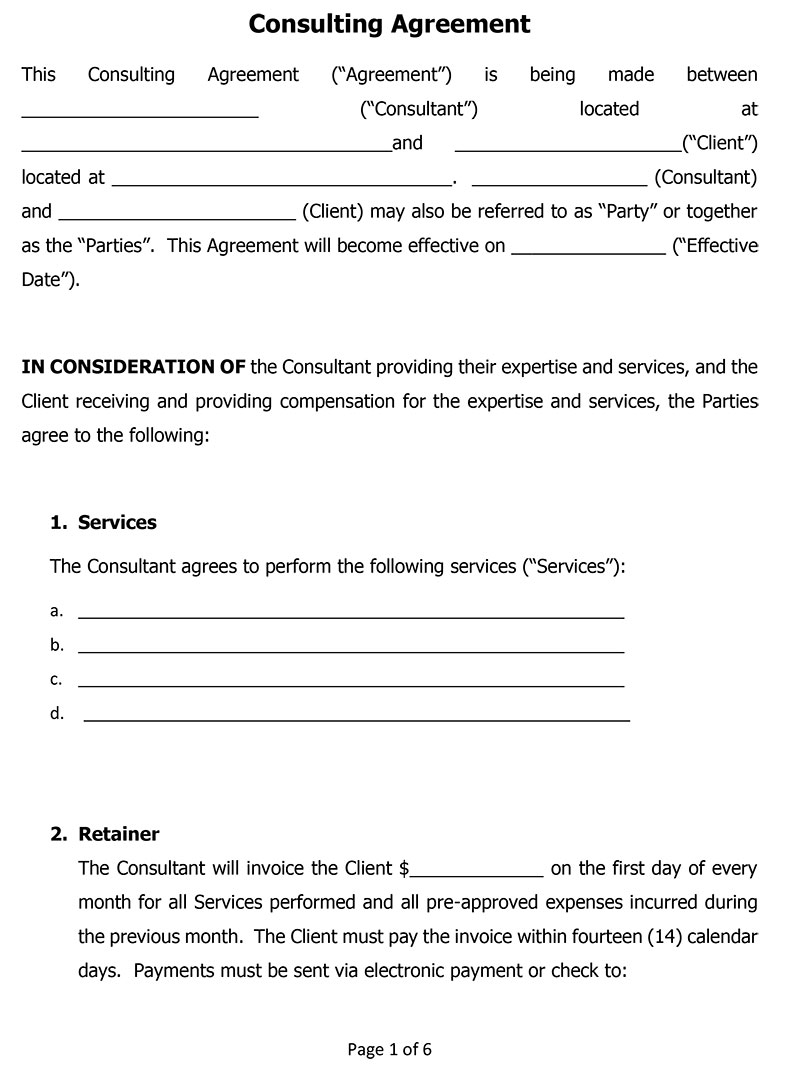 This is a simple consulting contract that you will be able to use in your work. It has all the legal text and it takes just a few minutes to edit it as you want.

Business consultation can be defined as consulting that is done by experts in the field of business. Their input and advice guide and help their clients to make sure they make all the right decisions for their business. So, anybody that works around this field can get this agreement and use it.

This is a great consulting contract that will help you create a well-organized and reasonable document to show to your clients. It uses simplified language and makes understanding all the details and components easy to do.
AICNCC Standard Contract

This contract is great for a wide range of consultants. So, this is great especially because it simplifies the work needed when creating one. Give it a try and see for yourself if it will help you.
Ending thoughts on the consulting contract
In conclusion, having a consulting contract is very important to protect you as a business and an individual, but also protects your clients. Be sure that all the steps are clearly described in it so both parties can be aware of the entire process that is about to happen.
If you enjoyed reading this article about using a consulting contract, you should read these as well: