When you are in the world of consulting, you may encounter times when you have to have some form of agreement when starting a collaboration with a client. A consulting contract is one way to do this and asks both parties to describe what their expectations are, and may also describe what instances may occur should any issues arise.
A contract is a deal between the consultant and the business looking to utilize their services. It explains what the consultant is going to do for the business. Most of the time, this type of consulting agreement option also shows the time limit within which the consultant agrees to provide the services to the business. As this is a binding, legal contract, it is important that both parties examine the contract closely and understand it before signing.
Another thing that consultants must do is provide legal support, especially if the client is not going to pay them. On top of that, clients also need contracts in order to get some assurance that they will get the agreed services. Learn below more about this topic in this article created by our team at Amelia (the best WordPress events plugin).
Why You Need a Consulting Contract
A contract is important because it is legally binding. If you want to enter an agreement, you have to meet the legal requirements. One of the main reasons why you need a contract as a consultant is:
Project Details Need to be Defined

When you are creating a consulting agreement, you should take time to discuss all the details that are needed. Include a description of the work that needs to be completed, think about a timeline that you think is manageable, and put the details into writing so they will help you prevent any kind of missed deadlines.
Protect Intellectual Property
Another key aspect of a contract is intellectual property, especially for those that create or develop copyrightable works or other licensable technologies that are needed in consulting agreements.
Define the Business Relationship

A consultant that is going into business always needs to be sure to define the relationship between the parties. This can be done with a contract that is being offered in order to understand all the expectations of the collaboration.
Upsell Your Services
A contract is not only a legal document, it is also a marketing tool because it helps you better understand how your client reacts to certain options that you make available by using it.
Establish the Relationship

If you work on a freelance basis, you will need to come up with a consulting services agreement to show that you work as an independent contractor.
Components that Every Consulting Agreement Needs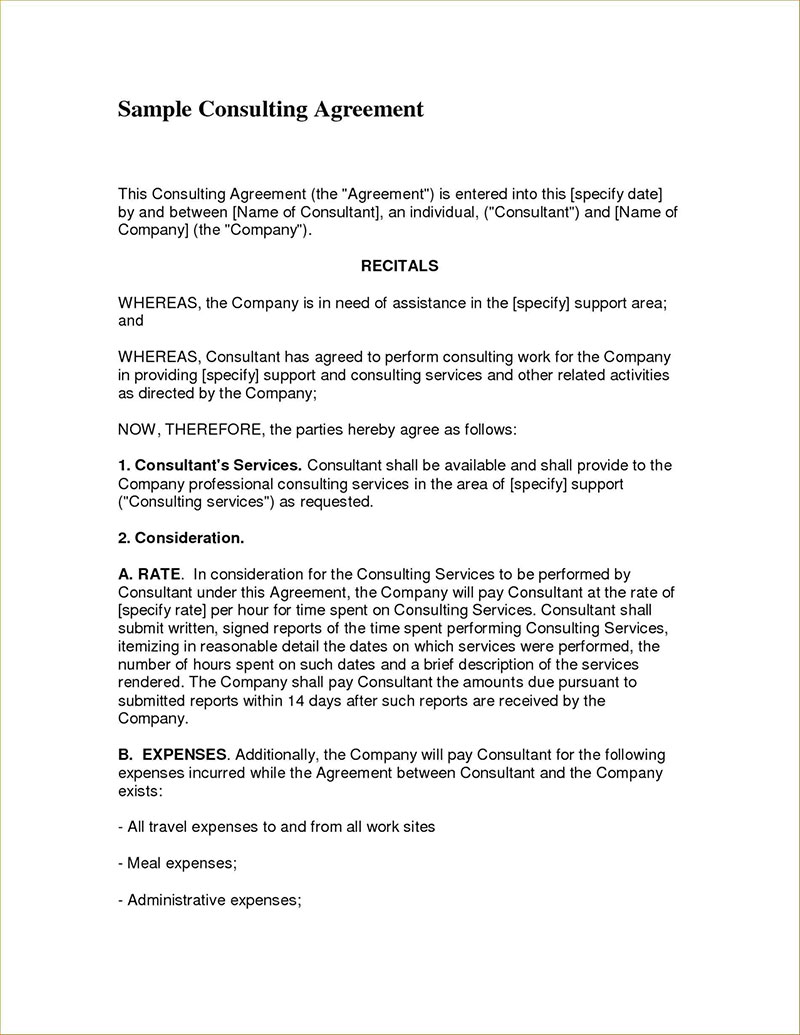 If this is the first time you are running a consulting business, you should check these components because they can help you make a strategy for challenges that you have not yet thought of.
In case you have already spent some years working in the world of consulting, then you have probably already had to deal with some of the problems that can appear when working with clients, and can usually be done by using a contract.
Take note of the following:
Get all the details of the party involved, including names and titles, and be sure that they are written correctly.
Make a list with goals that you are trying to achieve and set a deadline or end goal for the job where you can say it is complete.
Make a detailed description of the project and show each aspect and task that you need to perform in order to finish the project.
Record all the things that you will be needed to do in order to complete the project and you can do this by having a list of checkpoints that you can refer to like your work. You can also ask your client to sign each phase of the project to make sure you keep them satisfied as you progress.
Specify the payment method because this step can ensure that everyone involved in the contract is aware of how the payment is going to be made.
Make a timeline and specify when you start and when you want to end the project by indicating different dates to go for.
Make a statement that shows who owns the intellectual property, such as copyrights, etc.
Include any other information that might be relevant, these details can be related to laws or other aspects that are important for the project.
Add in your contract the page numbers, even if this sounds simple the idea behind it is to keep your client organized, and making sure he checks all the aspects of the contract is important.
Some good questions that you should ask yourself when creating your own contract are:
What do I do if the client needs more work in the middle of the project?
What do I do if a client wants to stop the collaboration?
How do I distinguish one-time services vs ongoing services in the contract?
Consulting Contracts: Templates to Use

If you need a simple consulting contract that can help you legitimize your services, you can try this template done in Word. It can help you with all the specific details that you have in mind and you can also use it to bring your own style and touch to it without starting from nothing.
Consulting Services Agreement
THIS SERVICES AGREEMENT (the Agreement) is made effective, by and between xxxxxx and ) with corporate offices located at .

THE PARTIES AGREE AS FOLLOWS:

Scope of Services

1.1 xxxxxx will provide (company name), with consulting services as mutually agreed upon and described in the attached Statement of Work. All consulting services to be provided hereunder will be referred to as Services. The parties may use this Agreement for multiple Statements of Work. Each Statement of Work must reference this Agreement.

1.2 Statements of Work will be written documents setting forth at a minimum:

a. A complete, sufficiently-detailed description of the types of Services to be rendered;

b. The applicable billing rates for the Services to be rendered (Services Fees); and

c. Any additional terms and conditions to which the parties may agree.

1.3 The parties contemplate that it may be desirable to make changes to the Statement(s) of Work. Before performing any work associated with any such change, a written Change Order shall set forth the necessary revisions to the Statement(s) of Work, and the parties, shall agree in writing that such work constitutes a change from the original Statement of Work, as amended, and that they further agree to the change provisions set forth in the Change Order. Each Change Order shall be numbered serially and executed by Ms. Xxxxxx and (name of company).

1.4 Executive Staff of (name of company) and xxxx will review the status of the Services, Statement(s) of Work, Change Orders, invoices and estimates as may be required. A written status report will be produced regarding the review. xxx and (name of company) agree to execute and maintain copies of these status reports.

Obligations.

2.1 (Name of company) will provide other support services to xxxx as both the company and xxx subsequently agree.

Services and Fees and Expenses.

3.1 (Name of company) shall be responsible for all Service Fees as identified in the applicable Statement(s) of Work (and Change Orders, as applicable) as those Services are provided.

3.2 xxxx will invoice (name of company) for the Services Fees twice per calendar month (on or about the 15 th and 31 st of each month). (name of company) agrees to remit full payment to Accounts Payable promptly upon its receipt of the invoice.

Term and Termination.

4.1 This Agreement shall commence as of the Agreement Date above and shall remain in force through .

Proprietary Rights: Confidential Information.

5.1 xxx agrees that the work products from the Services provided to (name of company) hereunder, shall be owned by (name of company). Nothing contained in this Section 5.1 shall be construed as prohibiting xxxx utilizing in any manner, knowledge and experience of a general nature acquired in the performance of Services for (name of company).

5.2 Confidential Information includes all information identified by a disclosing party as proprietary and confidential, which Confidential Information shall remain the sole property of the disclosing party unless the ownership of such Confidential Information is otherwise expressly set forth in the Agreement. Items will not be considered Confidential Information if: (a) available to public other than by a breach of an agreement by the recipient; (b) rightfully received from a third party not in breach of any obligation of any confidentiality; (c) independently developed by one party without access to the Confidential Information of the other; or (d) rightly known to the recipient at the time of disclosure as verified by its written records.

5.3 Each party agrees that it shall not use for any purpose or disclose to any third party any Confidential Information of the other party without the express written consent of the other party. Each party agrees to safeguard the Confidential Information of the other party against use or disclosure other than as authorized by or pursuant to this Agreement through measures, and exercising a degree of care, which are at least as protective as those, xxxxx or (name of company), as the case may be, exercises in safeguarding the confidentiality of its own proprietary information, but no less than a reasonable degree of care under the circumstances. Each party shall permit access to the Confidential Information of the other party only to those individuals (a) who have entered into a written nondisclosure agreement with the other party on terms equally as restrictive as those set forth herein, and (b) who require access in performance of their duties to the other party in connection with the other partys rights under this Agreement.

5.4 Each party acknowledges that the wrongful use or disclosure of Confidential Information of the other party may result in irreparable harm for which there will be no adequate remedy at law. In the event of a breach by the other party or any of its officers, employees or agents of its or their obligations under this Section 5, the non-breaching party may immediately terminate this Agreement without liability to the other party, and may bring an appropriate legal action to enjoin such breach, and shall be entitled to recover from the breaching party reasonable legal fees and cost in addition to other appropriate relief.

Warranties

6.1 xxxx warrants that the Services to be provided under this Agreement shall be performed in a professional manner conforming to generally accepted industry standards and practices. (name of company) agrees that xxxx sole and exclusive obligation with respect to the Services covered by this limited warranty shall be, at xxxx sole discretion, to correct the nonconformity or to refund the Services Fees paid for the affected executive consulting services.

General Provisions

7.1 The relationship of (name of company) and xxxx is that of independent contractors. Personnel of both parties are neither agents nor employees of the other party for federal tax purposes or any other purpose whatsoever, and are not entitled to any employee benefits of the other party.

7.2 No delay, failure or default in performance of any obligation by either party, excepting all obligations to make payments hereunder, shall constitute a breach of this Agreement to the extent caused by force majeure.

7.3 Any assignment in violation of these terms is void.

7.4 Any controversy or claim arising out of or relating to this Agreement, or the breach thereof, shall be conclusively resolved through binding arbitration under the Commercial Arbitration Rules of the American Arbitration Association. Judgment on the award rendered by the arbitrator(s) may be entered in any court having jurisdiction thereof. Each party shall bear its own costs and attorney fees, unless the arbitration award specifically provides otherwise.

7.5 All communications between the parties with respect to any of the provisions of this Agreement shall be in writing, and shall be sent by personal delivery or by airmail, facsimile transmission or other commercial means of rapid deliver, postage or costs of transmission and deliver prepaid, to (name of company) or to xxxxx as set forth in the preamble of this Agreement, until such time as either party provided the other not less than ten (10) days prior written notice of a change of address in accordance with these provisions.

7.6 The validity of this Agreement and the rights, obligations and relations of the parties hereunder shall be construed and determined under and in accordance with the laws of the State of ; provided, however, that if any provision of the Agreement is determined by a court of competent jurisdiction to be in violation of any applicable law or otherwise invalid or unenforceable, such provision shall to such extent as it shall be determined to be illegal, invalid or unenforceable under such law be deemed null and void, but this Agreement shall otherwise remain in full force. After arbitration, as specified in Section 7.4, any suit to enforce any provision of this Agreement, or any right, remedy or other matter arising from the arbitration, will be brought exclusively in the state or federal courts located in . xxxxx and (name of company) agree and consent to the venue in and to the in person jurisdiction of the aforementioned courts.

7.7 Any modification or amendment of any provision of this Agreement must be in writing and bear the signature of the duly authorized representatives of both parties. The failure of any party to enforce any right it is granted herein, or to require the performance by the other party hereto of any provision of this Agreement, or the waiver by any party of any breach of this Agreement, shall not prevent a subsequent exercise or enforcement of such provisions or be deemed a waiver of any subsequent breach of this Agreement. All provisions of this Agreement which by their own terms take effect upon the termination of this Agreement or by their nature survive termination (including without limitation the provisions of Sections 3, 5, 6, 7) shall survive such termination.

7.8 This Agreement, all attached schedules and all other agreements referred to herein or to be delivered by the parties pursuant hereto, represents the entire understanding and agreement between the parties with respect to the subject matter hereof, and merges all prior discussions between them and supersedes and replaces any and every other agreement or understanding which may have existed between the parties to the extent that any such agreement or understanding relates to providing Services to (name of company). (name of company) hereby acknowledges that it has not reasonable relied on any other representation or statement that is not contained in this Agreement or made by a person or entity other than xxxx. To the extent, it any, that the terms and conditions of (name of company)s orders or other correspondence are inconsistent with this Agreement, this Agreement shall control.

IN WITNESS WHEROF, the parties hereto have caused this Agreement to be executed by their duly authorized representatives as of the Agreement Date first above written.

Employer Information NAME SS# XXXX

STREET

PHONE

BY:

NAME:

TITLE: Consultant

Amendment: This Agreement is voluntarily entered into and is at-will. That is, either party is free to terminate the Consulting Agreement at will, at any time, with or without cause. Nothing contained in any company documents shall in any way modify this at-will policy, and the at-will policy cannot be modified in any way by oral or written representation made by anyone employed by (name of company). Upon termination of this Agreement, Consultant must return all documentation, equipment or other materials provided by (name of company) during the term of this Agreement.

Statement of Work

THIS Statement of Work is made effective , by and between XXXX and (name of company. with corporate offices located at .
Description of Services:

xxxxx

Billing Rate

NAME Hourly rate of $xx.xx.

This statement of work is effective begin date through end date.
Estimated total: $xx.xx.

3. Additional Terms and Conditions:

Time estimated:

This Statement of Work serves as an Exhibit to the Services Agreement.

Agreed and Accepted:

(name of company) NAME:

BY::

NAME:

TITLE: Consultant

If you are a consultant or are in need of one to help you out with advice on how to run the restaurant you have, then this template can help you protect your business and make things more efficient.
Free Consulting Agreement Template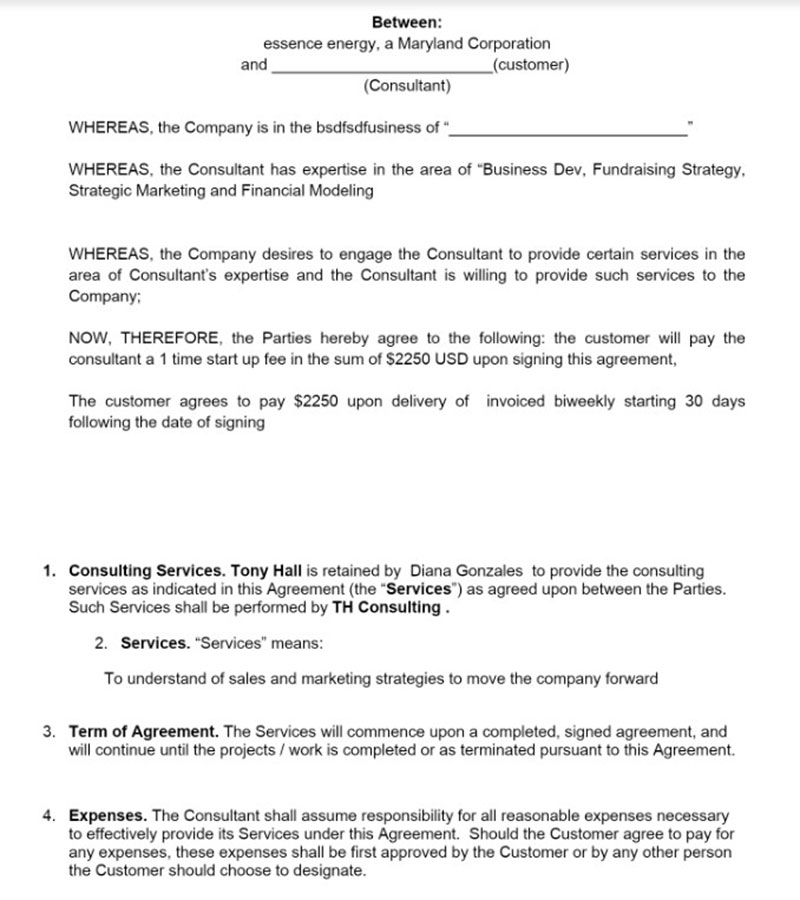 This is a great contract that you can take advantage of and use for different terms that you want to specify on the legal side.

Go for this consulting agreement template because it is easy to edit and you can use it with a lot of clients that you might come across in your work.

If you offer your services for several companies, sometimes you may need to move quickly because the projects are limited. With this contract, a company can pay you in advance for the services you provide, and you also make clear all the legal details that you want to get done.
Standard Engineering Consulting Agreement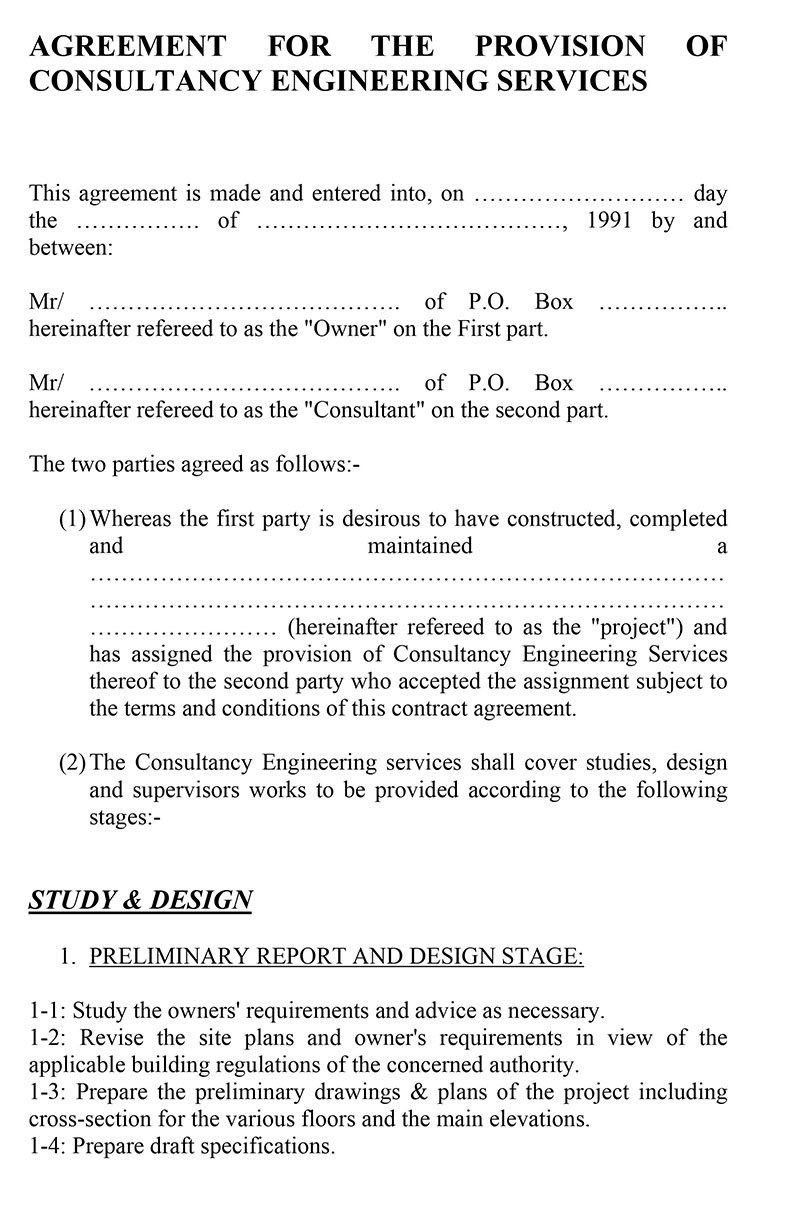 As an engineering consultant, you will be able to utilize this great consulting contract with your future clients.
It helps you cover all the designs and production stages so you can create a custom agreement for your clients without leaving aside any important terms and conditions.
Consulting Agreement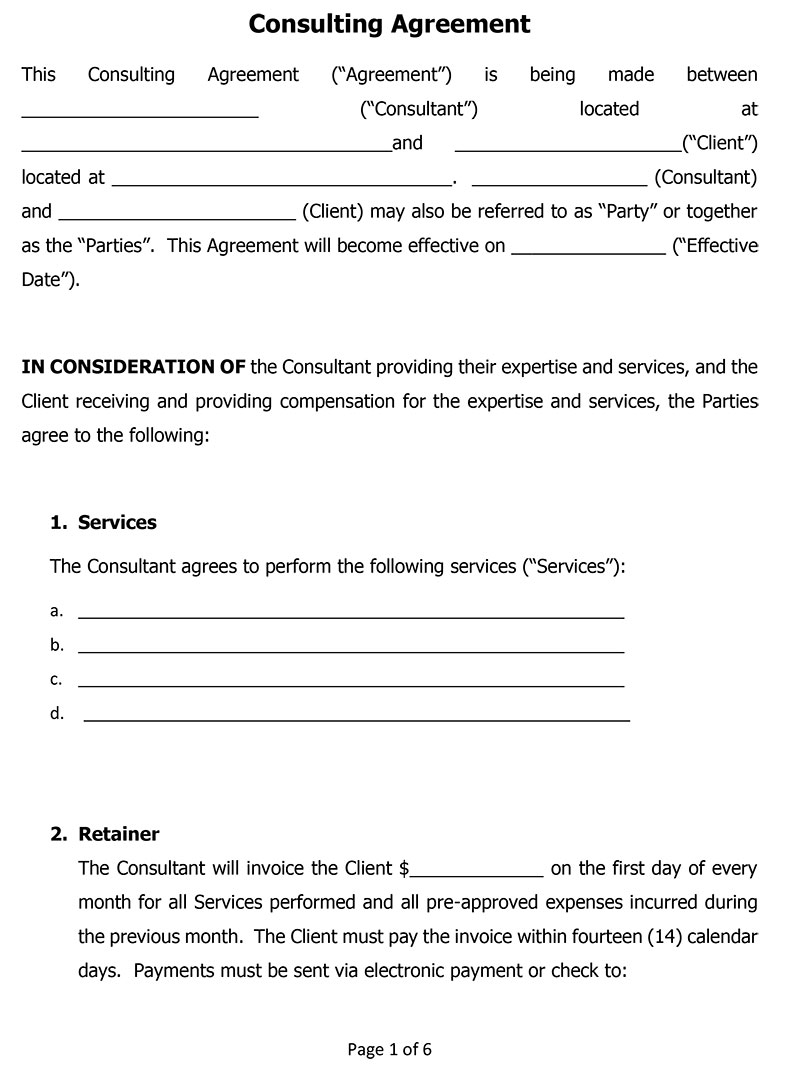 This is a simple consulting contract that you will be able to use in your work. It has all the legal text and it takes just a few minutes to edit it as you want.

Business consultation can be defined as consulting that is done by experts in the field of business. Their input and advice guide and help their clients to make sure they make all the right decisions for their business. So, anybody that works around this field can get this agreement and use it.

This is a great consulting contract that will help you create a well-organized and reasonable document to show to your clients. It uses simplified language and makes understanding all the details and components easy to do.
AICNCC Standard Contract

This contract is great for a wide range of consultants. So, this is great especially because it simplifies the work needed when creating one. Give it a try and see for yourself if it will help you.
Ending thoughts on the consulting contract
In conclusion, having a consulting contract is very important to protect you as a business and an individual, but also protects your clients. Be sure that all the steps are clearly described in it so both parties can be aware of the entire process that is about to happen.
If you enjoyed reading this article about using a consulting contract, you should also check out this article on consulting buzzwords.
We also wrote about a few related subjects like how to get consulting clients fast, technology consulting, consulting proposal template examples, how much to charge for consulting, tips for becoming a self-employed business consultant. Maybe you need some consulting business ideas, or tips to overcome the business challenges that a consultant like you is facing.
And if these are something you enjoyed reading, check out our WordPress booking plugin that your clients can use to schedule meetings with you.