It's pretty obvious that you need to be careful when setting up your salon pricing strategy. The competition is tough, and you need to understand the balance between the services you offer and the prices you set for them.
To do that, you have to study finances and business but simplified. Once you find that balance, both your clients and yourself will be pleased. You will obtain the profit you initially planned to win in the first place, and your clients will keep coming to your salon because of your quality, accessible salon services.
To make them conveniently accessible, check out Amelia, the best appointment scheduling plugin for WordPress – it can help you set a system that will enable your customers to choose a stylist, browse procedures and book a visit in advance.
You definitely need to get informed about the proper salon pricing strategies to get things right. It might take some time, but pricing is one of the most important details about your business, so it is surely worth all the trouble. You don't want to set your prices wrong from the very beginning, as the mistake will be difficult to correct in time.
What are the first steps?

First of all, you need to ensure that you know how much your salon services are worth. Setting the prices right is all about avoiding under or overcharging them. A price that is too high or low can send your salon to the bottom in an instant. This is why you need to follow these few steps when choosing your salon pricing sheet:
Assess your services
Start analyzing the products and services you offer to your clients and set each price individually. You don't have to be a math genius to put together a price list, but you need to do some research.
Once you set your initial pricing list, you might want to apply a financial formula for eventual discounts or other modifications that the prices will suffer in the future.
Build your brand
Your brand is highly important when it comes to pricing strategies. People won't pay a huge price for a brand that they don't recognize, so you have to start getting the word out about your salon.
The products you use, the professional employees you hired, and the numerous satisfied clients that you already have should be the elements you focus on to build a strong brand for your hair salon. Then, you can get the prices up.
Sell the experience, not the service
Never focus on the services alone. You need to convince the client that your hair salon is the only one that can offer them such an experience.
To do that, make sure you hire a professional team to take photographs of your salon, products, and overall experience during work hours. Then, promote the services by giving people some insight into what you sell.
Customer loyalty is the goal
The more loyal the customers, the more you can raise the prices. Repeat business should be your main focus, considering that you own a salon.
Invest in business cards or booking apps to help clients make an appointment easier and remember your salon. Promotional cards and email campaigns will do the job as well.
Get partners
If your salon is not that popular, but you know some that are popular enough so that clients can trust them, you can seek a partnership.
At first, this is a good strategy to advertise your brand. You can also get partners in other industries than yours, such as a gym or a community center. Getting "in bed" with other salon owners might be a double-edged sword.
Leave discounts for later
When you are at the beginning of your journey, you can't afford to offer discounts. Remove the discounts, for now, sell your hair salon services at their full price and – once your hair salon gets profitable – you can start offering discounts when you notice that your sales went down.
Don't ever undercharge
Even though you might not think that your nails or hair salon is valuable at the moment, it is just a perception that will modify in time.
Don't undercharge your services just because you think your salon is not good enough.
Check the competition and see how their pricing list looks like. For instance, look at the pricing strategy that your competitors have or the average hair salon prices in your area.
Simplify it as much as you can

Many salon owners tend to go over their heads with the pricing list. No – you need to keep everything as simplified as possible. Keep the list of your services clean and the prices even cleaner.
Have you ever seen a hair salon pricing menu? It has a lot of choices anyway, so why make it even more complicated?
Try to list the services in the easiest way possible. Both your employees and your customers will thank you for it in the long run. When your team charges clients for a service, they want to have clear options to choose from, not a variety of services that are similar in too many ways. Of course, you need to keep your services diverse, but not extremely similar and differently priced, as many salons tend to do.
Keep in mind that the price list is the first thing you have to consider when launching a salon. If you ruin your reputation with a faulty price scheme, you will regain it through tremendous efforts.
Key factors that can affect the prices of your services
What can affect how expensive or cheap your services are?
Growing loyalty
As mentioned before, making your clients come back to your salon only is a high-end move. Try to please your clients and the profits of your salon will be maximized shortly.
Promoting the smart way
You don't need to invest a fortune to get your salon promoted. You can include specific offers in your pricing scheme.
For instance, if a customer purchases a cosmetic product from your salon, they get a discount on the service. This way, you promote what your salon has to offer without an additional budget dedicated to it.
Add-on services
Besides the haircut prices, you might want to think about complementary services as well. Add deluxe packages to the services that you already have on your list. Massages or exfoliation are just some of the add-on services that clients often choose. For a small effort and a little product usage, you can charge customers more.
Shifts and workload
Consider the fact that people make salon appointments during the weekend or in the afternoon, so try to accommodate the demand using shifts.
This way, you can pay your employees efficiently and not spend more than you can handle on salaries.
Timing is key
Finally, you should think about adding offers based on the schedule of the salon.
Since workload isn't properly distributed in salons, you might want to add promotions during the off-peak time, so customers are encouraged to come, even when your salon is not usually booked.
Get more clients with the right tool for the job
Staying organized has never been easier.
You can now manage your business and grow your brand with a single, powerful software that keeps all of your appointments in line, your clients organized and your business booming.
Amelia is perfect for business owners who need to streamline their booking experience both for their staff and their clients.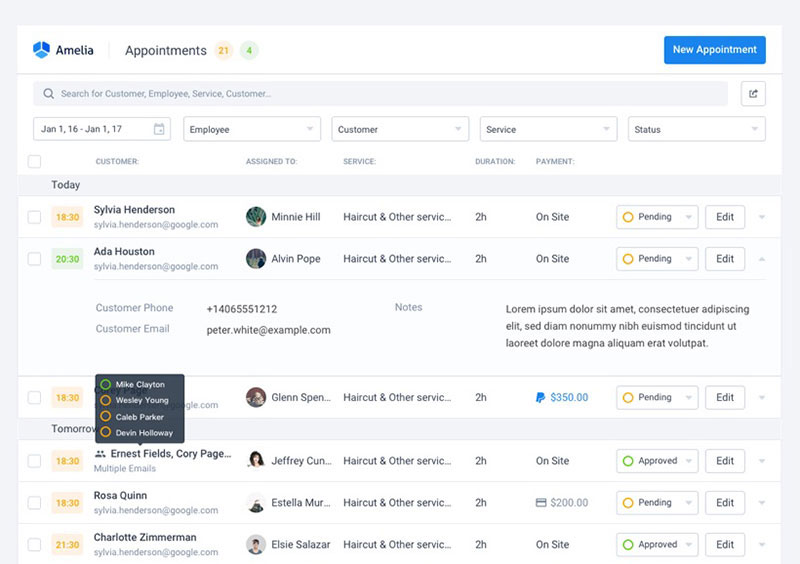 Amelia handles everything for you, even sending automated email or SMS reminders to your clients. No-shows? Not anymore!
The Amelia WordPress booking plugin adapts to different industries for a blissful online booking experience and employee management.
Want to know more? Check out Amelia's awesome features to see what you are missing.
Tips you should keep in mind at all times
You can't set your prices right without considering these:
Realistic prices
Use a salon pricing template to stick with a pattern when setting prices for your products and services. A realistic price means that you are aware of the direction of your salon, the expenses you face, the resources you have, and the financial goals you want to reach.
Don't set prices the same as your competition because that won't encourage clients to choose yours over others. Come up with your own realistic pricing structure.
Covering the spending
You can't charge less than you consume. The costs associated with your services must be visibly lower than your profit to call it a successful pricing strategy. Analyze how much money you spend during a week and set the prices accordingly.
Learn what inflation is
Each country faces inflation at some point, so try to keep up with the latest news in terms of the economy. During inflation, the costs of the products you need to run your services may rise which means you need to adjust the prices too.
Value the time resource
Sometimes, the cost of your services must focus on how much time and effort is involved in it.
Your time is the most valuable resource you possess, and you clearly don't want to invest it all in your business. Your hair salon pricing list must include the effort you put in as well.
You can price low
Pricing low is not a mistake, as long as you do it the smart way. New entrants in the beauty industry can opt for this strategy until they gain a reputation.
Penetrating the market with a low pricing list is a common strategy, but it might have repercussions in the long run.
Once clients are accustomed to your salon's low prices, when you are going to raise them to the point they are profitable, you will have lost most part of your clients.
Holiday pricing
Take advantage of holidays, the birthdays of your loyal customers, seasonal specials, and so on. These are days when you can increase sales visibly by offering appropriate discounts in the form of percentage deductions or even free add-on services.
Discounts
Be careful about discounts, though. Offering discounts is a good strategy to stimulate demand, but you need to use them with caution and limitation. Avoid offering discounts throughout the whole year and stick to the calendar religiously.
Raises
It is quite sure that you will have to raise the price of your services at a certain point in your career, but you will need to do it with care. Try to keep the price rise as minimal and unobservable as possible.
Company worth
Start putting together the costs of keeping your salon running.
Is it profitable? What do numbers say?
Do this as often as possible to know what decision to make next.
Will your prices go down or up in the next few months? Your salon's worth will answer all these questions.
Communication matters too
Communication skills might be a game-changer. Be careful with your brand presence and the way you deal with customers. Explaining your actions should be your number one priority but avoid apologizing. Instead, provide your clients with valid explanations all the time. Thank your clients for selecting your salon and don't forget to praise your employees at all times, to encourage productivity within the salon.
Always stay open to discussion, both with your customers and your staff. No matter what the problem is, communication will surely solve the issue rapidly. Take your time to find resolutions to all obstacles that appear in your way.
And that's about it when it comes to pricing strategies for your products and services.
FAQs about salon pricing strategy
1. How do salons determine their pricing for different services?
Salons frequently utilize a mix of variables to set their prices for various services. This can include the price of the supplies and products used during the service, the amount of time and expertise needed to provide the service and the expenditures related to maintaining the salon. The state of the local economy, including factors like the cost of living or the cost of competing businesses' equivalent services, may also be taken into account by salons.
2. What factors influence the pricing of salon services?
The cost of supplies and goods, salon operating expenses, the degree of expertise and experience necessary to provide the service, as well as the demand in the local market, can all have an impact on how much salon services cost. When setting their prices, salons may also take into account elements like seasonal demand and the accessibility of particular goods or services.
3. How do salons decide whether to offer promotions or discounts on their services?
To draw in new clients or encourage repeat business from current ones, salons may run specials or discounts on their services. The choice to run specials or discounts may be influenced by seasonal demand, slow business times, or the introduction of a new good or service. Promotions and discounts are other tools that salons may utilize as part of their entire marketing plan.
4. How often do salons adjust their prices, and what factors drive those adjustments?
Salons may occasionally change their prices depending on a range of variables. Changes in the price of supplies and goods, shifts in consumer demand in the area, changes in the degree of competition, or adjustments to the salon's overall business plan are a few examples. Salons may also vary their prices in response to client feedback or shifts in the general economic climate.
5. What role does competition and market demand play in salon pricing strategy?
Pricing strategy for salons can be significantly influenced by competition and market demand. If there are multiple competing salons in the area providing the same services, salons may need to modify their pricing to stay competitive. Pricing can also be affected by market demand, since salons may need to change their costs to accommodate clients during times of high demand, such as weddings or other special occasions.
6. How do salons balance the need to attract new customers with the need to maintain profitability?
Salons must strike a balance between the requirement to retain profitability and the need to draw in new clients. This may entail providing specials or discounts to draw in new clients while also making sure that prices are reasonable and profitable. In order to generate repeat business, salons may also put a strong emphasis on providing outstanding customer service and developing connections with their clients.
7. How do salons price their products, such as hair care or skin care products sold in the salon?
The cost of materials and production, the retail markup, and the overall demand for the product are just a few of the variables that salons may use to determine the pricing of their goods. When calculating the pricing of their products, salons could additionally factor in the cost of storage and shipment. Also, they could run offers or promotions on particular products to boost demand or reduce stock.
8. How do salons set prices for specialty services, such as bridal styling or extensions?
Due to the fact that specialty treatments frequently involve more expertise, resources, and time than standard salon services, they may be charged differently. Salons may base their pricing on the amount of training and skill needed to complete the service, as well as the general level of demand for the service in the neighborhood. They might also take into account the price of the supplies and any additional training or certifications needed for their employees to provide the service.
9. How do salons decide whether to charge a flat fee or an hourly rate for their services?
Depending on the type of service and the salon's general pricing strategy, salons may bill a flat fee or an hourly cost for their services. Hourly rates may be applied to services that take more time or materials, while flat rates may be used for services that can be finished quickly. When selecting whether to charge a flat fee or hourly rate, salons may also take into account the degree of competition in the local market as well as client preferences and expectations.
10. How do salons handle pricing for multiple locations, particularly in different regions or markets with varying costs of living?
Salons with many locations may change their prices according to the distinct market circumstances in each one. This may entail taking into account the cost of living in each location, the degree of competition, and the local market's demand. Moreover, geographical variations in the cost of supplies and goods may be taken into account by salons when adjusting price. Also, salons might make price decisions for each location depending on customer behavior and other aspects using data and analytics.
Ending thoughts on salon pricing strategies
As you may have noticed, pricing is not as easy as it seems. It requires skills, patience, and a lot of research.
Your salon's pricing list will determine how profitable your business will be in the next financial year, which means it will directly affect your life.
Apply the pricing tips you found here, and you will grow your revenue.
If you enjoyed reading this article about salon pricing, you should check out this article with the best salon booking apps.
We also wrote about a few related subjects like hair salon websites, hair salon names, how to upsell salon services, beauty salon names, salon bookers, salon promotion ideas, how to open a hair salon, how to open a spa, salon management, spa websites, spa advertisements, spa scheduling software, spa WordPress themes, and salon booking systems.