Just like every business, salons will only get as much traffic as their marketing campaign is worth. You might have the best salon in the world with the best salon slogan, and the best service around, but if you are not promoting yourself properly, you will get left in the dust of your competitors.
You need to build awareness of your salon. Of course, a good service helps, and you can use that as your promotional marketing plan. You need to make your potential customers aware that your service is not just another cheap venture, but a service worth the extra buck.
By now you might have established that you need a promotional campaign to get more clients to your salon, but you don't know what to do. Here are some of the best salon promotion ideas that you can try.
Here are a few salon promotion ideas that have already been tested and proven to be highly successful for promoting a salon business. Learn below more about the best salon promotion ideas in this article created by our team at Amelia (the best WordPress appointment booking plugin).
Use Online Directories to List Your Salon
Nowadays, it's all about online marketing. When people look for a new salon near them, they might do a Google Search for "salon near me". Is your salon optimized for that?
If not, then you basically don't exist to your clients. If they can't find you online, it's practically impossible to make the most out of your business nowadays.
These are the online directories where you should be present at the very least:
Google My Business

Google is the staple of all online searches, and if you're not present in Google My Business, then it would be almost impossible for you to be present in Google Searches. That means you are missing many potential customers.
Yelp

Yes, Yelp is one of the best platforms for businesses to build their online presence on. And that is even more so with millennials who tend to use this site. The best thing about yelp is that you can measure the success of your business with the reviews, respond to customer reviews, add photos, and make your proposal to potential customers. You can even offer discounts for package deals or various products.
Facebook

Almost everyone is on Facebook nowadays. It used to be a platform for millenials, but today, it has users of all ages and all walks of life. So you should make your presence known on Facebook as well if you want to reach a large audience.
Instagram

Instagram might not be everyone's cup of tea, but it's one of the most popular online platforms in the world. You will have to post high-quality pictures if you'll want to have any success, though. It's a great platform for promoting your business as satisfied customers will be able to share the results and thus, spread your business' popularity.
Offer Referral Discounts
One of the best ways to spread the word about your business is through client referrals. If a client is satisfied with your service, ask them to promote your business to their friends.
In exchange for them doing something for you for free, offer them awesome discounts. After all, they are doing promotional work for you for free, so why not give them something in exchange?
Plus, clients that come through referrals are far more likely to stay loyal customers for a longer amount of time. You can thank your friends that did the promotion for you by sending them a simple letter or a postcard with a thank you message and a discount card.
Allow Online Reservations

Out of all the measures you can take to promote your business, this is arguably among the more important ones. By giving your customers an online reservation option, you can make reservations even when you're not around or when your business is closed. This is one of the best salon promotion ideas out there.
However, you will need a good piece of software to let you manage your bookings and appointments. If you already have one, make sure it's placed conveniently on your website and easy to see, and spread it on your social media channels as well.
If you don't, then you should certainly consider the Amelia WordPress plugin. It's an extremely powerful booking software that will let you manage your bookings very easily and conveniently.
You'll also have the following capabilities:
Send online confirmation for the bookings, which will help your customers avoid forgetting that they have made a booking.
Send automated scheduling reminders. This way, you'll remind the customers that they are due back in 5 weeks for their treatment. Or, you can get the clients back that haven't been with you for a few months.
Lastly, you'll be able to choose between your preferred payment formats and gateways. The formats you'll choose will be used both on the front-end and the back-end of the plugin.
Manage Online Reviews
One of the best salon promotion ideas that you should try is managing online reviews about your salon. Encouraging your customers to leave online reviews about your business will make you seem more trustworthy. It's a great way to make new customers trust you.
You could, for example, ask your customers to take a photo of themselves and share it on social media. Then, send them a thank you email and ask them if they could kindly write a positive review on your website. The more positive reviews you will have, the better the chance that new customers will come. Make sure you don't sound pushy or clingy when asking for this, or else you may deter customers.
Use Seasonal Promotions

As one of the hundreds or even thousands of salons out there, you have to use a promotion that will make you stand out from the crowd. There's a higher chance of a good promotion if you use something unique, such as a seasonal promotion, instead of a generic one. It would be great if you could create a website with a themed promotion.
For example, you could create a promotion that would focus on the client's next holiday. This goes far beyond just the haircut; instead, focus on wedding hairstyles, or an all-natural hair smoothing, texturizing, or something along those lines. Something that will make you feel unique and different from the rest.
Get Featured in the News
What better way to increase awareness about your salon than being featured in the news? Why would you do that? Here's why:
It gives customers proof that you are the real deal.
You can share it on your social media and newsletters to get more followers.
The word about your business will spread.
It improves your Google search ranking, and it will give you a link from an authoritative site.
Develop a Loyalty Program

Sure, it's important to get new clients, but client retention is just as, if not even more, important. The best way to do that is to reward your existing clients with some discounts or offers.
This way, they'll be happy to stay with you, and you will be able to thank them for their long-term trust. For example, you could give them a discount on every 10th visit.
Or, if the client has been with you for a really long time, give them a unique price that's used just for them. Of course, it should be slightly lower than the normal price, but it goes a long way for recognizing their trust in your services.
Take Your E-mailing Strategy to the Next Level

In this digital age where most of the business is done online, it's hard to stay in touch with your clients. The best way to do this is via a newsletter.
Even though it might seem somewhat dated and perhaps even spammy, we can tell you it's not — if done correctly, at least. You must keep your emails high quality, and not just send them for the sake of it.
For example, if you collect the birthdays of your clients, you could send them a birthday card via email. Or send them some tips and tricks on how to manage and improve their hair. As long as the email contains something of value, you can send these on a weekly basis to stay in touch.
Offer Affiliate Links to Influencers
This has become a hot take on how to get more clients in recent years. Offer the influencers a chance for an affiliate program, and you won't be sorry. The influencers will get a cut, of course, but more importantly, you'll get potential long-term clients.
As a salon, you should only collect the influencers that you think are beneficial for your business. Select the ones who have a job that connects people within the community, someone who has a lot of followers.
Of course, you should give something back to the influencers. A cut of the purchases, for example, or complimentary gifts such as free hair products or business cards for your company. It's certainly one of the best salon promotion ideas that you should give a go.
Form Partnerships with Local Businesses and Schools
A great way to get more clients is to connect with another business from your area that offers similar products or services. That could be a spa, a massage shop, or even a nail shop. This way, you'll get a shared revenue and more clients coming your way.
Get more involved with your community by reaching out to schools to get students and teachers involved. Schools are an important staple of the community, and they can help you build up your reputation massively. To boost the recognition and culture of your salon, you can implement some ways to appreciate your employees, such as having appreciation gifts for staff, excursions, or team meetings in cause settings.
Stay Consistent with Your Marketing
One of the biggest mistakes that salons or any other businesses do is that they are not consistent with their brand advertising. But what exactly does that mean?
It means that they don't have an image; they don't know what they offer. You should have a clear idea about your business' image. You should have clear outlines about:
Who you are
What you do
How you're better than the rest
Why you do what you do
Based on that, form the décor of your salon: the logo, the design, your website, the staff, and everything about it.
Ending thoughts on these salon promotion ideas
To conclude, it's important to build an online presence, even if you are a physical salon or business. This includes having strong reviews, having free giveaways, connecting with other businesses and affiliates, and having a consistent marketing strategy. Here are some tips:
If you find something that works, double down on it.
Don't be afraid to try new things when you're out of ideas. Try one of these salon promotion ideas, and don't be afraid to shake it up if it doesn't work.
Get more clients with the right tool for the job
Staying organized has never been easier.
You can now manage your business and grow your brand with a single, powerful software that keeps all of your appointments in line, your clients organized and your business booming.
Amelia is perfect for business owners who need to streamline their booking experience both for their staff and their clients.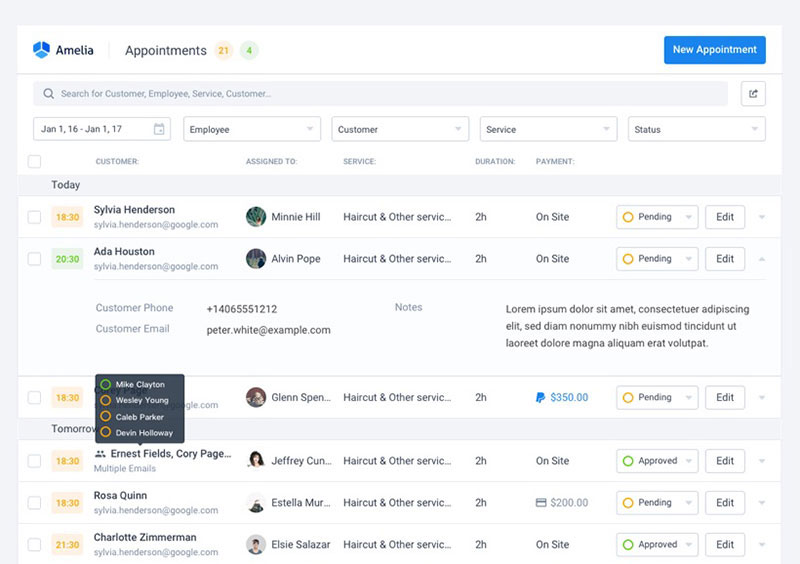 Amelia handles everything for you, even sending automated email or SMS reminders to your clients. No-shows? Not anymore!
The Amelia WordPress booking plugin adapts to different industries for a blissful online booking experience and employee management.
Want to know more? Check out Amelia's awesome features to see what you are missing.
If you enjoyed reading this article on salon promotion ideas, you should check out this one on salon bookers.
We also wrote about a few related subjects like hair salon websites, hair salon names, how to upsell salon services, beauty salon names, how to open a hair salon, how to open a spa, salon booking apps, a guide to salon pricing, salon management, spa websites, spa advertisements, spa scheduling software, spa WordPress themes and salon booking systems.