More and more people specializing in various areas of the economy have been embracing independent consultant careers over the past decade. With the business sector expanding, it is no wonder that one of the most popular choices is becoming a business consultant.
People choose to put their years of experience and their wide-ranging set of skills and knowledge to work by starting consulting firms instead of continuing their careers as employees, irrespective of their position with their respective employers.
This was a choice historically afforded to early-retiring or jobless senior managers. Today, the labor market has gone freelance and is open to a wider range of professionals. The consultancy field is open to experts in specific domains that are known as authority figures in their field. Amelia can help you to schedule meetings, list the services, collect payments, and manage staff.
Within this context, many experts become self-employed consultants because companies are willing to pay for expertise. One of the fastest-paced domains in the consulting arena is business consulting services, and so many professionals opt to become business consultants.
What is a consultant and what is a business consultant?

Do you want to know how to become a consultant, how to start a consulting business, how to become a business consultant, and what to do once you've embarked on the road to be a successful self-employed business consultant?
It's one thing to have the knowledge and expertise that organizations need and it's a completely different thing to be able to turn that knowledge and expertise into a successful business consulting firm. Starting a consulting business is not the challenging part.
Learning how to be a consultant and how to get into consulting is not difficult either. The tricky part is making your entrepreneurship a successful endeavor. There are many business consulting companies out there so why should any organization or individual choose you?
Are you prepared to handle the hassles of running a business, including paperwork, finance, and cash flow management, and marketing strategies? Are you equipped with what it takes to search, identity, and win clients in the very competitive and driven freelance marketplace?
PS: Do not forget that you can also delegate a part of these processes to reliable professionals so that you can concentrate on building your business. For instance, Amelia can help you handle your flow of clients – they will be able to book appointments with you even when you are asleep.
Get more clients with the right tool for the job
Staying organized has never been easier.
You can now manage your business and grow your brand with a single, powerful WordPress booking plugin that keeps all of your appointments in line, your clients organized and your business booming.
Amelia is the perfect appointment scheduling plugin for WordPress. It's for business owners who need to streamline their booking experience both for their staff and their clients.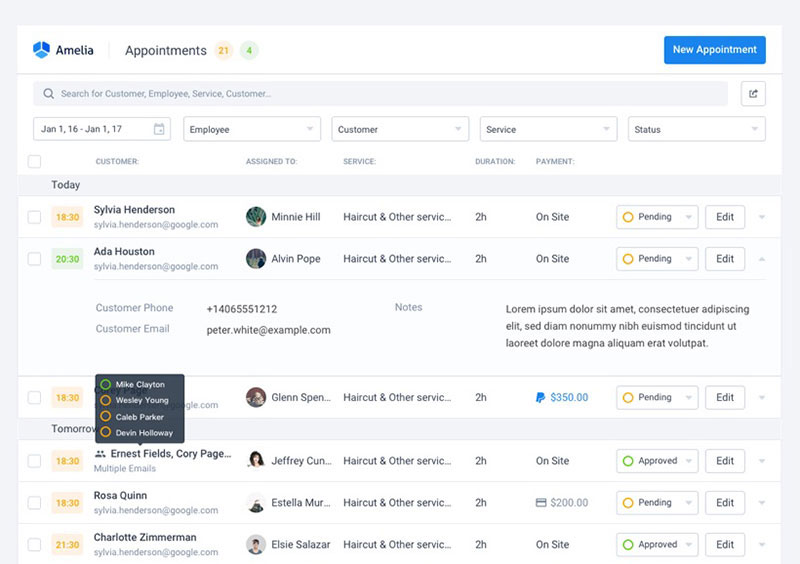 Amelia handles everything for you, even sending automated email or SMS reminders to your clients. No-shows? Not anymore!
The Amelia WordPress booking plugin adapts to different industries for a blissful online booking experience and employee management.
Want to know more? Check out Amelia's awesome features to see what you are missing.
A Freelance Business Consultant's Job Duties
A freelance business consultant is no other company's employee, but their own employee, and has a set of duties that come with the job, and that set of duties is more wide-ranging for a self-employed business consultant because you need to sell your knowledge and expertise.
Business doesn't come to you, which is why you have to be ready to perform the following job duties if you are looking to become a consultant for the business arena, no matter if you are targeting large or small business consulting or wish to be a management consultant:
Find and win contracts because you are a consulting company and you need to sell your knowledge and expertise if you want to survive as a consulting business. Find potential clients, send over your resumes, propose collaboration terms, and set a price.
Understand your customers' history as a business and learn the specifics of their industry; research their industry's business environment to equip yourself with the specific knowledge that will enable you to provide the most appropriate advice.
Research the market in which your customers are operating to empower you to provide the best possible advice that will to them making informed decisions designed to make their business stand out from the crowd.
Analyze your customers' business practices, look over their financial statements, and evaluate competitors to be able to deliver your customers the most appropriate advice for their specific business conditions.
As a business consultant, you need to be ready to recommend customers to implement changes in their business practices to make them more productive and visible.
Large Business consulting firms and small business consulting firms must be able to employ computer systems to generate business plans for their clients to use to improve their future business.
Becoming a consultant, a small business consultant, or any other type of consultant requires finance management, payment collection, and marketing abilities.
Skills for Freelance Business Consultant
Being a self-employed business consultant is not as easy as it seems. It is a career that entails specific knowledge and, most of all, a comprehensive set of skills that will allow you to grow not a successful consulting agency in the business arena. Here are some of the key skills you'll need:
In-depth understanding of the industry of your specialization from the consulting perspective; what does a business consultant do in your industry?
Extensive understanding and knowledge of marketing, sales, finances, and economy;
Capacity to research the market and assess existing business models;
Comprehensive mathematical, business, analytical, and interpersonal skills;
Comprehensive understanding and knowledge of management, accounting, business development, communications, and law.
Attributes such as listening skills, out-of-the-box, and strategic thinking;
Capacity to promote and market yourself on social media and other marketing channels;
Self-discipline, which will instill a disciplined ethic in all facets of your work!
Academic certifications and educational qualifications;
How to Be a Successful Freelance Business Consultant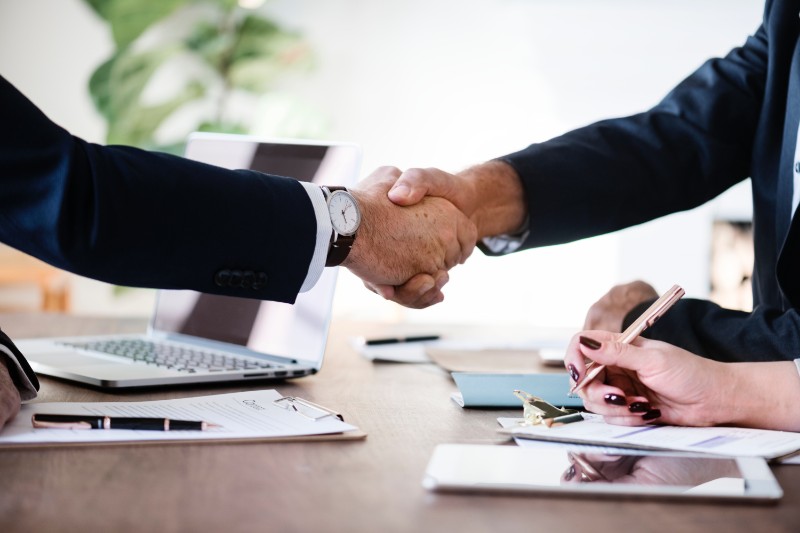 What is a consulting firm in general? What do consulting firms do? What is a consulting business? What does a business consultant do? These are just some of the questions you've answered if you want to know how to be successful as a freelance business consultant.
There is no one-size-fits-all solution for success when it comes to self-employed business consultancy. Success depends on the way you deal with a project, your ability to generate job/business opportunities for yourself, and your capacity to complete your projects.
In addition to these key abilities, there are several approaches that you can embrace that will help you turn you into a thriving self-employed business consultant:
Being apprehensive of all job opportunities to remain at the forefront of your industry and ahead on the path to success as a freelance business consultant;
Maintaining a perspicacious business sense that will allow you to secure and retain customers, which will eventually ensure a constant stream of work – a priority for your starting a consulting business checklist;
Keeping abreast of industry and economic trends, business news, market performance, as well as changes in client expectations;
Registering with job portals and freelancer websites to secure the newest job opportunities;
Delivering exceptional consultancy services that will allow you to develop and nurture a robust profile as a business consultant and a solid customer base;
Staying abreast of the newest technologies and growing your experience will allow you to refine your skills constantly and improve your services.
Average Remunerations for Freelance Business Consultants
Businesses need consultants to stand out from the crowd and improve their business, and the freelance business consultancy marketplace is a crowded setting. Freelance business consultants typically charge per hour of work and the average annual salary is around $48,000.
It is an appealing figure that draws many experts to the freelance business consultancy arena, but many factors can reduce or grow it, such as industry of specialization, work scope, business size, hourly rate, set of skills and knowledge, experience, as well as workload.
Finding Work as a Freelance Business Consultant
Skills and knowledge are not enough to become a successful business consultant. You need to generate income from your skills and knowledge. Therefore, you need to find work, gain experience, nurture a good reputation, grow your client base, and ensure a growing workflow.
A great way to find work is to sign up with job portals and freelance work websites such as PeoplePerHour.com, Upwork.com, Freelancer.com, etc. another way is to present customers that require business consultancy with your resumes.
Pinpointing your Niche as a Freelance Consultant

Before engaging as a freelance business consultant, you have to make sure you identify the niche for which you have the skills, knowledge, expertise, and interest. It's not enough to like computers to be a freelance IT consultant. You also need experience and knowledge.
Certifications and Licenses as a Freelance Consultant
Depending on your niche/specialty, you may or may not need certifications, licensing, and/or formal training/education. E.g., an account requires formal training and certifications while a gardener doesn't. Make sure you check certification, licensing, and education requirements!
Setting Short-Term and Long-Term Goals

No matter how good you are in your niche and no matter how many opportunities there are in your niche as far as consultancy is concerned, do not imagine that clients will be lining up at your door waiting for you to offer them the advice they need. Be realistic about it!
You are becoming a business owner, and you need to establish, grow, and nurture your business, and it will not happen overnight! It's not the reality that disappoints people; it's their unrealistic expectations that disappoint them; keep with your feet on the ground!
Make sure you are willing to dedicate time and effort to set up your business consulting company. Be ready to sacrifice many hours of hard work, which may mean research, developing marketing strategies, promoting yourself, finance management, and more.
Choosing Your Target Market
If a business needs a consultant, it doesn't mean it has the money to pay for a consultant. You need to validate your market by making sure your target audience has the money and is willing to pay for your services. You need to choose a market that is viable to receive your services.
You also need to choose the type of audience you are targeting: companies, individuals, or both. Some consultants can or will work exclusively with companies or individuals. Other consultants can and will work with both categories of clients.
Researching Your Target Market

Identifying your target market is the first step to becoming a consultant but researching your target market is the step that enables you to promote and market your services to your target market. When you know what they need, you know how you can help them.
When you understand the problems that they are faced with, you can develop solutions to improve their business. Equipped with that information, you can start promoting yourself and your services. Some companies don't even know they have a problem until you show them!
Considering a Home Office
The best office for a beginner business consultant is the home office because a home office helps you cut down costs with utilities, office space, and commute. Plus, you save a lot of time and effort when you work from the comfort of your home. You can move on to a fancy office later, but a home office will do just fine for starters!
Ending thoughts on becoming a self-employed business consultant
Every day, the freelance consultancy market opens the door to new opportunities. Freelance work, including consultancy, is becoming increasingly popular across the various industries of the economy as companies prefer to get the best value for the money when they need it.
Many expert professionals choose to become business consultants for the freedom of choosing their own schedule, clients, and payment. They have no one else to answer to, but themselves and many individuals enjoy that aspect of consultancy more than anything else!
If you enjoyed reading this article about tips to become a business consultant, you should also check out this article on consulting buzzwords.
We also wrote about a few related subjects like how to get consulting clients fast, technology consulting, consulting proposal template examples, how much to charge for consulting, consulting business ideas. Maybe you need a consulting contract or tips to overcome the business challenges that a consultant like you is facing.
And if these are something you enjoyed reading, check out our WordPress booking plugin that your clients can use to schedule meetings with you.