It has been said that the name of your brand is like meeting your clients for the first time. And it's that first impression that counts!
Are you looking for the perfect name for your hair salon and need some inspiration? Many people spend weeks trying to find the right name. But let's be honest- no one has time for that.
This article created by our team at Amelia (the appointment booking software for successful salons) collects together some of the best hair salon names around. The article also provides some extra tips and ideas to help with choosing a great name.
The Secret of Perfect Hair Salon Names
The following steps can help you to choose the perfect name for your salon business.
Who is the target customer?
First of all, identify the type of customers you want to attract. Consider what their values are. Do you want to draw high-end clients who prefer top products and services and are willing to spend a bit extra for them? Or will the business attract Millennials wanting to look just like their favorite influencers?
What business name will appeal to THEM?
Once you have selected the target customer, think of what THEY are looking for. Will the hair salon name resonate with their style and preferences? They need to see your brand as the perfect solution to their needs.
Catch their attention.
There's only a split second to catch the attention of potential customers. It is a competitive industry and your salon business needs to stand out. Having a unique brand is important, but it shouldn't be difficult to guess what services you offer!
Humor works.
It could be a funny name that makes your salon business stand out. People tend to remember what made them laugh on the way home after a busy working day. And they like to share it with their family and friends.
Get creative.
Would you like the salon to be perceived as classy, glamorous, or cool? What is unique about the services you offer? Think about the message you want to convey to clients. Write down a list of nouns and adjectives that represent this style.
Hair Salon Names Collection
Find the perfect hair salon names in the following categories:
Classy Hair Salon Names:

Beauty Mark
Designers Edge
Graceful Beauty
Smart + Glam
Luxurious Lather
Salon De Style
Glamour Salon
Luxurious Locks
Glamour Goddess
Deluxe
Elegance
Stylette
Serenity Salon
Runway
Salon Divine
Pure Salon
Artistry
The Studio
Look
Pretty Parlor
A Touch of Class
Art of Hair
Salon names for unique services:
Color Chic
Color Me Awesome
Color Lounge
Color Me Hair
Color Splash
Curl Me Crazy
Diva Style
Dreadlocks
Family HairLoom
Gorgeous Braids and Weaves
ColorBox
Color Lab
Live and Let Dye
Live to Dye
The Color Palette
The Dyeing Question
Time to Dye
To Dye For
Hair Repair
The Hair Doctors
Cut Costs
True Colors Boutique
Hair Designs
Color & Curls
Makeover Paradise
Makeover Plaza
Makeover Palace
Vintage hair salon names:

To Dye Or Not To Dye
To Trim or Not to Trim
Salon Burlesque
Madam Me
Back in the Days
Attitude
Kings & Queens
Groovy Salon
Neat
Retro Beauty
Create unique hair salon names by just using your own name:
At + your name
Dash & Diana (founders'/stylists' names)
(stylists name) Haircut
(stylist's name) Tangles
Use a foreign language for your hair salon name:
A La Mode (French "in fashion")
Bellissimo (Italian for "Beautiful")
E'lan (French for distinctive elegance)
Mon Petite Hair (Good for Children's Salons)
Salon de Elegance
Bella Vida (Spanish for "Beautiful life")
Couture
Ciao Bella (Italian for "Hello Beautiful")
Voorpret Hair (Dutch – the sense of enjoyment before an event takes place)
Fernweh Salon (German – missing a place you've never been)
Salon Meraki (Greek – to do something with soul, creativity, or love)
Chapeaux (French for "Hats")
Elle (French for "She")
Femelle (French for "Female")
Femme (French for "Woman")
Petit Salon (French for "Small Salon")
Salon Bisou (French for "Kiss")
Salon Étoile (French for "Star")
Le Posh
Le Salon
Salon Mieux (French for "Better Salon")
Atelier de Julien (or your name)
Salon Jolie (French for "Pretty Salon")
Salon Paris
Cheveux de Beaute (French for "Beauty Hair")
Conception de Cheveux (French for "Hair Design")
Le Concept de Cheveux (French for "The Hair Concept")
Creative Hair Salon Names:
Healthy Hair
Natural Shades
Chameleon Salon
Ocean
Palms
Park
Pearl Stone
Organic Roots
Pressed Roots
The Gilded Lily
Magnolia
Beauty Garden
Lilly Beauty Studio
Sunshine Salon
Beauty Garden
Beauty with Grace
Halo
Infinity Hair Salon
Rootz Salon
Lavender
Starshine
Butterfly Studio
Bloom
Pure
Aqua
Sprouts
Music & Entertainment – popular salon names:
Barbarella Salon
Hair Game
Director's Cut
Gotta Get Ya Into My Chair
Hair and Back Again
Hair, Here, and Everywhere
My Hair Lady
Hair 'n the Hood
Imagine
Hair Rap II
Ready to Dye
Comb Together
Hair She Goes
Tangled Up In My Hair
Dye Hard
Ace of Fades
Love My 'Do
Whole Lotta Styling Goin' On
Hairway to Heaven
Hair State of Mind
Bay Wash
Hairbreak Hotel
Talking Headz
Hair Chemicals React
Mirror Mirror
Shut Up and Style Me
The Twisted Scissor
According to My Stylist
Hair Salon Name Ideas about Feelings & Mood:

Head & Soul
Thairapy
Liberated
Confidence
Bliss
ImproveMood Salon
Self
Serenity Salon
Cloud Nine
First Flirt Hair Salon
Peace Love Hair
Pampered
A Breath of Fresh Hair
Sanctuary Salon
Pure Indulgence
Your Beautiful Self
Blissful
YouLooksGood Salon
hairFlirt Hair Salon
Hair Haven
Lookin' Good
The Happy Looker
Perfection
Sublime
Grateful Head
Creative Hair Salon Names:
Creativity
Goodness Glamour
Born To Be Beautiful
Beauty Lord
Heroes & Hairoines
Happy Trimming
Oooh girl, who did your hair
CurlyTales Hair Salon
Surreal
Hair Innovation
The Hair Lab
Stage
Headcase
Imagine Creations
Split Ends
Curved Cassa
Invent
Grand Strandz
Snob
Julius Scissor
Laws of Hair
Hair We Go!
Shear Bliss
Genius
Secret Agent
Deja Do
Cut and Dry
I'll Cut You
Gifted
Heads & Tails
The Attractivators
Hairphernalia
Inspired
Hairspace
Headhouse
Model Call
The Changing Room
The Curl Whisperer
Art & Chemistry
The Hair Coach
The Drawing Board
Out of the Bob
Beauty Lord
Happy Trimming
Mane Avenue
Shortcuts
Tresses
TouchUps
Funny & Quirky Hair Salon Names:
Cutting Edge
Tangled!
Hairaholic
Bad Hair Day Salon
Dying for Color
Hair Affair
Split Second
Bombshell Studio
Dye Hard
Curl Me Crazy
Curly Girl
Shear Madness
Knot Just Hair
Hairitage
Hairish
Hair Slayer
No Loose Ends
Millionhairs
The Big Tease Salon
Cute & Catchy Hair Salon Names:
Dollhouse
Angel Hair Salon
Queen Cuts
Dolls and Beaus
Looklive Salon
Fab
Sassy Life Salon
Glitter N Bliss
Glo
Gloss
Darling You Salon
Secret Salon
Goodness Glamour
Cute Stuff Salon
The Sweet Life Boutique
Mars and Venus Hair Salon
Girltalk Salon
The Colorist
Darling Roots Salon
YouLooksGood Salon
Keep It Cute Salon
Hair with Flair
Under the Dryer
Look At Her
Pamper and Shine
Hair Sensations
Kuts 'n Kurls
Luscious Locks
Barbie Boutique
From Scissors with Love
Long Hair We Care
SnipSnip
Fringe Benefits
Lock & Curl
Short Hair Don't Care
Stand from the Crowd
The Shining Goddess
Turning Looks with Locks
Glowing Hair Mansion
Shine Through
Clips N Cutz
Braids And Strands
Oh my Hair
Urban salon names:
BusyStreet
FIX Salon
Urban Bay Salon
Diesel Salon
Today's Street
Tailored Hair for Men
Will Shear Boulevard
Avenue
ColorBar
Meridian Salon
Coffee & Hair
Tops Salon
Neighborhood
Trendy & Attractive Hair Salon Names:
Up in the Hair
Get the Hair Outta Here
Vanity Hair
Blown Away
Cut From the Heart
Metamorphosis Salon
Blondes and Blowouts
Got to be Hair
Bristle & Blush
Hair Republic
Uniquestyle
Own your Style
The Hair Switch Project
Cutting the Dream
Chop Chop
Neither Here nor Hair
Hairtologists
AppHairent
Halo Hair
Bangs
Follis
Hair when you need it
Editorial
Flourish
Bobs N Waves
Hair & Co
The Hair Show
Hair Collage
Planet Hair
Hair Day
Hair Décor
Hair Drezzers
Renewable
Hair Healers
Hairchitects
Personalization
Cutting Room
Want to see some salon names in the wild?
This article wouldn't have been complete without a quick list of successful hair salons and their interesting names:
Get more bookings with the right tool for the job
Staying organized has never been easier.
You can now manage your business and grow your brand with a single, powerful WordPress booking plugin that keeps all of your appointments in line, your clients organized and your business booming.
Amelia is perfect for business owners who need to streamline their booking experience both for their staff and their clients.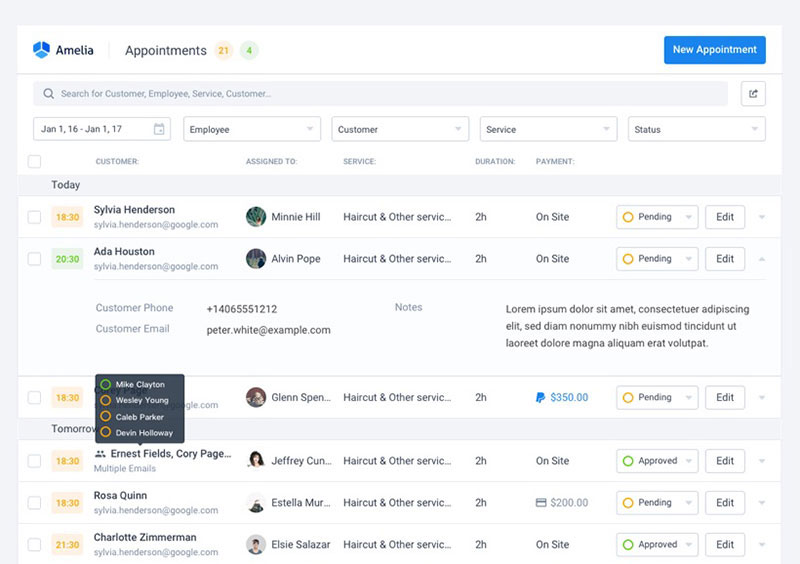 Amelia handles everything for you, even sending automated email or SMS reminders to your clients. No-shows? Not anymore!
The Amelia WordPress booking plugin adapts to different industries for a blissful online booking experience and employee management.
Want to know more? Check out Amelia's awesome features to see what you are missing.
FAQs about hair salon names
1. How do I come up with a unique name for my hair salon?
Consider your target market and the services you provide when coming up with a creative name for your hair salon. Think of utilizing terms like "chic," "sleek," or "luxury" that conjure up a specific sensation or vibe. To make your salon's name memorable and catchy, you can also utilize puns or wordplay. Use your name or a play on it as another option to establish a personal connection with your clientele. Often business owners use AI intelligence to generate original and attractive Hair Salon Names, for this, you can easily use ChatGPT VPN for access.
2. Should I include the location in my hair salon name?
An excellent method to establish your hair salon's presence in the neighborhood and make it simpler for potential clients to find you is by including the location in the name. But, selecting a location-specific name may restrict your branding possibilities if you have future expansion or relocation plans for your company. Think about if the name of your salon should be associated with a certain location or if it should be more adaptable to future changes.
3. How important is it to have a catchy name for my hair salon?
Your hair salon's name can help you stand out in a congested market and make your company more distinctive to prospective customers. Also, a catchy name can provide a good first impression and spark conversation, increasing traffic and fostering business expansion. Yet, to make sure that your salon name appropriately portrays your company, it's crucial to strike a balance between innovation and catchiness and professionalism and authenticity.
4. Can a hair salon name be too long or too short?
The length of hair salon names might vary based on the approach and style of the salon. Although there isn't a specific length or length requirement for salon names, it's crucial to think about how your name will really be used. A name that is too short might not adequately describe the services or personality of your salon, while a name that is too long might be difficult for customers to remember or take up too much space on marketing materials.
5. Is it necessary to have the word "salon" in my hair salon name?
It's not necessary to use the term "salon" in your hair salon name, but it might help establish your company as a respectable and competent choice for potential customers. Instead of using the word "salon," some salons choose titles that emphasize the services they provide or the experience they give. The name you select should ultimately appropriately reflect your company and appeal to your target market.
6. Should I choose a name that reflects the type of services offered at my salon?
An excellent method to draw in the correct customers and convey a sense of specialization is to choose a name for your salon that accurately describes the kinds of services you provide. For instance, a name that contains the terms "color," "dye," or "hue" may work well if your salon specialized in hair color. To make sure that your salon name can adapt to changes in your product offerings over time, it's crucial to find a balance between specificity and flexibility.
7. What are some creative ways to incorporate my name into my hair salon's name?
It can be more remembered for customers to do business with you if your name appears in the name of your hair salon. To come up with a distinctive and memorable name, you can use variations of your first or last name, initials, or a mix of the two. Another choice for making your salon name unique and memorable is to employ wordplay or puns with your name.
8. Is it a good idea to use puns or wordplay in my hair salon name?
Puns or wordplay in the name of your hair salon can be a fun and clever approach to differentiate your company from the competition and leave a lasting impression on potential customers. Puns and wordplay should, however, be used carefully and in a way that appeals to your target audience. Although a creative pun might be memorable and appealing, if it's not used properly, it could come out as corny or unprofessional. When putting a pun or wordplay into the name of your salon, think about how it fits with the tone and image of your business.
9. How can I ensure that my hair salon name is easy to remember and pronounce?
Making a good first impression on potential customers requires choosing a salon name that is simple to say and remember. Choose a name that is brief, straightforward, and easy to spell. Avoid employing cryptic or challenging-to-pronounce terms that can confuse or turn off potential customers. To make sure that it is simple to remember and say for a wide range of people, test your salon name with friends and family.
10. Should I consult with a branding expert or marketing professional to help me come up with a hair salon name?
If you're having trouble coming up with a name for your salon or want to make sure that it fits with your larger branding and marketing strategy, consulting with a branding or marketing expert can be a good idea. These experts can provide you with advice on current business trends and assist you in creating a distinctive name that will make your salon stand out from the crowd. If you choose to engage with a branding or marketing expert, be ready to commit time and money to the process.
Ending thoughts on these hair salon names
There's a wide range of clever and interesting hair salon names. In order to choose the best name, it's important to understand your business and clients. Your brand must showcase the unique services you offer to potential customers.
Keep in mind that your salon is special. Its mission is different from the mission of any neighboring competitors. The salon's name should reflect that.
It's also helpful to visualize how the salon's name will look. How will it appear as a logo? It may sound good, but does it look good too?
Choosing the right business name for a hair salon can be a lengthy process. However, starting with the right branding will help it stand out and succeed.
If you enjoyed reading this article on hair salon names, you should check out this one on hair salon websites.
We also wrote about a few related subjects like how to upsell salon services, beauty salon names, salon bookers, salon promotion ideas, how to open a hair salon, how to open a spa, salon booking apps, a guide to salon pricing, salon management, spa websites, spa advertisements, spa scheduling software, spa WordPress themes, and salon booking systems.