With new wellness trends coming up constantly, the spa industry is always changing. From charcoal face masks to seaweed wraps, spas are always looking for ways to expand their service offerings.
Some spas will specialize in certain treatments. Others offer a wide range of services, sometimes including salon services or other treatments.
Regardless of what kind of spa you run, if you're in the spa industry you'll know that it can be hard to get customers in the door. Read on to find out about our ideas for spa advertisements. These could help you increase your customer base and therefore increase profits.If you're looking for spa advertisements ideas, read these creative marketing ideas in this article created by our team at Amelia, the best WordPress appointment scheduling plugin you can use for your spa.
Spa Advertisements Ideas
Retargeting Ads
Most spa owners understand the need to use social media and internet advertising to attract customers. From Facebook Ads to Google AdWords, there is a range of ways to promote your spa advertisements. However, it is also important to consider retargeting ads (you may know this as remarketing).
If you're running ads that will be shown to anyone, it can be useful to consider retargeting them. This means that they will be shown to people who have visited your site before. As they've previously shown interest, it stands to reason that reminding them of your services might entice them to book with you again.
Claim Your Business Listings

Yelp and Google My Business pages that go unclaimed leave people wondering where to find information about your spa business. Make sure you claim your listings and get added to any spa directories that come up on Google and other search engines. There are also Bing local and Yahoo local that you may want to consider using. It's free to join these sites.
When customers visit your site, incentivize them with 10% off or some other coupon in exchange for entering their email address. Then you can send them spa ads and promotions when you have special deals and you can create these ads using an ad creator software. It's important to make sure that any listings you have are accurate and updated.
First Visit Special Offers

We all know that we are more likely to buy something we want if it's on sale. That's why you may want to consider offering a discount for a customer's first visit. The idea is that the cheaper price will get them in the door for the first time and then your awesome treatments will get them coming back again and again.
You could give people a 20% discount or offer a free facial with any full body massage. Choose something that is cost-effective for you while still remaining enticing for customers.
Partner with Other Local Businesses
As a business owner, it can feel like you're competing with everyone around you for clients. But you can choose to view it differently. Do you have a friend who runs their own café? Or an acquaintance who has a hair salon? Cross-promotion can be one of the most effective spa advertising ideas.
If you partner with a business that's not in competition with you, you could both end up gaining a lot of new clients. Examples of good business for this would be gyms, hair salons, cafes, or retail shops. Send them a spa flyer stack so they can share them with their customers.
One idea is to give bundle discounts. For example, you and a retail shop could offer 10% off when used on the same day.
Create a Reliable Follow-up System for No-Shows

Every appointment-based business faces the same problem of no-show appointments – you are not alone. It is annoying and inconsiderate. It can create a huge cost for your business over the course of a year.
Using an appointment scheduling platform can increase people keeping their appointments. These kinds of software can automatically send confirmations and reminders.
The likelihood of no-show appointments decreases by 20% when the client receives a reminder. The more personalized these are, the more likely the customer is to come to the appointment. We're suggesting Amelia for this. Check out its awesome features and how it can help you.
Use Memberships
Memberships are much like loyalty cards, but more exclusive. It is much cheaper to retain clients and have them come back than to use spa advertisements to get new clients all the time.
Much like gym memberships, a membership to your spa can keep people coming back. This system works well for recurring services such as a monthly massage or haircut. Using the power of exclusivity, customers will feel valued and keep coming back.
Optimize Your Spa's Website to Get Better Leads


Image source: Dhefry Andirezha
Your website is of critical importance to the success of your business. People want to see pictures – what will they experience when they come to you for their spa needs?
Get photos taken by a professional of your business premises. This is what people want to see, not generic pictures taken from another website.
Have your full menu of services and price list on your website. Organize your website well so it's easy for visitors to access the information they want.
Make sure it has your location and phone number for people to easily contact you. However, a well-designed digital business card on your site can streamlines this process. This article provides an overview of the best digital business card platforms.
Every Website Needs a Blog

Websites that have blogs often get more clicks because the blog content can give more hits on search engines. Regardless, your website needs content, whether it's in the form of a blog or videos or other material.
Have a focus for your blog – help your customers solve their problems. Content marketing is a big thing now and is one of the best channels to promote your business.
You can equip your writer team with generative AI tools to create valuable content. However, if you don't or can't handle content marketing in-house, there are plenty of content marketing agencies out there that could help.
Think about what you offer and what problems you solve. Skin issues, stress, and tension can all be resolved by spa treatments.
Seek Customer Reviews
Many people will read reviews of a company before they commit their hard-earned cash to go there. The more reviews your spa has online, the more likely people are to book an appointment.
Ask for reviews after an appointment and make sure you respond to customers leaving reviews. You could even offer a discount or other perk in your spa advertisements for those who leave a review.
Get more clients with the right tool for the job
Staying organized has never been easier.
You can now manage your business and grow your brand with a single, powerful WordPress booking plugin that keeps all of your appointments in line, your clients organized and your business booming.
Amelia is perfect for business owners who need to streamline their booking experience both for their staff and their clients.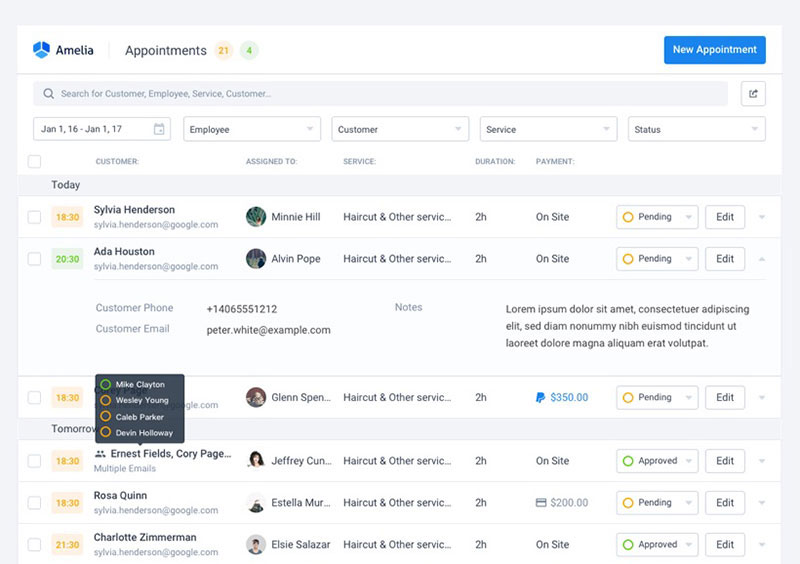 Amelia handles everything for you, even sending automated email or SMS reminders to your clients. No-shows? Not anymore!
The Amelia WordPress booking plugin adapts to different industries for a blissful online booking experience and employee management.
Want to know more? Check out Amelia's awesome features to see what you are missing.
Run an Online Contest
You have probably already come across a lot of online contests run by businesses, whether it's on Facebook, Instagram, or something else.
Why do people do this?
Well, it's an easy way to get more followers on your social media. It also gives you the opportunity to engage and offer a reward to your existing followers. It's one of the best spa event ideas as it's very effective.
One way of doing this is to put up an image of a service you offer, like facials, and get people to share the image and tag three friends. This spreads brand awareness and you can offer a free facial to one lucky winner. As a way of doing a facial advertisement, this is very effective. You'll likely get more bookings for facials in the following weeks.
Video contests can work too. Remember what the purpose is and relate it to your business in some way. It's best to do promotions which are easy to enter, and which people can involve their friends in. Also, you can use the help services that will help you to get more followers on social media.
Social Media for Spa Marketing

Another spa advertisement idea is using social media. Businesses worldwide do this.
Why?
Because it's free and billions of people all over the world use social media.
Using YouTube or Facebook regularly for your spa ads can be a great way to get clients in your door. Share content regularly on these sites to peak interest. Pinterest could work too if you have some fabulous photos of your treatments. It's all about looking at your target demographic and thinking about which sites they use.
Sharing great content is a surefire way to get people to engage with your brand. You could offer discounts to your Facebook customers or offer an Instagram promotion. Some companies give free aromatherapy or other perks to first-time customers.
Get Referrals
The most effective spa advertisement is word of mouth. People want to go where others they know have had a good experience. Plenty of spas out there are not doing quality treatments. That's why people like to rely on friends for advice.
You could offer a deal for those who refer a friend. One idea is that if they refer a friend, both of them will get 20% off. You could offer larger discounts for referring 5 or more friends too.
Business referrals can be extremely effective too. Hairdressers or dermatologists are service providers whose opinions will be trusted by people. Mary Kay or Young Living essential oils consultants can also be key to your spa advertising strategy.
Build Your Personal Brand
To stand out from all the other spas around, you need to find your unique point of difference. Use your personality and connect with your customers. Maintain a friendly but still professional tone and show that you care about your customers.
Being on Facebook is essential, but more personality could be shown through photo-based sites like Instagram. Show your offices 'behind the scenes' and let people connect with you.
Create events, photos, and have funny captions to engage your audience and stay relevant.
Create a Birthday Program

Image source: Melissa Leide
Customers love discounts, as we know. And there's probably no better time to give these discounts than in special times like their birthday. For example, if you know how to find someone's birthday, you can simply surprise them with a discount coupon or personalized offer on the same day.
Then you can use this to offer a free massage or other treatment when they come in during their birthday month. There's a variety of things you could offer – a free product with treatment or a percentage discount, among other things.
FAQs about creating spa advertisements
1. What elements should be included in a spa advertisement?
A spa advertisement needs to have information about the spa's name, logo, address, phone number, and a call to action. It should also highlight any current specials or discounts that are offered, as well as the advantages and characteristics of the spa's services.
2. How can I make my spa advertisement stand out from competitors?
Emphasizing special selling elements and differentiators will help a spa campaign stand out from rivals. This could be done by showcasing the spa's opulent amenities, environmentally friendly practices, unique treatments, or first-rate customer service. The advertisement can stand out by using eye-catching visuals, such as high-quality photos or videos.
3. What type of imagery should be used in a spa advertisement?
Ads for spas should utilize images that are visually appealing, tranquil, and relaxing. Images of quiet landscapes, restful water features, and inviting spa settings can be used in this. Images of spa amenities and services, such as massage tables or facial tables, can also aid potential customers in seeing themselves taking pleasure in the spa experience.
4. What is the most effective way to target potential spa clients with advertising?
Using marketing tactics like social media advertising, email marketing, and local SEO is the most efficient method to reach potential spa customers. The target audience must be determined in order to customize the advertising messaging. For instance, offering time-saving spa treatments to busy businesspeople or offering romantic couples packages to couples.
5. What language and tone should be used in a spa advertisement?
A spa commercial should utilize soothing language and a soothing tone while yet projecting professionalism and knowledge. Instead of using highly technical terminology or industry jargon, concentrate on explaining the benefits of the spa in plain, clear, and understandable terms.
6. Should I use humor or a more serious tone in my spa advertisement?
The target market and the brand personality will determine the tone of a spa commercial. Although humor can be successful in making an advertisement memorable and compelling, it might not be suitable for all spa brands. High-end or medical spas may benefit from a more somber tone.
7. How long should my spa advertisement be?
The medium and the messaging will determine how long the spa commercial is. In contrast to print advertisements, which might allow for more in-depth content, social media commercials, for instance, should be shorter and more succinct. Prioritize your most vital messages and avoid saturating potential customers with information.
8. Should I focus on promoting specific spa services or the overall spa experience in my advertisement?
While simultaneously emphasizing particular services and treatments, the promotional messaging should concentrate on the advantages of the spa experience as a whole. It's critical to highlight the overall experience while also giving specific information to potential consumers because they want to know what they will benefit from visiting the spa.
9. What is the most effective medium for a spa advertisement (e.g. print, digital, social media, etc.)?
The target market and spending limit will determine the best medium for a spa advertisement. Print advertising may be more successful at focusing on a local audience while digital advertising may be more effective at reaching a wider audience. Advertising on social media can be useful for focusing on a certain demographic or set of interests.
10. How can I accurately measure the success of my spa advertisement?
Tracking website traffic, social media interaction, and conversion rates can be used to evaluate the performance of spa advertisements. It's critical to establish precise objectives and monitor your progress toward achieving them. The success of the advertisement can also be determined by conducting customer surveys and gathering feedback.
If you enjoyed reading this article on spa advertisements, you should check out this article on spa scheduling software.
We also wrote about a few related subjects like hair salon websites, hair salon names, how to upsell salon services, beauty salon names, salon bookers, salon promotion ideas, how to open a hair salon, how to open a spa, salon booking apps, salon pricing, salon management, spa websites, spa WordPress themes, and salon booking systems.