There are many trials that a first-time beauty salon manager must be prepared for despite the excellent rewards that the beauty industry presents.
Joining an already established team as a manager and running a beauty salon successfully is not an easy task. It is a real challenge, one that can leave you drained of energy if you don't have a direction and a set of proven guidelines to stick to.
This is unless you have a professional salon management software assisting you on the side.
In order to make your business management pain-free, Amelia, our appointment booking plugin, can help any salon business owner free up a lot of time.
But now let's get to the set of management tips that we prepared for salon owners.
Salon management tips for you
The salon manager role can be overwhelming without guidance. Here are some of the aspects of salon management that first-time managers must pay attention to:
Use the customer complaints log to improve business
Reviews, bad or good, are an excellent source of information for a salon manager. There is no better way to understand the salon you are managing than looking through the eyes of its customers. The first thing to do is to check if the salon you'll manage has a complaints log.
If there is no such log, then that's not good.
No complaints log means that the issues that customers complain about are not addressed, there are no complaints handling procedures, and there is no management follow-up. The salon doesn't understand the impact of customers' lack of satisfaction with the salon's productivity.
You may also be lucky and discover that the salon keeps a log of complaints and may or may not have procedures in place for handling those complaints. However, the log itself is a great source of information for you as the future manager of a beauty salon:
What are the issues that customers complain about regularly?
Which employees do customers complain about?
How many complaints are there regarding the salon's performance?
How are the issues customers complain about handled?
Are there any best practices to handle the above-mentioned issues?
Address all pressing human resources Issues
As a first-time beauty salon manager, make sure that your people are your greatest value. A robust strategy, a marketable service/product, and efficient processes contribute to a business' success, but people are those that execute on the plans, strategies, and processes.
Subsequently, your people need to know that you value them and the best way to show them how much you value them is to address immediately any urgent human resources issues. This will demonstrate your ability to solve problems quickly and reinforce your position as a leader.
Optimize the recruitment process

A business, including a salon, is only as good as its salon staff! You need to make sure that all vacancies are addressed and that you set up a procedure for recruiting new team members if the salon doesn't have one in place already that you may or may not need to improve!
Recruitment is not a straightforward and effortless process. It can be a challenging, lengthy process, but your team is the driving force of the salon you are managing. Therefore, get yourself ready to optimize your recruitment process and make it as efficient as possible!
Understand your budget and focus on achieving targets
As a beauty salon manager, you need a plan of action, and, to execute that plan, you need to understand the budget and related targets. An in-depth analysis of the budget and targets will show you the decisions made in the salon:
Did the salon overspend on products?
Did the salon staff cost more than 45%?
What are your targets?
Analyze the budget and forecasting and focus on achieving your targets to prove your worth as a salon manager. Remember that every decision has a financial consequence, which means that you must get used to making financial decisions. Your budget is your secret to success.
Be part of the team and observe
During the first two weeks of your work as a beauty salon manager, you have to become an integral of your team, observe, and learn! Whether it is folding towels, doing some cleaning, or spending some time at the reception, be a team member, not their salon manager.
You will eventually blend it, your employees start treating you as one of their own, and they will eventually start behaving as they normally would if you weren't there.
As a beauty salon manager, you are a leader, and being abrupt in your approach of running the salon will only make you appear as a controlling, upsetting boss, not as a leader. Bond with the team, observe their behavior, and implement changes accordingly for the good of the business!
Design your vision, share it with your team, and work for it
Besides your plan of action, your vision is the foundation of your success as a beauty salon manager. Establish your goals for the next year, whether it is winning awards or generating more sales. Give a name to your mission statement and place it where you can see it!
Also, make your goal your team's goal by sharing your mission statement with your team at meetings! Make your team part of your goal because you need them to work alongside you to achieve that goal. If all team members pull in the same direction, success is guaranteed!
Create a connection with team members through individual meetings
Individual meetings are ideal if you want each team member to understand your vision and how you want to achieve it. They are also great for you to understand the goals, expectations, and issues of each individual in your team. Individual meetings allow you to bond with your team on an individual level.
Check the existing procedures or create the procedures
Each business needs procedures for every different situation that may occur. A beauty or hair salon is no exception. First, you need to understand the current procedures if any are in place.
Next, you need to improve those procedures and make sure they are implemented.
In case you find yourself managing a salon that doesn't have any procedures in place, you must create procedures that will address the most pressing issues.
Don't expect to create procedures for every situation overnight! It does take time to establish and refine the right procedures.
And an important thing to not forget about is to create a salon cancellation policy. Make sure you are covered in all aspects of your business.
Develop a 90-day plan of action
It is great to have a long-term action plan, but, as a beauty salon manager, you must also create a 3-month plan of action. You have observed your team; you are aware of the most pressing issues, you analyzed your budget; you know your targets. Make a detailed 90-day action plan.
Details should include what you want to do, why you want to do it, and the expected results. A plan of action gives you a clear direction and helps you to stay focused. You will also make your mark on the team and improve the salon's performance as far as revenue is concerned.
Set up a team meeting to engage your team in your efforts
Plan, prepare, and present your vision in a team meeting. The main role of a team meeting is to engage your team in your plan of action and have them embrace your new marketing ideas, key performance indicators, budget, and targets.
Set your team meeting within a month of you taking over the beauty salon manager role. This meeting will be groundbreaking for your leadership.
Equip your salon with an exclusive line of salon products

Make sure the products your sales representative is selling are truly professional products and, most importantly, make sure you can't find the same products at some mega-retailers such as Amazon, Walmart, Target, or CVS. Salons often overpay for their so-called exclusive products.
Put in all the efforts to make sure that you equip your salon with truly exclusive products designed for professional use. Less than 1% of clients know what products their salon use. Don't overpay for products of famous brands because you think that's what clients expect.
The beauty industry is packed with salons, and there are probably two dozen salons within several miles of your salon. Most of them are equipped with expensive products from famous brands that are not for professional use only. They are not necessarily the best either!
Make marketing the dominant part of your plan
Don't confuse marketing with advertising. Marketing is more than advertising; marketing refers to a full spectrum of activities that you use to create, communicate, deliver, and exchange offerings that are valuable to your customers. That is what marketing stands for.
As a beauty or hair salon manager, you have to understand the importance of building a solid and extensive base of loyal clients that not only value your services but are attracted to your philosophy and brand. Marketing is about securing new clients and retaining existing clients!
One trick to get more clients is to enable online booking, and we can help with that! Amelia is a powerful online booking WordPress plugin that easily integrates with your existing website.
Think outside the box when it comes to marketing your salon
Many salon managers make the same mistake: they watch their competitors, see what works for them, and then implement the same ideas. Eventually, all salons end up looking the same. In the eyes of the clients, it no longer matters which salon they chose. They all look the same anyway!
If you want to be a different kind of salon owner and run a beauty salon that stands out from the crowd, look for inspiration outside the beauty industry. Search for various forms of advertisements from any industry that has determined you or could determine you to buy!
Create a collection of such advertisements and try to match any marketing idea with one of those forms of advertisement. You will be surprised to see how original and effective your marketing strategies could become!
Hope for the best and plan for the worst when it comes to your budget

Hope for the best and plan for the worst! It doesn't sound too optimistic, but, the truth is, realistic budgets are the best. Unrealistic expectations and poor planning typically ruin many beauty salon managers' plans of action and deters them from pursuing future endeavors.
These are the top three mistakes that managers make when it comes to budget and cash flow:
Underestimating costs
Overestimating income
Failure to admit money will not come as fast as you expect
What you need to do as a salon manager is to sell your salon's features through the benefits they generate. Understand your salon's features and sell their benefits. No feature matters to the client unless it brings them a benefit. Explaining features and benefits will get you clients.
Ending thoughts on these tips for a salon business
There is a lot of potential in the salon industry for investors, owners, and managers. However, today's salon industry has changed dramatically and is far from the traditional industry that everyone knows. With a new set of rules, you will achieve the desired success in the highly-rewarding modern salon industry.
Get more clients with the right tool for the job
Staying organized has never been easier.
You can now manage your business and grow your brand with a single, powerful WordPress booking plugin that keeps all of your appointments in line, your clients organized and your business booming.
Amelia is the perfect appointment scheduling plugin for WordPress. It's for business owners who need to streamline their booking experience both for their staff and their clients.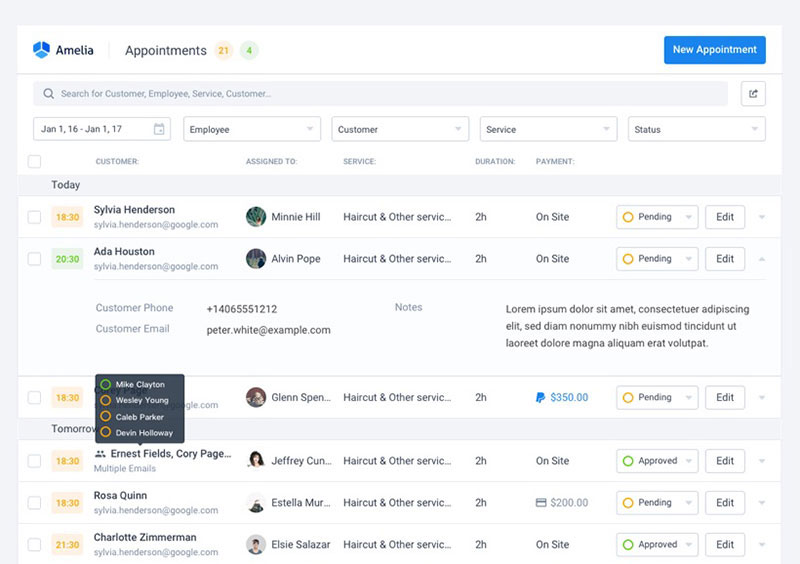 Amelia handles everything for you, even sending automated email or SMS reminders to your clients. No-shows? Not anymore!
The Amelia WordPress booking plugin adapts to different industries for a blissful online booking experience and employee management.
Want to know more? Check out Amelia's awesome features to see what you are missing.
If you enjoyed reading this article on salon management, you should check out this article with spa websites.
We also wrote about a few related subjects like hair salon websites, hair salon names, how to upsell salon services, beauty salon names, salon bookers, salon promotion ideas, how to open a hair salon, how to open a spa, salon booking apps, salon pricing, spa advertisements, spa scheduling software, spa WordPress themes and salon booking systems.