If you are a professional and want to be perceived as a professional, you need to have a professional email address. It makes sense, doesn't it?
Just imagine finding the service you need and then realizing their business email was [email protected]. If you were a customer, a custom email address like that would definitely not help to earn your trust.
It is as simple as that; all you have to do is put yourself in customers' shoes and create a professional email address that will not make your business seem completely unprofessional or even a scam.
Amelia, our WordPress appointment booking plugin, knows exactly how to set up and handle professional emails that are intended to be sent to your clients. Whatever this might be – an appointment email or a reminder, you can get help.
How to Create a Professional Email Address
Let's quickly go through some things you should do when creating professional email addresses (and some you should avoid whenever possible).
Use Your Brand Name
When creating business emails, you should never just use an email name generator and be done with it. You need to put some thought into it.
One of the best things to do is use your brand name to make your brand easily recognizable. This way, there is a better chance your clients will actually read your cold emails when it comes to sending out promotions and similar instead of marking them as spam
Customer Service
Once you launch your website and provide people with all basic contact info, you can expect your customer service to get contacted the most.
For that reason, you should actually use the words "customer service" as a part of your email. If you do that, the clients will understand immediately whom they are talking to.
Use Your Own Custom Domain
Buying your own domain is a great idea if you want your business to seem more professional.
Custom domains are cheaper than ever and they will help establish trust between you and your clients. Your clients will immediately feel more confident in your work if they believe you take what you do seriously.
Use Names Rather than Nicknames and Numbers
Whenever possible, you should try to avoid using nicknames, numbers, and similar for professional emails. Using your name is always better.
Here are some examples of how to make a professional email address with your first and last name:
Full name + Your Domain Name = [email protected]
You can also implement special characters if your name is already taken but that should not be an issue if you use your own domain. However, if that does happen, you could create a custom email like this – [email protected]
First Name + Your Domain Name = [email protected]
Using the first name only is a good idea because even though it is professional, it also leaves a personal connection with the client. However, this might become an issue if you have more employees of the same name in which case, you should use one of the following 2 formats:
First Name and Last Initial + Your Domain Name = [email protected]
First Initial and Last Name + Your Domain Name = [email protected]
Use Generic Names for Special Services

While using personal names is great for establishing relationships on a more personal level with the clients, there are some cases where you should choose generic names.
In some cases, the customers will want to contact a specific department or branch of your company. They will not know that [email protected] is the company email that belongs to the head of sales. Instead, you will need to make it clear by choosing the generic name.
Here are some professional email address examples with generic names:
This is a business email address format to use for providing general information and answering general questions. People will immediately know what it means or, in the case they receive an email, they will know who it is from.
We talked about this a bit earlier but having a separate email address for your customer service is always a good idea. This will probably be the most used company email address.
Remember the example of Liam Smith, the head of sales? If Liam uses [email protected] email address, that might not be the best professional email address for business. The customers don't know that Liam is your head of sales, they don't know they need to contact him if they have sales-related questions.
You probably get the point by now so you understand when and why to use generic names instead of personal names.
Things to Avoid

Now that we've talked about the things you should do when choosing good email names, let's mention also the things you should avoid.
Numbers and Nicknames
Not that numbers and nicknames are in any way offensive or bad but a simple email account will always be more professional.
You can check again the email address ideas listed above to see the different variations of a business email address that you can use if more people in your company share the same name.
Titles, Positions, and Miscellaneous Regalia
So you have worked hard on getting your degree in engineering and now you want everybody to know that you are, indeed qualified to do the job you do.
After all, if the people see email names such as [email protected], they will know you are a professional. Or will they?
It turns out that – NO. The customers actually don't care about that at all. With that in mind, you should always avoid using titles, positions, and miscellaneous regalia.
Sexual Character or Gender Marks
There are names that are commonly used by both men and women. For example, if you receive an email from Av[email protected], you cannot be 100% sure that Avery is a man.
However, that doesn't mean that you should use gender marks when you decide to get a professional email address. Instead, you can easily explain it in the email signature.
Personal Beliefs, Race, Religion, etc.
Your race, religion, personal beliefs, and similar have nothing to do with your capability to do the job. Reflecting on them in email addresses is not professional at all.
Now that we know how to create a professional email address, let's focus on how to write professional emails.
How to Send a Professional Email

Now that we've seen professional email address ideas, let's talk about some other important elements of the best business email.
Professional Response
You can have the greatest email domain name in the world but it will do you little to no good if your response isn't professional as well. Respond to customer inquiries in a timely manner and always keep the communication professional.
Security
If you are running a business, you have to make sure that your email account is as secure as they can get. Consider using additional security options such as those provided by your hosting service… or just use G-Suite. When it comes to blocking hacking attempts and similar, you can never be too careful.
Spam
If you want your emails to actually get read instead of being automatically flagged for spam, you need to think about it even before you set up an email address.
You need to make sure that the customers recognize your brand name and they know whom the emails are coming from. For that reason, use your brand name as a part of your email address. Preferably, use it for your custom domain name.
Having cool email names is… Well, cool, but it is not always the best way to go. You need your email name to reflect a certain level of professionalism and you need it to match your website, products, social profiles, etc. If it does not, you will just be filling people's spam folders once you start sending out promotions.
Ending thoughts on creating a professional email address
In the article above, we explained how to create a business email and professional email names. The tips we mentioned are not supposed to limit your creativity in any way. However, if you want creative email names, you should always keep them professional and avoid going over the top.
It depends from business to business and not every company needs to go with the same approach when creating a professional email. With that in mind, consider the advice we gave you and then see for yourself which way to go is the right way for you and your business.
Here are also some tips on creating business emails for free with your existing domain.
If you enjoyed reading this article on professional email address, you should check out this one on contact management software.
We also wrote about a few related subjects like how to start a small business, how to start a small business in Texas, CRM for Gmail options, small business management software, how to apply for a business license, small business management software, small business ideas for men and small business ideas for small towns.
Good gym marketing can get you a long way if you are a fitness business owner.
How many times have you asked yourself: "Are there any gyms near me?" The first thing people usually do in a situation like that is trying to find the answer on their internet browsers. And that is when the real struggle starts.
When you start searching for "fitness clubs near me", "best gym near me", "gym around me", "workout gyms near me", and similar, you will get dozens of results. So how do you choose the right gym for you? There are probably several local gyms in your area, all of them offering cool gym memberships etc.
The gym owners know that attracting the customers is not just about getting them to join the gym but it is also about finding the right way to keep them around. Amelia can assist you in enabling clients to choose, book, and pay for their group or individual training with ease.
Get more clients with the right tool for the job
Staying organized has never been easier.
You can now manage your business and grow your brand with a single, powerful WordPress booking plugin that keeps all of your appointments in line, your clients organized and your business booming.
Amelia is the perfect appointment scheduling plugin for WordPress. It's for business owners who need to streamline their booking experience both for their staff and their clients.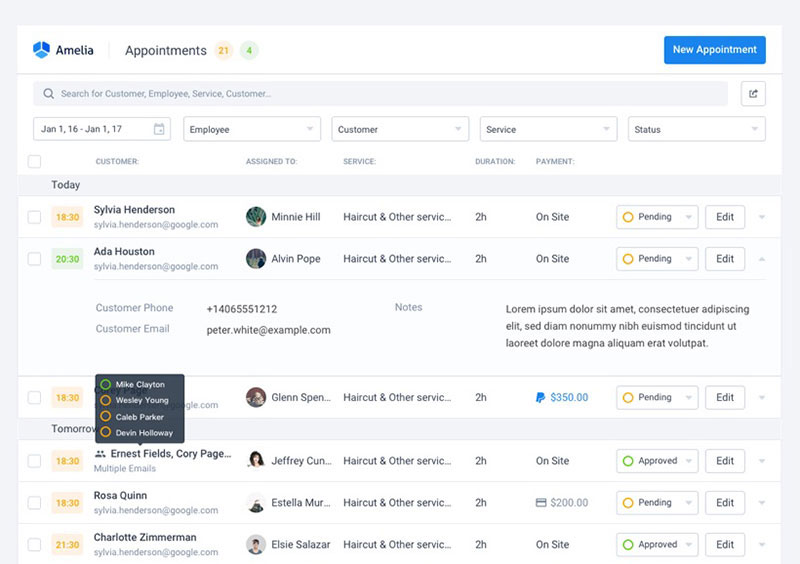 Amelia handles everything for you, even sending automated email or SMS reminders to your clients. No-shows? Not anymore!
The Amelia WordPress booking plugin adapts to different industries for a blissful online booking experience and employee management.
Want to know more? Check out Amelia's awesome features to see what you are missing.
Take Advantage of Different Search Engines

Advertising on Google is very popular but that doesn't mean you should stop at that. Take advantage of different search engines to reach as many potential clients as possible. One that you should definitely consider is Bing.
Bing holds around 30% of the search engine market. What that means is that when people search for things like "gyms near me", "fitness centers near me", "health clubs near me", "gyms in my area" etc., they should be able to find you on as many search engines as possible.
See What the Customers See on Search Engines
Sometimes we forget to look at things from the customers' perspective. You should always know what the customers see when they search for gyms nearby.
Try typing different keywords such as "fitness center near me", "gyms around me", "best gyms near me", and similar to different search engines and see what comes up. That way, you will know what your competition has been up to lately and how you rank compared to them.
Consider using Yext to scan profiles across the search engines and social media and you will be able to check if all the information about your gym is up to date.
Google Local Business Listing

You should populate your Google My Business page because it won't happen automatically. Submit your gym to Google and you should see the results in about 2 weeks.
Facebook Retargeted Ads
If you want to put up an ad on Facebook, you should go for the retargeted ads. But what are those?
Imagine putting up an ad for the blog post "Best Gym Membership Deals". The people who click on the post will see a second ad that directly promotes your gym.
Be Involved in the Local Community
Consider organizing charity events such as obstacle races, strength tests, and similar is a great way to let people from your area know that you are involved in the community. This is also one of the great gym marketing strategies. Donate the entry fees to the charity of your choice and award the winners free membership to your gym or permanently low gym membership prices.
Keep Up With the Fitness Trends
Just like other trends, fitness trends also change all the time and you need to keep up with them. Offer people some fresh new workouts and then promote them through social media, email newsletters etc. to let people know about them.
Many people will come out of curiosity to check out in-person workouts they have heard about on TV or social media. If you do it right, they will stick around for a longer period of time too.
Partner up with Other Local Businesses

Join forces with local businesses and then promote special offers together. For example, offer coupons to free protein shakes, sweats and yoga pants, give your members discounts for gym equipment at the local fitness store etc. People will want to take the advantage of the offer. This way, you can attract new clients while it will also help you keep your old customers.
Use Automated, Personalized Reminders
There are people who work out on a regular basis but some of your clients will be people who visit nearby gyms just every now and then.
Sending automated, personalized reminders will help you keep them engaged and loyal. However, consider using text messages instead of emails because there is a better chance they will actually read them instead of discarding them as spam.
Refer a Friend Program
Another great gym marketing approach is the Refer a Friend Program. It is a great way to motivate people to bring their friends to your gym. They will be happy because you will offer them some kind of discount for bringing new people. You will be happy because you will get new clients. It's a win-win situation.
Online Payment Process
More and more people like to use online paying options when paying for goods and services. Have a good online software for invoicing and collecting payments and it will benefit both you and the customers. It is the fastest and easiest way of completing payments.
Seasonal Promotions
Promoting different specials is a great way of gym marketing and getting people motivated for exercise. You could come up with different promotions during the times of the year when people usually want to lose weight and get in shape.
So when do people usually work out the most? Well, after the holidays with all that tasty food! Having specials before summer is also a great idea so you could promote specials such as "Beach-Ready Body" and similar.
You could also turn it into a bit of a competition. For example, award the member who loses the highest percentage of fat during your "Beach-Ready Body" special. People will be more motivated to work out and there is also a chance they will bring a friend to join.
Get Citations
Citations are web-based references to your business and you should make sure people will see them as often as possible on the web.
One of the most important listings to develop is the Google My Business listing. However, you should consider getting citations everywhere; from search engines through local business directories to specific platforms for listings.
Here are some of the most popular listing sites you should use:
Bing
Yahoo
Facebook
Citygrid
Foursquare
YellowPages
Yelp
Trip Advisor
Factual
There are many more but before getting listings, you should consider your location and choose only those relevant to your business.
Also, keep in mind that your position on a listing depends on your ratings and reviews. The better the ratings, the better position you'll get on the search engine. Check out the ratings of your competitors and compare them to your ratings. If your scores are low, you will know you need to change something.
The good thing is that if the customers don't like something about your gym, they will probably write it as a part of the review. A smart way to run a business is to keep track of those reviews and improve the things that need improving according to the customers.
Video Content Marketing
Video content marketing is a relatively new thing but it is also a great way to promote your business. Especially when it comes to social media.
Have you seen those live feeds yet? Now imagine streaming the workouts in your gym live to let the potential customers experience at least a part of the great atmosphere in your gym.
If you are organizing some new classes – stream them. If you are putting up fresh workouts – stream them. Let everybody know that working out in your gym is not some horrible experience people should fear but a fun one! If you are selling sporting goods on your website, we also recommend turning these exercise videos into shoppable videos that showcase the items you have on sale. This way you can increase sales of gym products from your webstore.
Instagram and Facebook are some of the best platforms for video content gym marketing, so take advantage of them. Social media comes with many marketing possibilities so you should use them as much as possible.
Ending thoughts on gym marketing
There are many gym marketing strategies out there and it is up to you to choose the best ones. Make sure that the locals will find you when they type things like "fitness gyms near me", "gym membership near me", "gyms near my location", and similar in their search engine.
Take the advantage of listing sites, as well as social media, and stay involved in the community to attract new customers and keep the old ones. You should also look into small business marketing automation to save a lot of time that you could use otherwise.
You don't need to invest a lot of money into the promotions if you do it smartly. Use the tips and tricks we talked about above and you should see the first results sooner than you think
If you enjoyed reading this article about gym marketing, you should check out this one on gym management software.
We also wrote about a few related subjects like how to be a successful Beachbody coach, how to create a gym website that stands out, gym names, starting a fitness business, opening a gym, managing a gym, gym owner mistakes, personal trainer website, and gym WordPress theme.
If you thought that the gym staff spends all of their time working out and training other people, you have obviously never been a gym employer. They spend so much time in the office trying to deal with all the gym management tasks like you wouldn't believe!
Luckily, there are several cool gym management software options that can help them deal with all that administrative stuff and focus more on the members and the gym itself. Check out Amelia, our WordPress appointment booking plugin. It knows exactly how to handle all client-related activities.
Sounds like something you need? If so, let's take a look at the best gym management software and all the ways they can benefit your business and make your gym staff more effective.
How expensive is a Gym Management Software?

One of the first things everybody who plans to invest in a new software wants to know if how much it is going to cost them.
Since most of those systems are cloud-based, there will be a certain monthly or annual fee based on your gym's characteristics. For example, some of the things that will shape the price are the number of the staff and members, the number of your gym's locations, and similar.
Most gym management tools offer different packages. That means that the package you choose will not only determine certain features of your system but also its price. It is important to invest in the package and the software that best fits your budget and needs.
If you run a personal training business, there is no need for you to pay a couple of hundred dollars per month for a gym management software. Instead, you should consider investing in personal trainer software which will help you save money.
For comparison, the average price for a gym management system anywhere between $125 and $200 per month. On the other hand, a personal trainer system will cost you tens of dollars monthly.
Why Should I Use a Gym Management Software?
If your staff is busy with dealing with the administrative work, they cannot focus on what is really important. For example, investing in members and helping to expand your gym should be a priority rather than spending the whole day in the office.
A good gym management system will help you save your staff's time, organize all aspects of your business, make appointments, and basically perform most of the important tasks via computer or tablet at any given moment.
Which Gym Management Software should I Use?
There are numerous gym management systems out there to choose from. However, we are going to focus on those that offer the best features at the best price. Let's take a look:

WellnessLiving is a cloud-based business management tool for wellness businesses around the globe. You can choose the type of the business you're running (e.g. personal training, yoga, fitness, Pilates, health club, and many more) and this system will offer you the best features for your business.
The features include but are not limited to:
Online booking
Online payments
Class scheduling
Marketing management
Automated reminders via email and/or phone

Glofox is a gym and fitness management system that helps you with:
managing your studio at any given moment wherever you are
retaining your customers by building a rock-solid member relationship
developing your brand
growing your business
Glofox is ideal for fitness studios, gyms, yoga studios, and multi-location fitness businesses. You can try it out for free by requesting a free demo before committing to a monthly subscription.
You will get a cool Member App for Android and iOS devices which is pretty simple and easy to use. Members will be able to book classes online, complete online payments, connect the app to their social media accounts etc.

MINDBODY was created for gym, fitness, and wellness business owners to help them focus on what matters the most – mind and body.
Once you complete the MINDBODY login, you will be able to get a free demo before subscribing to MINDBODY online. MINDBODYonline offers two types of software: one for small businesses and one for the enterprise. The most important features include things like online booking, marketing, the point of sale etc.
So it doesn't matter if you are just a small gym owner or if you're running a big wellness business because MB is equally as good for both. If you are not sure whether or not it's the right choice for you, you can contact MINDBODY support at any time.

Pike13 is a mobile business software and cloud-based client management studio. With Pike 13, tasks like scheduling, billing, and client management get a lot easier.
The features include:
electronic payments and coupons
online booking
client sign-up
monthly payment collection
sending out client notification
Payroll management

Virtuagym is a tool that is very useful both for people who want to get fit and for fitness professionals and gym owners.
The features include:
Billing and invoicing
Scheduling training and online booking
Tracking staff attendance
Monitoring member check-ins
Collecting online payment
Tracking the nutrition needs of the clients
Planning workouts
Sharing plans
Setting goals

TeamSnap makes managing your team or sports organization easier than ever! Team Snap offers several different options and features based on your needs:
Manage My Organisation
You can manage your organization with TeamSnap for Clubs & Leagues. After TeamSnap login, you can manage registration and payments, scheduling, and communication.
Manage My Team
You can manage your team with TeamSnap for Teams which is a perfect team app. After Team Snap login, you can take control of messaging and chat, team schedule, and player availability.
Run My Tournaments
You can easily run your tournaments with TeamSnap for Tournaments. This TeamSnap app gives you access to custom registration, automated scheduling, and real-time messaging.

PerfectGym is all-in-one club management software for wellness and fitness professionals. The features can be customized to best fit your needs. You can also get a free demo to ensure that this platform is right for you.
The most important include:
Online sales, billing, booking, membership management, marketing, and reporting
Control the customer journey
Point of sale & dynamic reception
Learn more about your members
Stay connected
Easy payment process

ClubRunner is a useful membership management tool. You can use it to:
Manage membership growth & retention
Improve public relations
Boost communication
Impact goals
Compete

Compete is a cloud-based club management tool. What sets it apart is the front desk module with numerous security features such as fingerprint scanners, cameras, and similar. Thanks to that, the users are able to access only authorized functionalities.

Zen Planner is an advanced, all-in-one fitness business software. It is easy to use, it helps you save time, and it helps you grow your business.
It offers different solutions for affiliate gyms, gym owners, mixed martial arts, traditional martial arts, yoga studios, and other. With ZenPlanner, you can also schedule a free demo to make sure it offers all the features you need.
The key features include:
Easy payment processing and automated billing
Self-service kiosk iPad app
A member app and a staff app for iOS and Android devices
Online scheduling
Workout tracking
Belt and skill tracking

PushPress is a cloud-based business management system for gyms and clubs that offers many useful options and features that will help you with your day-to-day business tasks.
The features include but are not limited to:
Self-sign-up pages on your website
Integrated and shared data with your other tools
Recurring subscriptions, Punchcards, 1-on-1 Private Sessions, Events, Seminars, Courses, Non-recurring, Drop-ins, etc.
Use our custom native app to verify members have a valid account and valid digital waiver
Sell Apparel, Sports Drinks, and Supplements in seconds
Summary
Running a gym is a business just like any other which means that it takes a lot of administrative work and management. Luckily, there are numerous tools and systems to help you with that.
The above-mentioned systems are some of the best gym management software to date and they are definitely worth checking out. Apart from the mentioned, there are others you might be interested in like Vagaro or Vagaro Pro, EzFacility, PerfectMind, etc.
No matter which software you choose, the important thing is that it helps you with the day-to-day tasks and gives you more time to focus on what really matters – your customers. With the right management system, your customer satisfaction and, well, your own should get better with every new day.
If you enjoyed reading this article on gym management software, you should check out this one about gym marketing.
We also wrote about a few related subjects like how to be a successful Beachbody coach, gym names, starting a fitness business, opening a gym, managing a gym, gym owner mistakes, personal trainer website, and gym WordPress theme.
More and more people specializing in various areas of the economy have been embracing independent consultant careers over the past decade. With the business sector expanding, it is no wonder that one of the most popular choices is becoming a business consultant.
People choose to put their years of experience and their wide-ranging set of skills and knowledge to work by starting consulting firms instead of continuing their careers as employees, irrespective of their position with their respective employers.
This was a choice historically afforded to early-retiring or jobless senior managers. Today, the labor market has gone freelance and is open to a wider range of professionals. The consultancy field is open to experts in specific domains that are known as authority figures in their field. Amelia can help you to schedule meetings, list the services, collect payments, and manage staff.
Within this context, many experts become self-employed consultants because companies are willing to pay for expertise. One of the fastest-paced domains in the consulting arena is business consulting services, and so many professionals opt to become business consultants.
What is a consultant and what is a business consultant?

Do you want to know how to become a consultant, how to start a consulting business, how to become a business consultant, and what to do once you've embarked on the road to be a successful self-employed business consultant?
It's one thing to have the knowledge and expertise that organizations need and it's a completely different thing to be able to turn that knowledge and expertise into a successful business consulting firm. Starting a consulting business is not the challenging part.
Learning how to be a consultant and how to get into consulting is not difficult either. The tricky part is making your entrepreneurship a successful endeavor. There are many business consulting companies out there so why should any organization or individual choose you?
Are you prepared to handle the hassles of running a business, including paperwork, finance, and cash flow management, and marketing strategies? Are you equipped with what it takes to search, identity, and win clients in the very competitive and driven freelance marketplace?
PS: Do not forget that you can also delegate a part of these processes to reliable professionals so that you can concentrate on building your business. For instance, Amelia can help you handle your flow of clients – they will be able to book appointments with you even when you are asleep.
Get more clients with the right tool for the job
Staying organized has never been easier.
You can now manage your business and grow your brand with a single, powerful WordPress booking plugin that keeps all of your appointments in line, your clients organized and your business booming.
Amelia is the perfect appointment scheduling plugin for WordPress. It's for business owners who need to streamline their booking experience both for their staff and their clients.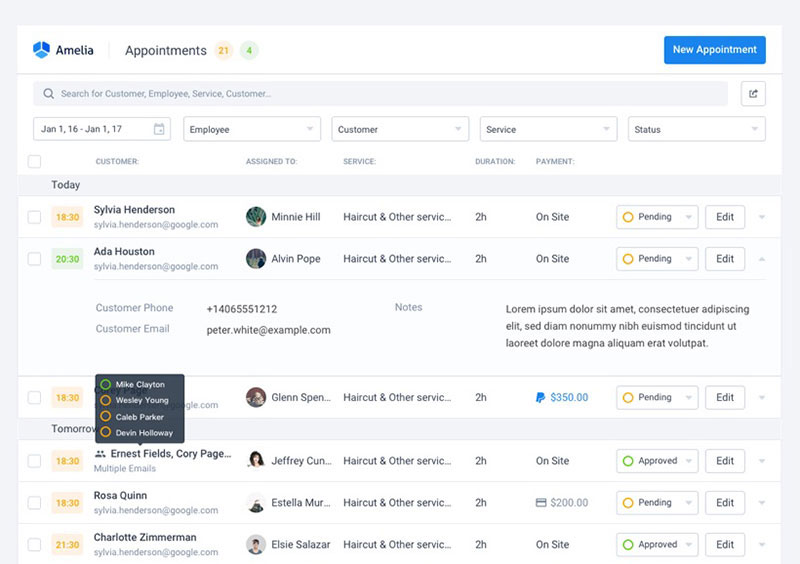 Amelia handles everything for you, even sending automated email or SMS reminders to your clients. No-shows? Not anymore!
The Amelia WordPress booking plugin adapts to different industries for a blissful online booking experience and employee management.
Want to know more? Check out Amelia's awesome features to see what you are missing.
A Freelance Business Consultant's Job Duties
A freelance business consultant is no other company's employee, but their own employee, and has a set of duties that come with the job, and that set of duties is more wide-ranging for a self-employed business consultant because you need to sell your knowledge and expertise.
Business doesn't come to you, which is why you have to be ready to perform the following job duties if you are looking to become a consultant for the business arena, no matter if you are targeting large or small business consulting or wish to be a management consultant:
Find and win contracts because you are a consulting company and you need to sell your knowledge and expertise if you want to survive as a consulting business. Find potential clients, send over your resumes, propose collaboration terms, and set a price.
Understand your customers' history as a business and learn the specifics of their industry; research their industry's business environment to equip yourself with the specific knowledge that will enable you to provide the most appropriate advice.
Research the market in which your customers are operating to empower you to provide the best possible advice that will to them making informed decisions designed to make their business stand out from the crowd.
Analyze your customers' business practices, look over their financial statements, and evaluate competitors to be able to deliver your customers the most appropriate advice for their specific business conditions.
As a business consultant, you need to be ready to recommend customers to implement changes in their business practices to make them more productive and visible.
Large Business consulting firms and small business consulting firms must be able to employ computer systems to generate business plans for their clients to use to improve their future business.
Becoming a consultant, a small business consultant, or any other type of consultant requires finance management, payment collection, and marketing abilities.
Skills for Freelance Business Consultant
Being a self-employed business consultant is not as easy as it seems. It is a career that entails specific knowledge and, most of all, a comprehensive set of skills that will allow you to grow not a successful consulting agency in the business arena. Here are some of the key skills you'll need:
In-depth understanding of the industry of your specialization from the consulting perspective; what does a business consultant do in your industry?
Extensive understanding and knowledge of marketing, sales, finances, and economy;
Capacity to research the market and assess existing business models;
Comprehensive mathematical, business, analytical, and interpersonal skills;
Comprehensive understanding and knowledge of management, accounting, business development, communications, and law.
Attributes such as listening skills, out-of-the-box, and strategic thinking;
Capacity to promote and market yourself on social media and other marketing channels;
Self-discipline, which will instill a disciplined ethic in all facets of your work!
Academic certifications and educational qualifications;
How to Be a Successful Freelance Business Consultant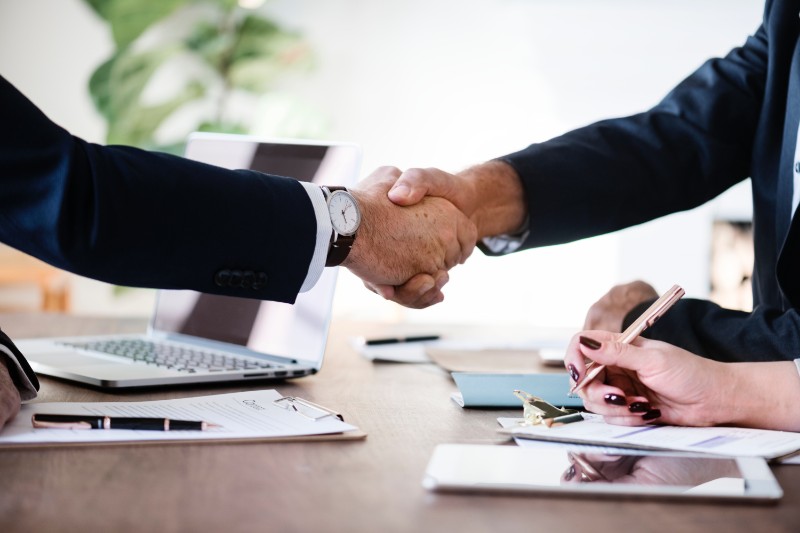 What is a consulting firm in general? What do consulting firms do? What is a consulting business? What does a business consultant do? These are just some of the questions you've answered if you want to know how to be successful as a freelance business consultant.
There is no one-size-fits-all solution for success when it comes to self-employed business consultancy. Success depends on the way you deal with a project, your ability to generate job/business opportunities for yourself, and your capacity to complete your projects.
In addition to these key abilities, there are several approaches that you can embrace that will help you turn you into a thriving self-employed business consultant:
Being apprehensive of all job opportunities to remain at the forefront of your industry and ahead on the path to success as a freelance business consultant;
Maintaining a perspicacious business sense that will allow you to secure and retain customers, which will eventually ensure a constant stream of work – a priority for your starting a consulting business checklist;
Keeping abreast of industry and economic trends, business news, market performance, as well as changes in client expectations;
Registering with job portals and freelancer websites to secure the newest job opportunities;
Delivering exceptional consultancy services that will allow you to develop and nurture a robust profile as a business consultant and a solid customer base;
Staying abreast of the newest technologies and growing your experience will allow you to refine your skills constantly and improve your services.
Average Remunerations for Freelance Business Consultants
Businesses need consultants to stand out from the crowd and improve their business, and the freelance business consultancy marketplace is a crowded setting. Freelance business consultants typically charge per hour of work and the average annual salary is around $48,000.
It is an appealing figure that draws many experts to the freelance business consultancy arena, but many factors can reduce or grow it, such as industry of specialization, work scope, business size, hourly rate, set of skills and knowledge, experience, as well as workload.
Finding Work as a Freelance Business Consultant
Skills and knowledge are not enough to become a successful business consultant. You need to generate income from your skills and knowledge. Therefore, you need to find work, gain experience, nurture a good reputation, grow your client base, and ensure a growing workflow.
A great way to find work is to sign up with job portals and freelance work websites such as PeoplePerHour.com, Upwork.com, Freelancer.com, etc. another way is to present customers that require business consultancy with your resumes.
Pinpointing your Niche as a Freelance Consultant

Before engaging as a freelance business consultant, you have to make sure you identify the niche for which you have the skills, knowledge, expertise, and interest. It's not enough to like computers to be a freelance IT consultant. You also need experience and knowledge.
Certifications and Licenses as a Freelance Consultant
Depending on your niche/specialty, you may or may not need certifications, licensing, and/or formal training/education. E.g., an account requires formal training and certifications while a gardener doesn't. Make sure you check certification, licensing, and education requirements!
Setting Short-Term and Long-Term Goals

No matter how good you are in your niche and no matter how many opportunities there are in your niche as far as consultancy is concerned, do not imagine that clients will be lining up at your door waiting for you to offer them the advice they need. Be realistic about it!
You are becoming a business owner, and you need to establish, grow, and nurture your business, and it will not happen overnight! It's not the reality that disappoints people; it's their unrealistic expectations that disappoint them; keep with your feet on the ground!
Make sure you are willing to dedicate time and effort to set up your business consulting company. Be ready to sacrifice many hours of hard work, which may mean research, developing marketing strategies, promoting yourself, finance management, and more.
Choosing Your Target Market
If a business needs a consultant, it doesn't mean it has the money to pay for a consultant. You need to validate your market by making sure your target audience has the money and is willing to pay for your services. You need to choose a market that is viable to receive your services.
You also need to choose the type of audience you are targeting: companies, individuals, or both. Some consultants can or will work exclusively with companies or individuals. Other consultants can and will work with both categories of clients.
Researching Your Target Market

Identifying your target market is the first step to becoming a consultant but researching your target market is the step that enables you to promote and market your services to your target market. When you know what they need, you know how you can help them.
When you understand the problems that they are faced with, you can develop solutions to improve their business. Equipped with that information, you can start promoting yourself and your services. Some companies don't even know they have a problem until you show them!
Considering a Home Office
The best office for a beginner business consultant is the home office because a home office helps you cut down costs with utilities, office space, and commute. Plus, you save a lot of time and effort when you work from the comfort of your home. You can move on to a fancy office later, but a home office will do just fine for starters!
Ending thoughts on becoming a self-employed business consultant
Every day, the freelance consultancy market opens the door to new opportunities. Freelance work, including consultancy, is becoming increasingly popular across the various industries of the economy as companies prefer to get the best value for the money when they need it.
Many expert professionals choose to become business consultants for the freedom of choosing their own schedule, clients, and payment. They have no one else to answer to, but themselves and many individuals enjoy that aspect of consultancy more than anything else!
If you enjoyed reading this article about tips to become a business consultant, you should also check out this article on consulting buzzwords.
We also wrote about a few related subjects like how to get consulting clients fast, technology consulting, consulting proposal template examples, how much to charge for consulting, consulting business ideas. Maybe you need a consulting contract or tips to overcome the business challenges that a consultant like you is facing.
And if these are something you enjoyed reading, check out our WordPress booking plugin that your clients can use to schedule meetings with you.
Being a gym owner is exciting, demanding, and a daring endeavor. However, it is a rewarding and inspiring experience. Owning a gym business is not like going on vacation as many people imagine. Running a gym business is an everyday challenge, and it's easy to make mistakes.
This is unless you have a professional appointment scheduling plugin for WordPress at your fingertips. Check out Amelia – it is great for handling all the client-focused administrative stuff.
Here is a collection of mistakes that you should do your best to avoid whether you are a veteran or a new gym owner:
Not offering guidance, support, and advice to new members

As a gym owner, you put yourself in your customers' shoes, especially newcomers. When someone is new to the gym in general or new to your gym, it is your duty to remove their unsureness and offer them consultation, advice, and support if necessary. It's your prerogative!
People who are new to the gym in general, risk getting injured when they try on gym equipment with which they are not familiar. Without any guidance, newcomers will feel abandoned, unwelcome, and put off, which is not what you want as a gym owner and leader.
Newcomers need to feel that you appreciate their value as paying customers and it is your job as owner of a cutting-edge, multifaceted fitness facility to let them know you value them for joining your gym by providing them with the guidance and consultation they need and expect.
People like feeling appreciated. It is in their nature. Other people's appreciation motivates them and increases their self-esteem, encouraging them to remain in the company of those people. Ignore them, and your new members will seek a gym that makes them feel important.
Treating all members in the same manner
There is a global tendency to avoid discrimination on any criteria and focus on treating people the same. The fact is that seasoned gym owners know very well that it is not good for business to treat all members the same in a fitness facility. It's not at all a good idea!
A veteran weightlifter will not need you to teach him/her how to do a shoulder press, but someone new to the gym in general will. A veteran may need to talk to you about adding a new type of fitness machine to your gym or about one muscle-building supplement or another. Each member has a different set of needs depending on their age, lifestyle, constitution, goals.
The point is that you have to cater to each member's individual interests, expectations, and needs! You have to adapt your attitude to the uniqueness of each member. Your role is to deliver your members the best client experience, and a customized approach will help you achieve your goal!
Not catering to the needs of a wide range of people
As a gym owner, you know that client acquisition is the best tool for becoming a thriving business. You cannot accomplish that goal if your gym targets a specific category of clients, such as seasoned gym users, aerobics practitioners, or any other client category.
You need to equip your gym with equipment that, as well as seasoned gym goers, can use, create an ambiance that welcomes both female and male clients, provide a variety of workouts to satisfy as many client groups, and diversify services, products, and support plans.
Embrace diversity on all plans, and you will reach a broader range of people, which will propel your business to higher levels of success. Your gym must welcome a mixed crowd!
Not having core values at your gym

As a gym owner, you must be aware that you establish and stick to your core values. Many gym owners forget to set a set of core values altogether. Others forget to stand by them as their business grows. Define your core values first, i.e., your mission and vision, and share them.
Core values are like the helm of a ship: they give you direction and guidance. Everything you do must be done in accordance with those core values, from the way you train your employees to the type of training programs you choose to implement and the way you talk to your clients.
It is important that your clients and employees see you stand by your core values with passion and dedication. They have to see you put your heart and soul into your business and its values.
Spending too much time on the floor and not enough time running the business
As a gym owner, you are probably as passionate about training as your clients, which is goof because training creates a new opportunity to mingle with clients and understand their perspective. However, too much training is never good because you have a business to run.
A business doesn't run itself. It needs you, its driving force, to manage and grow it. Find balance and make the two ends meet through smart time management: train and run your gym well.
Managing a gym is a time-consuming endeavor because you are operating in a highly competitive environment. You have to be willing to put in the hours to market your business to meet your business goals. You need to go outside the business and bring on new clients.
Going at it alone and not choosing your team wisely

If you are the sole owner of a gym, it is understandable that you are doing everything on your own, but only in the beginning. No matter how exceptional your multi-tasking skills are, there aren't enough hours in a day for you to handle every aspect of the business alone.
Plus, you may end up without a family or friends or business if you keep trying to do everything yourself. You need a team and choosing a team is not easy. Don't hire people because you have to hire someone; hire people because they are valuable assets and fit into your gym culture.
A personal assistant and trainers are your main focus. Build a team, not a collection of egos. You must invest time in educating your trainers in the spirit of your core values. You must invest money in paying them for the value they bring to your business. You have to determine them to work alongside you to build a successful business. Make your goals their goals.
Not having a clear mission
Aside from core values, a gym owner needs to set clear business goals. What is your mission? What do you want to achieve by opening a fitness business? What sets your gym apart from other similar facilities? Why would customers pick you and not someone else's gym?
Answering all of these questions is not easy. Determining clear goals and adjusting your actions to meet those goals is not easy. Establish what drives you and you will become an inspiration for your clients as well. Work towards your goals assiduously, and they will work towards theirs.
Focusing on memberships alone

Quality members attract other quality members, and any gym owner should focus on promoting quality rather than quantity because quality can bring quantity, but quantity doesn't always generate quality. What does that mean for a gym owner? Don't memberships matter anymore?
It is important to create a contagiously amazing ambiance that will determine members to bring on board their friends and family members because they genuinely want to share that place where they feel good, i.e., your gym, with the people that matter to them most.
There are many tactics to create that magical ambiance, a feeling of belonging, including customized memberships, customized training plans, motivated trainers that get results, and much more. Focus on building that atmosphere first, and each client will recommend you!
You have to listen to your clients, spend time with them, and understand what they want, what they need, and what they expect. Try to meet their needs, expectations, and desires and your time would be well invested as you watch your memberships skyrocket.
Running the business through social media
A Facebook page is good for business, any business, a gym including. Yet, any gym owner will eventually understand that a gym that aspires to higher levels of achievement and doesn't have a professional website is not going to achieve those higher levels of success any time soon.
Social media is good, but it's not enough. Social media is great in the beginning, but it's no long-term solution. A website is your seal of trust and professionalism. What do you think about a business whose Facebook page doesn't feature a website in the About section?
Yes, Facebook pages are great led generators, but what if your leads want to learn more? Where do they go? What if they need more in-depth information? Where do they go? How professional does your gym appear if you have no website for them to learn more about you?
Failing to use your website as a business tool
As a smart gym owner, you have determined that having a website in addition to social media pages is important, but how are you utilizing your website? Does it look like a brochure with googled pictures of fit people? Does it offer your visitors what they need to become clients?
If your website looks unprofessional, unattended to, visitors will believe that your gym looks the same. If your website offers a great user experience, your visitors will think that your gym offers a great client experience as well. You don't build a website to keep yourself busy.
You build a website because you need it as a business tool. You need it to convince people that your gym is the gym that they want to join. You need your site to convince people that you offer them what they need, want, and expect. Does your website achieve that with your users?
Does your website offer your potential clients other clients' testimonials to prove that you are who you say you are and you do what you say you do? Does your website convince them to push that CTA buttons? Does your website present users with relevant information?
If the answer is no, you need to act. You have to analyze your sales funnel, and you have to change your landing page so that users stay on your site and get in touch with you. You don't need a website to display well-fit bodies; you need a website to generate more business.
With the help of Amelia, you will be able to improve your existing WordPress website that will allow your customers to easily book their training sessions online!
Failing to have a clear website strategy

Did you ever wonder if your website has a strategy when it comes to reaching the audience you are targeting? The whole point of a website for a gym owner is to be able to attract more clients and to do that you need a clear website strategy. You need a website that is structured and designed with your target audience in mind!
Summary
It's not easy to tackle the responsibilities of owning a gym business. In fact, owning a gym can be a scary business for new entrepreneurs. If you go to the gym, develop and stand by your diet and training rules, and work hard, you will achieve all your fitness goals.
It is the same when you own a gym: define your core values and stick to them, be willing to work hard, and make sure you have a plan, and you will build a successful and thriving gym business. Why make mistakes when you can avoid them? Hopefully, this article has proved useful in this respect!
If you enjoyed reading this article on gym owner mistakes, you should check out this one on managing a gym.
We also wrote about a few related subjects like how to be a successful Beachbody coach, gym names, starting a fitness business, opening a gym, gym management software, gym marketing, personal trainer website, and gym WordPress theme.
Attorneys are typically partners in a law firm or employed in-house or at a law firm. They've grown familiar and comfortable with these employment models, which makes it difficult for them to see other options out there, such as that of becoming a self-employed attorney.
A self-employed attorney is an independent consultant, a freelancer, or a contractor. The self-employment or consultancy option is certainly not new to other sectors, such as accounting, engineering, or Information Technology, but it is a relatively new one in the legal arena.
As a self-employed attorney, you have access to a variety of opportunities to reach higher levels of professional achievement that are inaccessible within the typical employment models. To support you along the way, Amelia, our appointment scheduling plugin for WordPress, can help you to schedule meetings, list the services, collect payments, and manage staff.
Qualifications that Self-employed Attorneys Need

When you want to learn how to become an attorney, you become aware that you need to dedicate years of your life to reach the status of a fully trained, licensed, and skilled lawyer.
The first step on your way to becoming a lawyer is law school, which must be authorized by the SRA, or Solicitors Regulation Authority. An SRA-approved law school enjoys the recognition of the legal industry and equips you to get a position upon the completion of your degree.
The second step is to complete the LPC, or the Legal Practice Course, which allows you to transform the knowledge gained through law school into skills to practice as an attorney.
The third step in becoming an attorney is to carry out a training contract, i.e., to be a trainee at a law firm or another authorized body and acquire the hands-on know-how that will allow you to work in the legal field. The duration of a typical training contract is two years in most cases.
How to Find Work as a Self-employed Attorney

You are now an attorney. Self-employment is great, but how do you find work as a self-employed attorney? You can take one of the two available approaches, which are:
Work for a law firm as a freelancer attorney
An increasing number of companies prefer to hire people on a freelance basis because they get what they pay for without the hassle of a full-time, inefficient employee. Law websites and job boards are packed with such vacancies as many law firms opt for this employment model. These websites allow finding lawyers with different specificities, such as lawyer for naturalization, medical lawyers, and advocates.
Launch your law firm
Setting up a law firm is not the problematic part; making it a successful business is the challenging part. Extensive experience is not enough to become a successful self-employed attorney if people don't know it. Here are some ways to get more business as an independent solicitor:
Build a Professional Website
People go online to find information and so they will go online to look for an attorney online as well, which means that you have to be online and not just anywhere online but at the top of search engine results. An SEO-friendly website can place you at the top of search engine results, where people will see you and contact you.
Get more clients with the right tool for the job
Staying organized has never been easier as a self-employed lawyer.
You can now manage your business and grow your brand with a single, powerful WordPress booking plugin that keeps all of your appointments in line, your clients organized and your business booming.
Amelia is the perfect appointment scheduling plugin for WordPress. It's for business owners who need to streamline their booking experience both for their staff and their clients.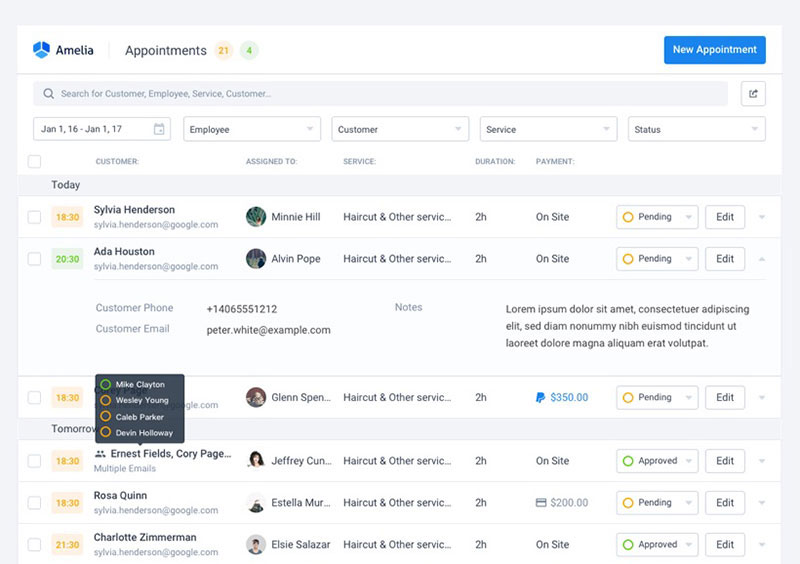 Amelia handles everything for you, even sending automated email or SMS reminders to your clients. No-shows? Not anymore!
The Amelia WordPress booking plugin adapts to different industries for a blissful online booking experience and employee management.
Want to know more? Check out Amelia's awesome features to see what you are missing.
Get Accredited
Accreditation is what confers a self-employed lawyer the element of trust that can persuade potential clients to turn into actual clients.
Register and get accredited to make sure you have this element of trust that people need to hire you.
Join a Network
There are powerful networks built around a specific area of law where people go to seek a self-employed attorney that can help them with a legal issue in that array of the law.
Against a fee, the network passes on leads (business owners that need your help) to the law firms that are its members. Choose a network that has a good reputation and operates in the area of the law in which you specialize.
Keeping on Top of Your Taxes as a Self-employed Attorney

What are your options as a self-employed attorney as far as taxes go? You have two options: go limited or go sole trading. No matter which option appeals to you, your next step is to locate an account, a freelancer like yourself, that that advises you regarding your accountancy and taxes.
You cannot keep on top of your taxes without a good accountant. In the end, a self-employed attorney with a law firm is a business, and a company needs to be profitable to justify its existence. Therefore, you need to make sure you are as tax efficient as possible.
Choose an attorney that provides you with unlimited email and phone support because you will have a lot of questions, especially in the beginning and you don't want all your efforts to be tax-efficient to turn into ashes when you see the immense bill from your accountant.
The Attributes of Self-Employed Attorneys and how They Benefit Employers

As an employer, there are many benefits that you get from working with a self-employed attorney on a freelance basis. Here are some of the traits that distinguish self-employed solicitors from full-time attorneys:
A self-employed solicitor appreciates the value of paying clients
A self-employed lawyer understands why a paying value is valuable to your business. They run a business themselves, and you are a paying client, so they are in your shoes. Paying clients are valuable because they allow you to pay for utilities, rent, memberships, subscriptions, etc.
Within this context, a self-employed attorney will always be more receptive to what a client needs, expects, and requires. They have the right "bedside" approach towards their client, and they know how to benefit from upsell opportunities and new business advancements.
A self-employed lawyer is more adaptable and self-motivated
Lawyers are intelligent and motivated individuals. Intelligence and motivation are two traits that are a touch more pronounced in attorneys than other professional categories. However, the self-employed attorneys have taken these attributes to a higher level due to their status.
They had to learn how to do things well and on their own because their survival as a business depending on their ability. They learned how to adapt to ever-changing trends and are, therefore, more trainable, smarter, and more self-motivated than any full-time attorney.
A self-employed lawyer has made mistakes and learned from them
More and more employers refuse to waste time training people and dealing with their people's mistakes. A self-employed attorney has already made those mistakes and has already learned how to correct those mistakes, whether it was billing, employee management, or client intake.
The point is that self-employed attorneys will not make those major mistakes that employers don't like to deal with but might make some minor errors. However, their experience has taught them how to quickly fix mistakes and reduce the effect of a mistake on the business.
A self-employed attorney has managerial experience and skills
Being self-employed equips people with a full spectrum of management experience and skills. They indeed master the fundamentals of managing their people, be It other contract attorneys, legal assistants, full-time associates, or secretaries.
They have the skills to manage people well and improve their work process, but they also have the skill and knowledge to motivate their people to perform at a superior level and go that extra mile to get the job done because their business depends on getting the job done for you.
A self-employed attorney understands to embrace and appreciate diversity
A self-employed lawyer works to generate a constant stream of business and, in the legal field, that translates into more clients. It's no place for attorneys to be if they aren't able to embrace diversity. It's either embracing diversity or being out of work or practice.
The choice is that simple. Plus, a self-employed attorney cannot afford to mistreat any potential client because of their race, disability, religion, gender, etc. such an act, apart from being completely unjustified and immoral, will shame their business into oblivion.
Ending thoughts on becoming a self-employed lawyer
An increasing number of law practices have become open to letting solicitors work on freelance-basis, i.e., give them control of how much they worked, where they worked, and when they worked. It is a crucial step in the self-employment arena.
Despite these significant changes in the structure of law firms, clients continue to receive the same, or even better, services as they would receive from a traditional firm.
If you enjoyed reading this article about becoming a self-employed attorney, you should check out this one with tips on growing your law firm.
We also wrote about a few related subjects like law firm website and law firm names.