Good gym marketing can get you a long way if you are a fitness business owner.
How many times have you asked yourself: "Are there any gyms near me?" The first thing people usually do in a situation like that is trying to find the answer on their internet browsers. And that is when the real struggle starts.
When you start searching for "fitness clubs near me", "best gym near me", "gym around me", "workout gyms near me", and similar, you will get dozens of results. So how do you choose the right gym for you? There are probably several local gyms in your area, all of them offering cool gym memberships etc.
The gym owners know that attracting the customers is not just about getting them to join the gym but it is also about finding the right way to keep them around. Amelia can assist you in enabling clients to choose, book, and pay for their group or individual training with ease.
Get more clients with the right tool for the job
Staying organized has never been easier.
You can now manage your business and grow your brand with a single, powerful WordPress booking plugin that keeps all of your appointments in line, your clients organized and your business booming.
Amelia is the perfect appointment scheduling plugin for WordPress. It's for business owners who need to streamline their booking experience both for their staff and their clients.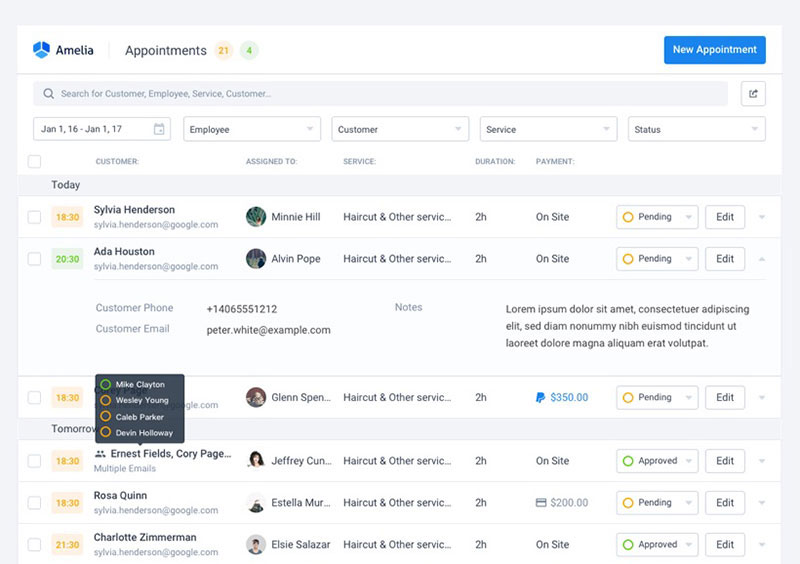 Amelia handles everything for you, even sending automated email or SMS reminders to your clients. No-shows? Not anymore!
The Amelia WordPress booking plugin adapts to different industries for a blissful online booking experience and employee management.
Want to know more? Check out Amelia's awesome features to see what you are missing.
Take Advantage of Different Search Engines

Advertising on Google is very popular but that doesn't mean you should stop at that. Take advantage of different search engines to reach as many potential clients as possible. One that you should definitely consider is Bing.
Bing holds around 30% of the search engine market. What that means is that when people search for things like "gyms near me", "fitness centers near me", "health clubs near me", "gyms in my area" etc., they should be able to find you on as many search engines as possible.
See What the Customers See on Search Engines
Sometimes we forget to look at things from the customers' perspective. You should always know what the customers see when they search for gyms nearby.
Try typing different keywords such as "fitness center near me", "gyms around me", "best gyms near me", and similar to different search engines and see what comes up. That way, you will know what your competition has been up to lately and how you rank compared to them.
Consider using Yext to scan profiles across the search engines and social media and you will be able to check if all the information about your gym is up to date.
Google Local Business Listing

You should populate your Google My Business page because it won't happen automatically. Submit your gym to Google and you should see the results in about 2 weeks.
Facebook Retargeted Ads
If you want to put up an ad on Facebook, you should go for the retargeted ads. But what are those?
Imagine putting up an ad for the blog post "Best Gym Membership Deals". The people who click on the post will see a second ad that directly promotes your gym.
Be Involved in the Local Community
Consider organizing charity events such as obstacle races, strength tests, and similar is a great way to let people from your area know that you are involved in the community. This is also one of the great gym marketing strategies. Donate the entry fees to the charity of your choice and award the winners free membership to your gym or permanently low gym membership prices.
Keep Up With the Fitness Trends
Just like other trends, fitness trends also change all the time and you need to keep up with them. Offer people some fresh new workouts and then promote them through social media, email newsletters etc. to let people know about them.
Many people will come out of curiosity to check out in-person workouts they have heard about on TV or social media. If you do it right, they will stick around for a longer period of time too.
Partner up with Other Local Businesses

Join forces with local businesses and then promote special offers together. For example, offer coupons to free protein shakes, sweats and yoga pants, give your members discounts for gym equipment at the local fitness store etc. People will want to take the advantage of the offer. This way, you can attract new clients while it will also help you keep your old customers.
Use Automated, Personalized Reminders
There are people who work out on a regular basis but some of your clients will be people who visit nearby gyms just every now and then.
Sending automated, personalized reminders will help you keep them engaged and loyal. However, consider using text messages instead of emails because there is a better chance they will actually read them instead of discarding them as spam.
Refer a Friend Program
Another great gym marketing approach is the Refer a Friend Program. It is a great way to motivate people to bring their friends to your gym. They will be happy because you will offer them some kind of discount for bringing new people. You will be happy because you will get new clients. It's a win-win situation.
Online Payment Process
More and more people like to use online paying options when paying for goods and services. Have a good online software for invoicing and collecting payments and it will benefit both you and the customers. It is the fastest and easiest way of completing payments.
Seasonal Promotions
Promoting different specials is a great way of gym marketing and getting people motivated for exercise. You could come up with different promotions during the times of the year when people usually want to lose weight and get in shape.
So when do people usually work out the most? Well, after the holidays with all that tasty food! Having specials before summer is also a great idea so you could promote specials such as "Beach-Ready Body" and similar.
You could also turn it into a bit of a competition. For example, award the member who loses the highest percentage of fat during your "Beach-Ready Body" special. People will be more motivated to work out and there is also a chance they will bring a friend to join.
Get Citations
Citations are web-based references to your business and you should make sure people will see them as often as possible on the web.
One of the most important listings to develop is the Google My Business listing. However, you should consider getting citations everywhere; from search engines through local business directories to specific platforms for listings.
Here are some of the most popular listing sites you should use:
Bing
Yahoo
Facebook
Citygrid
Foursquare
YellowPages
Yelp
Trip Advisor
Factual
There are many more but before getting listings, you should consider your location and choose only those relevant to your business.
Also, keep in mind that your position on a listing depends on your ratings and reviews. The better the ratings, the better position you'll get on the search engine. Check out the ratings of your competitors and compare them to your ratings. If your scores are low, you will know you need to change something.
The good thing is that if the customers don't like something about your gym, they will probably write it as a part of the review. A smart way to run a business is to keep track of those reviews and improve the things that need improving according to the customers.
Video Content Marketing
Video content marketing is a relatively new thing but it is also a great way to promote your business. Especially when it comes to social media.
Have you seen those live feeds yet? Now imagine streaming the workouts in your gym live to let the potential customers experience at least a part of the great atmosphere in your gym.
If you are organizing some new classes – stream them. If you are putting up fresh workouts – stream them. Let everybody know that working out in your gym is not some horrible experience people should fear but a fun one!
Instagram and Facebook are some of the best platforms for video content gym marketing, so take advantage of them. Social media comes with many marketing possibilities so you should use them as much as possible.
Ending thoughts on gym marketing
There are many gym marketing strategies out there and it is up to you to choose the best ones. Make sure that the locals will find you when they type things like "fitness gyms near me", "gym membership near me", "gyms near my location", and similar in their search engine.
Take the advantage of listing sites, as well as social media, and stay involved in the community to attract new customers and keep the old ones. You should also look into small business marketing automation to save a lot of time that you could use otherwise.
You don't need to invest a lot of money into the promotions if you do it smartly. Use the tips and tricks we talked about above and you should see the first results sooner than you think
If you enjoyed reading this article about gym marketing, you should check out this one on gym management software.
We also wrote about a few related subjects like how to be a successful Beachbody coach, gym names, starting a fitness business, opening a gym, managing a gym, gym owner mistakes, personal trainer website, and gym WordPress theme.