Growing your law firm is a challenging endeavor unless you have experience in marketing a law practice. Marketing for attorneys is not always about getting new clients, but about retaining previous clients. In the end, growing a law practice entails happy and satisfied clients.
You can't focus all your efforts on lead generation, and you can't focus all your efforts on hoping for your old clients to need you again. You must know how to get clients as a lawyer to come to you for their problems, whether they have worked with you before or not.
Here are some tips on marketing your law firm successfully and, hence, growing your law firm:
Make sure you are easy-to-reach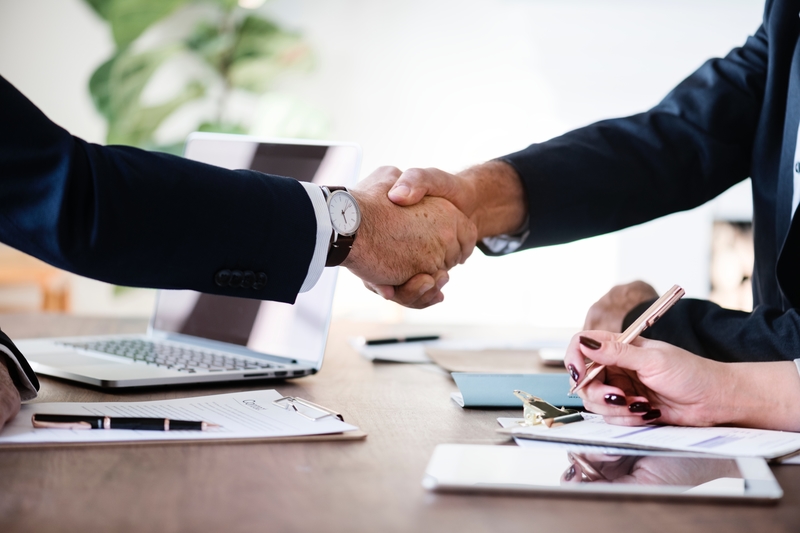 Legal problems don't come knocking on your client's doors upon appointment. People don't know when their status will change to clients of a legal firm, so make sure you are there for them when they need you. Your availability is key to growing your law firm.
Given today's technology, you have no excuse if potential and old clients can't get a hold of you: cell phones, online booking systems, contact forms on your website, e-mail, etc. you should be able to answer your clients in time because legal matters are usually urgent matters.
Consider using professional services, such as Amelia, to assist you in taking on the challenge to keep up with the latest technologies.
Stay in touch with your clients
If you want to learn how to market your law firm, learn how to check in with your clients on a regular basis, either old or new clients. You can't make house calls because you must use your time wisely to handle their legal matters, but you can always drop an e-mail or make a call.
Staying in touch remains one of the most efficient ways to market your law firm and one of the first things you learn when interested in how to market your law practice.
Improve social media strategies
A business without a strong, positive, and consistent social media presence is doomed for failure in today's age of social media. Keep your social media accounts up-to-date; don't create them to be able to say you have them. That's not the purpose of a social media account!
Share and post regularly relevant and original content, not copied content that everyone shares! Make sure your posts get enough likes or shares and adapt your social media strategy accordingly if you lack in that area!
Adopt email marketing
One effective method of lead generation for lawyers and any business remains e-mail marketing. E-mail marketing is one of the most efficient attorney marketing ideas and an exceptional way of growing your law firm reaching a wide audience interested in your services.
Invest in digital advertising
Digital advertising is a new, but increasingly popular attorney lead generator and a great helper in building a law firm, be it a local law firm or a national firm. Investing in ads can prove to be unexpectedly efficient as an investment in growing your law firm.
Make a great first impression

As a lawyer, you probably want to know how to build a law practice, how to generate law firm leads, how to grow a law firm, how to market law firm, how to advertise a law firm, how to get personal injury clients, etc. You are probably wondering how do lawyers get clients?
One of the best ways to secure clients once you've reached them or they've reached you is to make a positive first impression. Make sure you treat your clients accordingly by making a good impression the first time you meet! It sounds simple, but many attorneys fail in that respect!
Play to your strength

Building a law practice takes a lot of effort and, in time, you develop strategies and key strengths that make your legal firm stand out from the crowd. A great strategy when you are focusing on growing your law firm is to start building on your core strengths.
Identify your core strengths, including cost flexibility, tailored customer service, agility, etc., and then play to your strength and it will help your law firm more than you can imagine. Playing to your strength is one of the best law firm building blocks and lawyer lead generation solutions.
Have a business plan
A method of growing your law firm is to have a business plan that will emphasize your vision and the strategy to achieve that vision. A business plan will showcase what you want your law office to do and what you don't want your law office to do.
A business plan will also help you focus on growing legal practice areas that are in line with your mission. You may think that you are too small to write a business plan, but you will be wrong: no business is too small to know its mission and how to accomplish it.
Put marketing and business development costs in the budget
Many lawyers feel that opening a law office is enough and marketing is not something they consider from the beginning as if clients will be lining at their doors a week after they opened their law firm. It's the wrong approach and marketing should be in the budget from the start!
Growing your law firm will not come for free. It is an endeavor that takes a lot of time in addition to money and energy. While you can't put energy and time into your budget, you can put new business development and marketing costs in your budget!
Go with measurable marketing strategies
Chaotic marketing is not good if your focus is growing your law firm. You need measurable marketing strategies that will allow you to identify which strategy pays up and which doesn't.
How will you know which marketing strategies work, and which don't if you can't measure outcomes? A client feedback program will also help you identify better the pros and cons of your business and adjust your marketing and new business development strategy accordingly.
Target existing clients first

New business development is not always about new leads for attorneys; it usually starts with securing new business from existing clients. If you want to grow your law firm, you must target existing clients first and try to get more business from them by staying in touch with them regularly.
Make sure you understand their needs and be ready to meet them with flexible services. Don't expect clients to come to you when they need legal assistance. Make sure they know they can come to you when they need legal assistance. Make sure they know you can help them.
Get a professional website and keep it upgraded
When launching a law firm, many attorneys don't feel like a website is a must. A site is often an aftermath thought, not an initial consideration. In today's age of the internet, lacking in web presence is a significant impairment no matter how small or significant your firm.
Once you understand the importance of having a website to stay in touch with clients, capture new leads, explain your business, and grow your law firm, you have to understand the importance of having an up-to-date website that is user-friendly and SEO-optimized.
A website gives your law firm the legitimacy and trustworthiness it requires to stand out from the crowd. A good site is like an office in the best part of town. Would you rather trust a lawyer in a shady suburb or a lawyer in a safe, nice-looking neighborhood?
Get more clients with the right tool for the job
Staying organized has never been easier.
You can now manage your business and grow your brand with a single, powerful WordPress booking plugin that keeps all of your appointments in line, your clients organized and your business booming.
Amelia is the perfect appointment scheduling plugin for WordPress. It's for business owners who need to streamline their booking experience both for their staff and their clients.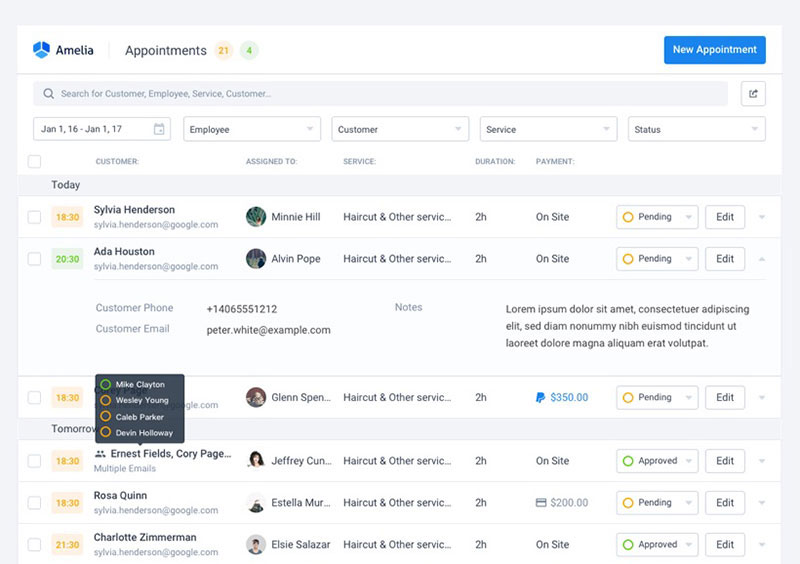 Amelia handles everything for you, even sending automated email or SMS reminders to your clients. No-shows? Not anymore!
The Amelia WordPress booking plugin adapts to different industries for a blissful online booking experience and employee management.
Want to know more? Check out Amelia's awesome features to see what you are missing.
Use the internet to grow your firm

The problem of many independent professionals, lawyers including, is that they fail to realize that their knowledge, skills, and expertise are not enough to build and grow a successful business. A law firm has a business side and a professional side.
Do you neglect the business side? If you are not committed to the business side, you will not be able to employ your knowledge and abilities as a lawyer to serve clients. You need to win as a solicitor, and you need to succeed as a business if you want a successful law firm.
You can't be successful as a solicitor without being successful as a business. There are business consultants that specialize in helping law firms get back in the game and adapt to the internet age because that will help them achieve your goal: growing your law firm.
The internet is your best ally if you know how to use it. The internet can generate business more than you can imagine and you need to use the internet to be visible in the legal firm, to appeal to clients the moment they reach your online venues, and to stand out from the crowd.
Increase your law firm's online visibility
Many big players in the legal field have borrowed the expertise of other industries in an online business generation. You can compete with that if you use professional help because you can't focus on delivering high-end legal services and be an online business generation expert as well.
You need people whose business is generating business online for attorneys, and there is a wide range of experts that you can choose from; you only need to understand the importance of web presence and being visible online. People seek help on the internet, no more than ever!
Are you there to meet their needs? Are your website and other web venues prepared to pop up when they search for the services that you are offering? Do your services stand out as the best in the field? Are you where they can see you? Be visible online and start growing your law firm!
Increase your online platform's potential to generate business
Do not neglect the power of SEO! Some people tend to minimize or even eliminate the potential of Search Engine Optimization for online business generation. Any business with a web presence needs SEO to improve its online platform and grow its law firm.
There are technical aspects of SEO that only an SEO expert can handle. There is the content side of SEO that you can manage with expert advice. The point is to make sure you address your online platform's SEO needs if you want to increase its business-generating potential.
Implement prominent calls to action
Users, buyer's persona, B2B buyers, visitors, or however you want to call them, are potential clients, and what you need to know about them is that they stick to the "don't make me think" philosophy. They must find what they need effortlessly, or they will go someplace else with a click.
If you want to start growing your law firm, you must have a high-converting platform online, and you can't have a high-converting online platform without outstanding calls-to-action.
Calls-to-action must be present throughout your online platform, guiding users towards that ultimate action you want them to take. That final action can be achieved by downloading a whitepaper, filling out an inquiry/contact form, picking up the phone, etc.
Don't make them think; make them act! It's a valid statement for any business with an online platform. Make sure your law firm is in the 21st century and understands the role of calls-to-action! Don't expect users to factor in any effort just because they need what you are selling!
Summary
Growing your law firm is a joint effort of every member of your team! Remember that networking, online and offline, remains the most effective marketing strategy. Building strong relationships means building a successful business so get your team to work on that!
Attend conferences, symposiums, and workshops that are specific to the industry, keep a close tap on existing clients and their needs, be accessible online and offline, blog your way to success! Don't forget to factor in the time, money, and effort necessary to grow your business.
In the end, a law firm is a business and requires investment and planning to become successful.
If you enjoyed reading this article and the suggested tips on growing your law firm, you should check out this one about becoming a self-employed attorney.
We also wrote about a few related subjects like how to become a law firm website and law firm names.