Ever wondered how to create a gym website that isn't just visually appealing but also super functional?
So, have you caught wind of the whole online or hybrid training thing? The Wall Street Journal spilled the beans about this sizzling trend in the fitness world. It's all about live-streamed sessions and on-the-go workouts.
And if you're still rocking the traditional, physical setup, it's high time you threw some digital flavor into the mix. Think bigger, broader horizons, maybe even global. Your offline game could really use an online boost.
You might be thinking, "But I run a gym, not a tech startup." However, your online presence can profoundly impact your entire business vibe. Just imagine potential clients searching for new workout options on their smartphones. You want to be right there when they look, so your business becomes an appealing and easily accessible option for them.
So, let's discover how to create a gym website that'll get you right where you need to be!
How to Create a Gym Website in 10 Simple Steps
So, you're in the process of opening a gym (or already have one up and running) and you're interested in learning how to create a gym website that'll land you more clients? Good news – you're in the right place!
Let's delve into the essential components that will not only make your website informative but also engaging and user-friendly.
Step 1: Cover the basics
Step 2: Get a domain name and pick your platform
Step 3: Get your branding on point
Step 4: Boost your gym site with funky apps
Step 5: Let your clients book their sweat sessions
Step 6: Implement SEO
Step 7: Nail that CTA game
Step 8: Sell those digital gym goodies
Step 9: BGet your gym website out there
Step 10: Keep tabs on your digital gym
Step 1: Cover the Basics
First things first, your gym website should be like a comfy spot for both your regulars and newbies. They need to find the important stuff, like when you're open, how to reach you, class schedules, and all the necessary details. So make sure to give them what they want if you want your gym website to be successful.
Show off your goods
Your gym isn't just about weights and machines, right? Give each class and service its moment to shine on your website. No fancy words – just clear descriptions. You don't want anyone scratching their head wondering what "Epic Power Hour" is all about.
Hear what others say
People love a bit of feedback before diving in. They want to know if your gym is the real deal. Share reviews from your happy members – it's like showing off your gold stars. Let them see the good vibes others have had.
Help your members out
We're in the digital age, so make sure your members can handle their membership stuff online. Let them check out their class bookings, membership details, and everything else they might need with ease.
Get them moving
Want more gym members? Put those "Sign Up Now" buttons front and center. It's like giving them a little nudge to take the plunge. A well-designed button can do wonders in getting them started.
Embrace the online world
If some of your clients can't hit the gym in person, bring the gym to them online. Let them know about your virtual classes with a big "Join Our Online Sessions" button. Keep that online fitness game strong!
Showcase what you sell
If you've got cool gym gear or snacks for sale, flaunt it! From workout clothes to energy bars, give them a sneak peek of what they can get from you.
Make it look awesome
Lastly, make sure your website looks like a million bucks. Choose the design that fits your brand the best and remember – it's all about giving your clients an experience, not just info.
Step 2: Get a Domain Name and Pick your Platform
Secure a domain and reliable hosting
Let's start at the beginning. The first thing you need is your domain name, i.e. website address. Think of this as your gym's digital address – a virtual space where people can easily find you. When choosing the domain name, the best idea is to use the actual name of your gym (if possible), so your clients can find you without any hassle.
Once you've established your domain, it's time to choose your hosting provider. Keep in mind that prioritizing security is paramount. People might share personal info and sensitive information like credit card details for memberships so security matters. Keep your site locked up tight to ensure everyone's details stay safe and sound.
Choose the right platform
When it comes to creating your gym website, go with WordPress.
Why WordPress?
It's like the superstar of website platforms. It's straightforward to use, very user-friendly, and looks great.
Installing WordPress is typically a breeze with most hosting services. In fact, it's often a one-click affair. And the best thing? Once you install WordPress you can dive into an extensive world of WordPress plugins and themes. Unearth the one that resonates with your gym's identity and make it uniquely yours.
Pay attention to the look and feel of your website
In an era dominated by mobile devices, your gym website should look awesome on any screen, no matter whether your clients use smartphones, tablets, or desktops. Ensuring that your website is responsive and adaptable is a must.
And hey, don't forget about design – you want your site to catch eyes and make a killer first impression. As possible clients land on your site, the goal is for them to think, "This gym is something special!" Keep in mind that your website serves as the online equivalent of your gym's front desk, so make it count.
Step 3: Get Your Branding on Point
Make that branding shine!
Alright, imagine this: you're throwing a mega party. Now, you wouldn't just randomly throw some decor around, right? Your gym's website is like that party! Keep the look tight. Pop those brand colors, flaunt that logo, and make sure your fonts are looking good throughout the site.
What's more, use your website to tell your story, shout out your values, and throw in those killer taglines to make people think, "This gym gets me!"
Oh, and, those awesome trainers you got? Give them some spotlight. Their stories, skills, and achievements? Put it out there. It's all about building trust and showing clients you've got a solid crew.
Content? More like heart & soul
When clients land on your gym's website, you need to impress them from the get-go. Hit them with a cleverly crafted intro that makes them feel your energy. Tell them why your gym rocks and make sure they know the perks of joining your fitness journey.
Do you have some interesting backstory? Share it on your "About Us" page. Make it personal. Also, don't forget to sprinkle in some trust boosters like achievements and your unique fitness philosophy.
Stay fresh with an engaging blog or news section. Dive into fitness tips, the latest in gym fashion, workout jams, diet tips, and so on.
Visuals help, too
No one's got time to face a wall of text. That's like a workout with no playlist. Not that fun, right?
Mix your content up with some awesome shots of your gym. Let your potential clients peep into what they're getting into. A picture of your latest equipment? Yes. Your team in action? Absolutely. Before-and-after shots of your members? It's the real deal!
Avoid that old-school, grainy photo vibe, though. No one wants to think they're stepping into a 90s workout video. Remember, first impressions? Make it count. Serve them top-tier visuals, and they'll know straight up what your brand's all about.
Step 4: Boost Your Gym Site with Funky Apps
Okay, here's the deal. If you're already learning how to create a gym website, why not take it up a notch? Imagine having a slick app to compliment your website. Or free gym software that'll help you manage your gym more efficiently.
Picture your members crushing their workouts, then BAM, they pull up your app to check their gains. Or picture not having to waste time managing employees, clients, bookings, and inventory for a change.
The benefits of these apps? Plenty:
Gym apps and software help your clients keep tabs on their fitness game. And yeah, maybe even that sneaky cheat meal.
Looking to shake things up? Your app can suggest new workouts to keep things spicy.
Some gym management software out there rolls with built-in apps. Dive in, and you're basically killing two birds with one stone!
Step 5: Let Your Clients Book Their Sweat Sessions

Want to know how to create a gym website that actually brings in more clients? Well, letting them book online – a real game changer.
Instead of being glued to the phone, or, even worse, the old-school paper calendar, level up with some super helpful digital tools. Yep, less hassle, more hustle.
Ever heard of gym scheduling plugins? Those powerful systems allow both you and your clients to experience seamless bookings. And when clients can book on the fly, they're way more likely to commit to that burpee class.
The best thing?
You can make all of this happen with the Amelia WordPress Booking Plugin.
Get more clients with the right tool for the job
Think of Amelia as your gym's personal booking assistant that simplifies the entire process, allowing potential clients to book workouts and classes with ease.
Say goodbye to the hassle of back-and-forth emails or phone calls – Amelia enables effortless online booking that leaves a positive impression.
In essence, Amelia is all about elevating your gym's visibility, enhancing the booking process, and boosting client satisfaction. It's a secret weapon that can play a crucial role in growing your gym's client base and improving overall business operations.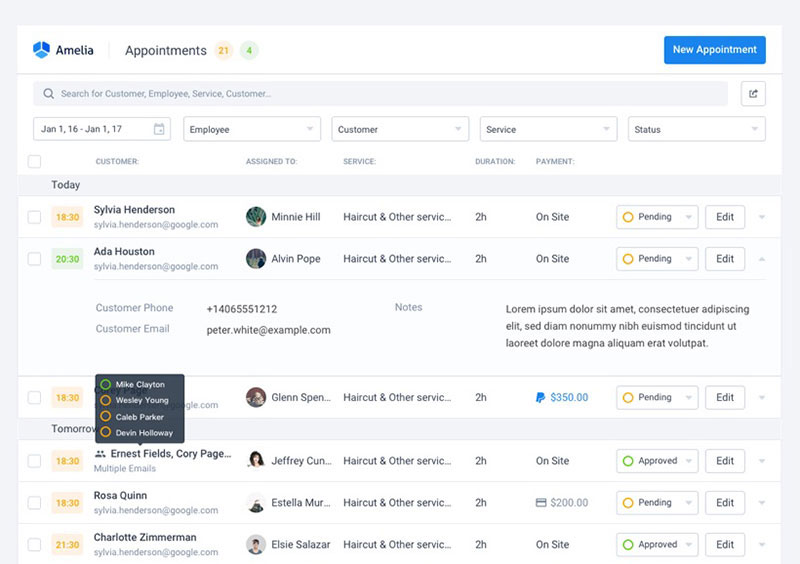 If you choose Amelia, you'll be able to:
Sort out all your events, trainers, and locations from one dashboard.
Manage all your classes, employees, and locations with just a click of a button.
Automate your bookings and keep your business available 24/7.
Customize your booking form to align with your brand.
Email reminders? Got it. SMS nudges? Yep.
Ease of use – even if you're not tech-savvy, Amelia's you covered.
So, what are you waiting for? Give Amelia a go and take your gym website to the next level!
Step 6: Implement SEO

Have you heard about SEO? If not, let's break it down. It's like when you Google stuff, and you click on the first thing that pops up.
Now, would you like to see your gym appear on the first page of Google when people search for fitness service? SEO makes that magic happen for your gym site.
Things to remember:
Fresh content is your best friend. Keep it real and keep it original.
Speed is crucial. Nobody's got time for slow websites.
Phones rule the world. Make sure your site looks great on mobiles too.
With rockin' SEO, when someone's looking for an epic gym or some fitness tips, your website will be waving at them from the top of the search results!
Step 7: Nail That CTA Game
Wait, hold up. CTA? In other words, call-to-action button. It's all about getting clients engaged with your site.
Let's imagine someone lands on your homepage. Don't just let them bounce! Hit them with a cool CTA, like "Wanna get ripped? Click here!"
Not every visitor is the same. Jane might be hunting for deals in your gym shop, while Tom's searching for the next spin class. Different vibes, different CTAs.
So, quick tips for that stellar CTA:
Keep it simple, like "Book Now" or "Join Us".
Make it POP! It should be like the main act at a concert, all eyes on it.
Action words? Heck yeah! "Grab your spot" sounds so much cooler than "Click here".
Placement is key. Think header, footer, or even a flashy pop-up!
Step 8: Sell Those Digital Gym Goodies
If you're thinking about how to make your gym website pop, think digital. We're talking online workout vids, digital guides, the works. Especially for those newbies who are just finding their groove. They'll love it!
But why stop there?
Sell stuff. Gym gear, supplements, workout clothes.
Imagine this: A newbie hits up your site. They book a class, snag a workout video to perfect their squat game, and oh, there's that protein powder they've been hunting for. All without bouncing off your page.
Now that's how you create a gym website that rocks.
Step 9: Get Your Gym Website Out There
You've got that gym website up, but guess what? That's just step one. Now, it's time to make some noise!
Social Buzz: Dive into Facebook, Insta, Twitter, and even YouTube. Share those killer workouts, special deals, or that yoga event next week.
Email Magic: Platforms like Mailchimp? They're your BFFs now. Keep your clients in the loop with newsletters or maybe a cheeky discount code.
SEO Game Strong: This isn't about lifting weights but lifting your site's game. Think keywords, cool content, and all those behind-the-scenes tricks to get on Google's good side.
Ads That Click: Platforms like Google Ads or Insta Ads? Goldmine. A bit of cash can bring a wave of clients to your doorstep… or, well, website.
Step 10: Keep Tabs on Your Digital Gym
Having a killer gym site is great, but do you know how it's doing? Like, really doing?
Metrics Madness: Tools like Google Analytics? Yep, it's like the gym for your website's health. Dive deep.
Traffic Trails: Where are your clients coming from? Insta, Google, or maybe that blog you guest-posted on?
User Vibes: It's all about the journey. How do they roam around your site? Where do they bounce? Let's find out.
Track Those Goals: Booking a class? Signing up for the newsletter? You want know when that happens.
Test, Test, Test: A/B testing? It's like choosing between two protein shakes. Which one works best? Test it!
Speedy Gonzalez: If your site's dragging its feet, people bounce. So, let's make it zoom.
FAQ about Creating a Gym Website
What's the best platform to create a gym website?
Well, our favorite platform to recommend is usually WordPress. It's a super versatile, customizable, and user-friendly tool. The big benefit? A crazy amount of gym-specific themes available, perfect for displaying timetables, class schedules, or even running a blog.
Of course, there's a learning curve, but with tons of online resources, you'll find your groove.
How can I incorporate online booking on my gym website?
Integrating online booking is essential. A lot of clients find it convenient to schedule their workouts without calling or visiting the gym. Booking plugins like Amelia are a great choice!
Amelia is not just user-friendly for your clients, but it also makes managing bookings a piece of cake for you.
How should I showcase the equipment and facilities of my gym?
Ah, the grand tour! High-quality photos and even 360-degree virtual tours can help. But remember, don't just show, tell. Pair your visuals with concise and compelling descriptions of the equipment and amenities.
Get specific, but keep it easy to read. Throw in some testimonials or success stories featuring your facilities for that extra credibility boost.
Should I include staff bios on my gym website?
Definitely! Personal connections are key in this business. Showcase your staff and their qualifications. Show off their expertise, personality, and passion for fitness.
It's a great way to let potential clients know who they'll be working with. And remember, a smiling profile picture is worth a thousand words.
How can I incorporate class schedules on my website?
For schedules, go digital. Integrate a dynamic, real-time schedule that you can easily update as needed. There are some nifty plugins that can take care of this.
Look for something with a clean design and user-friendly navigation. Your clients will thank you when they can plan their week at a glance.
Can I sell gym merchandise on my website?
You bet! E-commerce functionality can be easily added to your website. WordPress has WooCommerce, a powerful tool that lets you manage your inventory, process payments, and handle shipping details.
Not to mention, selling gym-branded merchandise is a great way to increase revenue and promote your brand.
How can I optimize my gym website for search engines?
SEO, right? Well, start with keyword research. Find out what potential clients are searching for, then weave these terms into your content. Make sure your website loads quickly and is mobile-friendly.
Google loves that. Also, consider starting a blog. Regular, quality content gives search engines more to index and more reasons to rank your site.
How can I use my gym website to generate leads?
First off, make it easy to get in touch. Have a clear 'Contact Us' page and consider a chatbot for instant communication. You could also offer a free workout or digital fitness guide in exchange for email addresses.
Then, use an email marketing campaign to nurture those leads. But remember, it's all about building relationships.
What should my gym website's domain name be?
Ideally, your domain should be your gym's name. Simple, easy to remember, and great for branding. If that's taken, get creative. Consider adding your location or a keyword related to your services.
Just steer clear of hard-to-spell words and hyphens. They're not your friends here.
How can I make my gym website accessible to all?
Web accessibility is key. Start with the basics: high-contrast colors, large text, and descriptive alt tags for images. Make sure your site is navigable with a keyboard alone.
Caption any video content. There's a lot to learn, but it's worth it. Not only is it the right thing to do, but it also broadens your potential client base.
Final Tips On How To Create A Gym Website
Trends? They're like seasons – always changing. But having a solid gym website? Timeless.
Your digital gym is more than pixels and texts; it's your brand, your voice. Get creative with WordPress, implement a reliable booking system, sprinkle some personal flair, and let testimonials shout your success stories. Whether you're tweaking a button or revamping the whole layout, every bit counts.