The fitness industry is expanding at an ever-increasing rate. As for any business in a busy and competitive industry, it is incredibly important to stand out from the crowd. Potential customers need to know what makes your gym different and better than every other fitness club out there. Creative gym names make a big difference in this regard.
And if you're looking for some cool gym name ideas, you've come to the right place!
In this carefully curated compilation, we've gathered the most captivating gym names that are bound to resonate with your clients. Whether you're seeking a name that signals strength, captures the spirit of perseverance, or simply stands out from the crowd, we've got you covered.
Join us as we explore a world of inventive and inspiring gym names that will not only pique your interest but also provide the spark you need to drive your fitness venture to new heights.
Jump to
What's So Important about Gym Names?

If you're embarking on the exciting journey of opening a new gym or revamping an existing one, you already know that a gym's name is more than just a label – it's a reflection of your unique brand, a powerful tool for branding and marketing, a source of motivation, and an invitation to a community of health and wellness enthusiasts.
Gym names are the first impression potential members have of your gym, and they serve as a window into the values, atmosphere, and experiences you offer. A well-chosen gym name can encapsulate your brand's essence, making it easier for people to understand what your gym stands for and what they can expect when they walk through your doors.
The best gym name puts exactly what it is that you do out into the world. More specifically, it shows what the philosophy of your gym is. Why is it the best place to work out? What will your gym bring to the table that others won't? This all needs to be clear in the name of your fitness center. Think of it as a mission statement in less than a couple of words.
Coming up with a great gym name that will boost business and create a strong, recognizable brand for your gym can be tricky.
In this article created by our team at Amelia, the appointment booking software for successful gyms, we put together a list of 6 steps that can help guide you in coming up with the best name you can think of for your fitness club.
But that's not all! We've also compiled examples of some catchy gym names for you to get inspired with, so keep on reading.
6 Steps on the Road to Creating Effective and Unique Gym Names
1) Know what makes a great gym name
When deciding how to name your gym, always keep in mind that it is often the first thing a customer learns about your gym.
What is the first impression you want your gym to leave? This thought will help guide everything else you consider. Your gym name needs to be strong, punchy, and unique. A name that automatically catches the attention of everyone who hears or sees it.
Creating an awesome gym name isn't just about picking words randomly. It's about understanding your gym's heart, who you want to come, and how you want them to feel.
A good gym name:
Shows What You're About: Your gym's name should say what you stand for. Whether it's getting stronger, feeling good all over, or being part of a group, your name should give people a hint about your gym's vibe.
Is Easy to Remember: A good gym name sticks in people's heads. It's simple to say and stays with them, so they can tell their friends about it.
Makes You Feel Good: Think about how the name makes you feel. Does it sound exciting, strong, or like you can do anything? A name that gives off good vibes is a winner.
Stands Out: In a big crowd of fitness and training centers, you want a unique gym name that stands out. Make sure it's not too much like other gym names around you. Being unique helps you get noticed.
Works for the Future: While it's great to think about what you're doing now, consider if your gym name ideas will work as you do more things in the future, like new classes or programs.
Uses Positive Language: Check if the name might mean something bad in another language or culture. You want your gym's name to be friendly everywhere.
Looks Nice: Imagine the name on signs or shirts. A good-looking name makes your gym's stuff look good too.
Lasts a Long Time: Avoid super trendy names that might not be cool in a while. Aim for a name that works today and tomorrow.
Is Unique: Before you get too attached to a gym name idea, check if someone else has it as a brand or website. You want your name to match everything about your gym.
2) Identify your audience

As with everything in business, you need to consider who your target audience is. What kind of people does your fitness business cater to?
When writing all those great gym names ideas down, first consider age, gender, income, and the types of workouts you offer. Once you know the kind of customer base you want to attract, narrowing down a name for your gym will be much easier.
Essentially, when you know who your audience is, you can talk to them in a way that clicks. If you're aiming for young athletes, your gym name and messaging can be energetic and dynamic. If you're targeting busy professionals, a more sophisticated and convenient approach might work better. Understanding your audience lets you communicate in a way that resonates with them.
3) Brainstorm keywords for a unique gym name
The first step in any creative process is effective brainstorming. Knowing the best keywords to use to make your gym trend in online searches is vitally important in the modern market. For example, you may find that words such as Premium, Metal, and Alpha are big draws to customers. They denote strength, power, and excellence – ideas you undoubtedly will want your gym to be associated with.
Start your brainstorming by asking yourself these questions:
What makes your gym different from others?
What are the values you want your gym to stand for?
What do you want your customers to feel?
What is the main product or service you are offering?
Once you have the answers to these questions, you will begin to see themes and patterns form which will help you come up with a relevant and effective name.
4) Define your archetype
Archetypes are universal elements that everyone recognizes on some level. These can be everything from simple elements to characters and ideas. This is where psychology meets branding. Understanding how you can utilize these archetypes in the branding of your fitness business is a huge step in the right direction toward naming your gym.
When it comes to selecting a name for your gym, your chosen archetype can be a guiding light. Your gym's name is more than just a label; it's a reflection of its character and the type of experience you aim to offer.
Your gym's name should align with its archetype. If your gym exudes a playful and adventurous personality, a name that's lighthearted and energetic would be fitting. On the other hand, if your archetype leans toward the disciplined and structured, a name that conveys strength and determination would be more appropriate.
Moreover, an archetype-based name helps your gym stand out from the competition. It signals that your gym has a distinct character and offers a unique experience. This differentiation can pique the interest of potential members who are seeking something specific.
Your gym's name is a long-term commitment. By choosing a name that resonates with your archetype, you ensure that it remains relevant as your gym evolves and grows. An archetype-based name has the flexibility to accommodate new offerings and changes while maintaining its core identity.
5) Steer clear of plagiarism
It may be an obvious point, but it is so important that we can't leave it out of this list. Be sure that the name you have chosen for your gym is not already being used. Four easy ways of doing this are:
Search Google for gyms with the name you have chosen. Using quotation marks makes sure that only specific matches are shown.
Do a trademark check to see if other companies have already registered the name.
Search for website domains that may already be using the name.
Look through Facebook to see what other fitness businesses might have taken the name.
6)  Get feedback
Once you have gone through all of these steps, hopefully, you will have put together a list of around 5 or 6 gym name ideas. The next step is to gather a group of people made up of a diverse network, from potential customers to friends and others in the fitness industry. Collect their opinions on the names you are considering. Getting feedback from multiple sources is always a great way of highlighting ideas and issues that you may have otherwise overlooked.
Trending Keywords You Can Use When Brainstorming Gym Name Ideas
Even following these 6 steps, it can be difficult to get the creative juices flowing. Consider what your gym focuses on – use those words like yoga, judo, or kickboxing in your name. As long as your gym name encapsulates the attitude of your training center and is catchy, you're well on your way.
We've put together a list of the top trending words that you can use to boost the visibility of your gym online.
24 Hour
Anytime
Center
Club
Core
Crunch
Defined
Exercise
Fit
Gym
Health
Invictus
Jazzercise
Planet
Training
Next, consider using a formula such as these to structure your name and include these multiple themes and ideas. This technique is used by top world-leading branding agencies.
[Keyword]+ Fitness
[Keyword]+ Gym
[Keyword]+ Hub
[Keyword]+ Club
[Keyword]+ Society
[Keyword]+ Center
The [Keyword] Shape
Its [Keyword] Time
[Keyword]+ [Keyword]
Location + [Keyword]
Fitness [Location]
[Keyword]+ Location + Hub
The Best and Most Creative Gym Name Ideas to Get Your Creative Juices Flowing
Here are 12 creative gym name lists divided into categories based on different types of gyms that might spark your inspiration:
1) Women's gym name ideas
EmpowerHER Fitness
FemmeFlex Gym
Radiant Strength Studio
Goddess Gains Fitness
Empowerment Oasis Gym
Women's Wellness World
StrongSisters Fitness
SheShines Fitness Hub
GracefulGrit Gym
FemmeFusion Fitness
BlossomBody Studio
Venus Vitality Gym
LadyLift Fitness
FemmeForm Fitness
EmpowerElevate Gym
BellaBodies Fitness
FemmeFortitude Studio
EmpowerXperience Gym
Siren Strength Fitness
BoldBeautiful Gym
2) Bodybuilding gym names
MuscleForge Gym
IronBlast Fitness
Anvil Athletics
Titan Muscle Haven
PowerPulse Gym
The Muscle Lab
SculptStrong Studio
Apex Iron Gym
PrimePump Fitness
Alpha Strength Arena
BrawnNation Gym
MassMonarch Fitness
Granite Gains Gym
VigorVibe Gym
HardCore Ironworks
PumpedProgress Fitness
Atlas Armory Gym
BuiltBattalion Fitness
MuscleMastery Gym
Resolute Reps Studio
3) CrossFit gym name ideas
CrossFit Ignite
WOD Warriors Gym
Forge & Form CrossFit
CrossFit Vitality
TrueGrit CrossFit
CrossFit Momentum
Catalyst CrossFit
ThriveFit CrossFit
CrossFit Pulse
Resilience CrossFit
Unity CrossFit
CrossFit Ascend
ReviveRx CrossFit
CrossFit Alchemy
Vanguard CrossFit
PulsePower CrossFit
CrossFit Thrive Nation
Apex Athletic CrossFit
CrossFit Genesis
Radiant CrossFit
4) Garage gym name ideas
Iron Den Garage Gym
HomeFit Haven
Garage Gains Zone
DIY Muscle Forge
Rogue Retreat Gym
Garage Grind Fitness
Sweat Sanctuary
Iron Stronghold Gym
Backyard Beast Mode
LiftLab Garage
The Fitness Garage
Rustic Reps Retreat
Gear & Grind Gym
Backyard Barbell Brigade
Home Hustle Fitness
The Garage Grinder
DIY Dynamo Fitness
Reps & Results Garage
Home Iron Sanctuary
The Garage Athlete
5) Home gym names
HomeFit Haven
DIY Strength Studio
Sweat Sanctuary
Reps & Results Retreat
Personal Pulse Gym
Homestead Fitness Hub
Iron Oasis Gym
YourHome Stronghold
HomeGains Gym
Elevate Fitness Den
YourSpace Fitness Studio
CozyCore Gym
Harmony Home Fitness
Homestyle Hustle Gym
Invincible In-Home Gym
Built-In Bodyworks
ZenZone Home Gym
HomeFit Fusion
Private Power Loft
Homestead Health Hub
6) Powerlifting gym name ideas
PowerLift Forge
IronStrong Power Gym
LiftLab Athletics
Heavy Metal Fitness
ApexPower Lift Studio
TitanForce Powerlifting
IronVault Gym
Atlas Strength Haven
Resolute Reps Power Gym
Grit & Grind Power Forge
VigorVibe Powerlift Studio
FortitudeForce Gym
TrueGrit Power Palace
MassMonarch Powerlifting
LiftStrong Sanctuary
BrawnNation Power Gym
Power Pulse Hub
EliteEdge Powerlifting
PowerForge Arena
IronIntensity Power Gym
7) Boxing gym names
Knockout Fitness Center
Punch & Power Boxing
Warrior's Ring Gym
FightZone Boxing Club
BattleBox Gym
Ringside Rumble Fitness
SwiftStrike Boxing
Uppercut United Gym
IronFist Boxing Studio
ApexBox Athletics
ShadowBox Sanctuary
Boxer's Edge Fitness
Champion's Corner Gym
Victory Vanguard Boxing
Blackout Boxing Club
BraveHeart Boxing
Pugilist Power Gym
Sparring Spirit Studio
PowerPunch Boxing Hub
Rising Ring Fitness
8) Rock climbing gym names
ClimbQuest Gym
SummitScale Climbing
Vertical Vibe Climbing
GravityGrip Gym
BoulderBound Climbing
AscendAltitude Gym
ClimbSphere Studio
SummitStrong Climbing
DynoDome Climbing Center
Apex Ascents Gym
CruxCore Climbing
ClimbXtreme Fitness
Altitude Apex Climbing
PeakPulse Climbing Hub
GravityGlitch Gym
ClimbSculpt Studio
VertiVital Climbing
AscendAura Climbing
PeakPulse Climbing Center
Vertical Vanguard Gym
9) Boot gym names ideas
BootCamp Blitz Fitness
IntenseImpact Boot Gym
PowerPulse Boot Camp
ApexFit Boot Haven
WarriorWorkout Bootcamp
TurboTone Boot Studio
IgniteIntensity Fitness
PeakPerformance Boot
CommandoCore Boot Camp
InvincibleBoot Arena
Vanguard Vigor Boot Gym
EliteEdge Boot Fitness
ChallengeChampion Bootcamp
Grit & Grind Boot Hub
ApexForce Boot Studio
ResoluteRise Bootcamp
FearlessForm Boot Gym
IgniteInsanity Fitness
MightyMotion Bootcamp
AscendAthlete Boot Haven
10) Personal training gym names
CustomFit Coaching Studio
EliteEdge Personal Training
PrimePulse Fitness Coaching
ApexForm Personal Gym
ElevateU Training Studio
TailorMade Fitness Hub
PrecisionPeak Training
ThriveOne Coaching Center
Vanguard Vitality Gym
ProTrainer Performance
IgniteIndividual Fitness
PersonaPulse Coaching
MasterfulMoves Training
ResoluteResults Studio
One-on-One Fitness Forge
SignatureShape Coaching
DynamicDedication Gym
FocusFitness Coaching
ProvenProgress Training
ElevateElite Fitness
11) Big box gym name ideas
TitanFit Mega Gym
Apex Athletic Club
PrimePulse Fitness Center
ElevateXperience Gym
EpicEdge Fitness Hub
Vanguard Wellness Arena
PowerPulse Fitness Zone
SuperiorShape Mega Gym
UltimaFit Fitness Complex
ProActive Wellness Club
MaxImpact Fitness Center
OmniGym Health Hub
SummitStrong Athletic Club
UltraVitality Fitness Plaza
CompleteCore Mega Gym
TotalTone Wellness Arena
DeluxeFitness Complex
PeakPerformance Mega Gym
InfiniteMotion Fitness Center
PremierPulse Athletic Club
12) Boutique gym name ideas
ChicForm Boutique Fitness
TailorMade Training Studio
EleganceEssence Gym
ElitePulse Boutique Gym
RadiantRevive Fitness
RefinedResult Studio
ZenithZest Boutique Fitness
ClassiqueCore Gym
NouveauMotion Studio
BespokeBody Boutique
SignatureSculpt Fitness
GracefulGains Gym
PolishedPerformance Studio
LuxeLife Fitness Haven
VogueVitality Boutique
OpulentObsession Gym
ExquisiteEnergy Studio
HarmonyHaven Boutique Fitness
VintageVigor Gym
EssenceElevate Studio
Miscellaneous Gym Name Ideas
Here are some miscellaneous gym name ideas organized in 12 themed lists that span a range of concepts you can mix and match.
1) Community-themed gym names

The Wellness Society
Fitness Republic
KardioKlub
State of Balance
Health Hub
Fight Club
Profiles Health Club
The Fitness Crew
The Fitness Hut
Fitness Hub
Fitness Together
Fitness Zone
UnityFitness Center
ConnectFit Community Gym
NeighborhoodNourish Hub
TribeTone Fitness Club
TogetherStrong Gym
BondFit Collective
HarmonyHaven Fitness
CommunityCore Gym
OneHeart Wellness Hub
UnitedMotion Studio
VillageVitality Fitness
SquadStrong Gym
CommuniCircuit Fitness
GatherGains Wellness
SupportSphere Gym
CommunityCraze Studio
WeFit Together Gym
CommuneCore Fitness
GroupGrit Gym
WeAreFit Wellness
2) Gym names that incorporate their owner's name
Arthur Health
Rocofit
Sarah's Touch of Health
Rariden Life
Club Rocky's
Living Well with Rebecca
Smith Fitness Fusion
Johnson StrongZone
Davis Athlete Arena
Williams Vitality Studio
Anderson PowerPulse Gym
Martinez Fitness Forge
Brown Apex Athletics
Taylor Performance Haven
Wilson Evolution Fitness
Clark Wellness Sanctuary
Miller Grit & Grind Gym
Anderson Ultimate U Fitness
Thompson Vigor Vitality
Walker Pulse & Power
Rodriguez Elevate Elite
Harris Fitness Legacy
Green Peak Performance
Baker Dynamo Dynamics
Carter Motion Mastery
Cooper Fit Fusion Studio
3) Emotion-oriented gym names
Fitness on Fire
Nourish & Glow
Soul Cycle
Soul Fitness
True Wellness
Destiny Fitness
Set the Bar Fitness
Synergy Fitness Clubs
Motivated Health Club
Fitness Freaks
Dream Big Fitness
Rise and Shine Gym
Oh Yes! Fitness!
Too Fit to Quit
Heavenly Bodies
Gym Hero
Guardian Gym
Feel Good Fitness
Born to be happy
4) Lifestyle-orientated gym name ideas
Be Free
Live Excellently
28 to Life
Beautiful Reflections
360 Mind Body Soul
Longterm Lifestyle Co.
Outside the Box Fitness
T1D Living
Ikigai Lifestyle
Body Balance
Glamourous Fitness
Greenish Gym
ZenFit Wellness Center
Harmony Haven Fitness
Serenity Springs Gym
Balanced Body Oasis
Wholesome Wellness World
Tranquil Vitality Gym
Radiant Balance Fitness
Mindful Motion Studio
Inner Glow Fitness Hub
Holistic Harmony Gym
MindfulMotion Fitness
HarmonyMind Studio
SoulSync Wellness Center
InnerPulse Fitness Hub
SereneSoul Gym
MindBodyAlchemy
EvokeZen Fitness
SpiritFlow Studio
BlissfulBalance Gym
MindfulMuscle Fitness
5) Transformational gym names
Ultimate Bodies
Make Your Body
Transform Fitness
Reshapes Lounge
Cuts and Curves
Shape Up
Slim & Tone
Muscle Up
Raise the Bar
Stronger Than Yesterday
Project: Metabolic Boost
The Gym Evolution
Body Evolution
Change and Evolve
ShapingForce Fitness
Body Tuning
RenewU Transformation Center
Metamorph Fitness Forge
Transcendence Training Studio
Revive & Thrive Gym
Renovate Fitness Haven
Transformative Energy Hub
Rebirth Fitness Sanctuary
Metabolic Renewal Gym
Evolve & Elevate Fitness
Transpire Transformation Studio
6) Animal-themed gym names
Lion's Den Fitness
The Turtle Training Group
The Wild Mustang
Lean Wolves Gym
Jungle Fitness
TigerFit Training Studio
LionHeart Gym
Phoenix Pulse Fitness
FalconForce Gym
PantherPower Fitness
BearStrength Gym
WolfPack Fitness Hub
CheetahChampion Gym
GorillaGains Studio
EagleEdge Fitness
SharkShape Gym
StallionStrong Studio
BullPower Fitness
HawkHaven Gym
RhinoRise Fitness
CobraCore Studio
DolphinDynamic Gym
OwlOptimum Fitness
LynxLegacy Studio
TigerTriumph Gym
7) Energy-themed gym name ideas
Energym
Boom Fitness
Energym Club
Empower Fitness
Beast Factory
Metal Muscles
Energy Makers
Let's Burn
More Power
Xtreme Strength
Positive Energy
Ultimate Performance
Confident Energy
FireFlame Fitness
Muscle Monsters
Dynamo Fitness
Alpha Muscle Center
Fitness on Fire
Blast and Burn
Iron Kingdom
Burned Physiques Gym
Gym Machines
Sweat Centre
Iron Lifters
Abs of Steel
Max Muscle
Feel the Burn
Iron Forge Fitness
PowerHouse Gym
Titan Strength Center
Unbreakable Fitness Hub
Mighty Muscle Haven
Resilient Iron Fitness
Phoenix Strength Studios
Grit & Glory Gym
Stronghold Fitness Club
EmpowerU Fitness
EnergizeBounce Fitness
PlayFit Playground
HappyHeart Fitness Haven
Dynamic Dance & Sweat
JoyRide Fitness Studio
Laugh & Lift Gym
Playful Pulse Fitness Hub
ZestLife Movement Center
Radiate Joy Fitness
FunFlare Fitness Spot
8) Health-themed gym names
Pure Health
Fit for Life Health
Body Image Health
HealthCity Club
Body & Soul Health
Yes2HealthyLife
Live Healthy
Vibrant-Healthy Living
Become Healthy
Active Plus Health
Engine Health
Healthy Hustle
Healthy Shapes
Healthy Apples Gym
Hands on Health
9) Fancy and creative gym names
Chasing Aesthetic
F.F.E.C.T Fitness
FLEX Studios
The Sky Barre
FitFat Studio
Metro Fit Fitness Factory
Black Sheep
Gotham Gym
Hulk Smashed
Iron Root Studio
Iron Tribe
Slim, Trim and Ready to Win
The Macho Man Gym
Urban Fit Studios
Urban Kinetics
The PUMP FACTORY
6 Pack Labs
Iron Cans
Pumped and Proud
Daily Dose
DIY Workout Machine
10) Adventure and exploration gym name ideas
ExploreX Fitness Expeditions
Adrenaline Quest Gym
JourneyBound Fitness Center
WildHeart Wellness Adventures
AdventureFit Frontier
ExploreStrong Fitness Oasis
ThriveTrail Athletic Club
Wanderlust Workout Haven
Trailblaze Fitness Studio
VentureFit Exploration Hub
11) Motivation and determination-oriented names for a fitness center
IgniteDrive Fitness
MotivaForce Gym
Persevere Peak Performance
Ambition Avenue Fitness
ElevateEndurance Gym
AchieveNex Fitness
Tenacity Training Studio
DriveTriumph Fitness
InspireInfinite Gym
Pursuit of Progress Center
12) Training center names that embody high-intensity and performance
Intensity Ignite Gym
EliteEdge Fitness
ProPerformance Studio
PrimePulse Athletics
Apex Accelerate Gym
TopTier Training Center
Ultimate Output Fitness
Precision Performance Hub
PrimePower Athletics
ExtremeEndeavor Gym
A Catchy Gym Name Gets Heads Turning, But the Amelia Booking Plugin Keeps Them Coming Back
A well-thought-out name is the hook that draws individuals in and initiates their fitness journey.
However, while a catchy name might be the spark that ignites interest, it's the seamless experience offered by tools like the Amelia booking plugin that ensures clients keep returning.
Amelia understands that today's clients demand convenience, efficiency, and simplicity in managing their fitness schedules. With Amelia, clients have the power to book their workouts, classes, and sessions without breaking a sweat (well, not until they hit the gym floor!).
No more back-and-forths, missed opportunities, or tangled scheduling messes. Amelia makes your booking process simple and snappy. Your clients can pick and choose what they want and when they want it, all without the hassle. It's like having a personal assistant dedicated to keeping your fitness game on point.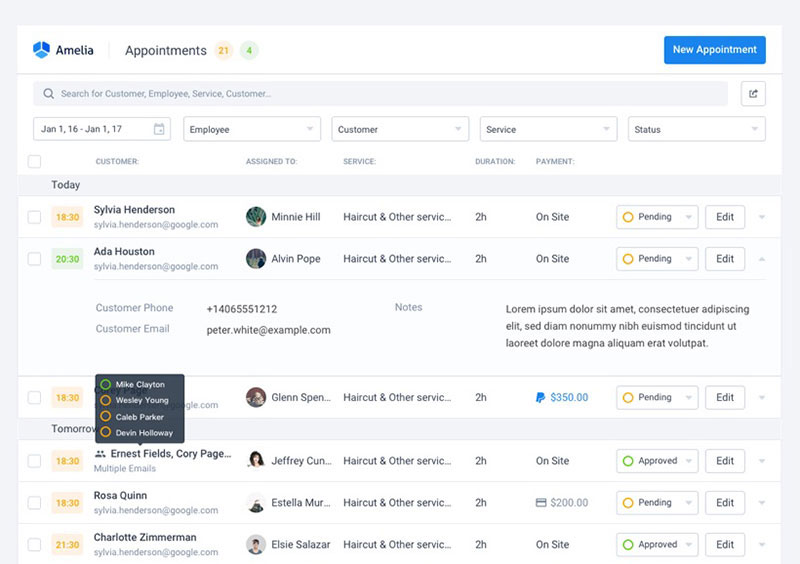 If you choose Amelia, you'll be able to:
Sort out all your events, trainers, and locations from one dashboard.
Manage all your gym classes, employees, and locations with just a click of a button.
Automate your bookings and keep your business available 24/7.
Customize your booking form to align with your brand.
Email reminders? Got it. SMS nudges? Yep.
Ease of use – even if you're not tech-savvy, Amelia's you covered.
So, what are you waiting for? Give Amelia a go and take your gym website to the next level!
FAQ on Gym Names
1. How do you come up with a good gym name?
It can be difficult to come up with a creative gym name, but it's crucial to make sure it's memorable and distinctive. Start by generating a list of words or phrases that are associated with strength, health, and fitness. Think about your target market, the kind of training experience you want to provide, and the setting. You can get gym name ideas from your goal statement or brand values. Test out your list of prospective names on friends and relatives to see which ones stand out.
2. What are some popular words or phrases you could use?
The terms "fit," "strong," "power," "core," "lift," "pump," "elite," and "performance" are frequently used. These words create feelings of fortitude, inspiration, and advancement. Other elements of some gym titles, such as "CrossFit," "spin," or "boxing," refer to specific exercise methods or geographic locations. It's crucial to pick terms that truly describe your gym and appeal to your target market.
3. Should a fitness center name reflect the type of workouts offered?
Although it's not necessary for a gym's name to represent the kinds of workouts it offers, it might be useful for clients to know what to anticipate. The type of activity offered is clearly indicated by names like "Pure Barre" or "SoulCycle," which are both descriptive. Alternatively, a more comprehensive name like "The Fitness Factory" or "The Gym" would be preferable if you want to provide an opportunity for expansion or variation in your products.
4. How important is the name of your training facility in attracting customers?
The name of the gym may be a key factor in drawing in patrons. Your gym may stand out from the competition and develop a strong brand identity with the aid of an original and memorable name. Yet, a strong brand alone won't necessarily ensure success; you'll also need to offer a top-notch exercise and top-notch customer service. In the end, the name of the gym is just one element of your total branding plan.
5. What are some common mistakes to avoid when choosing a gym name?
Avoid making common blunders when deciding a name for your gym, such as using generic or uninteresting names, picking names that are too long or difficult to say, choosing names that are too similar to those of other gyms, or using names that are insulting or unsuitable. It's crucial to take into account how the name will appear on marketing materials and in logo form.
6. Can a gym name be trademarked?
Yes, a gym name can be registered as a trademark as long as it complies with certain criteria, such as being distinct and not being too similar to other registered trademarks. In order to build brand recognition and safeguard your company, trademark protection can assist in stopping other gyms from using your name or a phrase that is similar.
7. Should a fitness center name be short and catchy, or descriptive and informative?
The best gym name will mix being brief and memorable with containing some information about the gym or the kinds of workouts it offers. A name like "Planet Fitness" conveys a message about a welcoming workout environment while also being memorable and simple to remember. However, if they truly reflect the gym's reputation or preferred method of training, descriptive titles like "Barry's Bootcamp" or "Orangetheory Fitness" might also work.
8. How do you know if your gym name is already in use by another gym?
You can conduct an online search using your ideas or related terms to see if the name is already being used by another gym. To see if the name has already been trademarked, you can also search the trademark database of the U.S. Patent and Trademark Office. To avoid legal difficulties or customer confusion, it's crucial to avoid utilizing names that are currently in use.
9. What are some creative ways to incorporate the owner's name into a gym name?
An excellent method to individualize the brand and increase its recall is to include the owner's name in the gym name. One strategy is to incorporate the club owner's first or last name into the name, for example, "Joe's Gym" or "Smith Fitness." Another choice is to make a clever play on words or utilize the owner's name, such as "Train with Tom" or "Sweat with Sarah."
10. Should a fitness name be unique or can it be similar to other fitness studio names?
While it's crucial to give your fitness center a distinctive name that sets it apart, it's also viable to use a name that sounds similar to that of other gyms. For instance, there are two gyms in the market with the names "Anytime Fitness" and "24 Hour Fitness" that are comparable. However, it's crucial to avoid choosing a name that sounds too much like that of another gym, as this could result in legal problems or customer misunderstanding.
Choosing the Right Name for Your Fitness Center is Vital
Having a business name that fits you is a key step in making your organization as successful as it can be. The right gym name can in many cases be the making or breaking of your gym. It is the first thing a customer comes across and is the first point of contact the public has with your brand.
Choosing the right name is key. But it can also be a great challenge. Following the steps we have laid out above, and with the inspiration of gym name ideas, you are sure to find the gym name that not only draws in customers but represents you and your gym perfectly.
If you enjoyed reading this article on gym names, check out these: