A good workout starts with good prep. You need your training schedule at the ready. Ask Arnie. Reps and reps. The same applies If you are thinking about opening your own gym. Prep and rep mean the difference between failure and success.
Go through your list enough times to check if you haven't forgotten anything important. Wait. Let's first make a list. It can be a bit overwhelming. That's why this guide to opening a gym may be useful.
Many questions pop up in your head. What type of business is a gym? How much does it cost to open a gym? Is opening a gym profitable? How much do gym owners make?
You might want to be one of the lucky few who make their hobby their job. Or perhaps you are attracted by the revenue. It's true, you will have a bunch of potential clients. It's a huge market. They come by the millions, looking to lose weight, gain muscles, or just to get in shape. Fitness is golden.
This means there is a lot of competition. To prepare yourself properly, learn from experienced business owners. They will all confirm that research and setting up a solid business plan are the two first steps.
Sit down and calculate the costs. Determine your target market. Come up with a brand name that stands out. Hold on!
A bit overwhelming? That's a euphemism indeed. Thinking of how to open a gym needs to be an orderly process.
The first step for starting a gym: Plan your Business
Want to start a gym?
First, you write down the essentials.
Like studying a course to prepare yourself for an exam, you start with the table of contents. Once you got the contents in your head, half of what you need to know is dealt with.
The same applies when you plan to start a gym.
Opening a gym business plan

Nowadays creating a business plan isn't such a hard and boring process as it used to be. Now you can go through the process in a step-by-step manner using a tool like IdeaBuddy, which will keep your focus on one thing at a time, and help you to go fill in all vital parts of it.
Your specific business plan is made up of various questions that will answer:
Name of your gym
Who will be your customers?
Location
Gym start-up costs and funding. How much does it cost to start your own gym?
Legal structure and licenses.Getting all the paperwork in order
Promotion/marketing
Expectations of revenue
When do you think you will break even?
Matching your staff with your customers
Think about the necessary investments: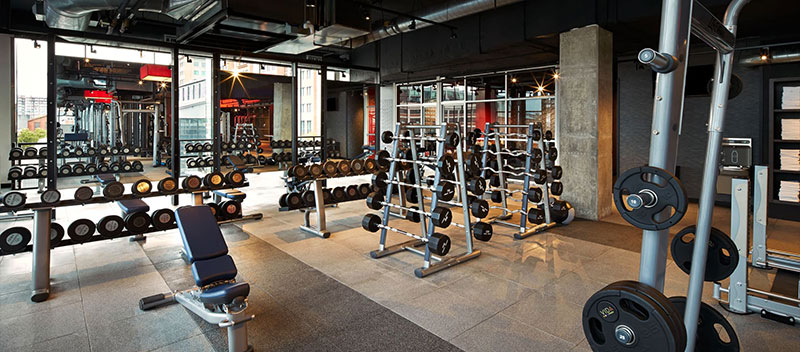 Accounting and business software
Client management and scheduling software
Website and digital marketing
Fitness equipment
Design
Ample lighting
Staff
This gives you an idea of your itinerary. Your destination will be a profitable business. Let's put some flesh on the frame.
Target market: Who will be your customers?

Market research is the first you do. This is an expensive way to say: what kind of customers you want to come and keep coming?
Draw out a profile of your preferred client:
Clients who want to lose weight?
Clients who wish to work-out with personal trainers to meet personal fitness goals?
Bodybuilders who want to be Schwarzenegger?
You will want to buy the appropriate equipment. And hire staff that meets the expectations of your customers.
Your clients are your niche. Adept your gym accordingly. Niches or types of gyms can be:
Specialty fitness center
Traditional gym
Medical fitness and wellness center
Family Fitness and wellness center
Now think of a name for your gym

Try to match the name with your target market and type of gym. Arnie's Family Fitness may target your desired niche. It also might attract aspiring bodybuilders.
Be imaginative and specific. Then ask yourself, if you were your ideal client, would you want to go to <insert your gym name>?
Next is location

Again, think about your customers. This will be in your own interest. The right location can break or build your gym.
What if a customer has an hour to spare and wants to hit the gym? A lunch break workout might come in handy. So, located within walking distance preferably.
Foot traffic is another good one. You want lots of people walking by and popping-in for info.
Costs and convenience are factors that influence your traffic. Don't give customers an excuse to skip a session. A nearby location helps to avoid this. Find a location that is easy to reach by car, foot, and public transport.
How many clients are you aiming for? How much space will you need? Which location is suited for the size of your gym?
Start-up costs and funding

You can expect between $10,000 for a personal training studio to $50,000 for a fully equipped commercial gym. This what your equipment will cost. The location will affect the total cost.
Unless you are willing to pay ten times as much, avoid areas that are known to have high rental costs(looking at you, NYC). The only reason you would choose such an area is if your ideal clients are to be found there, and only there — if that's the case, think niche.

Your start-up costs will go to:
1. Rent
The most expensive cost. And monthly!
2. Equipment
A small personal training studio can be equipped with around $10,000. Commercial gyms will need about $30,000 to $50,000.
3. Employees
Be ready to pay your top trainers $25 an hour. Also, you may need an accountant, maintenance workers, a marketing person or team, and a lawyer.
4. Licenses/Permits
5. Legal Fees
6. Software
How to start your own gym with no money?

Start with a small business and grow bigger later.
Keep marketing free. Business cards at your front desk. Use social media, cross-promote with other businesses, give free trials of your services.
Use Free Resources. The US Small Business Administration offers free services. From help with business plans to legal and accounting advice, take advantage of these.
Word of mouth. Happy clients will talk to others.
And how to come up with this kind of money?
Even starting a small business will set you back. Only the sunlight is free. You could live on water and bread for a decade, or find an investor who doesn't want to own 51% of your business. A business partner is another possibility. You could also open a gym franchise.
Sole ownership is only possible with taking a loan. Owning your own gym salary is a plus. You will own the entire debt too, of course. Keep that in mind. But it will be your business only.
Get a loan at:
A local bank or credit union for a small business loan
Look for online alternatives, for fewer requirements and faster funding
You will need to show up with a proper business plan. No business plan means no loan. The U.S. Small Business Administration helps you to develop your business plan and to get loans. In Europe, you can find similar organizations.
Legal structure, licenses, and certificates

Choose the best legal structure for your independent business. There are several possible structures.
Sole proprietorship
Partnership
S corporation
C corporation
Limited Liability Company (LLC)
Gym licenses and permits:
The most important license you need as a gym owner is a business license. The cost depends on how large your team is. It will not be more than a few hundred.
Try to hire trainers with a license already, so you don't need to spend on getting them licensed.
Research local demands, as this varies from state to state. Then get the business licenses. And check regulatory laws: building permits and health department requirements.
Certification:

Get a fitness professional certification, for more credibility.
The American Council on Exercise and the International Health, Racquet, and Sportsclub Association all offer certification and business education courses.
Insurance:
Get it from an agent who specializes in business insurance. Gyms and injuries go hand in hand.
Don't be one of those gym owners who think this can't happen to them.
Tip: avoid legal issues by putting a clause in the membership contract. Prevent customers from suing for self-caused injuries.
Promoting and marketing
A website

Your website must provide information such as:
The services you provide
Opening hours, location, contact info, and pricing
An online booking system
Appointment scheduling plugins relieve you from a lot of work. Your calendar will be bulked up without breaking a sweat. Here's the best solution in our biased opinion:
Amelia

Amelia is a WordPress booking plugin created by our team at TMS Outsource. It includes all of the features that a gym needs.
Amelia is an excellent option for any business in the fitness industry because it is easy to install and does not involve a steep learning curve. After installation, users enjoy free and complete booking functionality.
It doesn't matter if you're a personal trainer or if you own a fitness studio. Amelia is so versatile that it can match any expectations.
It can be fully integrated with WooCommerce so that you can accept payments via PayPal or Stripe. You also get calendar sync, whether you use Google Calendar or Outlook Calendar.
With Amelia, it's easy for your clients to book appointments. It's a perfect booking system and a simplified solution to online booking.
Plus, the settings can be highly customized to suit your needs. Not only the settings but you can also customize the booking page so that it fits your brand.
Making appointments and subsequently managing them is a breeze with the integrated capabilities.
It sends SMS reminders to both the client and the relevant employee. It also includes functions for canceling and rescheduling appointments.
You can do a test drive on the demos page where you can see how it looks both on the frontend where the booking page is and the backend where you have your dashboard.
In this way, you'll have a good idea of how your booking website will look both on the front end and the backend.
If you plan on starting a gym, a booking option like Amelia is a necessity. Especially at this price.
Retention

This is all about relationships and branding. Give your customers an experience they will not find elsewhere. When they think of you at home or elsewhere, make them wish they were rather at your gym instead. Your loyal customers are the backbone of your success.
Social Media

Don't start a gym and then ignore social media.
Social media channels get you connected with your customers and future clients. Completely for free!
Raise the bar. Use Twitter, Facebook, Instagram, community profiles, Yelp, and Google My Business. Reach out to influencers, offer them specials or freebies in return for a review or shoutout.
Expectations on revenue and break-even

How much do gym owners make? To predict your revenue you have to factor in natural ups and downs. The time of the year has an effect on new memberships. You might find more people come to the gym in winter and less in summer or vice versa.
A year-long membership will cost $20 to $50 per month. You can also charge a sign-on fee of $100 to $300.
Now that you know the membership cost per person, you can multiply. It all depends on the size of your business. Are you visualizing opening a small gym? Or thinking about starting a warehouse gym?
A small gym with 300 members can make a minimum of $100,000 per year. Big gyms can make more than $600,000 annually.
Besides size, location affects your income. A gym in a small town can't expect huge revenue.
Don't expect to break-even in your first year. Look at the larger picture and try to predict your sales over the next five years.
Match your staff and gym equipment with your customers

Employ trained and certified professionals. Your customers expect no less. Fitness instructors and personal trainers have to prove themselves. Both in-house personal trainers and freelancers should be motivated and involved.
Leasing the equipment makes sure you have the latest fitness technology. You can test it out. It will often include maintenance of the equipment.
Conclusion on opening a gym
Six months to a year later, your business is now in full flow. You took the steps described in this guide. You stuck to your opening a gym checklist. You realized that a small gym business plan is no different from a huge gym plan.
You are a success because you started off with a business plan that at least includes:
Client-friendly location
Fully insured and licensed
Promoting the business through clients, and online presence
A professional team
Opening a gym can be extremely profitable, not only for your bank account but also for your sense of life satisfaction. Live the dream by starting with a firm foundation and building a true business today.
We hope you enjoyed reading this article about opening a gym created by the team at Amelia (the best WordPress booking system).
You should also check out this one on starting a fitness business.
We also wrote about a few related subjects like how to be a successful Beachbody coach, gym names, gym management software, gym marketing, managing a gym, gym owner mistakes, personal trainer website, and gym WordPress theme.