Calendly is an appointment scheduling software that people from all around the world have been using for calendar scheduling.
Still, a lot of people are looking for alternatives to use.
A Calendly alternative that you might be interested in should come with a variety of useful features. These include automated notifications, buffers, daily limits, team pages, admin features, payment integration, Google Calendar and Outlook integration, and more.
Considering you are reading this article, you aren't a Calendly fan and you might consider taking a look at some of the best Calendly alternatives we're presenting in this article.
A good Calendly alternative has to have all the best features that Calendly offers and then some that make it even better. Some Calendly competitors have taken this task very seriously and are continuously working on their products.
That being said, if you feel like Calendly is too basic for your needs, take a look at Calendly alternatives that have incorporated some more advanced features and have taken calendar scheduling tools to an entirely new level.
The Best Calendly Alternatives
Amelia
SimplyBook.me
Vyte
10to8
HubSpot
vCita
Appoint.ly
Checkfront
AppointmentPlus
HouseCall
HappyGoMobile
Let's look at them in detail.
Amelia – the best Calendly alternative

Amelia is a powerful WordPress booking plugin that works flawlessly with WordPress sites of all kinds. It has a minimal, yet powerful appointment booking interface designed to ease your workflow, automate repetitive tasks and make appointment booking a breeze for your customers.
You can even have email notifications and SMS notifications so that nobody forgets about their appointment bookings.
In order to book an appointment, the complete user interaction takes a few clicks with this WordPress plugin. Moreover, it includes payment gateways like PayPal and Stripe, perfect for those who want to pay in advance to book appointments.
As a business owner, you can monitor KPIs in the WordPress dashboard and analyze other important data to keep a pulse on your business. Amelia is a straightforward, no-nonsense booking calendar plugin and an amazing option for those who want an around-the-clock solution for their WordPress site.
The plugin has an Events Calendar module that is nothing short of amazing.

You can now automate your event bookings as well. To be more precise, it means that you will be able to schedule a single day, a multi-day, and also recurring events with Amelia.
Did we mention that you can manage multiple event venues and that you have Google Calendar integration?
All the features that Calendly has and much more are under only one license, no add-ons are needed.
To test things for yourself, I'd suggest checking out the demos and see how things look on the front end as well as in the back-end.
Hands down, this is the one you should pick from this list of the best WordPress booking plugins. Yet, you can check out the other options as well.
Trafft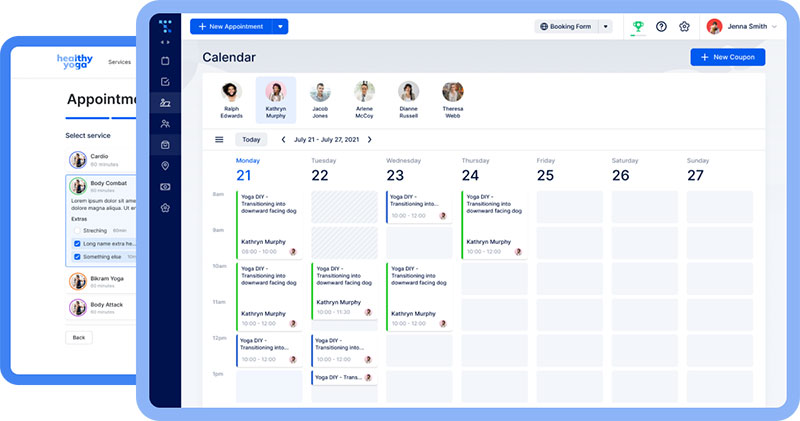 Now, Trafft is something else. It's the premium scheduling software that you can get at an affordable price. You can schedule on-site or virtual appointments, meetings & events, manage staff and services, accept payments, send reminders – all in one tool.
Trafft streamlines the booking process for your potential customers by making it easy and fast to book and pay for your services, improving the interaction rate, and boosting conversions by up to 30%.
What's really neat about it for some business owners is that they don't need to have a website to use it. Trafft will generate an SEO-optimised booking page that you can integrate with Google or Instagram. Or you can embed the booking form on your existing website if you already have one.
If you want to spend 2 hours less daily on admin tasks, you should get Trafft.
SimplyBook.me

Another great alternative to Calendly is an online booking system called SimplyBook.me. If you are looking for a free scheduling solution, you can create a free SimplyBook.me account and try out the demo to ensure that this software is the right choice for you.
The key benefits include notifications via SMS or email, accepting and managing online bookings quickly and easily, accepting payments through a range of payment methods including Stripe, PayPal, and other popular payment processors, booking widgets for Facebook, WordPress and other CMS systems, and a variety of custom features to fit your business.
Vyte

If you are looking for one of the best online scheduling tools free of charge, Vyte might be a good option for you. With its lovely design and top-notch user experience, Vyte is one of the Calendly competitors worth taking a closer look at.
However, it is slightly different than the Calendly appointment scheduling software in the sense that Vyte is more customizable, it supports multiple languages, it comes with a full calendar view which makes the scheduling process much smoother and faster, and it is API-friendly.
When talking Calendly vs Vyte, one of the biggest differences is that Calendly does not automatically add the meeting to your invitees' calendar at meeting confirmation. However, with Vyte, you don't have to worry about that because not only does everyone get a confirmation via email but there are also calendar integrations possible and the meetings are automatically added to everyone's calendar.
10to8

If you already know how to use Calendly and are now looking for an alternative with some more advanced features, 10to8 is one of the appointment scheduling systems that might be worth your attention.
10to8 is more than just an easy to use appointment scheduling software. It is an all-in-one solution for bookings and calendar management that will save you a lot of time if you are running an appointment-based business.
In addition to being a great scheduling tool, this software also allows you to communicate with your users on many different levels; from sending out automated notifications to staying in touch with them via a 2-way Chat. Additionally, all conversations with your users will be displayed directly in your calendar so you will not waste any time searching for specific parts of the conversation.
Other useful features that this booking software has are Group Meetings, SMS & Email Reminders, Integrations with over 500 apps, Online Payments, Live Reports, Calendar Sync, and more that a business needs to schedule meetings and organize them.
HubSpot

If you are looking for apps like Calendly, HubSpot should also be on your list of apps to check out. It was specifically tailored to help you manage bookings of small to mid-sized businesses. This great app provides a wide variety of customization features to fit your brand as best as possible.
The HubSpot CRM comes with everything you need to organize, track, and build better relationships with leads and customers. If you are looking for a Calendly alternative, HubSpot is one of the best ones you can find.
vCita

vCita is another easy to use scheduling app for small businesses used by thousands of people worldwide. This is one of the calendar scheduling programs that can help you manage all of your business in one place.
The features can be divided into three major categories; Client management, Calendar management, and Billing & Invoicing. With this app, you can let clients take actions online with online scheduling, online payments, and a client portal. Additionally, you can step up your marketing with lead capturing, marketing campaigns, and your personalized business page.
Appoint.ly

Appoint.ly is another one of these appointment scheduling tools similar to Calendly. The key features of this handy app include integration with all major calendars, time-zone synchronization, manual availability settings, personalized link, email notifications, unlimited appointment types, and complex analytics for you and your team. It comes in two versions; Free and Premium.
Checkfront

Checkfront is one of the best calendar scheduling software for people running an appointment-based business. It comes with a variety of features and tools, as well as with the best scheduling calendar possible.
You can use it to set your rates, packages, special offers, and availability, to handle online reservations and payments, or even to manage bookings such as tours, guiding services, rentals, and accommodation. Additionally, with the great analytics tools, you will always be up to date with your schedule and changes.
AppointmentPlus

AppointmentPlus is one of the greatest Calendly alternatives for managing appointments and schedule meetings quickly and easily. This appointment scheduling tool will act as your personal digital secretary and take care of all your bookings while you can focus on more important things such as providing the best services to your clients.
This system offers different service packages for different business sizes and types. This means that you will be able to choose a set of features and tools that best fit your business and your booking management needs.
Acuity Scheduling

If you want another easy to use online appointment scheduling app, Acuity Scheduling is an option you can try to schedule appointments online. It allows business owners and managers to customize a booking page that will enable clients to use coupons, includes add-on services, selects recurring appointments, complete client intake forms, and settle their payments in advance.
It also sends customized reminders to clients via email or SMS notifications to reduce no-shows, and it also integrates with major third-party apps such as Stripe, Square, Zapier, PayPal, and Google Analytics.
HouseCall

HouseCall Pro is online appointment scheduling app to run your home services business and give your users the experience they deserve. It offers both a web portal and a mobile app and your users can book online through HouseCall Pro's website, consumer booking app, Facebook page, and Yelp page.
The key features include online booking, scheduling, estimates, custom texts and emails, invoicing, follow-up marketing, and more.
HappyGoMobile

HappyGoMobile is the best Calendly alternative for pet care business owners. Every feature was designed to accommodate the needs of pet care professionals and make their job a lot easier. Your clients can make appointments and fill out custom forms easily. Then, they can get their invoices and complete their online payment in a matter of minutes.
Additionally, the booking widget allows pet owners to add requests that can help you provide the best care possible to their 4-legged friends. On top of that, with this user-friendly app, you will be able to record each pet's medical history and other data essential for providing top-notch care.
If you enjoyed reading this article about Calendly alternatives, you should also read these: