While Calendly has undeniably been a frontrunner in simplifying the scheduling process, the ever-evolving landscape of technology has given rise to a new wave of innovative solutions. It's imperative to explore the best Calendly alternatives that have emerged in 2023, each offering a unique set of features and functionalities to cater to diverse scheduling needs.
Considering you are reading this article, you aren't a die-hard Calendly fan and you might consider taking a look at some of the best Calendly alternatives we're presenting in this article.
A good Calendly alternative has to have all the best features that Calendly offers and then some that make it even better. Some Calendly competitors have taken this task very seriously and are continuously working on their products.
That being said, if you feel like Calendly is too basic for your needs, take a look at Calendly alternatives that have incorporated some more advanced features and have taken calendar scheduling tools to an entirely new level.
What Is Calendly?

Calendly is an online scheduling tool designed to simplify the process of booking appointments, meetings, and events. It provides an efficient and user-friendly way for individuals, professionals, and businesses to share their availability with others and allow them to select convenient time slots for interactions.
Through its user-friendly interface, Calendly simplifies the often complex process of finding suitable meeting times by enabling users to define their availability and allowing participants to choose from those options.
With Calendly, the need for back-and-forth communication to find suitable meeting times is minimized. This saves time and reduces the chances of scheduling conflicts.
Calendly integrates with popular calendar applications like Google Calendar, Microsoft Outlook, and Apple Calendar. This ensures that scheduled appointments are automatically added to users' calendars. Also, Calendly offers multi-timezone support, KPI tracking, and various appointment customization options.
What are Calendly's main disadvantages?
While Calendly is a popular and user-friendly scheduling tool, it's important to be aware of its potential disadvantages:
Limited Personalization: While Calendly offers some customization options, its branding and design capabilities might be limited for users who require highly tailored and branded scheduling experiences.
Complex Scheduling Scenarios: Calendly works well for simple scheduling needs, but it might struggle with more complex scheduling scenarios that involve multiple participants, different time zones, or intricate appointment requirements.
Privacy Concerns: Calendly typically requires users to share their availability openly with participants. In situations where privacy is a concern, sharing detailed availability might not be ideal.
Dependence on Participants' Cooperation: Effective scheduling through Calendly depends on participants actively engaging with the scheduling links and selecting suitable time slots. If participants do not respond promptly or accurately, it can result in delays and scheduling challenges.
Lack of Flexibility in Free Plan: While Calendly offers a free plan, it comes with limitations in terms of customization options, integration features, and the number of appointment types. Users with more advanced needs might find the free plan restrictive.
Integration Complexity: While Calendly integrates with popular calendar apps, setting up integrations and ensuring smooth synchronization might require technical knowledge. Some users might find the setup process less intuitive.
Subscription Costs: While Calendly offers a free plan, users with more advanced needs or specific requirements might need to subscribe to premium plans, which can involve additional costs.
If these disadvantages are dealbreakers for you, or you find that Calendly lacks some important features you need, we have good news – there are plenty of Calendly alternatives for you to try out. And we've selected the very best ones available on the market.
Let's take a look!
The 20 Best Calendly Alternatives You Should Try in 2023
Amelia: The Best Calendly Alternative for WordPress

Amelia is a powerful WordPress booking plugin that works flawlessly with WordPress sites of all kinds. It has a minimal, yet powerful appointment booking interface designed to ease your workflow, automate repetitive tasks, and make appointment booking a breeze for your customers.
What do Amelia and Calendly have in common?
Despite their differing platforms – WP Amelia being a WordPress plugin and Calendly operating as a standalone web-based platform – they have similar core functionalities that make them suitable choices for managing schedules efficiently.
Both WP Amelia and Calendly offer user-friendly interfaces. They prioritize intuitive interactions for both service providers and clients, resulting in seamless scheduling experiences. Also, both tools deliver a completely automated scheduling process.
How?
By displaying available time slots through online calendars, which lets clients select their preferred appointment times based on the availability provided by the service provider. Not only does this automation make the booking process faster but it also helps avoid scheduling mistakes and conflicts.
Both Amelia and Calendly offer plenty of integrations, as well as customization options to help create a consistent brand experience. Also, neither tool overlooks automated notifications and reminders, payment integrations, and different time zones.
What does Amelia have that Calendly doesn't?

Some of the distinctive features that make an excellent WordPress Calendly alternative are:
WordPress integration: WP Amelia is a WordPress plugin, which means it seamlessly integrates with WordPress websites. This integration allows businesses to embed their scheduling and booking functionalities directly within their website, maintaining a consistent user experience and branding.
Direct website bookings: With WP Amelia, customers can book appointments directly on your website, without being redirected to an external platform.
Advanced customization: Amelia provides more advanced customization options for businesses to tailor their scheduling processes to specific needs. This includes customizable booking forms, multiple service providers with unique availability, and custom forms.
Multiple locations and services: Amelia supports businesses with multiple physical locations or offering a variety of services. This is particularly useful for businesses such as clinics, salons, or fitness centers that need to manage appointments across different locations and services.
Employee and customer management: Amelia offers tools to manage employee profiles and customer information within the WordPress environment.
Email templates: Amelia provides customizable email templates for notifications and reminders sent to customers and service providers. This helps maintain a consistent brand voice and style in communication.
Payment gateways: While both Amelia and Calendly offer payment integration, Amelia's integration might be more adaptable for businesses in certain regions and industries due to its range of supported payment gateways.
WordPress ecosystem: Being a part of the WordPress ecosystem, Amelia can leverage the vast array of plugins and themes available for WordPress, allowing you to further enhance your website and booking systems.
Pricing & ratings
Amelia offers three different pricing tiers to suit various needs.
The Basic plan comes at a price of $79 per year. It's perfect for small businesses or individuals looking for basic scheduling capabilities for one domain. The Pro plan is $119 and includes all features and can be used for multiple domains. The Developer plan will cost you $319 and is designed to cater to larger businesses or agencies who are looking for a reliable booking solution to offer to their clients.
Ratings:
4.9 on Capterra
4.7 on Trustpilot
4.9/5 on GetApp
The best thing?
All the features that Calendly has and much more are under only one license, no add-ons are needed.
Grab Amelia now and see for yourself why this is the best Calendly alternative you can get!
Trafft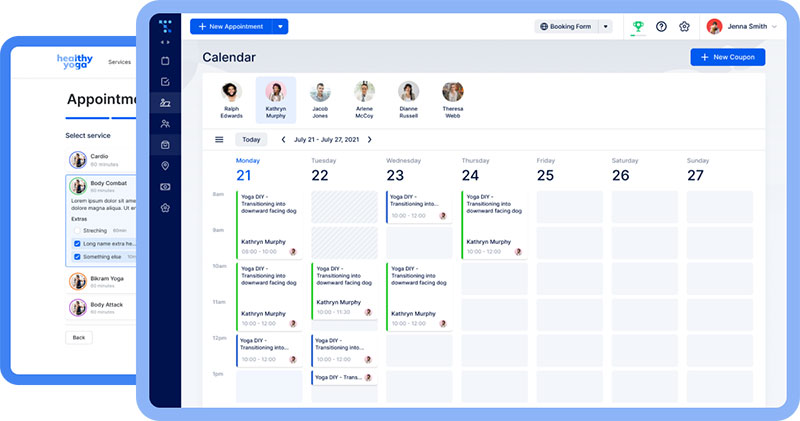 Trafft is another one of Calendly competitors worth your while. It's the premium scheduling software that you can get at an affordable price. You can schedule on-site or virtual appointments, meetings & events, manage staff and services, accept payments, send reminders – all in one tool.
Trafft streamlines the booking process for your potential customers by making it easy and fast to book and pay for your services, improving the interaction rate, and boosting conversions by up to 30%.
What's really neat about it for some business owners is that they don't need to have a website to use it. Trafft will generate an SEO-optimised booking page that you can integrate with Google or Instagram. Or you can embed the booking form on your existing website if you already have one.
Pricing & ratings
You can choose from four different pricing plans – Free (for up to 5 members), Starter ($19), Scaling ($49), and Enterprise ($200). The Free plan is free forever, and the other three can be purchased as either monthly or yearly plans.
Ratings:
5/5 on Capterra
4.7/5 on G2
Excellent on TrustPilot
5/5 on GetApp
SimplyBook.me

Another great alternative to Calendly is an online booking system called SimplyBook.me. If you are looking for a free scheduling solution, you can create a free SimplyBook.me account and try out the demo. That's the best way to ensure that this software is the right choice for you.
The key benefits include:
Notifications via SMS or email;
Accepting and managing online bookings quickly and easily;
Accepting payments through a range of payment methods including Stripe, PayPal, and other popular payment processors;
Booking widgets for Facebook, WordPress, and other CMS systems;
Variety of custom features to fit your business.
Price: A free plan includes 50 bookings, whereas paid plans start from $8.25 per month for 100 bookings.
Ratings:
4.6 on Capterra
4.6 on GetApp
4.7 on FinancesOnline
4.4 on G2 CROWD
3.6 on AppStore
Doodle

Another Calendly competitor on our list is Doodle. Doodle is a versatile online scheduling tool that simplifies the process of coordinating meetings, events, and appointments among groups of people.
Its user-friendly interface allows users to create polls with various date and time options, making it easy for participants to indicate their availability and preferences. Doodle's intuitive design ensures that even non-tech-savvy individuals can quickly grasp how to use the platform.
One of Doodle's standout features is its ability to sync with popular calendar applications like Google Calendar, Outlook, and iCal, ensuring that participants' schedules remain consistent.
In addition, Doodle's platform accommodates different time zones, making it convenient for global teams to find suitable meeting times without confusion. Moreover, by providing automated reminders and notifications, Doodle minimizes the chances of missed appointments or meetings, enhancing punctuality and professionalism.
What really sets Doodle apart and makes it a great alternative to Calendly is its collaborative nature. Multiple participants can view and contribute to the scheduling poll, which streamlines the scheduling process.
Oh, and if you want to know more about Doodle, see how it compares to Google Calendar and When2Meet.
Price: The free plan is fairly limited, with only the most essential features. Paid plans start from $6.95 per user per month.
Ratings:
4.6/5 on Capterra
4.4/5 on G2
4.6/5 on GetApp
Sign In Scheduling (formerly 10to8)

If you already know how to use Calendly and are now looking for an alternative with some more advanced features, Sign In Scheduling is one of the appointment scheduling systems that might be worth your attention.
Sign In Scheduling is more than just an easy-to-use appointment scheduling software. It is an all-in-one solution for bookings and calendar management that will save you a lot of time if you are running an appointment-based business.
In addition to being a great scheduling tool, this software also allows you to communicate with your users on many different levels; from sending out automated notifications to staying in touch with them via a 2-way chat. Additionally, all conversations with your users will be displayed directly in your calendar so you will not waste any time searching for specific parts of the conversation.
Other useful features that this booking software has are group meetings, SMS and email reminders, integrations with over 500 apps, online payments, live reports, calendar sync, etc.
Price: Pricing starts from $7.20 per seat / per month.
Ratings:
4.7/5 on Capterra
4.6/5 on G2
4.7/5 on GetApp
4.7/5 on Software Advice
Acuity Scheduling

If you want another solid online appointment scheduling alternative to Calendly, Acuity Scheduling is an option you can try to schedule appointments online. It allows business owners and managers to customize a booking page that will enable clients to use coupons, include add-on services, select recurring appointments, complete client intake forms, and settle their payments in advance.
It also sends customized reminders to clients via email or SMS notifications to reduce no-shows. Moreover, it integrates with major third-party apps such as Stripe, Square, Zapier, PayPal, and Google Analytics.
Check out how Acuity Scheduling compares to Square Appointments and Setmore and discover some of Acuity's best alternatives.
Price: Starts from $20 per month.
Ratings:
4.8/5 on Capterra
4.7/5 on G2
4.8/5 on GetApp
HubSpot Meeting Scheduler

If you are looking for apps like Calendly, HubSpot should also be on your list of apps to check out. It was specifically tailored to help you manage bookings of small to mid-sized businesses. This great app provides a wide variety of customization features to fit your brand as best as possible.
The HubSpot CRM comes with everything you need to organize, track, and build better relationships with leads and customers. If you are looking for a versatile and feature-rich Calendly alternative, HubSpot is one of the best ones you can find.
Price: You can get started with HubSpot Meeting Scheduler for free.
vCita

vCita is another one of Calendly's alternatives. It's a scheduling app for small businesses used by thousands of people worldwide. This is one of the calendar scheduling programs that can help you manage all of your business in one place.
The features can be divided into three major categories; Client management, Calendar management, and Billing and Invoicing. With this app, you can let clients take action online with online scheduling, online payments, and a client portal. Additionally, you can step up your marketing with lead capturing, marketing campaigns, and your personalized business page.
Price: The starting price for vCita is $ 24 /month.
Ratings:
4.5/5 on Capterra
4.5/5 on G2
4.5/5 on Software Advice
4.8/5 on Google
Picktime

Picktime is a versatile and user-friendly appointment scheduling and booking software designed to simplify the process of managing appointments and events. With its intuitive interface, Picktime allows businesses and individuals to create, manage, and customize their schedules effortlessly.
Picktime's standout feature that makes it a great alternative to Calendly is its ability to offer both online and offline scheduling options. This makes it a great choice for a wide range of scheduling preferences.
It integrates with popular calendar applications and ensures that appointments made through Picktime seamlessly sync with users' existing calendars. What's more, the software's analytics and reporting features provide valuable insights into appointment trends, helping businesses optimize their scheduling processes.
Price: Picktime has a free plan that includes the basic features, while paid plans start from $3.00 per user per month.
Ratings:
4.8/5 on Capterra
4.8/5 on G2
4.8/5 on GetApp
Great on Trustpilot
Appoint.ly

Appoint.ly is another one of these appointment scheduling tools similar to Calendly. The key features of this handy app include integration with all major calendars, time-zone synchronization, manual availability settings, personalized links, email notifications, unlimited appointment types, and complex analytics for you and your team.
Price: Appoint.ly comes in three versions – Free, Pro ($8 per user per month annually), and Enterprise (price upon request).
Ratings:
3.8/5 on Trustpilot
4.4/5 on G2
3.5/5 on Software Advice
YouCanBook.me

YouCanBook.me is a powerful online scheduling tool that enables individuals and businesses to effortlessly manage their appointments and bookings. With its intuitive interface, YouCanBook.me allows users to set their availability, allowing clients and customers to choose suitable time slots based on their own schedules.
It seamlessly integrates with popular calendar applications like Google Calendar and Microsoft Outlook, as well as the most popular payment gateways.
In addition, the platform offers customization options, allowing users to personalize their booking pages with branding elements, logos, and colors to maintain a consistent brand identity. All this makes YouCanBook.me another great alternative to Calendly.
Price: YouCanBook.me has a basic free plan and paid plans start from $12 per month per calendar.
Ratings:
4.7/5 on G2
4.6/5 on Capterra
4.7/5 on Crozdesk
OnceHub

OnceHub is a comprehensive appointment scheduling and customer engagement platform designed to simplify scheduling, streamline communications, and enhance customer interactions. It offers a range of tools and features aimed at businesses, professionals, and individuals looking to manage appointments, bookings, and meetings efficiently.
Some key aspects of this Calendly alternative are:
Customizable booking pages: Users can create personalized booking pages that reflect their brand identity. These pages can be customized with company logos, colors, and other design elements to maintain a consistent look and feel.
Multi-timezone support: The platform accommodates appointments and meetings across different time zones, making it suitable for businesses with clients or participants from around the world.
Multi-user access: Businesses with multiple team members can set up individual user profiles with varying access levels and permissions, ensuring proper coordination and management.
Customer insights: OnceHub provides analytics and reporting features that offer insights into appointment trends, booking patterns, and client preferences. This data can be used to optimize scheduling strategies.
Price: Besides a free-forever plan OnceHub's paid plans start from $10 per user per month.
Ratings:
4.3/5 on G2
4.6/5 on Capterra
4.6/5 on GetApp
Checkfront

Checkfront is one of the best calendar scheduling software for people running an appointment-based business. It comes with a variety of features and tools, as well as with the best scheduling calendar possible. And that's exactly what got this Calendly competitor on our list.
You can use it to set your rates, packages, special offers, and availability, to handle online reservations and payments, or even to manage bookings such as tours, guiding services, rentals, and accommodation. Additionally, with the great analytics tools, you will always be up to date with your schedule and changes.
Price: A free plan does exist, but it's not available in every region. Pricing starts from $107 per month.
Ratings:
4.4/5 on G2
4.5/5 on Capterra
4.5/5 on GetApp
4.5/5 on Software Advice
Drift

Drift is a conversational marketing and sales platform that focuses on helping businesses engage with website visitors in real time through chatbots, live chat, and other communication tools. Although it belongs to a different niche, Drift definitely falls into the category of Calendly competitors as they both focus on enhancing interactions with customers and prospects.
Drift is primarily a conversational marketing platform that emphasizes real-time engagement with website visitors through chatbots, live chat, and messaging. It's geared towards driving conversations, lead generation, and customer support.
Calendly is primarily an online scheduling and appointment booking tool. It aims to streamline the process of scheduling meetings, appointments, and events with clients, colleagues, or prospects.
Depending on your specific needs and priorities, you might choose one or both platforms to enhance different aspects of your business operations and customer interactions.
Price: $2,500/month billed annually.
Ratings:
4.4/5 on G2
8/10 on TrustRadius
4.5/5 on GetApp
Clockwise

Clockwise is an intelligent calendar and scheduling platform designed to help individuals and teams optimize their time and work schedules. It integrates with existing calendar applications like Google Calendar and Microsoft Outlook to enhance scheduling efficiency and promote better time management practices.
As Calendly and Clockwise both relate to scheduling and time management, Clockwise is often seen as a Calendly alternative. However, it should be mentioned that these two tools serve different purposes and offer distinct features.
Clockwise is primarily focused on optimizing your time and work schedule. It uses AI to help you prioritize tasks, protect focus time, and strategically organize your calendar.
Calendly is primarily focused on simplifying the process of scheduling appointments and meetings. It allows clients, colleagues, or prospects to book time slots based on your availability.
Price: Clockwise has a free plan and their pricing starts from $6.75 per user per month, billed annually.
Ratings:
4.8/5 on G2
4.3/5 on Capterra
4.6/5 on GetApp
DaySmart Appointments (formerly AppointmentPlus)

DaySmart Appointments is one of the greatest Calendly alternatives for managing appointments and scheduling meetings quickly and easily. This appointment scheduling tool will act as your personal digital secretary and take care of all your bookings while you can focus on more important things such as providing the best services to your clients.
This system offers different service packages for different business sizes and types. This means that you will be able to choose a set of features and tools that best fit your business and your booking management needs.
Price: Plans start from $49/ month.
Ratings:
3.9/5 on G2
4.1/5 on Capterra
4.1/5 on GetApp
HouseCall Pro

HouseCall Pro is an online appointment scheduling app to run your home services business and give your users the experience they deserve. It offers both a web portal and a mobile app and your users can book online through HouseCall Pro's website, consumer booking app, Facebook page, and Yelp page.
The key features include online booking, scheduling, estimates, custom texts and emails, invoicing, follow-up marketing, and more. If you're looking for a solid alternative to Calendly, Housecall Pro might be a good option.
Price: Pricing plans start from $49 per month.
Ratings:
4.2/5 on G2
4.7/5 on Capterra
4.7/5 on GetApp
Outreach

Outreach.io is a sales engagement platform designed to help sales teams effectively engage with prospects and customers throughout the sales process. It provides tools and features that enable sales professionals to automate, personalize, and manage their outreach efforts, ultimately enhancing communication, improving efficiency, and driving revenue growth.
Even though Outreach is primarily a sales engagement platform, it's a solid Calendly alternative for those sales teams looking to effectively engage with prospects and customers throughout the sales process.
Price: Pricing is shared upon request.
Ratings:
4.3/5 on G2
4.4/5 on Capterra
4.4/5 on GetApp
Easy Busy Pets

Easy Busy Pets is the best Calendly alternative for pet care business owners. Every feature was designed to accommodate the needs of pet care professionals and make their job a lot easier. Your clients can make appointments and fill out custom forms easily. Then, they can get their invoices and complete their online payment in a matter of minutes.
Additionally, the booking widget allows pet owners to add requests that can help you provide the best care possible to their 4-legged friends. On top of that, with this user-friendly app, you will be able to record each pet's medical history and other data essential for providing top-notch care.
Price: $247 / Month.
Ratings:
5/5 on G2
4.6/5 on Capterra
4.6/5 on GetApp
Vyte

If you are looking for one of the best online scheduling tools free of charge, Vyte might be a good option for you. With its lovely design and top-notch user experience, Vyte is one of the Calendly competitors worth taking a closer look at.
However, it is slightly different than the Calendly appointment scheduling software in the sense that Vyte is more customizable, it supports multiple languages, it comes with a full calendar view which makes the scheduling process much smoother and faster, and it is API-friendly.
When talking about Calendly vs. Vyte, one of the biggest differences is that Calendly does not automatically add the meeting to your invitees' calendar at meeting confirmation. However, with Vyte, you don't have to worry about that because not only does everyone get a confirmation via email but there are also calendar integrations possible and the meetings are automatically added to everyone's calendar.
Price: Besides its free plan, Vyte is available for $8 monthly.
Ratings:
4.5/5 on G2
4.7/5 on Capterra
4.4/5 on SaaSworthy
So, What Is the Best Calendly Alternative Out There?
As we wrap up our journey exploring the world of alternatives to Calendly, we've come across a variety of tools that can help us manage appointments and schedules in different ways. These tools offer unique features and options to suit various needs, from big businesses to freelancers.
And in this mix, one standout option, especially for WordPress users, is Amelia. It's like a scheduling superhero that works seamlessly with your WordPress website. It's easy to use, has lots of great features, and you can make it look just how you want.
Of course, other tools on our list are definitely worth taking a closer look at, all depending on your specific needs. So, whether you're a one-person show or part of a big team, these alternatives have got you covered for stress-free scheduling.
If you enjoyed reading this article about Calendly alternatives, you should also read these: