Booking an appointment directly online is the easiest way to make sure that you get to where you want when you want. And for business owners of all kinds, adding this function to your website can be convenient and extremely effective in bringing in new business.
Online appointment scheduling makes the booking process much easier to handle as it centralizes appointment details and can be fully automated. Once you've decided to opt for your own online appointment scheduling system, it's time to consider your options.
There are two main ways to implement an online booking system: either by letting the users download a separate app on their mobile phones or desktop or by integrating an appointment scheduling plugin on your WordPress site.
This article created by our team will show you what you need to know about online appointment scheduling and offer you some great choices.
What Is Online Appointment Scheduling?
First off, you need to understand what online appointment scheduling is and how it can keep your business more organized. Online appointment scheduling represents the process in which people can book, schedule, reschedule or even cancel their spot at various events or services.
Beyond the basics, an appointment scheduling app can also help any business owner to optimize the data they collect and keep everything much more organized than they would with the traditional pen and paper method.
Further, online booking can cut costs dramatically because you no longer need to hire a person to keep track of all the appointments. Instead, you will be using a scheduling system that handles and stores all the info for you.
Top Five WordPress Plugins for Online Appointment Scheduling
Amelia

Amelia is an online scheduler that will definitely exceed your expectations. It is a feature-packed plugin that works well with WordPress and has many happy customers to attest to this.
By using Amelia, you can perform all sorts of appointment-related tasks, easily customize the booking process, and even manage appointments for different business locations.
And all those under only one license, no add-ons needed, unlike other similar plugins you'd find in this list.
For those who own business chains, Amelia is the perfect match because it is able to centralize all the data in one place. Amelia is one of the best scheduling apps you can use, regardless of your business' size, and it is exceptionally user-friendly with a clean, modern interface.
Amelia also has an Events Calendar module integrated within its features.

This means that you can automate your Event bookings as well. To be more precise, it means that you will be able to schedule a single day, a multi-day, and also recurring events with Amelia.
To test things for yourself, I'd suggest checking out the demos and see how things look on the front end as well as in the back-end.
Trafft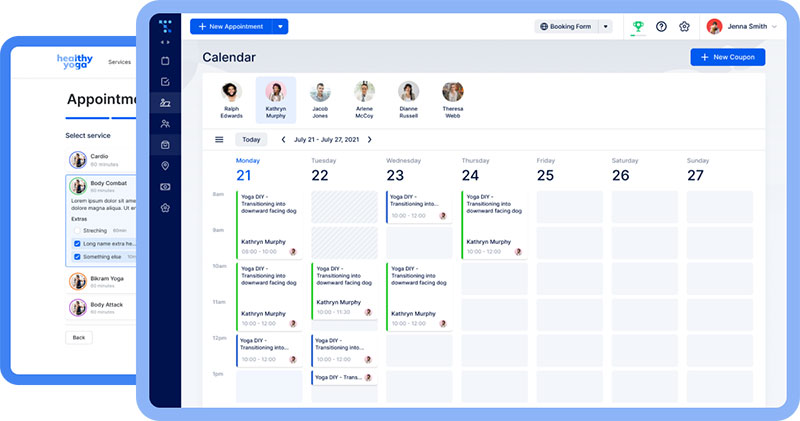 Now, Trafft is something else. It's the premium scheduling software that you can get at an affordable price. You can schedule on-site or virtual appointments, meetings & events, manage staff and services, accept payments, send reminders – all in one tool.
Trafft streamlines the booking process for your potential customers by making it easy and fast to book and pay for your services, improving the interaction rate, and boosting conversions by up to 30%.
What's really neat about it for some business owners is that they don't need to have a website to use it. Trafft will generate an SEO-optimised booking page that you can integrate with Google or Instagram. Or you can embed the booking form on your existing website if you already have one.
If you want to spend 2 hours less daily on admin tasks, you should get Trafft.
BirchPress

When it comes to online appointment scheduling, BirchPress really stands out from the crowd. It is a very comprehensive plugin that works well with professional businesses. Customers can easily book an appointment on your WordPress website, without having to download an app.
It has multiple integrated payment methods, including PayPal. For users' benefit, you can set up customized email notifications, and much more.
Booked 

Booked is a great online appointment scheduling plugin that can sync with external calendars. It is compatible with Outlook, Google, iCal, and more. Visitors can connect their accounts to any of these platforms and the plugin will add the date of the booking directly in their calendar.
The plugin is full of tools that can be very useful both for users and business owners.
StartBooking

StartBooking is a complete solution for those who are just getting started with online appointment scheduling. It is very easy to use, and the tools are numerous enough to manage bookings professionally. You can customize the forms, add different criteria, personalize the time slots, and more.

Bookly is suitable for those who want to integrate their website with a plugin that does all the work as well as those who want to build a scheduling system from scratch. It contains a range of unique tools that will come in very handy for those who want a responsive appointment plugin on their site.
What's great about it is that users can choose between various service providers. You can also add multiple calendars and centralize information from all of them. It is most suitable for businesses that work with team projects.
Top Five Appointment Scheduling Software
Acuity Scheduling

Acuity Scheduling is an online booking system that allows the user to customize the booking process exactly the way they want it. For instance, if you require more details in the booking form compared to the standard cases, you can easily customize it to your specific use case.
You can also give customers the option to make recurring appointments or pay in advance for the services they select. If you offer sales coupons or other promotions, you can add them to the form as well.
Simplybook.me

Simplybook.me is definitely a scheduling app that deserves the praise it gets. It is, at the base, a free scheduling software suite, which means you will cut costs dramatically within the first month of using it. If you like how everything goes, you can opt for a paid plan later.
You can use the scheduling app for 50 bookings per month, which is convenient for small businesses. The app is up 24/7, so clients can book a place whenever they want, without restrictions. The business owner will receive email reminders whenever a change is made, including cancellations. This is also a highly-customizable app.
Appointlet

Another online appointment scheduling software that offers a free plan, Appointlet is full of features that will make the booking process easier than ever.
You can invest in add-ons later if you enjoy how Appointlet handles bookings. It is very user-friendly, customizable, and flexible. It's best used in the beauty and medical industries but it can be adapted for other fields too.
SetMore

SetMore stands out due to how many other programs it is compatible with. This includes QuickBooks, MailChimp, Zendesk, Zoho CRM, and Salesforce. There are lots of ways to combine these programs to keep everything in one place and make your business more effective.
The booking page can also be easily embedded into websites using WordPress, Joomla, Drupal, Wix, or Weebly. This is as simple as copying and pasting a provided code into your website directory.
Finally, even while you are offline, you can access appointment schedules using the desktop platform. If you are a person who is often on the go and may have unreliable access to the internet, this is an important feature to make sure you are always on time.
vCita Online Scheduling

vCita is already known in the business management industry for its amazing software products. It is no wonder why their online scheduling app is just as well-received. It can be integrated with other CRM software programs and is largely focused on generating leads.
Users can also make secure online payments and the app has many tools that can help business owners customize the process.
How to Choose a WordPress Appointment Scheduling Plugin?
If you own a WordPress website and you would like to add a booking page to it without much effort, you need to use a plugin. This is a list of features that you should look for when choosing such a plugin:
A high degree of customizability
Mobile-friendly
Secured online payment gateways
Support for multiple payment gateways
Possibility to view and edit bookings
The ability to add filters to a search
Possibility to make temporary changes (e.g. for holidays)
Possibility to add new fields or create customized drop-down menus
Ending thoughts on these online appointment scheduling apps
Handling bookings manually is never easy, regardless of your business' domain. To save your and your customers' time, you should take advantage of how far technology has come and use a scheduling software instead. All the tips presented in this article are meant to give you some insight and help you make a wise decision.
Whether you decide to use a scheduling app or a plugin, your tasks will be handled in a more efficient manner and everything will run smoother. Moreover, you will reduce the number of misunderstandings caused by fetching data incorrectly. The system will do everything for you!
If you enjoyed reading this article about these online appointment scheduling, you should read these as well: