How Amelia Facilitates Ballaë's Management and Growth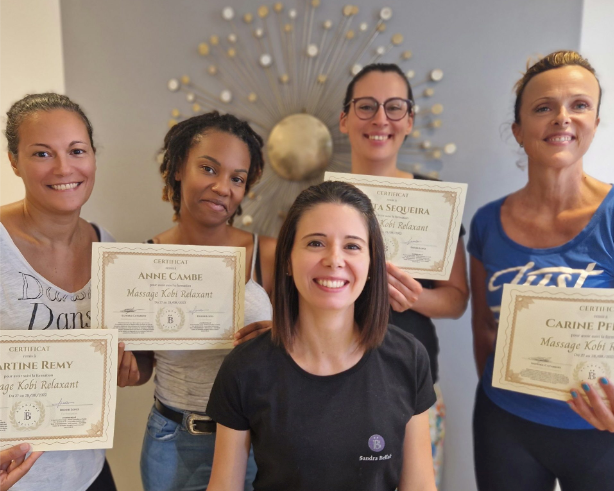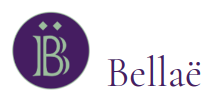 Ballaë is a massage and beauty institute located in Paris, France. Ballaë institute offers many services like different types of massages, pressotherapy, face care treatments, hair removal, and manicure. Besides the revitalizing treatments, Ballaë institute has its own academy that provides innovative training sessions where trainees can learn many massage techniques.
The Story of the Ballaë Institute
Didier Lopes, the co-founder of the Ballaë institute, shared in the interview for Amelia how he and his wife started the business and how Amelia has helped them on their way to building and developing the business.
Didier's wife, Sandra, used to be a pharmacist, but as she has always had an interest in massages and beauty treatments, she decided to take her career in this direction. As Didier is a growth consultant by profession and very digitally literate, the combination of their professions made a perfect match.
From the moment they opened the institute, they knew they wanted to implement a booking system. In the interview for Amelia, Didier explains that he has spent quite some time searching for and testing many different booking plugins and finally found in Amelia everything he had been looking for.
Finding the Booking Plugin That Has Necessary Features and Intuitive Design
Before opening the business officially, Didier's wife, Sandra, used to run her schedule with pen and paper. But, knowing how tiring and disorganized this process is, they decided to implement the booking system from the moment they opened the Ballaë institute.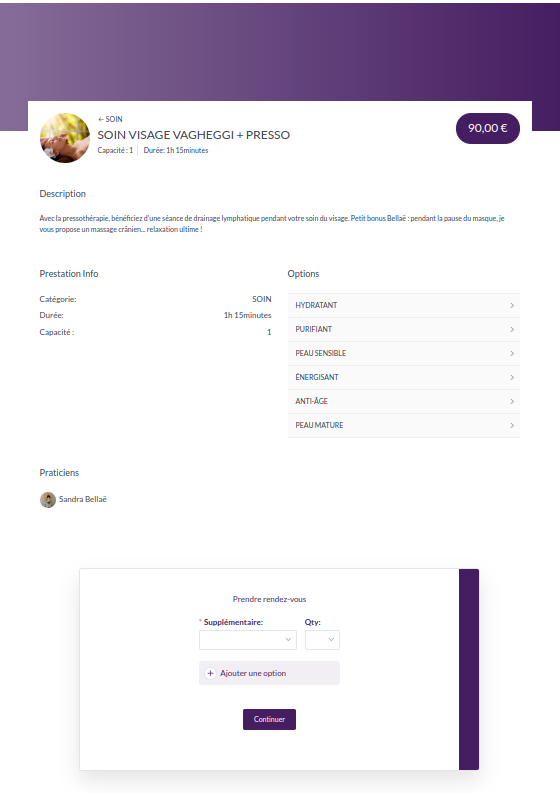 Therefore, Didier immediately started looking for a booking plugin that would facilitate the whole process of booking and help them manage the business. However, this was not such a straightforward process. On the contrary, it was quite demanding and tedious.
They opened the Ballaë institute in 2019, and Didier spent the following year testing different booking plugins. As many of them didn't have free trials, he had to pay immediately, only to find out that he once again didn't find what he was looking for. There was always something that didn't work. Some plugins lacked a user-friendly design, others had constant glitches, and many other problems came up.
After a year of searching and testing, he discovered Amelia. Based on his words, he finally found everything he needed and his search for another booking plugin stopped. The qualities he had been looking for in the booking system and that he found in Amelia were:
User-friendly and intuitive design

Ease of use and implementation

The ability to customize the booking form to match the website

Accessible and helpful customer support
As Didier says, Amelia was the first plugin with a frontend that was easy for customers and employees to use. And when it comes to the support team, he says that every time he had a question, he received answers within a few minutes or hours, which makes his experience with Amelia even greater.
Amelia Helped Ballaë Increase the Number of Appointments and Events
Didier and Sandra have been using Amelia for two years now. It was great to discover that they tend to leverage the power of our plugin.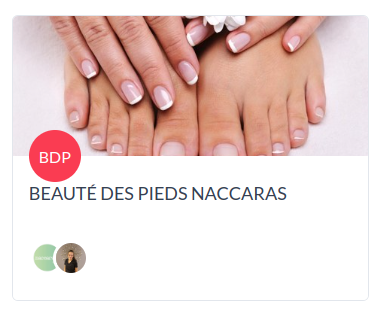 Based on Didier's words, Amelia has given them a professional look and helped them increase the number of bookings because people who visit their website can immediately book a service. And, above all, the booking process is very straightforward. Since they implemented Amelia, they have booked more than 1000 appointments.
Besides managing appointments for massages and beauty treatments, they have recently started using Amelia to organize events for the Ballaë institute academy, where they hold recurring training sessions for people who want to gain knowledge in this area. Up to this point, they have organized 3 events, and are planning to have many more in the future.
Amelia Saves More Than 3 Hours a Day
As previously mentioned, Didier's wife used to run her agenda initially with pen and paper and then with Google Calendar, so she found Amelia's synchronization with Google Calendar extremely useful. She can now have a clear insight into all her appointments with a single look at her Google Calendar.
Amelia's 'day off' and 'special days' features are helpful for both owners and employees because they can set their schedule and limit availability for particular days if they need to, so there can never be any missed appointments.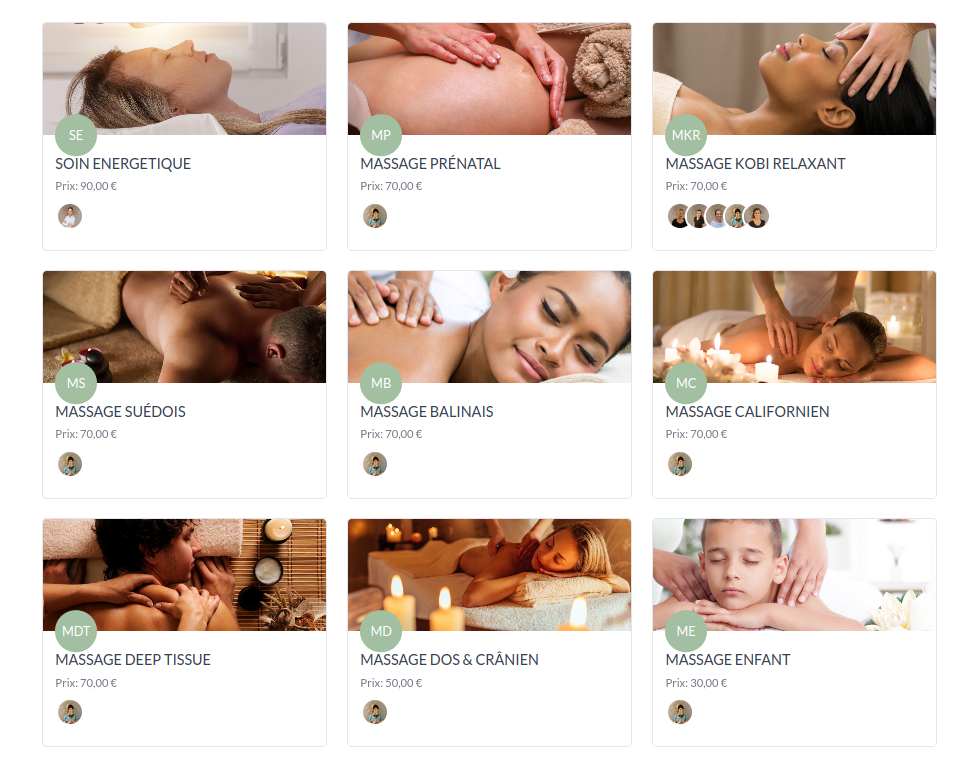 Didier and Sandra also find Amelia very useful when it comes to packages of services. When they decide to offer certain services in a package with a price reduction, they can set everything up very quickly through Amelia. To manage packages with ease, they use a customer panel, where their customers create accounts and book the packages they want.
Didier and Sandra don't come from an English-speaking country, but this doesn't pose a problem because Amelia can be translated into all languages. So, the Ballaë institute customers book services in their native language.
Besides these mentioned features, they use many others that help them run their business effortlessly day-to-day. The greatest benefit they get is that Amelia saves them so much time daily and allows them to spend their free time the way they want.
Let's create inspiring success stories together!
If you want to have an interview with us and share your experience of using Amelia, leave your email and we will contact you.
Or contact us on this email.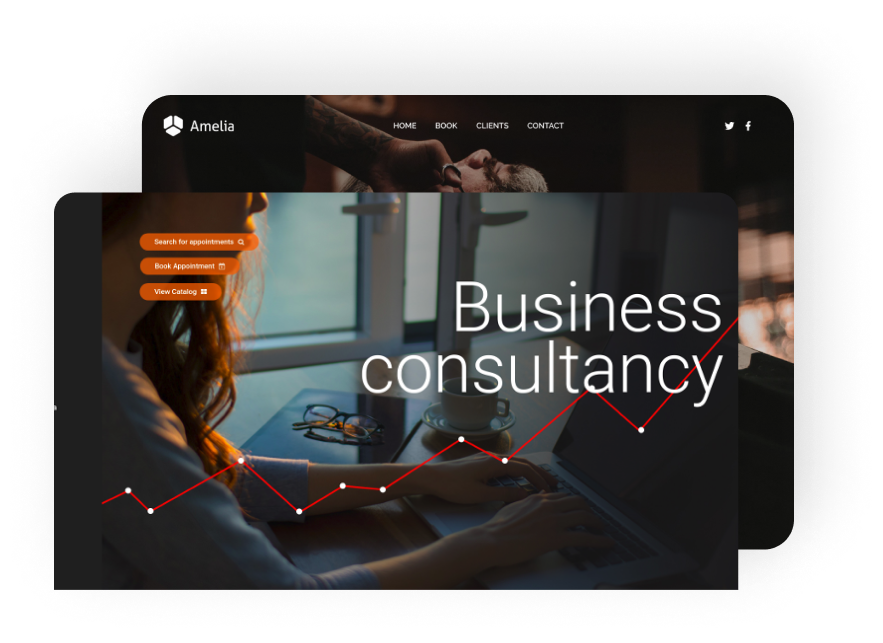 All Rights Reserved (c) TMS, Amelia WP Booking Plugin 2018-2022