In the fast-paced world of website hosting, finding a reliable and high-performing platform can be a daunting task. With countless options available, it's crucial to choose a hosting provider that not only meets your website's needs but also offers exceptional features and support. 
Among the many hosting providers out there, Kinsta has consistently emerged as a popular choice for WordPress users. Especially those seeking top-notch performance and advanced hosting capabilities. 
From its robust Google Cloud Platform (GCP) infrastructure to its commitment to security and user-friendly management tools, Kinsta has positioned itself as a leading hosting provider in the WordPress ecosystem. 
Whether you're a business owner, developer, or simply someone seeking reliable WordPress hosting, join us as we take a closer look at this industry leader. By examining its performance, security measures, scalability, developer-friendly features, and customer support, we'll determine if Kinsta truly delivers on its promises.
What Is Kinsta?
Kinsta is a cloud-based hosting provider that offers fast and reliable managed WordPress hosting. However, besides WordPress, Kinsta delivers premium application hosting and database hosting services as well, which makes it an ideal choice for those looking to manage multiple projects simultaneously. 
Kinsta is well-known for its high-performance infrastructure and advanced hosting features. It utilizes Google Cloud Platform (GCP) paired with isolated container technology to power its hosting infrastructure. This partnership allows Kinsta to leverage the scalability, speed, and reliability of GCP's infrastructure, while isolated containers allow complete isolation of resources for all projects hosted on the platform. The result is fast and reliable hosting for WordPress sites.
But that's not all.
The fact that Kinsta delivers managed WordPress, application, and database hosting gives you the possibility to manage all your projects using only one platform. 
How?
Besides hosting your WordPress-powered website, you can use Kinsta's Platform as a Service application hosting to deploy your apps straight to the cloud. GCP and Cloudflare will ensure speed, efficiency, security, and outstanding performance. Just connect your GitHub, Bitbucket, or GitLab repository and you can immediately start managing your apps.
And if you want, you can add one or multiple dedicated databases to your Kinsta-hosted applications. Setting everything up takes only minutes and you get fast and secure connections without any row or query count limits. 
Kinsta is a popular choice for users looking for high-performance hosting, strong security measures, and convenient management features.
Let's see what are some of the key hosting features that make Kinsta stand out. 
Easy-To-Use Dashboard

Kinsta offers an easy-to-use dashboard that simplifies the management of your WordPress websites. 
The user-friendly interface provides a seamless experience, allowing even those with limited technical knowledge (myself included) to navigate and control their hosting environment effortlessly. 
The dashboard's intuitive design and clear organization make it easy to find and access the desired features and settings. Whether you need to add a new site, configure site-level options, monitor performance metrics, manage backups, review installed themes, add redirect rules, or manage users, Kinsta's dashboard streamlines these tasks, eliminating unnecessary complexities. 
What's more, Kinsta's dashboard offers some pretty amazing features, such as Cron Jobs and Early Hints. 
Cron Jobs lets you automate all those repetitive, time-consuming tasks and background processes, but at the time intervals that work for you. This means that you can choose when and how often you'd like a certain process to run, instead of having it operate in the background at all times. 
The Early Hints feature is designed to make your website even faster and more responsive. It does this by defining a new status code that notifies the browser of the resources that can be loaded in advance. The result? Faster page rendering speed.
With its user-centric approach and straightforward layout, the Kinsta dashboard empowers website owners to efficiently manage their sites and hosting settings without requiring extensive technical expertise.
Infrastructure Built to Deliver Blazing Speeds
As mentioned earlier, Kinsta's infrastructure is built on the powerful Google Cloud Platform (GCP). 
So, what exactly does this platform bring?
By leveraging GCP's cutting-edge technology and global network, Kinsta ensures exceptional performance, scalability, reliability, and speed for WordPress websites. 
Here are some key aspects of Kinsta's infrastructure:
Need for speed through premium software & extensions
Kinsta uses Nginx as its web server as well as the latest version of PHP to power WordPress websites. Nginx's efficient and scalable architecture, combined with PHP's enhanced performance, contributes to faster page load times and improved overall site performance.
Another thing Kinsta uses is MariaDB. That's a high-performance open-source database management system used as the database solution for WordPress sites. It offers improved speed and scalability compared to traditional MySQL databases, ensuring efficient data storage and retrieval.
Performance-boosting hardware
Another major advantage that GCP brings is its latest Compute-Optimized Virtual Machines (C2). These VMs are specifically designed to deliver high-performance computing power. This ensures that websites hosted on Kinsta enjoy fast response times and efficient resource utilization.
Location, location, location
Kinsta utilizes GCP's extensive network of data centers located strategically around the world (over 35 locations available as we speak). 
This enables them to offer hosting solutions in multiple regions. Website owners can then choose the data center closest to their target audience. This leads to reduced latency and better page loading times.  
CDN? Yes, please!

Kinsta includes a built-in Content Delivery Network (CDN) powered by Cloudflare that is included in the price. With more than 275 PoPs available globally, Kinsta's CDN helps accelerate website loading times by caching static content and delivering it from edge servers located worldwide. 
By storing static content in the cache, subsequent requests for that content can be served quickly without the need for extensive processing. This helps to minimize server response time and improve overall page loading speed.
What's more, a distributed approach like this one reduces the physical distance between the website visitor and the server. 
The result? Significantly faster content delivery and improved page loading times.
Optimization is the key
Kinsta provides various performance optimization tools to streamline website loading speed. For instance, automatic image optimization reduces image file sizes without compromising quality. Also, there's asset minification, which compresses CSS and JavaScript files to reduce their size and enhance loading speed.
Additionally, Kinsta encourages and supports website owners in implementing optimization best practices. Leveraging caching plugins, optimizing images and code, and minimizing the use of external scripts and plugins that could impact page loading speed are just some of the practices you should use if you wish to take your website one step further. 
All About Management

Different types of backups are all part of Kinsta's efforts to simplify website management for you.
Automatic Backups

: ensure that your site's data, files, and databases are regularly backed up without requiring any manual intervention.

Hourly Backups

: create a backup every 6 hours or even every hour and get additional restore points.

Backup Access and Restoration

: you can view the available backups, select a specific backup version, and initiate the restoration process with a few clicks.

Manual Backup Creation

: create manual backups at any time for an extra layer of control and assurance, allowing you to create restore points.

External Backups

: backups are stored in an off-site location, ensuring the safety and integrity of your data.
Besides backups, Kinsta performs regular uptime checks to monitor the availability and uptime of your WordPress websites. 
Monitoring Frequency

: uptime checks run every 2 minutes to ensure continuous monitoring of your websites. 

Downtime Notifications

: in the event of any downtime or availability issues detected during the uptime checks, you receive immediate notification.

Troubleshooting and Support

: if any uptime issues are detected, Kinsta's support will investigate the cause of the downtime, help troubleshoot the issue, and provide guidance to resolve any underlying problems affecting your site's availability.
Security Matters

Kinsta provides robust security features to protect your WordPress websites from potential threats and vulnerabilities. 
First off, Kinsta's hosting infrastructure is housed in secure data centers operated by the GCP. These data centers come with multiple layers of physical security. They include access controls, surveillance systems, and redundant power and network infrastructure.
Also, GCP infrastructure includes built-in hardware firewalls that help safeguard your websites. These firewalls filter and block malicious traffic at the network level, mitigating potential threats before they reach your site.
Another advantage of this infrastructure is powerful container technology. Such technology helps isolate and secure each WordPress site hosted on their platform. This containerization approach helps prevent one website's performance or security issues from affecting others on the same server, enhancing overall stability.
What's more, Kinsta is all about SSL and secure HTTPS connections, so the data transmitted between your site and its visitors stays encrypted and protected at all times. 
Worried about DDoS attacks? Don't be, Kinsta's got you covered. Through its Cloudflare integration, Kinsta offers improved DDoS protection. It will quickly identify and mitigate malicious traffic to ensure uninterrupted access to your site.
For an extra layer of security, there's a Two-Factor Authentication set in place, together with regular malware scanning and removal process. 
Stage Away
Kinsta's staging area serves as a separate, isolated environment where you can create a replica of your live website. This allows you to experiment with changes, test new features, plugins, or themes without impacting the live site.
Creating a staging environment takes just a few clicks. You can easily clone your live website to the staging area, creating an exact replica that you can work on separately. This means that any modifications or updates you make in the staging environment will not affect your live website. 
What's great is that the staging area enables collaboration among team members or clients. You can simply share the staging site URL with others. That way, they can review and provide feedback on the changes before they go live.
Once you are satisfied with the changes made in the staging environment, Kinsta offers a one-click push-to-live feature. This allows you to easily transfer the modifications from the staging site to the live website, ensuring a seamless transition.
Free Migrations
If you're looking to transfer your WordPress site to Kinsta's platform, their team of WordPress experts is available to handle the migration process for you, free of charge. 
All WordPress hosting plans include a minimum of one free premium migration credit and come with an unlimited number of free basic migrations.
Basic migrations are perfect for standard WordPress installs, while premium migration credits can be used for multisite networks, dynamic sites, or sites considered to be more complex.  
Kinsta's team has extensive experience in transferring websites and can ensure a smooth and seamless transition from your current hosting provider to Kinsta. They will first assess your current situation to determine the right course of action. They'll check whether your plugins and themes are compatible with their hosting environment. And they will do their best to minimize downtime during the migration process. 
24/7/365 Reliable Customer Support
Kinsta provides round-the-clock English customer support via live chat. This ensures that assistance is available at any time, day or night. Whether you're in a different time zone or facing an urgent issue, Kinsta's support team is there to help you out. 
Besides 24/7 English-speaking support, Kinsta also offers support in French, Italian, Spanish, and Portuguese during select hours. 
Their support staff consists of experienced WordPress professionals who have in-depth knowledge of the platform. They can easily handle a wide range of WordPress-related inquiries and can provide expert guidance and solutions.
Also, Kinsta maintains a comprehensive knowledge base, with resources containing helpful articles, tutorials, and guides that cover various aspects of managing and optimizing your WordPress websites. It serves as a self-help reference, enabling you to find answers to common questions and troubleshoot issues independently.
Evolves As We Speak

Kinsta is committed to continuously evolving its hosting platform and keeping up with the latest updates and technologies in the WordPress ecosystem.
Besides offering the latest WordPress and PHP versions, Kinsta continuously enhances its hosting platform with new features and improvements. They actively listen to customer feedback and implement enhancements based on user needs and industry trends. These enhancements include performance optimizations, new integrations, improved security measures, and user experience refinements.
Additionally, Kinsta regularly updates its infrastructure and leverages the latest technologies to deliver high-performance hosting. They stay up to date with advancements in server technologies, caching mechanisms, database management, and other critical components to ensure optimal performance and reliability for your websites.
One of the groundbreaking features Kinsta introduced is definitely DevKinsta. DevKinsta is a local WordPress development tool designed to be used by everyone completely free of charge. Yes, you read it right: literally anyone can use this tool. You don't have to be a Kinsta user at all – if you want to create a local WordPress website with a complete hosting stack, you'll love this powerful tool.  
In addition, web application hosting, database hosting, and Cloudflare integration are among the most significant updates Kinsta rolled out just recently. 
What About the Price?
Kinsta offers a range of WordPress hosting plans to accommodate different needs and budgets. The pricing structure is based on factors such as the number of WordPress installs, monthly visits, storage capacity, and additional features. 
Starter Plan

: designed for individuals and small businesses. They offer a basic hosting package with essential features and resources. The price of $35/month includes one WordPress installation, 25,000 visits, 10 GB of storage, and one premium migration.

Pro Plan

: caters to growing businesses and websites with higher traffic requirements. These plans offer more resources and additional features to support increased traffic and performance needs. For $70/ month, you get two WordPress installations, 50,000 visits, 20 GB of storage, and two premium migrations.

Business Plans

: suitable for larger businesses and websites with substantial traffic and resource demands. These plans provide ample resources and advanced features. The pricing starts at $115/month and includes five WordPress installations, 100,000 monthly visits, 30 GB of storage, and three premium migrations.

Enterprise Plans

: tailored to meet the specific requirements of high-traffic and enterprise-level websites. These plans offer extensive resources, advanced scalability options, and additional features. The pricing starts at $675/month and includes 60 WordPress installs, 1,000,000 monthly visits, 100 GB of storage, and five premium migrations.
The best thing? You can upgrade or downgrade your current plan easily to ensure you get exactly what you need.
Looking for a booking solution for your appointment-based WordPress website?
Meet Amelia – a powerful booking plugin designed to fit every WordPress-powered website. 
Intuitive, easy to install and use, the Amelia booking system helps you manage your appointments and events completely hassle-free. Keep your schedule in check, organize virtual events, handle payments, track KPIs, manage employees, and provide the best possible booking experience to your customers. 
And you get all of that just by using a single plugin.
Amazing, isn't it?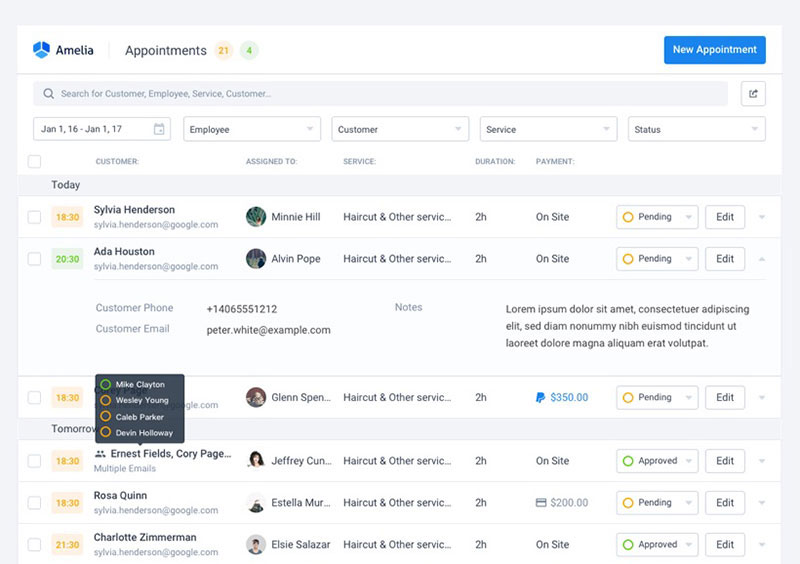 But wait, there's more! Amelia is the most feature-rich appointment booking and scheduling plugin designed to streamline your management processes. 
Sending appointment notifications and reminders, scheduling recurring appointments, setting up repeating events, configuring individual employee calendars, managing multiple locations, offering group bookings – you name it, Amelia has it.
Not to mention integrations with essential tools such as WooCommerce, Zoom, Google Meet, Google Calendar, and Outlook Calendar. 
Impressed?
Give Amelia a try and see why more than 50.0000 users worldwide love using it.
So, What's the Verdict? Do You Really Get What You Pay For?
After using it for a while, it's pretty clear that Kinsta is a highly reputable hosting provider that offers a powerful and feature-rich platform for WordPress websites.
With its high-performance infrastructure, impressive page loading speeds, and robust security features, Kinsta provides a reliable hosting solution for businesses and individuals alike. The easy-to-use dashboard, expert customer support, and free website migrations contribute to a seamless user experience. 
While Kinsta has higher pricing compared to some shared hosting providers, the value and benefits it offers in terms of performance, reliability, and support make it a worthwhile investment for those seeking a top-tier hosting solution for their WordPress websites. 
What's more, compared to shared hosting services, Kinsta provides managed hosting with a set of powerful features that are included in the service at no additional cost. 
So, the answer is a definitive yes – this powerful cloud hosting platform is more than worth the price.