Many booking websites struggle to improve their conversion rates. Unlike e-commerce websites, online booking sites don't boast high conversion rates. The main culprit? Their often overly sophisticated conversion funnel lacks optimization on all levels, which drives visitors away.
A conversion funnel is a voyage that users take from the moment they access a sales website until the moment they make a purchase and become clients/customers.
To convert visits into sales, you need to tirelessly work on persuading them across every step of the conversion funnel until they finally complete your call to action, i.e., make a booking. In order to optimize this, you might need assistance from a professional, like Amelia (our booking plugin).
This post discusses key funnel optimization strategies and why funnel page optimization is not a caprice, but an absolute must for a booking website that wish to improve their bottom line.
Booking Conversion Funnel Overview Analytics & Reports

Before you decide which optimization strategy to apply to increase your conversion rate for your booking website, you must conduct a proper assessment and quantification of your funnel conversion rate. Analyze the funnel, break it into stages, and map stages in your analytics.
Here is why mapping your conversion funnel's stages in your analytics is important:
Reports on your conversion funnel for your booking website will reveal which stage of your website funnel causes you to lose users. Also, you can pinpoint the most sizeable and negatively impacting blockages across your booking conversion funnel.
A conversion funnel measurement will highlight where users are dropping out of your onboarding flow and will allow you to measure them up according to the device, source, location, and other useful features that help to order website users into categories.
Analytics and reports allow you to employ individual goals when performing your A/B test, instead of sticking to general conversion rates alone.
Search Form Analytics & Reports

A report featuring all stages of the conversion funnel for your website is the first step you need to take towards conversion funnel optimization. Equipped with a detailed report, you can now look deeper into each step of your conversion funnel to get a clear picture of what happens.
The first stage of a booking website's conversion funnel is the search. To identify with what your users are looking for in this stage and generate a bigger picture, you must collect and store what your users are searching for in order to be able to perform a thorough analysis later.
Why Search Form Analytics and Reports?
Search form reports are designed to allow a better understanding of the searches your users perform on your booking website in this step of your conversion funnel;
By comparing product search data against dates and conversion rates, you get a better picture of your pricing colleagues.
Search Results Page Analytics & Reports

The next stage of your conversion funnel for your booking website is when you generate and show up search results after users have filled out the search form. This has proven to be the stage where a majority of users leave your booking website.
Within this context, it becomes clear why search results page reports and analysis are essential.
Why Search Results Page Analytics & Reports?
Search results page reports are designed to allow a better understanding of the way users assess what you are offering.
Search results page reports along with behavior pattern analysis may help to improve the presentation of your primary product offers on your search results page.
Based on search results page reports, you can secure the data and insight required to design improved abandoned cart email campaigns.
Booking Website Homepage

The third stage of a conversion funnel for a booking website is your homepage, where they might have been directed from the search engine results page, online advertisements, or social media networks. The homepage is your chance to create a compelling first impression.
The homepage is the online front door to your business. You need it to have a clean and neat appearance, inspire trust, and display content intuitively for users to go deeper into your site.
Secure website with SSL Security: A secured webpage could entice more users than an insecure webpage. A secure website brings more conversion and if it is an eCommerce website then, a site developer should get an SSL certificate that can secure multiple subdomains. A cheap wildcard SSL would be helpful in securing the first level of subdomains pointing to the main domain. It will be a cost-effective option compared to purchasing a single domain SSL for the individual subdomain.
Here are several ways you can make sure you deliver a straightforward, insightful homepage:

Upon landing on a booking website's homepage, users need to engage in a new search process to find the product/service that they are looking for. An overly complicated, heavy navigation will deter users and drive them away from your website.
Your homepage should provide tidy, clear navigation where users can quickly select their filters and get their preferred deals. Remember that users are not fond of time-consuming tasks. A clutter-free, easy navigation boosts your chances of converting a visitor/user into a client.

Criteo has recently published a report stating that 27% of digital transactions reported for the booking sector are completed via mobile accounts. Considering the mobile era has only just commenced its rise, this number is expected to escalate.
Within this context, it becomes evident why booking websites need to go mobile to increase conversion funnel rates. The same rules for a clutter-free, clear, and highly intuitive navigation apply to mobile websites.
Another aspect to address is making sure that your mobile site and desktop site work together as an all-in-one piece.  Take advantage of the innate features of mobile platforms, including click-to-call or GPS, and enhance your user's experience as well as your conversion funnel.
Introduce Unique Selling Proposition or USPs

Your homepage is the place where you have to show you best offers, your USPs aka unique selling proposition. These unique advantages will encourage users and persuade them to continue on your website and make an acquisition, i.e., convert into actual clients.

Call-to-action text or CTA copy is exactly what they say they are: their role is to guide users across your conversion funnel by giving them a nudge forward at the right time. To achieve that, you need the perfect text, essential for improved conversion rates.
The rule of successful CTA copy is simple: the text should reflect precisely what users should be expecting upon clicking the call-to-action button. Stay away from irrelevant CTA text because such copy tends to baffle visitors and drive them away instead of convincing them to stay.
Booking Website Search Results Page

A funnel definition and analysis will show you that the search results page is a very important stage of your booking funnel. It is the place where users arrive after they fill out the search form according to their preferences as far as destination, data range, or price range.
The search results page of your booking website is where users make the conversion decision. The need to like one of your search results, whether they refer to hotels, flights, or trips. You can optimize your search results page for your booking website and are several methods to do it:
Enhance Users' Decision-Making Process

The search results page usually puts a lot of hotels/flights in front of the user who is now even more confused with too many unfamiliar options to choose from, and that can be overwhelming. So, help your users pick the best offer from your search results page!
When you define funnel and funnel meaning, you understand that price is the critical criterium in this stage so make your prices visible by displaying them in a way that stands out. Use visual hierarchy to make the best prices prominent to the users.
Also, understand that users respond to offers if the offers are properly introduced to them. For example, a 20% discount will not have the same effect as showing them that they will be saving 2000 dollars if they take a specific deal. Presenting the before and after discount prices is best!
Allow Users the Luxury of Cancellation

Making bookings is not an easy decision because it involves a high Average Order Value and people like to take their time and think things through when their money is at stake. This is where you present them with the option of canceling their booking at a later time.
Moreover, it's not always just about the money. It is about not knowing exactly what the experience will be like: they need to understand where they are going. They need time to think over their choice without any pressure. Knowing that they can cancel their booking helps.
When you allow users to opt out of their booking at a later time, you don't ask them for a high level of commitment. Users like low-level commitments and they feel forced into making hasty decisions by high-level commitments.
Measure Pertinent Data Points

What is a funnel? A conversion funnel entails several stages and you need to understand each one of the stages of the booking process and secure robust data on the booking process. Entry and exit paths across every stage of the conversion funnel need to be reviewed recurrently.
As you master your booking website, you need to pay attention to all pertinent data points within your booking process as some of the steps may be unique to a channel. Information on errors must be gathered diligently and analyzed thoroughly to implement remedial actions.
Pay attention to intra-page activity, which may refer to lightbox info, link activity, or form completion. This data will allow you to understand better conversion barriers and enhancers, i.e., what stood in the way of a sale and what helped make a sale.
Optimize for Device Type at Each Stage

The next step in improving your conversion funnel is to analyze the measures you've performed on relevant data points from a device type perspective. It is the stage where you pinpoint the shortcomings or conversion barriers specific to one device or another. Fix them!
It is time to make sure that you offer an optimized booking website/app for every non-standard device or booking channel, may it be a smartphone, tablet, gaming station, smart TV, or set-top box. Optimize for all possible channels out there to improve your sales pipeline and conversion funnel!
Provide the Right Content to Get Quality Traffic

An excellent way to enhance your conversion funnel is to understand what brings good results. To achieve that, you must perform measures on high-performance entry points and content. Identify the best content in each stage and complete A/B testing on a regular basis.
Measure aggregate event data and pathing to get a clear insight of the value your content brings to your booking process on your booking website. Use content that has a demonstrated history of converting a search into booking to customize your content.
Summary
It is not easy to optimize a conversion funnel for a booking website. The best way is to put much time into fully comprehending what users need and want to convert from visitors on your website to clients of your business.
Know your audience, and you will know conversion funnel optimization. Know what they want, what they expect, what they look for, and you will know what to offer and how to offer it. Take them by the hand and guide them through your website until they click the last CTA button.
Get more bookings with the right tool for the job
Staying organized has never been easier.
You can now manage your business and grow your brand with a single, powerful WordPress appointment booking plugin that keeps all of your appointments in line, your clients organized and your business booming.
Amelia is perfect for business owners who need to streamline their booking experience both for their staff and their clients.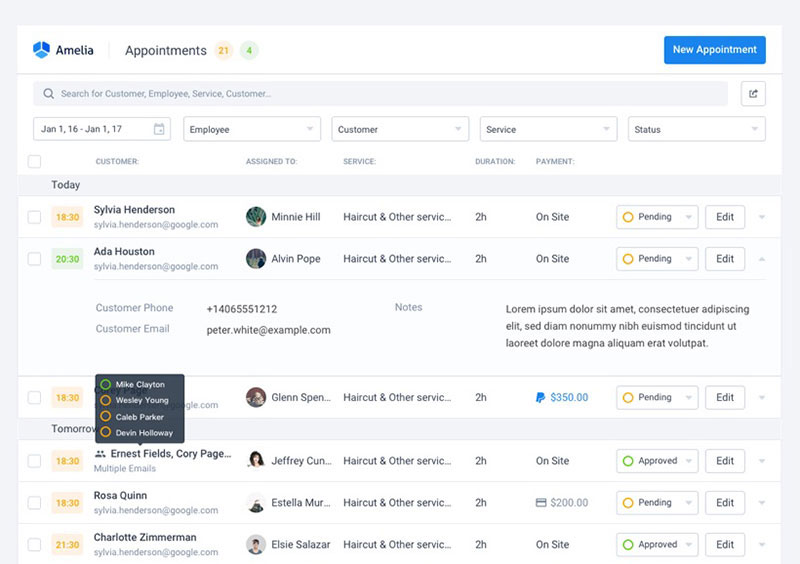 Amelia handles everything for you, even sending automated email or SMS reminders to your clients. No-shows? Not anymore!
The Amelia WordPress booking plugin adapts to different industries for a blissful online booking experience and employee management.
Want to know more? Check out Amelia's awesome features to see what you are missing.