Whether you wish to organize events for your business or your business plans events for clients, you can't go without an events site.
You will need a website that looks the part and is functional for managing your events. You can either create a theme from scratch (which is expensive) or pick an event WordPress theme that you can tweak after.
It's important to understand that the WordPress theme is the part that will make or break the design and layout of your site. Your theme is what your visitors notice first.
A good theme has to have good core functionality and will allow you to add plugins that take care of critical features, like a plugin to handle your events.
In this article, we're presenting several WordPress themes you can use to create an events website and sell tickets easily.
Popular Event WordPress Themes
So, what are the best event WordPress themes?
Eventchamp
Grand Conference
Exhibz
Eventr
Royal Event
Evently
EvnTalk
Divi
Theater
Avada
Astra
Events
Conference Pro
Khore
Event Manager Theme
Ventcamp
OpenEvent
And once you have your professional WordPress theme installed, check out the Amelia WordPress events plugin.
Amelia is a simple yet powerful automated booking specialist that will help your customers to book appointments or events and pay online with no hand-holding on your part.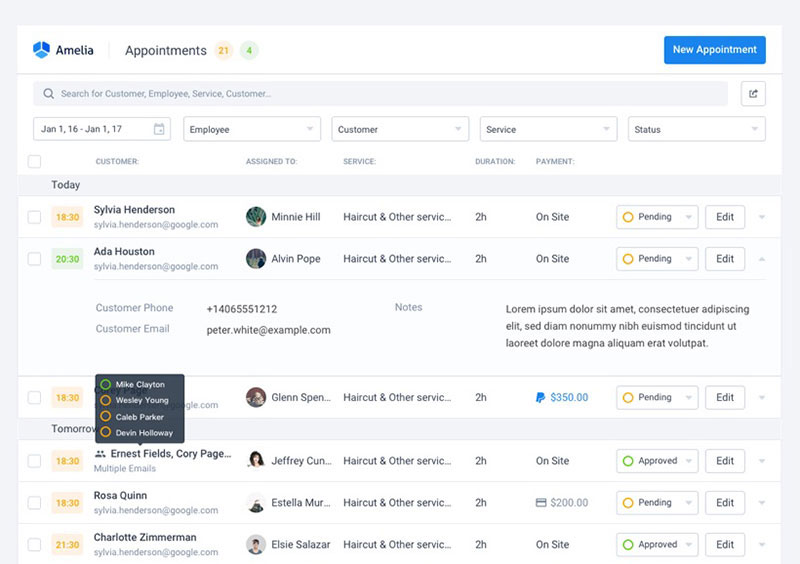 Want to know more? Check out Amelia's awesome features to see what you are missing.
Now let's look at the best event WordPress themes in detail.
Eventchamp

Eventchamp is a WordPress event theme that comes with more than 150 pre-built page templates and modules, so you can make/build a creative and functional event website.
An event search tool, venue and speaker listing, event calendar management, event listing on the map, ticket management, and feature modules ready for your website needs.
Grand Conference

Grand Conference is a responsive modern WordPress theme for building a conference website.
Built with the latest WordPress technology. Grand Conference supports a responsive layout so it looks great on all devices.
Much like the other WordPress event themes presented here, it has predefined styling & templates and many features built especially for events and conferences, event organizers, or any meetups, seminar events that can be imported with one click.
Exhibz

Exhibz is a Creative and Modern Event, Conference WordPress theme for organizing meetings, seminars, food festivals, education conferences, or various types of events.
It comes with the Drag and Drop Elementor Builder so you can easily customize everything you need.
Eventr

Eventr is a one-page event WordPress theme to promote and manage your conference, workshop, summit, meetup, or event of any kind.
Modern and sleek, this unique upcoming event WordPress theme uses the premium Slider Revolution so that you can make a striking impact with your event landing page. The fully responsive design and retina support guarantee the sharpest possible display, thanks to this seamless event WordPress theme.
One-click installation includes the sample data from the demo, so you can simply replace it with your event details. You can then fully customize your event landing page using the event theme options panel, powered by the Redux framework. Choose from unlimited colors and 600+ Google Fonts to find the perfect look for your event.
Royal Event

Royal Event is a refined & alluring Event Planner & Catering WordPress theme with a festive and elegant design. It is made for a professional event management website or a catering company.
Also, it is perfectly suitable for wedding planners' services, corporate events agencies, restaurant rental, party decoration firms, planners bureau of special occasions and special moments like birthdays, anniversaries, engagement parties, private parties arrangement business or any other events.
Evently – Conference & Meetup Theme

Prepare for the event of the year with Evently, a modern event and conference theme, ready to rock! Packed with 9 amazing homepages, 3 premium plugins, and a wide array of layouts especially created for showcasing speakers and events.
Evently has all you may need for an amazing website. Introduce your speakers and share the details about your event, conference, or meetup like a professional.
You can also create a detailed event schedule, share the blog stories or sell event tickets online with Evently. Create your event, start today.
EvnTalk

EvenTalk is the most versatile events and conference theme for WordPress, at least according to its developer.
It has 12 unique homepage layouts, available as multi-page or one-page designs that you can use to create a conference website. Each layout has been carefully crafted to provide a modern and clean browsing experience for your readers.
With EvenTalk, your events and conferences are going to stand out like never before.
Divi

Divi is the name of one of the top WordPress products out there and they're at it for several years now.
That might sound confusing. What it means is that the theme is more like a website building framework or platform than simply a theme. It contains every functionality without having to add and configure extra plugins.
This popular WordPress theme includes an event scheduler, contact page, sliders, call to action buttons, and so on.
Theater

Theater is an only-in-class WordPress theme for theaters, operas, and art events, featuring advanced portfolio functionality to display theater plays and entertainment events photographs, opera records, and promo videos.
The theme includes a profiles functionality to showcase your theatre actors and opera singers and performers.
Events calendar functionality lets you advertise your theater, cinema, and art events, opera and ballet premieres, performance, and theater festival schedule.
Avada

Avada is probably the best-selling theme and one of the biggest names in the website building industry. Avada is a theme builder that encourages you to design custom layouts for your website.
How can you make this concept work? All you need to do is import a full demo in one click and complete it by adding in particular pages, posts, portfolios, images, sliders, etcetera.
Event themes like Avada Church and Promotion Demo are good examples of what would work for organizing and promoting your events.
Astra

By clicking Starter Templates on Astra's homepage, you'll join the many users who built amazing event websites with Astra.
Type "event" in the search bar and you will get a conference event theme (which is a complete one-page homepage) called eVentus. You can remodel this homepage theme for your specific event.
The menu on top leads your visitors to about, schedule, speakers, organizer, venue, sponsors, and buy tickets pages. Astra gives you everything you would expect from a WordPress conference theme or any WordPress event theme for that matter!
Events

The responsive Events theme looks incredible, and embraces every built-in feature you need for professional event websites.
Events is a customizable widget-ready homepage that will help you to sell tickets easier. After you install the sample data, your event website will look better than the demo. An 'I can't believe my eyes' theme can be yours with the following page templates:
Contact Us
About Us
Archives
Short Codes
Sitemap
On an integrated Google map, visitors can spot your event locations. Plus, there is room for your blog and a separate tab that directs visitors straight to your events.
From your dashboard, you can adjust the layout until it matches your taste.
Conference Pro

If you're looking for good conference WordPress themes, Conference Pro abides. It's flexible, with a contemporary design, and easy on the eye, even on mobile devices. Just like with Fudge, it's easy to import critical functionalities.
It's flexible because of the event composer, which allows you to drag elements such as text and media and drop them on your pages. This way you are in control and decide how your website's display is going to look.
The Conference Pro demo is pure class.
Khore

You can't go wrong with the Khore event WordPress theme either. The practical side menu bar with all the options is very accessible and works like a magnet. Just this feature alone makes Khore desirable among event planners.
Khore boasts of their extremely advanced event management options. And for good reason. Getting to know all about speakers, sessions, sponsors, and tickets is a piece of cake for your guests. The countdown feature is a nice touch, too.
Event Manager Theme

Here's a responsive event management WordPress theme, befitting event professionals. WordPress event templates like this read as an exciting news site. The layout does nothing but invites you to check out every section on the homepage.
Event Manager Theme is by far the most professional event WordPress theme you will find.
Ventcamp

This great theme profiles itself as a single and multi-event manager. It has unlimited styling options and theme settings. You can choose from the default Ventcamp layout, or you can opt for the music festival, workshop, or business conference layouts, to promote your upcoming events.
It's also possible to edit your website in real-time. The theme has several features that stand out:
Separate landing pages for each of your events
Event calendar builder
Ticket selling
Integrated Google Maps
The option to create a combination of a single and multipage website
OpenEvent

OpenEvent completes this series of powerful event WordPress themes. The OpenEvent theme is designed for a satisfactory experience and result. They are event themes in the true sense of the word.
This layout looks hipper than other themes with its flashier colors and more adventurous fonts. But it does what all good niche themes do: it gets your customers updated and in the mindset to participate in your event.
The features are of the same high standard. OpenEvent is as complete as it gets.
Ending thoughts on picking an event WordPress theme
The best WordPress event themes are ready to use. All you need to do is to insert your content and install the plugins your event business needs.
Investing in a premium event theme is a very important decision. There are no shortcuts or free event WordPress themes up for grabs. It's up to you to find the theme that suits you the best and roll with it until you have the perfect event's website.
Your website's visitors must become attendees. The more professional your event website is, the higher your chances of selling event tickets will be. So, it's capital you invest in a theme that fits your goal.
If you enjoyed reading this article on using an event WordPress theme, you should check out this one with virtual event survey questions.
We also wrote about similar topics like adding a virtual events calendar to your site, how to make money hosting events, virtual event best practices, virtual events checklist, and the types of virtual events you can organize.