Event management can be tricky. On one hand, organizers face issues with keeping everything in order and on schedule. On the other hand, customers may find it difficult to book a spot and confirm their presence prior to the event, among other issues.
Luckily, event booking systems have evolved to keep both organizers and customers delighted by streamlining the process for all involved. With an online event booking system, you no longer need to endure the endless frustrations of the classic method of pen & paper.
Want to find out how to get started with your first booking software? Keep reading more about this topic in this article with online event booking systems and discover the best options.
Event Management Solutions to Try
Amelia
Trafft
DoubleDutch
Regpack
Whova
Cvent
HoneyBook
123FormBuilder
Doodle
WP Event Manager
Event Organiser
Event Espresso 4 Decaf
Appointment Hour Booking
Aanmelder.nl
Event Temple
Accelevents
Ungerboeck
Calendesk
SignUpGenius
Tripleseat
Ticket Tailor
Checkfront
RSVPify
ThunderTix
Purplepass Ticketing
Eventtia
Corsizio
Now let's look at them in detail.
Amelia

Amelia is a powerful WordPress events plugin that works flawlessly with WordPress sites of all kinds. It has a minimal, yet powerful appointment booking interface designed to ease your workflow, automate repetitive tasks, avoid double booking, and make appointment booking a breeze for your customers.
You can even have email notifications and SMS notifications so that nobody forgets about their appointment bookings.
In order to book an appointment, the complete user interaction takes a few clicks with this WordPress plugin. Moreover, with it you can accept online payments via PayPal and Stripe, perfect for those who want to pay in advance to book appointments.
As a business owner, you can monitor KPIs in the WordPress dashboard and analyze other important data to keep a pulse on your business. Amelia is a straightforward, no-nonsense event calendar plugin and an amazing option for those who want an around-the-clock solution for their WordPress site.
Amelia also has an Events Calendar module integrated into its features.

You can now automate your event bookings as well. To be more precise, it means that you will be able to schedule a single day, a multi-day, and also recurring events with Amelia.
Did we mention that you can manage multiple locations and that you have Google Calendar integration?
All of these and much more are under only one license, no add-ons are needed.
To test things for yourself, I'd suggest checking out the demos and seeing how things look on the front end as well as in the back end.
Medical/Health online booking page demo

A website of a demo private clinic, where a visitor can read about provided medical procedures and services, and schedule an appointment.
Barbershop booking page demo

A dummy WordPress website for Barbershops with online booking – a nice and easy implementation with the Bridge theme and the Amelia WordPress booking plugin.
Fitness Gym / Yoga booking page demo

A pseudo Yoga/Gym online booking page where you can browse through possible Yoga classes, schedule individual or group training, and book a package of appointments.
Spa/salon booking page demo

A dummy cosmetology website – look through different cosmetic procedures and treatments, pick an employee and schedule appointments.
Consultant booking page demo

A pseudo Business Consultant / Coach / Lawyer website, where a customer can browse through provided consultancy and lawyer services and book an appointment.
Hands down, this is the one you should pick from this list. Yet, you can check out the other options as well to see for yourselves why Amelia is #1.
Trafft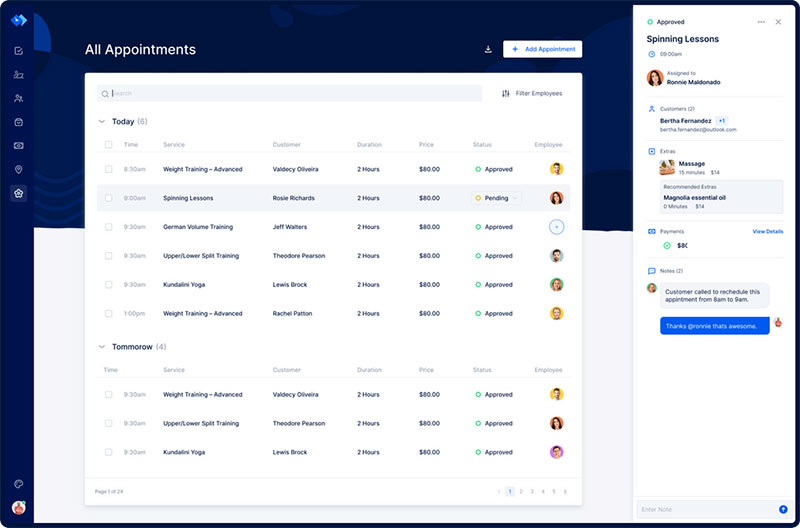 Trafft is a cloud-based event management software that provides automated event scheduling for small to mid-sized businesses.
This online scheduling tool is tailored to exactly what is useful for event organizers. With Trafft, you can create to-do lists, schedules, and calendars, which makes it so easy to manage and plan in-person, virtual and hybrid events. If you plan a lot of large events, Trafft is one of the event planning tools you can't live without.
The process is simplified both for you and the customer. Making bookings takes 75% less time with Trafft. Clients can book and pay online with only a few clicks, making it easier for you to reach your ticket sales milestones.
On your end, there is no manual data entry, back and forth emails, or taking appointments by phone calls. It is one of those event booking engines that are super simple to maintain. You will love this user-friendly, functional appointment software. And the fact that it will reduce no-shows will surely make you happy.
DoubleDutch

As a comprehensive event management system that features everything you might need and more, DoubleDutch is a great choice for those who are already accustomed to event management software.
It is a large-scale tool, appropriate for enterprise events or popular trade shows. The team behind DoubleDutch gives you the option to build a personalized app with custom features to meet your very own requirements, and it is a very powerful solution when you take the time to set it up properly.
DoubleDutch comes with support for multiple back-end integrations and it is compatible with some of the most popular CRM systems. As with Amelia, you can also generate easy-to-read analytics reports.
Regpack

The third of these event booking systems is Regpack. It is a tool that lets you customize most aspects of the event booking process. You can create as many attendee types as you need, easily redesign the event registration forms after your own requirements, and even create a personalized check-in process.
Regpack is a sophisticated tool that should be used by medium to large companies. One great feature is that groups can book spots at events together, and they can also make payments online with an intuitive ticketing system.
Besides being an online scheduling system, Regpack also allows for selling products and asking for feedback from people who've attended an event organized with the tool.
Whova

Whova is an event booking system that is probably the cheapest on the market for the features it offers. Its low price doesn't come with any compromises; in fact, this event management platform received an award in 2018 for the People's Choice section in Event Technology.
As for features, you have access to a suite of tools like event registration, marketing, and everything else you need to ensure smooth event management.
Cvent

Do you want to access your event management software anywhere, anytime? Cvent is a cloud-based event booking system that is perfect for big enterprises that need security, power, and accessibility all at the same time.
You can source venues, create customized forms, manage budgets, and more. It is a comprehensive event management platform, but it is also pretty complex to understand, so it is not recommended for beginners.
HoneyBook

This event booking software is suitable for event organizers but also for freelancers and entrepreneurs. It helps to manage sessions and online payments using one app.
HoneyBook's slogan is "Book Fast. Get Paid Faster."
It manages the administrative work and keeps users aware of their schedules. This saves money and time and allows users to focus on growing their business.
123FormBuilder

123FormBuilder is a multipurpose tool that includes a free version that helps with generating event registration forms for your online event. Without paying, you will be able to create up to 5 forms each month, and the attendee submissions will be maxed out at 100.
If you like how it looks and works, you can purchase the premium version and get more functionalities like conditional logic and custom reports. It can be integrated with WordPress, Facebook, Twitter, Hootsuite, and more.
Doodle

Doodle is a cloud-based booking software designed to make scheduling events and meetings incredibly easy. You can simply put up availability options and invitees can tick which one suits them. Then you'll be able to see at a glance which time works for everyone. This online scheduling app greatly reduces the time spent on emails back and forth.
Doodle accounts contain multiple tools that will increase your efficiency and productivity. This leaves you more time for real work!
WP Event Manager

WP Event Manager is probably the simplest WordPress plugin on the market that handles online booking tasks. Even though it is a relatively new plugin and is not a venue management software platform, it is worthy of mention because it has great reviews and enough features to keep things neat and organized.
The interface is intuitive and sleek, and the free features of this plugin are quite impressive. You can even add multilanguage forms, a feature that is not often encountered in event booking software.
Event Organiser

Event Organiser is an event planning tool that merges perfectly with WordPress. It keeps the default post types you are already used to and modifies them with special event modules. Because of this, it is very intuitive to use and will allow you to manage events with ease.
The team behind it is ready to offer you support any time you need it. Moreover, you can choose to upgrade to Event Organiser Pro if you need a higher degree of customization or other payment gateways.
Event Espresso 4 Decaf

The name of this online booking plugin speaks for itself. "Decaf" has a very intuitive meaning – it represents the "lite" option that only contains basic features like having people register and get a ticket to an event.
Users can make PayPal payments by using this free version. To gain access to more features, users need to purchase the premium version or one of the add-ons available.
Appointment Hour Booking

For those who seek a tool that can handle a high influx of people who want to quickly register and book a spot, Appointment Hour Booking is the best. It is a WordPress plugin that allows people to make appointments on an hourly basis, as the name suggests.
This plugin is great for a business in the medical, sports, education, or business fields. Of course, the plugin is extremely versatile so you can use it for all sorts of purposes.
Aanmelder.nl

Finally, Aanmelder.nl is an event booking system that is suitable for small to medium businesses. You have multiple options when it comes to setting types of attendees, and you can easily communicate with them throughout the booking process.
The only downside about this event software program is that it charges the owner for each registered participant, which can end up being expensive in the long run.
Event Temple
Event Temple enables hotel and venue managers to manage bookings and revenue entirely online. It is used by many popular hotel chains, wedding venues, clubs, and convention centers.
The tool is enabled for end-to-end task management. It supports appointment booking, reporting, lead management, email marketing, and automated follow-ups. Better yet, it can be integrated with many different software solutions.
What you will like the most about Event Temple is its advanced progress tracking. The solution brings proposal statuses and appointments on one screen and lets you track replies and open rates.
Accelevents
You can use this event booking software for all types of events, including hybrid and virtual events. It manages all different aspects of your appointments, and it drives growth and attracts new audiences your way. Its fancy features engage visitors and even let you create an online community.
Ungerboeck
If you are looking for a more personalized solution, check Ungerboeck. This event management software brings events, people, and data under a single roof. It lets users process all event information on the same screen.
The solution is very modular, which means it will work in line with all your venue management needs. You can configure it to your particular event business model and make your brand recognizable.
Best of all, it was developed with innovation and digital transformation in mind. Consider it if you want to work with the best, state-of-the-art visibility tools.
Calendesk
Calendesk is a compact event management & booking solution. It is praised by event organizers and attendees likewise, mostly for being easy and uncomplicated to use.
The event booking software comes with automated booking acceptance, online payments, and personalized client portals.
We recommend it foremost to individuals and small organizations with up to 100 users. The number of customers doesn't matter – you can manage bookings for 10 or 10 000 participants likewise. The tool supports automated emails and video communication and lets you be there for your customers at any point in time.
SignUpGenius
SignUpGenius makes event planning easy, carefree, and cheap. The tool is foremost oriented towards nonprofits and volunteer organizations. It is also used by schools and small businesses.
With this event management platform, there will be no need to reply to all emails separately and handle endless phone calls and sign-up lists. You can invite and manage your participant quotes online and keep everyone on the same page without breaking the bank.
The customization options are more limited compared to similar tools on the market. Still, there are enough beautiful layout designs to choose from.
To make matters even better, you can integrate SignUpGenius with your favorite scheduling tool.
Tripleseat
Tripleseat is the favorite web app of many catering businesses and famous restaurants. It lets users plan all different aspects of their events, as well as manage participation and keep their community engaged.
It also integrates seamlessly with many scheduling tools. You can connect it to Constant Contact, Google Calendar, iCal, MailChimp, and Fishbowl.com.
The app comes with its own payment solution, making all other systems and programs obsolete. You can accept and process any payment, but also track ticket sales and create advanced financial reports.
With these insights, it will be easy to keep the audience engaged and target new clients.
Ticket Tailor
If the pain point of your event management is ticketing, consider Ticket Tailor. The tool is praised for its event planning functions, but its competitive edge is without a doubt its streamlined ticketing.
Ticket Tailor emphasizes the importance of customer satisfaction with professional allocation management. You can easily prioritize among the tickets you receive and personalize your approach toward every client.
Ticket Tailor is fully integrated with leading social media platforms and makes it possible to share event details in real-time. The broadcast tool sends out mass emails to all attendees on the go and keeps them involved. It also offers box office widgets that let users promote events on their websites, and even create custom seating charts in line with the venue.
Last but not least, the fully equipped reporting dashboard also comes with an array of sales features and revenue metrics.
Checkfront
Checkfront is a professional cloud-based accommodation management solution that targets individual accommodation providers. Some of the plans, however, work pretty well for tour operators and rental companies.
Among other things, Checkfront takes care of allocation management and payment processing. The online scheduling features work on desktop and mobile devices, which always keeps you in the loop. The events calendar updates in real-time, and there are no overbookings or reservation conflicts.
Better yet, you can use this event booking software to organize and manage online events. Its advanced widgets streamline customers' experience. Attendees can pay easily with their preferred payment method or share the event across social media.
The tool is fully integrated with booking leaders such as Expedia and Booking.com, as well as TripAdvisor and LinkedIn.
RSVPify
There is no event you can't manage with RSVPify. The cloud-based solution caters to diverse needs. It will help you if you are into organizing weddings, planning holidays, or even setting up charities for nonprofits.
All tracking and event planning functionalities are bundled on a single platform. With a single click, you can oversee upcoming events and control the entire event registration process.
You can use the platform to create custom invitations and promotional videos and distribute them to all guests and visitors. They can then embed these on their websites and social media and attract even more interest in your event.
The check-in process is simple and takes place with QR codes. This gives you absolute control of who is visiting your venue, and what their exact preferences are. RSVPify also has advanced security features, and you don't need to worry about hacks and data leaks.
Finally, RSVPify lets you work from a remote location, thanks to its iOS mobile app.
ThunderTix
ThunderTix is a custom CRM tool that manages admissions and reserved seating for performing art events.
You can use it to facilitate subscriptions and combine fundraising. Create gift cards and merchandise, and you will keep your audience engaged all the way.
Purplepass Ticketing
If you are organizing small or mid-sized events, check Purplepass. The cloud-based event booking software takes care of all event management aspects, all the way from promoting the event to managing its revenue.
Thanks to it, you can pre-sell tickets online or through a partnering venue. The tool can also advertise the event on social media and manage admissions from a single dashboard.
The customizable widgets let you promote the event on any website. You can even integrate an interactive seating map for guests to familiarize themselves with the venue.
At the same time, Purplepass lets you be as creative as you want. You can create custom tickets for each event, design wristbands, or even send visitors gift cards and create reminders.
Eventtia
Eventtia is one of the leaders in the event management software market. You can use it to plan all sorts of events, in particular commercial promotions and academic conferences.
The tool lets you design a unique landing page for each client. Use it to run a personalized marketing campaign, and to track visitors and attendees wherever you are.
And yet, the biggest upside to using Eventtia is its one-on-one appointment scheduling system. It lets you treat each attendee to a registration process tailored to their wishes. Unlike similar tools, Eventtia also has a module for tracking sponsors and exhibitors.
The interactive dashboard personalizes the experience of each attendee. They can manage their participation easily and pay or get reimbursed with a single click.
Finally, the native mobile apps for Android and iOS capture lead information and manage online registrations on the go.
Corsizio
Corsizio manages online courses, classes, and educational events end-to-end. It makes it easy for attendees to register for your event and receive all necessary information. Visitors don't even have to log in to buy their tickets or learn more about your event!
Its competitive edge is the native integration with Stripe. The event booking software is enabled for payment processing in different currencies and manages all aspects of event pricing. You can use it to generate coupons and discount codes and organize early-bird pricing. Furthermore, you can plan large volume discounts for groups and organizations. With this in mind, Corsizio is one of the most praised solutions for international events.
Customization is also part of the package. Corsizio offers just about every custom filter you can imagine. It allows you to personalize everything from registration forms to promotional materials. It also guarantees valuable feedback and gathers lead information for future events.
Choosing One of the Best Event Booking Systems
Before you invest in event booking software, you must first figure out what features are essential for your needs. Fortunately, you have a myriad of systems with tons of features to choose from, but at the same time, that makes the decision more difficult.
Each tool comes with a different set of features that is suitable for one purpose or another. To make the right choice, you need to establish what kind of event software you need in the first place and then analyze the available options.
Regardless of the types of events you are hosting, these main features should help you select the best event management solution:
Primary Goals
Before anything else, you need to establish clear goals. Don't strive for long-term goals yet. They will be discussed later. Focus on your primary goals – what do you want to achieve during the next month, immediately after starting to use an event booking software.
Audience
Defining the sector of people that you want to target by using an event booking software is a must. If your target audience is not accustomed to technology, using a highly involved event booking program with many bells and whistles might not be the best option. See what your audience wants and meets these criteria.
Long-Term Goals
After deciding what you want to do next month, it's time to think about the future. How fast do you predict your company will grow? Will it require an even stronger event booking system once business picks up?
These are the questions you need to answer now to avoid making drastic changes in the future. Always choose an event planner that has plenty of regular updates. This is the only way to know it is future-proof and will grow with you, not against you.
Functionalities
Don't settle with a certain even booking system until you review all of its features. Even though it might have some of the features you think you'll need, a program that gives you many options when it comes to managing events is a better one for sure. You never know what you'll need in the future. Focus on:
The main features – ticketing system, sign-up forms, payments, reports, etc.
Reviews – see what people have to say about their experience with the event booking program.
Engagement – see how many people use the respective program, and continue to use it.
Multiple tools – make sure that the program has enough tools to manage events easier and avoid repetitive tasks.
Pricing – see if the event tool is affordable for what it offers; if it isn't, there are possibly other options on the market that do the same things for a lower price
FAQs about event booking systems
1. How do event booking systems work?
Software tools called event booking systems assist event managers in running their events from beginning to end. These programs enable event planners to plan events, control registrations, and monitor attendance. Additionally, they frequently have elements like automatic email communication with guests, payment processing, and ticket sales.
2. What are the benefits of using an event booking system?
Systems for scheduling events offer a range of advantages to both event planners and participants. Automation of numerous processes, including registration and payment processing, can help organizers save time and effort. A simplified and user-friendly booking process benefits attendees and can boost event participation and satisfaction.
3. How do I choose the right event booking system for my needs?
It's crucial to take into account your budget, the particular features and functionality you need, the size and style of the event you're planning, and other elements when selecting an event booking system. In order to locate the provider who best matches your demands, it is crucial to conduct research and compare several options.
4. What features should I look for in an event booking system?
A system for scheduling events may have a variety of features and functions, but common ones to look for are management of registrations, ticket sales, payment processing, automated email communication, attendee monitoring, and data reporting and analysis.
5. How can I integrate an event booking system with my website or social media?
Most event reservation systems have choices for connectivity with well-liked website builders and social media networks. This integration usually entails adding registration forms or connections to your website or social media pages so that visitors can quickly sign up and buy tickets.
6. Can I customize the event booking system to match my brand and style?
Numerous systems for scheduling events allow for customization, enabling planners to fit the system to their brand and aesthetic. This may consist of elements like personalized branding, color palettes, and design choices.
7. How do I track registrations and attendance using an event booking system?
Systems for booking events often give planners access to real-time information about registrations and attendance. This information can include specifics like the number of tickets sold, the demographics of attendees, and check-in and check-out times.
8. Is it possible to sell tickets or accept payments through the event booking system?
Yes, the majority of event booking systems have money processing and ticket sales capability, making it simple for organizers to take payments online and sell tickets.
9. Can I send automated emails and reminders to attendees through the event booking system?
Yes, a lot of event reservation systems provide automatic email features that let organizers send customized emails and follow-up reminders to registrants.
10. How does the event booking system handle cancellations and refunds?
An event booking system may have different specific cancellation and refund procedures, but most systems enable organizers to simply manage cancellations and issue refunds through the system. Based on specific cancellation restrictions, some systems might potentially provide automated refund processing.
If you enjoyed reading this article about the event booking system, you should check out this one with event WordPress themes.
We also wrote about a few related subjects like event registration software, event websites, fitness event ideas, and event planning resources.
Not only that, but we also created articles with event scheduling software, using PayPal for event registration, event registration landing pages, and how to make money hosting events.