Event management can be tricky. On one hand, organizers face issues with keeping everything in order and on schedule. On the other hand, customers may find it difficult to book a spot and confirm their presence prior to the event, among other issues.
Luckily, event booking systems have evolved to keep both organizers and customers delighted by streamlining the process for all involved. With an online event booking system, you no longer need to endure the endless frustrations of the classic method of pen & paper.
Want to find out how to get started with your first booking software? Keep reading more about this topic in this article with online event booking systems and discover the best options.
Choosing One of the Event Booking Systems Online
Before you invest in event booking software, you must first figure out what features are essential for your needs. Fortunately, you have a myriad of systems with tons of features to choose from, but at the same time, that makes the decision more difficult.
Each tool comes with a different set of features that is suitable for one purpose or another. To make the right choice, you need to establish what kind of event software you need in the first place and then analyze the available options.
Regardless of the types of events you are hosting, these main features should help you select the best event management solution:
Primary Goals
Before anything else, you need to establish clear goals. Don't strive for long-term goals yet. They will be discussed later. Focus on your primary goals – what do you want to achieve during the next month, immediately after starting to use an event booking software.
Audience
Defining the sector of people that you want to target by using an event booking software is a must. If your target audience is not accustomed to technology, using a highly involved event booking program with many bells and whistles might not be the best option. See what your audience wants and meets these criteria.
Long-Term Goals
After deciding what you want to do next month, it's time to think about the future. How fast do you predict your company will grow? Will it require an even stronger event booking system once business picks up?
These are the questions you need to answer now to avoid making drastic changes in the future. Always choose an event planner that has plenty of regular updates. This is the only way to know it is future-proof and will grow with you, not against you.
Functionalities
Don't settle with a certain even booking system until you review all of its features. Even though it might have some of the features you think you'll need, a program that gives you many options when it comes to managing events is a better one for sure. You never know what you'll need in the future. Focus on:
The main features – ticketing system, sign-up forms, payments, reports, etc.
Reviews – see what people have to say about their experience with the event booking program.
Engagement – see how many people use the respective program, and continue to use it.
Multiple tools – make sure that the program has enough tools to manage events easier and avoid repetitive tasks.
Pricing – see if the event tool is affordable for what it offers; if it isn't, there are possibly other options on the market that do the same things for a lower price.
Event Management Solutions to Try
Amelia

Amelia is a feature-packed event booking software that works flawlessly with WordPress sites of all kinds. It has a minimal, yet powerful interface designed to ease your workflow, automate repetitive tasks, and make appointment booking a breeze for customers.
You can even have SMS and email notifications so that nobody forgets about an appointment.
In order to book a spot at an event, the complete user interaction takes a few clicks with this plugin. Moreover, it includes PayPal and Stripe, perfect for those who want to pay in advance to reserve their spot.
As a business owner, you can monitor KPIs and analyze other important data to keep a pulse on your business. Amelia is a straightforward, no-nonsense plugin and an amazing option for those who want an around-the-clock solution for their event booking.
The Events Calendar module is nothing short of amazing.

You can now automate your Event bookings as well. To be more precise, it means that you will be able to schedule a single day, a multi-day, and also recurring events with Amelia.
All of these and much more under only one license, no add-ons needed.
To test things for yourself, I'd suggest checking out the demos and see how things look on the front end as well in the back-end.
Trafft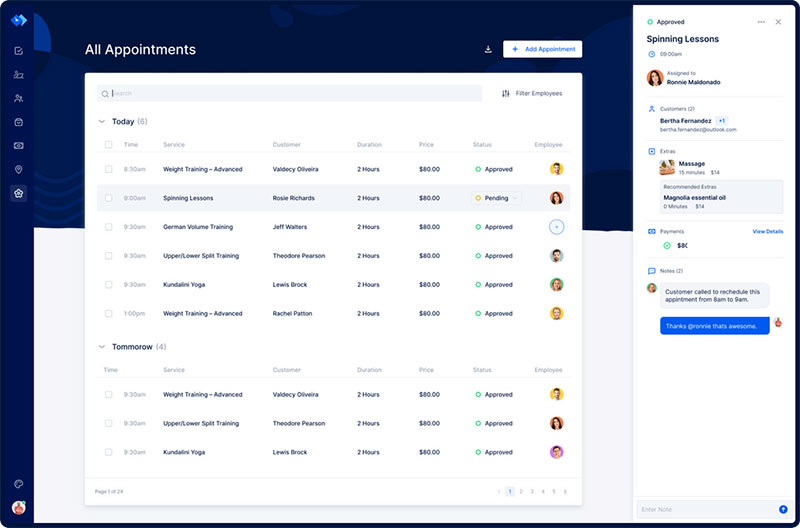 Trafft is a cloud-based event management software that provides automated event scheduling for small to mid-sized businesses.
This online scheduling tool is tailored to exactly what is useful for event organizers. With Trafft, you can create to-do lists, schedules, and calendars, which makes it so easy to manage and plan any event. If you plan a lot of large events, Trafft is about to become the tool you can't live without.
The process is simplified both for you and the customer. Making bookings takes 75% less time with Trafft. Clients can book and pay online with only a few clicks.
On your end, there is no manual data entry, back and forth emails, or taking appointments by phone calls. It is a flawless system that is super simple to maintain. You will love this user-friendly, functional appointment software. And the fact that it will reduce no-shows will surely make you happy.
DoubleDutch

As a comprehensive event management system that features everything you might need and more, DoubleDutch is a great choice for those who are already accustomed to event management software.
It is a large-scale tool, appropriate for enterprise events or popular trade shows. The team behind DoubleDutch gives you the option to build a personalized app with custom features to meet your very own requirements, and it is a very powerful solution when you take the time to set it up properly.
DoubleDutch comes with support for multiple back-end integrations and it is compatible with some of the most popular CRM systems. As with Amelia, you can also generate easy-to-read analytics reports.
Regpack

The third of these event booking systems is Regpack. It is a tool that lets you customize most aspects of the event booking process. You can create as many attendee types as you need, easily redesign the registration forms after your own requirements, and even create a personalized check-in process.
Regpack is a sophisticated tool that should be used by medium to large companies. One great feature is that groups can book spots at events together, and they can also make payments online with an intuitive ticketing system.
Besides being an online scheduling system, Regpack also allows for selling products and asking for feedback from people who've attended an event organized with the tool.
Whova

Whova is an event booking system that is probably the cheapest on the market for the features it offers. Its low price doesn't come with any compromises; in fact, Whova received an award in 2018 for the People's Choice section in Event Technology.
As for features, you have access to a suite of tools like event registration, marketing, and everything else you need to ensure smooth event management.
Cvent

Do you want to access your event management software anywhere, anytime? Cvent is a cloud-based event booking system that is perfect for big enterprises that need security, power, and accessibility all at the same time.
You can source venues, create customized forms, manage budgets, and more. It is a comprehensive tool, but it is also pretty complex to understand, so it is not recommended for beginners.
123FormBuilder

123FormBuilder is a multipurpose tool that includes a free version that helps with generating event registration forms for your online event. Without paying, you will be able to create up to 5 forms each month, and the attendee submissions will be maxed out at 100.
If you like how it looks and works, you can purchase the premium version and get more functionalities like conditional logic and custom reports. It can be integrated with WordPress, Facebook, Twitter, Hootsuite, and more.
Doodle

Doodle is a cloud-based booking software designed to make scheduling events and meetings incredibly easy. You can simply put up availability options and invitees can tick which one suits them. Then you'll be able to see at a glance which time works for everyone. This online scheduling app greatly reduces the time spent on emails back and forth.
Doodle accounts contain multiple tools that will increase your efficiency and productivity. This leaves you more time for real work!
WP Event Manager

WP Event Manager is probably the simplest WordPress plugin on the market that handles online booking tasks. Even though it is a relatively new plugin, it is worthy of mention because it has great reviews and enough features to keep things neat and organized.
The interface is intuitive and sleek, and the free features of this plugin are quite impressive. You can even add multilanguage forms, a feature that is not often encountered in event booking software.
Event Organiser

Event Organiser is an event planning tool that merges perfectly with WordPress. It keeps the default post types you are already used to and modifies them with special event modules. Because of this, it is very intuitive to use and will allow you to manage events with ease.
The team behind it is ready to offer you support any time you need it. Moreover, you can choose to upgrade to Event Organiser Pro if you need a higher degree of customization or other payment gateways.
Event Espresso 4 Decaf

The name of this online booking plugin speaks for itself. "Decaf" has a very intuitive meaning – it represents the "lite" option that only contains basic features like having people register and get a ticket to an event.
Users can make PayPal payments by using this free version. To gain access to more features, users need to purchase the premium version or one of the add-ons available.
Appointment Hour Booking

For those who seek a tool that can handle a high influx of people who want to quickly register and book a spot, Appointment Hour Booking is the best. It is a WordPress plugin that allows people to make appointments on an hourly basis, as the name suggests.
This plugin is great for a business in the medical, sports, education, or business fields. Of course, the plugin is extremely versatile so you can use it for all sorts of purposes.
Aanmelder.nl

Finally, Aanmelder.nl is an event booking system that is suitable for small to medium businesses. You have multiple options when it comes to setting types of attendees, and you can easily communicate with them throughout the booking process.
The only downside about this event software program is that it charges the owner for each registered participant, which can end up expensive in the long run.
Roundup
As you probably noticed, event booking systems are very different from each other. You will need to check each and everyone and see which fits your needs and requirements best. Some are focused on event management, while others are more versatile and can be used for multiple purposes.
A shortlist of the event management software programs presented above:
If you enjoyed reading this article about the event booking system, you should check out this one on event registration software.
We also wrote about a few related subjects like event scheduling software, event websites, WordPress event booking plugins, and event WordPress themes.
Not only that, but we also created articles with fitness event ideas, lots of event planning resources, great event registration landing page examples, and how to use PayPal for event registration.