Fitness events are an excellent way to boost memberships. Not only do they engage existing customers but they also attract new members. Gym owners should have a list of fitness event ideas as one of their marketing tools.
While many gyms tend to focus on digital marketing as their main strategy, they should not overlook the benefits of events. Gym events draw more of the local community to the gym which of course is a gym's primary target audience.
If a gym faces dwindling membership rates, gym events will help boost those rates. Here are some fitness event ideas that gym owners can use to boost their business.
Launch Events

The first on this list of fitness event ideas are launch events. Launch events start a marketing campaign with a bang. They generate excitement and coverage that reaches new people and turns them into new members. They can also invigorate older gym members to re-enroll.
When a gym owner is opening a new club, a launch event can generate pre-sales. Gym owners can also host a launch event for a new product or a new class.
To make launch events more effective, invite journalists to attend. Have them try the new class, equipment, or venue. Promote the event on social media. Invite everyone in your database to attend.
Guest Celebrities

Celebrities attract a lot of attention and if they endorse something it draws a lot of people. Gym owners can capitalize on this by getting a guest celebrity to appear at a fitness event. Options include a local sports team, a professional athlete, or even the mayor.
Take advantage of a guest celebrity appearance by showing off your facility, classes, and equipment. Make sure people hear about any membership specials. If possible, get the celebrity to wear a piece of branded apparel. Or get them to sign their name on a piece of equipment.
Contests and Challenges

Another gym event idea is to host a fitness challenge or contest. A contest or a challenge is a great way to revive the motivation of members. It builds a sense of community and leads to increased memberships.
Contests can range from a day-long race to a year-long weight loss challenge and everything in between. No matter what kind of contest or challenge, make sure it is fair and offers a reward. This way it will not require much effort to get people involved.
A contest that includes the participation of the whole community can bring in lots of new revenue and awareness. Gym member challenges can rev up current gym members and motivate them to do more.
A gym can also take advantage of the social media challenge trend. They can post a fun challenge on social media platforms to raise brand awareness. They could even offer a prize to those who participate in the challenge.
Marathon Training Events

Many cities hold marathons every year that attract thousands of people. For example, the London marathon attracts more than 40,000 people every year.
Smaller marathons are also held every year. Some cities have small marathons every month. These include half-marathons, 10ks, and 5ks. All of these marathons provide a wonderful opportunity for a gym event.
Research what marathons occur in the area of your gym. Then, create classes or an event around training for those marathons.
Local Community Focused Events

Building social bonds with the local community should be of utmost importance to a gym. Local businesses are the backbone of communities. A gym makes a good name for itself by getting involved and supporting the community.
Gyms need to appeal to local people because that is their main client base. People are not going to travel long distances for a gym. Instead, they will go to the closest one possible. So getting involved in the local community is vital. It makes a good impression, increases awareness, and attracts members.
Local gym event ideas include a healthy eating seminar or providing a discount for elderly fitness training sessions. The team at Todoos points out that it's vital to ensure your events follow COVID-19 safety protocols through crowd control and hygiene best practices.
Get more bookings with the right tool for the job
Staying organized has never been easier.
You can now manage your business and grow your brand with a single, powerful WordPress booking plugin that keeps all of your appointments in line, your clients organized and your business booming.
Amelia is perfect for business owners who need to streamline their booking experience both for their staff and their clients.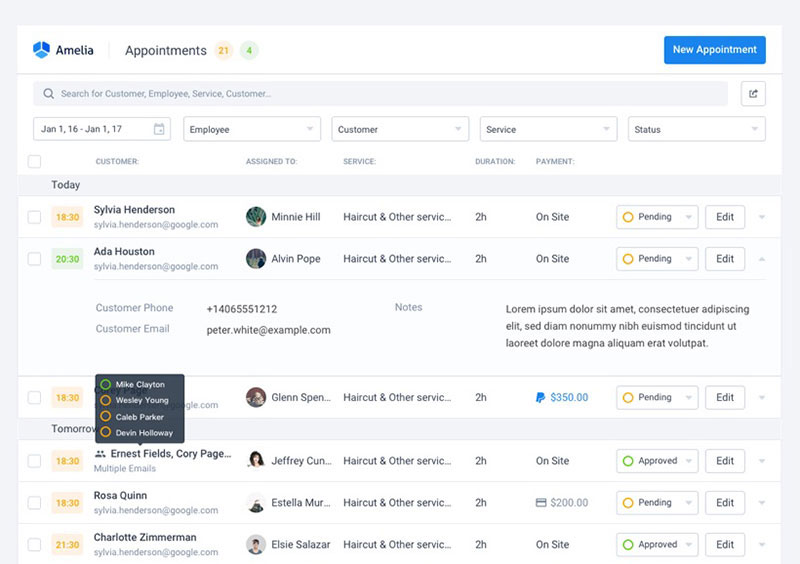 Amelia handles everything for you, even sending automated email or SMS reminders to your clients. No-shows? Not anymore!
The Amelia WordPress booking plugin adapts to different industries for a blissful online booking experience and employee management.
Want to know more? Check out Amelia's awesome features to see what you are missing.
Educational Workshops

Exercise is an important part of health but it includes many other aspects. Health is a balance between physical activity, good eating habits, and positive thoughts.
Recently, people have been striving for overall health. They strive to build up healthy behaviors instead of focusing exclusively on exercise. Gyms can host educational workshops to promote health. This is a great way to attract potential members and provide practical assistance to current members.
Healthy Cooking Class

As mentioned before, health is a combination of physical activity and good eating habits. A healthy cooking workshop can help introduce a gym to more people.
This workshop can include instruction on meals for diabetics or healthy eating for pregnant women or how to eat healthy on a budget. Ask experts to speak at the workshop.
Take advantage of this workshop to introduce the facility and classes that you offer. If possible, give a tour of the gym.
Guest Instructors

Guest speakers and instructors are a great way to boost memberships. Invite fitness professionals or fitness influencers to run a class for you. Or ask them to speak about their field of expertise at a workshop. If they have a large following on social media, they can help raise the gym's profile.
Celebrate Client Birthdays

Clients like it when a business takes a personal interest in them. One way to do this is to offer deals on someone's birthday.
For example, offer a free class or a discount to the birthday person. Or allow them to choose the warm-up or pick the music for the class that day. The instructor or other employees could even sing Happy Birthday to them.
Themed Workouts and Classes

Almost every month there is a holiday or some sort of theme that gyms can use to deliver special workouts. Offering themed workouts keeps clients engaged and increases enthusiasm and loyalty. Having themed workouts shows that fitness does not have to be grueling but can be fun.
Some themed gym event ideas include:
A high-intensity class on Thanksgiving for a good calorie burn
A couples class on Valentine's Day
A red, white, and blue themed Fourth of July
Gyms can also take advantage of the various national fitness days on social media. Or they can encourage people to walk or ride their bikes on Earth day instead of drive. The possibilities are endless.
Family Workout Sessions

One client market that has huge growth potential is parents with kids or parents that work all day. Unfortunately, those with kids tend to skip the gym because they need to attend to their children. Or if a parent works all day, they have no time to get to the gym after work.
Gyms can put together an event to measure the potential in this specific market. Invite families to come to the event. Offer activities that they can do together or separately.  Make sure to gather contact information to offer discounts or after-work classes.
Have a section where kids can have fun while their parents work out. If there is a large potential, consider adding a kid-friendly section to the gym. Then parents can come regularly without hiring a babysitter.
Health and Fitness Food Fair

Another fitness event that will generate a lot of excitement is a fitness food fair. A health and fitness food fair is like a normal food fair. But instead of offering deep-fried corn dogs, cotton candy, and funnel cakes, it offers healthier food options. It can serve protein shakes, fruit-based ice cream, salads, and other healthy foods.
Reach out to fitness businesses in the food industry. Allow them to pay for a booth at the fair or to sponsor it for a designated space. Encourage them to hand out samples. A gym owner can also make a deal with a food fitness business to sell healthy snacks at the gym.
Summer Body Promotion

Many successful gyms promote summer body specials. Right after the holiday season, people are dissatisfied with their bodies. Also, many people make fitness New Years' resolutions.
This is the perfect time to offer promotions to attract new members to the gym. Post offers and discounts on social media platforms. Or offer a prize to the person who loses the highest percentage of weight in a specific period of time.
Social Gatherings

Some gym members find it difficult to socialize in a class or gym environment. So to help foster a community spirit, gym owners can host a social event for their members.
Gym owners can invite members to dinner or another social gathering. These types of events will strengthen social bonds and make clients more loyal to the gym.
All Night Workout Event

An all-night workout event is popular with specialized classes like Zumba, cycling, and pilates. These events attract hardcore gym-goers.
This event is more effective if a gym offers specialized classes. Make sure to have a cool-down zone where attendees can rest between workouts. Provide beverages and snacks so they can refresh themselves. Encourage the attendees to sign up for a membership.
Ending thoughts on executing fitness event ideas
No matter which event you choose to execute, the above gym event ideas are sure to boost memberships. Remember, with every event hand out swag bags with branded gear. Branded items provide constant advertising and make a gym memorable.
These fitness event ideas generate brand awareness, leads, and revenue. More importantly, they strengthen community bonds which leads to better retention and loyalty rates. Showing a welcoming gym culture through events is a sure way to be successful.
If you enjoyed reading this article on fitness event ideas, you should check out this one with event WordPress themes.
We also wrote about a few related subjects like event registration software, event websites, event booking systems, and event planning resources.
Not only that, but we also created articles with event scheduling software, using PayPal for event registration, event registration landing pages, and how to make money hosting events.