If your business often relies on customer bookings, then you've come to the right place. Regardless of your business type, time will come that it will be harder for you to manage manually and keep track of all the appointments when your business expands. By that time, you will need an appointment scheduling software as your business solution.
Effective time management is one of the key factors behind a successful business, and it helps a lot to have an organized business schedule. It entails more than keeping the calendar updated for the staff and enabling online booking for the clients. It also involves emergency bookings, last-minute rescheduling, managing no-show appointments, and more.
This is where an online scheduling app will come in handy. The best scheduling app will save your business time, money, and even stress. It allows you to handle customer bookings without breaking a sweat, and it keeps you from constantly being on the phone. It is a business solution that helps you grow your client base, not your inbox.
In this article created by our team at Amelia, have narrowed down the best scheduling apps for any business type. We will provide you with a selection of 31 most preferred scheduling software for 2020, and the features you have to look out for when choosing the right scheduling app for your business.
What is a Scheduling App?
A scheduling app is a business tool designed to help entrepreneurs manage customer bookings and other appointments with ease. It provides a platform that will enable clients to book, reschedule, and cancel appointments online anytime they want.
Using a scheduling app will help reduce phone calls, emails, and text messages. It expands your customer reach and allows easy and safe information exchange. It promotes cashless payments, easy marketing, and customer interaction, which helps improve business relationships. It also yields optimal conversion rates and increases competitive advantages to your business.
What makes a great Scheduling app?
Appointment scheduling software helps the business improve productivity by managing all client bookings, from canceling to rescheduling appointments. Automating appointment scheduling keeps the staff from taking care of the bookings manually, which is time-consuming and tiring. It results in increased customer bookings and allows the staff and business owner to shift their focus onto more important tasks.
It is important to know the key features that scheduling software should have before choosing the right one for your business. First, the best scheduling app must be flexible for any business needs. It should work on any type of business. It should also let you synchronize appointments to your business calendar. It should also be cost-effective and lets you get more than what you paid for. Remember, the best scheduling app helps make more profit, not expenditures.
A great scheduling app must be responsive and intuitive. Compatibility and user-friendly interface are key features of any digital solution. Clients should be able to schedule appointments on various online platforms and devices with ease. The easier, the better.
Furthermore, it should have multiple points of access. It should provide more options for clients to access it. And lastly, the best scheduling software is the one that grows with your business. It should be able to adapt and provide solutions to your changing business needs.
The Best Scheduling Apps
Amelia
Amelia is a WordPress booking plugin created by our team at TMS Outsource. It includes all of the features that we discussed above in a reliable format that is easy to use.
Amelia is an excellent option because it is easy to install and does not involve a steep learning curve. After installation, users enjoy free and complete booking functionality.
It can be fully integrated with WooCommerce so that you can accept payments via PayPal or Stripe. You also get calendar sync, whether you use Google Calendar or Outlook Calendar.
And since we're talking about integration, we need to mention that it also has Zoom and Elementor integrations making it easy to customize Amelia for your business.
With Amelia, it's easy for your clients to book appointments. It's a perfect booking system and a simplified solution to online booking.
Plus, the settings can be highly customized to suit your needs. Not only the settings but you can also customize the booking page so that it fits your brand.
Making appointments and subsequently managing them is a breeze with the integrated capabilities.
It sends SMS reminders to both the client and the relevant employee. It also includes functions for canceling and rescheduling appointments.
You can do a test drive on the demos page where you can see how it looks both on the frontend where the booking page is and the backend where you have your dashboard.
In this way, you'll have a good idea of how your booking website will look both on the front end and the backend.
Trafft
Trafft is a great option to use because it's not just a scheduling tool. Trafft is a professional service business management software, a professional tool, and a digital business partner that covers different aspects of running a business.
It's the kind of app that small and medium business owners, administrators, managers, and key staff in the service industry are using to take their processes and businesses to the next level.
How does it do that? Well, Trafft is a combination of an online no-code platform and human service from a team of service business automation experts. While that's a mouthful, we can make it simple by saying that it provides all the necessary tools to organize schedules, accept bookings and payments, send reminders and integrate with other tools.
Trafft differentiates from typical apps and tools that automate smaller tasks like online bookings or personal schedules, and are usually hard to configure and maintain, and support is hard to get.
The Trafft app and its team do that by providing support for the complete workflow cycle of a service business, and has an extremely intuitive interface and UX.
What does that mean practically for you? You would not need to waste time on repetitive tasks like calling clients and confirming or rescheduling, and you won't even need to hire additional people to do that.

It also comes with all the features that you need to get started, such as:
Acuity Scheduling

If you want a more personalized and detailed booking process, the Acuity Scheduling app is the right option for you. It allows business owners and managers to customize a booking page that will enable clients to use coupons, includes add-on services, selects recurring appointments, complete client intake forms, and settle their payments in advance.
It also sends customized reminders to clients via email or SMS notifications to reduce no-shows, and it also integrates with major third-party apps such as Stripe, Square, Zapier, PayPal, and Google Analytics.
HubSpot Meetings Tool

The HubSpot Meetings Tool is a part of a customer relationship management (CRM) platform that allows business owners or staff to synchronize data in Google Calendar and Office 365 calendar, set availability, and encourage both potential and regular clients to book an appointment.
It lets you customize the meeting page by inserting as many form fields as you need so that clients can enter their personal information such as name, mobile number, email address, and more. You can send the meeting page via email as a link, or you can embed the page on your official website or landing page.
This meeting tool blocks the selected time off on the admin calendar and delivers a confirmation email to the client when they schedule an appointment, streamlining the booking process to generate more meetings in a short period of time. It also has a free CRM integration to help you manage your contacts and meetings, and it creates a record for new clients.
Fresha (formerly Shedul)

Fresha is a free scheduling software suite recommended for businesses that often rely on customer bookings to generate clients such as beauty salons, massage centers, spas and saunas, wellness centers, and health clinics.
The suite includes slot booking, calendar, product, and service management, point-of-sale (POS) features, unlimited calendar bookings, team members, locations, and reporting.
Homebase

Homebase provides small businesses with digital tools to manage time and employees, thus it is considered to be the leading employee scheduling software in the market.
It has an intuitive interface and integrations with top payroll and point-of-sale (POS) providers.
It also tracks errors on an employee's daily timesheet, paid and unpaid breaks, and real-time labor costs, which makes it a business solution for HR needs. It also helps businesses stay compliant with labor regulations, and offers a competitive price for its service package.
Genbook

An online booking service provider since 2006, Genbook has become a popular and trusted software solution by the beauty, health, and wellness industries.
It provides a flexible booking platform that adapts to a wide variety of business models, from pet grooming services to photographers. It also offers integrations with web search engines, business directories, and social media platforms, which makes it easy for clients to schedule appointments and book services.
TimeTap

TimeTap is an enterprise-grade scheduling application that supports service providers and appointment-based businesses with a 24/7 booking service availability. It delivers confirmation emails and reminders to clients with its default email templates and automatic detection of time zones.
It also reduces the need to track phone calls and messages manually, which allows business owners and managers to focus on more important tasks. It has mobile applications for smartphones and tablets and works well with iOS and Android mobile devices.
It has integrations with major software such as Salesforce, Google Calendar, PayPal, iCal, Microsoft Outlook, Office 365, and Live Exchange. It also features custom-booking forms, multiple staff calendars, unlimited appointments.
Schedulicity

Schedulicity is an appointment scheduling software that provides small businesses with an all-in-one booking solution that includes marketing, client management, and payment integrations.
It provides premium features for free. It also offers a simple, and straightforward buying price which allows business owners to pay for the add-ons they only need.
Schedulicity also provides automated marketing tools that help businesses grow their client base, online presence, and digital visibility by including their business listing in Schedulicity's Marketplace.
ChiDesk

ChiDesk is a cloud-based booking software designed to support businesses in the spa and salon industries. It lets business owners and staff manage individual and group appointments, employee schedules, and scheduled classes.
It also keeps track of employee commission and work hours and automates stock control and appointment reminders. This scheduling software is recommended for fitness and wellness instructors, medical practitioners, and other similar professionals in the service industry.
ChiDesk works on all web-enabled devices which allow business owners to manage their spa and salon operations anytime, anywhere.
Calendly

Calendly is a popular choice for free online scheduling software among small businesses and startup companies. It is capable of holding various types of meetings such as one-on-one, round-robin, collective, and group.
It offers a wide range of functionalities to streamline workflows such as centralized billing, intelligent time zone detection, buffer time, and more.
It also integrates well with Google, Outlook, Office 365, iCloud, PayPal, GoToMeeting, and Salesforce. It reduces no-shows by automating confirmation and reminder emails.
ScheduleOnce

ScheduleOnce allows users to schedule meetings with ease. It integrates with major video conferencing applications such as Cisco Webex Meetings, Zoom, Google Meet, Microsoft Teams, and GoToMeeting. It streamlines online scheduling in business processes.
It has a comprehensive list of features that allows users to create any scheduling scenarios. It offers custom booking forms, automated confirmations and reminders, branding features, comprehensive time zone support, and more customization options.
MindBody

MindBody is an enterprise-grade scheduling software, designed and marketed towards businesses providing fitness, wellness, and beauty services.
MindBody also offers digital solutions to specific business needs such as client experience, marketing, multi-location management, payment system, and more.
The application provides features customized for spas, salons, fitness, and wellness centers like fitness performance tracking and gym memberships for example.
To improve brand awareness, MindBody also allows business owners to create a branded mobile application to provide clients with a more immersive and personalized booking experience.
Setmore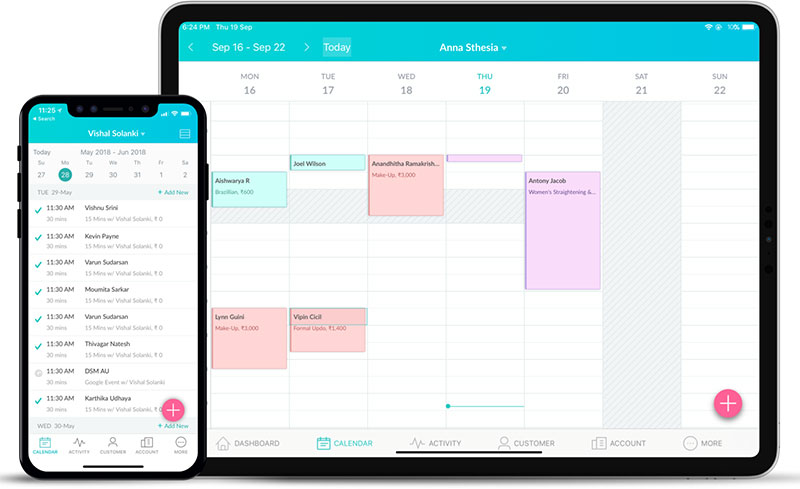 Setmore is a free calendar scheduling software that supports businesses with a 24/7 automated online booking service. It centralizes all bookings into one calendar, optimizes payments, enables users to insert video meeting links into every appointment, and provides more customization options.
Setmore integrates with more than 35 applications such as Mailchimp, Quickbooks, Salesforce, Zendesk, and Zoho CRM. It also provides default codes that can be copied and pasted into major website builders like Adobe Muse, Weebly, Wix, WordPress, and websites powered by Joomla, Jimdo, and Drupal.
Resource Guru

Resource Guru is a resource scheduling software that provides a fast and simple way to manage bookings. With its drag-and-drop feature, this scheduling software is easy to use.
It comes with an interactive calendar which provides team visibility, and a leave management system that keeps track of personal vacations, public holidays, sick leaves, and maternity leaves. It also creates reports on key metrics such as billable and non-billable time, overtime, and absence.
Resource Guru helps businesses generate profits, maximize productivity, and improve workflow. It is also easy to install and doesn't require any training on web applications.
Booker

Booker, a part of MindBody company, is online booking software that found its niche in spa and salon management. It provides an online booking page that is available 24/7 where clients can book an appointment on mobile devices or any social media platforms.
It also features point-of-sale (POS) software that enables a smooth checkout process, tracking, and reporting tools that let business owners manage data, and the Booker Marketing Network that helps businesses expand their online reach.
Shiftboard

Shiftboard is an hourly employee scheduling software that provides tailored solutions to businesses with demanding workforce scheduling requirements. It helps decrease worker turnover and at the same time, helps increase change management efficiency.
It features two products, ScheduleFlex and SchedulePro, which are designed to support businesses with high compliance scheduling, and dynamic workforce scheduling. ScheduleFlex is recommended for demand-driven organizations that have frequently changing scheduling needs such as those in manufacturing, public safety, short and long-term healthcare industries.
SchedulePro on the other hand is designed for regulated industries like oil and gas, and petrochemical for example, that comply with safety standards, union regulations, labor laws, and other government policies.
Calendar

Calendar is an online meeting scheduling and shared calendar application that utilizes artificial intelligence and machine learning to provide solutions to calendar problems.
It links multiple calendars together to keep track of the team's availability.
It integrates Google Calendar, iCal, Outlook Calendar, conferencing tools, and other features into one centralized solution, and it syncs all events across devices.
It offers premium plans for individuals and teams which provide a wide range of analytics and other features.
Square Appointments

Popular among online stores for securing payment transactions, Square is a free appointment scheduling software and booking app that allows business owners to manage both paid and free bookings. It provides a centralized point-of-sale (POS) for bookings and payments.
The software helps businesses simplify the scheduling process by managing the availability of the business and allowing clients to book their appointments online.
It automates reminders to customers via email and text messages. It also enables an option to require prepayment for booking services and charge cancellation fees for no-shows, and its POS system also allows secure contactless payments.
Humanity

Humanity is an online employee scheduling software that offers small businesses a straightforward solution for their employee scheduling needs.
It leverages seamless human capital management (HCM) integrations, forecasting, and automation capabilities to enhance employee experience, and provide compliant and data-driven schedules to employees. It also offers a robust budgeting tool that helps companies reduce overhead costs.
Appointment

Appointment provides a 24/7 online booking service that allows customers to schedule their appointments according to the availability of the services.
Appointment enables encrypted and secure payment transactions using the SSL or the Secure Sockets Layer technology. It offers powerful API integrations, and it allows business owners or staff to manage appointments from any device.
Google Calendar

This application doesn't need an introduction. Everyone familiar with Google must have used Google Calendar at least once. Google Calendar is more than just a calendar on your smartphones, it also works as a scheduling application.
Google Calendar is easy to use, and it allows businesses to keep track of their schedules anytime, anywhere, all they need is a single Gmail account.
The Google Calendar app allows you to schedule meetings and events, share the appointments with the staff.
SimplyBook

SimplyBook is an online booking solution built for service-based companies. It embeds with the company's existing website or with a custom booking page. It also allows clients to book from social media platforms such as Facebook and Instagram.
It provides a dashboard and generates reports that lets business owners keep track of all bookings, employee's workload, customer reviews, and even SMS notifications.
AppointmentCore

AppointmentCore is an appointment scheduling software that is suitable for those who use InfusionSoft and Google Calendar as it integrates with both applications providing a more immersive experience.
AppointmentCore allows clients to schedule their appointment according to the availability of the services through a special link. It also requires clients to provide basic information and enters the customer data into the InfusionSoft system.
MeetFox

MeetFox is a free appointment scheduling software designed to realign the allotted time and resources on administrative tasks to the improvement of customer experience.
MeetFox is easy to use, It has an intuitive and very straightforward interface that makes scheduling meetings fast and simple. It is also considered to be one of the leading free scheduling tools in the market, as it offers premium features free of charge.
Vagaro

Vagaro is an appointment management software built to support small businesses from the beauty and wellness industries. It provides advanced and tailored features such as an eCommerce store for salon retail products, and core scheduling services for fitness centers.
It also comes with an integrated website builder that already has the booking app by default. Vagaro is completely perfect for those who are starting their business without a website yet.
Arrangr

Arrangr is a smart appointment scheduling platform that offers a fast and easy booking process.
It integrates all scheduling tasks such as arranging conference calls, video chats, and coordinating meeting locations, into a single platform. A part of the HubSpot system, Arrangr enables users to launch and deliver invitations to recipients within HubSpot.
This integrated scheduling platform also connects with major applications like Google, Zoom, Office 365, Skype, Slack, Facebook, and more.
Appointlet

Appointlet is a free appointment scheduling software that provides unlimited bookings and meeting types, ideal for businesses that offer a wide variety of services.
It allows users to insert numerous form fields, and create multiple booking pages that are completely customizable. It has an intuitive interface and a broad list of customization options such as language translations, that can also address complex business needs.
Moreover, Appointlet also integrates with Zapier, enabling businesses to support any newsletter services or CRM.
AppointmentCare

AppointmentCare is a cloud-based appointment scheduling software that supports small to medium-sized businesses from industries such as health care, financial services, legal services, wellness centers, salons, and more.
It provides automated scheduling and appointment reminders, room booking management, multiple locations support, customization options for booking pages. It also allows users to embed booking widgets to their websites.
AppointEze

AppointEze is an appointment and lead management software developed to support small to medium-scale businesses.
It shows real-time availability of the business which promotes self-booking, while it enables business owners or staff to accept and manage more appointments from the clients and focus on other important tasks.
AppointEze features API web-integration which allows customers to schedule appointments in real-time. It is easy to embed on your website, and it requires customers to settle payments through the use of a credit card or PayPal.
Bookafy

Bookafy is a cloud-based appointment scheduling software trusted and most preferred by various industries due to its intuitive design and affordable buying price.
It automates appointment scheduling and video meetings, and it provides a booking system, a time-tracking plugin, and a calendar sync software in one application.
It also integrates with numerous customer engagement mobile applications such as Mailchimp, Zoom, Outlook, Stripe, and more.
Styleseat

Styleseat is an online booking platform built for hairstylists and beauty professionals. It provides marketing options for better client relationships and visual components such as custom banners for business listings.
StyleSeat also helps businesses improve their credibility and gain people's trust by displaying verified customer reviews for every business listing.
FAQs about the best scheduling apps
1. What are the best scheduling apps available on the market?
Amelia, Trafft, Calendly, Doodle, and Acuity Scheduling are a few of the most well-liked scheduling applications. These apps each have distinctive features that cater to various requirements and use scenarios. When I Work, on the other hand, is made for scheduling employee schedules, whereas Calendly excels at scheduling one-on-one meetings.
2. What features should I look for in a scheduling app?
Depending on your unique requirements, you should consider what features a scheduling app should have. Calendar syncing, automated appointment reminders, customizability options, team scheduling capabilities, and interaction with other tools like email and project management software are some typical features to consider.
3. Can I integrate my scheduling app with other tools like email or project management software?
Numerous scheduling apps include tool integrations to speed up processes and boost productivity. As an illustration, whereas Acuity Scheduling works with Stripe and PayPal for payment processing, Calendly integrates with Google Calendar, Outlook, and Zoom.
4. Are there any free scheduling apps that are worth using?
Yes, there are a number of cost-free scheduling apps that come with a wide range of options. When I Work, Doodle, and Google Calendar are a few well-liked free solutions. We'd recommend Amelia Lite, though.
5. Can scheduling apps help with team scheduling and coordination?
Yes, a lot of scheduling software have functions made especially for planning and coordinating team meetings. For companies with rotational schedules, these capabilities may include shift scheduling, tracking team member availability, and group scheduling.
6. What are the pros and cons of using a mobile scheduling app versus a web-based scheduling app?
While web-based apps often offer more functionality and customization possibilities, mobile scheduling apps provide ease of scheduling while on the go. In contrast to their web-based equivalents, mobile apps could have fewer feature sets and limited screen space.
7. How secure are scheduling apps, and what measures do they take to protect user data?
Scheduling apps frequently use encryption, password security, and two-factor authentication to protect user data. To learn how user data is gathered, saved, and utilized, it's crucial to read the app's privacy policy and terms of service.
8. Can scheduling apps help with appointment reminders and follow-ups?
Yes, a lot of scheduling applications provide automated follow-up messages and reminders for appointments to decrease no-shows and boost client engagement. Some applications also provide editable templates for follow-up messages, enabling companies to customize their customer communications.
9. How easy is it to set up and use a scheduling app?
The intricacy of the app and the user's prior experience with tools of a similar nature determine how simple it is to set up and use a scheduling app. While many scheduling apps have intuitive user interfaces and detailed setup instructions, more complicated apps might need some technical expertise to operate properly.
10. Are there any scheduling apps specifically designed for certain industries, such as healthcare or hospitality?
Yes, there are scheduling apps made expressly for the healthcare, hospitality, and fitness industries. These apps might provide functionality unique to the industry, such as patient or client intake forms, appointment kinds designed for particular services, or software integration.
Ending thoughts on the best scheduling app options
This article has already provided you with a refined list of the best scheduling applications in the market so you don't have to browse aimlessly through the web looking for the perfect one to use for your business. We have given you 31 appointment scheduling applications built to support businesses in various industries. Some work best for a particular business type.
Always remember that great scheduling software should help the business expand its client base and engagements, optimize its resources, increase productivity, improve project management, and streamline its business operations. It should also help generate sales and reduce the amount of paperwork and workflow gaps. Most importantly, make sure that the application is easy and comfortable for the staff to use.
If you enjoyed reading this article about the best scheduling app, you should read these as well: