If you own a business of some sort, then you most likely offer some services that require appointment scheduling.
Almost every type of business needs to use a schedule, whether it be a doctor at a hospital, a therapist that needs to manage the appointments of their patients, a personal trainer, or a coach that wants to set up meetings with their clients.
In this article, we will take a look at the best free scheduling app options for your business.
A good appointment scheduling app can help you massively when running your business.
A scheduling app can also be quite handy for your personal life: helping you manage meetings with other people or create group meetings with just a few clicks.
Here, we will take a look at the best and most popular apps that help you manage your schedule in the best possible way.
Free appointment scheduling software to try
Amelia Lite

If you want to opt for the free version rather than the premium plugin of Amelia, you'll still find it amazingly helpful. The free option gives you plenty of great features and will support your booking needs.
Amelia is an excellent option because it is easy to install and does not involve a steep learning curve. After installation, users enjoy free and complete booking functionality.
It can be fully integrated with WooCommerce so that you can accept payments via PayPal or Stripe. You also get calendar sync, whether you use Google Calendar or Outlook Calendar.
With Amelia, it's easy for your clients to book appointments thanks to its lovely user interface. It's a perfect booking system and a simplified solution to online booking.
Plus, the settings can be highly customized to suit your needs. Not only the settings but you can also customize the booking page so that it fits your brand.
Making appointments and subsequently managing them is a breeze with the integrated capabilities.
It sends SMS reminders to both the client and the relevant employee. It also includes functions for canceling and rescheduling appointments.
You can do a test drive on the demos page where you can see how it looks both on the frontend where the booking page is and the backend where you have your dashboard.
In this way, you'll have a good idea of how your booking website will look both on the front end and the backend.
10to8

This is one of the free scheduling software out there that you can get. It no doubt presents a very elegant option for a free scheduling app and can help you cover all sorts of appointment events and run your business.
With 10to8, you can easily send personalized emails and notifications to your clients. The appointment scheduling software works in an all-encompassing way that lets you handle payments and arrange meetings with clients. You can share your calendar with your clients and let them arrange meetings directly from it. You can use this tool to book rooms and much more.
10to8 is a very good appointment scheduler that will bring your business to your clients much easier. Besides, the interface is easy to learn and very user-friendly.
Trafft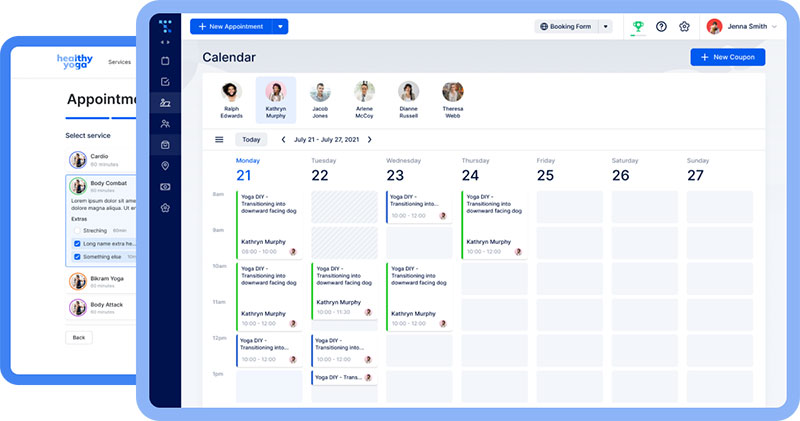 Now, Trafft is something else. It's the premium scheduling software that you can get at an affordable price. You can schedule on-site or virtual appointments, meetings & events, manage staff and services, accept payments, send reminders – all in one tool.
Trafft streamlines the booking process for your potential customers by making it easy and fast to book and pay for your services, improving the interaction rate, and boosting conversions by up to 30%.
What's really neat about it for some business owners is that they don't need to have a website to use it. Trafft will generate an SEO-optimised booking page that you can integrate with Google or Instagram. Or you can embed the booking form on your existing website if you already have one.
If you want to spend 2 hours less daily on admin tasks, you should get Trafft.
Acuity Scheduling

Next on the list is Acuity Scheduling, one of the most popular free scheduling app options out there due to the crazy range of industries that it covers. Not only that, but it has some very good online booking capabilities as well.
Your customers and employees are able to see when you are available and can schedule meetings with you easily. The app can also handle payments, reschedule appointments, and block parts of your calendar.
As a free scheduling app, you get a lot out of it. It is a no-brainer if you are looking for a quality app that can help you handle your calendar for free.
Easy!Appointments

This is an online app that can be used for free and is especially useful for medical institutions to book their clients. As a free option, it brings a lot to the table, and you can easily handle the appointments of your clients and your calendar. Online booking is very easy, and the use of the app is intuitive.
Because you can sync the data with Google Calendar, this appointment scheduler works almost perfectly for people who have tight schedules. You can use it for your website, and the installation is very quick and lightweight, as it only uses one map.
Appointlet

Keep control over your appointments and your schedule with Appointlet. Managing your schedule has never been easier, as you can add a buffer time around your appointments to make your schedule a bit more relaxed and organized.
You can control several types of appointments, and you can even send email reminders to your clients about the appointments so that they don't miss them.
Remember, this app is completely free to use, and it offers you almost endless options for the number of appointments, types of meetings, and form fields. Customization options are also there, as you can add your logo to schedules. However, the branding from Appointlet will stay nonetheless.
Timify

Timify uses cloud technology to store your calendar and your appointments. You can allow your customers to book appointments online, and they are saved straight away to your online schedule, safely and accurately helping you manage your time.
Timify is a free app that can be used by a large variety of businesses. Practically anyone who needs to manage appointments can use this app to great effect. Medical professionals, personal trainers, hairdressers, various salons, and even educational institutions can use this app. The best thing about it is that it doesn't require a download, as everything is managed online.
Square Appointments

Square Appointments allows for convenient appointments, as it offers quality booking features, easy invoicing, and CRM tools for the best experience possible.
This scheduling software also allows you to have a free website, on which you can choose several payment methods or deposit methods. While it is free for individual users, it requires a membership if several members will be using it. Still, as a free scheduling app, it offers a lot.
Calendar

Calendar can either be used as an Android or IOS app, or you can download it to your desktop PC. Syncing and connecting calendars and schedules has never been easier, and this Calendar app allows you to easily integrate Google, Apple, and Outlook calendars and manage appointments from there.
This scheduling software uses an algorithm to calculate your schedule and uses past schedules to predict when you will be available in the future.
Of course, you can customize everything yourself, but you can also decide to let the app automatize the appointments and handle them for you. Sharing your calendar so that others can see it is also easy.
Reservio

If you are looking for a good scheduling software, then Reservio is the way to go. This free scheduling app can help you manage appointments 24/7 and it sends you constant reports on your clients, appointments, staff meetings, and even the performance of your business.
In the free version, you get access to email notifications, but if you want to have SMS notifications, there is an additional fee you will need to pay. Integration with Google Calendar and iCal is very easy as well.
Doodle

Doodle is one of the best free scheduling apps that offer you an almost complete experience. The basic version of the app is free, but there are also two other payable versions that offer more features and an ad-free experience.
It is best used for scheduling individual meetings and for making group arrangements, as each member of the group is given the ability to cast a vote in a poll, through which data is then picked. You also get automatic reminders, integration with several calendar providers, encryption, and Android and IOS apps.
Setmore

Setmore is a free scheduling app that allows you to manage online bookings by offering a booking page. This scheduling software also helps you keep track of staff profiles and lists of customers. Plus, it lets you send them emails and text notifications effortlessly.
This booking system differs from other apps in two ways: the first is that it allows you to check your online appointments even if you are offline. The second is the large list of business software Setmore is compatible with, like MailChimp, Zendesk, Zoho, Salesforce, as well as the ability to use in website apps such as WordPress, Drupal, and many more.
Grapple Meetings

With Grapple Meetings, you can easily manage and arrange group meetings with its easy to use and intuitive interface where users can vote for various dates in polls. What makes it even better is that it is relatively new, so the interface is very up to date and modern.
Grapple Meetings is one of the best apps for group meetings. You get access to all features that are included in Grapple, and you also get a schedule.
Smoothbook

This is yet another one of the free scheduling app options that you can use to make your appointment scheduling process easier. It is completely free, so you can use all of the given features without having to put in your credit card information.
It is a great app for online payments, especially for PayPal payments, and you can also offer discounts and various gifts to your customers. Integration with Mailchimp and Google Analytics are also very important features for many people.
The great thing about it is also that it offers options for a wide variety of businesses, from appointment booking needs to individual needs. If you own a class or if you are a coach, then this one is a great option for you.
Appointy

Appointy is the complete experience when it comes to appointment scheduling. It offers something for practically everyone, from fitness instructors to coaches and various salon owners, and even for government or school needs. Appointy has everything you need to manage your schedule.
It allows for easy schedule management through Facebook and through the app itself, which is very convenient. You will also get a free subdomain where you will be able to manage all the appointments and bookings on your own.
Shedul

With Shedul, you can manage all your appointments and bookings online through a cloud-based platform. You get everything and much more for completely free, which is rare to see with the quality they offer at Shedul.
Shedul can be used by practically anyone for free. It comes to life when used for appointments for spas and various salons, but can be used for other purposes as well.
Shedul is very flexible, so it offers plenty for other users, too. The best thing about this scheduling software is that it only has a free plan and therefore all the features are included in it.
Calendly

One of the best and most popular scheduling software, Calendly uses an automated meeting scheduling system that is perfect for businesses as well as for individual users.
If you are using it for yourself, then you can easily use the basic plan for one person, which is free. All you need to do is sign up with your Google account. If you want a version with more features for larger operations, then you can also take up the paid plans.
The basic version offers integration with Google Calendar, Outlook, and Office 365. You can easily boost your sales and improve your service with the free scheduling app itself, and also manage your calendar efficiently.
HubSpot Meetings

This is a free scheduling app that allows you to manage your appointments easily without the need to send emails or making unnecessary phone calls. Everything can be arranged with a few clicks, which can save you a lot of time for other important work.
HubSpot Meetings can be used by businesses and individuals alike. You can boost your sales and massively improve the service on your site, plus, it suits many different needs and professions. It offers integration with Google Calendar, Office, and HubSpot CRM.
Simplybook.me

Simplybook.me is one of the best international choices on this list, and that is because of its extensive language support and international payment options.
In terms of language supports, the app is available in English, Chinese, French, German, Italian, Japanese, Portuguese, Korean, Russian, Spanish, and Taiwanese. This allows people from all around the world to connect very easily, and the various international payments and currency support make it even easier to do so.
A good feature of this scheduling software is that it supports a large variety of businesses – from spas and salons, to personal financial advisers, sports coaches, and many more.
Bookafy

Bookafy is a great free scheduling app option for smaller businesses looking for an automated scheduling process. It is cloud-based and very easy to use, and it features integration in many different browsers.
This scheduling software also gives your customers many payment options. It features reminders for appointments, calendar sync, group scheduling, multi-location, online booking, extensive payment options, and recurring appointments.
Picktime

Picktime is another cloud-based free scheduling app that you can use for appointments. The great thing about Picktime is that it is heavily customizable — you can control just about everything about it.
Picktime gives you a free booking calendar system, as well as integration with various third-party calendar providers. In addition to that, Picktime has a great interface and intuitive use. You can book classes or group activities with it, as well as manage your staff calendars and create recurring appointments.
TimeTap

If you are a small business, then you should be looking at TimeTap. You can sync your calendar with those of your customers, allowing for very easy appointment booking, and it allows you to collect all the necessary information about your customers before booking, such as their identification documents and more.
BUK

This free scheduling app is one of the most flexible options on this list. It makes the whole process of making and scheduling appointments as seamless and easy as possible. You can control your whole schedule with this scheduling software, and integrate it with other calendar providers, such as Google Calendars.
OpenSimSim

A very good app for controlling your staff's schedules and for communicating with them. It is free to create schedules and alerts.
YouCanBook.me

Perfect for small businesses and freelancers, this app allows you to integrate your calendars with other calendar providers and create multiple calendars. Appointment scheduling is also very easy with this app. With YouCanBook.me, you can control your whole schedule.
Yocale

Last but not least is the free Yocale scheduling app, which can be used for booking as well as for marketing.
Ending thoughts on using a free scheduling app
There are many free scheduling apps out there. Many of them offer very convenient options for creating and managing schedules and for easier connection with your customers.
If you have a WordPress site, however, we recommend using the premium version of the Amelia plugin.

Amelia is one of the best scheduling programs currently out there, as it allows you to create your own booking forms, and online-based calendars, which brings your schedule closer to your customers.
If you enjoyed reading this article about free scheduling app, you should read these as well: