Appointments & Events WordPress Booking Plugin
Amelia is a simple yet powerful automated WordPress appointment booking plugin, working 24/7 to make sure your customers can book appointments or events and pay online even while you sleep.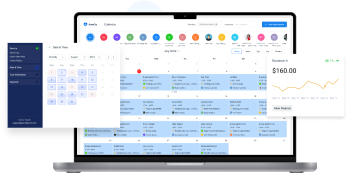 Ver Video
Descubrir Más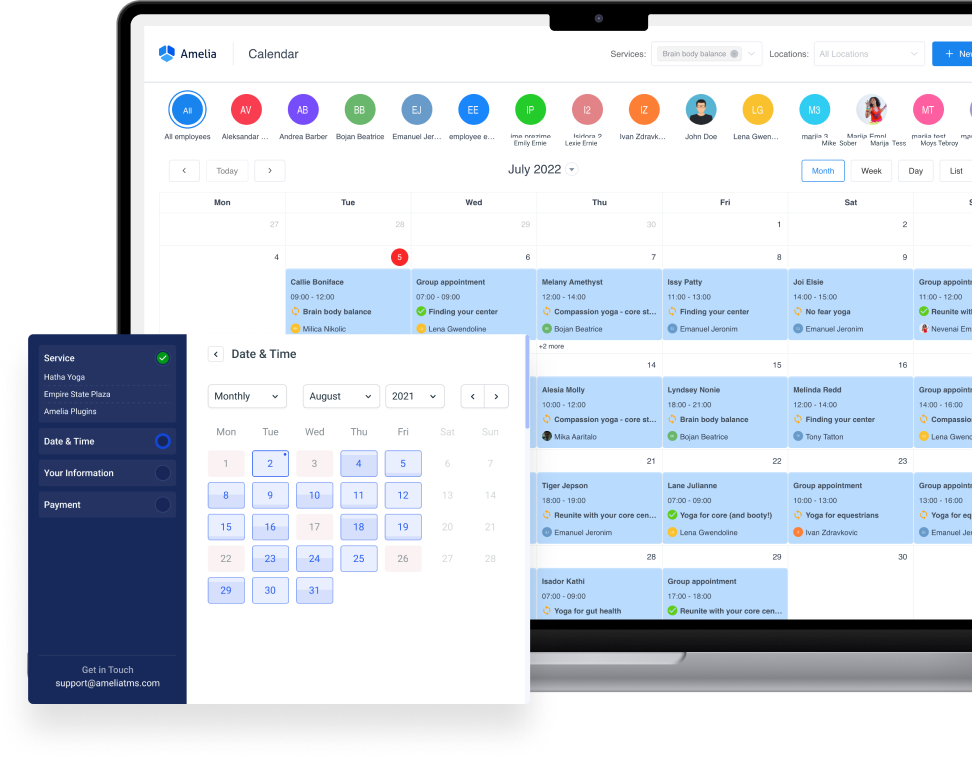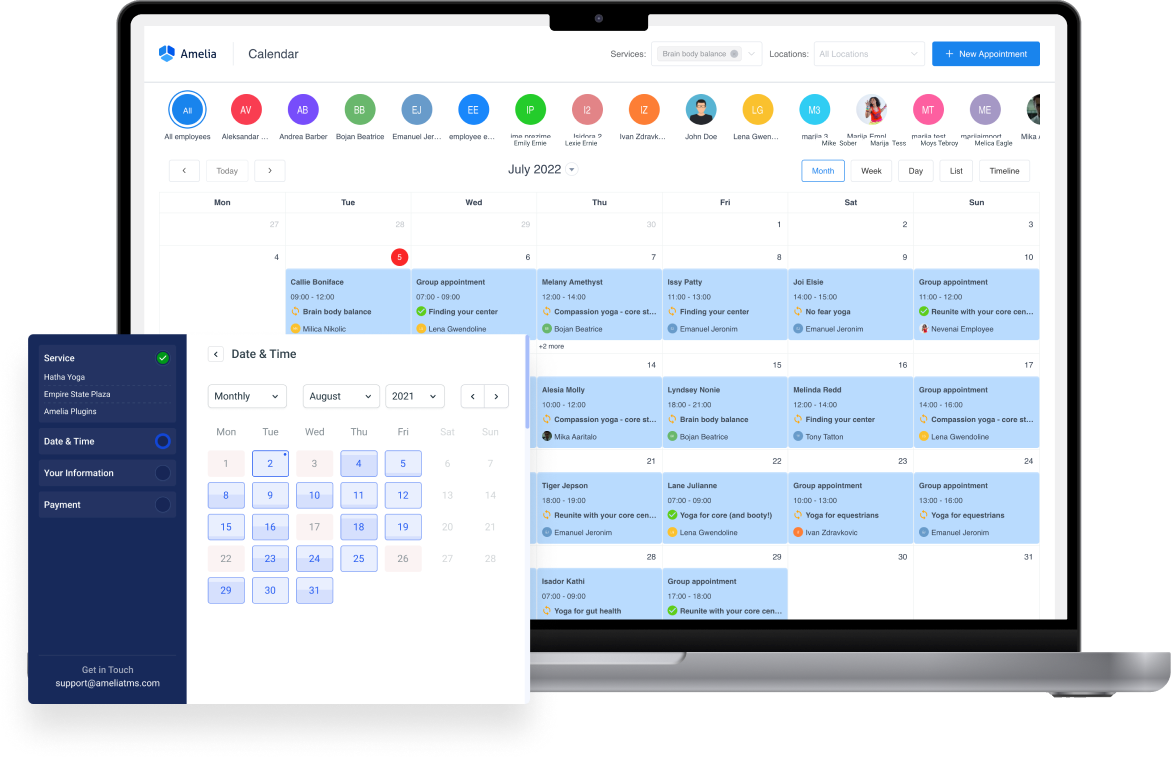 Presentado en
Our powerful WordPress booking plugin is perfect for
Asesores jurídicos
Programa reuniones, enumera los servicios, cobra los pagos, gestiona el personal.
Gimnasios y centros deportivos
Permite que tus clientes elijan, reserven y paguen con facilidad su entrenamiento grupal o individual.
Clínicas privadas
Programación de citas, catálogo de servicios médicos, pagos y otras herramientas.
Salones de Spa
Lanza un completo mostrador de recepción en línea para tu spa o salón de masajes.
Talleres de reparación
Enumera los servicios de reparación que ofrecen, los técnicos y su disponibilidad.
Salones de belleza
Allow customers to choose a stylist, browse procedures and book visits in advance.
Intuitive & Easy-To-Use Booking Plugin
Lleva tu negocio a un nivel profesional y de confianza.
We have created the Amelia WordPress Booking plugin using the latest technology stack, modern design, and user experience techniques.
The booking system allows you to provide an enterprise-level smooth booking experience for your customers, without investing in branding or making big changes to your work process.
Concéntrate en tu trabajo y olvídate de pagar a los ayudantes.
The Amelia WordPress booking plugin will fully automate the interaction with potential customers, help them pick the right servicio y el empleado adecuados, se encarga de los pagos.
Moreover, with our appointment plugin you get real-time SMS en tiempo real both for the customer and employee for booked, canceled or rescheduled appointments.
With our appointment booking system, you can focus on your work instead of handling appointment bookings manually.
No training is needed to install and use.
Instalar y utilizar Amelia will take you a few clicks. We continuously focus on maximum simplicity and convenience for Amelia's end users.
Most actions, both on front-end and back-end are intuitive and do not require more than 2-3 clicks. And in case you will need help, Amelia has detailed documentación sobre las funciones del plugin - and of course, we're always here to offer support.
All-In-One Solution for Your Business
Detallado Panel de Administración
The Amelia booking plugin provides business owners and managers with a dashboard that summarizes all the business-critical KPIs. Neat and insightful, various widgets, charts, and tables allow checking the performance at a glance.
Business owners want to take advantage of the entire booking system by tracking the performance of the whole business and individual employees. Being on top of your business and staff's performance is a key to a successful business.
Aprende más
Asistente de reservas paso a paso
You can opt for a classic step-by-step appointment booking form with modern design focused on smooth UX in a single-page-app style. The most popular booking form is also highly converting and inviting, reducing churn and making the appointment booking experience a breeze.
Customers can quickly pick services, employees, location, date and time, payment details, and change any settings without leaving the booking page. The entire appointment booking process includes several intuitive and easy-to-navigate steps.
Aprende más
Event List and Booking Calendar View
Our WordPress appointment booking plugin can also handle events using the event booking forms. The event booking view lets you list events, create tags and colors, add images and descriptions to each event.
While it is easy for you to manage an event through our booking plugin, it is even easier for your users to book an event thanks to our carefully designed, UX-oriented event booking form.
After installing our booking plugin on your WordPress site, your users will be able to create online reservations with just a few clicks.
Aprende más
Diseño personalizable
Amelia has a minimalistic & modern user interface, that you can quickly adjust to match your theme and business branding. Even more, you can customize booking forms to look as if they're an integral part of your WordPress site.
On the backend of the customization page, a WYSIWYG editor will help you adjust colors, information, and fonts to make beautiful appointment booking forms and events calendar forms that fit your booking page.
Aprende más
Amelia Demos
Pick a demo site that looks closest to your industry. You can browse them as users would browse your WordPress site. Check out the appointment booking form where you can schedule appointments and see the Amelia experience through your users' eyes.
We have more than 50000 happy customers
Thousands of businesses choose us
The Amelia WordPress Booking Plugin powers thousands of businesses and received recognition from leading industry websites: