Scheduling a meeting can be a time-consuming process involving a long string of emails. Using a meeting scheduler app streamlines the process and makes it hassle-free. It removes the risk of double booking by indicating the availability of attendees.
There are a variety of meeting schedulers designed for small businesses. They range from email plugins to mobile apps, to web-based solutions. The available options have been tested and listed below are the best online meeting schedulers available.
What to Look For In a Meeting Scheduler App
The following criteria are most important when selecting a meeting scheduler app:
User-Friendly
The meeting scheduler software must be easy to use. Learning how to configure the app should be straightforward and the dashboard should be simple and intuitive.
Customizability
The app should help to promote your brand and be fully customizable. It should display your logo and brand colors, as well as taglines and other important signage. This will help to create an affinity for your brand amongst your client base.
Good Security
Because of their nature, meeting scheduler apps contain a lot of personal information. It is important to ensure that the platform used is secure and has a reliable privacy policy.
Email Integration
In the business world, most communication is electronic. Integrating your meeting scheduling app with your email software makes scheduling convenient and responsive. Effectively, any changes made on either platform will correspond.
Value for Money
The recommended apps all have a free version available. Should you require a few extra features, the paid options are within a reasonable range too.
Meeting Scheduler Apps for Small Businesses and Freelancers
Amelia

Amelia is a WordPress booking plugin created by our team at TMS Outsource. It includes all of the features that we discussed above in a reliable format that is easy to use.
Amelia is an excellent option because it is easy to install and does not involve a steep learning curve. After installation, users enjoy free and complete booking functionality.
It can be fully integrated with WooCommerce so that you can accept payments via PayPal or Stripe. You also get calendar sync, whether you use Google Calendar or Outlook Calendar.
And since we're talking about integration, we need to mention that it also has Zoom and Elementor integrations making it easy to customize Amelia for your business.
With Amelia, it's easy for your clients to book appointments. It's a perfect booking system and a simplified solution to online booking.
Plus, the settings can be highly customized to suit your needs. Not only the settings but you can also customize the booking page so that it fits your brand.
Making appointments and subsequently managing them is a breeze with the integrated capabilities.
It sends SMS reminders to both the client and the relevant employee. It also includes functions for canceling and rescheduling appointments.
You can do a test drive on the demos page where you can see how it looks both on the frontend where the booking page is and the backend where you have your dashboard.
In this way, you'll have a good idea of how your booking website will look both on the front end and the backend.
Trafft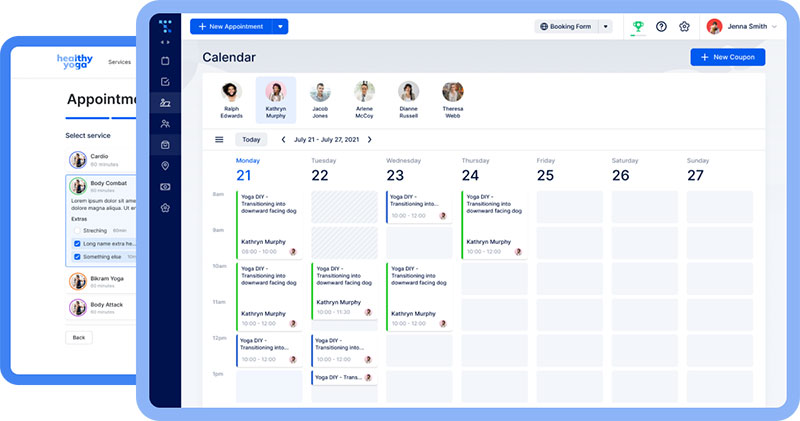 Now, Trafft is something else. It's the premium scheduling software that you can get at an affordable price. You can schedule on-site or virtual appointments, meetings & events, manage staff and services, accept payments, send reminders – all in one tool.
Trafft streamlines the booking process for your potential customers by making it easy and fast to book and pay for your services, improving the interaction rate, and boosting conversions by up to 30%.
What's really neat about it for some business owners is that they don't need to have a website to use it. Trafft will generate an SEO-optimised booking page that you can integrate with Google or Instagram. Or you can embed the booking form on your existing website if you already have one.
If you want to spend 2 hours less daily on admin tasks, you should get Trafft.
Meetingbird

Meetingbird has grown over many years to become an all-encompassing solution for scheduling.
With a Google or an Office 365 account, you can log in and begin scheduling almost immediately. To begin, click the "create my first scheduling link" button. Meetingbird will prompt its user and provide concise instructions on the next steps to take. You will be able to send polls to gauge availability and include as many time and date options as necessary.
HubSpot Meeting Scheduling Software

This free tool from HubSpot provides users with personalized booking links. Share this link with others and they can view all your available time slots. A suitable appointment can then be scheduled via the link. This will trigger the event and add it to the user's calendar.
HubSpot Meetings integrates with Google, Office 365 Calendars, and with the HubSpot CRM.
Pocket Informant

Pocket Informant can help freelancers stay in control of work tasks and personal commitments. It acts as a virtual assistant, storing the user's calendar, tasks, projects, notes, and contacts.
The app is straightforward and user-friendly, offering one-button navigation. Users can identify new events using specific keywords or attributes. This makes creating agendas for meetings simple and stress-free.
NeedToMeet

NeedToMeet can be used to create a simple meeting link. Users enter a brief description of the event and highlight their availability on the calendar.
The free version does not offer calendar syncing at this time. However, the premium version can be integrated with Outlook. The platform allows a bulk meeting period to be made available to a group of people. They can then select a slot for a one-on-one session. This makes scheduling easier, allowing managers to meet with a team of people one at a time.
Calendar

Calendar is a simple meeting scheduling solution that emulates the functions of Google Calendar. It is available on both web and mobile.
Calendar uniquely tracks and presents statistics to its users. This enables you to note trends in meeting and scheduling habits. With this information you can track meeting attendance, identifying recurrent absentees. It can also help you gauge how much time is spent in meetings over various time periods.
Google Calendar

Google Calendar is an extremely well-developed app that is affordable and easy to use. The integration capability of Google Calendar with other Google platforms is exceptional and very efficient.
Using Google Calendar to schedule a meeting is easy. In the app, create a group calendar and share it with other group members. You can view responses and keep track of the invitees' availability.
Boomerang Calendar

Boomerang Calendar browser extension is available for both Mozilla Firefox and Google Chrome. It fully integrates with your Google Calendar and Gmail account, making scheduling easy. There are various methods available for booking meetings using the extension.
For instance, when composing an email, Boomerang will pull up the calendar allowing you to view your availability. It notes your free time slots and shares them with your chosen recipients. They can respond and select a time that best suits them. Boomerang can even suggest the best times to schedule meetings.
Demodesk

Demodesk is a comprehensive meeting scheduler designed specifically for sales demo scheduling.
The platform allows you to create custom booking pages, sync your calendar, and view meeting analytics. Users can access advanced screen sharing capabilities and virtual display options. It also has native integrations with many tools including CRMs.
Calendly

Calendly provides hassle-free, automated scheduling by working with your calendar to verify availability. The software has great features such as providing a buffer time between meetings, and time zone detection. It is compatible with apps like Salesforce, GoToMeeting, and Zapier.
Calendly prompts users to specify the length of the required meeting. Based on this it will calculate your availability and email various options to your recipients. Once a slot has been selected, the meeting is automatically added to your calendar.
Doodle

Doodle is designed to schedule meetings for groups of people within the same organization. The host will send out time and date options to all participants. Based on participant responses the host finalizes the meeting time. Doodle then automatically creates an event in all participants' calendars.
The software offers many features to help set up meetings and other internal appointments. Some of these include a shareable URL, one-on-one meetings, and update broadcasts.  Doodle also auto-identifies time zones, sends automatic reminders, allows customized branding, and syncs with Slack.
X.ai

X.ai has created two AI assistants named Amy and Andrew Ingram. Once you have created an account, these assistants can be used when scheduling meetings. The user would simply CC them on the meeting request email. The AI assistants will correspond with the invitee to finalize an appointment time.
X.ai is compatible with Google, Office 365, and Outlook for easy calendar integration.
Arrangr

This tool will reserve tentative meeting times and release unused slots back into your calendar. Arrangr integrates with calendars and CRMs and can schedule group events. It may even suggest the perfect meeting location.
Rallly

Rallly uses the concept of a 'show of hands' to gauge the availability of all parties. A unique feature of this platform allows all respondents to remain anonymous.
Users can also invite attendees to answer a poll. This is done by either entering their email addresses or sending them a link. A discussion box is available below each poll, allowing participants to leave comments.
FreeBusy

FreeBusy is a tool that sets itself apart with its capabilities. It assists with scheduling and allows for internal or external members to be added by either party. It provides screen shares and can integrate the web conferencing platform of your choice. FreeBusy automatically creates and adds the conference call to the appointment.
Appointlet

Appointlet can schedule appointments both within and outside a business. Its design focuses on sales leads scheduling but is applicable within other structures.
Appointlet boasts advanced functionalities alongside the standard email confirmations and reminders. It offers time zone support, team availability, customizable schedule breaks and time limits, multi-language support, custom branding, and personalized links.
Users can integrate their schedules into sales funnels and facilitate payments from customers. This makes maintaining leads painless.
iCloud

iCloud features a user-friendly calendar that fully integrates with any Apple device. It allows your team to schedule meetings, share information, and communicate with ease. Toggling capabilities allow users to select their preferred calendar view. It has a simple interface and similar capabilities to Google Calendar.
Jorte

The platform allows users to create task lists, make diary entries, and save pictures. The user experience is reminiscent of using a well-organized digital scrapbook.
Jorte is fully compatible with other calendar services including  Google, Apple, and Yahoo! This makes it a great option for those who work across multiple device brands.
YouCanBook.Me

YouCanBook.Me is a paid subscription meeting scheduling service. It allows business professionals to book meetings with clients.
The service is incredibly flexible and boasts a wide variety of useful features.
Ending thoughts on the best meeting scheduler apps for small businesses and freelancers
With so many scheduling tools available, it is important for users to find one which best suits them. There are a variety of price ranges, features, and supported integrations available.  Remember to consider whether the focus is on meeting with employees or with clients. Ensure that the platform is compatible with the calendar service you already use.
These tools all offer creative ways to gauge the availability of those you need to meet with. They can prevent any unwanted double-bookings which cost you time and money.
If you enjoyed reading this article about meeting schedulers, you should read these as well: