Building a website for a gym takes a lot of work. Even after a website is ready to launch, there may still be things about it that don't seem to fit. Or maybe you feel like something is still missing.
Gyms all over the world make use of a wide variety of WordPress plugins to optimize their websites. If you are looking for help to take your website to the next level, it may benefit you to look over some of the most used WordPress plugins for gym websites. Many of them are popular for good reasons.
In the following list, you will find a number of excellent plugins that add necessary, useful features to your website. These WordPress plugins for gym websites or fitness blogs will elevate your website to the next level.
Amelia

Amelia is a powerful WordPress booking plugin that works flawlessly with WordPress sites of all kinds. It has a minimal, yet powerful appointment booking interface designed to ease your workflow, automate repetitive tasks, avoid double booking, and make appointment booking a breeze for your customers.
You can even have email notifications and SMS notifications so that nobody forgets about their appointment bookings.
In order to book an appointment, the complete user interaction takes a few clicks with this WordPress plugin. Moreover, with it you can accept payments via PayPal and Stripe, perfect for those who want to pay in advance to book appointments.
As a business owner, you can monitor KPIs in the WordPress dashboard and analyze other important data to keep a pulse on your business. Amelia is a straightforward, no-nonsense booking calendar plugin and an amazing option for those who want an around-the-clock solution for their WordPress site.
Amelia also has an Events Calendar module integrated within its features.

You can now automate your event bookings as well. To be more precise, it means that you will be able to schedule a single day, a multi-day, and also recurring events with Amelia.
Did we mention that you can manage multiple locations and that you have Google Calendar integration?
All of these and much more are under only one license, no add-ons are needed.
To test things for yourself, I'd suggest checking out the demos and seeing how things look on the front end as well as in the back end.
A demo relevant for you: Fitness Gym / Yoga booking page demo

A pseudo Yoga/Gym online booking page where you can browse through possible Yoga classes, schedule individual or group training, and book a package of appointments.
Hands down, this is the one you should pick from this list. Yet, you can check out the other options as well to see for yourselves why Amelia is #1.
Weight Tracker

Through this plugin, people can keep track of their weight loss progress. A new user can input their current body mass index and weight. Then they can set goals for themselves by inputting their target weight and body measurements. They can choose to organize the information as a chart or table depending on what they prefer. They can also display the information using short codes or widgets.
The client can always access this information, but you as the organizer can also see it. The information is saved to a database so that you can check up on the client's progress from time to time.
From the backend, either you or the trainer can work with the client to help them to reach their goals and hit their calorie targets. The free version of this plugin comes with a variety of excellent tools, but there is also a paid version with more features.
MB Spirit for MINDBODY Plugin

The MB Spirit plugin works together with your MINDBODY plugin to create a great yoga website.
The MB spirit plugin connects your MINDBODY information to your preexisting website. Then, through widgets, you can upload information for visitors and clients. You can create a widget for class calendars, events, or workshops. You can create other widgets to introduce different instructors and staff members. Or you could create one that outlines the different kinds of sessions available and what they entail.
Then, the MB spirit for MINDBODY plugin helps you add those widgets to your webpages or online posts. Using the short code, you can also apply data filters to each specific page. From there, you can adjust their layout according to the original short code.
This plugin includes an SEO optimization feature that allows you to increase traffic to your website. This allows search engines to find your site more quickly and compels more people to check out your website.
Calorie Calculator

Counting calories can be a pain for most people. But following a caloric deficit diet is a proven way to help people to lose weight.
With the Calorie Calculator plugin, you can add a calorie calculator to your preexisting webpage. This way, visitors to your site can easily access a way to track their calorie consumption.
The calculator is very small and appears as a widget on a webpage. The calculator can adjust to metric or US units of measurement so that it is easy for anyone to use.
An added benefit of this plugin is that it allows you to collect the email addresses of each user. This feature serves to build your email list.
Fitness Trainer – Training Membership Plugin

This is the perfect plugin for content management on a gym website. Personal trainers in particular will appreciate how easy this plugin is to incorporate into their WordPress website. Once the plugin is installed and activated, the plugin takes care of the rest. Fitness Trainer – Training Membership plugin will help you create the webpages and email templates you need. It will also help you finetune the settings on your website for effectiveness.
With this plugin, you can upload diet plan examples and workout plans. You can also keep full records of all your clients.
The Fitness Trainer – Training Membership checkout system supports payments from a variety of payment gateways.
The plugin comes with support for 15 languages and works well with the WordPress Multilingual Plugin. It also works well with other WordPress plugins.
With the aid of this plugin, you can get your fitness website up and running quickly, allowing you to build your clientele and memberships.
Free Keto Calculator

The Keto diet has rapidly gained popularity. With this plugin added to a WordPress website people can easily track their weight loss and health goals.
The plugin itself is easy to use. Just copy and paste the short code into your website or fitness blog. Once in place, you can adjust the settings to display in US or metric data. You can display the data and diet plans in the form of a custom table or a chart. You can also create PDF reports of clients' progress.
Meal Tracker Plugin

This WordPress plugin helps users to keep tabs on their meals and daily caloric intake. The plugin itself is lightweight and ideally suited to helping clients keep track of their exercise and weight loss.
Both the client and the administrator can set calorie targets. They can also upload information from an app designed to track weight loss and calories. Unlike other plugins, with the Meal Tracker plugin users track caloric intake to build awareness of what they are eating. Administrators can set limits on the number of calories consumed in a day.
WP Recipe Maker

Some people struggle more with creating meal plans than they do with counting calories. That's why this WordPress plugin is another must-have for a fitness website.
Sharing healthy recipes on a fitness blog or website is not uncommon. But they can be hard to format. That's what makes this a great addition to a WordPress website. This plugin allows users to import recipes from other reputable sources. Then you can just refer to a recipe on your page and move on without spending hours drafting and editing. And visitors can quickly find a recipe that interests them.
WPGYM – WordPress Gym Management System

If you run any kind of fitness center, you need a gym management system that can manipulate all the data required to operate a center successfully. In addition to class schedules and membership management, you also need a way to keep track of accounting information. Details like invoicing and payment reconciliation can't afford to slip through the cracks while you manage classes and workout schedules.
WPGYM alleviates your load by delegating some of the details to the members themselves. Embedding class calendar information into the site allows members to book their own class schedules. The member's area also allows them to keep tabs on their daily workouts and meal plans. They can also manage their own membership and payments in the member's area of the site.
This plugin makes all of that possible and more, making it ideally suited for the homepage of a fitness website.
CC BMI Calculator Plugin

This WordPress plugin can encourage visitors to meet their fitness goals and manage their health. By dividing their weight by their height, the CC BMI Calculator can help visitors to learn their current body mass index.
The plugin is customizable and allows users to adjust color settings and change fonts. The calculator can be uploaded to a website as a widget. You can also embed the calculator directly into a page using the short code. It also works on a mobile device, and it is easy to use.
The visitor can upload their body measurements, like height in centimeters or feet and weight in pounds or kilograms. The results they get back from the calculator can help them to understand whether they are at a healthy weight or not.
Gym Studio Membership Management

This plugin comes with fewer bells and whistles for those who want a simpler option. The plugin contains a couple of editor buttons so that you have the option to add things like classes or a login area to your website.
You can also manage classes and instructors. Even membership management is easy using the auto-generated QR code.
WooCommerce Groups, Subscriptions & Booking

Woocommerce also has a great WordPress plugin combo to make the most of your fitness websites. By using a combination of Woocommerce subscriptions, Woocommerce bookings, and Woocommerce groups, membership management becomes a piece of cake. Clients can review, renew, or purchase new membership plans.
This combination can vary in price depending on whether or not you use the free versions of these plugins. Of course, a free plugin won't always work as well as the paid version because of the difference in resources to which you will have access.
Wrapping Up on WordPress Plugins for Gym Websites
No matter what kind of fitness center you run, this list of WordPress plugins for gym websites is sure to contain something to take your website to the next level. Clients and other visitors will no doubt appreciate being able to keep track of their progress and share it with friends. They will surely appreciate how easy your website is to use thanks to the new tools and widgets included in these plugins.
As you think about your website and how you want to see it improve, come back to this list of WordPress plugins for gym websites. With your personal goals in mind, see which one of these plugins will help your website reach its full potential.
If you enjoyed reading this article about WordPress plugins for gym websites, you should read these as well:
Web designers generally have nothing to do with creating content for their projects. Even so, the look of a site can be incomplete if no words are included. Web designers need to find ways to incorporate copyright-free content into their designs to provide clients with a look that is as finished as possible.
Want to step up your game as a personal trainer and entrepreneur? Then consider some effective online tools now available.
There are numerous personal training platforms, and each one differs from the other. Online personal training software isn't the same for everyone; each software program boasts its own characteristics and advantages. This article will assist you in figuring out which free personal trainer software is best for your business.
Trafft
Staying organized has never been easier.
You can now manage your business and grow your brand with a single, powerful software that keeps all of your appointments in line, your clients organized and your business booming.
Trafft is perfect for business owners who need to streamline their booking experience both for their staff and their clients.

Trafft handles everything for you, even sending automated email or SMS reminders to your clients. No-shows? Not anymore!
The Trafft booking software adapts to different industries for a blissful online booking experience and employee management.
Want to know more? Check out Trafft's awesome features to see what you are missing.
Amelia

Amelia is a powerful WordPress booking plugin that works flawlessly with WordPress sites of all kinds. Even in its free version, it has a minimal, yet powerful appointment booking interface designed to ease your workflow, automate repetitive tasks, avoid double booking, and make appointment booking a breeze for your customers.
You can even have email notifications and SMS notifications so that nobody forgets about their appointment bookings.
In order to book an appointment, the complete user interaction takes a few clicks with this WordPress plugin. Moreover, with it you can accept payments via PayPal and Stripe, perfect for those who want to pay in advance to book appointments.
As a business owner, you can monitor KPIs in the WordPress dashboard and analyze other important data to keep a pulse on your business. Amelia is a straightforward, no-nonsense booking calendar plugin and an amazing option for those who want an around-the-clock solution for their WordPress site.
Amelia also has an Events Calendar module integrated within its features.

You can now automate your event bookings as well. To be more precise, it means that you will be able to schedule a single day, a multi-day, and also recurring events with Amelia.
Did we mention that you can manage multiple locations and that you have Google Calendar integration?
All of these and much more are under only one license, no add-ons are needed.
To test things for yourself, I'd suggest checking out the demos and seeing how things look on the front end as well as in the back end.
PT Distinction

Looking to change clients' habits to encourage lifestyle changes? PT Distinction might be the online personal training software for you. This platform gives you a great deal of control of training operations with the capacity to include nutrition counseling and develop personalized forms and evaluations.
The platform's features and general enhancements may be a little overwhelming for trainers with little technical knowledge; however, if you know your way around most software, PT Distinction will help to run your fitness business.
Coaches can keep tabs on the daily health habits and lifestyle improvements of their clients.
PT Distinction supports membership sites and can be merged with your own website or utilized separately.
Strength Portal

Strength Portal is an online personal training software platform for trainers working with multiple clients or gym owners. It has a clutter-free layout and offers a mix of options for simultaneously handling both in-person and remote clients.
This software program, as with the others on this list, flaunts a large collection of workout videos with the option of importing your own content. Your client can easily carry out the exercise routine, and keeping in touch with your clientele is as comprehensible as possible.
In contrast to other software programs discussed here, Strength Portal's paying members can access all services on the platform and there are no hidden costs for additional features. There is also the bonus of a 14-day free trial for users.
True Coach

Formerly called FitBot, True Coach is a multifaceted program that is suited to online trainers working with individuals from diverse backgrounds and abilities.
This is a great app for trainers working remotely or face-to-face. It features an array of customizable training programs, or you can upload and create links to your workout videos. Plus, there's a library containing warm-ups, cool-downs, and exercise technique videos. Upload pdf documents and images for your clients before or after a session.
True Coach enables personal trainers to share and monitor nutrition plans (including macronutrients, fiber, and calorie consumption). It also integrates with the MyFitnessPal app, which syncs up with the client's nutritional and calorie consumption.
A 14-day free trial option is also available.
LegitFit

LegitFit is another fantastic free personal trainer software option, whether you have access to a few resources or run your own studio.
The free option boasts several incredible features to help enhance your business performance, such as an integrated pay process.
By utilizing its pay feature, you improve your service delivery as well as your brand. And you save time by not having to trudge through administrative duties.
Worth noting is the ZOOM function which allows you to effortlessly call clients, promote your business, and effectively communicate.
QuickCoach.Fit

This app was launched in 2022 with the purpose of offering freelance trainers a free personal trainer software solution for their business needs.
Its features are professional and simple and include custom branding and an invoicing process that facilitates coupon codes and subscription plans. You can also send voice messages to clients.
Export your own custom videos from Vimeo and YouTube, design your own templates, plan client training programs, and reorganize and title any variable in any video.
QuickCoach is the perfect, no-cost personal training business software for independent fitness instructors, providing a smooth experience for both client and trainer.
PT Distinction

PT Minder is an intuitive, sleek, fresh, flexible business management and online training tool. Whether it's tracking client progress or payments or even predicting revenue, you'll take things to the next level with PT Minder.
Trainers can manage client data like bookings, payments, progress, et cetera, and their clientele can schedule their sessions online and make payments.
Provide nutrition and exercise programs for every client using this one app. Incorporate your website, Facebook page, Google calendar, and MailChimp platform with your PT Minder software to streamline your marketing and admin.
It also comes with a 14-day free trial.
The Workout Coach

The Workout Coach is a free trainer software up to 5 clients. Upgrades are available if you'd like to stick with the platform.
Your clients can include a number of trainers on their teams and manage them accordingly. Trainers are updated via in-depth client workout reports. This management software lets trainers know where clients are shining and where they can improve. That data helps trainers determine the next step for their client's success.
Several practical widgets support a positive training experience and manage remote clients. The Workout Coach makes admin a breeze, so trainers can spend more time with their clients.
Square Appointments

Square Appointments is a personal training platform suitable for small businesses with one person running operations. Users get access to all main features without having to deal with paywalls and annoying pop-up ads.
Use this scheduling software to set up a webpage to check out available time slots, make bookings and payments. Link the page to your social media accounts, and merge it with your official site too.
With each Square Appointments membership, trainers receive a point-of-sales (POS) account and a website builder.
The free plan allows you to get more clients whether in person, online, or over the phone. And there are no charges for setting up your account or any monthly fees.
Nudge Coach

Personal training and health centers can manage their clientele using this cloud-based personal trainer software. Nudge Coach provides all the features that support your business needs, like managing clients and creating operation reports, workouts, and meal plans.
You can schedule messages to be delivered to individual clients or groups. You can set up a forum for those interested in a more community-based personal training style. And if you want to create a personal, branded platform experience, Nudge Coach can set you up for an extra fee.
This trainer software app integrates information with other fitness applications. Its own messaging function can facilitate quick and easy communication between clients and their trainers. What's more is you can add three clients for free permanently.
TrainerMetrics

TrainerMetrics offers trainers an all-inclusive approach to defining client goals and monitoring their progress. Some of the efficient features for both trainer and client include progress feedback, fitness analysis, and establishing objectives.
The free software plan contains practical features, such as client record management, fitness assessment and testing, progress tracking and reporting, programming references, and chat and email support. It's free up to three active client profiles.
Hexfit

Hexfit is a gym management software platform created for personal trainers, fitness studios, and big chain gyms.
It includes a comprehensive library of over 10, 000 animation and image clips you can edit. Trainers can also create their own videos or link up their YouTube or Vimeo accounts. Hexfit has one of the most adaptable video-making tools so that you can put together any workout routine, whether it's cardio or strength training.
You can also print workouts in several formats or share them through the app or via email. Trainers can also put together detailed nutritional programs.
Link and sync your Polar, Fitbit, or Strava smartwatches to stay updated on day-to-day activity data. You can also sync your MyFitnessPal account to the personal trainer app.
Hexfit offers a free one-week trial.
My PT Hub

My PT Hub is an excellent software tool for fitness professionals who own their own studio or for trainers who work online and face-to-face.
The app is available in both web and mobile versions and can be used for workouts, nutritional advice, and remote or in-person sessions.
With My PT Hub you are able to make bookings for clients that can be edited, canceled, and synced with your calendar. Aside from workouts, you can slot in sessions for meal planning, progress photos, and measurements.
You can choose to market one-on-one training sessions or package deals.
Clients have the option to pay by card, cash, or check.
Users can design customizable forms and other business documents that can be signed using e-signatures.
All key client info (blood pressure readings, resting heart rate, et cetera) can be stored on the app. You can check out My PT Hub with a free 30-day trial to see if it's the right fit for your personal training business.
WeStrive

WeStrive is a multi-functional free personal trainer software option for both clients and trainers. The app boasts numerous user-friendly tools, such as progress graphs, client dashboards, and a workout builder, that are available on both the web and mobile.
Some of the other features that stand out are a free customizable website, a workout archive, an automatic invoicing system, onboarding polls, a white-label app option, group messaging, and the opportunity to monitor fitness habits and nutritional macros. All of these functionalities allow trainers to keep up to date with their client's progress.
WeStrive is an effective, compact tool to assist trainers when it comes to customer management, coaching, and communication. You can create your own branded app, for free, using the studio package along with the other options. In-app messaging and video chat are also available through this personal training business software.
You can try the 14-day trial and see how this software streamlines your personal training business.
10to8

If you want to minimize the number of no-shows and maximize new clients while retaining your current clients, then 10to8 is the personal trainer software for you.
The app delivers individual or group training appointments via your website, email or Facebook accounts through the online booking page. The bookable calendar allows trainers to attach numerous employee calendars, spaces from one calendar, and integration with an external calendar.
Jot down your personal notes and attach them to your timetable to be better prepared for your sessions as a trainer. Automatic notifications and booking confirmations help you to communicate with clients to avoid no-shows.
Some of the practical features included in the free version are SMS, up to 100 bookings per month, logins for two employees, and custom branding.
Trainerize

Trainerize provides you with a user-friendly interface and integrates various tools to help you coordinate the training process, whether it be face-to-face or online. Trainers can monitor their client's progress and make use of photos for a more effective fitness training experience.
This personal trainer software collaborates with your Fitbit and gives you the option of creating and personalizing your client's goals, monitoring their progress, and sharing notes with them. The app also enables coaches to organize client nutrition for optimum results.
Trainerize supports a variety of payment methods through specific integrated options. The free version limits you to one client, but you can upgrade for $5 per month for five clients. On the other hand, why not try a 30-day free trial to determine if this is the software that will take your personal training business to the next level?
TrainerFu

This personal training platform is compatible with both Android, iOS, and desktop, and for a fee, you can gain access to apps that you can customize and brand.
If you're familiar with Trainerize, then you will notice a few similarities, particularly when it comes to the training and programming elements and Fitbit integration. However, exercise videos don't play in the app but open up on YouTube. You can track your eating habits manually using the platform or through the MyFitnessPal integration.
Trainers can use the software to design their own courses featuring fitness-related content. This makes it an invaluable marketing tool that promotes client engagement. As far as marketing tools are concerned, this is a fantastic way to engage your brand with clients.
The app enables e-product development and facilitates several payment options.
TrainerFu's efficiency has racked up a number of good reviews, and the one-of-a-kind automated workflow function is a plus.
Give it a go with their free 30-day trial.
PushPress

Are you the owner of a boutique studio or an established gym? PushPress is a free personal training software application to help you manage your team of trainers.
A key function is the automation of recurring administrative duties, such as posting updates and refreshing weekly exercise routines, which will help you save time.
Take advantage of this automated system to streamline the financial aspects of your fitness business. For example, PushPress can calculate your studio's general revenue stream within a specific timeframe.
Clients will appreciate the straightforward payment method provided by this free personal trainer software, and it only takes a few seconds to change any payment details.
EverFit

Everfit's personal training platform is an all-in-one software tool that performs on both app and desktop systems. Up to 100 free users can access the platform, so small fitness institutions can run their business operations with ease.
This is a software program adapted to streamline the training process and client-coach relationship, but it is not as useful for business development.
Use the app to message clients directly through their profiles or engage with your clients through interactive community forums.
Put your training on autopilot by taking advantage of the in-app exercise video library or add your own workout content via YouTube or Vimeo. Another interesting feature involves creating a practical food journal using photos, comment tools, and setting macro goals. The app is also designed to sync with GoogleFit, AppleHealth, and MyFitnessPal.
WGER

A completely free personal trainer software app, WGER simplifies the data logging process by storing your data in one easy-to-find location.
If your computer know-how is a little more advanced, you should make use of the open-source properties of this program. Merge other software alternatives into WGER using REST API.
The diary tool allows you to store information related to your client's activity, for example, reps, sets, and weights used. This data is then transformed into flowcharts that can be monitored around the clock.
Succeed with the Right Free Personal Trainer Software for You
The world of personal training is competitive, and trainers can get an edge above the rest by streamlining their business.
The right free personal trainer software will not only help a coach to manage their clients' performance but also to succeed in the personal training business. Such software will support any other systems already in place, provide you with more resources to enhance your clients' training experience, and boost your market potential.
If you enjoyed reading this article about free Personal Trainer Software, you should read these as well:
The events industry has to be one of the most flexible lines of work. It must adapt to trends, fashions, budgets, themes, and other limitless criteria.
Thus, professionals must keep up to date with current event statistics. It is the only way to make informed and reliable decisions. Yet, despite its importance, this is a tedious and time-consuming task.
Below, you will find the top statistics for the event industry. Get to know the recent numbers for each event format. Then, explore the figures for different subjects within the industry.
There is no need for you to spend countless hours researching the latest data. With this information, you can anticipate trends for the upcoming year. You will plan your most successful events yet.
Top Statistics for the Event Industry
Here are the top event planning industry statistics to give you a proper understanding of needs and trends for the upcoming year.
General Statistics
In November 2021, Research Dive published a study stating that the global event industry would produce a revenue of $1,457.2 million by 2028. They also evaluated the rise of its Compound Annual Growth Rate (CAGR) at 23.1% between 2021 and 2028.
Analyses also revealed some data about the type of events held. Internal team meetings and training represent a large share of events planned worldwide.
They had a stake of 19% in Europe, Central and South America, and 16% in the Asia-Pacific region. Additionally, 17% of the North American market made them the most common meeting activity in 2020.
Additionally, calculations from 2021 place the virtual event industry worth at the $114.12 billion mark. At the time, statisticians calculated that between 2022 and 2030, its CAGR should come to 21.4%. This branch of the events industry will grow the fastest in the Asia-Pacific region, achieving a CAGR of 13.3%.
Event Planning Statistics
In 2014, business-to-business (B2B) companies had an event planning period of about five to eight weeks. Obtaining event sponsorship and reaching new attendees are growing difficulties.
Indeed, 90% of B2B event organizers claim those are their top challenges. Thus, 80% of event marketers seek to offer their clients more ambitious and significant occasions.
Aside from that, mid-tier venues have remained the most favored choice for B2B events. Despite the decrease in numbers, they still make up about 37% of these events, with untraditional venues following at 16.8%.
Events Attendance Statistics
Attendee engagement is critical for businesses to prevail. So event planning industry analysis has determined its most conducive motives.
82% of those attending business events state their top priority is networking. They present learning as the next main drive, at 71%.
The third reason to be present on these occasions is entertainment (38%), followed by self-improvement (37%). As a final motivation source, 16% of attendees point to time out of the workplace.
Statistics by Type of Event
In-person Events Statistics
Despite the pandemic, in-person events are still crucial. For 71% of event decision-makers, virtual events do not achieve the impact of a live experience. And 67% feel this format makes it harder to communicate brand narratives efficiently.
Besides, 95% of marketers claim live events have a powerful impact on meeting company goals. And the same percentage asserts live events are valuable networking opportunities.
According to a 2021 survey with over eight thousand marketers worldwide, 35% of events in 2022 would be held in person. Plus, 88% of interviewees anticipated events to include a live segment.
At the same time, 67% of event professionals affirm in-person events should return to pre-pandemic levels within a short period.
This expectancy makes sense, since 52.9% of event marketers see virtual experiences as less impactful. They even believe them to diminish attendee engagement.
Virtual Events Statistics
Despite the urge to return to in-person meetings, the pandemic has forcefully opened other channels to the events industry. Virtual and hybrid events are now more common and might even represent a new path for some businesses.
They demand distinct logistics, equipment, and preparation. They also require more solid and widespread marketing. Yet, in 2022, 40% of events will have occurred solely through digital means.
These events tend to see a decline in attendance, with 58% of virtual sessions counting only 300 live participants. They also last for a shorter time, with 62% of them lasting no more than a day.
Then again, 63% of people place round table meetings lasting from 60 to 90 minutes. This information aligns with the average 12 sessions that make up each event.
Audience Engagement and Satisfaction
Virtual events can help achieve different purposes. So only about 45.7% of marketers assign their principal intent to pipeline creation. Plus, they offer unique solutions for attendees and hosts.
The possibility of live-streaming on social platforms has proved valuable for 20.1% of marketers. Event industry statistics show 43% of virtual event registrants choose live online events. At the same time, 13% opt for viewing on-demand.
To boost attendee engagement, 30% of event organizers plan to host virtual events with giveaways. Additionally, 61% opt to include videos throughout the meetings.
As always, attendee satisfaction is essential for any successful event. And virtual event statistics point to 90% of online event organizers measuring it through surveys.
Logistics and Marketing
The main challenge with virtual events comes from logistics and efficient marketing. In fact, 52.5% of event marketers share these hardships with the addition of a need for an unconventional skill set and equipment.
Hence, 62.6% of event marketers cooperate with other companies within the professional services industry. Doing so smoothes out the planning process to ensure event success.
Regarding virtual event tech and equipment, 70% of event organizers define good-quality microphones as critical. Even more so than cameras, which rank at 60%. Still, the biggest challenge among them is a poor connection.
As for promoting events, 71% of event planners develop digital strategies, and 60% of virtual event organizers opt for social media. Large virtual events usually need about six weeks of efficient promotion.
With small virtual events, it takes three to six weeks for an event marketing strategy to produce results. These are also less time-consuming to plan, with 56% of marketers fitting them between two to four weeks.
Hybrid Events Statistics
Throughout the pandemic, virtual events answered the difficulties it brought on. Yet, now that most people are returning to their routines, hybrid events have become more common.
68% of event marketers believe they are a solution to incorporate an in-person audience simultaneously with a virtual one. Thus, 63% of corporations with 2000 to 5000 employees included hybrid events in their portfolios.
Moreover, there are some positive outcomes. Most B2B companies have achieved a positive event ROI within seven months, with the rate reaching 86%.
Hybrid Events Planning Challenges
Hybrid events also present some challenges of their own. 35% of event organizers point out the difficulty in finding suitable venues.
Another pressing issue is maintaining consistent audience engagement with in-person and virtual attendees. About 46% of event organizers acknowledged this situation.
Event industry statistics suggest 35% of hybrid and virtual events need more support. Specifically, full-service agencies can provide resources, like training sessions for speakers.
Their assistance enables event managers to create better experiences. It is crucial, as 89% of event organizers measure event success through attendee satisfaction.
Hence, 38% of event organizers state that a hybrid event strategy requires exhaustive preparations. Logistics are much more complex than when hosting virtual events or in-person meetings.
Nevertheless, hybrid event statistics place 35% of events in 2022 following this format. Additionally, 71% of event marketers are already acquainted with the system.
Webinar Statistics
Webinars are a type of small virtual event and have increased in popularity in the last few years. They last about 39 to 60 minutes, and 51% of marketers believe them to be the video format with the best results.
A study conducted in 2020 revealed 99% of businesses consider webinars paramount to their marketing plans. So it's no surprise that the global webinar event planning market size should reach $800 million by next year.
Most webinars (94%) remain accessible after the live events conclude. Additionally, 54% of B2B professionals claim to engage with them weekly or even daily.
Despite the general acceptance, the average attendance is only 55% of registrants.
Webinar Event Marketing Budget Statistics
There are several ways to measure success when it comes to webinars. But 60% of businesses evaluate it through their compliance with the budget.
The average cost per attendee reaches $1,000-$1,500. So during the pandemic, 21% of businesses felt the need to expand allocations.
Event industry statistics show a third of organizations dedicate 21% or more of their event budgets for sponsoring events. Moreover, B2B marketers plan their most significant share of 14% of their budgets for event expenses.
Other Event Planning Industry Statistics
Event Technology Statistics
In the digital era, event management software offers tools to help professionals perform better. A 2022 trends report showed 79% of event planners name support as its most crucial feature.
Non-surprisingly, 83% of organizers maintain an event app. And 97% of these event professionals opt for one with a schedule component.
But event technology also benefits virtual events and even in-person events. Using it can decrease costs by up to 30%. At the same time, it increases planners' productivity by 27% and attendance by 20%.
Recent studies show 90% of event technology providers allow joining virtual events from any device. Plus, 75% enable pre-recorded meetings, with most offering multi-track streaming.
Event technology opens opportunities for innovation. So 88% of event organizers plan to use virtual reality in their experiences. Additionally, 87% intend to include augmented reality.
Still, only 53% of event marketers are up to date with the latest virtual event technology. Additionally, 25% of event planners point to sourcing virtual event tech as the biggest challenge.
Event Marketing Statistics
Event marketing has been a popular strategy for decades and will continue to grow. 73% of B2B marketers believe events are the best method to foster engagement. Furthermore, 31% view event marketing as the most influential channel.
Besides this, in 2016, 76% of event marketers integrated their event marketing strategy into other campaigns. In 2017, 80% of companies that exceeded their yearly goals planned on increasing their budget for live events the following year.
Surpassing this figure, 87% of C-section corporate leaders had decisive confidence in the impact of live events. They even showed interest in making further investments in them.
Regarding registrations, the latest studies show 49% of marketers rely on programmatic advertising. At the same time, 51% of B2B companies use their professional services industry partners to foster extra enrollments.
Sponsoring Events Statistics
Sponsoring is one of the bases of the event planning market. Indeed, 75% of sponsors are always anticipating opportunities for new collaborations.
A research report from Harvard analytic services showed the most popular types of events for B2B companies. They included trade shows, seminars, partner events, and other corporate events.
Because of increasing competitiveness, measuring success derived from sponsorships has become critical. After all, according to event marketing budget statistics, sponsorships represent an average value of $12,000.
In a study conducted within the last decade, 70% of marketers noted the growing importance of sponsorship. Yet, the same investigation showed less than half had an implemented protocol for that effect.
Sales, Lead Generation, and Customer Loyalty
With 79% of marketers rendering sales from event marketing, it is easy to comprehend its impact on business activities. This is why 63% of marketers see events as opportunities for capturing leads and developing prospects.
Also, about 91% of event organizers allow sponsored meetings to create additional income. The reality is that a staggering 98% of consumers are more likely to shop for goods if they attend a related event.
Plus, events foster brand loyalty. After an event, about 38% of attendees visit the host or sponsor's online platforms. 32% become customers, and 30% continue using company merchandise they got at the event.
A research article from 2018 revealed 78% of Americans would become lifelong customers of a company that invited them as VIPs for an event. When referring only to millennials, the rate would reach 88%.
Event Return On Investment (ROI) Statistics
ROI is critical for any business, including those within the events industry. To track it, 70% of marketers rely on media exposure. As for event planners, 67% measure it according to attendee satisfaction, and 51% follow the registration count.
Event management industry statistics show the ROI for most events sits between 25% and 34%. By using an event app, 78% of businesses were able to improve their outcomes.
Still, a ratio over 5:1 is a satisfying result for most companies. Different studies show 75% of companies maintaining a budget of $50 to $100 million expect to achieve this ratio.
Whereas brands tend to stay between 3:1 and 5:1, event marketers plan to reach 3:1. Even so, 19% of businesses that don't monitor ROI may be in a dangerous situation.
Audience Engagement Statistics
Attendee engagement and satisfaction are paramount for the event industry. Whether it is in-person events, virtual events, or even hybrid ones, they all require an active audience to succeed.
49% of marketers believe engagement is the chief element of a worthwhile event. So the goal is to plan captivating activities and create an environment that fosters networking.
It is also a way to improve attendee satisfaction, which 85% of marketers see as a criterion for success. On this subject, there are several different ways to measure success.
The most popular way is the use of surveys, with 90% of event organizers using them. Furthermore, 64% opt for collecting their team's feedback.
Still, maintaining engagement is the second biggest challenge for organizers when hosting events. 67% of event marketers have this difficulty with virtual event participants.
In fact, event statistics from 2020 show the audience only engages for 68% of virtual events longer than 20 minutes.
DE&I and Sustainability Statistics
Diversity, equity, and inclusion are growing priorities of all industries. Despite the progress so far, there is still much space for improvement. So how can the events industry contribute?
A 2019 study showed women make up 33% of event speakers. It also highlighted the U.S. and Canada as staying above that average, with 64% men and 36% women speakers.
The same study revealed conferences and conventions had 66% men and 34% women speakers. Plus, it discovered summits were the least diverse event, with rates of 85% men and 15% women speakers.
Following the pandemic, a research study showed surprising numbers of women participation. The study indicated it was 253% higher in virtual conferences than in-person events.
In 2020, a study of 150 events revealed 99% of panels have women speakers. 86% include BIPOC (Black and Indigenous People of Color) speakers, and the rate drops to 67% regarding Black speakers.
At the same time, positions related to DE&I grew 113%. Yet only about 40% of Fortune 500 companies hired these diversity executives.
Regarding progress tracking, 47% assess diversity and equity at least twice a year. With the same periodicity, only 43% track inclusion.
Sustainability is another pressing concern for event management professionals. In a 2022 forecast, 83% of respondents stated their organizations followed sustainability practices.
Event Planners Statistics
Estimates point to about 70,937 event businesses in the United States. At the same time, event planners in New York earn an average of $74,622.
Comparing data from the same period last year, 43% of event planners maintain customer numbers. Surpassing this figure, 45% of event planners account for more customers now.
Only 11% of event professionals received a partial or complete insurance payout due to event cancellation. In addition, 45% don't expect to receive it at all.
Nonetheless, event industry statistics foresee a growth of 10% by 2024 for all jobs in the area. These calculations exceed the predictions for other activities.
Get more bookings with the right tool for the job
Staying organized has never been easier.
You can now manage your business and grow your brand with a single, powerful WordPress booking plugin that keeps all of your appointments in line, your clients organized and your business booming.
Amelia is perfect for business owners who need to streamline their booking experience both for their staff and their clients.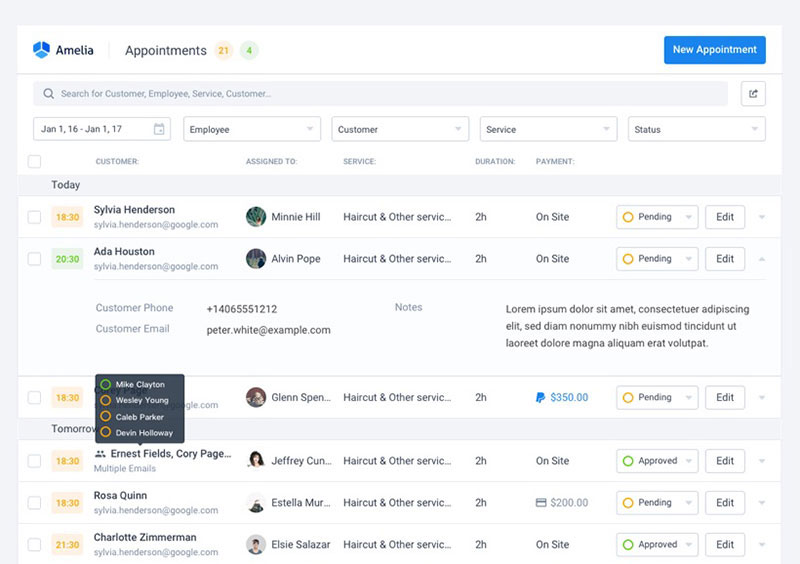 Amelia handles everything for you, even sending automated email or SMS reminders to your clients. No-shows? Not anymore!
The Amelia WordPress booking plugin adapts to different industries for a blissful online booking experience and employee management.
Want to know more? Check out Amelia's awesome features to see what you are missing.
Conclusion on Event Statistics You Should Read
As the events industry grows, it will continue to offer superior learning and networking opportunities. Yet, planning an event is a complex task for which you must attend to numerous details.
That is where event management industry statistics can support you. They offer the backup you need to make strategic decisions that benefit your company.
This article provided an overview of results that will help you prepare for future event planning. You now know to invest in different event formats.
Also, you can keep track of the latest event management software to support your business. Implant suitable and efficient marketing and offer activities that maintain engagement.
Plus, create inclusive and diverse events which also focus on sustainability. And remember to track your ROI. With these event statistics, you will understand which policies and trends to follow to grow your business to success.
If you enjoyed reading this article about event statistics, you should check out this one with event WordPress themes.
We also wrote about a few related subjects like setting up a WooCommerce events calendar, marketing strategies for ticket sales maximization, hybrid event ideas, and event management skills.
Not only that, but we also created articles about virtual event ideas, virtual event statistics, how to get sponsors for an event, tech conferences, and the most-watched sporting event.
The biggest appeal of yoga is the harmony, peace, and well-being that it promotes. Unfortunately, yoga instructors may lose that peace due to administrative tasks. (more…)
If you work in the event planning industry, you know the importance of creating a good event proposal. It can make or break your business.
You must define which is the relevant information and develop strong, stunning visuals. Your proposal should capture the hearts of potential clients and sponsors.
However, this task might feel overwhelming if you have just become an event planner. So how can you build an effective event proposal, despite your experience, or lack thereof?
In this article, you'll discover the elements that compose an event proposal. Then, you will receive the best tips for creating a successful proposal template and access various examples to inspire you.
But first, continue reading to understand what an event proposal template is.