If you work in the event planning industry, you know the importance of creating a good event proposal. It can make or break your business.
You must define which is the relevant information and develop strong, stunning visuals. Your proposal should capture the hearts of potential clients and sponsors.
However, this task might feel overwhelming if you have just become an event planner. So how can you build an effective event proposal, despite your experience, or lack thereof?
In this article, you'll discover the elements that compose an event proposal. Then, you will receive the best tips for creating a successful proposal template and access various examples to inspire you.
But first, continue reading to understand what an event proposal template is.
What Is an Event Proposal?
The event proposal is part of the early stages of the event planning process. It is a document written to promote an event and earn support from those who receive it.
It might be a way to obtain consent from managerial levels. It could also serve as a proposal for a potential client for event planning services, or even be a means to gain support and funding from sponsors.
Regardless, it should contain important details about the event. It must include the location, objective, approximate date, and the number of guests.
There should also be an outline of scheduled activities. According to whom you send it, you can add some pricing details.
Yet, you do not want to produce a confusing or exhaustive proposal. After all, that would not motivate its receivers to approve, attend, or support your event. It would not create positive expectations.
Instead, you want to build an event proposal through which readers paint a realistic, yet attractive vision. Discover below the essential elements of an impactful proposal.
What Should You Include in an Event Proposal?
There are a few elements to ponder when you write an event proposal. Sure, it should contain the details of your upcoming event.
But how much information should you add? What should you consider relevant information? And how should you organize your event proposal?
Continue reading to discover the basics of developing your proposal.
Start with an Event Description
Begin your proposal with a brief description and include the main details of the event. From the beginning, you want your sponsor or client to create a clear vision for the date.
Establish Your Goal
Your event should occur for specific reasons. List the goals you have stipulated in as much detail as possible.
Clients need to relate to the objectives you establish, and leaders should feel it complies with company standards and plans. Plus, sponsors must see the value of the event to their own business.
Define a Clear Timeline
In this third step, you must define the event timeline. It should include an exact or closely approximated date.
You do not want to set a season or month. The proposal is a precise document, so aim for a specific day. Plus, try to set a schedule for the starting and ending hours and the activities you are planning.
Determine the Venue and the Facilities You Will Need
The venue is one of the most crucial issues to discuss and define. You should already have an option in mind when you start writing your event proposal.
The location must comply with the needs of the guests and the event itself. The facilities should be the right size and have suitable equipment to ensure attendees are comfortable.
Event planners need to describe the location and its installations, such as air-conditioning and seating. They should also specify cancellation policies for the venue and damage policies when required.
Identify Who the Stakeholders Will Be
You should identify the stakeholders of the event from the beginning. You can divide them into those who are internal or external to the business.
Seek to include all the stakeholders and specify their part in the event. Your goal is to form and present a solid team to highlight the significance of your event to those who read your event proposal.
Build a Budget Proposal
Discussing money can be tricky, so including pricing details on the first page will make it easier to approach the subject. Your event proposals do not need a highly detailed budget.
However, you should add a realistic estimate of expenses. Consider also outlining a payment schedule proposal to fit the client's budget needs.
If you are writing a sponsorship proposal, review all the elements before you mention the price. Your numbers must be accurate and show a positive result.
Include Client Testimonials from Past Events
Sharing successful events you have organized helps build a reputation. Including reviews from past clients and sponsors proves your team delivered excellent results.
As an event planner, you must share honest client testimonials. It will motivate leaders and sponsors to support you. Prospective clients will also be more willing to contract your event planning services.
Write a Unique Value Proposition
If you want readers to envision a stunning image of your event, you will need more than a brief introduction. With an original value proposition, you will show sponsors and new clients why they need to work with your company.
Additionally, give a polished look to your event planning proposal template. An elegant design and an organized layout are essential.
Get more bookings with the right tool for the job
Staying organized has never been easier.
You can now manage your business and grow your brand with a single, powerful WordPress booking plugin that keeps all of your appointments in line, your clients organized and your business booming.
Amelia is the perfect WordPress events plugin for business owners who need to streamline their booking experience both for their staff and their clients.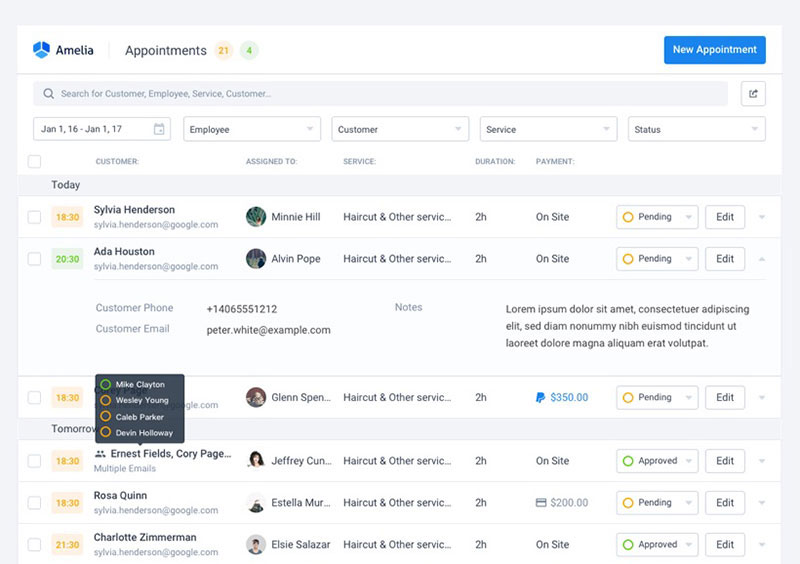 Amelia handles everything for you, even sending automated email or SMS reminders to your clients. No-shows? Not anymore!
The Amelia WordPress booking plugin adapts to different industries for a blissful online booking experience and employee management.
Want to know more? Check out Amelia's awesome features to see what you are missing.
Event Planner-Approved Tips for Writing Excellent Event Proposals
An effective event proposal template should paint a complete vision of the occasion. You want to create a brief, yet impactful, well-structured document. Below are the tips that event planning experts swear by for the finest proposal template.
Gather All Data You Will Need
As an event planner, you cannot settle with limited information. Thus, before you write an event proposal, assess the data you have.
Then, list the details you are lacking, and ask for explanations. You want your proposal to be clear and compelling to the person reading it.
Keep Your Audience in Mind
When building your event proposal template, you want to produce a document that underscores your services, but remember that you are not writing for yourself.
The proposal, and the event, is planned and organized around your client. So if you are asking for a sponsorship from a company, find out their work philosophy and goals.
On the contrary, if the proposal is for your managers, write it following their standards. If you are building it for a client, aim to capture their vision and relate to their goals.
Write a Captivating Narrative
If you want your event proposal to motivate readers to support you, you need to create a captivating narrative. Focus, not only, on the upcoming event but also on your company.
Describe how your team works and the events you have organized together. There are several strategies you can use to include storytelling in your templates.
Yet, remember to add just enough detail to your content. You want to keep your proposals succinct.
Define Your Goals Clearly
Since the goals will guide the planning and conducting of the event, you should define them early on.
Keep your communication straightforward when approaching the subject. Plus, readers should see your goals agree with their vision for the event.
Show Your Client Why to Work with You
If you want the client to choose your services, you must offer them valid reasons. Use your template to highlight the reliability of your company. Include comments from sponsors and clients that showcase your experience as a team, your integrity, and your skills.
Consider offering different packages to show you are willing to meet your client's needs. You must also maintain constant and efficient communication with them.
Promote Budget Transparency

Clients might not know exactly what they want in an event, but they know how they want to feel. Event planners organize occasions that deliver those feelings while respecting their budget.
Your potential client has to see you are committed to their vision but will not break the bank. Hence, discuss prices regularly, and before you present the total cost, prepare to create a payment schedule, if necessary.
Be Mindful of the Design
The proposal is at the beginning of the planning process. So you want to offer your readers an outstanding experience from the first page.
A graphic designer can help you develop a functional and elegant design. They can merge different elements, from text to graphics and illustrations, to give your template a unique appeal.
Balance Aesthetics and Information
The amount of information you include in the proposal will depend on your client and the event itself. Yet, you want to find a balance between the aesthetic of the template and the data it conveys.
Develop a structure that eases understanding. The design might make your company stand out, but the written content will dictate the final decision.
Review Your Proposal Template with a Reader's Eyes
Before sending your proposal to a sponsor, manager, or client, take some time to review it. Try to analyze it through the reader's eyes. Doing so will help you understand how your template will look and feel to them.
Ask questions like
Does this message make me feel like I can trust the event planner or the team?
Does it reflect what I want for the event?
Does it respect my budget?
Then, change the aspects you feel are lacking and review again. This process will help you to be more confident when sending or presenting your proposal template.
Event Proposal Template Examples
Event planners usually keep an archive of event proposals from past events. You can do the same. Plus, there are plenty of free event proposal templates available online.
Below you will find 13 event proposal templates to inspire you. There are options for a variety of events and circumstances. Note how each element you have read about fits seamlessly with the others.
Conclusion on Event Proposal Template Examples
Through this article, you have learned about the basic features of an event proposal. You received the best tips for creating the best templates.
Finally, you have been presented with 13 unique proposals with distinct designs, structures, and content. As you build your template, return to this information for guidance and support.
If you follow these suggestions, you will create the perfect event proposal template.
If you enjoyed reading this article about event proposal templates, you should check out this one with event WordPress themes.
We also wrote about a few related subjects like setting up a WooCommerce events calendar, marketing strategies for ticket sales maximization, hybrid event ideas, and event management skills.
Not only that, but we also created articles about virtual event ideas, virtual event statistics, how to get sponsors for an event, tech conferences, and the most-watched sporting event.