Setmore is an easy to navigate online application that assists small company owners with three crucial aspects of running a business:
Managing appointments
Monitoring employees' schedules
Building customer relationships
However, it is not guaranteed that it will fulfill all your requirements or suit the specific needs of your industry. However, there are many alternative online booking software options available. This article will help you choose the best solution.
In this article, we'll show the best 17 Setmore alternatives you may want to consider.
The Best Setmore Alternatives
Amelia

The first of these Setmore alternatives is Amelia. Amelia is a powerful WordPress plugin specifically designed for booking appointments. It makes the process of requesting or booking appointments an easy process for your website visitors.
It is also a great tool for you, allowing management of your events' attendance, enabling you to pass on important information to your clients, and substantially assists you with running an open, customer-oriented business.
You do not need any advanced skills to install and use Amelia.  It is a simple, intuitive, and reliable booking plugin that has received many good customer evaluations.
You can integrate it with Google Calendar, PayPal, Stripe, and WooCommerce. It gives you main performance insights on the dashboard. It is not limited – you can add as many services, staff members, and appointments as you wish.
Some of its features:
Custom Service Schedule
Recurring Appointments
Calendar and List View
Zoom, Google Calendar, and Outlook Calendar Integrations
Support for Multiple Services
Automated Notifications
Manage Multiple Locations
Doodle

Doodle is a web-based software designed for organizing events or group schedules. It works on a freemium basis. The first tier offers the basic options and is provided free of charge to all users. A premium is charged for higher tiers that include additional features to expand the functionality of the software.
The premium version assists you in finding a date and time for a meeting that all invited people can make. The host makes one or multiple meeting time suggestions, the invitees post their available time slots, and then the host selects the time that works best for all. Once the final date and time have been chosen, the event is added automatically to the host and participants' calendars.
Trafft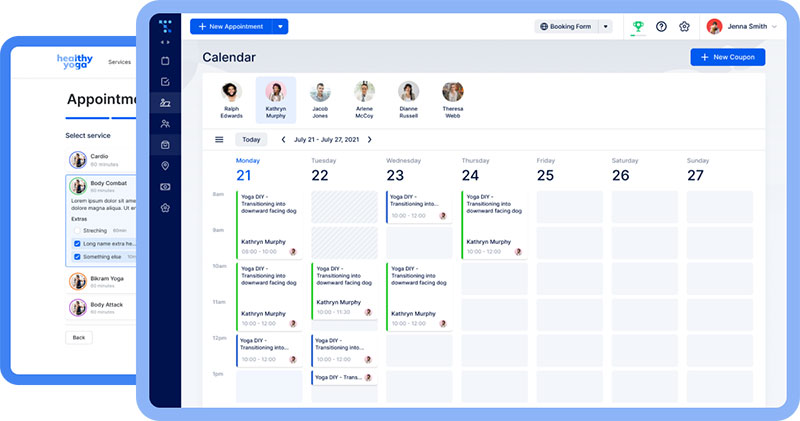 Now, Trafft is something else. It's the premium scheduling software that you can get at an affordable price. You can schedule on-site or virtual appointments, meetings & events, manage staff and services, accept payments, send reminders – all in one tool.
Trafft streamlines the booking process for your potential customers by making it easy and fast to book and pay for your services, improving the interaction rate, and boosting conversions by up to 30%.
What's really neat about it for some business owners is that they don't need to have a website to use it. Trafft will generate an SEO-optimised booking page that you can integrate with Google or Instagram. Or you can embed the booking form on your existing website if you already have one.
If you want to spend 2 hours less daily on admin tasks, you should get Trafft.
Framadate

This is an online tool that uses polls to help you plan an appointment or make a quick decision. You do not have to create an account to use Framadate.
This service was at first based on Studs software (created by the University of Strasbourg). It is currently developed by the Framasoft association.
It requires JavaScript and Cookies to be enabled.
It is simple to use:
Create a poll.
Specify the date or topic options.
Send the poll to all involved using the generated link.
Let everyone vote and make a decision.
Bookedin

Bookedin is an appointment booking tool. You provide your availability which your clients can view and then book appointments online. You can add online booking to your Instagram, Facebook, or website. It allows you to make various adjustments, such as travel time, lead time, or available hours. You can also get ranked on the most popular search engines like Google, Bing, and Yahoo.
Bookedin allows you to create custom booking forms and client reminders. You can also receive automated cancellation and new booking notifications. The software synchronizes with different calendars, including Exchange, Office 365, iCloud, Outlook, and Google.
Bookeo

Bookeo is a web app that offers additional features on top of the regular booking options. It boasts mobile booking, the ability to ask questions, tax managing and reporting, prepaid packages, and private areas for the customers. You can try the software free for 30 days and then choose a tier: Standard, Large, or X-Large based on your number of employees and the appointments required each month.
The system updates your schedule and is integrable with HubSpot which updates your contacts according to the bookings made.
Appointlet

Many appointment booking apps offer free options but require you to make a purchase to enjoy more benefits. If you are not sure if you want to spend money on a booking tool at this moment in time, Appointlet does offer the most functions free of charge.
The app allows you to create multiple booking pages and to tailor certain details like location, price, appointment duration, and cancellation policy.
BookSteam

This web platform was designed for booking and managing appointments and scheduling classes. It is easy to use and efficient.
It is a powerful tool suitable for all kinds of appointment-based businesses. Whether you are a massage therapist or a large enterprise, you can use BookSteam to schedule and manage appointments. It allows for unlimited administrators and enables them to create schedules for employees at several office locations and personalize needed details.
Simple Calendar Pro

This app is a simple calendar that can sync with CalDAV. Some of the features it offers include creating recurring events and setting up reminders. It shows week numbers and provides a monthly view. The event list widget allows you to select different font colors, background colors, and the value of alpha.
There are no ads, it does not ask for permissions, and is completely open-source.
Schedulista

This booking app accompanies Schedulista's web product. It provides all the basic features of a scheduling tool, such as 24/7 booking, a personalized booking page, and calendar management.
You can embed a "Schedule Now" button into your website, and add an online scheduling option to your Facebook page. The app allows you to manage appointments using any device. It allows custom branding via themes, colors, and images.
SuperSaaS

SuperSaas enables you to attach your online schedule to your website. There are many useful features, such as a personalized schedule, reminders and confirmations, management, payment options, reports, and analytics, etc. It is integrable with your website and Facebook page. It is secure and offers one free and several paid tiers.
Calendar

Calendar is an AI-enabled online meeting scheduling and shared calendar app. It integrates Google Calendar, iCal (Apple calendar), and Outlook Calendar into one dashboard that you can personalize and share. It synchronizes all devices and provides a virtual assistant that can learn your schedule and assist you in planning or initiating meetings, sending invitations, and making changes in your schedule.
The paid options come with meeting transcriptions and different analytics and insights.
Booker Software

Booker by Mindbody is online booking software that also offers marketing services, and payments. It integrates with your website allowing your customers to book and pay for appointments without leaving your website. It is also integrable with Facebook enabling your customers to schedule appointments right on your Facebook page.
The platform provides some marketing options, like social media promotions and discounts. You can also manage payrolls, commissions, and client information on the payment dashboard.
Genbook

Another one of these Setmore alternatives is Genbook. Its great advantage is the inclusion of a  "Last Minute Booking" option which can improve your schedule optimization. Genbook offers your paying customers last-minute discounts in order to fill your empty and expiring booking slots.
You can enable and disable this feature at any time. You decide the amount of the discount, and how long the offer is valid (you can select from "today only," 24, 48, or 72 hours). Last-minute available slots will then be highlighted and promoted on the app and web page.
Microsoft Bookings

Microsoft Bookings comes as part of Office 365 and is most suitable for small businesses. It allows your customers to go on the booking page, choose the service and time and then book. They get a confirmation email and calendar invitation and are able to reschedule or cancel the appointment if needed.
The availability of staff and their schedules are updated which eliminates the need of confirming the availability of a selected time via a phone call. The clients can make bookings at any time of day and night. Once the appointment is scheduled an automatic confirmation email is sent. You can also set up automatic appointment reminders.
Google Calendar

Google Calendar is a free calendar app for personal use that you can use it as a Setmore alternative. It helps you organize and share personal events.
This online tool can help you manage your current schedule and set up reminders. You can use the app to clear your personal schedule to plan a concentrated period of intense work.
Google Calendar appointment slots allow you to select specific times of the day and share them with others using a private calendar link. The recipients can use the link to book a meeting with you at any of the times you provided.
Calendly

Calendly is a free online appointment scheduling software that streamlines the scheduling process by eliminating the need for emails and phone calls when planning meetings, appointments, and other events.
Calendly enables you to customize the URL of your Calendly landing page (for example calendly.com/mkummer) and the URL of every type of event (for example calendly.com/name/60min).
If you choose to for the higher level of Calendly you'll be able to create different kinds of meetings, including one-on-one, round-robin, collective, and group meetings.  It also provides team pages. It gives you access to metrics, reporting, and allows you to manage bookings via different administrative options.
Arrangr

The last of these Setmore alternatives is Arrangr. It is the fastest and easiest way to schedule a meeting. This intelligent software links all major calendaring platforms to spotlight when to meet, coordinate the location, or conference call details, in as little as 30 seconds. It doesn't only assist you in finding the most suitable time to meet but also averts ambiguities as regards the time (different time zones), place (two locations with the same name), and way to meet (virtually or in-person).
Ending thoughts on these Setmore alternatives
There is a huge range of different options that can be used as an alternative to Setmore. Your next booking software may as well be easier to use and offer better functionalities.
Based on the size of your business, the industry you're in, and other specific needs, you can pick and choose the solution that will benefit you the most.
If you enjoyed reading this article about Setmore alternatives, you should read these as well: