Applications like Calendly and ScheduleOnce are very good for making appointments and schedules, and knowing how to use them can save you a lot of time. In this article created by our team at Amelia, will compare ScheduleOnce vs Calendly.
Before we compare the two, we must say that both are made very similarly and that both offer very similar functions. To compare ScheduleOnce vs Calendly as accurately as we can, we learned how to use both software, so that we could know the pros and cons first-hand.
About Calendly

Calendly is a great piece of scheduling software that offers just about anything that a business owner could want. It is very simple to use, and it features some great implementations to speed up your service and boost your sales. It removes the old ways of making appointments, such as phone calls and emails, and implements a new and easy modern way of doing things. Users can log in, plan the calendar, and easily manage their schedules using Calendly.
Calendly is perfect for people who want to use the latest technology for practical purposes. Making appointments is very easy: all you need to do is share your Calendly link, and people will be able to see your whole calendar and make an easy appointment. Calendly is great for people with busy schedules, as it gets rid of the long appointments and saves time.
You can connect your online calendar with Calendly, which lets the platform see when you are free. You can integrate it with Google Calendars, iCal, Office 365, and Outlook. You can create various types of meetings, set the details, and, voila, you are ready for an appointment with a client. Let's take a look at Calendly's features..
Easy to Use

One of the best things about Calendly is that it is very simple to use if you were wondering about that. If you want to learn how to use Calendly, it will only take you a few minutes with the software to learn all about its capabilities. A quick surf through the interface is enough for you to learn the necessary things to start using the software like a pro. All you need beforehand is some basic computer literacy.
Specifics:
It allows flexible scheduling between individuals or group members – good for one on one meetings, as well as for group meetings.
The software offers integration with Google Calendar, Outlook 365, or just about any other calendar software that you might already have.
Easy customization of meeting times, daily limits, and more.
You won't need to worry about timezones, as they are automatically handled
It is compatible with most devices
Integrations

One of the most important things that Calendly has going for it is the integrations with other platforms that it offers. Most importantly, you can connect your calendar with a scheduling platform like G Suite, Office 365, or iCloud. Some other possible integrations include Infusionsoft, Mailchimp, Salesforce, Zapier, and Slack.
You can also accept payments through PayPal and Stripe, which is a useful feature to have if you want to integrate payments into the software. You can also integrate automatic meetings with Gotomeeting.
Customization Options

You can easily customize your appointments, schedules, or events, using the "template" section of Calendly, which offers you a whole world of customization options. You can describe your events, add reminders or notifications, and add more payment methods, among many other features. There is also an "advanced" section of the customization, where there are even more options that allow you to fully customize the experience.
Calendly's Pricing Options

With Calendly, you get three options: basic, premium, and pro.
Basic – it is totally free to use, and it is best if you are using it for yourself. The basic plan includes integrations with Google, Outlook, Office 365, and iCloud. You can create one type of event, and a personalized Calendly link, and you can turn on event notifications.
Premium – the pricing starts at $8 per month if you choose the annual pricing plan, and $10 per month if you pay on a monthly basis. It, of course, includes all features that a basic plan does, as well as unlimited event types, customizable notifications, metrics and reporting, and more.
Pro – starting at $12 per month, the Pro version is for enterprises and companies that want a seamless experience for scheduling. It includes all the features of Premium and Basic, plus PayPal and Stripe integrations, and SMS notifications.
About ScheduleOnce

To compare ScheduleOnce to Calendly, we must take a closer look at both first. After using ScheduleOnce for some time, we learned that both software are very similar in terms of features and ease of use. So if you were able to learn how to use Calendly, then there is no doubt that you will be able to use ScheduleOnce as well. It is also one of the best options for individuals as well as for businesses. It really is not easy to compare ScheduleOnce to Calendly due to how similar they are.
However, the one thing that makes ScheduleOnce different from Calendly is that it is more orientated towards larger teams with different schedules. This software is perfect if you have to coordinate very complex teams with different schedules, or basically any event where coordination is not easy.
ScheduleOnce is also the perfect tool to organize packages of events, or series of appointments, for example, if you offer a four-day long class, this tool is perfect. With packages, clients must choose three or more different dates, depending on the available dates you chose for the event itself, of course. ScheduleOnce offers all the best appointment features that you would expect from such an application.
Easy to Use

Like Calendly, ScheduleOnce is relatively easy to use once you get into it. That is especially the case due to its intuitive and user-friendly interface. Setting up schedules and day-to-day business is pretty straightforward, and that is thanks to its clean interface. Using this tool is very easy; in fact, anyone with little to no knowledge about these types of applications would be able to figure it out in a matter of minutes. Plus, ScheduleOnce offers an all-round experience, so there is a huge pool of options to choose from, but worry not, it is still easy to use.
Specifics:
It is very easy for current clients to access the schedule and make changes on their own or with other team members.
Reports from meetings are easy to review and easy to see
Available on almost all devices
Integrations

This software offers some very good integrations that can boost your business, such as Mailchimp, Salesforce, and Infusionsoft. These integrations can be very important, especially if you know what to do with them and how they can benefit you. Most of the applications from this field do not offer integrations with these tools.
Customization Options

There is plenty of customization to be had with ScheduleOnce. With ScheduleOnce's customization options, you can create a unique and one-time system for your clients, which can distinguish you from others. There are a lot of options, which can feel overwhelming for a beginner.
Pricing

In terms of pricing, ScheduleOnce has three pricing options: Basic, Professional, and Enterprise. For individual use, Basic is more than enough, while for larger companies, Professional and Enterprise options should be considered.
Basic: $7.5/month per user ($9 month-to-month)
Professional: $15.8/month per user ($19 month-to-month)
Enterprise: $32.5/month per user ($32 month-to-month)
Do You Want An Alternative To Both Of Them?
If you find yourself unsatisfied with the options offered by the two presented in this ScheduleOnce vs Calendly article, we also recommend that you try Amelia, a WordPress booking plugin that allows you to easily organize bookings and reservations.
Not only does this booking plugin include everything mentioned in this article, but because it is adapted to WordPress, it is much more intuitive and universal.
Amelia is perfect for business owners who need to streamline their booking experience both for their staff and their clients.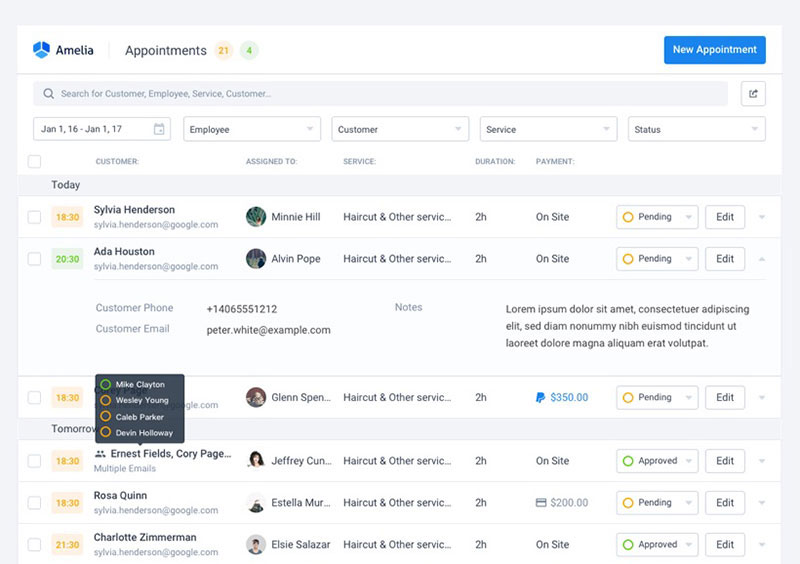 Amelia handles everything for you, even sending automated email or SMS reminders to your clients. No-shows? Not anymore!
The Amelia WordPress booking plugin adapts to different industries for a blissful online booking experience and employee management.
Want to know more? Check out Amelia's awesome features to see what you are missing.
If you enjoyed reading this article about ScheduleOnce vs Calendly, you should read these as well: