Although the benefits of booking online are evident to the end-user, lots of companies remain loyal to the old over-the-phone booking system that, in addition to being time-consuming, it requires more staff members to keep track of booking, as well as organize and coordinate bookings.
Whether they book trips or appointments, people prefer to use the internet to do it rather than an offline booking system.
A system that allows booking online is one that lets existing, and potential clients check availability, book, and even pay only via a personalized booking platform.
Benefits of Online booking vs. Offline Booking

There are many benefits to booking online for companies taking bookings, benefits that make the life of the customer as well as the life of the business owner a lot simpler. Here are some of the most evident advantages of booking appointments online:
An Online Booking System Offers The Utmost Convenience
As a business owner, you want your customer to be happy, and making the booking process convenient for the customer is one great way to achieve your goal. When customers can make bookings online, you offer them the supreme convenience of booking.
They can make bookings whenever they feel like it, even in the middle of the night. They can use any device they prefer wherever they have an internet connection. They can also think over their bookings without the annoying pressure of a sales team.
All of these are excellent arguments that support an online booking system especially when topped up with the possibility of paying for the booked services online. Booking can't get more convenient than that.
Booking Online Makes Your Business Always Available

Making your business available any time anywhere is one of the most significant advantages of offering online bookings as a business owner. Using a booking application will simplify the booking process incredibly while making your business available always.
No need for hotlines, extra personnel, or packed email inboxes that require constant monitoring. Amelia is a WordPress booking software that can handle this kind of task.
Get more clients with the right tool for the job
Staying organized has never been easier.
You can now manage your business and grow your brand with a single, powerful WordPress booking plugin that keeps all of your appointments in line, your clients organized and your business booming.
Amelia is perfect for business owners who need to streamline their booking experience both for their staff and their clients.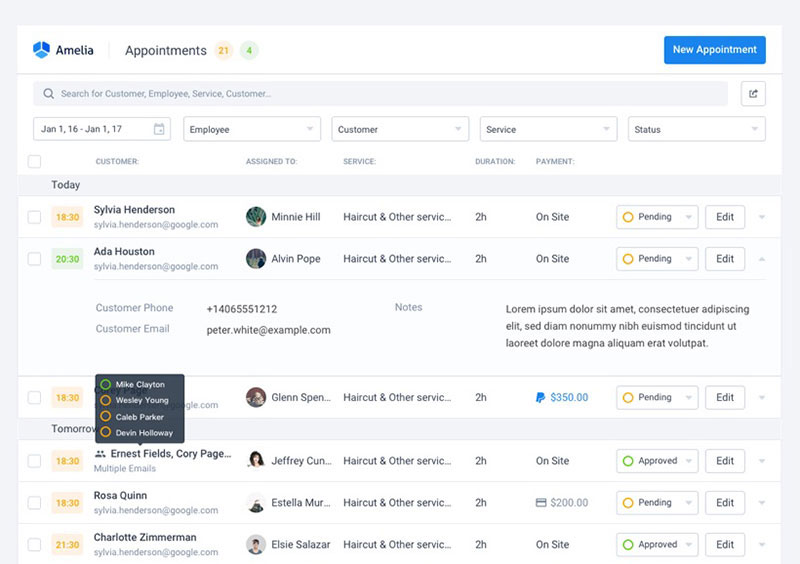 Amelia handles everything for you, even sending automated email or SMS reminders to your clients. No-shows? Not anymore!
The Amelia WordPress booking plugin adapts to different industries for a blissful online booking experience and employee management.
Want to know more? Check out Amelia's awesome features to see what you are missing.
Booking Online: Lower Costs
When offering online booking, you reduce costs dramatically as a business. Booking or scheduling apps are incredibly affordable today, and they no longer cost a fortune. The accessibility of such an app means fewer costs than starting up a man-powered location.
All you need is a website equipped with scheduling software. It is as simple as that. No need to rob the bank to accept reservations right away!
Booking Online: Increased Profits
By giving your clients the possibility of booking online, you make your business available 24/7/365. That means that you will be able to receive more bookings than you would typically get via a telephone-based booking system available from 9 to 5.
More bookings translate into more business. Besides, no people handling the reservations and reduced costs with a physical location means fewer overhead costs. Fewer overhead costs with an online booking system will generate more profit! Makes sense, right?!
Online Booking Systems Allow You to Measure Results Easier

Offline bookings can be difficult to track and, as a business, you have no idea who your potential clients may be. However, online bookings are transparent as technology allows you to track whoever is behind the booking with the help of the many available tools.
The online booking system provides you with accurate data as far as customer interactions, which you can consequently use to design marketing strategies targeting the most efficient platforms, be it online ads, organic search, or referral traffic from specific authority sites.
An Online Booking System Lets You Drive Appointments Via Social Media
Today, making bookings via social media networks is a piece of cake, which makes social media networks such as LinkedIn, Facebook, or Twitter your best friends when it comes to driving appointments to your business.
People love social media, and they are more than open to making bookings via a network that they are so familiar with. This affinity makes social media networks exceptionally useful as sales, booking, and marketing platforms.
The great benefit of integrating booking with your social media page is that you make it easy for your existing and potential clients to direct family members and friends to your page.
Booking Online: An Optimized Appointment Calendar

Using a booking system that lets customers book appointments online allows you to optimize your appointment calendar by improving its accuracy. An online booking system enables you to maintain an accurate calendar almost effortlessly.
Staff can quickly access the system to check when they have appointments, the type of services they need to provide for each appointment, what clients they'll be seeing, and where they will be holding the appointments. They can check all of these 24/7/365.
Booking online involves fewer scheduling-related errors, including overbookings, double-bookings, or lost bookings. The appointments can be quickly updated, moved, or, and an accurate booking calendar is made more accessible.
An online booking system offers an overall perspective of the appointment calendar letting businesses identify the gaps easily in their schedule that require particular attention and could be filled by providing special bonuses or promotions.
The availability and hours of staff can quickly be adjusted depending on the booking volume, which can be readily determined via online booking software.
Online Booking Platforms Save Working Hours

How does an online booking system affect staff members handling customer service? Well, it is obvious that by making bookings online available to clients, you take a lot of the workload off their shoulders allowing them the time to deal with pressing issues.
An online booking system means that your staff no longer needs to spend hours over the phone with clients helping them with their bookings or providing them the details of your services and when they are available. Also, no time is wasted managing schedules.
An online booking system will not only save time for your customer service staff, but it will also save money for your business. You will no longer need a full-time staff member to deal exclusively with bookings, and that translates into fewer working hours, i.e., fewer costs.
Online Booking Eliminates the Bottleneck of Telephone-Based Booking

Put yourself in your customers' shoes and remember how it feels like to wait for your call to be transferred to the right person when you want to book an appointment over the phone. How many times have you given up on the appointment because of the long waiting time?
Your clients go through the same thing if you choose to stick to your traditional system. The bottleneck associated with a conventional over-the-phone booking system is eliminated when you equip your website you make the possibility of booking online available to customers.
Also, remember that an over-the-phone booking system is only available to clients within a given time interval when clients are at work and have no time to call and make a booking.
And, unless you can afford more staff members to handle several phone lines, only one caller will be dealt with at a time, which will result in a long waiting time that will frustrate the callers. The result? Fewer bookings and therefore less revenue.
Online Booking: Increased Sales and Marketing Synergy

A big problem posed by the traditional over-the-phone booking system is having to refer clients to your website for more information because today businesses put all of the information a client may need to know on rich, versatile, and easy-to-navigate sites.
If clients can find everything they need on your website, why not use the site for booking online at a time that is most convenient for them, when they can make an appointment without feeling rushed or pressured or even redirected back to the website.
When you take a client from your website to the phone, you lose those spontaneous bookings because the client may get discouraged and frustrated while waiting on the phone to make an appointment or postponing the reservation for "tomorrow" during office hours.
Make the most of your website's excellent copy and capitalize on impulse bookings by equipping your website with an online booking software.
Booking Online: A Modern Approach
You are living in the age of the internet when people no longer use phone books to find a business. They use the internet to find everything they need to know quickly online without any additional hassles. People like the convenience of doing everything online.
It would be a huge loss for businesses not to capitalize on what technology has to offer today. Integrate a booking platform with your product pages on your website or social media pages. Your customers are online, so that's where you need to reach them. Don't miss out!
Disadvantages of Online Booking Systems
An Online Booking System Comes At A Cost

Nothing comes for free in today's age. It is a mistake to believe that a free booking system will come with all of the benefits of a paid one. Yes, an online booking platform will cost you but will not cost you a fortune and will undoubtedly be worth the small investment.
You can pay monthly or per transaction, depending on the booking platform of your choice. There is also the possibility to get a custom-made online booking system that will cost a substantial sum in the beginning and will also generate periodic costs with maintenance, which includes support and fixing bug issues.
As a business, you should already be used to the idea of cost, but, you should also be used to identifying a situation where the benefits compensate for the costs.
An Online Booking System Depends on Internet Access
Although it may not seem like a disadvantage, making an online booking depends on having internet access. It is a fact, and there's no way going around the problem. BUT with internet access available on more and more devices, static or mobile, and with the internet being available in almost every corner of the world, it's a problem that will soon become a benefit.
Ending thoughts on the advantages of booking online
There's a full spectrum of prospects that an online booking platform provides, a world of opportunities that no business should miss out on, including generating additional revenue, saving time for your staff, and less overhead expenses.
Amelia offers a convenient way to integrate an online booking system with your existing WordPress website – be sure to check it out.
If you enjoyed reading this article about the advantages of booking online appointments, you should also read these: