Although the benefits of booking online are evident to the end-user, lots of companies remain loyal to the old over-the-phone booking system.
In today's fast-paced and digitally-driven world, the way we approach various tasks and activities has undergone a significant transformation. One such area that has witnessed a remarkable shift is the way we schedule appointments. Gone are the days of waiting in long queues or spending precious time on phone calls to secure an appointment.
The advent of online appointment booking has revolutionized the process, offering convenience, efficiency, and a host of other benefits. Whether it's scheduling a medical consultation, reserving a table at a restaurant, or booking a session with a personal trainer, the advantages of online booking are undeniable.
This article explores the numerous benefits of online booking and highlights how this modern approach has streamlined and enhanced the way we manage our time and commitments.
Let's see how!
Online Booking Vs. Offline Booking: How Online Booking Makes Your Life Easier?

There are many benefits to booking online for appointment-based businesses that make the life of both customers and business owners a lot simpler. Here are just some of them:
Online booking offers unmatched convenience
As a business owner, you want your customers to be happy, and taking your bookings online is a real game-changer.
With online booking, customers have the freedom to access appointment availability anytime, anywhere, using their smartphones, tablets, or computers. With online booking, they're in control. They can make bookings whenever they feel like it, even in the middle of the night. Your customers are night owls, whereas your team prefers working a day shift? No sweat! Allow them to book online and you won't miss out on any opportunities, as you would with offline booking.
What's more, online booking systems often provide real-time updates and notifications. So, your customers will no longer be left in the dark about any changes or cancellations. This level of convenience not only saves their time and effort but also gives them the flexibility to manage their appointments as they see fit.
Whether it's during a busy workday, late at night, or even on weekends, online booking puts the power in the hands of the customers, enabling them to easily and conveniently secure appointments with just a few simple clicks.
It makes your business always available

Another advantage of booking online is making your business accessible and available to customers around the clock. Unlike traditional offline booking methods that are restricted by business hours and physical locations, online booking is like having your shop open 24/7. But without breaking a sweat.
Moreover, online booking allows businesses to go global. No more boundaries or time zones holding you back. People from all over the world can book appointments with you, no matter where they are. That means more satisfied customers and, you guessed it, more bookings.
Making your business available any time anywhere is one of the most significant advantages of offering online bookings as a business owner. And using a reliable scheduling and booking system will get you exactly what you need – simplicity, efficiency, and availability at the click of a button.
Meet Amelia: the best booking solution for your WordPress website
No need for hotlines, extra personnel, or packed email inboxes that require constant monitoring.
Amelia is a WordPress booking solution that can handle all these tasks for you.
Easy to install and set up, and even easier to use, Amelia will transform the way you do business online. This powerful booking tool helps you keep your schedule organized, your bookings in line, your customers satisfied, and your employees focused on their job.
Manage bookings, take care of employee schedules, send appointment confirmations and reminders, and track your KPIs with ease via Amelia's simple and intuitive dashboard.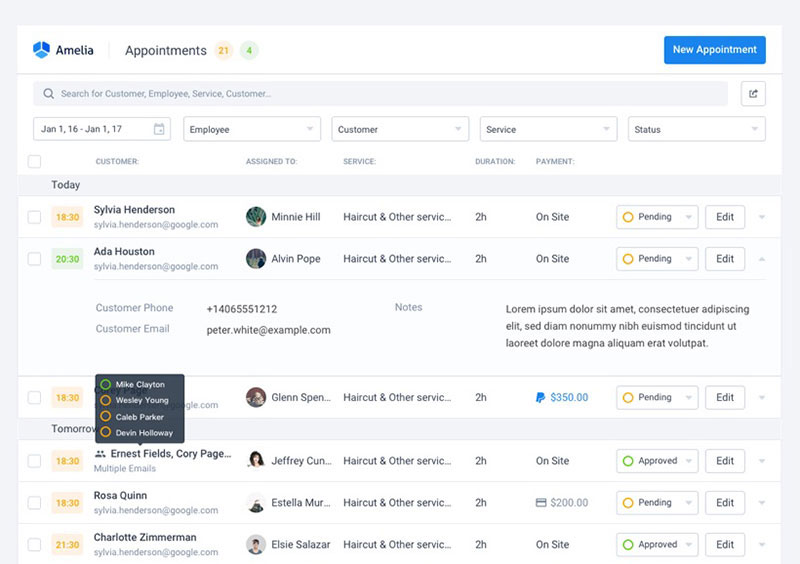 Another bonus? The Amelia WordPress booking plugin is designed to adapt to your business and cater to the needs of various industries.
Ready to streamline your business management and provide an enterprise-level booking experience to your customers? Give Amelia a go!
Online booking helps you cut costs
One of the many benefits of online booking is reducing expenses.
Say goodbye to hiring extra staff just to manage appointments because online booking does all the work for you. No more wasting money on printing paper forms, storing them in bulky file cabinets, or dealing with messy manual data entry. It's all digital and hassle-free!
And let's not forget about those dreaded double bookings or mistakes that can cost a fortune. With online booking, you can wave goodbye to those nightmares. The system keeps everything in check, ensuring accurate scheduling and avoiding any costly mess-ups.
So, not only does online booking save you money, but it also frees up your time to focus on other important aspects of your business. It's a win-win situation!
It's a total profit-booster
By giving your clients the possibility of booking online, you make your business available 24/7 365 days a year. That means that you will be able to receive more bookings than you would typically get via a telephone-based booking system available from, let's say, 9 to 5.
More bookings translate into more business. Besides, no people handling the reservations, as well as reduced costs with a physical location mean fewer overhead costs. Fewer costs and more bookings equal more profit!
Makes sense, right?
It allows you to get to know your customers better

Offline bookings can be difficult to track and, as a business, you have no idea who your potential clients may be. However, online booking opens up a whole new world of getting to know your customers on a deeper level.
With each appointment scheduled, you gather valuable data and insights that can help you understand your customers' preferences, behaviors, and needs. Through the booking system, you can capture important information like contact details, appointment history, and even specific preferences or requirements. You can analyze patterns and trends, identify loyal customers, and even anticipate their future needs. Use this data to personalize the customer experience, tailor your offerings, and provide targeted marketing campaigns.
Moreover, online booking systems often include review and feedback features, allowing customers to share their experiences and opinions. This feedback is a goldmine for improvement, enabling you to fine-tune your services and address any areas of concern.
Online booking lets you drive appointments via social media
Today, making appointments via social media networks is the new normal. This makes social media networks such as LinkedIn, Facebook, or Twitter your best friends when it comes to driving appointments to your business.
People love social media, and they are more than open to making bookings via a network that they are so familiar with. This affinity makes social media networks exceptionally useful as sales, booking, and marketing platforms.
The great benefit of integrating booking with your social media page is that you make it easy for your existing and potential clients to direct family members and friends to your page.
It allows you to keep your calendar well-organized

One of the most important benefits of a booking system is that it allows you to keep your appointment calendar accurate at all times. No more messy scribbles, double bookings, or flipping through endless pages.
Taking your appointments online means that everything is neat, tidy, and easily accessible. You can see all your bookings at a glance and the system automatically updates in real-time, ensuring accurate information. Moreover, you can set availability, block off time slots, and even manage multiple calendars in one place. Plus, online booking systems often come with automated reminders and notifications for both you and your customers, helping to minimize no-shows and last-minute cancellations. It's like having a personal assistant who takes care of all the scheduling hassles for you.
With online booking, your appointment calendar is in tip-top shape, keeping you organized, efficient, and in control of your time. Say goodbye to chaos and hello to smooth sailing!
Online booking platforms save time

How does an online booking solution affect staff members handling customer service? Well, it's obvious that by making bookings online available to clients, you take a lot of the workload off their shoulders allowing them the time to deal with pressing issues.
Another benefit of online booking is that your staff no longer needs to spend hours over the phone with clients helping them with their bookings or providing them with the details of your services and available times and dates. Also, no time is wasted managing schedules – a common disadvantage of offline booking.
Online booking gives you the gift of time, allowing you to focus on what truly matters – serving your customers and growing your business. And there's nothing better than that!
It eliminates the bottleneck of telephone-based booking

Put yourself in your customers' shoes for a second. Remember that feeling of having to wait for your call to be transferred to the right person when you want to book an appointment over the phone? How many times have you given up on the appointment because of the long waiting time?
Your clients go through the same thing if you choose to stick to your traditional system. The bottleneck associated with a conventional over-the-phone booking system is eliminated when you switch to a booking form instead.
Also, remember that an over-the-phone booking system is only available to clients within a given time interval. And that interval is typically when clients are at work and have no time to call and make a booking.
And, unless you can afford more staff members to handle several phone lines, only one caller will be dealt with at a time, which will result in a long waiting time that will frustrate the callers.
The result? Fewer bookings and therefore less revenue.
It leads to sales and marketing synergy

A big problem posed by the traditional over-the-phone booking system is having to refer clients to your website for more information. Today, businesses put all of the information a client may need to know on rich, versatile, and easy-to-navigate websites.
If clients can find everything they need on your website, why not use the site for booking online at a time that is most convenient for them?
When you take a client from your website to the phone, you lose those spontaneous bookings. The client may get discouraged and frustrated while waiting on the phone to make an appointment or postponing the reservation for tomorrow. And that tomorrow may never come.
So, make the most of your website and capitalize on impulse bookings by equipping your website with a booking system.
Ending Thoughts on the Advantages of Booking Online
We are living in the age of the Internet when people rarely use phone books to find a business. Instead, they use the internet to find everything they need to know. Quickly and without any additional hassles.
Online booking has revolutionized the way we schedule appointments, offering unparalleled convenience, accessibility, and efficiency. As the world becomes increasingly digital, embracing online booking is not just a trend, but a necessity for businesses seeking to stay competitive and provide exceptional customer service. So, hop on the online booking train and enjoy the multitude of benefits it brings to your business and customers alike.
And don't forget – Amelia offers a convenient way to integrate an online booking system with your existing WordPress website, so make sure to check it out.
If you enjoyed reading this article about the advantages of booking online appointments, you should also read these: