For most businesses, time spent has to be managed. Not managing your time can mean it is wasted and important tasks don't get completed as quickly as they could have done. It could even mean you don't have the time to take on new work, impacting the growth of your business.
When it comes to appointments, time can be wasted and if not booked efficiently could cost your business valuable clients.
In some companies, client management is handled by an administrative assistant whose job may be, in part, to act as an appointment maker. But some companies don't have the resources to pay for another employee to handle their appointments.
Luckily there are many straightforward and economical appointment scheduling applications available.
These programs are designed so that all of your appointments can be automated online. That means you can spend more time taking care of customers and running your business.
Having an online appointment maker will make things easier for both you and your customers. Your customers won't have to wait for opening hours to make appointments as it can all be done online at their convenience.
What Does an Appointment Maker Program Do?
Having an automatic appointment maker means you can share your calendar with your customers. It allows clients to see your business' availability. From there they can book an appointment or schedule a meeting.
A business owner can use the scheduling software to manage those appointments.
Other features in the software may allow the business owner and client to receive automatic reminders. If the business requires deposits or fees to be paid that can be set up in the software too.
Many of the software programs available go beyond being an automated appointment maker. Some offer comprehensive business management options that allow you to manage not only your own time but also the time of your employees. This way you can monitor not only your company's schedule but also the availability of your team.
Most of the programs have adjustable parameters. This allows you to edit the schedules for the different services you provide and the staff members you have available.
These programs have many possible business applications With that in mind, you would want to make sure you find one that has the right set of features for your business.
Although it is possible to get free versions, these are often limited versions of the paid programs.
To help you find the best tool to suit your business needs, below is a selection of thirty-two of the best appointment maker programs. Each program has its own strengths and features detailed below.
Amelia

Amelia is an online scheduler that will definitely exceed your expectations. It is a feature-packed plugin that works well with WordPress and has many happy customers to attest to this.
By using Amelia, you can perform all sorts of appointment-related tasks, easily customize the booking process, and even manage appointments for different business locations.
And all those under only one license, no add-ons needed, unlike other similar plugins you'd find in this list.
For those who own business chains, Amelia is the perfect match because it is able to centralize all the data in one place. Amelia is one of the best scheduling apps you can use, regardless of your business' size, and it is exceptionally user-friendly with a clean, modern interface.
Amelia also has an Events Calendar module integrated within its features.

This means that you can automate your Event bookings as well. To be more precise, it means that you will be able to schedule a single day, a multi-day, and also recurring events with Amelia.
To test things for yourself, I'd suggest checking out the demos and see how things look on the front end as well as in the back-end.
Trafft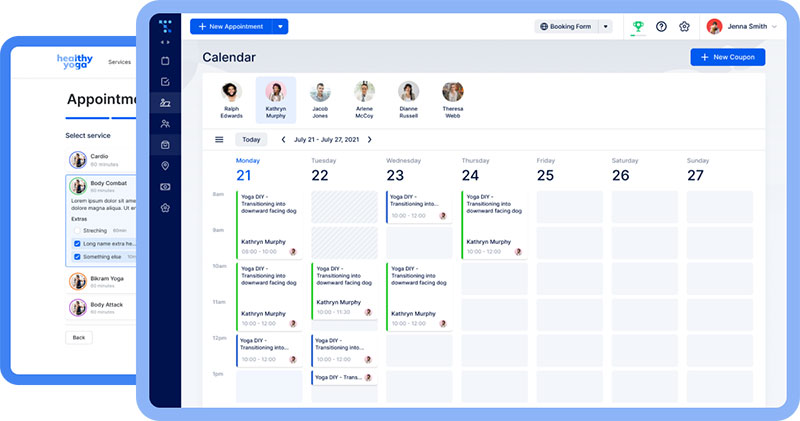 Now, Trafft is something else. It's the premium scheduling software that you can get at an affordable price. You can schedule on-site or virtual appointments, meetings & events, manage staff and services, accept payments, send reminders – all in one tool.
Trafft streamlines the booking process for your potential customers by making it easy and fast to book and pay for your services, improving the interaction rate, and boosting conversions by up to 30%.
What's really neat about it for some business owners is that they don't need to have a website to use it. Trafft will generate an SEO-optimised booking page that you can integrate with Google or Instagram. Or you can embed the booking form on your existing website if you already have one.
If you want to spend 2 hours less daily on admin tasks, you should get Trafft.
Appointment.com

Appointment.com has many of the standard scheduling software features. What makes it different is the company behind it. The service is constantly developing to meet modern user needs.
You can put your appointment book online in minutes and there is no need for you to have a website of your own to use the service.
It allows for twenty-four hours, seven days a week appointment booking, and the facility for clients to cancel or reschedule appointments as needed. Again several locations, services, or employees can be configured to the schedule.
Another key feature for your peace of mind is the security of fast and professional support, and even a free coaching call to show you the ropes.
The program will synchronize with other calendar applications such as Outlook, Google, and iCal.
Calendly

Calendly is a convenient solution. Appointments can be scheduled using simple drop-down boxes and prompts.
It is useful for individual professionals of all business types.
You may need a buffer time before a meeting or appointment is scheduled. With Calendly you can prevent an appointment from being booked without a sufficient amount of notice. This gives you time to be aware and prepared for your appointments so there are no rushed surprise bookings.
If your client base spans different time zones Calendly has you covered. It adjusts to the user's time zone avoiding any confusion or missed appointments.
Agile CRM

Agile CRM is geared towards CRM (Customer Relationship Management). Managing a relationship with a customer often involves having an appointment scheduling software service.
The online app allows the customer scheduled calendar to be synced with other calendars.
If you want customers to book an appointment you can embed a link to the booking calendar in your emails. This also makes it easy to market your business, offering quick and easy service for new customers.
If you have multiple team members Agile CRM also has a group appointment scheduling tool. This means all team member's calendars are shared with a single scheduling link.
Acuity Scheduling

Acuity Scheduling contains all the standard scheduling features you would expect. However, in addition to the standard features, they also offer a more detailed customer interface.
Not only can your customer schedule an appointment or session, but they can also complete an intake form. This allows you to find out more information on your customer before their appointment.
There is a free version of Acuity Scheduling allowing an unlimited amount of appointment bookings. For more advanced features like calendar synchronization and reminders, you will need to upgrade.
Picktime

Picktime is an appointment maker ideal for businesses with multiple locations.
Team members from different branches can log in and adjust their availability slots. Whether you are a client or a member of staff Picktime will notify all parties immediately after a booking is made.
Being able to span multiple locations means you can monitor business performance. When a client books an appointment the program will detect the client's location. The client will then be directed to book an appointment in the closest branch available.
Calendar

Calendar utilizes all your existing calendar entries from cloud-based calendars. These include Outlook and Google Calendar. It shares your calendar availability with your clients. They can then book an appointment directly onto your calendar.
To speed up the process of making an appointment Calendar will provide suggestions. Suggestions could include what type of meeting to book, when the meeting should be scheduled, and where it can take place. The program will provide suggestions based on your previous meeting arrangements.
Setmore

Setmore is a good choice for smaller businesses as it comes free with up to four user accounts.
With the added features of drag-and-drop, you can schedule appointments and availability. Along with its intuitive user interface, Setmore also offers some good team management features.
Clients and staff can be sent appointment reminders via SMS and email. Each appointment can be customized to assign a certain member of staff, service type, or to add specific client notes.
Setmore is easy to use and offers good value features. In light of that, it receives positive ratings on most review websites.
Doodle

Doodle is a cloud-based appointment maker. It is suitable for businesses of all sizes and comes with the facility for users to customize their meeting requests.
Key features include:
Accessible invites.
Customizable invites.
Calendar invites.
Availability management.
Requests for additional information.
Notifications and reminders.
Multiple user management capabilities.
Intuitive interface.
Pick

Pick allows everyone's calendar to be visible for availability. It will automatically display times where everyone involved is available. This saves time when it comes to accepting and rearranging meetings.
When the appointment is booked for a specific time that time will be allocated on everyone's calendar. They will then be notified of the arrangement.
If someone you are meeting with does not have the Pick app you can send them a personalized link to select the appointment time.
Appointy

Appointy is an online program that comes with a variety of features. It is an adaptable appointment system and is useful to businesses of all types. It comes in a variety of plans with additional features added in each plan tier.
Key features include:
Social media integration.
Website amalgamation.
Services listed on Google Reserve.
Create gift cards, deals, and discounts.
Additional bolt-on services.
Stripe, PayPal, and Authorize.Net payments accepted.
Customizable email and SMS reminders for your clients.
10to8

Sometimes when clients book an appointment they don't show up. That can mean a loss of revenue for your business.
10to8 send reminders to your clients. When they book an appointment they will receive a confirmation email and SMS. Within the reminders sent there are options for the client to reschedule their appointment or to cancel it.
Outlook and Google Calendar synchronization means your personal calendar is always updated.
If you or your clients need more information before the appointment there is an option to communicate via a chat system. The chat is integrated into the calendar simultaneously.
Any payments that need to be processed through PayPal, Stripe, or Sage Pay can be accepted without additional charges. 10to8 can be used to schedule multiple calendars, for staff, rooms, or different buildings.
ScheduleOnce

If you need to make sure a potential client connects with the member of staff who can help them ScheduleOnce can offer assistance.
This means customers are not waiting to be redirected to the correct person when filling out a "contact us" form.
Once a product demonstration or phone call is booked ScheduleOnce sends out notifications.
The program can be useful for individuals, whole departments, or staff teams. It allows joint or independent meeting appointments.
MeetFox

MeetFox is a new free online appointment maker. It comes with a variety of standard features in the free version with reasonably priced upgrades available as you need them.
If you are a new business, it is beneficial that MeetFox offers technical support seven days a week at no extra cost. It is created with functionality in mind but offers all the expected professional tools.
You can accept payments as standard, and even host group calls for up to four participants. This means a client can schedule an appointment for an online or face to face meeting.
Fresha

Angled towards salons and spas Fresha is completely free and can allow scheduling for an unlimited number of employees. This is all subject to you registering your business to Fresha Marketplace.
Fresha Marketplace is a directory of salons and spas. Any introductory customers you receive will be chargeable at a 20% commission.
For businesses that run on a large returning customer base, this is not a problem. But for businesses who have many first time customers, this may be an issue.
Please note, Fresha cannot initiate shared calendar syncs.
When you register you will receive a customizable profile for your business. Your profile is where your appointment availability is displayed. Your customers will then have to register on Fresha before they can book an appointment.
vcita

vcita has all the standard scheduling tools available. As well as booking appointments, your customers will be able to request a call or a demonstration of your services and products.
Through the program, you will be able to manage customer billing. You can customize your invoices with your brand and set up email marketing and discounts.
Through web portals, you can also share documents.
Please take note that any single time slot cannot be scheduled for multiple bookings. This limitation makes it unsuitable for any group booking arrangements.
Square Appointments

Square is an online appointment maker that offers no hidden fees or annoying advertising.
Through Square's dashboard, you can reschedule any appointments using an intuitive drag and drop system. Doing so will automatically notify the client via email or SMS.
Square offers synchronization with Google Calendar and appointment reminders near the scheduled time. It offers a simple booking system allowing clients to see your availability and book a slot.
Chili Piper

Chili Piper offers a selection of automated scheduling tools.
It offers the facility to book from anywhere, with Chrome extensions, email links, and synchronized calendars.
If you need customers to be routed to the right person you can use the Concierge feature. The Concierge javascript code can be inserted directly into your HTML code. From there you can program the Concierge to assign customers to the correct member of staff or team using custom qualifications.
Once the correct company representative is filtered down their availability will be displayed for the client. From there they can book an appointment or even start a phone call immediately after submitting the web form.
This is just one of many tools offered by Chili Piper to make meeting your clients easier and free of any inconvenience.
Bookafy

Another way to rid your company of lengthy appointment processes via email or phone is Bookafy. From Bookafy you can schedule demonstrations, meetings, and appointments for your services.
It offers collaborative calendar synchronization meaning users can see each other's schedules.
Optionally you could have unilateral calendar syncing. This is useful for situations where you don't need to see another person's schedule, but you would like them to see yours.
Appointments can be made recurring if needed and can be made on a one to one basis or with multiple participants.
x.ai

x.ai uses automatic appointment makers in the form of AI (artificial intelligence) characters.
It is available with a male option called Andrew and a female option called Amy, who are in charge of scheduling meetings for you. The AI is linked in with your calendar so it always knows when you are available and what times to suggest to your clients.
When emailing your clients you can copy Andrew or Amy in on the email. From there x.ai will instigate a meeting or call with your client in line with your calendar availability and settings.
Grapple

A free online option for scheduling meetings is Grapple.
When setting up a meeting with multiple participants in Grapple you can offer various options and allow feedback in the form of a poll. That way each participant, whether they are clients or team members, can select a time that works best for them and their schedule.
Everyone's preferences for meeting times will be visible from the poll results. The shared results make getting multiple participants to meet at the same time easier by rescheduling.
SimplyBook.me

SimplyBook.me is good for businesses that have international relationships. It offers the ability to schedule appointments in nine different languages.
All of your services are on display for your clients to see, as well as the available times and service providers. SimplyBook.me offers a fast client interface giving them the information they need to make an appointment.
Through SimplyBook.me you can also allow online bookings via social media platforms such as Facebook and Instagram. Your Google My Business profile is also supported.
Appoint.ly

With Appoint.ly your calendar is shared with your clients. Once you have set your schedule Appoint.ly will send your clients or other team members the updated information. This allows them to book an appointment based on your availability.
Appoint.ly will synchronize with your calendar. It is able to extract the information from all major calendar programs. It also offers automatic time changes for different time zones. This makes it simple and reliable in a wide range of applications. 
VueMinder

If you want your schedule to run from your Windows desktop then keep VueMinder as an option. Although it is designed for Windows users it does synchronize with non-Windows applications. These include Google Calendar and Apple Calendar.
Through VueMinder you're able to schedule meetings and recurring events at set intervals. It also offers features that assist with task management.
The program allows you to set tasks and break bigger tasks down into smaller ones.
Reminders can be set up to trigger from your calendar or task list.
To make a busy calendar easier to read you have the facility to color-code your task and calendar entries or store contact information.
Harmonizely

Harmonizely is completely free. It is easy and quick making it an ideal meeting scheduler or appointment maker.
Any CalDAV compatible calendar can be synchronized with Harmonizely. This includes Zoho, Nextcloud, FastMail, iCloud, and Google. Using Zapier, Harmonizely can be connected to hundreds of other apps.
Scheduling pages can be set up and sent to invitees so they can book their appointments around your availability. Meetings can be set up according to their type and can be adjusted to different durations and different time zones.
TIMIFY

TIMIFY looks after some big clients such as INTERSPORT, Fitness First, Aon, and DHL. If large scale businesses entrust their scheduling needs to TIMIFY it's a service worth checking out.
Suitable for the larger business and single users alike TIMIFY aims to make online booking as simple as possible. Bookings can be made through its website as well as social media platforms such as Facebook.
Features include the ability to reserve slots, manage payments, and offer customer interaction.
AppointmentPlus

Easy to use, AppointmentPlus is designed to benefit both the client and business employees.
At the client's frontend, a simple to use interface makes booking appointments quick and hassle-free. At the backend, the company employee will have minimal setup to carry out. This is ideal if the idea of setting up an automatic appointment maker seems daunting to you.
Any confidential customer information is managed securely giving your clients peace of mind. It can be used by a variety of industries, including more sensitive businesses such as medical professionals.
AppointmentPlus is used by some of the biggest and most successful companies. If you have a smaller company the program will work along with your business as you expand and grow.
classroombookings

If you are a class-based business classroombookings is designed with you in mind. Worldwide, schools are using classroombookings to look after their appointment booking needs.
The backend uses MySQL as its database. The program its self is written in the CodeIgniter PHP framework.
classroombookings has been around since 2006 and has continually been developing since then.
It is open-source, so is completely free, allowing the ability to set up multiple users and an unlimited number of rooms. You can even specify which rooms certain users or groups can book, along with the type of booking they can make.
You can limit the number of times a user can make a booking to avoid them taking the opportunity away from others. This option gives you control over how many bookings can be made per user.
TimeTrade

TimeTrade is a low cost and reliable option. It focuses more on functional simplicity than design.
Its interface is easy to use and it does the job you would expect it to but note it may not be suitable for businesses where appearance is important, due to its antiquated interface.
It does, however, make booking appointments simple allowing you to monitor and follow up on booked appointments.
CalendarWiz

CalendarWiz is focused on offering you a fully customizable calendar. You can put your brand logo on your calendar and even color the calendar to suit your company's color scheme.
Your calendar can be shared through social media including LinkedIn, Twitter, and Facebook. They can also be shared through your company website.
When you create an event on your calendar it can be shared with clients or team members along with a request to RSVP. When attendees respond to the invitation you will be able to track who has accepted and who has declined.
Reminders will also be sent out to all those attendees who have accepted your invitation to reduce the risk of them not showing up.
Appointlet

Appointlet allows you to have an unlimited number of appointments. This along with customization options and calendar synchronization are included for free. Outlook, Google Calendar, and Office 365 can all be linked via collaborative synchronization to Appointlet.
It is simple for users to book appointments. But when confirming an appointment an advertisement will prompt them to "Get your own Appointlet page for free". Because it is a free appointment maker you might consider the advertisement a fair accommodation or you may opt for something more professional.
Be aware that you cannot embed the Appointlet tool into your own website.
Ending thoughts on these appointment maker apps you can use
The list of appointment scheduling applications we have reviewed above has shown a variety of options.
Although the core principles of an appointment maker app are present in most of the examples there are some with additional features.
You may see some that suit your needs more depending on whether you are a small or a large business.
Your needs from the program may be simple or you may like the additional layers of complexity that can be applied.
We hope this list has given you some insight into where to start looking for your best appointment maker application.
You can visit the websites that offer these applications and try out the free versions. By doing so you can research which one will best suit your business needs and preferences.
If you enjoyed reading this article about the many appointment maker options there are out there, you should read these as well: