A web development company does its best to figure out the current needs and preferences of people to satisfy them on their online products and solutions.

Any self-respecting web development company will always seek surprising, new ways to show off their services to potential clients and make them desire collaborations, and what better avenue to do this than through their own website?
This article will gather together a few of the best web development company website examples to inspire you — whether you're looking for a company to handle your web development or you're starting your own.
These websites caught our eye for the amazing solutions they put forth, while also creatively presenting them in an attractive, persuasive manner.
See below for the extensive selection.
Web Development Company Website Examples
TMS

TMS is probably the best software development company but we may be biased here. It's aimed at those looking for a complete professional solution that includes planning and building apps from scratch or even enhancing existing apps.
Compared to other outsourcing companies, TMS is focused on helping the client organize and conceptualize the development workflow with a view towards bulletproof product functionality, before anything else.
From a glance at the website, you can tell that TMS pays great attention to end-user adoption and creative ideas to reach business goals effectively.
TatvaSoft

TatvaSoft is one of the well-known Web and Software Development companies with more than 18 years of experience in creating customized app development solutions. It revolutionizes your ideas into an innovative application. TatvaSoft aims at providing high-quality business solutions with exceptional customer experience and agility.
Software developers and experts of TatvaSoft have delivered more than 1800 business results with the combination of an agile and iterative approach.
Railsware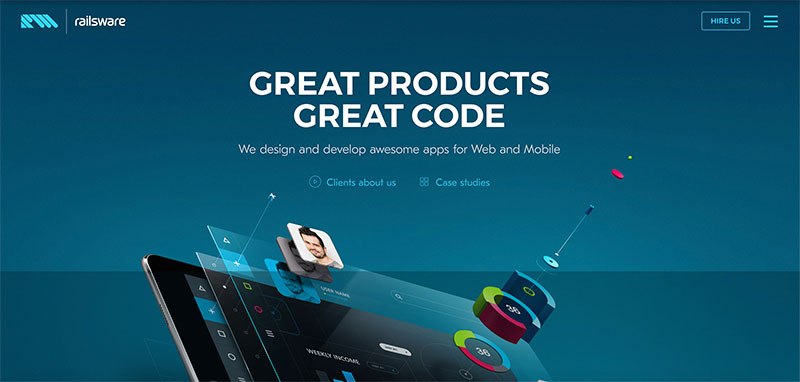 Railsware is a software development consulting company with a core focus on web app development. Being active for 13 years, the company successfully delivered 90+ projects using Ruby on Rails, Node.js, Angular, and other cutting-edge technologies.
Besides web development, the firm offers inception, UX/UI design, technology migration, audit, and more.
Also, Railsware has created its own products (labs): Mailtrap, Coupler, Jira Checklist.
Trademark Productions

Based in Royal Oak, MI, Trademark Productions is a web design & development and digital marketing agency that has been rockin'​ the web since well before the cool kids were doing it.
Specializing in Web Design & Development, SEO, Social Media, and Internet Marketing, their great team artfully blends academic wisdom with self-taught learning.
In an era when everyone is a web developer, SEO expert, social media guru, and PR assassin, they stick to one of their founding principles: being bottom-line driven in web design and marketing.
Arka Softwares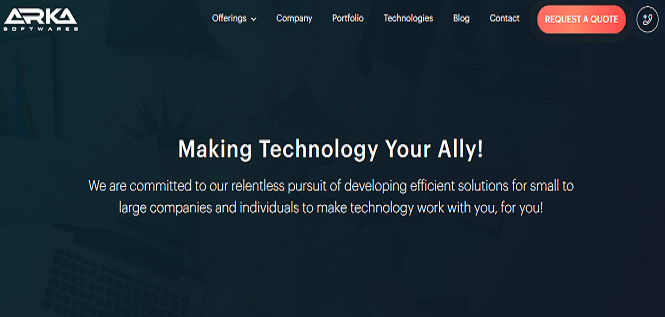 Arka Softwares is an ISO 9001:2015 certified and industry-leading mobile and web development solution provider company with 100+ passionate developers and designers, based in Jaipur, India, having offices in, USA, UK, and Australia. They have been helping consumer-oriented clients to drive business with our innovation-driven and contemporary web and mobile app solutions since our establishment in 2010.
So far, they have successfully delivered 600+ projects to our 450+ happy clients from ambitious start-ups to Fortune 500 companies with the world-class quality of digital products that minimize modern business challenges and clear the path for future opportunities and possibilities.
VintaSoftware

Those who need Python projects should look to Vinta Software. It is a world-class software development company in Latin America and they specialize in creating amazing sites and apps in Python, while also sharing tools, libraries, and processes with the community.
Netguru

Netguru builds digital products that let people do things differently. Share your challenge with their great team, and they'll work with you to deliver a revolutionary digital product.
Their clients have changed the way people do banking, listen to music, learn languages, and rent bikes. Their products have been featured in TechCrunch, Business Insider, and Product Hunt.
Sparx ITSolutions

Sparx IT Solutions is yet another web development company that points all its resources to the client, thus creating highly-customized solutions for their collaborators.
Their lean software development products are meant to engage the audiences as much as possible, and that is entirely achievable given the dedicated team of professionals sitting behind this company.
Their homepage is visually interesting at every scroll point and keeps the visitor engaged all the way to the end.
iTechArt Group

If you are looking for a software development company that shifts all their workload according to your business needs, you've found it. ITechArt is a top-tier company that specializes in custom software development services.
ITechArt has around 1300 engineers ready to tackle your projects. The company collaborates with VC-backed startups and big companies. ITechArt is one of those client-centric web development companies that fully engage in the projects they get, and this really shines through on their website.
Tivix

Tivix is headquartered in San Francisco, with regional offices in London, Wrocław, Portland, and New York City. Their primary focus is the agile development of cloud-connected web and mobile apps.
Django Stars

Django Stars is a web development agency with business vision. They transform your ideas into successful digital products, building them from scratch and supporting them as long as you need.
Merixstudio

This company building both functional and awesome-looking digital products is a matter of close collaboration between various, unique talents. Their web developers' diverse expertise guide the innovative choices that solve business challenges.
The Software House

A custom application development company from Poland was established in 2012. This top web development firm offers specialized development services in PHP (Symfony, Laravel), Node.js, and Javascript (React, Angular, Vue).
Experion Technologies

Experion Technology is one of the oldest players on the market when talking about web development companies. They have no less than 12 years of experience in delivering high-quality IT solutions and their reputation — along with an amazing website — has netted them more than 100 top-tier customers in 26 different countries.
Experion can handle custom mobile app development, web, analytics, cloud, and other digital technologies, all efforts being directed to unlocking the maximum potential of their clients. They collaborate with both early-stage companies and large enterprises.
Capital Numbers

The team at Capital Numbers can deliver more than their clients expect. It is a web development company based in India that has obtained their ISO 9001 certificate and it is also registered with D&B.
They later obtained a Google Partner certificate. Capital Numbers excels at white label web design and development, as well as digital marketing services.
Though their website isn't exactly a visual dazzler, it is stunningly effective through its simplicity and clean design, with the perfect amount of elements to catch clients' interest and hook them in.
Unleashed Technologies

Unleashed Technologies is a fast-growing company that adopted a proactive growth model to make sure that their clients exceed their goals.
Their team of web developers is always ready to meet the toughest standards, as they are client-centric and prepared to manage any type of project. This web development company is recognized as a global leader in the industry across various specialties including Drupal and WordPress.
What you will immediately notice about Unleashed Technologies' website is its striking and dynamic color scheme which greatly complements the animated backgrounds and buttons.
Iflexion

Iflexion is another old company in the field of web development that never ceases to impress its clients through the services they offer. They offer advanced full-cycle web solutions, which means they can handle all areas from CMS to portals and e-commerce websites.
Since 1999, Iflexion continued to gather experience in digital technologies and now they are one of the top choices for people who seek professional collaboration with a web development company.
Mobikasa

Regardless of the size of your project, Mobikasa is ready to help you. They offer both full-package services and a-la-carte services for all types of companies. The engineers in Mobikasa's team can develop quality products in the most popular languages: Java, Objective C, PHP, Ruby, Jquery, and more.
With generous use of white space and bold, high contrast colors, Mobikasa has managed to pull off one impressive website for themselves.
Boldare

If you heard about XSolve and Child before, you'll find it easy to place Boldare. This web development company is a merger between those two and it took the best out of them.
The result is a high-end web development firm that has around 14 years of experience and which has released a whopping number of over 250 products. The team gathers together 130 brilliant minds.
The Boldare website certainly lives up to its name, too, with its fun, funky, and bold design.
EL Passion

Those who need Ruby on Rails applications can stop their search for the perfect web development company. EL Passion is the exact solution you are looking for.
They create responsive, feature-rich iOS/Android apps for all types of clients. EL Passion flawlessly combines UX and UI design to come up with stable, good-looking products.
The minimal whitespace feel of their site is expertly combined with well-placed and quirky background images, which emphasizes their creativity.
10Clouds

Since 2009, 10Clouds delivered a variety of projects for companies of all sizes – from one-person startups to enterprises like Pinterest, Asmodee, universities, and non-profits. They build client relationships on trust, openly sharing the work methods and the rules they rely on.
Infinum

Infinum started its journey in San Francisco and it is now a big family of more than 50 members, working together to offer the best experience for people through their mobile and web development services.
They work with clients from a wide range of industries, mostly finance and automotive. Infinum collaborated with banks, large brands, media publishers, and mobile carriers throughout the years, and they won't stop any time soon.
Their use of big and bold typefaces combined with an exceptionally neat layout helps them claim a spot on this list with ease.
Crafton

Crafton owes the success to its web developers team. They are the driving force behind each and every project that they deliver. Their passion for cutting-edge technology and great design brings them together and motivates them to work harder with each passing day.
Anadea

Though you probably haven't heard much about Anadea until now, it's a web development company with more than enough experience behind it. The web dev firm is active on the market for more than 10 years now, and their forte is high-end mobile app development.
The web developers team adopts a customer-oriented approach as well, which is ideal for those businesses that have individual needs that require individual solutions.
The Anadea website is both professional and playful at the same time, perfect for attracting clients from all walks of life.
SteelKiwi

SteelKiwi is a company that got popular thanks to its full-cycle web solutions. They also deal with mobile app development and other web services based on Python and Django. The team can handle both back-end and front-end technologies, and they are known for using modern ones such as Angular.js or React.js.
The company is continuously expanding. Currently, it is located in Ukraine, but it has sales representatives in Israel and Slovakia. SteelKiwi plans to become bigger in the future and collaborate with larger businesses.
Mobomo

A premier web development company that's worth taking a look at, Mobomo appeared on the market a while ago and innovated it through its creativity and complexity.
The team behind Mobomo can operate with various tools in order to create functional, high-end mobile and non-mobile web design.
Like all outsourcing companies in the industry that want to be proactive, Mobomo focuses on the clients' needs and wants. They also consider the limitations that their clients have, thus coming up with solutions that are tailored for each and every collaborator.
Brocoders

Brocoders is a development company that came together a bit over 9 years ago. The team behind this name is dedicated and entirely composed of highly-qualified people.
Brocoders is more than a web development company — it is a family of programmers, managers, and marketing specialists that know exactly what they are doing.
Taking a look at Brocoders' portfolio is a rollercoaster that will surely impress anyone who sees it. It includes everything from web/mobile app development to scripts or simple websites.
STRV

STRV brings together more than 200 experts in the field of development. You can find them in LA, San Francisco, London, or Prague. The development firm was founded in 2004 and keeps on growing and growing.
They offer services like UX/UI development or app testing, as well as team augmentation engagements, and more.
STRV delivers no less than 70 apps each year and considering that they work with big, medium, and small companies all at once, this is no mean feat. They also offer e-commerce services and education programs.
SumatoSoft

SumatoSoft is a relatively new web development company. The small enterprise was formed in 2012 in Belarus and it's currently working its way up to the top. SumatoSoft works with midmarket businesses and startups, but their services are promising and accessible.
The team behind this project is dedicated and the range of solutions they offer is quite impressive given its size.  Their website includes all the necessary elements to come across as attractive to clients big and small.
Brainvire

Brainvire started in 2000 as a small project in South Jordan, UT. Slowly, but steadily, the firm continued to grow and it expanded throughout the world. You can now find offices across the US, India, and the UAE.
Brainvire is specialized in eCommerce, but they also focus on web/mobile app development, game development, ERP/CRM integration, and so on.
They use open-source frameworks instead of their own, which means you can easily check out the code yourself. The team at Brainvire uses Node.js, Python, PHP and Microsoft premium solutions.
Brainvire currently has 11 official locations around the world, around 600 professional workers, and more than 1500 successful implementations in their portfolio.
DockYard

DockYard has an experience of 9 years in the field of development. It started as a digital product agency back in 2010 in Boston and it continues to expand today, collaborating with popular brands among which we can name Netflix, Harvard, Apple, and WNYC.
Their dev team is known for their skills in Ember, Elixir, and Phoenix, and the firm caters to all sorts of clients nationwide.
The DockYard website impresses with its down-to-earth yet futuristic aesthetics thanks to its interesting imagery and inviting color scheme.
AndPlus

AndPlus was founded in 2009 and has a current team of more than 30 engineers and software architects and UI/UX developers. The company is one of the best for those who seek IoT development, web, or mobile design services.
They always offer first-class technology to their clients and they are renowned for how well they communicate, which is clearly apparent to anyone visiting their website for the first time.
Spiral Scout

Spiral Scout is a web development company that excels at creating eCommerce websites. They can also help businesses write eLearning software or build educational games for various purposes.
If you have a lot of data to structure, Spiral Scout should be your go-to. Compared to other development firms out there, the team at Spiral Scout can handle a larger variety of tasks, including CMS, DAM, assessment, scrapping, and others.
RebelDot

RebelDot was founded in 2008, in Romania. Their offices are located in Cluj-Napoca, Oradea, Copenhagen DK, and Leende NL. The team gathers together 60 software engineers, covering the entire software development process, from design to development, maintenance and growth.
Their main target is represented by midmarket businesses in the IT sector but is not limited to these. RebelDot collaborates with organizations for creating custom-crafted software in plenty of industries.
This web and mobile apps development company makes great use of imagery and color on their website to emphasize their creativity and outspoken edginess.
Fingent Corp

Fingent Corp is a web development company in NY that has two additional offices in Dubai and India. They deal with web and mobile application development, SaaS, IoT development, and ESD.
They accept collaborations with businesses in any given industry or technology area. Fingent Corp collaborated with more than 150 businesses to this day, some being part of the Fortune 500.
Fingent Corp pulled out all the stops in their website design to leave a powerful impression on their visitors.
ImageX

ImageX was founded in 2001 in Vancouver and they quickly became a strong competitor among the best web development companies. They opened another center in Ukraine and they are now well-established, managing over 40 employees. If you are inspired by their success, you can also hire IT developers from Ukraine for your company.
ImageX is specialized in Drupal development, being exclusive to it since 2006. The open-source CMS is their specialty and this seems to be a highly-appreciated feature for those who seek complex Drupal solutions for their companies.
DigitalEchidna

Digital Echidna is headquartered in Canada and its team numbers 60 people. They have almost 20 years of experience, which is nothing to be scoffed at.
They offer both web design and digital strategy services, which makes them a perfect candidate for those businesses that want the full package included. They also rely on open-source technology like Drupal.
UrbanInsight

Urban Insight is a small digital design agency with around 20 employees. The company is going strong on the market since 1997, completing no less than 500 projects for their big and small clients.
They can handle CMS services and projects that are based on popular open-source frameworks like Drupal.
Their homepage is simple and to-the-point, and it packs one heck of a punch!
IndiaNIC

Unlike other web development firms presented in this list, IndiaNIC helps companies tell their stories through amazing websites. They focus on the experience people get from a website, making the best out of their programming and web design experience of years and years.
They use their strong expertise in PHP, .NET, Java, and others to put together their beautiful projects. IndiaNIC has delivered around 8,000 projects to this day, in all industries you can think of.
Zealous System

Zealous System has considerable experience in mobile app development for both iOS and Android. They make use of the latest technologies in the industry. To name a few, the team behind Zealous System uses Xamarin, Ionic, and React Native like a charm.
Their portfolio section is certainly something to take inspiration from, with a beautiful and detailed breakdown of some of their best projects to date.
Konstant Info solutions

Konstant Info solutions started their story in 2003 and have increased their team up to 170 members till now. The team consists of IT professionals that excel at development solutions and consulting services.
The biggest clients they've worked with are Wonder Cement, Volkswagen, RawBank, Nestle, NASSCOM, and many others.
Blue Fountain Media

Blue Fountain Media can handle B2B, B2C, Enterprise, eCommerce, Education, NGO projects, and more. The company ensures that any project that goes through its gates is treated with the utmost professionalism, offering foolproof results in terms of increased traffic, enhanced brand loyalty, new leads, and so on.
Dark Bears

Dark Bears has a staff of more than 70 professionals and they focus on web development and advanced computing. What's different about this company is that it can successfully complete projects that involve blockchain technology, artificial intelligence, IoT, or system programming.
ValueCoders

ValueCoders is one of the few web development companies that focus entirely on offshore software services. They have more than 12 years of experience in this industry and they bring together 450 employees for their projects.
They work with all types of clients that desire a stress-free IT outsourcing experience. Although they pride themselves on affordable services, they didn't skimp on the design of their website, which features a comprehensive homepage created to the highest of standards.
Rightpoint

Rightpoint helps clients thrive in their market by leveraging data to inform strategy, adopting agile processes to increase speed to market, approaching customer and employee experiences like a product that is forever beta, and designing impactful experiences that ladder up to their brand promise and vision.
WillowTree

Driven by a simple goal, they amaze clients by delivering high-quality digital products that solve their business needs and ensuring the projects run smoothly, strategically and predictably.
Hedgehog lab

Hedgehog lab is a global product consultancy, specializing as mobile app designers and developers with offices in UK, USA, Europe & India.
Emerge

Through every stage of the product life cycle, Emerge is a brain-trust dedicated to forward-thinking, creating value for their clients and the customers they serve, building digital products people love and use.
WDG – Web Development Group

Web Development Group, is an award-winning web design & development company in Washington, DC. WDG is recognized for its amazing website experiences built on WordPress and Drupal.
STX Next

Based in Poland, STX Next, Python development company employs a total of over 300 professionals including UX designers, automatic QA testers, and communication experts ensuring smooth cooperation with their partners. With over 14 years of experience under their belt, provides full-stack software development services to clients across all industries.
Dev Technosys

Dev Technosys is an ISO 9001:2008 certified Web/Mobile App Development Company, commenced in the year 2010. In their 9+ years of experience, they have continually delivered modern technology solutions that have strengthened the enterprise's technical infrastructure and helped them lead in their business Domain.
SimbirSoft

In 2001, four engineers who were passionate about programming founded SimbirSoft. Due to their professionalism and high goals they set for themselves and the company, SimbirSoft has evolved from a small team to a global enterprise.
Yalantis

Yalantis was born two months after the App Store, in 2008. Since that time, they've made their way from a small agency focusing merely on iPhones to a solid full-stack web and mobile design and development company.
Sunscrapers

Sunscrapers, an experienced team of developers who provide leaders with technical expertise tailored to support their business objectives.
Sloboda Studio

If you specialize in e-commerce, want to start a blog, an online community or your website needs CMS, then an ideal solution for you is a database-driven web application with RoR. The outstanding team of the Ruby on Rails agency is made up of top QA specialists, brilliant RoR experts, and detail-oriented project managers.
INOXOFT

Inoxoft is an IT outsourcing company based in Lviv, Ukraine. They partner with small and midsize businesses, they have wide experience in the Web, Cloud, and Mobile software solutions.
Railwaymen

This company service includes developing innovative and comprehensive software solutions based on business requirements and its analysis as well as consulting the technology aspects of each project. This company provides mentoring for popular companies with successful exits and awarded for instance by TechCrunch and 500 startups.
Radixweb

Radixweb is a hub of eerie minds keen for desired accomplishment; stirred by technology to reinvent possibilities. Future-proof your IT projects for new-age customer demands. Be it a new software product or re-engineering legacy applications, Radixweb mold technologies bringing the right value to your idea.
Shakuro

Since 2006, Shakuro has built outstanding web and mobile applications for businesses of every size in every industry. They bring strategic and technical expertise, progressive design, and a personal touch to every project.
Planet Argon

Planet Argon, From a one-man shop in a Portland apartment in 2002 to the agency it is today,. This helping companies with existing Ruby on Rails web applications make them better and more maintainable.
Postlight

Postlight is a team of creative technologists working together to build great digital platforms for their clients and for the world. The team is made up of product strategists, designers, and engineers, who share the knowledge and experience necessary to ship high-quality new products on time.
Scopic Software

US-based Scopic Software is a leading authority in quality, economical custom solutions for web, mobile, and desktop. Founded in 2006, Scopic now has over 200 team members spread all over the world.
Tintash

Tintash is a tech design and dev studio where talented, skilled and experienced teams are led by Stanford University, Apple, and Paypal Alumni. It all started in 2007 with a breakfast at Hobee's Palo Alto.
Hashrocket

Hashrocket, a world-class, user-centered design, and development company has brought hundreds of applications to life since 2008. With the expert team of designers, developers, and consultants work with an array of different technologies and industries to build amazing things for amazing people.
BairesDev

BairesDev has been the #1 fastest growing outsourcing company in Latin America for the last 4 years. With over 800 expert developers, BairesDev is expanding operations to the rest of the globe without changing its mission: harnessing the untapped IT talent in Latin America and becoming the region's biggest outsourcing company.
Ending thoughts on the Web Development Company Websites Showcase
The list is long, the options are numerous, the decision is hard to make —we know. But one thing is sure, web development represents the future and the more companies focus on it, the faster this industry will grow, be it retail software development, mobile or web application development, or any other kind.
When you hire mobile app developers from a reputable development company, you can trust that your project will be handled by skilled professionals who will deliver a high-quality, user-friendly product tailored to your unique needs.
The web development company you choose should be tailored to your needs and requirements to ensure the greatest success for your software product, and you should strive for hiring dedicated developers.
This collection is meant to give you some idea of what a good web development company looks like and what are the key aspects you should keep in mind when choosing one: the team's experience, their portfolio, their main focus, and their various specialties. Hopefully, this article will help you make a wiser choice.
We hope you enjoyed reading this article on web development company examples created by the team at Amelia (the best WordPress booking system for web developers).
You should also check out this one about digital agency websites.
We also wrote about a few related subjects like meet the team , single page website, corporate website design, coaching websites, creative websites, artists websites, black websites, website backgrounds, simple website design and portfolio websites.