Have you ever heard about color psychology? Is the science that proves the effect of colors on people. Black covers a wide range of emotions and this is why it is used on websites so often. It expresses mystery, authority, and elegance, being one of the top choices when designing a website.
White backgrounds, like the one used in our own website, are quite popular these days. Black websites also became popular lately, and you should try such a design theme for your own website and see the results. Read this article to get your inspiration.
Table of contents
The best black websites you can find
Astra

Astra is a WordPress theme with over 240 templates, some of them in black, like this Black Friday template. All templates are compatible with drag and drop page builders and are fully customizable so can be made to suit any purpose.
Layouts are well designed and feature modern graphics and images, superb typography and industry-relevant elements on every page. Astra is fast, easy to use, fully responsive and really can be all things to all people!

This website has a retro-style layout and a black background to begin with. The website isn't very dynamic, but the simplicity of it and the buttons included make it very pleasurable to navigate on. It also contains elements such as the logo and other branding details of the company.
The dark background is well-selected considering the links included on the page and how visible they are. It is one of the best dark websites out there.

Take the Walk is a black website that focuses on charity purposes regarding AIDS and poverty. The website encourages people to walk a mile to sustain their cause. The background is black and has accents that emphasize the other elements present on the website. This black web page is definitely a good example of how this design should be conceived.

This is another black website that presents a simple portfolio. Because it respects the symbol of elegance, the website is not loaded with animations or other elements that transform the space into a crowded one, which is difficult to navigate.
The website features a black background and white typography, which is very easy and pleasurable to read. It has a small number of links and minimal design elements, but the design is powerful and highly appreciated by its visitors.

This is another simple black and white website that is separated into two sections. The company has a Bakehouse site and a Brickhouse one, both on the same platform. You can choose the one you are interested in and you will be greeted by the respective side of their business. The website is well-thought and has an elegant design as well.
Whether you are building your site using a drag-and-drop website builder or hiring a designer, read on to get your inspiration.
Esteban Muñoz

Another one from the best dark websites top is Esteban's website. It is a great source of inspiration if you want to adopt this design style for your own website. The website has a black background and multiple graphic design elements.
The animations and the typography fonts selected work perfectly with the rest of the website's theme, making it enjoyable to navigate on. There is also a homepage slider that makes seeing the portfolio items more efficient.

If you look for black blog sites, this one should definitely be on your list. Black websites are not as easy to obtain as people think, as you need to find the perfect balance between aesthetics and readability.
This website design has elements of dark gray, black and white, which are also related to the name of the studio, which is Grafite. The use of wordplay and design turned out to be a great way to make the website stand out.

Another portfolio website, Thomas Rhythm includes multiple elements that make the website refined and elegant. The color black is predominant on the website, but it also has other graphic elements that make it visually appealing.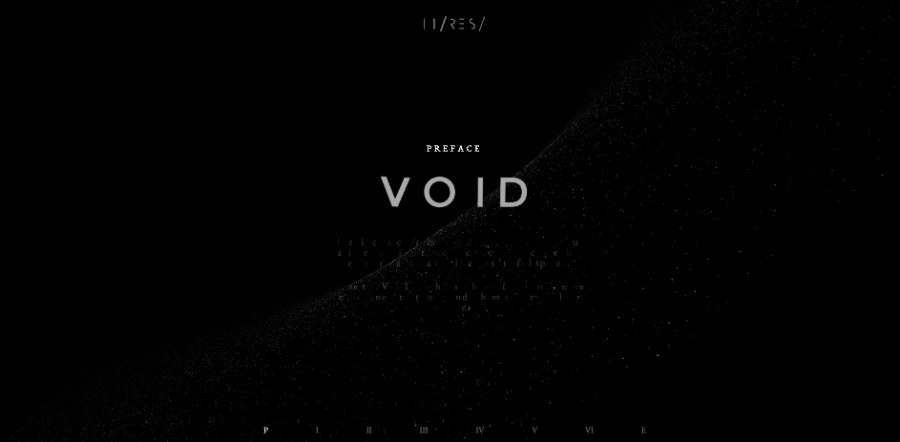 Void is one of these basic black websites that people enjoy navigating on. It has animations and it tells a visual story, without using any other sort of content other than images and animated content. The page is entirely black, transmitting a sense of mystery. Other dark colors are used to enhance certain elements. The website also has a narrative background.

The Ordinary has a black and white design, which gives the feeling of a star-filled sky. Behind the website, you can see what a gourmet seafood restaurant has to offer. The website has a nautical theme because seafood is the main attraction at the restaurant.

Kurppa Hosk is a diverse team of design thinkers and design doers. They collaborate with brave organizations – from early-stage startups to some of the world's most admired companies.

Canopy Films is a production house based in Boston. With a background in documentary filmmaking, they know that the story always comes first.

Extended travel can be arduous, and so their project remains open-ended to support our preference for slow and virtuous travel.

GT Super is the result of an extensive investigation into display serif typefaces from the 1970s and 80s. It captures their expressive nature and translates it into a well-balanced system of Text and Display styles.

He is a creative director, designer, and developer. Based in Berlin, he focuses on digital and analog experiences that surprise and thrill.

They call themselves a bastard agency; a dedicated crossbreed between culture analysis and design.

A public storefront and design studio dedicated to showcasing the inherent importance of design through the curation of objects and books, education, and practice.

DIA is a creative design agency that challenges itself, its clients, and its convention.

Simon Phipps is a photographer with a multitude of interesting projects.

The Festival has been running for 6 years to give Icelandic Fashion a platform. After a one year break and change of owners, the festival aimed to reconnect with local designers and generate attention in international media.

They are a hungry young media brand that produces and publishes premium content celebrating real people and their authentic stories in an ever faker world.

Titouan Mathis is a lead developer at studio meta.

RUKI is an early-stage venture funding firm focused on companies that require manufacturing. We help to build the company's culture alongside its prototypes and products.

Printworks London is a groundbreaking multi-purpose venue that has already changed the face of the capital's cultural scene.

Over 15-years of experience creating high-end content for brands, agencies, media platforms, and government departments.

Nick is a web developer.

David Arias is an independent graphic design professional based in Vancouver, BC.

Open Foundry is a FREE platform for curated open-source typefaces; to highlight their beauty, activate ideas, and encourage exploration.

At Commando Group design studio, they embrace an individualised service practice, providing a uniquely crafted experience for each and every client.

GT Haptik is a monolinear geometric grotesque typeface. Its uppercase letters and numbers were optimized to be read blindfolded and by touching them.
When is the moment to use a black background?
If you are wondering what types of websites are the most suitable for a black background, then here is an extensive list of website types that would look great as black websites
Websites that present a portfolio, as most examples mentioned above
Sites that present the work of a design studio
Websites that are meant to present products
Unconventional websites that are art-related
Tips on how to use a black background for your website
Keeping an eye on trends
As you may have seen, people look for MediaTakeOut 2018 gossip very often. This is why blogs started to adopt themes and website layouts that are easy to navigate when the number of people who are visiting the website is very large. Following the trends is a must in web design, so make sure to keep an eye on what people desire from web pages today.
Typography tips
Black websites have to contain readable fonts. Because of the use of a black background, you need to find fonts that work well with the color. White, sharp typefaces are the ones you should stick with. Darker fonts won't be visible and will require other types of highlighting to be seen.
Reflections are a nice feel
If you feel like the website is too boring without any other elements other than a black background, you should include reflections. Reflections in web design are mostly used when the background is dark or black.
Using images

Make sure to use an image as a background if the theme is too repetitive or common. Using a background image that is dark will have the same visual effect as using a theme that is dark. You just have to find the one that suits your website the best.
You should also pay attention to the way the dark background image blends into the theme's background. The theme you select should also have darker nuances, so that the image doesn't just pop-up there.
Selecting a color scheme

Finally, when choosing your color scheme, think about darker nuances that go together, but also think about an accent color that will make elements distinguish better. The color scheme you choose shouldn't contain a lot of nuances, because black websites are usually minimal and a lot of colors will just make the website crowded and difficult to read.
Ending thoughts on the best black websites practices
Once you have selected the theme you want to apply to your website, make sure to incorporate elements that are visible on it. Depending on what the website is presenting, black websites can add a very elegant touch to them.
We hope that you enjoyed this article created by our team at Amelia, probably the best appointment scheduling plugin for WordPress.
You should also check out this one about website backgrounds.
We also wrote about a few related subjects like meet the team , single page website, corporate website design, coaching websites, digital agency, web development company, creative websites, artists websites, simple website design and portfolio websites.