The first thing that you look up when you want to know how to become a consultant is a clear definition of what the term consultant stands for and what it takes to become one.
The best answer as to what a consultant is states that a consultant is a professional with expertise and knowledge in a specific field serving as an advisor to companies/individuals.
The definition sounds ambiguous, but there isn't much more that you could add. The business of a consultant is to consult. It is as simple as that. There is no recipe for success.
There are plenty of consultant types and consulting firms out there, such as a management consultant, business consultant, IT consulting firms, small business consultant, or an independent consultant for various industries, such as healthcare, building, and more.
Specific attributes distinguish good from bad consultants, primarily an unwavering commitment to excellence and undeterred passion for the field of choice in addition to excellent knowledge of the industry that the consultant chooses to profess in.
Starting a consulting business is no longer an endeavor restricted to a limited number of professions. Every individual with skills in a particular area can be a consultant. You can consult in any industry as long as there is a demand for your skills and expertise in the field.
You would also need some assistance on the side for the purpose of management of some administrative tasks. Amelia is a WordPress booking software that can help you to schedule meetings, list the services, collect payments, and manage staff.
If you are good at computers and your knowledge and skills are valuable enough for people/companies to pay for it, go ahead and learn how to start a consulting business as a computer consultant. It is that simple. The same applies to every other field.
Things to Consider Before You Become a Consultant
Before you start the process of learning how to become a consultant, irrespective of the field of choice, you have to make sure you take into account several important factors:
Licensure and Certification

Consider that certain professions require special certifications and/or license that allow you to operate as a consultant in that field. Others don't need any certification, but there may be optional certification available if you want to inspire your clients to more trust.
Check if you need a license to be able to work as a consulting firm or a consulting business.
Level of Qualification

You may think you know all about a particular field, but are you genuinely qualified? In some fields, you have your credentials to prove your qualifications, but in other areas, you are your own assessor. Learning how to start a consulting business is easy if you are qualified.
Level of Self Discipline
Whether it's business consulting, strategy consulting, or small business consulting, you need to be a highly organized individual to work as a consultant. Your time management, planning, and organization abilities must be excellent if you want to work as a consultant. Hiring a proficient virtual assistant will enable you to save time and be flexible with your clients.
Ability to Network

The ability to establish and expand a network of useful contacts is one of the first things you need to do when you learn how to become a consultant, whether it's business consulting services, IT services, or any other consulting services you want to provide.
The success of the best consulting firms be it management consulting firms, business consulting companies, or IT consulting firms depends on their networking abilities.
Establishing Goals
Make sure you can meet your short-term and long-term goals by being a consultant because you need time and energy to grow into a successful consultant and you must be prepared to devote that time and energy to building a flourishing consulting company.
A Career as a Business Consultant

What is management consulting? What do business consultants do? A career as a business consultant allows you to focus your consulting services on different areas of business. You can provide consulting in every area that an organization may need professional advice.
Key business consulting areas include communications, e-business, human resources, operations, marketing, organizational development, small business, strategic planning, or technology/IT. However, a company may need consulting services in many other areas.
In the US, the business consulting industry produces around 100 billion dollars, states a research study conducted by Harvard Business School. The numbers are no surprise as enterprises need consultants even to reduce costs and increase revenue in a slow economy.
If you want to know how to become a consultant in the business arena, you probably know that business consultants are some of the best-paid professionals, with an average salary of 117,000-dollar salary and an hourly rate of 35-400 dollars for a self-employed consultant.
Business consultants need passion and knowledge to become successful. No degree is required to become a business consultant and circa 28% of existing consultants do not possess any degree whatsoever, so go for it if you have the drive, the passion, and desire.
Tips on How to Become a Successful Consultant
Pinpoint Your Area of Expertise

It is easy enough to pinpoint an area that you are interested in, but interest is not enough. You need to add substantial expertise and extensive experience to build a successful consulting business as an independent consultant in a field that interests you.
Get Certified and Licensed

Once you've identified the niche in which you have the experience and knowledge, move on and find out if you need certification or formal training/education to operate as a consultant in the respective field. A gardener doesn't require certification, but an account does.
Check licensing requirements at a local and state level. Sometimes, professionals may be asked to get a license to operate as a consultant. Make sure you check available guidelines.
Establish Short and Long-Term Goals

You must remember that, no matter how good you are at what you do, you can't build a successful consulting business overnight. It doesn't work like that. Make sure you set achievable, down-to-earth short and long-term goals. Adapt your expectations to reality.
Any business, no matter the industry, needs time and effort to become known, establish itself, and grow. Don't expect to have clients knocking at your door the day you launch your business. Prepare to invest time and energy into building your consulting firm.
Identify Your Target Market
Make sure that there is a market that is ready to pay for what you offer. Choose your niche and establish your target market. Determine whether you want to work for companies or individuals. Sometimes you may be able to consult with both categories of clients.
Research and Understand Your Target Market

It is essential that you understand the needs, requirements, and expectations of your target market. To achieve that understanding you need to research your target market.
You need to establish how you can fulfill the needs, meet the requirements, and exceed the expectations of your target market. Remember that both companies and individuals need consultants for a reason. Understand that reason and identify how you can help them.
Consider Working from Home
When you learn how to become a consultant, you learn that, just like any other business, a consulting business needs to pay attention to costs, especially in the beginning. Therefore, a home office may be an excellent choice to eliminate the costs of renting or purchasing a location.
A home office reduces costs related to utilities and commuting and saves you a lot of time and effort. You can expand later as your business grows and add new associates or offices.
Focus on Building Your Network
Networking is critical if you want to be a successful consultant. You must know people in the field and make sure that people in the field know you. You need a reliable contact base that you can use to source work. Add social networking to professional networking as well.
Networking will help you market your business successfully and advertise it efficiently. Remember that references are just as crucial to the success of your business. Go back to that contact base to establish and expand your contact network.
Fix Your Fees and How You Charge Clients

As a business consultant, you need to pay heed to how much and how you charge clients. Fees can't be high in the beginning because you are yet to establish yourself as an expert.
There are several things to consider when you set your fees: target market, competitors' prices, market conditions, your credentials, and your experience. Use this data to fix fees.
You can charge clients hourly or per project. Typically, a project-based fee will eliminate any misunderstandings and possibly get you more clients. An hourly billing method, on the other hand, is convenient but clients often feel they pay too much for your time.
Market and Advertise Your Business
A consultant doesn't sell a palpable item, such as a house, a car, or shoes. A consultant sells advice, and many clients don't even know they need guidance. Marketing and advertising your consulting business may seem like a challenge with your business objective intangible.
You can opt to market and advertise your consulting business through print media, your website, social media, online ads, cold calls, and more. However, you must first establish a budget that you can effort to spend on your marketing and advertising efforts.
Just like any other business owner, you need to learn how to work within a set budget.
Decide If You Need to Outsource Some Tasks
As you start understanding how to become a consultant, it becomes clear what you can do on your own and what you can't. In the beginning, you will probably be able to handle everything yourself but consider outsourcing specific tasks as your business grows.
Make sure you understand the legal requirements as well as the taxes that you need to pay when you employ people.
Get more clients with the right tool for the job
Staying organized has never been easier.
You can now manage your business and grow your brand with a single, powerful WordPress booking plugin that keeps all of your appointments in line, your clients organized and your business booming.
Amelia is perfect for business owners who need to streamline their booking experience both for their staff and their clients.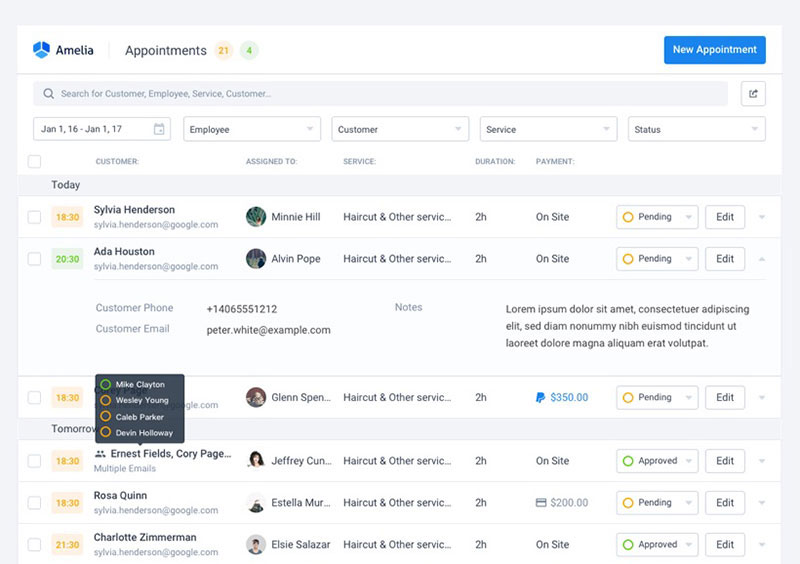 Amelia handles everything for you, even sending automated email or SMS reminders to your clients. No-shows? Not anymore!
The Amelia WordPress booking plugin adapts to different industries for a blissful online booking experience and employee management.
Want to know more? Check out Amelia's awesome features to see what you are missing.
Ending thoughts on how to become a consultant
If you are considering a career as a consultant, make sure you learn everything there is to learn on how to become a consultant. It is a respected profession everywhere in the world.
It is also a profession that receives the admiration of many of the independence it provides and the level of expertise that consultants possess.
If you need help with your website, WP Buffs is a 24/7 WordPress website maintenance service for serious website owners & white-label partners. Whether you're looking after 1 site or 1000, they've got your back!
If you enjoyed reading this article on how to become a consultant, you should also check out this article on consulting buzzwords.
We also wrote about a few related subjects like how to get consulting clients fast, technology consulting, consulting proposal template examples, consulting business ideas, how much to charge for consulting, tips for becoming a self-employed business consultant. Maybe you need a consulting contract or tips to overcome the business challenges that a consultant like you is facing.
And if these are something you enjoyed reading, check out our WordPress booking plugin that your clients can use to schedule meetings with you.