Whether you are a business consultant or entrepreneur, there are countless business challenges that you must tackle to make a business successful. The business arena has changed in ways that have surpassed the imagination and dreams of the most enlightened business genii.
A global digital market, unsurpassed technology, and social media are only some of the factors that have reshaped the business world into a multifaceted, fast-paced arena where business owners cannot deal single-handedly with all aspects of business unless they are superhumans.
It is a physical impossibility for one individual to be an expert at everything and today's business setting requires that each aspect of a business is handled by an expert for a business to be competitive and productive. It is a truth that has never been more evident than it is today. In order to be able to handle everything, one might need some professional help. Check out Amelia, an appointment scheduling plugin for WordPress that provides automated booking services that will come in handy to every online business.
Within this context, the demand for highly qualified business consultants has increased beyond expectations. Today, business consultants, i.e., experts, come to meet and address business problems and all types of business challenges that are associated with growing a business.
Business consultants offer the expertise required to solve a specific business problem at a specific time, which ensures the best possible results. If you are an entrepreneur or business owner, here is a list of business challenges that might require the help of a business consultant:
Uncertainty about the Future

Before you learn how to grow a business, you must eliminate uncertainty about the future of your business by bringing in a business consultant that specializes in studying and predicting market and customer trends. It is crucial for entrepreneurs to be fully aware of this aspect.
Finding new customers
Independent business consultants understand that a growing business involves finding new customers since they are usually brought in as experts to solve immediate business problems, which means their job is done once they provide a solution for the current business challenges.
Therefore, business consultants must focus on developing strategies to develop a year-round business stream based on an ever-growing client portfolio and a record of successfully handled projects. To grow business, they must seek new clients actively and add them to their portfolio.
Retaining Old Customers
Finding new customers is one thing, having them come back to you repeatedly is quite a different thing. In today's world, loyalty is not the most reliable feature of business owners and entrepreneurs who rarely opt to work with the same business consultant over several years.
When a business is financially challenged, they usually opt out of renewing a consultancy contract. This is one of the reasons a company may choose a less expensive consultant or no consultant at all. Another reason, which is difficult to control, is unrealistic expectations.
Businesses tend to believe that a consultant is some magician who can fix any problem in no time at all. Their unrealistic expectations drive them to look for a different consultant or agency that promises to solve their business challenges immediately. They fail to see your value.
Your role as a consultant is to make them see your value because they will fail to see it based on those aforementioned unrealistic expectations. Another aspect that a business consultant must manage to retain customers is their relationship with the customer/client.
The customer-consultant relationship requires constant efforts to maintain it at a very personal level. In this context, reputation is vital. Yes, you can get new customers via a smart marketing strategy, but you can only retain them via your expertise and impeccable reputation.
The Hassle of Time Tracking

Using an ingenious time tracking solution is beneficial to clients and business consultants. Such a time tracking solution provides clients with the transparency they need and also allows consultants to keep track of what time they have dedicated to what client.
Consultants should stop associating time tracking with surveillance. They should understand that it's only fair for the client to know how they spend their money and it's also good for them to know how their time is spent and eventually be able to improve their work process.
Financial Management
Business owners and CEOs are people with great ideas, but having a great idea about building a profitable business is a long way to go. Many times, such enlightened minds tend to neglect small business problems, such as finances, profit margins, overheads, and cash flow.
It is important for growing your business to contract a business consultant specializing in finances, rather than employ a CFO full-time. Consultants on common business challenges are better than full-time employees for growing businesses that are small-to-medium size.
Monitoring Performance
Key Performance Indicators are essential to growing a business. Business owners must understand the importance of translating KPIs into informed business decisions. While many CEOs are visionaries, they are rarely equipped with the expertise to develop KPIs for their businesses.
In this context, it is important that businesses choose KPI experts as consultants because these business consultants have the knowledge, expertise, tools, and experience to develop the KPIs their business needs and communicate those metrics for businesses to use effectively. Monitoring performance is only one of the types of challenges that entrepreneurs businesses face on their path to success. It is a true business challenge without expert help.
Regulation and Compliance
Many CEOs believe they know all there is to know about their business and the industry they are operating in, but the truth is they are not experts when it comes to rules that govern their industry and which they gave to stick to the letter for their business to operate legally.
The development of new technologies and markets is causing the legal setting to change constantly and keeping up with this fast-changing environment is not an easy task.  It is also one of the challenges of a growing company because adapting to fast-paced changes is not easy. Thus to adopt new changes, company managers take workplace conflict resolution workshops to identify changes and manage conflict.
It is especially hard when entrepreneurial businesses don't know what regulations they are supposed to follow and how to adapt to new changes as far as these regulations are concerned. Non-compliance has many negative consequences and can cause major business challenges.
It is advisable that entrepreneurs seek expert advice in this direction from people who know how to grow business while sticking to the rules despite their ever-changing nature. Compliance is one of the challenges of entrepreneurship because a huge fine can break a small business.
Competencies and Recruiting the Right Talent
A business is only as good as its human resources, which means that people remain the greatest asset of a company. Small businesses face the problem of not being able to source the right people with the right skills because they don't feel that they need a full-time HR division.
If small and medium businesses want to thrive, they need to understand that sourcing the right people with the right set of competencies is the key to their future growth and development. As an entrepreneur, using an HR expert is the best investment to solve this business challenge.
Effective Diagnosis

It is difficult to bring an outside team to produce effective and objective diagnoses. Management often opposes to outsiders questioning their decisions, which is why many consultants make a member of the business/client part of their diagnosis problems.
As they are part of the diagnosis process, they get to understand their role in a problem and what changes they must implement in their work process to avoid future business challenges. This eliminates the stress of the client/consultant relationship.
Consultants are not looking to point fingers, but to point problems and why they occurred to find solutions to fix them and prevent them from happening in the future. It is impossible for a business to perform an effective and objective diagnosis internally.
Technology
Companies must keep up with technology to be performing at the level of their competition and to the expectations of their customers; there is no question about that.
However, CEOs are not equipped with the technological savviness to allow them to implement new technology without any external help. Some CEOs are not familiar with new technology and some are even reluctant to technology, all the more reason to get experts on it.
Within this context, implementing new technology in a fast-changing environment is one of the biggest business challenges that entrepreneurs are facing today. The need to contract a consultant to handle the technological hassles becomes imperative.
Exploding Data
Fifty years ago, business owners were not exactly concerned with collecting, analyzing, managing, and storing the data their business produced. Today, exploding data is one of the greatest challenges of the business world and an area that requires professional assistance.
It is imperative for businesses to either create an internal team to deal with exploding data, which can rarely be justified, not even for large organizations or hire professionals that deal with exploding data every day and who can provide them with the best return from the data.
Customer Service

Expectations are increasing and diversifying in the ranks of customers. The quality of customer service often makes the difference between a successful business and a struggling business.
Clients expect an instant response to any issues they may have and, the worst, part, they are now able not only to respond to slow customer service, but they can share their anger, discontentment, or annoyance on the world wide web and ruin a business' reputation instantly.
As a business, you need qualified consultants to implement customer service solutions that provide that instant gratification that the people of the 21st century expect in all aspects of life.
Reputation Management
Customer service and reputation management are intimately connected. Unhappy customers can voice their irritation all over the net and ruin your business reputation in minutes.
People thrive on bad news and they are willing to share bad experiences to pledge their solidarity to a cause that they feel it's as much theirs as it is the original consumer's.
Unfortunately, businesses rarely have the objectivity to deal with reputation management effectively, which is why they need a third-party to help them maintain a good reputation.
Summary
Business consultancy is a multi-faceted industry, but, despite its diversity, the problems that consultants are facing are the same business challenges that all entrepreneurs are facing.
If you enjoyed reading this article about business challenges that a consultant like you might be facing, you should also check out this article on consulting buzzwords.
We also wrote about a few related subjects like how to get consulting clients fast, technology consulting, consulting proposal template examples, how much to charge for consulting, tips for becoming a self-employed business consultant. Maybe you need a consulting contract or consulting business ideas.
And if these are something you enjoyed reading, check out our WordPress booking plugin that your clients can use to schedule meetings with you.
As a gym owner, your most challenging business problem remains low attendance, which is when people don't choose to buy a membership with your gym and only come on a one-time basis. It is one of the most common issues that the majority of gym owners is facing today.
Why does it happen?
You don't offer as many services as people need, want, and expect from a gym to convince them to get a membership.
A gym owner typically focuses on four key aspects of business:
acquiring cutting-edge equipment
identifying and analyzing prospective clients
designing floor plans
discovering the best possible location for their gym
It should be enough to build a successful gym, right?
It's not enough because all gym owners focus on the same key aspects. What sets you apart from any other gyms in this case?
Nothing.
You need to focus your efforts on researching and implementing those extra services that offer customers more value than your competition.
For instance, you could introduce online booking for clients' convenience. Or, enable your clients to pay online for your services with ease.
Amelia is a WordPress appointment booking plugin that can enable you to set up these quickly and easily on your WordPress website. Make it easy for your clients and stand out among the competition.
Let's dive in now and see how you can improve your gym management.
21 Gym management tips

Make sure you understand what makes your gym stand out from the crowd.
Do not negotiate your values but negotiate all other things.
Consider creating a budget where you pay yourself what you are worth.
Don't handover membership for services no matter how tempting it is.
Identify and follow critical numbers permanently and get yourself a reliable accountant.
Leave your office and get to know the people who choose to be your clientele.
Don't have someone in your family handle your website development.
Thank those who have helped you and/or your business.
As a smart gym owner, stash some money for when your business calls for it.
Have an attorney handle the partnership agreement with a friend or investor.
Organize every day as if it is your first day but live through it as if it is your last.
Eliminate competition by providing crème de la crème services that no one can beat.
Recognize that your customers have a life outside the gym that affects their behavior inside the gym.
Pay your trainers what they are worth, so they don't consider a job someplace else.
Don't talk about people who have insulted you no matter how tempting.
Stay healthy, smiling, and laughing because that's what a good gym owner does.
Leave your office at least one day per week to connect with other business owners.
Stay focused on building your business and don't stay busy cleaning the floors.
Always learn from others but don't enter the game of comparing yourself to them.
Keep in mind that a storm never comes alone; the sun always comes shining after it.
Understand that there is no easy way to success, no matter how tempting it may be.
How to Successfully Manage a Fitness Business

Include personal trainers
More people would go to the gym if they had the ability to choose the best training routine for their own goals and needs. Many people give up on exercise because they can't handle that routine themselves, which is where personal trainers come to the rescue.
Include healthy food and smoothies
People are always told that it is great to have a healthy, high-protein snack after their workout. Why not cater to this need yourself? Why not offer healthy food as an after-workout snack for your customers? It's good for customers, and it's a profitable business for you as a gym owner.
Organize weight-watching groups
It is a fact that more people choose to attend a gym to lose weight than those who choose exercise as a way to stay healthy. Introduce the concept of weight watching groups where people can share their weight loss concerns and goals in a community-like group.
Provide various workout classes
People tend to try new things if you offer them. They get bored with the same routine and develop a passion for a new workout, such as Pilates, yoga, Zumba, etc. They enjoy a nurturing setting where they can pick up new techniques of exercising and keeping healthy.
Use gym management software
The role of gym management software is multifaceted: it can cut your workload significantly, save you time that you can dedicate to growing your business, increase efficiency, and generate more revenue. It also offers customers the technology they expect to see in a cutting-edge gym.
A management software relieves a gym owner of many responsibilities and headaches and allows your employees to dedicate more time to your customers and improve customer experience.
Here's what we recommend:
Amelia

Amelia is a complete appointment booking plugin for WordPress that will help you manage your gym. The user interface is smooth and uncomplicated.
Amelia is an excellent option because it is easy to install and does not involve a steep learning curve. After installation, users enjoy free and complete booking functionality.
For website owners, Amelia provides an easy way to build appointment booking forms with all the relevant fields. It also allows website visitors to choose a service and handle their payments online.
Amelia facilitates and improves all aspects of customer interaction.
It sends SMS reminders to both the client and the relevant employee. It also includes functions for canceling and rescheduling appointments.
With the right forms, customers can make appointments through the interactive calendar. This can be set up to view by month, week, or day. Clients can also see list or timeline views.
Amelia's booking wizard matches specific services, staff members, and time slots.
Trafft

Trafft is a newer option. This is a next-generation solution for booking and scheduling.
Trafft sends notifications by email or SMS for assignments, cancellations, and rescheduling. This feature reduces the number of no-shows and prevents any booking confusion.
Inside the app, users can manage details such as business location, employees, services, and vacations. They can also adjust their regular business times according to the season.
Trafft is suitable for businesses in the event industry or that offer multiple services. This may include fitness studios, gyms, salons, and photographers.
Some outstanding features are:
Appointment booking
Detailed business analytics
Excellent user interface
Multiple locations management
Online payment
Outstanding security
Fatal Mistakes That Gym Owners Must Steer Clear of
Failing to understand the challenges of opening a gym
Opening a gym and being a gym owner is not a hobby or a leisure activity. It is a challenging job that consumes a lot of time, energy, and finances. The reward may be great, but the efforts required are also great. Don't go into this business unaware of what it will demand of you.
You have to be willing to put in a lot of long hours and understand that the reward will come after you've reinvested enough to build and nurture a successful fitness business.
Failing to know and understand your purpose
Ask yourself a simple question: what inspires you to be a gym owner? You will be surprised to learn that many gym owners have no idea why they chose to enter this business other than the prospect of financial reward. They lack vision and have no mission or set of values to stick to.
Now, ask yourself another question: how do you expect your clients to join your gym and refer you to others, if you don't know your cause, belief, or purpose yourself? How can others follow you if you offer them no direction to follow? How can they believe in an undefined cause?
Failing to act like a professional

A gym owner is a professional and must think and act as such if he/she wants to be taken seriously and be successful. Gym owners that act like amateurs are not on their way to success. Think like a pro and act like a pro and these are just some of the things a pro would never do:
Fail to get results for their clients
Show bad habits in the workplace
Be late for meetings/ workshops
Fail to show up every day and give their best
Abandon promises to clients and trainers
Make excuses
Take time off when the business can't afford it
Indulging in lack of focus
If you neglect to run your business based on a well-defined plan, you are planning your failure as a gym owner. You need to keep your focus if you want to build a successful fitness business. You can't afford to lose the direction or not know your purpose and what it takes to achieve it.
Lack of focus leads to failure, and many gym owners are shocked that they need to do more than open the doors to their business every day. You need a mission and a plan to accomplish that mission. Once you are clear on that, focus on executing your plan every day.
Being surrounded by distractions
A gym owner needs discipline just like his/her gym's clients need the discipline to achieve their health or weight loss goals. It is easy to get distracted by things and people, and it is difficult to say no to things and/or people. It takes the strength of a true gym owner to be able to say no.
Discipline translates into staying away from people who feed on your time as well as time-consuming and addictive social media activities. Stick to your plan for that day and indulge yourself in distractions AFTER you have checked everything on your to-do list. No excuses.
Managing their time poorly

Prioritizing and delegating tasks is what a gym owner must be very good at, and few business owners succeed in that respect. They blame it on not having enough time to do it all, but they forget that they don't need to do it all; they need to prioritize and delegate tasks.
Effective time management is an art and requires a gym owner to master the art and science of delegating tasks. It's better to learn from the very beginning to delegate the tasks that others can handle very well for you. This will allow you to concentrate on what you do best.
Embarking on this challenge alone
A smart gym owner does not get into a fitness business without a coach. It may be tempting for them to go at it alone and on their own, but how likely is it that you will succeed? Not likely.
It is just as unlikely as it is for someone without any prior training or knowledge of fitness to get the same results training on their own at home as they would get if they joined a gym with a personal trainer. Don't embark on this road alone! Have a coach with you!
Ending thoughts on these gym management tips
No matter how you choose to look at this article – as a set of guidelines, a checklist, a set of tips, or a to-do list – what matters is that you understand the key aspects that you need to consider and cater to in order to get your fitness business up and running and, ultimately, thriving.
If you enjoyed reading this article on managing a gym, you should check out this one on gym owner mistakes.
We also wrote about a few related subjects like how to be a successful beachbody coach, gym names, starting a fitness business, opening a gym , gym management software, gym marketing , personal trainer website and gym WordPress theme.
As a healthcare provider, you must understand your audience and their thought process. The largest age group in American history, the millennials, is now at the height of their spending years and studies show they prefer online appointments for medical services.
The millennials represent the generation of people that came into the world between 1980 and 1995. They have many names, including digital natives, echo boomers, "me, me, me" generation, or Gen Y. A unique generation, they're set to change the face of the economy.
With their power of spending, it is hard to ignore the preferences of millennials when it comes to healthcare. The concept of millennial healthcare has grown increasingly popular with medical practices focusing on marketing healthcare to millennials specifically.
How is healthcare changing when it comes to millennials' health? An industry worth over 3 trillion dollars can't afford to ignore the unique needs of millennials as patients and clients. Millennials are causing a distinct change in the healthcare industry in many ways:
millennials prefer to make online appointments
millennials use reviews as a key factor when selecting a doctor
millennials appreciate websites that allow booking and paying appointments online
millennials look for easy to process online appointments
All of these facts go to show the incredible role that the internet plays as a facilitator between millennials and healthcare.
Although there is no doubt that healthcare is changing under the apparent influences of the millennials, many practitioners are caught unprepared for delivering millennial health care.
In fact, the healthcare field is the least prepared industry to offer a better customer experience and innovation. Practices should be preoccupied with millennials and health care changing to meet their specific needs, including their preference for online appointments.
Millennials reject the traditional method of accessing medical care, and those healthcare practitioners who fail to see how healthcare is changing will also fail to retain patients.
Patients have become less interested in creating a long-term relationship with their general physician and more interested in accessing medical care faster and more efficiently.
PNC Healthcare has conducted a study on 5,000 consumers detailing the influence of patient-focused care among different age groups: Millennials (21-32), generation X (33-49), baby boomers (50-71) and seniors (over 72). These were the results:
25% of millennials prefer acute care clinics
14% of boomers prefer acute care clinics
11% of seniors prefer acute care clinics
34% of millennials prefer retail clinics
17% of boomers prefer retail clinics
15% of seniors prefer retail clinics
85% of seniors have visited their primary care physician
80% of boomers have visited their primary care physician
61% of millennials have visited their primary care physician
How is the healthcare industry changing to adapt to the changes imposed by the specific needs of millennials' healthcare? The study shows clearly that millennials approach healthcare in a completely different manner than boomers, generation X, or seniors.
Factors that Influence Millennials' Health Decisions
Millennials take into account four different elements when they make decisions related to all types of medical services, and these factors are cost, trust, technology, and information.
Factor No 1: Cost

The millennial generation looks for cost-effective care solutions and half of them choose not to visit a doctor because they refuse to spend money. While they don't want to sacrifice health care altogether, they opt for highly deductible low-premium insurance plans.
Millennials get medical insurance, but they go with the cheapest option. What tactic can a healthcare provider adopt to satisfy the millennial with their minds focused on not spending money? The most obvious strategy is lower prices, while that is not a long-term solution.
The strategy that will be most successful in the long-term is offering the best value for the money they pay. Millennials are practical people, so when they pay for services, they need to be convinced that those services offer the best value that amount of money could buy.
Be transparent as far as the services you are providing and don't forget to have a straightforward pricing policy that highlights the value of your services against the price.
Factor No 2: Trust

Unlike the generations before them, millennials' trust in traditional institutions has been crippled by a series of adverse and ill-timed events, including:
The 2007-2008 financial disaster that almost ruined the US economy
Record levels of debt in the ranks of the student population
The 2017 exceptionally controversial elections
Kantar Health and Grey health Group has recently conducted a joint study that revealed that merely 58% of the millennial population expressed their trust in doctors/physicians.
When you compare the 58% to the 73% of the general population stating that they trust doctors, the contrast becomes obvious and shows how untrusty the millennial generation is.
In total contrast, millennials trust Google when they look for information related to healthcare and nutrition, according to a study conducted by Vision Critical in 2016.
A millennial will go online to research a drug that his/her doctor has prescribed. A millennial will take into account the opinion of another consumer as much as the opinion of his/her physician. This type of behavior is not an exception; it is the norm among millennials.
Within this context, healthcare providers must focus on building a reputation for trust in the ranks of the millennial population. It is a long-term process that requires a lot of energy and constancy along the way, but it is a strategy that will pay up in time.
Factor No 3: Technology

Technology rules every aspect of today's world and the healthcare industry makes no exception. Technology is used for research more than any other means and it is no surprise that people in all age groups use technology to look for answers to health care concerns.
There is no doubt that people of all ages turn to technology in this respect. However, millennials rely on technology more than other age groups. Millennials are pioneers as far as adopting technology and they keep up-to-date with the latest technological advancements.
Since they are usually the ones that give the start to using one piece of technology or another and people typically follow, they expect other people to rely on the same digital technology, including their doctors, whether it means health apps or online health portals.
Millennials expect their doctor's office to be equipped for the technological era with EMR reviews, online appointments, self-serve kiosks, online payment, and much more. It is the only way healthcare providers can reach more millennials and offer them what they need.  Do not forget to make your digital healthcare product comply with regulations and set up an FHIR server for managing data.
Keeping up with the technologies and devices that the millennial generation is adopting will help healthcare providers understand the preferences for the technology of this generation. This will improve the conversion rate and generate more revenue for their practice.
Factor No 4: Information

In addition to online appointments and other similar technology-friendly solutions, healthcare providers should understand the way millennials approach healthcare. They use google and try to come up with a diagnosis themselves before making an appointment.
Therefore, medical facilities should be equipped with information that is easy to understand by millennials in their effort to self-diagnosis. To know what information matters and how to present it, providers must understand how a millennials' mind works.
Communication remains the best way to reach an audience and figure out its needs. Establishing a dialogue with millennial patients will help providers deliver the exact type of information this age group seeks in the precise form they expect to find it online.
Here are some impressive statistics:
75% of millennials express their desire for their physicians to share information via mobile devices, which would allow access to information at any given time or place;
70% of millennial patients would choose a doctor-provided app to review health records, manage their wellbeing, and schedule online appointments.
63% of millennial patients would prefer to provide doctors with health data via wearable devices or wi-fi so that physicians could check their wellbeing.
Only 60.4% of millennials' doctors used Electronic Medical Records compared to 74.4% of general population physicians (Truven Health Analytics and NPR, 2014)
Millennials are the least likely to have a doctor out of all age groups said the same study, which provides digital physicians with new opportunities to get more patients.
64% of patients will make online appointments by 2019 (digital appointments) compared to only 34% in 2016, according to the same consulting firm.
Top 100 health care providers will provide digital self-scheduling to patients.
6 million people use ZocDoc to schedule appointments online. ZocDoc was released in 2007 and is an online reviewing and scheduling service.
The possibility of scheduling online appointments via services such as ZocDoc makes more physicians visible to patients and can subsequently reduce patient loyalty. Many healthcare providers have set up online scheduling services on their websites to increase loyalty.
Millennials have a passion for telehealth and that should tell health care providers that checkups can become a digital activity as this particular age group gets older.
Ending thoughts on why millennials prefer online appointments
Medical practices have become aware that they need to operate just like any other business. Their patients are more than patients; they are customers. Therefore, providers have shifted their approach and commenced treating patients more like retail customers.
Other ways that providers can meet the expectations and needs of millennials include better pricing policy, increased transparency, technological friendliness, along with delivering convenient and fast care. It's an important step that the medical world must take.
Today's millennials will become responsible for more than their health shortly; they will become responsible for the health of their kids as well, which is why providers must use the opportunity to engage the millennial generation today. Amelia does this in a seamless way, through our WordPress booking software.
If you enjoyed reading this article about why millennials prefer online appointments, you should also read these:
Although the benefits of booking online are evident to the end-user, lots of companies remain loyal to the old over-the-phone booking system that, in addition to being time-consuming, it requires more staff members to keep track of booking, as well as organize and coordinate bookings.
Whether they book trips or appointments, people prefer to use the internet to do it rather than an offline booking system.
A system that allows booking online is one that lets existing, and potential clients check availability, book, and even pay only via a personalized booking platform.
Benefits of Online booking vs. Offline Booking

There are many benefits to booking online for companies taking bookings, benefits that make the life of the customer as well as the life of the business owner a lot simpler. Here are some of the most evident advantages of booking appointments online:
An Online Booking System Offers The Utmost Convenience
As a business owner, you want your customer to be happy, and making the booking process convenient for the customer is one great way to achieve your goal. When customers can make bookings online, you offer them the supreme convenience of booking.
They can make bookings whenever they feel like it, even in the middle of the night. They can use any device they prefer wherever they have an internet connection. They can also think over their bookings without the annoying pressure of a sales team.
All of these are excellent arguments that support an online booking system especially when topped up with the possibility of paying for the booked services online. Booking can't get more convenient than that.
Booking Online Makes Your Business Always Available

Making your business available any time anywhere is one of the most significant advantages of offering online bookings as a business owner. Using a booking application will simplify the booking process incredibly while making your business available always.
No need for hotlines, extra personnel, or packed email inboxes that require constant monitoring. Amelia is a WordPress booking software that can handle this kind of task.
Get more clients with the right tool for the job
Staying organized has never been easier.
You can now manage your business and grow your brand with a single, powerful WordPress booking plugin that keeps all of your appointments in line, your clients organized and your business booming.
Amelia is perfect for business owners who need to streamline their booking experience both for their staff and their clients.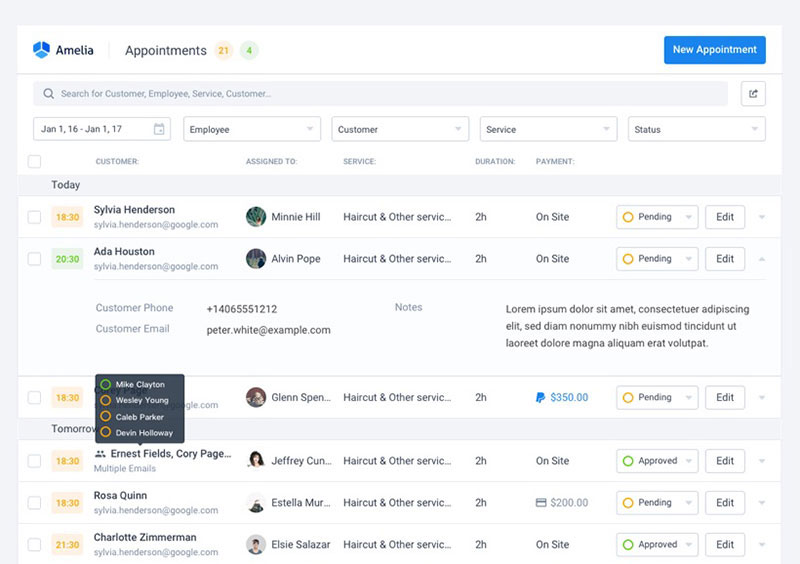 Amelia handles everything for you, even sending automated email or SMS reminders to your clients. No-shows? Not anymore!
The Amelia WordPress booking plugin adapts to different industries for a blissful online booking experience and employee management.
Want to know more? Check out Amelia's awesome features to see what you are missing.
Booking Online: Lower Costs
When offering online booking, you reduce costs dramatically as a business. Booking or scheduling apps are incredibly affordable today, and they no longer cost a fortune. The accessibility of such an app means fewer costs than starting up a man-powered location.
All you need is a website equipped with scheduling software. It is as simple as that. No need to rob the bank to accept reservations right away!
Booking Online: Increased Profits
By giving your clients the possibility of booking online, you make your business available 24/7/365. That means that you will be able to receive more bookings than you would typically get via a telephone-based booking system available from 9 to 5.
More bookings translate into more business. Besides, no people handling the reservations and reduced costs with a physical location means fewer overhead costs. Fewer overhead costs with an online booking system will generate more profit! Makes sense, right?!
Online Booking Systems Allow You to Measure Results Easier

Offline bookings can be difficult to track and, as a business, you have no idea who your potential clients may be. However, online bookings are transparent as technology allows you to track whoever is behind the booking with the help of the many available tools.
The online booking system provides you with accurate data as far as customer interactions, which you can consequently use to design marketing strategies targeting the most efficient platforms, be it online ads, organic search, or referral traffic from specific authority sites.
An Online Booking System Lets You Drive Appointments Via Social Media
Today, making bookings via social media networks is a piece of cake, which makes social media networks such as LinkedIn, Facebook, or Twitter your best friends when it comes to driving appointments to your business.
People love social media, and they are more than open to making bookings via a network that they are so familiar with. This affinity makes social media networks exceptionally useful as sales, booking, and marketing platforms.
The great benefit of integrating booking with your social media page is that you make it easy for your existing and potential clients to direct family members and friends to your page.
Booking Online: An Optimized Appointment Calendar

Using a booking system that lets customers book appointments online allows you to optimize your appointment calendar by improving its accuracy. An online booking system enables you to maintain an accurate calendar almost effortlessly.
Staff can quickly access the system to check when they have appointments, the type of services they need to provide for each appointment, what clients they'll be seeing, and where they will be holding the appointments. They can check all of these 24/7/365.
Booking online involves fewer scheduling-related errors, including overbookings, double-bookings, or lost bookings. The appointments can be quickly updated, moved, or, and an accurate booking calendar is made more accessible.
An online booking system offers an overall perspective of the appointment calendar letting businesses identify the gaps easily in their schedule that require particular attention and could be filled by providing special bonuses or promotions.
The availability and hours of staff can quickly be adjusted depending on the booking volume, which can be readily determined via online booking software.
Online Booking Platforms Save Working Hours

How does an online booking system affect staff members handling customer service? Well, it is obvious that by making bookings online available to clients, you take a lot of the workload off their shoulders allowing them the time to deal with pressing issues.
An online booking system means that your staff no longer needs to spend hours over the phone with clients helping them with their bookings or providing them the details of your services and when they are available. Also, no time is wasted managing schedules.
An online booking system will not only save time for your customer service staff, but it will also save money for your business. You will no longer need a full-time staff member to deal exclusively with bookings, and that translates into fewer working hours, i.e., fewer costs.
Online Booking Eliminates the Bottleneck of Telephone-Based Booking

Put yourself in your customers' shoes and remember how it feels like to wait for your call to be transferred to the right person when you want to book an appointment over the phone. How many times have you given up on the appointment because of the long waiting time?
Your clients go through the same thing if you choose to stick to your traditional system. The bottleneck associated with a conventional over-the-phone booking system is eliminated when you equip your website you make the possibility of booking online available to customers.
Also, remember that an over-the-phone booking system is only available to clients within a given time interval when clients are at work and have no time to call and make a booking.
And, unless you can afford more staff members to handle several phone lines, only one caller will be dealt with at a time, which will result in a long waiting time that will frustrate the callers. The result? Fewer bookings and therefore less revenue.
Online Booking: Increased Sales and Marketing Synergy

A big problem posed by the traditional over-the-phone booking system is having to refer clients to your website for more information because today businesses put all of the information a client may need to know on rich, versatile, and easy-to-navigate sites.
If clients can find everything they need on your website, why not use the site for booking online at a time that is most convenient for them, when they can make an appointment without feeling rushed or pressured or even redirected back to the website.
When you take a client from your website to the phone, you lose those spontaneous bookings because the client may get discouraged and frustrated while waiting on the phone to make an appointment or postponing the reservation for "tomorrow" during office hours.
Make the most of your website's excellent copy and capitalize on impulse bookings by equipping your website with an online booking software.
Booking Online: A Modern Approach
You are living in the age of the internet when people no longer use phone books to find a business. They use the internet to find everything they need to know quickly online without any additional hassles. People like the convenience of doing everything online.
It would be a huge loss for businesses not to capitalize on what technology has to offer today. Integrate a booking platform with your product pages on your website or social media pages. Your customers are online, so that's where you need to reach them. Don't miss out!
Disadvantages of Online Booking Systems
An Online Booking System Comes At A Cost

Nothing comes for free in today's age. It is a mistake to believe that a free booking system will come with all of the benefits of a paid one. Yes, an online booking platform will cost you but will not cost you a fortune and will undoubtedly be worth the small investment.
You can pay monthly or per transaction, depending on the booking platform of your choice. There is also the possibility to get a custom-made online booking system that will cost a substantial sum in the beginning and will also generate periodic costs with maintenance, which includes support and fixing bug issues.
As a business, you should already be used to the idea of cost, but, you should also be used to identifying a situation where the benefits compensate for the costs.
An Online Booking System Depends on Internet Access
Although it may not seem like a disadvantage, making an online booking depends on having internet access. It is a fact, and there's no way going around the problem. BUT with internet access available on more and more devices, static or mobile, and with the internet being available in almost every corner of the world, it's a problem that will soon become a benefit.
Ending thoughts on the advantages of booking online
There's a full spectrum of prospects that an online booking platform provides, a world of opportunities that no business should miss out on, including generating additional revenue, saving time for your staff, and less overhead expenses.
Amelia offers a convenient way to integrate an online booking system with your existing WordPress website – be sure to check it out.
If you enjoyed reading this article about the advantages of booking online appointments, you should also read these:
Your medical website is the virtual office of your clinic, a digital image of your practice. Make it well-structured and appealing and it will bring you more patients and revenue.
That's what the best medical websites do and that's why medical website design is key.
By using the right design, the best medical websites help improve the performance of your practice, boost your reputation, enhance patient experience, and generate more revenue.
This article presents you with tips for designing effective medical websites that target a specific group of patients who have different needs, requirements, and expectations depending on the type of medical services they are seeking, and your practice is providing.
Tip 1: Your Design Must Target Your Specific Audience

Actual doctors' offices are different depending on their specialty, and, subsequently, the patient group they are targeting. The office of a pediatrician will certainly look the same as the office an orthopedic surgeon. Different specialty, different patients, different décor!
The same rule applies to medical websites: the design will be different depending on the population group the clinic aims to attract. Medical sites should use the most appealing design for their target audience because that's the group whose needs you want to fulfill.
Your medical website design can employ more color if you target young patients. Your design must make navigation extremely simple if your practice's focus is elder people or people with disabilities. Use relevant photos if you are a sports medicine physician.
Design with your target audience in mind and you will end up with one of the best websites.
Tip 2: Keep Your Design Simple and Clear

Simple is better or less is more. This is a rule that applies perfectly when it comes to the design of the best medical websites. Make it very easy for the visitor to understand what your site is all about the instant they land on your healthcare website, not five seconds later.
The secret is balance: not too many photos, not endless blocks of copy. Keep your design as simple and as clear as possible to make navigation natural for your patients if you want to have one of the best medical websites out there. Here are some tips to keep it simple:
Place enough space between different types of content: photos, text, menus
Use smaller paragraphs for your copy and add headers and sub-headers for clarity
Separate the main area of the page from sidebars/headers via contrasting colors
Your goal? Make information easy to find, which will make your patients' experience on your website a positive one; that will persuade more patients to book an appointment. Amelia can help you do that!
Tip 3: Use Web Design to Showcase Key Information

It is essential that the design of your health care website allows visitors to recognize immediately the one thing that you want them to learn the moment they arrive at your virtual office. Is it obvious where and how they can find that piece of relevant information?
The best medical websites make the information that is most important for patients to know about their practice the center of the page. Your whole design should revolve around that one thing and this approach will let you enjoy the benefits of the best medical website.
Give pages explicit names that leave no room for interpretation: "Meet the Doctors"
Create CTA buttons that stick out by using a large typeface and daring colors
Put your primary info on the topmost area of the page to draw attention to it
Secondary info, as well as footnotes, should go to the bottom of the page
The goal of the best hospital or healthcare websites? To use medical web design to present information in such a way that visitors learn quickly that you can provide them with the services they need. Make it easy for them to get what they need: an appointment with you.
Tip 4: Go Mobile with Responsive Design

The best websites in the world employ responsive design – the most effective way to have a hospital website that renders perfectly on any device, no matter the screen size. In today's mobile world, you need to go with responsive design to be among the top health website.
While you could also choose to customize your healthcare website design for various screen sizes, responsive design remains the most practical approach. There are design platforms that activate responsive design automatically, which will make your life a lot easier.
When you opt for a platform that enables responsive design, your medical web sites will load properly on any device, no matter the screen size or browser used to access the internet.
It is recommended that you test the performance of your website on different devices periodically. You can have your staff do it for you if you have a dedicated team or you can contract a company to manage the testing process, as the best medical websites do.
Tip 5: Incorporate Just Enough Visual Content in Your Design 

Statistics show that visual content, whether it's videos or photos, get more shares and views compared to text. Consequently, the best medical websites choose to feature visual content to perform better than other medical sites with less or without visual content.
You have to keep in mind that this strategy cuts both ways and you must find balance and not go to extremes; less to no visual content is undoubtedly bad, but too much of it is just as bad. Too many visuals will distract visitors from finding and accessing key content.
There is no doubt that a slideshow or a video will capture the visitors' attention quicker, but:
Make sure to stay away from large file sizes that could have a negative impact on page loading time. Slow loading speed can be frustrating and drive visitors away!
Don't use designs that activate Flash because not all devices support the technology, which will prevent many visitors from accessing your content;
Tip 6: Use Design Elements to Interact with Patients on Your Website

You need to make your medical website interactive in order to get visitors engaged and increase your conversion. You need to make sure your website allows the visitor to perform all tasks required to complete your ultimate call to action before they leave your website.
If you want your visitors to book an appointment with you, allow them to do so on your website without having to call for an appointment. Moreover, enable them to pay for the payment! Make it easy for them to do what you need them to do on your site!
There are plenty of interactive solutions available that the best hospital websites use:
Forms where visitors can enter key information, such as insurance, medical conditions, contact details, etc.
Easy-to-notice buttons for various actions: make appointments, refill prescriptions, request referrals, etc.
You want your site to be among the best medical websites because you want your practice to be among the best medical practices in your field. Your site is your virtual practice, which is why you need it to perform outstandingly and retain more patients just like your practice.
Tip 7: Let Your Website Tell Your Story

It is not enough to have a medical degree and adequate training to build a successful practice. Your practice is a business. You need to build your brand and manage your reputation just like any other business out there, irrespective of the industry.
A brand allows you to stand out from the crowd and your story helps you build a brand. Let your website tell your story and you will create that emotional bond with your visitors that is so crucial in the process of establishing yourself as a reputable brand in your field.
A brand triggers loyalty and referrals. You need patients to come to you every time and you need patients to refer their friends and family members to you. Remember that people love to share experiences. Be the go-to medical brand when they need medical services!
Tip 8: Make it Easy for Visitors to Find What They Are Looking for

The best healthcare websites are packed with all the information a patient may want to find, ranging from educational blog posts to patient forms, appointment instructions, and directions. With so much info, any website can end up looking chaotic and crowded!
Theirs is no appeal to chaos and an overly full website can drive visitors away in a second. The best medical websites have come up with a practical solution: using a design approach that makes navigation very simple and easy.
Simple navigation can make it easy for visitors to access even vast amounts of information as long as it is organized. A good idea that many medical sites use is highlighting information that visitors are most likely to search on your website. Make it all explicit and easy!
Tip 9: Work with a Web Design Agency Specializing in Healthcare

When you decide you need an agency to handle the design of your medical clinic website, remember that you need people who understand your trade. You are a doctor. Would you go to a family physician if you had a broken leg? The sample applies for design agencies.
You need to go with a company that has experience in creating websites for healthcare facilities if you want your site to be among the best medical websites. Such an agency will understand the specific needs of a medical website as well as patients' behavioral patterns.
Tip 10: Add Valuable Content to Befriend Search Engines and Educate Patients

Your website must rank high in search engine results if you want to get traffic and increase your conversion rate. Search engines must find your website content relevant to the searches performed by patients or potential patients. Search engines must love your site!
To make sure search engines love you, you need to provide content that helps to educate your target audience. It's called SEO. The same educational content, no matter how you choose to present it, builds patients' trust in your practice, which is essential for success.
How do you determine which content is relevant to visitors? You focus on understanding your patients, their needs, and thought process. What questions would you have if you were a patient with knee pain looking for an orthopedist, just like you? Answer those questions!
Why do you need to provide visitors with answers to their most important questions? Answering questions will establish you as an expert in your field, enhance your SEO, and help visitors to get a better understanding of the diagnosis and treatment process.
Healthcare professionals often miss out on this opportunity and don't feel like committing to creating such content on their websites. Visitors will then go to a different website whose healthcare providers have taken the time to create content that answers their questions.
Create truthful content that can't backfire at you in time;
Don't use real patients' names if you present specific cases;
Address the expectations of your target audience;
Accommodate to local, regional, and state laws and regulations;
Review content by a legal adviser with experience in the medical arena;
Summary 
Put yourself in the shoes of your potential patients and imagine how you will look for your medical services, where you will look for them, and what you will expect to find. You will need extensive content and you will look for it via search engines or social media networks.
It is important that you provide your potential patients with answers to their questions. You need to make your practice visible on every online venue that potential patients may use to get answers to their questions: practice website, authority sites, social media, YouTube!
You can set up appointment scheduling, medical services catalog, payments, and other tools for your clients with the help of Amelia – the best WordPress appointment booking plugin.
Traffic to your website translates into traffic to your real-life practice, i.e. more revenue!
If you need help with your website, WP Buffs is a 24/7 WordPress website maintenance services for serious website owners & white-label partners. Whether you're looking after 1 site or 1000, they've got your back!
If you enjoyed reading this article on best medical websites, you should check out this one about modern clinic websites.
We also wrote about a few related subjects like clinic names, dental websites, medical appointment scheduling software, medical apps and dental apps.