What does it mean to be a yoga instructor? What are the responsibilities of a yoga teacher and what does it take to have a successful career in yoga?
Yoga is more than training the body, it is a discipline.
Yoga teachers help others to strengthen their muscles and stretch their joints. But they offer much more.
Yoga is about reaching the perfect harmony between the body, the mind, and the soul.
A yoga instructor can work in different environments. These include yoga studios, gyms, and spiritual retreats.
Nowadays, many professionals are also providing online training.
This career offers lots of opportunities but also brings responsibilities. A professional yoga teacher needs to prepare sessions, teach yoga postures, and support trainees during the process.
If they have their own studio, they may even be in charge of admin tasks and advertising too.
Moreover, it is important for a yoga professional to keep training. Regular practice, attending courses, and perfecting skills are key to a successful career in yoga.
This article summarizes the most important aspects of being a yoga teacher.
Yoga teachers' preparation

If someone wants to quit their current job to pursue a career in yoga, there are many things to consider. Before making a life-changing decision, it is important to think about the financial and social impact.
First, it is necessary to make an honest assessment of one's objectives. Consider your long and short-term plans and ask yourself: why do I want to be a yoga teacher?
The yoga asanas not only require physical skills but also mental health. Hence, being in good shape is not enough.
A yoga instructor must help students achieve peace of mind and perfect harmony. They may be an important part of a students' spiritual path towards total awareness.
If opening their own studio, they will need business management skills.
Spirituality and finance aren't words that go together very often. Yet a yoga instructor needs to pay the bills.
It is important to consider the financial aspects of managing a studio. However, it should not be the main reason for pursuing this career.
If the goal is to have a successful career in yoga, make sure the motives are not self-centered.
Yoga trainers should accompany students through their learning process. They should practice the postures as a means of discovery and self-development.
Loving this discipline is not enough for a yoga career. The next section presents the characteristics of a true yoga teacher.
Important characteristics to pursue a career in yoga

Ability to perform all the activities that the profession requires. This includes mastering asanas, being in good shape, and studio management.
Be a people person.
Ability to bring the best out of each student.
Good listening skills.
Ability to motivate and inspire students.
A yoga career is a fulfilling path in a trainer's life. Teaching yoga involves a special commitment to this discipline.
Although it requires hard work and practice, it is very rewarding.
The work routine usually involves regular classes in the morning and the afternoon. At noon or in the evenings, teachers usually prepare their training sessions.
Most yoga teachers do their daily practice routines early in the morning.
On weekends, they are usually busy with intensive courses. They can either impart the training or receive training from more advanced professionals.
During the holidays, they usually take part in yoga retreats. There, they can improve their skills and develop a sense of community.
Trainers can invite their students and share valuable experiences. Retreats are excellent opportunities to find the quietness and peace needed to meditate and practice the asanas.
Also, yoga teachers have responsibilities.
Responsibilities of a yoga teacher

Teach the asanas according to students' training levels. Support them and help them overcome their difficulties.
Plan yoga classes. Trainers need to design the sessions according to the students' levels of expertise.
In some cases, yoga instructors may need to find areas of specialization.
Help students lead a healthy lifestyle. Support them in their search for complete harmony.
Be a studio manager. If working independently, teachers need to run the studio, carry out admin tasks, and more.
They may also need to create advertisements and design marketing strategies.
A yoga career is a very fulfilling one but presents many challenges. Before taking the first step, one should analyze the responsibilities and rewards.
Being passionate about yoga is the most important prerequisite.
Study the competitors: Take other yoga classes
Besides taking advanced yoga courses, yoga teachers should attend other instructors' sessions.
Constant improvement and training are important for any discipline. But attending other yoga classes can be advantageous for other reasons too.
This helps form a realistic view of one's skills. By attending their competitors' courses, teachers can understand their own strengths and weaknesses.
This helps create a more effective development strategy. Instructors can work on their weaknesses and stress their capabilities.
A teacher can analyze a competitor's flaws. This allows them to implement better customer service at their yoga studio.
Also, this helps stay updated about the new trends in the yoga industry. Enjoying different training sessions provides the flexibility that every yoga professional needs.
When working for someone else, openness to improvement and a passionate approach make a big difference.
Colleagues and superiors will notice your enthusiasm. As a result, they will be more likely to recommend you for open positions.
In the beginning, teachers are called from different studios. Although this may sound interesting at first, it is not good in the long term.
If you feel comfortable in one studio, stay there. Do so even if starting with only a few sessions.
This will help an instructor to develop a community and land a steady job faster.
Many studios offer yoga teacher training. By attending one of these, a trainer is more likely to be considered when an opportunity opens up.
Studios prefer to fill their vacancies with people they trained themselves.
Get proper instruction: attend a yoga teacher training course

One can complete yoga teacher training in a few months. Usually, people who enroll in these courses have long experience practicing yoga.
The length of a certification process depends on previous experience and the program. Generally, there are two options.
The first one is a 200-hour teacher training course and the second one a 500-hour program. The former can take between 3-5 months while the latter can last from 6 months to a year.
The training starts with the basics. These may be familiar, but it's important to learn them from another perspective.
A teacher may know how to do the asanas, now they need to understand how to teach them safely.
Prospective trainers will learn yoga asana, pranayama, meditation, and other techniques. With time, they gain a clear understanding of the postures and their implementation.
Attending different classes makes it easier to choose the teacher training that best suits you.
Find a registered teacher who is also authorized to teach yoga. Thus, you will also get a certification at the end of the course.
A 500-hour yoga teacher training course can cost between $500 and $5,000. This depends on the reputation, location, and quality of the studio.
Get registered as a yoga instructor

Yoga professionals need a certification. This is especially so if they want to work at a renowned yoga studio.
A person can acquire this certification by registering at the Yoga Alliance. They receive a 'Registered Yoga Teacher' status or 'RYT'.
This status can be very useful for those who want to work at a prestigious studio or get hired as a yoga teacher. If creating your own yoga center, a certification is not mandatory.
Many unregistered trainers set up studios and manage to create a faithful community. They have followers with whom they connect through social media and similar platforms.
No law prohibits practicing yoga without proper registration. Any person who loves this discipline can become a yoga teacher.
They can share their knowledge and passion with like-minded people.
Fitness and health centers usually require other certifications. In these places, trainers must be able to handle health emergencies.
For this reason, they usually need an RYT and a CPR certification. A trainer's certification and its type will depend on their goals.
For example, one may be training at a studio and find out that there is a position available. In this case, getting an RYT certification is advisable.
Build your niche for a successful career in yoga

This is a vital point in any trainer's career. In general, successful professionals are known for something.
Find your strength. Identify your best aptitude and improve it as much as possible.
This is a yoga teacher's presentation letter. People that look for this particular aptitude will come to you because they'll know you are the best.
There are different types of yoga teachers. Some may be known as 'the one with heavy breathwork' or 'the one who integrates singing'.
Find a niche and then take the time to refine it.
Yoga specialization areas:
Yoga retreats or workshops.
Exercises for physical fitness.
Private yoga lessons.
Spiritual development through yoga.
Prenatal and postnatal yoga.
Therapy
Yoga for couples.
Yoga sessions for kids.
Yoga sessions for the elderly.
Possible yoga titles:
Manager
Instructor
Advisor
Therapist
Aerobic instructor
Consultant
Specialist
Practitioner
Make a list of preferred work choices
When taking the first steps, beginners usually apply to as many jobs as possible. They don't give it much thought.
Yet, this also calls for a strategy. Applying to many different jobs without a plan can hurt a yoga teacher's reputation.
A person should choose the studios they want to apply to. They should base their choices on preferences, style, and type of training.
It is advisable to look for a successful studio with good management staff. The more the business grows, the higher the possibilities of professional development.
Yoga instructors should target the largest and best-rated yoga centers. This kind of background in an early career will impress future employers.
Although harder at first, targeting prestigious studios brings advantages in the long term.
Teach yoga online

Usually, independent yoga professionals begin teaching at studios or among family and friends. Yet an online presence can provide a significant boost to one's business.
There are many new opportunities for yoga trainers in the online market.
Teachers can access a wider client range as they are no longer restricted by location. It's also possible to pre-record individual sessions, allowing trainers to book more students.
While in-situ training has benefits, online sessions are more stable.
A trainer can conduct classes even under a lockdown. This is an excellent option, especially in a post-Covid19 world.
There are many online training apps and software available. Trainers can use these to manage their yoga business effectively.
Develop your brand

To be successful, yoga instructors need to stand out from the crowd. This is especially so if they are working independently or running their own studio.
There is one difference between a regular yoga teacher and a successful, growing business. The brand.
Yoga professionals need to be highly qualified as instructors and yoga practitioners. But this is hardly enough.
The yoga industry is competitive. Hence, instructors need to find a way to stay in people's minds.
By developing a brand, it is easier to get followers who may very well become clients.
A yoga studio should have a logo, a brand story, and a strong social media presence. There should also be fluid communication with the audience.
Today's customers are exposed to much information. Hence, they tend to try different options.
Yoga trainers must set goals to impress these customers. They need to provide at least one thing that nobody else offers.
They should also try to make sure that clients remember their brand.
Targeting a specific niche also helps. This can be yoga therapy, yoga retreats, yoga and art, yoga and dance, etc.
Keep training
Many yoga trainers get caught up in the process and end up quitting. Many feel the same way that they felt with their previous job.
Like any other business, running a yoga studio is very challenging. Although some find in yoga a road to enlightenment, others don't.
The yoga teacher stereotype is a perfectly harmonized and peaceful person. Yet sometimes this is far from reality.
Yoga professionals have to cope with the same daily issues as every other human. Hence, they should lower their expectations in this regard.
It is important to get help. Trainers can hire an assistant or delegate classes to other trainers.
They can also use an app to optimize processes like booking, schedules, and payments.
Another key aspect is training. Yoga professionals should attend as many classes, seminars, and retreats as possible.
They must continue to learn from colleagues and more experienced teachers. Thus they honor the discipline while providing students with the best possible training.
Relate to students professionally

Teachers need to maintain a friendly relationship with students. This is part of being a yoga professional.
Students need to feel well received. They should also have a pleasant environment for their practice.
But overdoing this can generate the opposite effect. If a teacher gets too friendly, the yoga session can turn into a catch-up.
Students will find it hard to focus in an environment that is too relaxed. This can affect the session and the teacher's reputation.
It is ok to make small talk before and after the class. But trainers should not take the relationship outside the studio.
Teaching yoga is about inspiring and helping people, not about making friends.
Get more bookings with the right tool for the job
Staying organized has never been easier.
You can now manage your business and grow your brand with a single, powerful WordPress booking plugin that keeps all of your appointments in line, your clients organized and your business booming.
Amelia is perfect for business owners who need to streamline their booking experience both for their staff and their clients.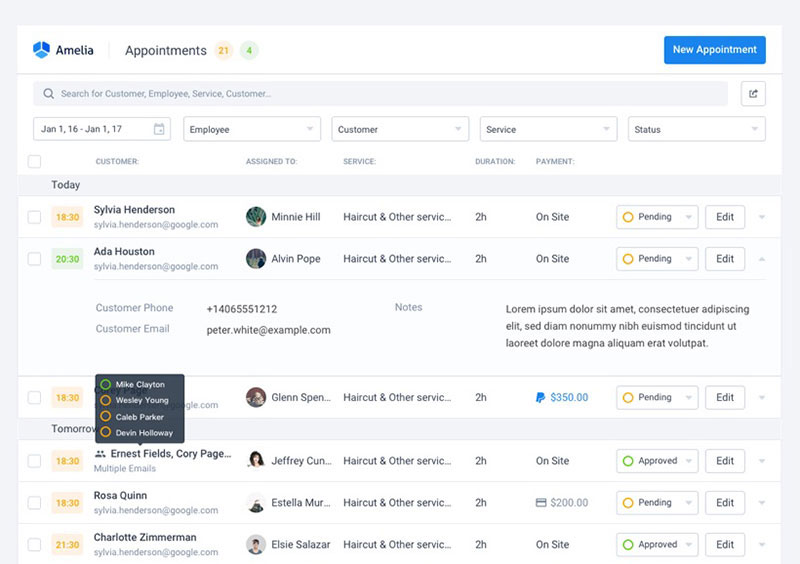 Amelia handles everything for you, even sending automated email or SMS reminders to your clients. No-shows? Not anymore!
The Amelia WordPress booking plugin adapts to different industries for a blissful online booking experience and employee management.
Want to know more? Check out Amelia's awesome features to see what you are missing.
FAQs about starting a career in yoga
1. What kind of training or education is required to become a yoga instructor?
Typically, you must complete a teacher training course that has been approved by the Yoga Alliance in order to become a yoga instructor. These programs might be anywhere from a few weeks to several months in length. Yoga instructors should also maintain a consistent personal practice and pursue additional knowledge in anatomy, yoga philosophy, and teaching techniques in addition to the training program.
2. What are some different career paths within the yoga industry?
Beyond only instructing courses, the yoga industry offers many other job options, such as yoga therapy, retreat planning, teacher training, and studio administration. Certain groups, such as prenatal yoga or yoga for athletes, may also be the focus of some yoga professionals.
3. How much can a yoga instructor expect to earn on average?
Depending on the area, level of expertise, and type of lessons offered, yoga instructors' average salaries can vary. The average hourly wage for yoga instructors in the US, according to the Yoga Alliance, is roughly $50; however, some teachers make much more or less than this.
4. What are some common misconceptions about working as a yoga instructor?
It's a popular misperception that becoming a yoga instructor is a simple or low-stress profession. In fact, maintaining industry standards demands continual education and training in addition to a lot of physical and emotional energy spent on teaching yoga.
People of different shapes, sizes, and capacities can succeed as yoga instructors, contrary to the misconception held by some that all yoga instructors are innately flexible and healthy.
5. How can someone market themselves as a yoga instructor or build a successful yoga business?
Offering workshops or specialized lessons to draw in new students are some ways to market yourself as a yoga teacher, in addition to building a strong online presence through social media and a website. A warm and inclusive environment, a focus on student safety and health, a clear business plan, and a sound financial strategy are all necessary components of establishing a successful yoga business.
6. What are some important qualities or skills needed to succeed as a yoga instructor?
Strong communication and interpersonal skills, a thorough knowledge of yoga philosophy and asana practice, the capacity to create a safe and supportive environment, and a dedication to lifelong learning and personal development are some of the qualities and abilities required to succeed as a yoga instructor.
7. How can someone continue to grow and develop their career in yoga beyond just teaching classes?
Yoga practitioners can expand their careers in a variety of ways, including by pursuing higher training or certifications, attending seminars and retreats, and continuing their studies. Yoga instructors can stay motivated and connected by connecting with other industry professionals, following business trends, and learning best practices.
8. What are some challenges that yoga instructors may face in their careers, and how can they overcome them?
Burnout, bodily harm or strain, financial instability, and market competitiveness are a few difficulties that yoga instructors may run into in their employment. Making self-care and injury avoidance a priority, creating a clear business plan, differentiating oneself through specialty or delivering something new are some strategies that may be used to overcome these obstacles.
9. How can someone transition from being a student of yoga to a career in the yoga industry?
Getting experience by working as a volunteer or a class assistant, finishing a teacher training program, and networking with other yoga professionals can all help you make the transition from being a student of yoga to a job in the business. Additionally, it's critical to have a solid personal practice, continual education in yoga and teaching techniques, and a clear knowledge of the reality of working as a yoga instructor.
10. What are some emerging trends or opportunities in the yoga industry that aspiring yoga professionals should be aware of?
The popularity of online yoga classes and digital offerings, the incorporation of technology into the yoga practice, the rise in demand for specialized yoga classes, such as those catering to particular health conditions or populations, and the emphasis on inclusivity and accessibility within the yoga community are some emerging trends and opportunities in the yoga industry.
The expanding significance of mental and emotional wellness within the practice, as well as the potential for yoga to be used as a tool for social justice and activism, are all things that aspiring yoga teachers should be aware of.
Yoga practitioners who stay current and adapt to the changing needs and interests of their students might benefit from keeping up with these trends and opportunities.
Ending thoughts on the most important aspects of a career in yoga
Building a solid career in yoga takes 2 to 3 years on average. Like every discipline, yoga requires hard work, dedication, flexibility, and passion.
Starting is difficult. Prospective teachers should establish their goals.
They should attend other classes and get proper training and qualifications.
Organization, marketing, administration, and communication are also vital for professionals who want to run their own yoga centers. It helps to develop a brand and form a community of followers.
Building a niche helps teachers to stand out from the market. So they need to find and develop unique skills
Then they can target the right audience and get a student base faster. Although this audience may be smaller, they will likely be more faithful.
Finally, the most important thing is to keep training. Outstanding teachers are usually those who acknowledge themselves as perpetual students.
Constant training and exposure to new trends, techniques, and styles, is what makes a yoga teacher great.
If you enjoyed reading this article on starting a career in yoga, you should check out this one with yoga business names.
We also wrote about other yoga-related subjects like yoga colors to use in the studio, yoga franchises, teaching yoga without certification, yoga studio software, yoga studio owner salary (curious?), and yoga marketing ideas you could use
We also have articles on yoga websites,  creating a yoga studio business plan, and how to start a yoga business.