Many yoga instructors don't know how much to charge for a yoga class. The market is competitive and clients can choose to go elsewhere if they don't like the prices. In the end, many instructors take what they can get and not what they deserve.
Yet, a yoga business must be sustainable to survive. Even if you only teach yoga classes on the side, you should get what you deserve. Many yoga teachers have invested time and money to become qualified instructors. Running a yoga studio also takes time and energy.
How to Set Sustainable Price Levels for Yoga Classes
This is an important question, and the answer is not straightforward. There are many things that you need to take into account, such as class types, services, experience, location, and target audience. Considering these aspects will help you answer the question of how much to charge for a yoga class.
You will need to have a place where you teach your yoga classes. The size, rent or mortgage, and facilities determine how much you can charge for a yoga lesson. Knowing your fixed monthly and annual costs as well as the number of students helps you to set reasonable prices. Besides your price levels, it determines what pricing model you can apply.
You can see now that your pricing strategy depends on your unique circumstances. It is good to remember that most yoga classes in a specific area have similar prices. Some go a little below the average, but those are exceptions.
How Much to Charge for a Yoga Class
Another good approach to setting price levels is considering how much you would earn if you worked in a yoga studio. Take that average amount and add $20.
It is not presumptuous to add those $20 to your rate. As a yoga teacher, you want to give the best quality service. Your clients will thus get the best private yoga lessons.
Group Yoga Classes
You can derive the price for your group yoga classes from what you would charge for private sessions.
Consider that the average private yoga lesson cost is around $10–20. You can make special offers of five, 10, or 15 lessons at a reduced price. You can make the bundles any size you want.
The bigger the bundle, the better the deal. You could, for example, offer five classes for $75. That is $15 per class. Then you could ask $195 for a bundle of 15 lessons, or $13 per lesson.
It follows then, that a single session is most expensive. With the example above, you could sell single tickets for $18. Common prices for single sessions are somewhere between $16 and $22.
Private Yoga Classes
In private yoga classes, you would be working one-on-one with an individual. There are many benefits to private yoga lessons, both for the student and the teacher. It allows the yoga instructor to pay more attention to the personal needs of the student and to use different tools.
Reasonable prices for individual yoga classes range from $30–70 for a single session. The range is quite large, as prices differ per area. Investigate what private yoga lessons cost in your area.
If you don't teach at a yoga studio but prefer to go to people's homes, you need to consider travel time and cost. This includes gas, parking, and vehicle use.
Semiprivate Yoga Lessons

Semiprivate yoga classes involve small groups of two or three persons. In most cases, these groups consist of friends or family members. That reduces the cost for the students by about 40% compared to private sessions.
Corporate Yoga
In this case, you have two options for how much to charge for a yoga class. You could use a flat rate for a session or you can charge per person.
If you go for the first option, your rate will be like the one you use for individual yoga classes. Still, this rate should be good compensation for your expenses and efforts in teaching yoga. That is the easiest because you don't need to bother with numbers.
If you prefer the second option, $5 is a common cost per person per session. Remember that you will be teaching large groups. Even if a company is the one paying for it, using this model could make the sessions very costly. You want people to return to you.
How to Offer Packages and Discounts
It is highly recommended to have pricing packages for your yoga practice. Do not only offer prices based on single sessions. You can offer packages in the form of memberships or multiple-class deals. You can also offer special promotions, bonuses for referrals, the first class for free, holiday specials, or anything you can think of.
Ask your clients what kind of packages they would like to have. Ask for feedback and try to think as if you were a client.
Here is an example of a real-life yoga studio price list:
Single private lesson: $70
A package of six private sessions: $400
That saves the students $20 and gives you cash you can count on.
Another package deal you could use is to give one class for free for every nine classes. That is a 10% discount. You can use any number of classes you like.
You can make anything work. It should benefit you and your customers.
Promotions
Besides standard deals, you should offer special promotions. Offering promotions does not make you look cheap. It keeps things vivid and fresh. Your website will look fresh and up to date if you feature special promotions on it.
Offering promotions allows you to stay in touch with clients and prospects. You can communicate with them through a blog, vlog, or newsletter. You can also spread flyers or have ads run in local newspapers. Try to target new clients and keep existing clients happy with even better deals.
Get more bookings with the right tool for the job
Staying organized has never been easier.
You can now manage your business and grow your brand with a single, powerful WordPress booking plugin that keeps all of your appointments in line, your clients organized and your business booming.
Amelia is perfect for business owners who need to streamline their booking experience both for their staff and their clients.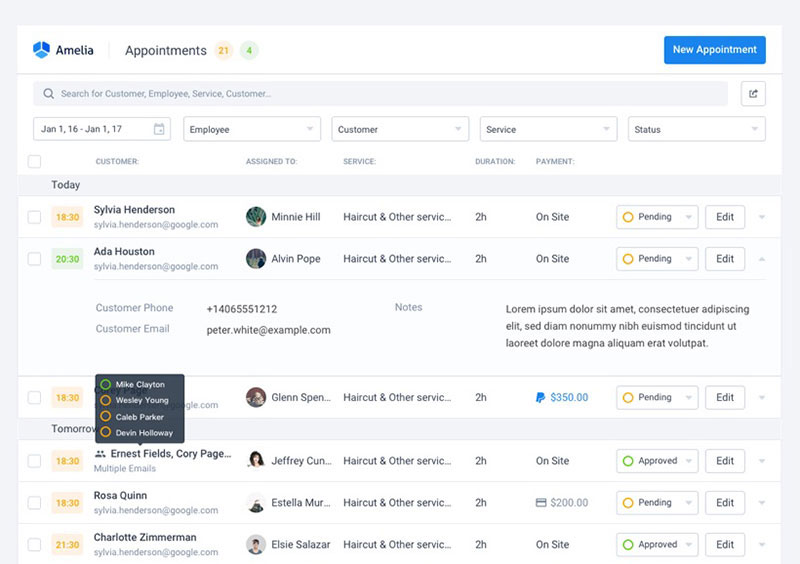 Amelia handles everything for you, even sending automated email or SMS reminders to your clients. No-shows? Not anymore!
The Amelia WordPress booking plugin adapts to different industries for a blissful online booking experience and employee management.
Want to know more? Check out Amelia's awesome features to see what you are missing.
Factors That Impact How Much You Can Charge as a Yoga Teacher
Above, you were able to read about the most important factors that affect how much you can charge as a yoga teacher. Below are some more important things to consider.
The Average Rate in the Area
The cost of living varies between different parts of the United States. This average cost of living impacts the price of yoga sessions and thus how much yoga instructors make. So, before setting yoga class prices, you need to do some investigating.
Ask around and see how much yoga classes cost in your area. You can ask about prices for private sessions and group yoga classes. You can also ask in different kinds of places, such as gyms, pilates centers, and specialized yoga schools. This will give you an idea of the prices of different wellness service providers.
Local Competition
Yoga is a very popular wellness activity, so, of course, there is a lot of competition. Often, that means that quality of service increases as well.
You do not have to be afraid of competition; it is not a bad thing. It gives you something to measure your own yoga practice against. You can compare your prices and quality with that of yoga businesses near you.
These are some questions you can ask when you compare your yoga classes with others:
What are yoga schools charging in my area for in-person classes?
What types of package deals do they offer?
What other services do these yoga teachers and schools offer?
Reputation and Experience
Many teachers start exploring yoga as a way to increase their personal well-being. Some have practiced yoga for many years and are able to share their experience with others in different ways.
Because they have found the benefits of yoga, many yoga instructors have developed a passion for it. The time they have invested in fine-tuning techniques benefit their students.
How Many People You Teach at a Time
Many yoga studios have a base rate for private lessons. Then they add on a certain amount per person for in-person group classes.
Imagine, for example, that you charge $50 per person per class. You could then add $15 for every extra person that wants to join. The students can then split the costs of the group yoga class.
That also avoids confusion, because what would you do if one person misses one class? Would you need to adjust the group yoga class? By using a pricing strategy like that, you keep things simple and transparent for everyone.
Extra Services and Resources
Most yoga studios only teach yoga. Some also offer other techniques that complement yoga or increase personal well-being in other ways. Some common yoga combinations are:
Community peace chants
Life coaching
Reflexology
Thai bodywork
These combinations are premium offers because they involve special skills and more experience. They also add value to the yoga lessons.
Also, when it comes to equipment, you can think of things like:
These things cost money too.
Studio Space
The infrastructure of your yoga studio makes a big difference. You are limited in how much you can ask for a yoga class if it's only a single room. If you have a lobby, several rooms, and changing facilities, you can ask for more money.
You need to factor in your rent or mortgage. A bigger place will cost more, and you will have to charge more for your yoga classes.
Demand
The last factor that determines how much to charge for a yoga class is demand. This is a consequence of the economic law of supply and demand.
If the demand is constant, then the price becomes a function of the supply. If there is a large supply and less demand for yoga classes, the prices will drop. If there is little supply, the prices will rise.
This principle is true for any situation where there are limited goods and services. Rarity makes a good or service more valuable to the customer, and demand increases.
Parting Thoughts on How Much to Charge for a Yoga Class
Determining how much to charge for a yoga class is a complicated matter. At first, it may be somewhat overwhelming. But your business won't stand or fall by one mistake. You can improve your pricing as you go.
If your group lessons are too busy, it is time to increase your prices. Remember that prices increase with demand. If you have few clients, be patient and invest in marketing. Let people know why your classes will benefit them.
Students will keep coming back if your services are good. Your prices will change with time but always make sure your classes are worth the money.
If you enjoyed reading this article about how much to charge for a yoga class, you should check out this one with yoga marketing ideas you could use.
We also wrote about other yoga-related subjects like starting a career in yoga, yoga colors to use in the studio, yoga franchises, teaching yoga without certification, yoga studio software, yoga studio owner salary (curious?).
We also have articles on yoga websites,  creating a yoga studio business plan, and how to start a yoga business.