Whether you own a successful yoga business or want to get started as a yoga teacher, a solid yoga marketing strategy is vital.
A good yoga marketing strategy helps a yoga business to grow. It attracts new clients and helps to retain old ones.
For a yoga company to thrive, it must offer top-quality yoga classes taught by professional instructors.
But, the need for an engaging advertising strategy cannot be over-emphasized. This is what will cause people to know your yoga studio exists.
Yoga Studio Marketing Tips To Grow Your Business
Successful yoga marketing ideas come from understanding the competition and the target audience. A marketing plan should focus on laying a foundation and setting goals.
This article is a compilation of yoga marketing tips for all types of yoga teachers. It also explains how to select the right strategy for your business.
Be Present In The Online/Digital Space
Today, digital marketing is one of the most powerful ways to reach yoga customers. Here are a few digital marketing ideas to try:
Create A Yoga Studio Website


Image source: Aryo Romadhon
In this digital age, a website is the online front door of a business. Your yoga website provides a space that you can use to influence potential customers.
Some advantages of a yoga website include:
It explains your yoga classes and other offerings to site visitors
It introduces the yoga teacher/ teachers
It educates people about yoga
It provides the yoga studio's contact information
Your website should have a simple but professional design. Visitors will be more likely to convert into sales if the site is easy to navigate.
And if you want that to happen, you can hire an on demand graphic design company that offers web design. Their designers can produce a compelling and high-converting website for your yoga studio.
Here are a few elements to consider including in your yoga website:
A responsive design
The studio's location details
A booking system
Social media links
Reviews and testimonials
Branding of your yoga business and products
A signup form for the email marketing list
Create And Strengthen Your Google Profile

With over 3.5 billion searches per day, Google handles more consumer traffic than any other search engine.
This gives Google almost a 91% share of the online search industry the world over. With figures like this, it makes sense to use this digital marketing tool.
When setting up your yoga studio's Google profile, ensure the information is correct, compelling, and complete. Be sure to include:
An attractive profile picture
The address of the studio
The hours of operation
A link to the website so visitors can see the complete yoga class schedule
Set up and rank for Google My Business. This is Google's map listing and review platform for geo-targeted searches.
This is a free listing, optimized by reviews from clients and by your descriptions.
Be sure to include an address as Google uses the location of the company to rank it for these kinds of searches. If the yoga company doesn't have a physical address, use a PO Box or home address.
Also, this isn't just a place to list your business. You can also add constant updates, offers, events. That way, you'll attract people to find your business. Keeping your account updated is also quite easy since you can build a weekly/monthly calendar and schedule your Google My Business posts in advance"
Take Advantage Of Content Marketing

Content such as blogs and articles are powerful yoga marketing tools. A great piece of content attracts the layman to your yoga classes.
Today, social media is the quickest way to spread any news. So, it makes sense for yoga studios to use this digital marketing medium.
A lot of websites offer content marketing ideas. But, exercise caution here.
Individual clients may not be interested in the same kind of content. So, vary the content by using:
Images
Podcasts
Blog posts
Email newsletters
Quizzes and polls
Video feeds
Never plaster promotions all over your feed. When posting content follow the 80-20 rule – it works!
This rule states that 20% of your content should promote your brand. While 80% should educate, entertain, and inform the audience.
This rule works because the 'hard sell' approach isn't effective online. People are only motivated to pay for products and services tied to engaging content.
You should also consider website content that never goes out of time. For this, check out the evergreen content definition and how you can implement it into your strategy.
Leverage Search Marketing

Most people will find your yoga studio website while doing yoga-related searches online. What can improve the chances of your yoga business appearing on a search results page?
Including keywords in your website increases the likelihood of it showing up in organic website listings.
Use a tool like Google keyword planner to find popular keywords related to the yoga industry. Then use these keywords across your entire website, including its sales and homepage.
Using Keyword Planner is a simple process that increases a website's rankings. Also, include anything the target audience might type when googling yoga classes.
Leverage Email Marketing
Tailored Emails

Like social media, email is used every day by most people. This makes email marketing an effective promotional idea.
Use email marketing software on your website to capture and store visitors' contact data. Choose marketing software that can also create a categorized database of email addresses.
Be careful not to send generic email content to contacts. Send emails tailored to subdivisions of the email contact list, such as:
Regular members
Dormant or former clients
Leads/ non-members
How can you encourage consumers to share their email addresses with you? Try using these methods:
Lead magnets, e.g. inviting users to sign up for free offers
Booking form inquiries
Newsletter sign-ups
Email A Weekly Newsletter

Email an exciting newsletter to contacts each week. Use it to tell people what's happening at the yoga studio in a fresh, interesting, and informative way.
Ensure the content offers value to your readers. For example, feature a yoga pose of the week and give tips on how to do it.
Here are a few things you could include in a newsletter:
Educational articles
Workshops
Upcoming special events
Blog posts
List of available classes
Also, include a spotlight feature to highlight your business. This could spotlight a different yoga teacher from the studio each week.
Long-time members may also grant permission to feature them in the newsletter. Ask them questions like how yoga boosts their well-being, and how your yoga studio has helped them.
Engage The Audience
Social Media Marketing

Social media is necessary for the success of a yoga marketing campaign. Each social media marketing platform has different purposes.
For example:
1. Instagram
Instagram focuses on grabbing attention through aesthetic posts. This makes it the perfect space for hosting yoga challenges.
2. Facebook
Facebook is a digital bulletin board for posting yoga tips, updates, and news. Your yoga business benefits from added exposure when followers share your posts.
3. LinkedIn
LinkedIn focuses on informative, in-depth, and professional posts.
To get started, figure out what types of content do well in each social space. Do this by checking out the performance of competitors' posts.
A competitor with a large following in one social space isn't always successful on other platforms. So, find out which platforms each of your competitors has the most success on.
This way it's possible to see what works and what doesn't.
Be sure to post content daily. Consistency is key in social media marketing.
You can post engaging content, such as:
Yoga events
Inspirational quotes
Images from yoga classes
Ask Members For Reviews/ Testimonials

Reviews act as a form of word-of-mouth marketing for your wellness business. It reassures prospective students that they too will have a positive experience.
Reviews help build a positive identity for a business. Before purchasing items or making bookings people often read reviews to get an idea of what to expect.
Positive reviews impact the life of a wellness business.
So ask returning customers for reviews to share with your online followers. Build review profiles on platforms like Pinterest, Instagram, LinkedIn, etc.
Build up a review profile on one social platform at a time. Be sure to respond daily to posts made on the profile so that people feel you are available and responsive.
If you receive negative feedback, deal with it in an empathetic and transparent way.
Pay For Online Advertising
Leverage Pay-Per-Click Ad Marketing
Use auction-based advertising systems, like Bing Ads and Google Adwords. These display your yoga studio's ad at the top of search results.
It's also possible to choose the ad copy and the page it will redirect visitors to.
Instagram & Facebook Ads

Run paid social media ads on Facebook and Instagram.
To get set up, use the Facebook ads manager system. It's easy to use, even for those with very little marketing skill.
It displays your yoga ad to the preferred target market. It does this by letting you key in the demographic characteristics.
For example:
Gender
Interests
Age
Location 
Connect With The Community
Offer Creative Classes
Host creative yoga classes that will generate a buzz throughout the neighborhood. Make it fun so that even a yoga teacher would enjoy participating.
Here are a few ideas:
1. Glow yoga

Glow yoga helps create an active atmosphere.
Teachers and students apply glow-in-the-dark paint to parts of their bodies and put glow sticks on their ankles and wrists. Then, the fun begins as the yoga instructor and a DJ help students along.
2. Cat Yoga

Cats can help improve the mood of Their graceful nature and soft purr help to create a relaxing atmosphere.
Students will find therapeutic relief in mixing yoga and a furry friend.
3. Eco yoga

Take your yoga class outside so that students can breathe alongside nature.
This slows things down and creates an environment of stillness and mindfulness. The local neighborhood park is a great location if the weather permits.
4. Goal-themed classes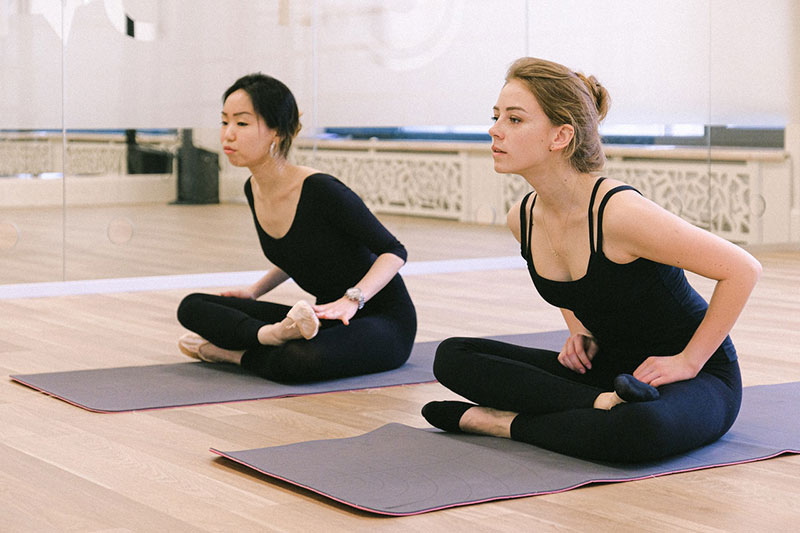 Start with one yoga class per theme and expand based on attendance.
Choose themes based on the objective of the classes. For instance, yoga to support mental health or yoga for lower back pain relief.
Host Local Events

Host exciting local events to attract new students. This will also generate positive attention for your yoga studio.
Invite celebrity yoga instructors to teach a class. This adds to the studio's credibility and entices future clients.
Try to develop a love for yoga in the community by educating them through weekend yoga workshops and meditation sessions. Invite motivational or famous yogis to:
Lead meditation sessions
Teach mindfulness practices
Share their triumphs and self-healing stories
For these events create a unique hashtag. Encourage attendees to use it when posting pictures from the event on social media.
Consider giving out deals, free merchandise, and swag. This will excite students and attract new business. 
Consider Brand Partnerships

Partner with non-competing local businesses to promote and cross-sell each other's offerings. Do this through package deals, competitions that promote both businesses, and partnered events.
Partnered events multiply the marketing efforts of the brands involved. This can be done by hosting:
Classes tied to a charitable fundraiser
A partnership between your yoga studio and a local space you love
A free class or demonstration at a wellness-themed event
Partnering with athletic stores that sell yoga wear is also another great way to publicize your studio. Be sure to only partner with businesses and products you trust and support.
Ending thoughts on yoga marketing ideas that will boost your studio
Yoga marketing requires patient effort to get you where you want to be. Remember authenticity sells too.
So, stay true to your wellness brand and grow your yoga business. Ensure the marketing efforts add value to the business.
The marketing ideas in this article can help to capture the target audience. So, use these tips to boost your business marketing strategy.
These aren't the only yoga marketing ideas available. But, they will help attract new students and secure your yoga brand within the community.
Get more bookings with the right tool for the job
Staying organized has never been easier.
You can now manage your business and grow your brand with a single, powerful WordPress booking plugin that keeps all of your appointments in line, your clients organized and your business booming.
Amelia is perfect for business owners who need to streamline their booking experience both for their staff and their clients.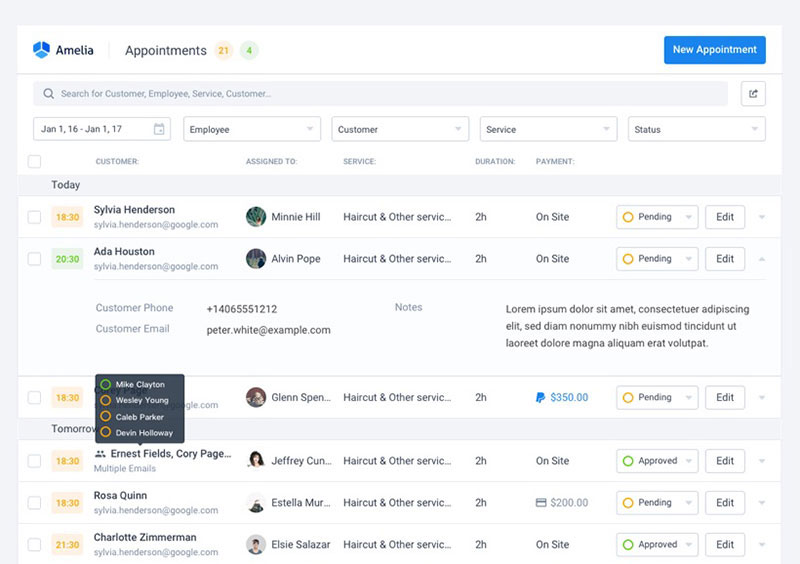 Amelia handles everything for you, even sending automated email or SMS reminders to your clients. No-shows? Not anymore!
The Amelia WordPress booking plugin adapts to different industries for a blissful online booking experience and employee management.
Want to know more? Check out Amelia's awesome features to see what you are missing.
If you enjoyed reading this article on yoga marketing, you should check out this one with yoga business names.
We also wrote about other yoga-related subjects like starting a career in yoga, yoga colors to use in the studio, yoga franchises, teaching yoga without certification, yoga studio software, yoga studio owner salary (curious?).
We also have articles on yoga websites,  creating a yoga studio business plan, and how to start a yoga business.