Do you want to start a yoga studio? If so, you will need a yoga studio business plan.
Business planning is a key to success in any industry. It is a framework that outlines business targets and sales and marketing projections.
A yoga studio business plan identifies strengths and weaknesses within the business.
A yoga studio business plan template is a predesigned plan of action. The business owner follows this plan from the first year onward.
The plan outlines:
Marketing ideas to bring in clients
The style of yoga offered
Additional products and services
Projected yearly profits
The target market, etc.
Writing A Yoga Business Plan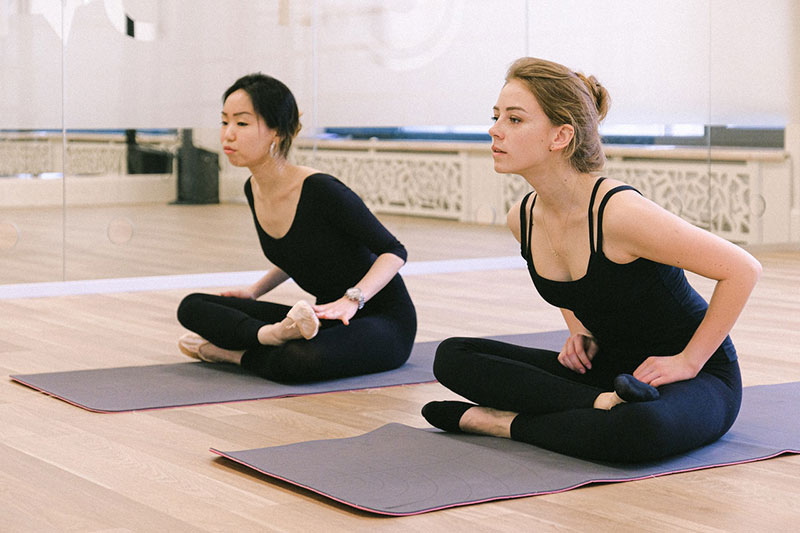 Writing a yoga studio business plan requires patience and an eye for detail. All members of the team should have a voice, as each person's input is a reflection of the yoga studio.
This will ensure all bases are covered, leading to a better business plan. This article examines the essential elements of a yoga studio business plan.
Market Research
Do market research before opening a yoga studio. Studio owners can thus discover elements that will make their studio better than the competition.
Include this information in the yoga studio business plan.
Competition Analysis: What To Look For
Competitor analysis is important, especially when it comes to pricing and finding the right location to host yoga classes. When searching for market information look for things like:
The projected growth of the yoga industry in your area
Current best practices used by most studios
Gaps in the market that your yoga business could fill
Upcoming trends that can make your studio stand out
What the competition is doing, but you think you can do better
Remaining Relevant
Market research helps to give studio owners a competitive advantage in the industry. This step in a yoga studio business plan never ends.
To remain relevant, use studio management software and continue to do research. Also, try to answer these questions year after year:
What am I looking for from my company?
What kind of yoga studio business do I want to run?
More importantly, what kind of yoga studio does the target audience want?
Who is the primary target audience?
How can I offer something different from my competitors?
What kind of yoga studio is missing in the area?
Are clients interested in that style?
Can I offer a range of yoga styles to attract a wider audience?
Will there be enough interested clients to make doing this sustainable?
Should I stick to one yoga style to reach a niche audience?
To decide what type of yoga and branded products to offer, follow these market research methods.
Mystery Shopping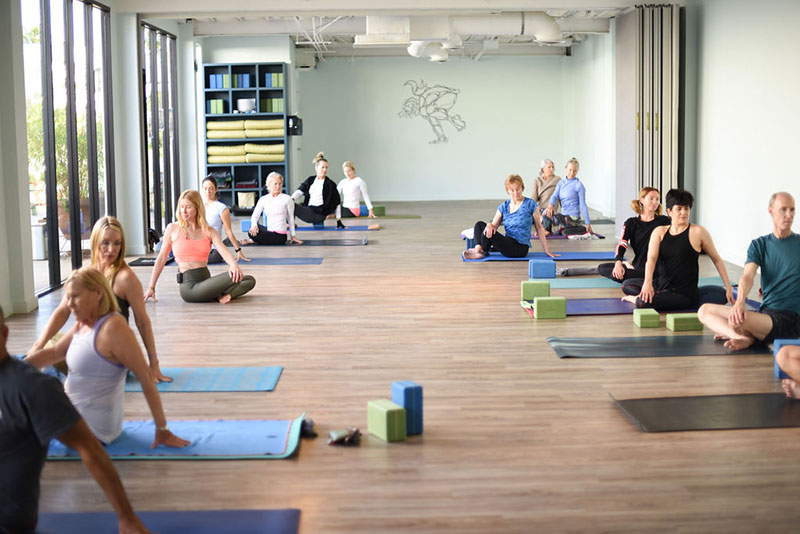 Check out the competition. If there's a yoga studio or a yoga teacher in the area check them out.
Are they teaching similar yoga styles? Learn more about them by stopping by their studio.
This will provide insight into what can set your business apart.
Social Media & Online Reviews
Check out the digital reviews that competitors have gotten. Check platforms that you would use if you were a customer searching for a yoga teacher.
For instance, check reviews using online platforms like:
Google
Facebook
Trustpilot
Do a SWOT Analysis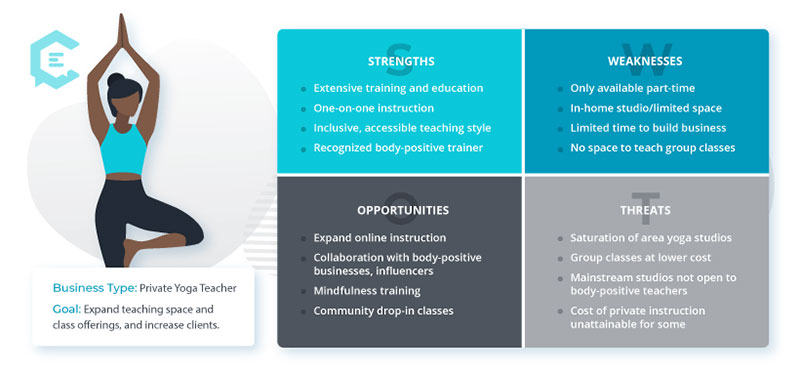 A SWOT analysis is the best way to thoroughly research the competition. SWOT means:
S for Strengths
W for Weaknesses
O for Opportunities
T for Threats
Executive Summary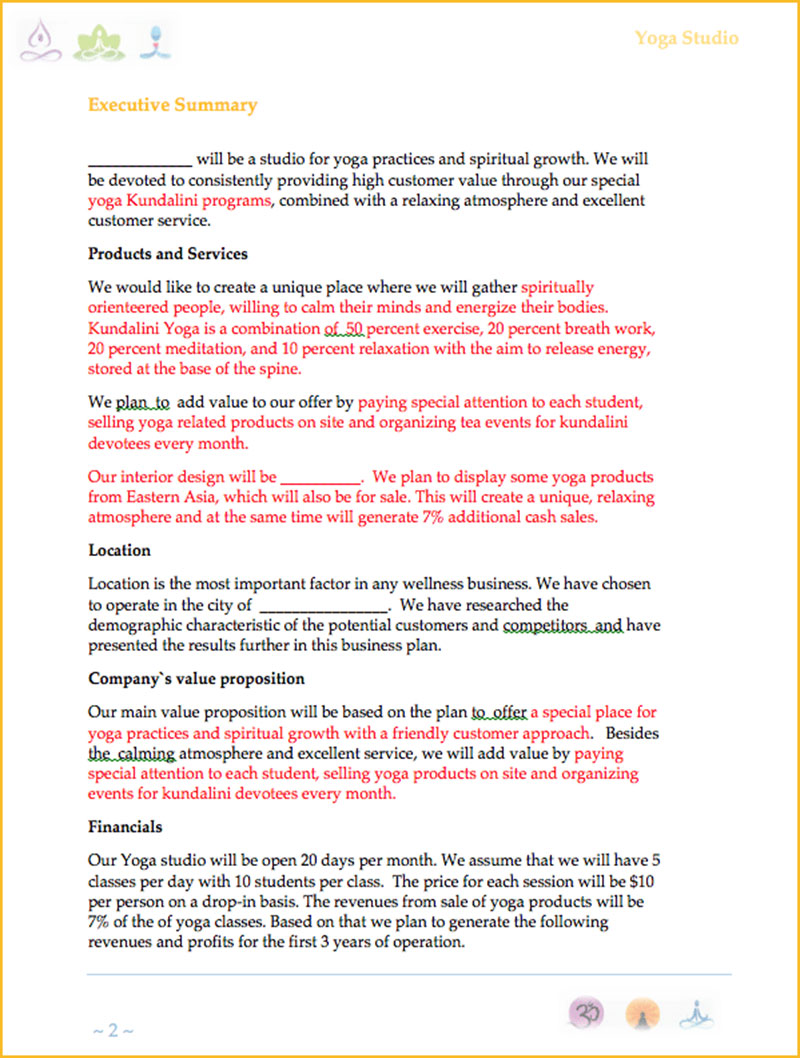 An executive summary is an important part of a yoga studio business plan. It highlights your yoga studio and tells people what makes the business unique.
It helps to set the foundation by listing the major elements of your yoga studio business plan.
The summary gets potential investors interested in your yoga studio. It makes them want to read the rest of the business plan.
It helps to solidify, organize, and pitch your ideas to the reader. The executive summary includes:
Your reason for teaching yoga
The types of yoga you plan to offer
How your yoga studio differs from others
The definition of the ideal customer base/ Target market
How the yoga studio benefits the community
The projected success of the business
Branded goods and extra services you plan to offer
After you've written the plan, information for the executive summary becomes identifiable. This is because the executive summary is a highlight of the rest of the business plan.
Describe Your Yoga Company
Detail how the company got started and how long it's been in operation. Include in this description details on:
The type or types of yoga your studio offers
Additional services offered by the yoga studio
How your services are unique
Detailing this information outlines your competitive advantage and the company's core elements. It identifies the benefits your business will bring, e.g. improved health of the community.
It identifies who the main students are. For example, local community members who are health conscious.
When writing the company description seek to answer these questions:
What makes my yoga studio different from the competition?
How many years of experience and training do I have?
Is the yoga studio located in a convenient or populated location?
Does the yoga studio offer training workshops or teacher certifications?
Does the business have a unique vibe or offer member benefits?
Who are the officers that hold key positions in my yoga business?
Be sure to include the company's goals and add details about the management team.
Products & Services Offered By Your Yoga Studio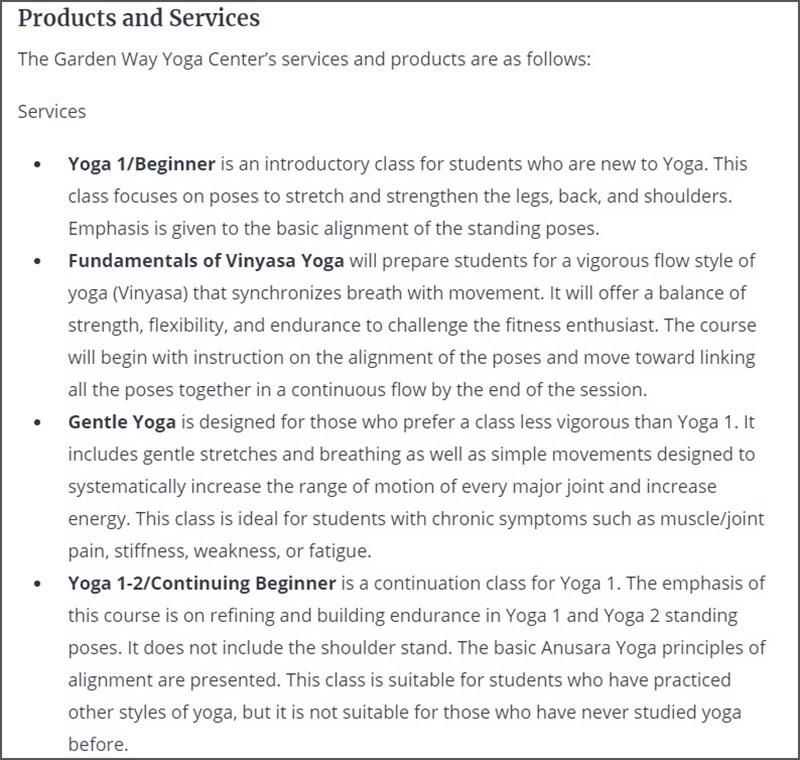 This is the fun part for many yoga instructors. It's a full description of all that their studio offers and how they serve people.
Ensure that the yoga studio business plan doesn't seem generic as this makes it hard for an investor to read it. For instance, adjust a 'Bikram yoga studio' business plan template to personalize the services offered.
Specify the type of classes taught. State whether there are classes for different fitness levels or age groups.
For example, the target market might be 'affluent women'. So specify whether there are classes for subgroups, like:
Pregnant women
Yoga poses for two
In this section of the yoga studio business plan be sure to include anything that brings in revenue.
Will the studio be selling additional products? If yes, include these.
Think about all of the possible sales touchpoints of your yoga business. Describe the studio's sales cycle, how a client journeys from discovery to membership.
Here are some relevant elements to include in this section of your yoga studio business plan:
1.The type of yoga practice/ fitness business
This may include Hatha, Vinyasa, Bikram, or a mix of styles
2. Yoga class name based on its purpose, for example:
Teacher Training
Series Class
Intensive
Retreat
Workshop
Be sure to include details about the activities planned for retreats and training workshops.
3. How students book classes
Include details about how clients can book classes. For example, do they rent a yoga mat to reserve a space for a session?
4. What items you will sell
Specify what branded or general merchandise you will sell.
5. How your yoga studio collects revenue
Include all activities that will help make a profit – even if it's renting out lockers.
6. Patents and licensing
Tell whether you are using a trademarked style of yoga or a form you created and want to license. 
Customer Analysis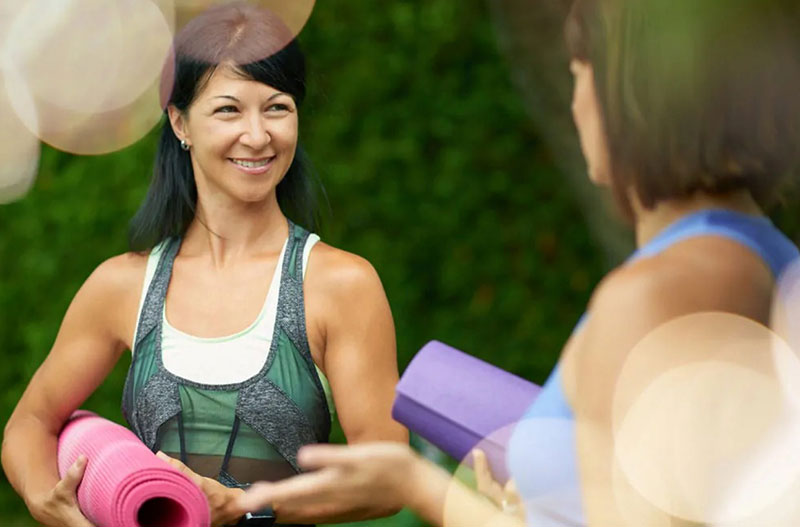 Customer analysis is an important part of a yoga studio business plan. It helps you discover people's interest level in yoga.
It shows which classes they prefer, their available times, and their reason for doing yoga. Analyzing potential customers impacts sales and the growth of your yoga business.
Confirm People's Interest In Yoga
Be sure to verify that people in the planned area of operation have an interest in yoga. Analyzing the potential client base highlights what people want from a yoga business.
By doing customer analysis early in the business plan, one can discover what will motivate students to attend your yoga classes. This information can help to build your yoga business around their needs.
Determine The Target Audience
Once familiar with the general audience in the area, determine the target audience. Identify the types of people you want to market the yoga studio to.
Focus on their location, age demographic, occupation, and any challenges they may face. Think about the type of student that you want to attract, as this will impact the yearly profit.
Tailor Your Services
Plan how to market your yoga studio to the target audience. To reach a wider audience, you could offer a range of classes.
Otherwise, tailor the classes to a more niche audience.
For example, if operating in a college town, tailor classes to suit younger members. Whereas, within the retirement community, offer more restorative/gentle yoga styles.
Here are a few tips for carrying out customer analysis:
1. Identify current or potential customers
To gain insight, get as many details as possible about what current and potential customers want. Split them into sub-groups according to their similarities, like:
Age
Income
Traits
Education
Motivations 
2. Identify the needs of each customer group
The information acquired in step one will give insight into this
3. Identify how your yoga studio business meets the needs of each customer group
Think about what you can do to meet their needs. What added products and services you can offer.
Marketing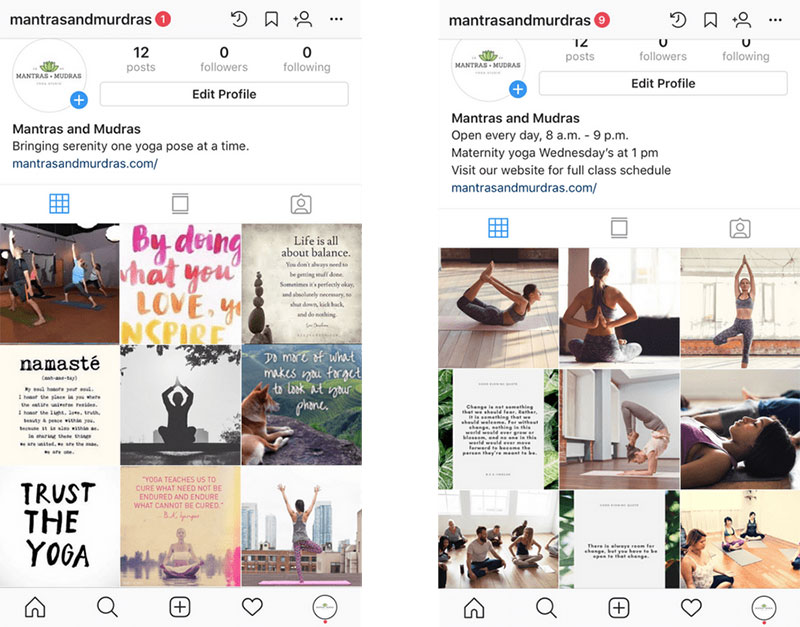 This step of a yoga studio business plan template outlines how you will attract customers and promote the yoga studio. This is important as a yoga studio will not survive if people don't know about it.
Depending on resources and available time, there are a variety of marketing methods to attract new business. These include:
Building a social media following
Sponsored social media ads
Content marketing (blogs & videos)
Hosting local community events
Word of mouth
Partnership with similar non-competing businesses
Today, almost everyone is plugged in digitally. So, it makes sense to use this free advertising space to reach people.
Use creative posts to capture their attention. Engage them by uploading a regular stream of fresh content. 
Sales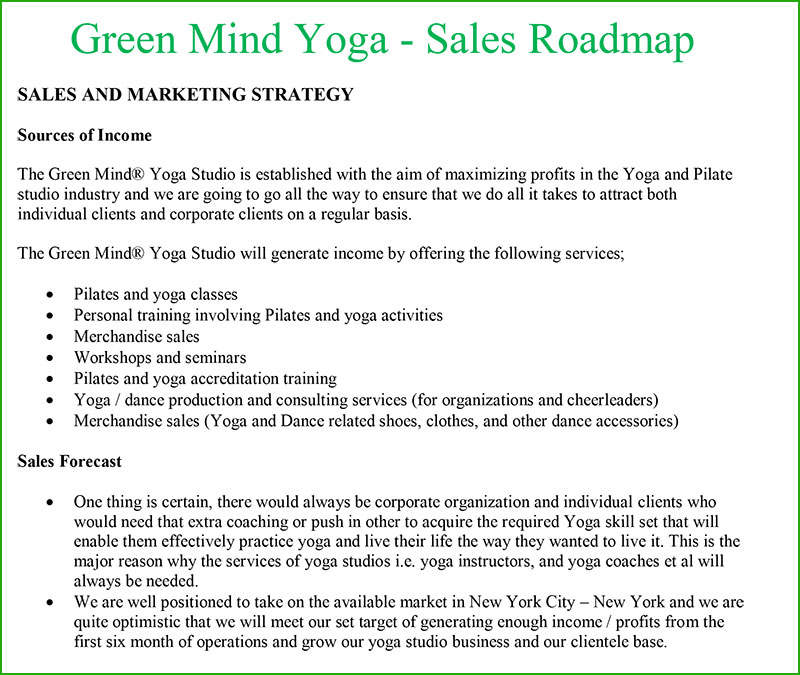 If seeking funding from an investor, the yoga studio business plan template needs details about the sales journey.
Creating a sales roadmap is useful even if the yoga studio business plan is for personal use. It should include:
How customers discover your yoga studio business
How they enquire about your yoga business
Your Business's sales points
This has to do with how customers can book classes and buy products. For example, through Facebook, Instagram, a website, in-person, or via your branded app.
What you plan to do to ensure customers return
This has to do with what you will do to turn a customer into a lifelong member.
Pricing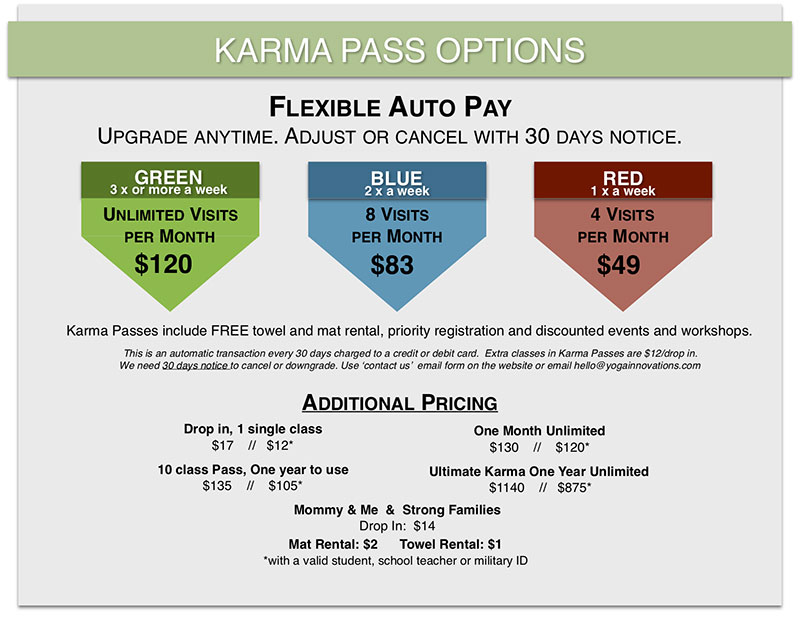 The cost structure of the business plan depends on marketing and business location. Is the yoga studio located in a more affluent area?
What is the volume of customers that the marketing strategy pulls in? Do you operate in a space with little to no competition?
All of these are factors that help determine your prices.
There are two pricing options. A per class/ per session rate and a membership rate.
The per class/session rate is a flexible option for the students. But, a membership package is an effective strategy to ensure client retention.
A New Strategy
It's possible to form a new strategy by incorporating both options. This can be done in two ways:
Offer a discounted rate for booking classes in bulk
Offer a discount incentive for committing to membership
Restricting customers to one pricing option could lead them to abandon your studio.
Some may prefer the flexibility of a per session cost. Others may prefer the lower rate of a membership/ loyalty package.
But, combining the advantages of both may prove to be the most profitable move. 
Funding And Financial Projections
The final part of a yoga studio business plan focuses on funding and financial projections.
Writing a financial outline helps to manage spending. It further convinces investors to fund your business.
This is the heart of your yoga studio business plan. Every other section of the business plan relies on this solid financial outline of projected costs and revenue.
In terms of costs, make a 5-year timeline of the financial obligations. This should include the following elements.
Costs Associated With Starting A Yoga Studio
The start-up costs associated with a yoga business include:
Licensing fees
To verify which licenses you need, check out the local yoga studio regulations in your area.
Decor
This includes equipment expenses, etc.
Signage
Marketing
Sales inventory
Hardware & Software
Fixed Costs Associated With The Business Plan
These include:
Rent deposits
Employee salaries
A security system
Access control
Variable Costs
These include: 
Future advertising
Inventory restocking
Miscellaneous expenses
Another important aspect of a yoga studio business plan is the revenue projections. This is a prediction of the amount of cash the business will make monthly or yearly.
This forecast of earnings helps to calculate the cash needed to keep the business afloat.
With information about the expenses and income, you will be able to create a cash flow statement. Cash flow statements keep track of monies flowing in and out of the business.
This will help to measure the success of the yoga studio.
Yoga Studio Business Plan Templates
Here are a few examples of a yoga studio business plan template: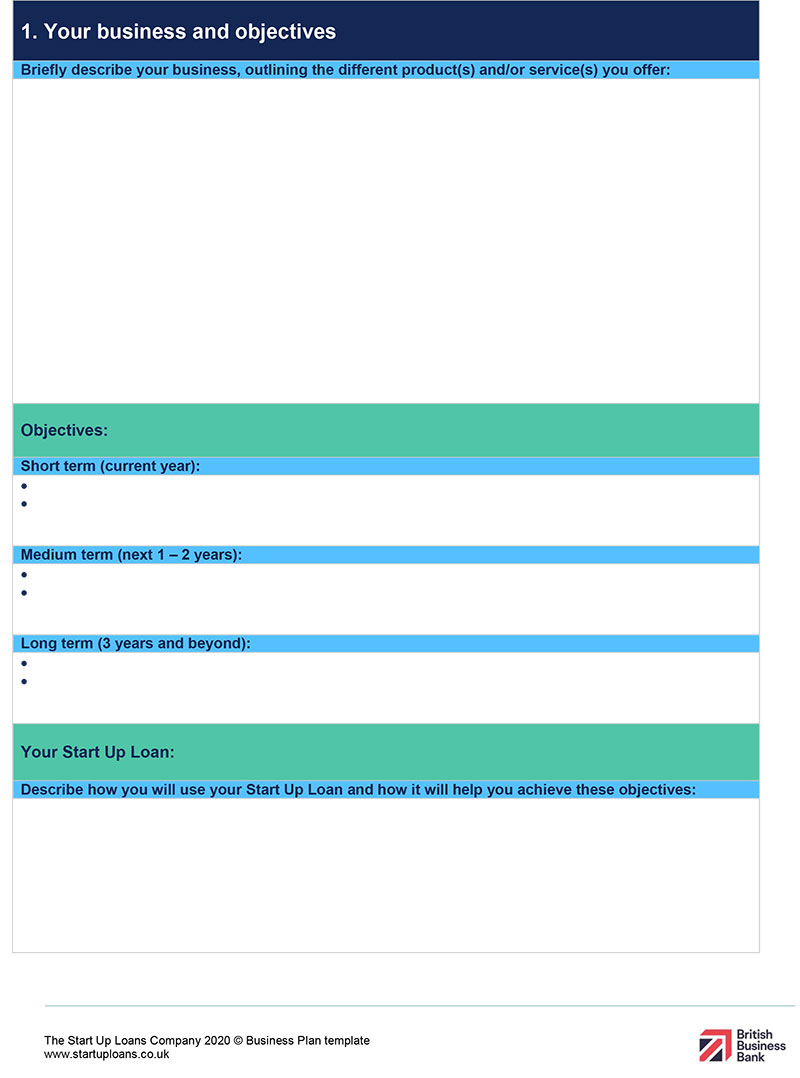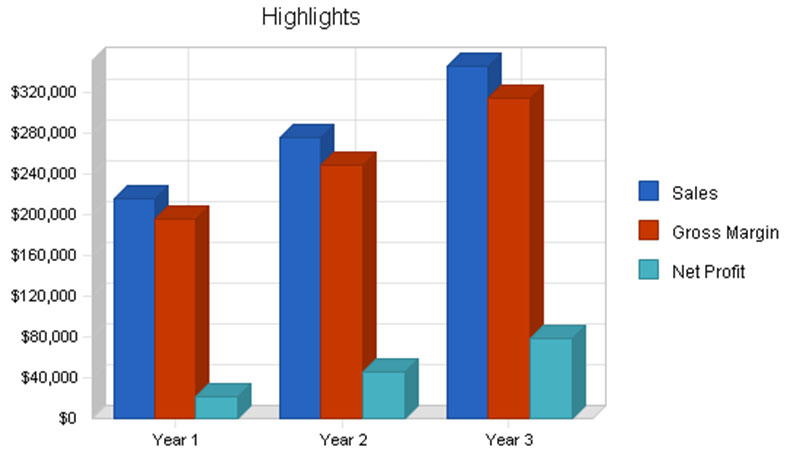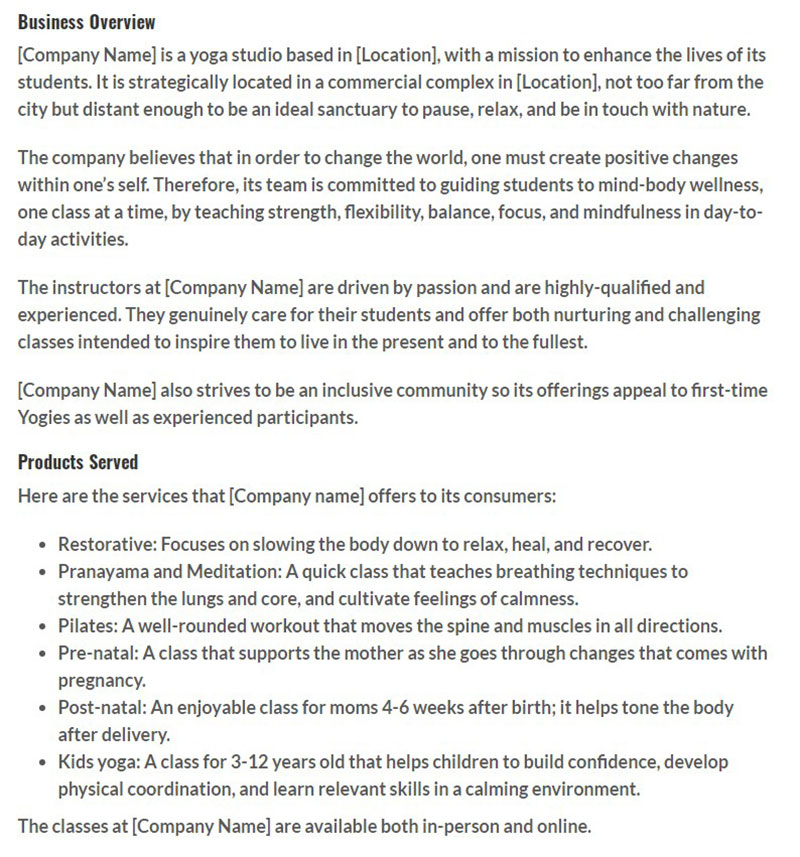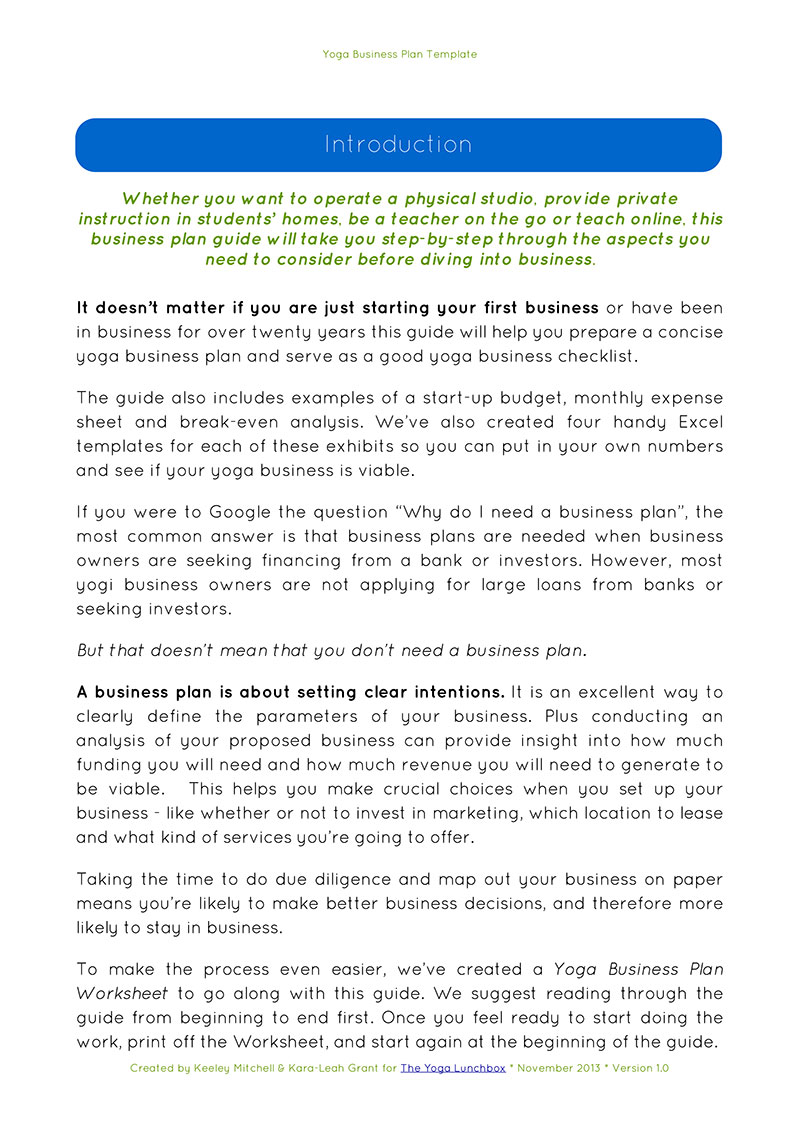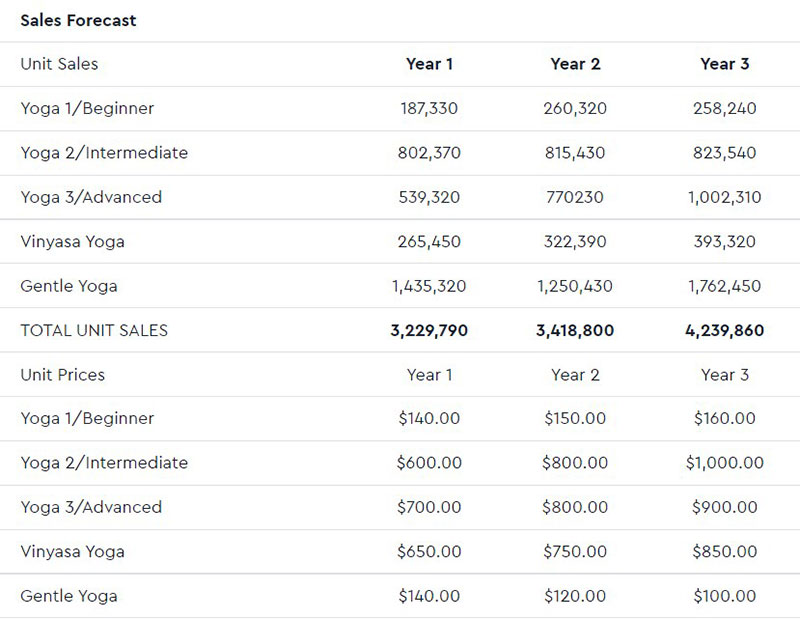 Ending thoughts on how to write a yoga studio business plan
A yoga studio business plan contributes to the success of your business. It tells clients the purpose of your business, the products/ services you offer, and why.
A yoga studio business plan will help to discover what works and what doesn't. This will empower studio owners to set innovative goals and make changes as needed.
Running a business has its ups and downs. So, one must expect that things won't always go according to plan.
Stay positive and don't give up. Try to be flexible and do what you can to improve the situation.
When things start going well stay humble and enjoy the fruits of your labor. If you formulate a business plan and remain flexible, your yoga business will be a success.
Now that you know how to write a yoga studio business plan, don't hesitate. Go ahead and write your own business plan or use one of the templates in this selection.
Get more bookings with the right tool for the job
Staying organized has never been easier.
You can now manage your business and grow your brand with a single, powerful WordPress booking plugin that keeps all of your appointments in line, your clients organized and your business booming.
Amelia is perfect for business owners who need to streamline their booking experience both for their staff and their clients.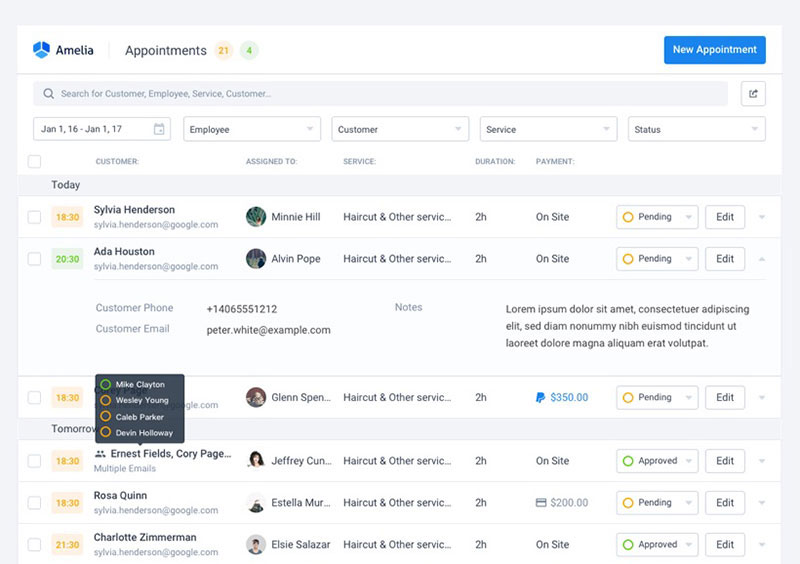 Amelia handles everything for you, even sending automated email or SMS reminders to your clients. No-shows? Not anymore!
The Amelia WordPress booking plugin adapts to different industries for a blissful online booking experience and employee management.
Want to know more? Check out Amelia's awesome features to see what you are missing.
If you enjoyed reading this article on creating a yoga studio business plan, you should check out this one with yoga business names.
We also wrote about other yoga-related subjects like starting a career in yoga, yoga colors to use in the studio, yoga franchises, teaching yoga without certification, yoga studio software, yoga studio owner salary (curious?), and yoga marketing ideas you could use
We also have articles on yoga websites,  and how to start a yoga business.