The yoga industry has experienced a huge amount of growth worldwide in the last few years. This growth is due to the health awareness created by the yoga community.
More and more people have become health-conscious and are starting to practice yoga. Yoga studio owners enjoy their work because their platform helps people get healthy.
Yoga helps people improve their self-esteem, their confidence, and their well-being. It creates a positive impact on the community and gives yoga instructors and studio owners a purpose.
As a result, yoga enthusiasts want to be part of this positive trend. Due to the growth of the industry, entrepreneurs and investors also want a piece of the action.
For entrepreneurs or enthusiasts, there are two ways to start a yoga studio business.
The first way is to create a yoga studio from scratch. The second way is to buy a yoga franchise.
There are advantages and disadvantages to both these options. This article will discuss the essential information about yoga franchises.
Yoga Studio Franchise Essentials
Here are a few things to keep in mind when considering a yoga studio franchise:
A yoga studio franchise requires a high license fee.
It can cost between $5,000 up to $30,000. This is apart from the initial franchise fee.
Franchises have spending requirements.
These are for marketing budgets, instructors, leaseholds, interior design, and recurring fees.
The person who purchases a franchise makes a monetary commitment to the franchiser.
Benefits of Yoga Franchises

The biggest benefit of a yoga franchise is that one is buying a business that is already successful.
Starting a business is risky. It means creating a brand, reputation, and customer base.
It also means writing a business model, mission statements, vision statements, and more. A franchise provides an already successful business model.
Another benefit is that the brand may already be well-known in the community. So a franchise owner does not have to work so hard to get recognition and build up a client base.
The third benefit to a franchise is that some provide marketing and financing support. Franchises often advertise to promote the overall brand.
In these advertisements, they include a list of locations. In this way, the franchise supports your business and takes on advertising costs.
Also, a franchise might offer financing options. So potential franchisees do not have to secure a loan from a bank.
To summarize, the benefits of yoga franchises are:
They provide a successful business model
They have an established brand and customer base
They provide marketing support and financing options
For those who want to buy a yoga studio franchise, here is a list of some of the best franchises available:
Top Yoga Franchises
Arhanta Yoga

Arhanta Yoga is a great franchise for yoga instructors that lack business experience. With this franchise, they'll have their own studio and receive full business training.
This franchise uses a proven business model. Yoga teachers can benefit from the business assistance provided by this franchise.
It teaches them how to be successful in the business world. It also helps them to plan weekly schedules.
Honor Yoga Studio

Honor Yoga is looking for new franchise units across the United States. Honor Yoga Studio is dedicated to providing yoga and meditation classes.
Honor Yoga has relationships with third-party sources that offer financing options. With these relationships they can help franchisees get financing to pay for:
the franchise fee
startup costs
equipment
inventory
accounts
payroll
Purchasing this franchise will provide a plethora of support options. For example, buyers will receive 10 hours of on-the-job training and 20 hours of classroom training.
The following support options are also provided:
Purchasing Co-ops
Newsletter
Meetings/Conventions
Toll-Free Line
Grand Opening
Online Support
Security/Safety Procedures
Field Operations
Site Selection
Proprietary Software
Franchisee Intranet Platform
Marketing Support
Co-op Advertising
Ad Templates
Regional Advertising
Social media
SEO
Website development
Email marketing
YogaFit Studios

YogaFit Studios is a franchise that strives to stand out from the competition.
Its parent company is Lift Brands. Lift Brands also owns Snap Fitness, Steele Fitness, and other fitness brands.
YogaFit Studios is open 24 hours a day. It also offers virtual and on-demand classes.
This franchise is geared towards people who are busy and need to fit yoga into their schedules.
CorePower Yoga Franchise

CorePower Yoga Franchise has more than 100 yoga studios in the United States. It has the goal of opening 10 to 15 new yoga studios every year.
In 2002, Trevor Tice founded the company in Colorado. Denver, Colorado remains its base to this day.
CorePower Yoga is a full-range yoga education and training company. Its core values include awareness and wide accessibility.
It helps people combine intense physical exercise with the mindfulness of yoga. This can bring about life-changing results.
CorePower Yoga caters to both beginner and experienced yogis. It offers consistent and high-quality customer service.
Its studios feature intimate spaces ideal for yoga instruction. This franchise chain has become known for its high standards of yoga instruction.
This franchise offers:
teacher training
yogi training
weight management
a line of retail yoga gear and lifestyle products
Yoga Pod

Yoga Pod is a network of yoga studios in the United States that hosts hundreds of students. It is a fast-growing franchise with dozens of new locations opening every year.
Yoga Pod is a good opportunity for entrepreneurs who can invest a large amount of money. Buying this franchise means becoming part of a yoga community under the Yoga Pod brand.
YogaSix

As the name suggests, YogaSix offers six fitness yoga classes. YogaSix customers enjoy a fitness workout mixed with yoga poses.
The six classes they offer are:
1. Y6 101
This class is for beginners.
2. Y6 Stretch
This class focuses on floor postures to stretch major muscle groups.
3. Y6 Slow Flow
This class goes at a slower pace to help new ones gain confidence in yoga exercises. It also helps advanced yogis refine fundamental yoga poses.
4. Y6 Hot
This class gets students sweating to detox and invigorate them.
5. Y6 Power
This is a full-body yoga workout.
6. Y6 Sculpt and Flow
This sixth class starts with a yoga warm-up. Then it goes into a cross-training workout using bands, dumbbells, and bodyweight exercises.
It ends with a yoga cool down.
Club Pilates

Club Pilates is one of the largest pilates studios in the world. It is also one of the largest franchised fitness brands.
It has over 600 locations open worldwide.
Reasons to purchase this franchise include:
Strong brand presence: This brand name is known almost worldwide.
High investment return: The franchise has a low entry cost and a recurring revenue model. It also has good profit margins.
Experienced team: Franchisees get help from a company with decades of experience in fitness marketing.
Executive Model: This franchise provides a scalable business model. Franchisees leverage development costs and national vendor relationships to open a studio successfully.
Hotpod Yoga

Hotpod Yoga invented the revolutionary yoga-in-a-balloon practice. This practice is when students do yoga workouts in a hot environment with sensory lights.
Each balloon has enough space for 5-10 students to exercise. Each yoga studio can have more than one balloon.
This niche of yoga stands out from the competition. It attracts clients that want to practice yoga in an uncommon setting.
It presents a unique earning opportunity for investors because they can charge more for a yoga class.
Hotpod Yoga gives franchisees their business model and patented technology for a reasonable license fee. It also allows franchisees to add personal touches to their yoga studios.
Ending thoughts on these yoga franchises
There is a steady increase in yoga clients and yoga franchises. This means that there are more opportunities for starting a yoga business.
Is purchasing a yoga franchise the best way to go?
Both purchasing a franchise and creating a yoga brand from scratch take a lot of work. So the answer depends on whether one prefers to start a yoga studio from scratch or wants the support of an existing company.
Although a franchise does take a cut of revenue, it also offers needed business tools. Purchasing a franchise provides a tried, tested, and proven business model.
It provides access to a wealth of resources and useful information. These tools make starting a business easier.
Whether purchasing a yoga franchise or not, may you have success in your yoga business adventures.
Get more bookings with the right tool for the job
Staying organized has never been easier.
You can now manage your business and grow your brand with a single, powerful WordPress booking plugin that keeps all of your appointments in line, your clients organized and your business booming.
Amelia is perfect for business owners who need to streamline their booking experience both for their staff and their clients.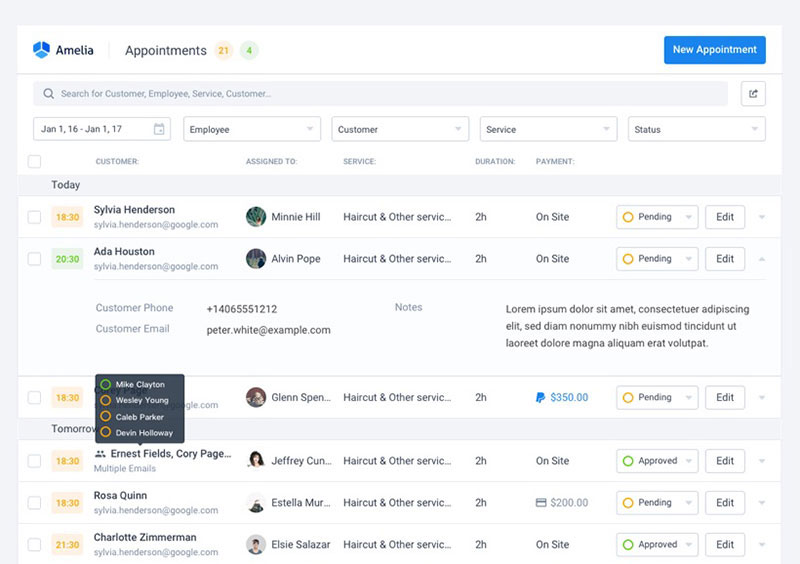 Amelia handles everything for you, even sending automated email or SMS reminders to your clients. No-shows? Not anymore!
The Amelia WordPress booking plugin adapts to different industries for a blissful online booking experience and employee management.
Want to know more? Check out Amelia's awesome features to see what you are missing.
If you enjoyed reading this article on yoga franchises, you should check out this one with yoga business names.
We also wrote about other yoga-related subjects like starting a career in yoga, yoga colors to use in the studio, teaching yoga without certification, yoga studio software, yoga studio owner salary (curious?), and yoga marketing ideas you could use
We also have articles on yoga websites,  creating a yoga studio business plan, and how to start a yoga business.