The events industry has to be one of the most flexible lines of work. It must adapt to trends, fashions, budgets, themes, and other limitless criteria.
Thus, professionals must keep up to date with current event statistics. It is the only way to make informed and reliable decisions. Yet, despite its importance, this is a tedious and time-consuming task.
Below, you will find the top statistics for the event industry. Get to know the recent numbers for each event format. Then, explore the figures for different subjects within the industry.
There is no need for you to spend countless hours researching the latest data. With this information, you can anticipate trends for the upcoming year. You will plan your most successful events yet.
Top Statistics for the Event Industry
Here are the top event planning industry statistics to give you a proper understanding of needs and trends for the upcoming year.
General Statistics
In November 2021, Research Dive published a study stating that the global event industry would produce a revenue of $1,457.2 million by 2028. They also evaluated the rise of its Compound Annual Growth Rate (CAGR) at 23.1% between 2021 and 2028.
Analyses also revealed some data about the type of events held. Internal team meetings and training represent a large share of events planned worldwide.
They had a stake of 19% in Europe, Central and South America, and 16% in the Asia-Pacific region. Additionally, 17% of the North American market made them the most common meeting activity in 2020.
Additionally, calculations from 2021 place the virtual event industry worth at the $114.12 billion mark. At the time, statisticians calculated that between 2022 and 2030, its CAGR should come to 21.4%. This branch of the events industry will grow the fastest in the Asia-Pacific region, achieving a CAGR of 13.3%.
Event Planning Statistics
In 2014, business-to-business (B2B) companies had an event planning period of about five to eight weeks. Obtaining event sponsorship and reaching new attendees are growing difficulties.
Indeed, 90% of B2B event organizers claim those are their top challenges. Thus, 80% of event marketers seek to offer their clients more ambitious and significant occasions.
Aside from that, mid-tier venues have remained the most favored choice for B2B events. Despite the decrease in numbers, they still make up about 37% of these events, with untraditional venues following at 16.8%.
Events Attendance Statistics
Attendee engagement is critical for businesses to prevail. So event planning industry analysis has determined its most conducive motives.
82% of those attending business events state their top priority is networking. They present learning as the next main drive, at 71%.
The third reason to be present on these occasions is entertainment (38%), followed by self-improvement (37%). As a final motivation source, 16% of attendees point to time out of the workplace.
Statistics by Type of Event
In-person Events Statistics
Despite the pandemic, in-person events are still crucial. For 71% of event decision-makers, virtual events do not achieve the impact of a live experience. And 67% feel this format makes it harder to communicate brand narratives efficiently.
Besides, 95% of marketers claim live events have a powerful impact on meeting company goals. And the same percentage asserts live events are valuable networking opportunities.
According to a 2021 survey with over eight thousand marketers worldwide, 35% of events in 2022 would be held in person. Plus, 88% of interviewees anticipated events to include a live segment.
At the same time, 67% of event professionals affirm in-person events should return to pre-pandemic levels within a short period.
This expectancy makes sense, since 52.9% of event marketers see virtual experiences as less impactful. They even believe them to diminish attendee engagement.
Virtual Events Statistics
Despite the urge to return to in-person meetings, the pandemic has forcefully opened other channels to the events industry. Virtual and hybrid events are now more common and might even represent a new path for some businesses.
They demand distinct logistics, equipment, and preparation. They also require more solid and widespread marketing. Yet, in 2022, 40% of events will have occurred solely through digital means.
These events tend to see a decline in attendance, with 58% of virtual sessions counting only 300 live participants. They also last for a shorter time, with 62% of them lasting no more than a day.
Then again, 63% of people place round table meetings lasting from 60 to 90 minutes. This information aligns with the average 12 sessions that make up each event.
Audience Engagement and Satisfaction
Virtual events can help achieve different purposes. So only about 45.7% of marketers assign their principal intent to pipeline creation. Plus, they offer unique solutions for attendees and hosts.
The possibility of live-streaming on social platforms has proved valuable for 20.1% of marketers. Event industry statistics show 43% of virtual event registrants choose live online events. At the same time, 13% opt for viewing on-demand.
To boost attendee engagement, 30% of event organizers plan to host virtual events with giveaways. Additionally, 61% opt to include videos throughout the meetings.
As always, attendee satisfaction is essential for any successful event. And virtual event statistics point to 90% of online event organizers measuring it through surveys.
Logistics and Marketing
The main challenge with virtual events comes from logistics and efficient marketing. In fact, 52.5% of event marketers share these hardships with the addition of a need for an unconventional skill set and equipment.
Hence, 62.6% of event marketers cooperate with other companies within the professional services industry. Doing so smoothes out the planning process to ensure event success.
Regarding virtual event tech and equipment, 70% of event organizers define good-quality microphones as critical. Even more so than cameras, which rank at 60%. Still, the biggest challenge among them is a poor connection.
As for promoting events, 71% of event planners develop digital strategies, and 60% of virtual event organizers opt for social media. Large virtual events usually need about six weeks of efficient promotion.
With small virtual events, it takes three to six weeks for an event marketing strategy to produce results. These are also less time-consuming to plan, with 56% of marketers fitting them between two to four weeks.
Hybrid Events Statistics
Throughout the pandemic, virtual events answered the difficulties it brought on. Yet, now that most people are returning to their routines, hybrid events have become more common.
68% of event marketers believe they are a solution to incorporate an in-person audience simultaneously with a virtual one. Thus, 63% of corporations with 2000 to 5000 employees included hybrid events in their portfolios.
Moreover, there are some positive outcomes. Most B2B companies have achieved a positive event ROI within seven months, with the rate reaching 86%.
Hybrid Events Planning Challenges
Hybrid events also present some challenges of their own. 35% of event organizers point out the difficulty in finding suitable venues.
Another pressing issue is maintaining consistent audience engagement with in-person and virtual attendees. About 46% of event organizers acknowledged this situation.
Event industry statistics suggest 35% of hybrid and virtual events need more support. Specifically, full-service agencies can provide resources, like training sessions for speakers.
Their assistance enables event managers to create better experiences. It is crucial, as 89% of event organizers measure event success through attendee satisfaction.
Hence, 38% of event organizers state that a hybrid event strategy requires exhaustive preparations. Logistics are much more complex than when hosting virtual events or in-person meetings.
Nevertheless, hybrid event statistics place 35% of events in 2022 following this format. Additionally, 71% of event marketers are already acquainted with the system.
Webinar Statistics
Webinars are a type of small virtual event and have increased in popularity in the last few years. They last about 39 to 60 minutes, and 51% of marketers believe them to be the video format with the best results.
A study conducted in 2020 revealed 99% of businesses consider webinars paramount to their marketing plans. So it's no surprise that the global webinar event planning market size should reach $800 million by next year.
Most webinars (94%) remain accessible after the live events conclude. Additionally, 54% of B2B professionals claim to engage with them weekly or even daily.
Despite the general acceptance, the average attendance is only 55% of registrants.
Webinar Event Marketing Budget Statistics
There are several ways to measure success when it comes to webinars. But 60% of businesses evaluate it through their compliance with the budget.
The average cost per attendee reaches $1,000-$1,500. So during the pandemic, 21% of businesses felt the need to expand allocations.
Event industry statistics show a third of organizations dedicate 21% or more of their event budgets for sponsoring events. Moreover, B2B marketers plan their most significant share of 14% of their budgets for event expenses.
Other Event Planning Industry Statistics
Event Technology Statistics
In the digital era, event management software offers tools to help professionals perform better. A 2022 trends report showed 79% of event planners name support as its most crucial feature.
Non-surprisingly, 83% of organizers maintain an event app. And 97% of these event professionals opt for one with a schedule component.
But event technology also benefits virtual events and even in-person events. Using it can decrease costs by up to 30%. At the same time, it increases planners' productivity by 27% and attendance by 20%.
Recent studies show 90% of event technology providers allow joining virtual events from any device. Plus, 75% enable pre-recorded meetings, with most offering multi-track streaming.
Event technology opens opportunities for innovation. So 88% of event organizers plan to use virtual reality in their experiences. Additionally, 87% intend to include augmented reality.
Still, only 53% of event marketers are up to date with the latest virtual event technology. Additionally, 25% of event planners point to sourcing virtual event tech as the biggest challenge.
Event Marketing Statistics
Event marketing has been a popular strategy for decades and will continue to grow. 73% of B2B marketers believe events are the best method to foster engagement. Furthermore, 31% view event marketing as the most influential channel.
Besides this, in 2016, 76% of event marketers integrated their event marketing strategy into other campaigns. In 2017, 80% of companies that exceeded their yearly goals planned on increasing their budget for live events the following year.
Surpassing this figure, 87% of C-section corporate leaders had decisive confidence in the impact of live events. They even showed interest in making further investments in them.
Regarding registrations, the latest studies show 49% of marketers rely on programmatic advertising. At the same time, 51% of B2B companies use their professional services industry partners to foster extra enrollments.
Sponsoring Events Statistics
Sponsoring is one of the bases of the event planning market. Indeed, 75% of sponsors are always anticipating opportunities for new collaborations.
A research report from Harvard analytic services showed the most popular types of events for B2B companies. They included trade shows, seminars, partner events, and other corporate events.
Because of increasing competitiveness, measuring success derived from sponsorships has become critical. After all, according to event marketing budget statistics, sponsorships represent an average value of $12,000.
In a study conducted within the last decade, 70% of marketers noted the growing importance of sponsorship. Yet, the same investigation showed less than half had an implemented protocol for that effect.
Sales, Lead Generation, and Customer Loyalty
With 79% of marketers rendering sales from event marketing, it is easy to comprehend its impact on business activities. This is why 63% of marketers see events as opportunities for capturing leads and developing prospects.
Also, about 91% of event organizers allow sponsored meetings to create additional income. The reality is that a staggering 98% of consumers are more likely to shop for goods if they attend a related event.
Plus, events foster brand loyalty. After an event, about 38% of attendees visit the host or sponsor's online platforms. 32% become customers, and 30% continue using company merchandise they got at the event.
A research article from 2018 revealed 78% of Americans would become lifelong customers of a company that invited them as VIPs for an event. When referring only to millennials, the rate would reach 88%.
Event Return On Investment (ROI) Statistics
ROI is critical for any business, including those within the events industry. To track it, 70% of marketers rely on media exposure. As for event planners, 67% measure it according to attendee satisfaction, and 51% follow the registration count.
Event management industry statistics show the ROI for most events sits between 25% and 34%. By using an event app, 78% of businesses were able to improve their outcomes.
Still, a ratio over 5:1 is a satisfying result for most companies. Different studies show 75% of companies maintaining a budget of $50 to $100 million expect to achieve this ratio.
Whereas brands tend to stay between 3:1 and 5:1, event marketers plan to reach 3:1. Even so, 19% of businesses that don't monitor ROI may be in a dangerous situation.
Audience Engagement Statistics
Attendee engagement and satisfaction are paramount for the event industry. Whether it is in-person events, virtual events, or even hybrid ones, they all require an active audience to succeed.
49% of marketers believe engagement is the chief element of a worthwhile event. So the goal is to plan captivating activities and create an environment that fosters networking.
It is also a way to improve attendee satisfaction, which 85% of marketers see as a criterion for success. On this subject, there are several different ways to measure success.
The most popular way is the use of surveys, with 90% of event organizers using them. Furthermore, 64% opt for collecting their team's feedback.
Still, maintaining engagement is the second biggest challenge for organizers when hosting events. 67% of event marketers have this difficulty with virtual event participants.
In fact, event statistics from 2020 show the audience only engages for 68% of virtual events longer than 20 minutes.
DE&I and Sustainability Statistics
Diversity, equity, and inclusion are growing priorities of all industries. Despite the progress so far, there is still much space for improvement. So how can the events industry contribute?
A 2019 study showed women make up 33% of event speakers. It also highlighted the U.S. and Canada as staying above that average, with 64% men and 36% women speakers.
The same study revealed conferences and conventions had 66% men and 34% women speakers. Plus, it discovered summits were the least diverse event, with rates of 85% men and 15% women speakers.
Following the pandemic, a research study showed surprising numbers of women participation. The study indicated it was 253% higher in virtual conferences than in-person events.
In 2020, a study of 150 events revealed 99% of panels have women speakers. 86% include BIPOC (Black and Indigenous People of Color) speakers, and the rate drops to 67% regarding Black speakers.
At the same time, positions related to DE&I grew 113%. Yet only about 40% of Fortune 500 companies hired these diversity executives.
Regarding progress tracking, 47% assess diversity and equity at least twice a year. With the same periodicity, only 43% track inclusion.
Sustainability is another pressing concern for event management professionals. In a 2022 forecast, 83% of respondents stated their organizations followed sustainability practices.
Event Planners Statistics
Estimates point to about 70,937 event businesses in the United States. At the same time, event planners in New York earn an average of $74,622.
Comparing data from the same period last year, 43% of event planners maintain customer numbers. Surpassing this figure, 45% of event planners account for more customers now.
Only 11% of event professionals received a partial or complete insurance payout due to event cancellation. In addition, 45% don't expect to receive it at all.
Nonetheless, event industry statistics foresee a growth of 10% by 2024 for all jobs in the area. These calculations exceed the predictions for other activities.
Get more bookings with the right tool for the job
Staying organized has never been easier.
You can now manage your business and grow your brand with a single, powerful WordPress booking plugin that keeps all of your appointments in line, your clients organized and your business booming.
Amelia is perfect for business owners who need to streamline their booking experience both for their staff and their clients.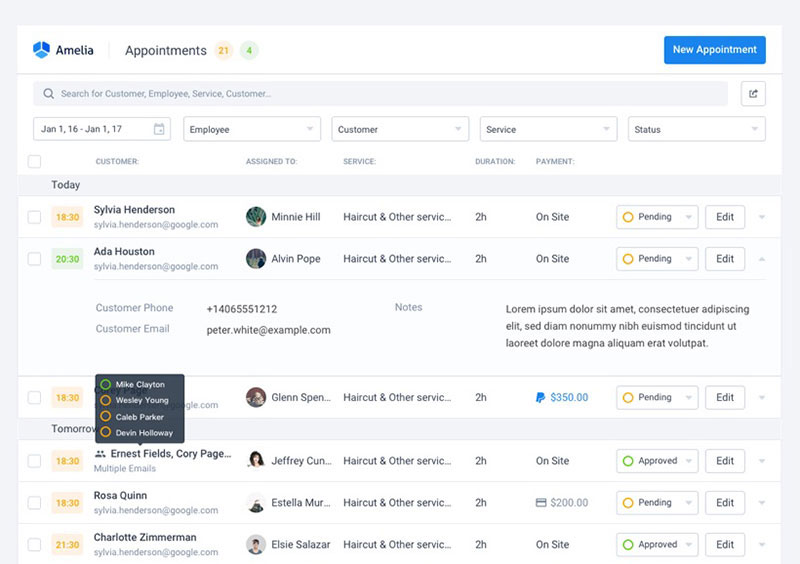 Amelia handles everything for you, even sending automated email or SMS reminders to your clients. No-shows? Not anymore!
The Amelia WordPress booking plugin adapts to different industries for a blissful online booking experience and employee management.
Want to know more? Check out Amelia's awesome features to see what you are missing.
Conclusion on Event Statistics You Should Read
As the events industry grows, it will continue to offer superior learning and networking opportunities. Yet, planning an event is a complex task for which you must attend to numerous details.
That is where event management industry statistics can support you. They offer the backup you need to make strategic decisions that benefit your company.
This article provided an overview of results that will help you prepare for future event planning. You now know to invest in different event formats.
Also, you can keep track of the latest event management software to support your business. Implant suitable and efficient marketing and offer activities that maintain engagement.
Plus, create inclusive and diverse events which also focus on sustainability. And remember to track your ROI. With these event statistics, you will understand which policies and trends to follow to grow your business to success.
If you enjoyed reading this article about event statistics, you should check out this one with event WordPress themes.
We also wrote about a few related subjects like setting up a WooCommerce events calendar, marketing strategies for ticket sales maximization, hybrid event ideas, and event management skills.
Not only that, but we also created articles about virtual event ideas, virtual event statistics, how to get sponsors for an event, tech conferences, and the most-watched sporting event.